We test and review fitness products based on an independent, multi-point methodology. If you use our links to purchase something, we may earn a commission. Read our disclosures.
TYR's new Techknit RNR-1 Runner is an extension of the brand's initial shoe line. In mid-2022, TYR launched the TYR CXT-1 Trainer, a cross-training shoe, soon followed by the TYR L-1 Lifter, a weightlifting shoe. I had the pleasure of testing and reviewing both, so I was excited to try out TYR's new running shoes, too.
In this TYR RNR-1 review, I'll share my experience wearing the TYR running shoes and analyze everything from the midsole to the laces.
RELATED: Best Running Shoes
TYR Gear Enthusiast Since Grade School
If you didn't know, TYR wasn't a CrossFit brand to start, despite their intense presence in that space now. TYR was (and still is) a competition swimwear brand, and I've actually been using TYR gear since I was a child learning to swim. Since I'm familiar with the qualities of the brand and their products, it felt fitting that I'd be the product tester to try out the new shoes. I wore the RNR-1 runners for several types of runs at varying paces and for varying distances, and I also tested them out for HIIT workouts and lifting sessions to get a full feel for their capabilities.
TYR RNR-1 Running Shoes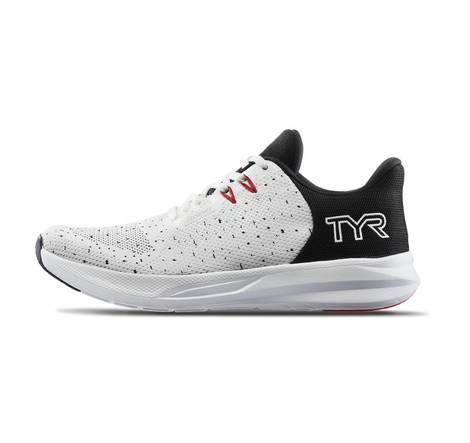 GGR Score: 4.1
Product Highlights
Second running shoe from brand TYR
Thick, responsive midsole made of Surge NRG+ Foam
Midsole supported with Pebax elastomers
Knit mesh upper
Reinforced toe box
Gusseted tongue and molded sockliner
6 colorway options
Great size range:

M 4.5 / W 6 to M 14 / W 15.5
Pros & Cons
Pros
Cushy, responsive midsole
Ample room in midfoot and toe box
Contoured insole
Durable reinforced toe box
Inclusive size range
Grippy tread on outsole
Cons
Feels a bit heavy for a running shoe
Not great for speed work
Not as breathable as many other running shoes
Bottom Line
The TYR RNR-1 Runners have a lot of promise for a running shoe. While they are slightly heavier than some other options, they've proven to be very durable in our testing, and we love the ultra-responsive midsole thanks to TYR's Surge NRG+ Foam and Pebax support. The outsole has also proven grippy in slick conditions, and there's plenty of wiggle room in the midfoot and forefoot for wider feet.
A Quick Look at the TYR RNR-1 Shoes
The RNR-1 running shoes are the fourth release in TYR's new shoe line. Here's a quick recap of the brand's shoe releases since 2022: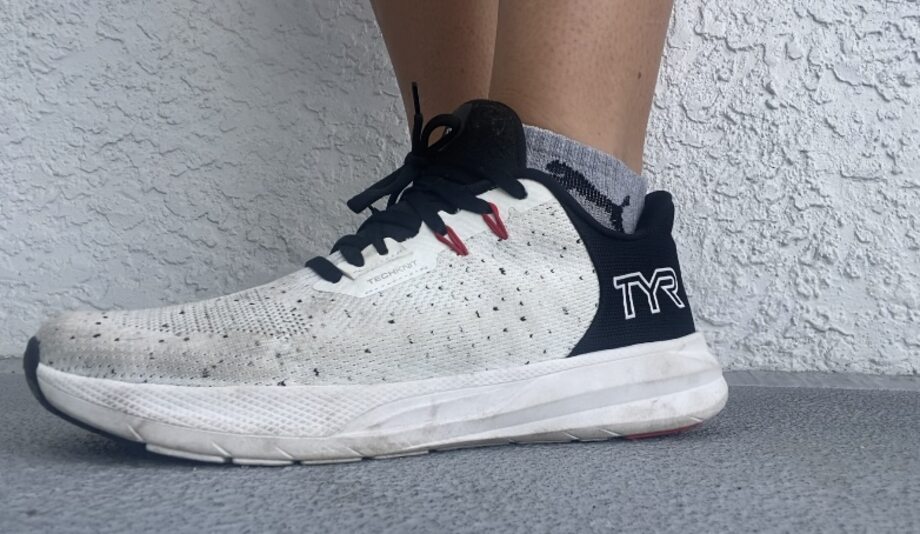 TYR CXT-1 Trainer, training shoe, mid-2022 (read our TYR CXT-1 review)
TYR L-1 Lifter, lifting shoe, mid-2022 (read our TYR L-1 Lifter review)
TYR RD-1 Runner, running shoe, late 2022
TYR Techknit RNR-1 Runner, running shoe, early 2023 (subject of this review)
TYR SR-1 Tempo Runner, running shoe, mid-2023
As you can see, there are three separate running shoes. After testing the RNR-1, it seems to be best suited, at least for me, to easy runs and recovery runs. I'll explain why throughout this review.
TRY RNR-1 Running Shoes Specs
| | |
| --- | --- |
| Price | $160 |
| Heel to Toe Drop | 4 mm |
| Weight | 9.2 oz per shoe (size M 9) |
| Size Range | M 4.5 / W 6 to M 14 / W 15.5 |
| Upper | Techknit 3D knit construction |
| Midsole | Surge NRG+ Foam enhanced with Pebax® |
| Insole | Molded sockliner and gusseted tongue |
| Outsole | Carbon rubber tread |
Are TYR Running Shoes Worth It?
At $160, the RNR-1 Runners are on the expensive side, but not much more so than good running shoes from other brands. However, they won't be the right choice for everyone. Here's a look at who should consider the RNR-1 shoes and who should keep shopping.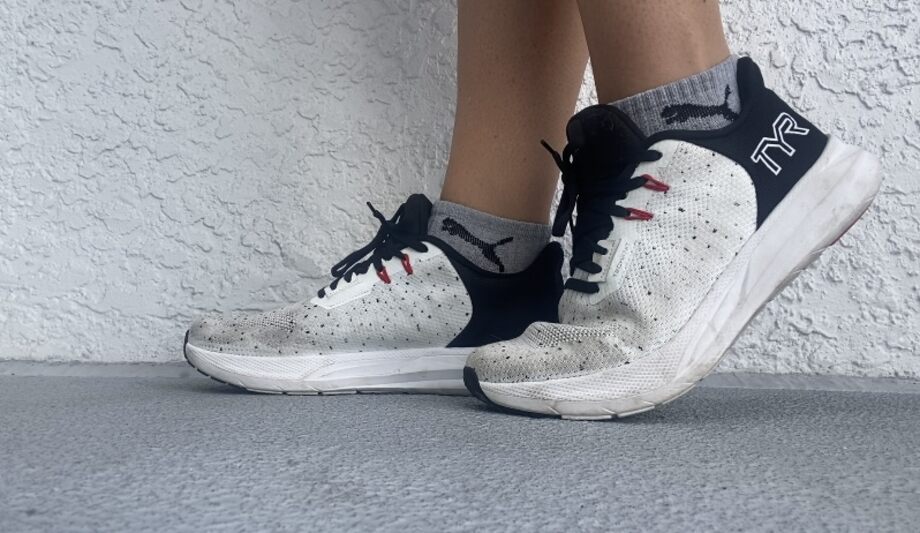 Great for:
Recreational runners who run casually at easy-for-them paces
People looking for a good HIIT training shoe
CrossFitters who want a shoe for running WODs that isn't flat like NOBULL Trainers or Reebok Nanos
Runners who like thicker midsoles
Those who prioritize durability over lightweightness
Walking shoes
Not recommended for:
People on a budget or beginners who aren't sure they'll stick with running
Those looking for a very lightweight shoe
CrossFitters looking for a cross-training shoe (something like the Nike Metcon 8 or Reebok Nano X3 is a better option)
Wearing the TYR RNR-1 Running Shoes
To be honest, the fit of the RNR-1 Runners isn't my favorite. For reference, I currently run in Brooks Adrenaline GTS, HOKA Mach 5, or On Running Cloudgo, depending on the type of run the day calls for.
But the RNR-1 Runners do have plenty of merit. I'll discuss both the benefits and the drawbacks.
For starters, I find these running shoes to be quite heavy, particularly for fast-paced sessions, such as tempo or Fartlek runs, or track workouts. At 9.2 ounces per shoe (for the men's size 9), they weigh an ounce more than my HOKA Mach 5s. This may not seem like a lot, but when you're trying to speed up your stride, it can really make a difference.
Because of the heavier weight, I found myself reserving these shoes for slower, easier runs or walks. They've actually become some of my favorite "around town" shoes that I'll wear for walking my dog or running errands.
I also ended up favoring the RNR-1 shoes for HIIT workouts. The responsive midsole makes them great for movements like box jumps, jumping lunges, and other plyometric movements. However, they're not great for lifting heavy weights since they don't feature a flat, stable midsole like training and lifting shoes do (but that's not what they're intended for, so I'm not docking them for that—just pointing it out).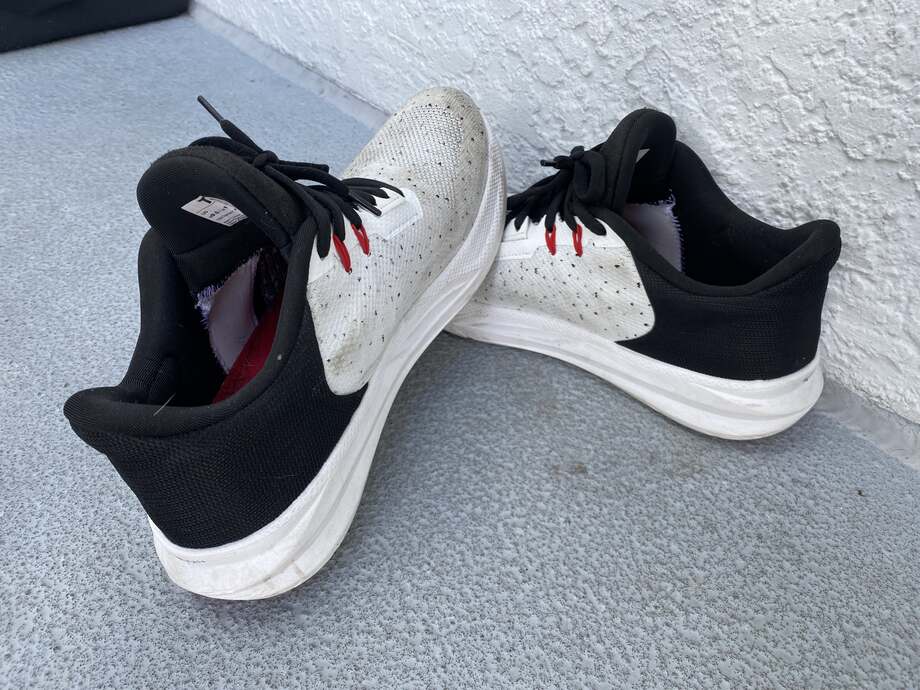 The RNR-1 Runners feel wider on me than many of my other running shoes, including my trusty Brooks Ghost and Adrenaline GTS. The only ones that feel roomier than the TYR shoes are my HOKA Mach 5s. My feet are average in terms of width and I feel that I have a bit of extra room in the midfoot of the RNR-1s, so these could be suitable for individuals with wide feet.
RELATED: Best Treadmill Running Shoes
TYR RNR-1 Running Shoes Construction and Materials
Aside from fit and comfort, durability is one of the most important factors in running shoes, so let's take a look at how the TYR RNR-1 Runners are built.
Upper
The upper of the shoe is a close-knit mesh material that TYR calls "Techknit 3D." It's very similar to the knit mesh found on most running shoes, although I found the RNR-1 Runners to be a bit less breathable than my other running shoes. They feel most similar to my Brooks Adrenaline GTS, which also have a very close-knit mesh upper—as opposed to the thinner mesh with more space between knittings on my HOKAs.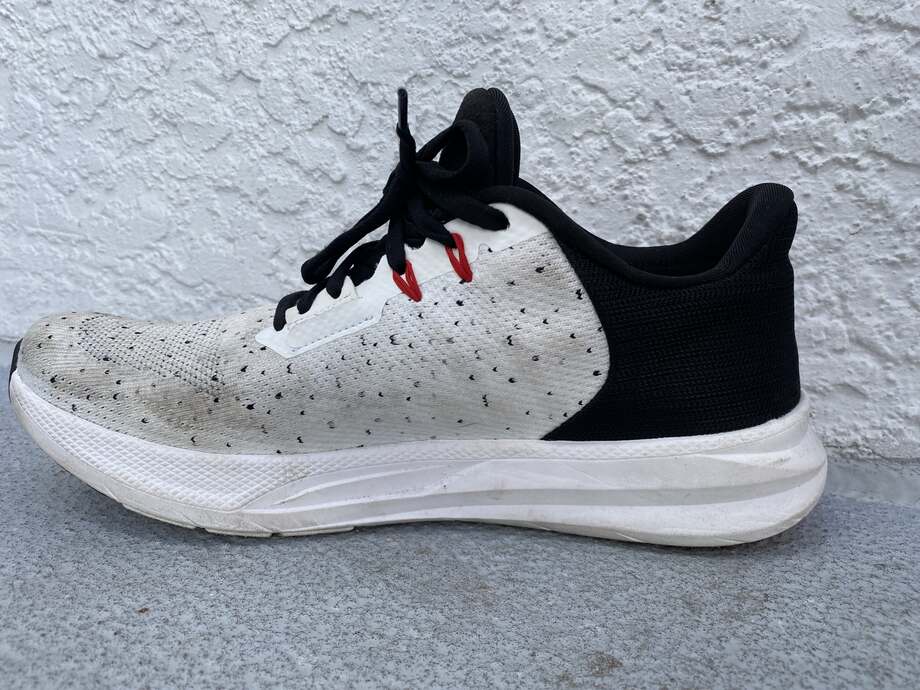 I do tend to get soggy feet when running in these—but then again, I've been testing them in the heat of summer in South Florida. These might make a good shoe for winter or autumn running, when the sun isn't beating down so hard.
Another positive to the thicker upper is that, over time, it'll likely prove to be more durable than the thinner, more breathable mesh on other running shoes.
Midsole
Those who prefer a thicker midsole will like the RNR-1 shoes. Made with Surge NRG+ Foam, the midsole measures more than an inch thick at the widest part. The heel-to-toe drop is just 4 millimeters, though, as opposed to the more common 6 to 9 millimeters.
The foam is plush, absorbing a lot of shock from your landing. However, these are neutral running shoes, meaning they don't have any support for people who need help preventing pronation (turning the foot inward or arch collapsing at footstrike). For running shoes for pronation, see our guide to the best stability running shoes.
In addition to the Surge NRG+ Foam, TYR utilized Pebax in the midsole as well. Pebax is an elastomer constructed of both hard polyamides and soft polyethers, which allows manufacturers to manipulate the ratio of rigidity to softness. Pebax is used in all sorts of performance footwear from football cleats to ski boots. Practically, it provides great energy return and flexibility in a running shoe.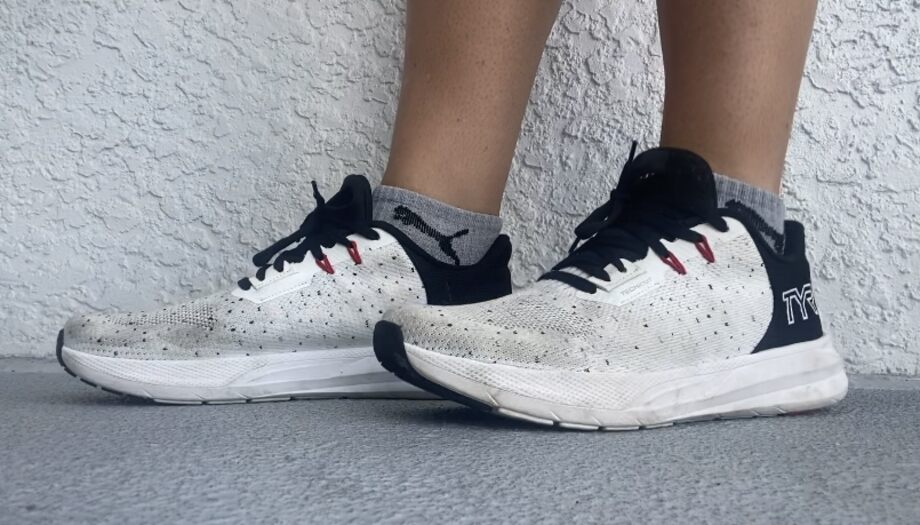 Insole/Inner
The interior of the shoe features a molded sockliner and contoured midsole with great arch support. My feet feel secure in the shoes despite the fact that I have a little extra room, thanks to the gusseted tongue that stays in place and the laces, which are plenty long enough to lock the foot in place.
Outsole
On the bottom of the shoe, you'll find a multi-patterned tread for grip and traction. Living in South Florida, I wind up running on wet surfaces a lot due to constant summer rainstorms (and terrible city drainage, but that's a story for another time).
The tread on the RNR-1 running shoes, which TYR says is a "carbon rubber," performed fantastically on the slippery surfaces where I took them. I ran on beachside boardwalks, running tracks after rain, slick city sidewalks, and even a couple of hard-packed dirt trails.
RELATED: Best Trail Running Shoes
TYR RNR-1 Running Shoes Colorways and Design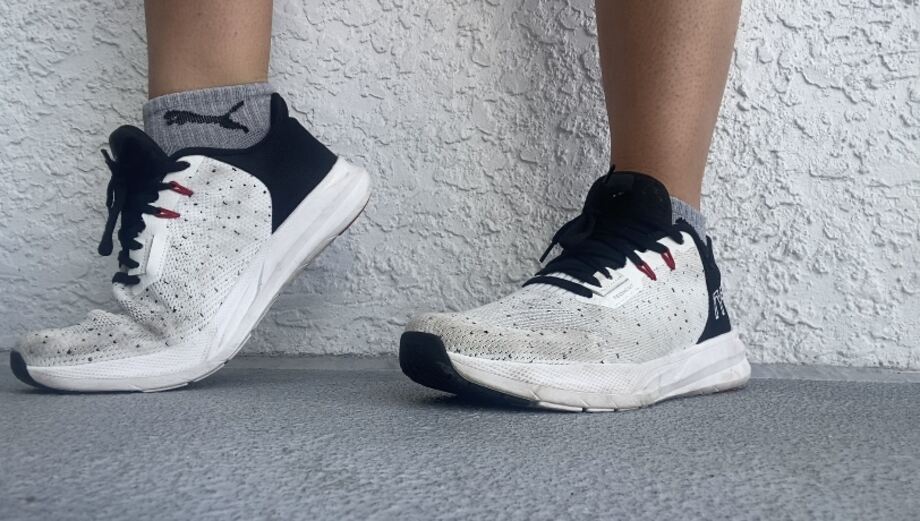 As of this writing, there are six colorways to choose from: 100 White, 001 Black, 108 Black/White, 333 Seafoam, 610 Red, and 670 Pink. I got the 108 Black/White and I really like the speckled design on the upper of the shoe.
Truthfully, I respect that TYR chose to offer neutral and solid-colored designs. I'm not a big fan of the flashy, multicolored designs that most running shoe manufacturers offer. I've actually always wondered why plain running shoe colorways weren't more common or popular.
Depending on the popularity of the shoe, TYR may release more colorways in the future.
TYR RNR-1 Shoes vs Brooks Adrenaline GTS
Brooks Adrenaline GTS
GGR Score: 4.25
Community Score: 5
Product Highlights
Brooks supportive road running shoe
15 colorways
Four widths available
Sizes: 7-15
Pros & Cons
Pros
4 widths: Narrow, Medium, Wide and Extra Wide
American Podiatry Medical Association (APMA) Seal of Acceptance for products that promote good foot health
Brooks Run Happy Guarantee: Try for 90 days and return for no cost if you are not satisfied
Numerous colorways
Cons
Heavy shoe compared to counterparts at 10.2 oz
Less durable than previous Adrenaline models according to customer reviews
Customers report fit is narrower than previous models
Users experiencing discomfort and even blisters around the heel
Bottom Line
The Brooks Adrenaline GTS 22 is a supportive shoe that has mixed reviews on comfort. Additionally, many users have had issues with the durability of the shoe, with parts failing within weeks of use.
Of all the running shoes I wear, the TYR RNR-1 Runners felt most similar to my Brooks Adrenaline GTS. Brooks' DNA Loft cushioning is quite like TYR's Surge NRG+ Foam cushioning: Both are bouncy, but not squishy, and provide great feedback upon footstrike.
The Adrenalines are more narrow, so the RNR-1s are likely the better choice for someone with wider feet. Both shoes feature an extended crash pad for stability upon landing, but there is one big difference between these two shoes: the Adrenalines feature Brooks' GuideRails, which offer support to those who pronate their feet.
The GuideRails prevent over-rotation of the foot inward, thus reducing the likelihood that the arch of the foot collapses when it makes contact with the ground.
Ordering the TYR RNR-1 Running Shoes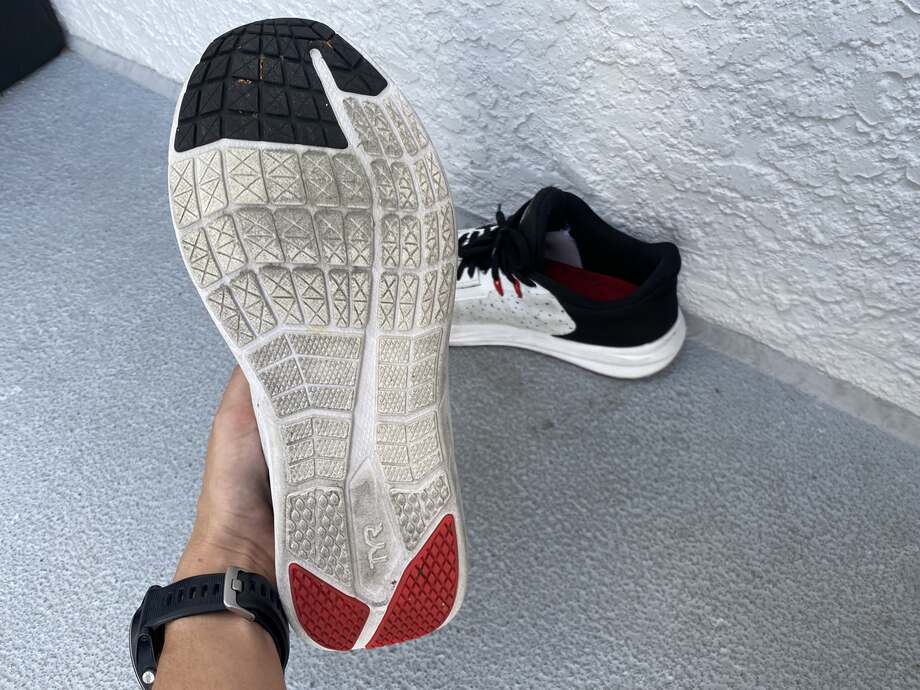 At the time of writing, the TYR RNR-1 shoes are available on the TYR website, as well as from Rogue Fitness and Scheels online. The process is straightforward no matter where you buy: Hit "add to cart" and check out. Just be aware that different retailers have different return and shipping policies.
Customer Experience
TYR historically has wonderful customer service. I've had to interact with the company a few times over the last several years regarding orders and returns, and their customer service reps have always made the process easy. TYR stands behind their products with a 30-day guarantee from the date of purchase. This isn't quite as good as a 30-day window from the time of delivery, but it still allows you enough time to decide if you like your gear.
Unfortunately, buyers are on the hook for return shipping, but TYR makes it easy with a prepaid UPS label. When you use the prepaid label, a flat shipping fee of $4.99 will be deducted from your final refund. Although no one wants to pay for return shipping, because it's so simple and easy with TYR, I awarded them 3.5 out of 5 stars for this criteria.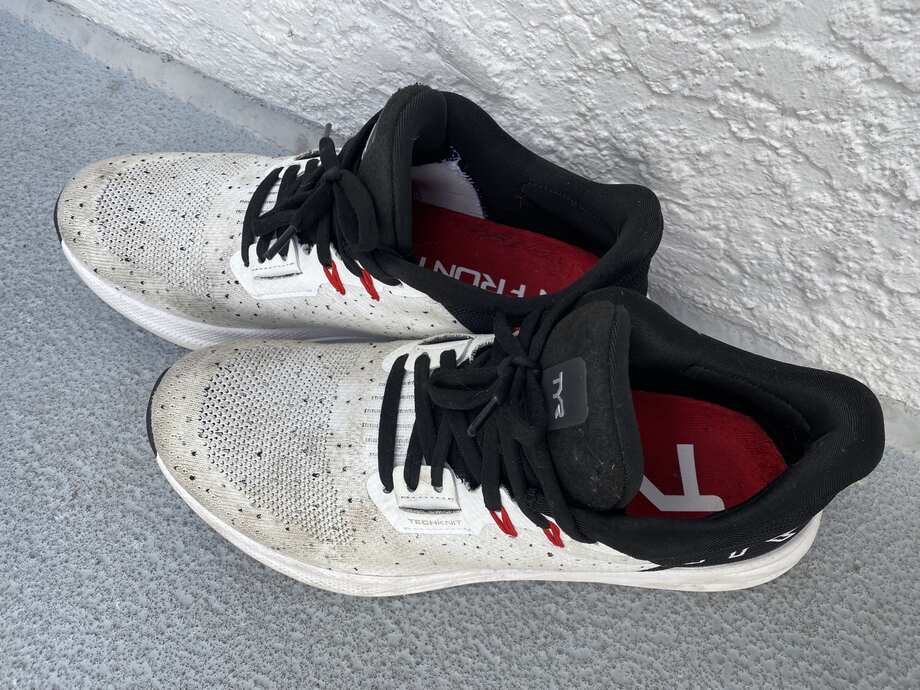 Customer Reviews
There aren't many customer reviews yet since these shoes are so new to the market. All of the few reviews on the TYR website are positive. Interestingly, buyers don't seem to share the same sentiment with me that the shoes are heavier and not as breathable as desired.
One buyer wrote (very enthusiastically, I might add), "This shoe is absolutely outstanding in every aspect! Light, comfortable, fast, and yet forgiving! Highly recommended!"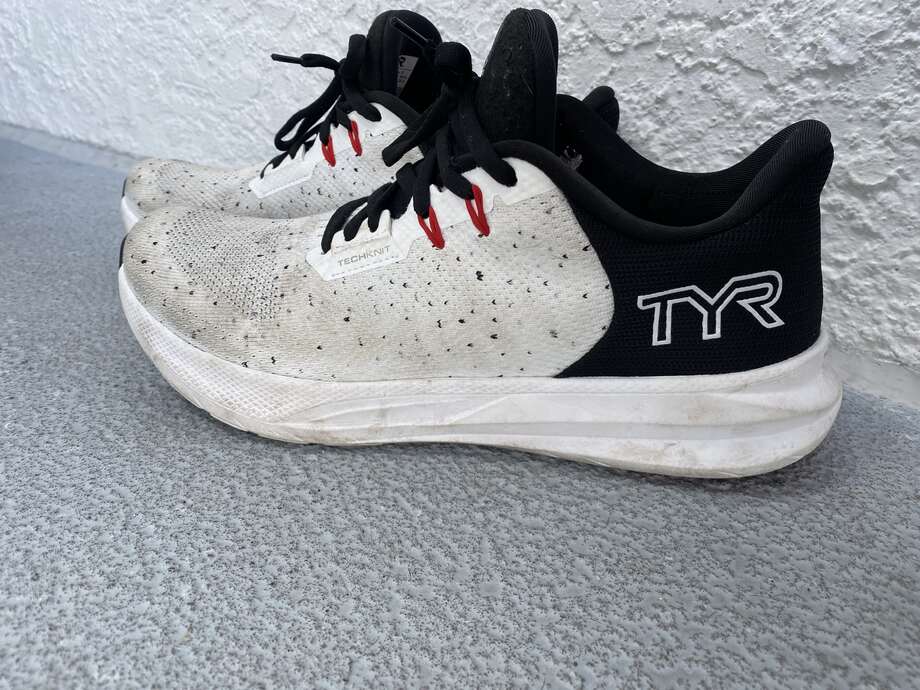 Another called them "sooooo comfortable," adding that they are "perfectly balanced, light, and fit."
This goes to show that everything is subjective and, if you're interested in a pair of shoes, it's worth at least trying them.
Final Verdict of Our TYR RNR-1 Review
Overall, I think the TYR RNR-1 Runners are a good pair of running shoes. They're not the right choice for me personally, particularly for speed work runs, but I do like them for easier, slower runs and walks. They feel quite durable and provide substantial energy return upon footstrike, too. I recommend them to runners who like a hefty midsole, don't mind the 9-ounce weight, and like to have a bit of wiggle room in the midfoot and forefoot of the shoe.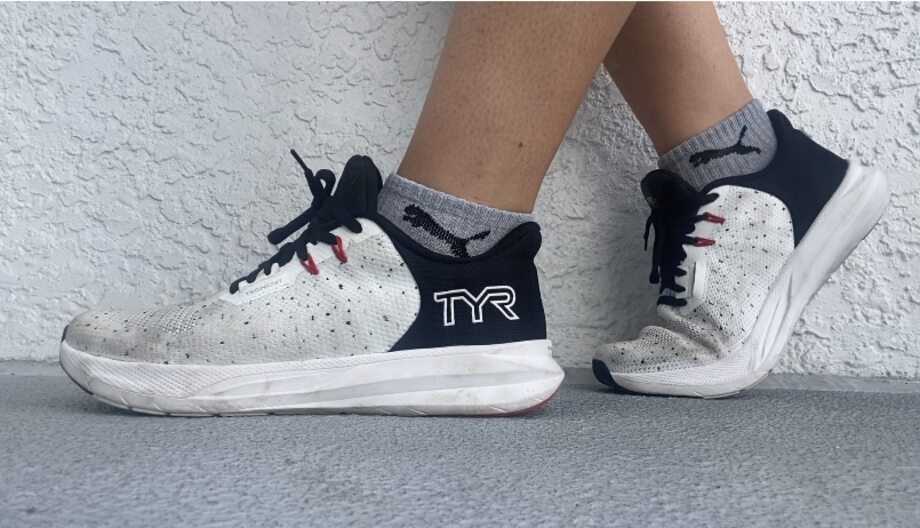 TYR RNR-1 Running Shoes: Full Rating
TYR RNR-1 Running Shoes
Our TYR RNR-1 review takes a close look at the new Techknit running shoes from TYR, the swim behemoth turned CrossFit brand.
Product Currency: USD
Product Price: 200
Product In-Stock: InStock
TYR RNR-1 Running Shoes FAQs
Are TYR shoes any good?
For a version-one line of shoes, TYR has done a great job. All of the TYR shoes I've tried have performed at least as well as most competitor brands, and I believe TYR will continue to improve upon their shoe line with customer and athlete feedback.
Does TYR sponsor CrossFit athletes?
Yes, since expanding into the CrossFit arena, TYR has collected quite the roster of sponsored CrossFit athletes. Some Team TYR athletes you might know include Noah Ohlsen, Patrick Vellner, Annie Thorisdottir, Dani Speegle, and Travis Mayer.
Are TYR shoes worth buying?
It's worth at least giving them a try. They're good shoes, but you can always return them within 30 days of purchase if you decide you don't like them!