We test and review fitness products based on an independent, multi-point methodology. If you use our links to purchase something, we may earn a commission. Read our disclosures.
As you probably already know, shoes can be your best friend or your worst enemy during any active pursuit. The importance of good shoes is elevated when you're out on a trail, away from amenities and roaming through uneven, slippery terrain.
Really, your trail shoes should work as hard as you do. As avid runners, hikers, and walkers, our product testers bring you this guide to the best trail running shoes so you can fight the good fight against blisters and sore arches.
Trekking and Testing
We're a team of certified fitness professionals who have long backgrounds in running and other fitness disciplines. But our expertise doesn't stop there: We seek to become experts on every product category we cover, and within each, an expert on every product we recommend. That's why, for guides like this one, we actually order and test products against specific criteria. Our goal? For your choices to become easier and you to wind up with the product that best suits your needs.
Best Trail Running Shoes in 2023
Best Overall Trail Running Shoes: Altra Lone Peak 6
Good for: Dedicated trail runners who want room for their feet to breathe and move, adapting to the terrain while letting sweat evaporate
Good water drainage? Check. Grippy? Check. Shock-absorbing? Check. Comfortable as all get out? Check, check!
Runners of all levels will love the roomy toe box on the Altra Lone Peak 6, a result of Altra's FootShape™ Fit. FootShape is designed to mimic the natural anatomy of human feet and allow room for the toes to splay, a very helpful factor when you consider how the toes need to "dig in" to the ground on technical terrain.
These are zero-drop shoes (as all Altra shoes are), so give yourself some time to adapt if you're not used to the barefoot style of shoe. The good news is that despite the 0-millimeter heel-to-toe drop, they aren't minimalist shoes: the Lone Peak shoes have a 25-millimeter stack height, meaning you're still getting plenty of midsole cushion and responsiveness.
Personally, I love these shoes so much that I don't mind wearing them around the city where they're obviously overkill. However, during the rainy season in Florida, they've definitely saved my butt from the dense mud that clogs all of our parks.
Aggressive lugs on the outsole provide excellent traction on everything from sandy, soft terrain to wet rocks. Bonus points: This pair of shoes has earned the American Podiatric Medical Association (APMA) Seal of Acceptance.
They also feature a GAITERTRAP™, a hook-and-loop closure that allows strapless gaiters to quickly and easily attach to the shoes for extra protection against debris like rocks and mud.
| | |
| --- | --- |
| Heel-to-toe drop | 0 mm |
| Weight per shoe | 10.6 oz / 300 g |
| Upper construction | Quick-Dry Air Mesh |
Best Budget Trail Running Shoes: Saucony Peregrine 12
Good for: Runners who want the most essential features in a trail shoe for under $100
Typically, hobbies that involve getting out in the backcountry aren't cheap: Hiking shoes, camping gear, and off-road equipment can make a huge dent in your bank account. But the Saucony Peregrine 12 shoes make the single track lifestyle accessible to hikers and runners on tighter budgets.
For under $100, these shoes pack a ton of essential technical features, including 5-millimeter deep lugs, a contoured EVA insole/sockliner, a protective rock plate, and Saucony's PWRRUN+ cushioning known for fantastic energy return.
Matt, husband of GGR editor and product tester Nicole Davis, tried the Peregrines, and off the top he crowned them the most comfortable pair of any he's tried for our GGR shoe guides.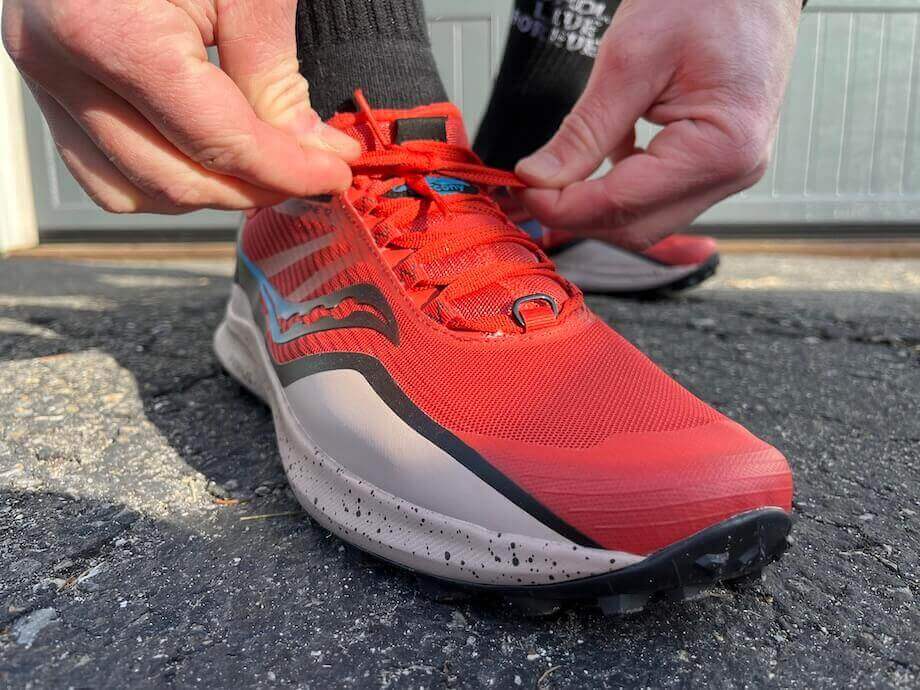 "They seem pretty durable and meant for going outside," Matt says, adding that "they look rugged in the right spots. There is reinforcement over the toe box and edges of each side for some additional support. The upper feels more durable than a traditional running shoe, although it's still some sort of mesh."
Although Matt felt stable outside on dirt, ice, snow, and other terrain you'd find on technical trails, he felt very aware of the large lugs on flat and hard surfaces. This isn't a bad thing—when you're halfway through a long-distance trail run, you want to have that stability—but just something to note if you're looking for a shoe with greater versatility.
| | |
| --- | --- |
| Heel-to-toe drop | 4 mm |
| Weight per shoe | 9.7 oz (275 g) |
| Upper construction | Mesh upper |
Best Waterproof Trail Running Shoes: Nike React Pegasus Trail 4 GORE-TEX
Good for: Those who need to prioritize waterproofness over all else
"I am OBSESSED with these shoes," product tester Nicole says. "They're meant to be trail shoes, but because they're waterproof with great traction, I've been wearing them this winter in place of my winter boots and they work perfectly. They are super comfy, very lightweight, and flexible—my new fave sneakers."
That's saying a lot! But it doesn't end there. Nicole loves the design of the Nike React Pegasus Trail 4 in addition to the performance.
"These are sick. All the colorway options were cool, in my opinion, but I went with Forest Green, which has yellow and beige accents," she says. "I just love how sporty they look, but with the more neutral colors you can wear them with a lot of outfits. They also have a higher rise on the heel (ankle gaiter), which you can tell when you look at them on someone. All around, just unique, super cool shoes."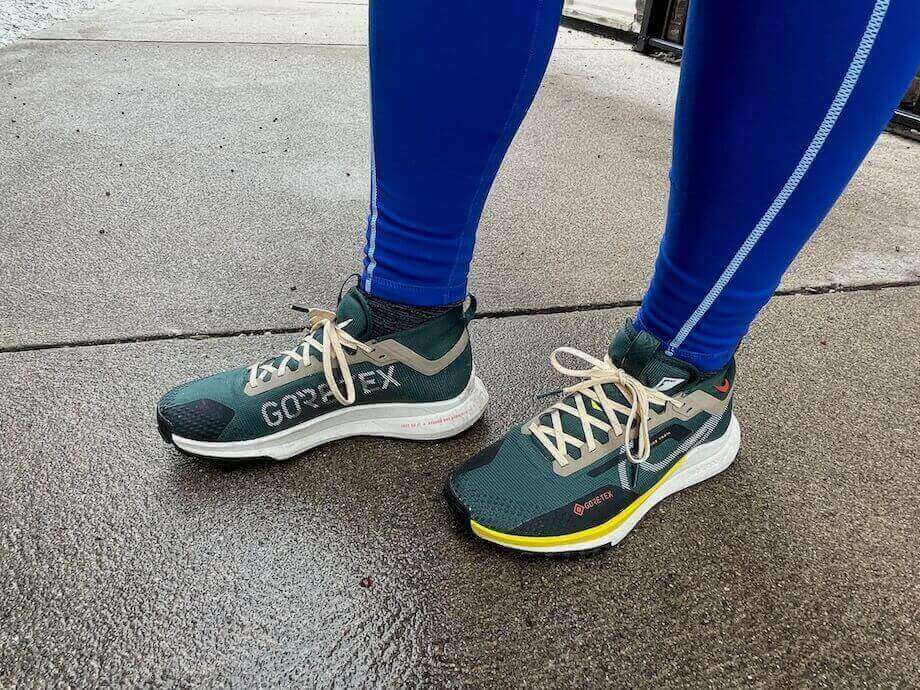 Nicole says they keep her feet dry and they keep her from slipping all around on icy patches. They are also definitely waterproof, she points out: "I went out splashing in puddles with my kiddos over the weekend and my feet stayed dry. Have I mentioned I love these shoes?"
Everything on the React Pegasus Trail shoes is durably constructed, from the lacing system to the heel counter, yet Nicole says the entirety of the construction is quite flexible, which makes them feel almost like a second skin.
Finally, these shoes feature a minimized rubber overlay around the outsole, which should make it easier to go road-to-trail, should your route take you that way. Just be aware that GORE-TEX shoes are not the most breathable variety. It's a trade-off you'll come to expect.
RELATED: Best Running Belts
| | |
| --- | --- |
| Heel-to-toe drop | Not disclosed (but there is definitely a drop, Nicole says) |
| Weight per shoe | Not disclosed |
| Upper construction | GORE-TEX |
Best Stability Trail Running Shoes: HOKA Gaviota 4
Good for: Anyone who needs extra stabilization in the forefoot and midfoot, plus a rocker to assist the foot roll
The fourth iteration of the HOKA One One Gaviota running shoes are "super stable, comfortable, and have a good amount of cushioning," says product tester and GGR performance editor Anthony O'Reilly. The Gaviota 4s are a "very plush shoe with great stability," he says. "If my feet are in a little pain, these are the shoes I put on."
True to HOKA, the Gaviota 4s feature a plush EVA foam midsole that provides forgiveness in-stride for beginners and ultrarunners alike. They're definitely a great long-distance choice.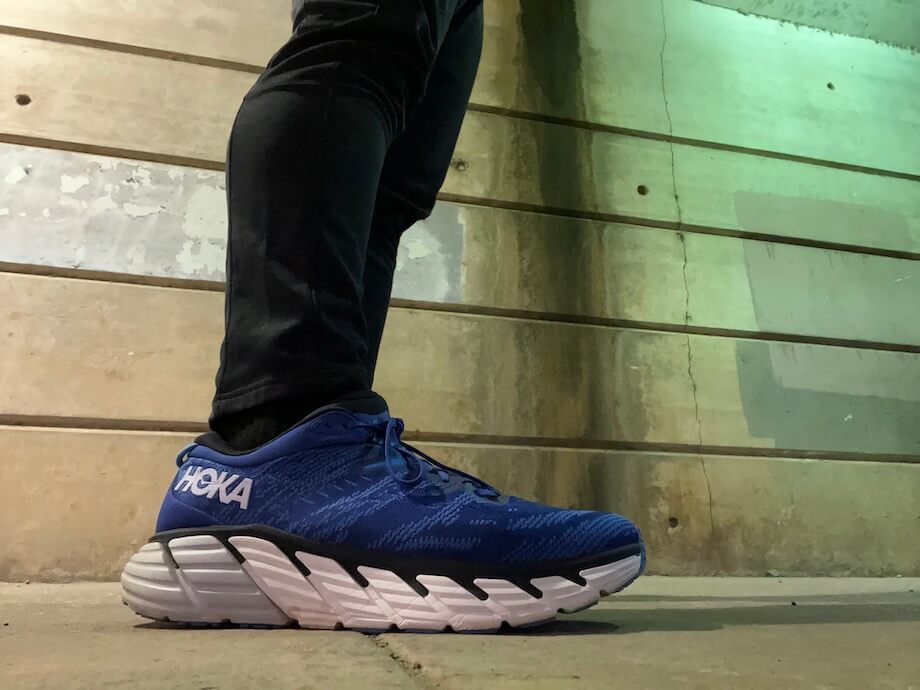 These aren't the shoes for people looking for a wide toe box: With the patented J-Frame™ and snug-fit upper, the Gaviotas intend to lock down the midfoot and prevent overpronation, or rolling the arch toward the ground.
Anthony's one major callout: Although these feature a nice rubber outsole, they don't have lugs like you might expect to find on other trail shoes. While they'd perform fine on hard-packed trails and even through some minor root/rock situations, Anthony says he wouldn't bring them out on super uneven terrain or in wet conditions.
These come in "very vibrant colorways, which I like but some people may not," Anthony says, and overall, they're "super comfy, seem durable, and have great laces." They even have a little heel hook for easily sliding them on and off!
| | |
| --- | --- |
| Heel-to-toe drop | 5 mm |
| Weight per shoe | 11.40 oz |
| Upper construction | Mesh |
Most Durable Trail Running Shoes: Salomon SpeedCross 6
Good for: Durability over all else
While these may look like soccer cleats, they perform like mountaineering crampons.
Our product tester, Gary (dad of GGR editor Frieda Johnson), says the Salomon SpeedCross 6 shoes feel very durable and well-constructed. "The wide heel makes them feel very stable and supportive, even on rough and uneven ground," he says. "I was impressed with how much traction I had running on a trail that still had some snow and ice on it."
These have performed amazingly well on a variety of muddy, uneven, and otherwise unstable terrains, he continues.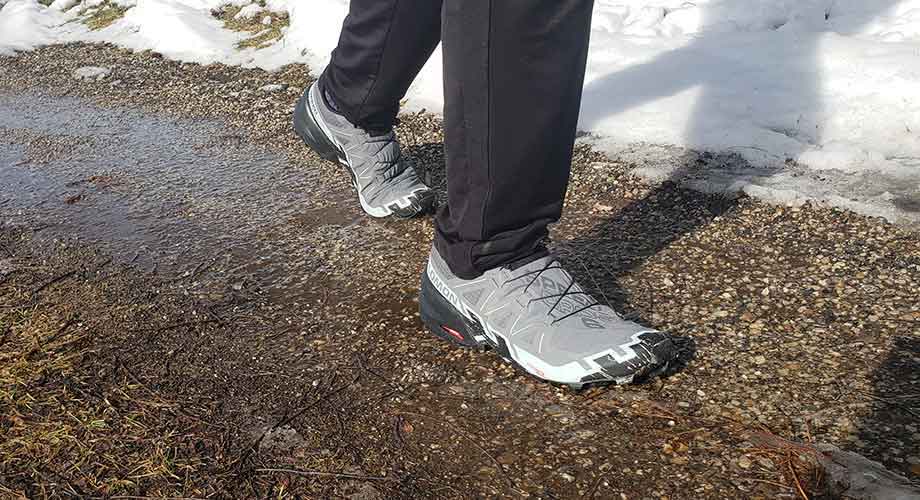 Speaking of being impressed: We're big fans of the Quicklace system on the SpeedCross shoes. "I like that you don't have to tie them," Gary says. "It makes them convenient to take on and off and adjust, and I don't need to worry about them coming untied while I'm wearing them. They feel a little tight when I first put them on, but they're very comfortable once I start walking or running."
When you look at the specs, it's no surprise that the SpeedCross 6s ended up on our guide to the best trail running shoes. The upper is constructed largely of ripstop, one of the best tear- and abrasion-resistant fabrics used in consumer goods today. The sharp, angled outsole lugs dig deep into whatever terrain you're on, and the TPU toe cap makes stubbed toes a thing of the past.
Our main qualm with the SpeedCross 6s is aesthetics: They're not lookers, but when you're on trail, performance is more important.

RELATED: Best Running Headbands
| | |
| --- | --- |
| Heel-to-toe drop | 10 mm |
| Weight per shoe | 298 g |
| Upper construction | Ripstop |
Best Zero-Drop Trail Running Shoes: Inov-8 TrailFly G 270 V2
Good for: Trail runners who want a zero-drop shoe that still goes the distance
Switching to zero-drop shoes is a process, and our testing reflects that. GGR writer Lauren Strong tested the Inov-8 TrailFly G 270 V2 and "found it interesting to go to a zero-drop shoe after mostly testing traditional running shoes."
"I wear Converse to lift, but otherwise my shoes have a little bit of a heel," she says. "I like the Inov-8s now that I'm used to them, but there was definitely a noticeable difference. I also started to use them on my treadmill, but they are much better for outdoor use only!"
After getting through the transition period, Lauren says the TrailFly G 270s are comfortable and offer good traction with big, durable lugs. "I have worn these through muddy terrain and snowy terrain. The lugs are solid for traction and there is a little protective toe cap covering the mesh on the upper, so you have a little extra room to get your toes wet on the trail."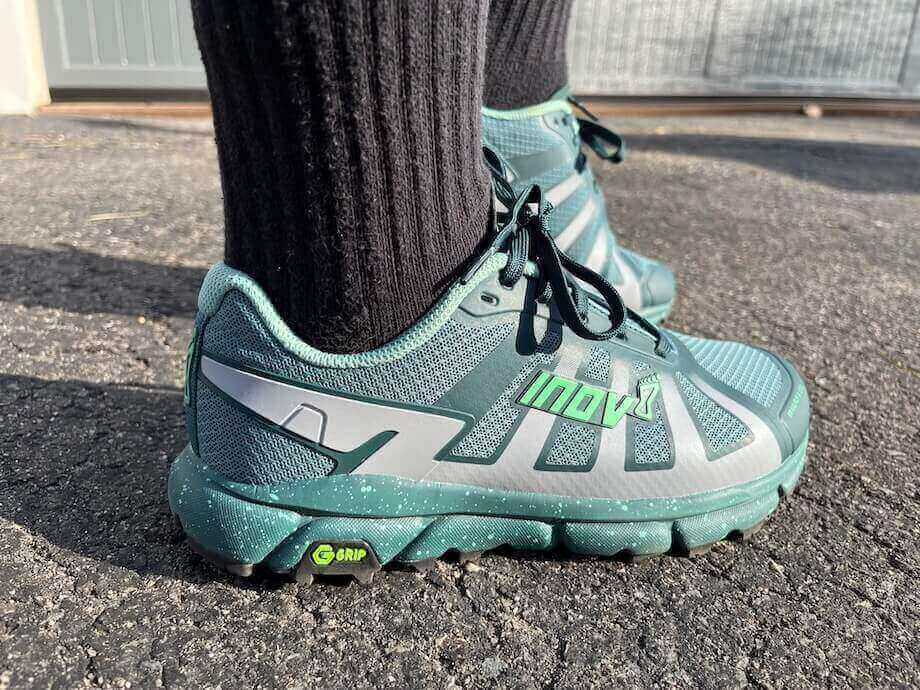 These, like most trail shoes, are very sporty/outdoorsy looking—"which to the general public probably means not super fashionable," Lauren says.
Because they're zero-drop shoes, these don't offer the best arch support and are not the type of shoes with a lot of cushion through the left/right side of the shoe. These are pretty thin for a running shoe, Lauren explains, so your foot has to kind of create its own stability—which is great if that's your goal.
"I like working on my arch strength and overall foot strength, so these shoes help me do that," she wrote in her testing notes. "However, I have noticed my arches collapsing in these shoes when I get tired."
The TrailFly G 270 V2 costs $170 per pair, which Lauren finds to be steep, but they do seem durable, she says. "I think the zero-drop does create a lot of value for runners looking for that type of shoe. It's not a general-purpose shoe, so maybe the price reflects the specificity!"
| | |
| --- | --- |
| Heel-to-toe drop | 0 mm |
| Weight per shoe | 270 g / 9.5 oz |
| Upper construction | Mesh with overlays |
Best Trail Running Shoes for Moderate Trails: Brooks Cascadia 16
Good for: Those who want trail shoes that double as road running shoes
Self-proclaimed Brooks fangirl chiming in here to praise the Brooks Cascadia 16. Living in one of Florida's biggest cities, wearing trail shoes almost always feels like overkill.
However, I've found my way to some moderate trails here and there, and the Brooks Cascadia shoes are now my go-tos for the Florida version of trail running—that being running across crosswalks into maybe one mile of (waterlogged or sandy) trail before having to cross yet another road.
I don't feel like a goof wearing these around town, but they perform so much better than my typical running shoes (Brooks Ghosts) on the soft terrain we have here. The Cascadias are trail shoes that don't look like trail shoes: It's the best of both worlds. Like Hannah Montana.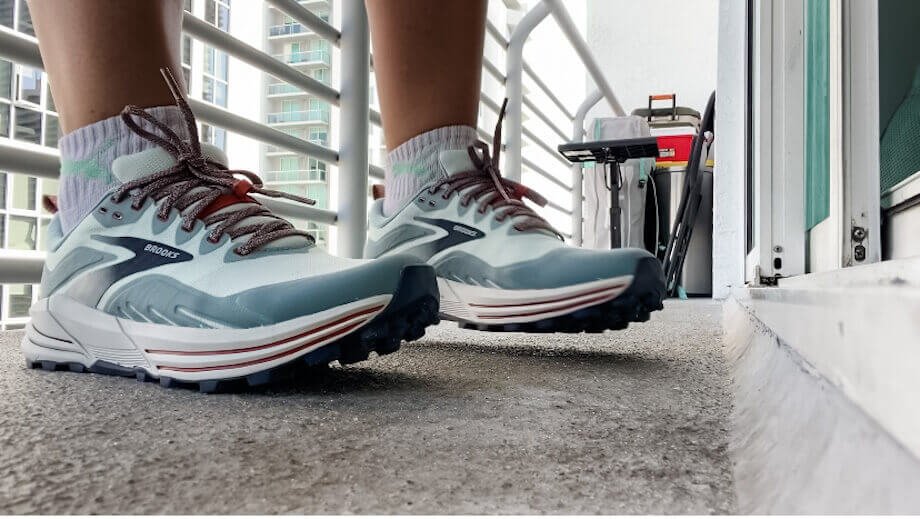 Plus, even though they're not road shoes, I've worn them around town and can say they have saved me from a trip when my stride landed me on a railroad track or loose cobblestone.
I believe these shoes should hold up through many miles in many conditions. The lugs on the outsole are thick, and there's a rock guard on the outsole as well. Additionally, the upper is woven, so it's breathable, but it's thicker than the mesh uppers you'll see on road shoes. There's also a waterproof wrap around the toe box.
One callout: The Cascadias fit me really tight at first. My feet actually ached after my first run in them, but they broke in very quickly—the second time around, I had no issues. Also, they're not the cutest shoes that have ever been on my feet, but since when have trail runners been aesthetically pleasing, ya know? I'd call them average in terms of looks.
RELATED: Best Running Vests
| | |
| --- | --- |
| Heel-to-toe drop | 8 mm |
| Weight per shoe | 10.5 oz / 297.7 g |
| Upper construction | Woven textile |
Best Trail Running Shoes for Rocky Trails: La Sportiva Ultra Raptor II
Good for: Extreme stability and durability on the roughest trails
Weather-proofed and extra durable for people who go on rocky trails, this shoe has a LOT of features.
"It's like putting your foot into a tank," tester Anthony says of the La Sportiva Ultra Raptor II shoes, thanks to the rock guards, ultra-stable base, and TPU lacing harness. And truthfully, we wouldn't expect anything else to live up to that name.
"Your foot's not going anywhere," Anthony says, and the shoes are "lugged to the max" with 4.5-millimeter deep, angled spikes.
The midsole is constructed of injection-molded MEMlex, a type of foam similar to EVA, plus an additional EVA "endurance platform" insert. This combo is said to provide the ultimate balance between shock-absorption, cushion, and energy return. There's also a TPU transfer shank to protect the positioning of your foot against sudden changes in the angle of terrain underfoot.
As for the upper, it's a woven textile to promote breathability, but a microfiber mudguard keeps the worst debris out.
There are only two color options, but both are pretty cool according to Anthony, and they also seem like they'd be highly visible at night—a strong draw for anyone who's brave enough to run in the absence of city lights at night.
RELATED: Best Running Apps
| | |
| --- | --- |
| Heel-to-toe drop | 9 mm |
| Weight per shoe | 12.5 oz / 355 g |
| Upper construction | Woven mesh with mid guard |
Best Trail Running Shoes for Wide Feet: Altra Olympus 5
Good for: People who want a wide toe box and room for the feet to breathe
It's not often you'll see people running ultramarathons in zero-drop shoes. But the Altra Olympus 5s are the type of shoes we could see ourselves doing that in (provided one of us can ever actually run that far…)
And, they're a "great choice for sasquatches like me," says Anthony, who wears a men's size 15. They also come in Altra's Original FootShape Fit, which is the widest of the three fits offered by the brand.
Overall, the Olympus 5s are "comfy, they fit well, and seem durable," Anthony says, noting that "They don't look bad, but I wish there was a more 'normal' colorway option. As-is, they look very Dad Force 1-ish."
The deep, plentiful lugs on the Vibram® Megagrip outsole give good traction on all types of terrains, Anthony says, and the 33-millimeter stack height makes these feel super plush.
"My biggest complaint, however, is that the laces are just super starchy—like, I want to dip them in fabric softener," Anthony says, "It's hard to get the laces really tight because of this," which can diminish performance out on the trail.
| | |
| --- | --- |
| Heel-to-toe drop | 0 mm |
| Weight per shoe | 12.3 oz / 350 g |
| Upper construction | Engineered mesh |
Best Cushioned Trail Running Shoes: HOKA One One Torrent 2
Good for: Trail running with soft landings on every stride
"Man, I love these!" Anthony quips about the HOKA One One Torrent 2 Trail Racer shoes, noting that they have responsive cushioning and provide soft landings.
Although these are designed and marketed as trail running shoes, Anthony thinks they'd make great cross-training shoes as well and can be taken from road to trail to the gym. Even at the somewhat expensive non-sale price of $125, Anthony thinks these are a solid pair of shoes that would be great for any serious runners or walkers.
The colorways are "fun and vibrant" and after many miles of walking, the shoes are still holding up nicely, he says. The Torrent 2s are similar to the Brooks Cascadia 16s in that they're built to perform off-road, but they look more like road running shoes than hiking boots.
The Torrents feature a symmetrical footbed that's best for runners with a neutral stride, plus a lower-profile (for HOKA) midsole to provide more bounce than sink.
Engineered mesh makes up the upper, along with reinforced overlays to keep rubble out. Lugs that protrude at multiple angles will keep you upright on slippery surfaces.
| | |
| --- | --- |
| Heel-to-toe drop | 5 mm |
| Weight per shoe | 9.3 oz |
| Upper construction | Engineered mesh |
Other Trail Running Shoes We Researched
The above shoes are our team's top picks for the best trail running shoes, but we didn't stop there. Here are some other trail shoes we researched and tried.
Topo Athletic MT-4: This is a well-balanced trail shoe where rugged protection meets minimalism; it's also a good transition shoe for people interested in moving to zero-drop midsoles, with a 3-millimeter drop.
HOKA Speedgoat 5: These are incredibly cushioned, with our tester saying they feel almost like walking inside of a bouncy castle (yes, the kind at kids' parties). Our tester felt pitched forward by these at first, saying they take some getting used to due to the intense midsole.
Merrell Nova 3: This is a basic trail runner that could transition pretty easily to the road. They feature moderate lugs and a mesh/TPU combo upper.
Salomon Sense Ride 4: Another pretty standard running shoe, and a good option for beginners thanks to their all-around neutral features.
The North Face VECTIV line: This line of shoes features a sole unit with a rocker to promote heel-to-toe roll while encompassing the basics of trail shoes: deep lugs, stability assistance, rock protection, and durability.
Adidas Terrex line: Part of the sportswear brand's foray into outdoorsmanship, the Terrex footwear line features hiking boots and trail runners with adidas' well-loved BOOST cushioning.
La Sportiva Bushido II: This is a performance trail shoe designed for off-road footracing. It has many features similar to the La Sportiva Ultra Raptor II that we tested, but it's lighter-weight and features slip-on construction.
How We Picked and Tested the Best Trail Running Shoes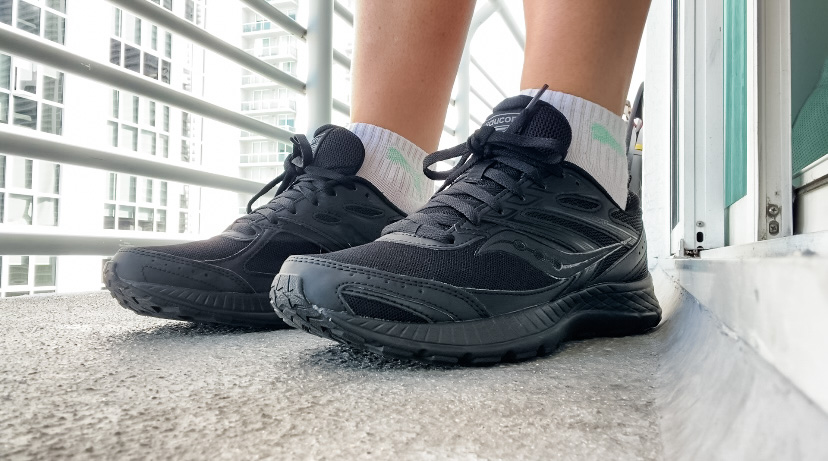 Research, order, test: That's how it goes at GGR. Because we are normal people, we ordered these shoes like normal people, waited for them, and then put them on our feet. It sounds very simple, but it's truly what sets us apart from other websites providing product reviews.
Every—yes, every—shoe recommended in our top picks for trail running shoes has been worn by a GGR product tester. We wore these shoes for various activities on various terrain and in varying weather conditions to ensure we got a feel for how the shoe will perform when a reader buys it.
RELATED: Best Running Water Bottles
Benefits of Good Trail Running Shoes
Trail running shoes protect your feet from rocks and roots while running off-road, and dig into the ground to keep you stable and prevent falls on slippery terrain.
Additionally, some trail shoes are waterproof and others have debris guards to keep dirt, pebbles, and other small items from entering your shoes.
Good trail running shoes also provide shock absorption, promote good running form, and support your ankle joints.
Buying Guide: What to Look for in the Best Trail Running Shoes
Outsole and Traction
Aside from overall fit, traction is the top factor to consider when buying trail running shoes. They look like cleats for a reason: They need to keep your feet close to the earth and your body upright, even when you're shuffling through that godforsaken slippery shale stone stuff.
Ankle Support
When running on uneven ground, ankle support becomes even more important. Your joints are subject to the undulations of the earth, so it's paramount that you wear a shoe that can keep your ankle joints stable.
Durability and Upper
Next, look for shoes made with durable materials such as engineered mesh, ripstop, or GORE-TEX. The exact material you need will depend on where exactly you plan to run, but the bottom line is that you need your shoes to last. One thing: In very wet conditions, GORE-TEX is the best option.
Arch Support
You may need more arch support if you overpronate, or roll your arches toward the ground. People with neutral foot strikes and those who underpronate (roll the outside of the foot toward the ground) generally don't need as much arch support. The same is true for walking shoes.
Midsole Cushioning
Midsole cushioning comes down to personal preference and foot anatomy, but in general, you'll want to look for a good blend of cushion that absorbs shock and energy return that provides good feedback.
Heel-to-Toe Drop
Again, this one's personal preference, as some people like a high drop and others prefer no drop. Moderate drops from 5 to 9 millimeters serve most people well.
Toe Box Width and Shape
A wider toe box will allow your toes room to splay as you run and, generally, this results in greater comfort and performance. Squishing your toes up into a narrow toe box can result in ingrown toenails, blisters, and even bruising.
FAQs About Trail Running Shoes
In case you still have questions about trail running shoes, we've answered some FAQs.
Is it OK to use trail running shoes on the road?
You can wear your trail running shoes on the road, but it likely won't turn out to be the most comfortable experience. You'll become very aware of the outsole lugs and overall stiffness of the shoe. If you really want to get just one pair, I recommend something like the Brooks Cascadia 16 or HOKA Torrent 2.
Why do my feet hurt after trail running?
Your feet might hurt after trail running for a variety of reasons, the best guess being that your shoes don't fit right. It's also possible that your feet aren't used to uneven terrain yet, so all of the muscles in your feet are sore from working extra hard to retain a healthy position and stride. 
Can I wear trail running shoes for backpacking?
Some trail running shoes are probably fine for moderate backpacking trails. However, it's a good idea to wear hiking boots for backpacking, especially if your route crosses various types of terrain and will take more than two days/one night to complete.
Where to buy trail running shoes? 
You can find trail running shoes at many retailers online and in-store. Try Amazon, REI, Backcountry, Academy Sports & Outdoors, Dick's Sporting Goods, Sportsman's Warehouse, Cabela's, Bass Pro Shops, and more.