We test and review fitness products based on an independent, multi-point methodology. If you use our links to purchase something, we may earn a commission. Read our disclosures.
Running belts don't get as much attention as a great pair of running shoes or a really comfortable pair of leggings, but once you wear one, you may never go back. The best running belts accommodate all your essentials, from your phone to your keys, without affecting your stride or adding a lot of bulk to your waist. When you find the right fit, you'll barely notice it's there.
Unfortunately, if you don't find the right fit, you'll be dealing with incessant bouncing, shifting, and probably chafing. No, thanks!
If you're new to running belts, or you're searching for the right one, we're here to help. We spent several weeks testing almost two dozen models in every kind of design, from a stretchy minimalist band to a fanny pack style with a fully functioning phone pocket. We took them on rugged trail runs and more leisurely dog walks to narrow it down to this list of our six favorites.
We Run a Lot (Like, A Lot A Lot!)
Not only is fitness our passion, it's also our profession. Our testers include certified personal trainers, CrossFit coaches, and nutrition coaches that are avid runners themselves. We know what you're looking for in a running belt because we're looking for the same thing: function, comfort, and ease of use. When testing these running belts, we always think about whether we would wear them ourselves and if we'd want to spend our money on them. If the answer is yes, we excitedly recommend them to you. If the answer is no, we always let you know.
Best Running Belts in 2023
Best Running Belt Overall: Nathan TrailMix Plus Hydration Belt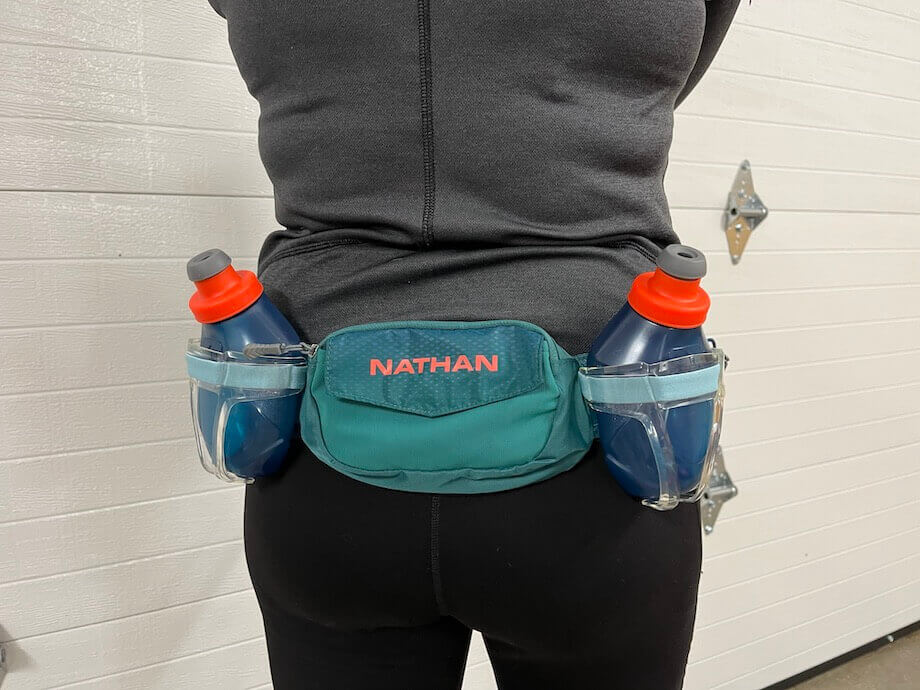 Good for: Anyone that wants a good running vest that's not too bulky
The Nathan TrailMix Plus Hydration Belt has everything you could want in a running belt. There's a zippered pocket in front that's big enough to hold an iPhone, plus a mesh pouch with a Velcro closure that fits keys, credit cards, and a snack for some running fuel. There are also two secure holsters near each hip that come with 10-ounce flasks for quick access to hydration.
This belt only comes in one size, which we don't like, but it has a snap closure and adjustable straps that ensure a secure fit on most body types. Two shock cords wrap around the bulk of the belt, with a tension lock that lets you tighten it more than the strap adjustments allow.
There's some stretch throughout the waistband and behind the water bottle holsters, which Lauren Strong, CPT and GGR writer, says made the fit feel awesome. She thinks the design itself "looks a little dorky," but its performance outweighs any concerns there.
"I thought the little water bottles on either side of the hips would feel weird but they didn't! This has a totally secure fit; it's comfortable, and there's no bounce!" she says excitedly.
The mesh that runs through the back also makes the belt really breathable, so it doesn't trap heat where it sits on your body. There's also some reflective details for added safety during low-light runs.
| | |
| --- | --- |
| Material | 60% nylon, 40% polyester |
| Weight | 9.1 oz |
| Sizes | One size fits most |
Best Running Belt for Long-Distance Runs: SPIBelt Distance Pro
Good for: carrying extra essentials when you're running lots of miles
The SPIBelt Distance Pro can accommodate everything you need for long runs, without weighing you down. It has a 9-inch zippered, weather-resistant pocket in the front that's big enough for a large phone and some other valuables, plus four external loops for energy gels. Talk about easy access.
There's a stretchy pocket that can expand when needed, but stays flat when it's not full. Nicole Davis, CPT and GGR editor, says that while it's secure, you wouldn't be able to remove it mid-run unless you make a full pitstop (so you might want to make sure you have a pair of running headphones with touch controls for music and phone calls).
This belt also comes with clip-on, removable water bottles, which is a nice touch. Nicole says it's not really a hydration belt—it still has a minimalist design that won't get in your way, just with the added benefit of water right by your side.
The band itself is elastic, so it has a snug fit that's still comfortable and bounce-free. There's also a clip in the back and the straps are adjustable, so you can tighten it as needed. As is, it accommodates waist sizes from 27 to 48 inches, but there's also an extender available if you need it to be bigger than that.
| | |
| --- | --- |
| Material | Elastic |
| Weight | N/A |
| Sizes | One size fits mosts (27 to 48 inches) |
Best Running Belt for Smartphones: Sporteer Kinetic K1 Running Belt Waist Pack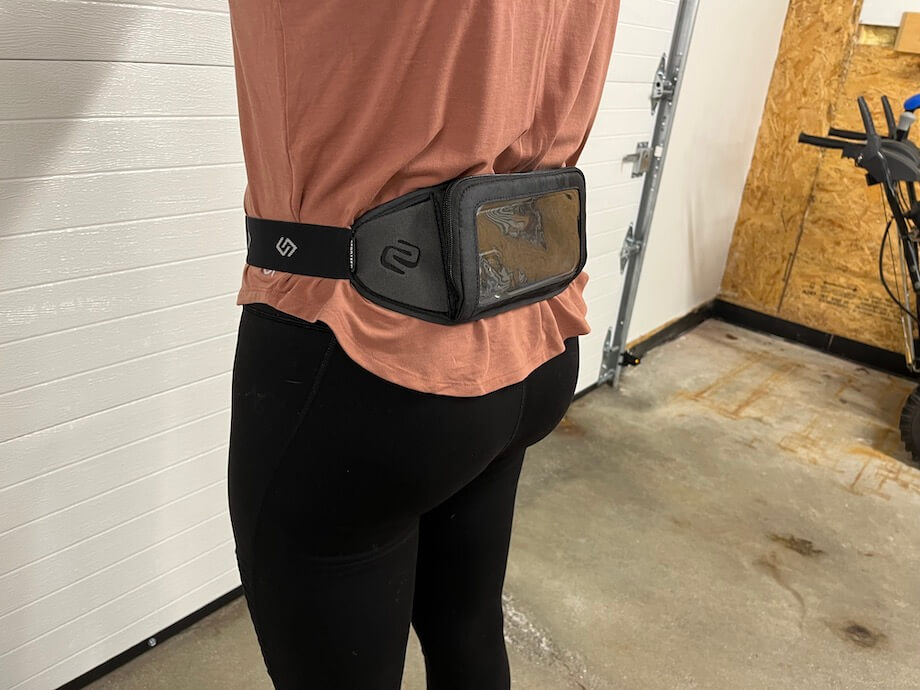 Good for: anyone who wants to operate their phone during their run
Many running belts can accommodate smartphones, but you have to take your phone out to actually use it. Instead of a solid front pouch, the Sportneer Kinetic K1 waist belt has a large pocket in the front that can easily fit your phone with a rugged case, like an Otterbox, on it.
Not only that, the pocket also has a clear front that's compatible with the touchscreen, so you don't have to take your phone out to operate it. There's a headphone opening at the bottom, so if you prefer a wired pair, you can connect to your phone while it's securely in the pack.
There's a hidden pouch behind the phone pocket that can fit additional items, like your cash and some cards, plus two small pouches that can fit smaller items, like a key or earbuds. However, Lauren says she wouldn't chance putting anything valuable in there because there's no closure.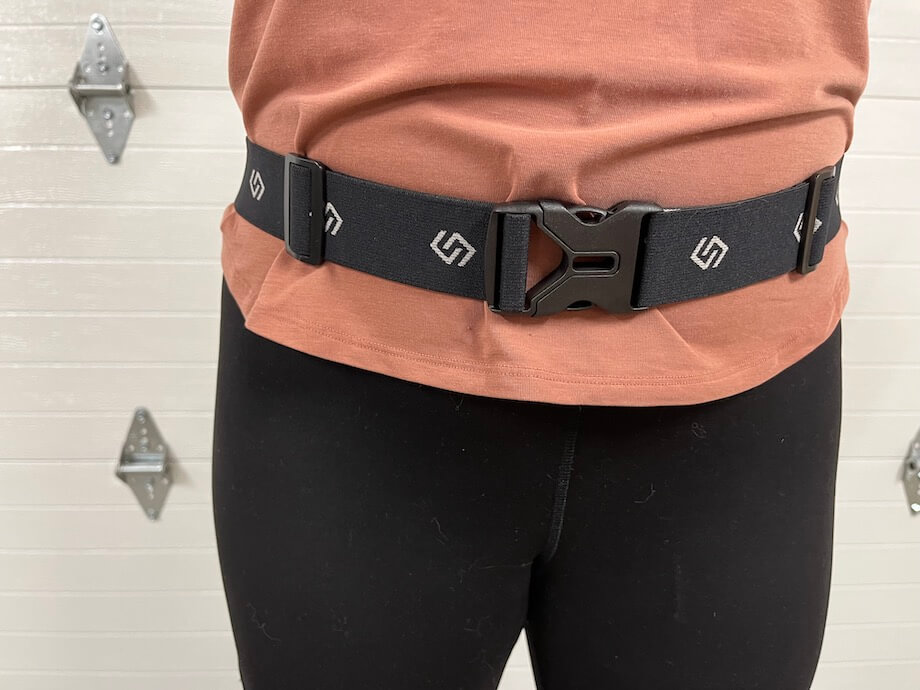 This running belt gets high marks for comfort, too. It has a fanny pack-like design, with an adjustable, elastic waistband that Lauren says has a huge amount of stretch. It felt glued to her body without being too tight or annoying, and had no bounce. There's also a heavy-duty buckle in the back that makes it easy to take on and off.
While it's not waterproof, the phone pouch does have a sweat-resistant foam backing. It also has spacer mesh to prevent chafing and hot spots.
| | |
| --- | --- |
| Material | Nylon |
| Weight | 3 oz |
| Sizes | One size fits most |
Best Minimalist Running Belt: Naked Running Band
Good for: anyone who wants a low-profile belt that can hold a lot
If you prefer a low-profile running belt, the Naked Running Band is the one for you. It's not your typical running belt—there are no closures or clasps of any kind. Instead, you slip it on like you'd put on a skirt and shimmy it up to your waist, according to Amanda Capritto, CPT and GGR editor.
"It's basically one large pocket (separated by a couple of vertical seams) and it securely holds quite a bit—my phone, key, doggy bags, and ID. It also has some external loops where I can hook my dog's leash, which is nice, so I can go hands-free," Amanda says.
The belt is super compressive, which is how it actually works; the compression between your body and the fabric is what secures everything in place. While this is really effective, it can be a little off-putting, especially if you just eaten prior to your run, according to Amanda. The trade-off is a completely bounce-free running belt though, so we think it's worth it.
While there aren't any bulky pocket or hydration pouches, it is wider than most. It's about five inches wide, so it can cover a good amount of your stomach depending on your torso length. This isn't really good or bad, just more of a "to consider." The belt itself is made of a strong, breathable mesh so despite the fact that it may cover a large portion of your stomach, it still allows air flow and doesn't create hot spots.
And despite its minimalist design, it has one of the largest capacities on the list and can accommodate more than two liters' worth of your stuff.
| | |
| --- | --- |
| Material | Mesh |
| Weight | 2.3 oz |
| Sizes | One size fits most |
Best Running Belt for Running with Dogs: Nathan Waistpack + Dog Leash
Good for: hands-free dog walking or running
If you like to take your pup with you on your runs, this hybrid waistpack and dog leash makes the most sense for you. Instead of strapping on a running belt and holding a separate leash, you can hook the included feedback leash right onto the belt and go completely hands-free.
There's a guideline in the front of the pack that allows the leash to move side to side as your dog changes positions. The leash also has handles at both ends so you can manually control your dog when you need too.
"It performed great during different types of runs and on walks. It doesn't bounce much (it does a little, but not to the point I don't want to wear it) and it doesn't make me chafe, so I'd consider that a success," Amanda says.
It is on the smaller side, though. Amanda says she could barely fit her phone, key, ID, and some doggy bags, but it's not meant to be a full hydration pack. And while the fabric is thick and durable, the clasp is also on the thinner side, so it's probably not a lifetime product. As long as you set your expectations, we think you'll love it.
| | |
| --- | --- |
| Material | Nylon blend, mesh |
| Weight | Not listed |
| Sizes | One size fits most |
Best Hydration Running Belt: Amphipod Profile-Lite High-Five K-Pack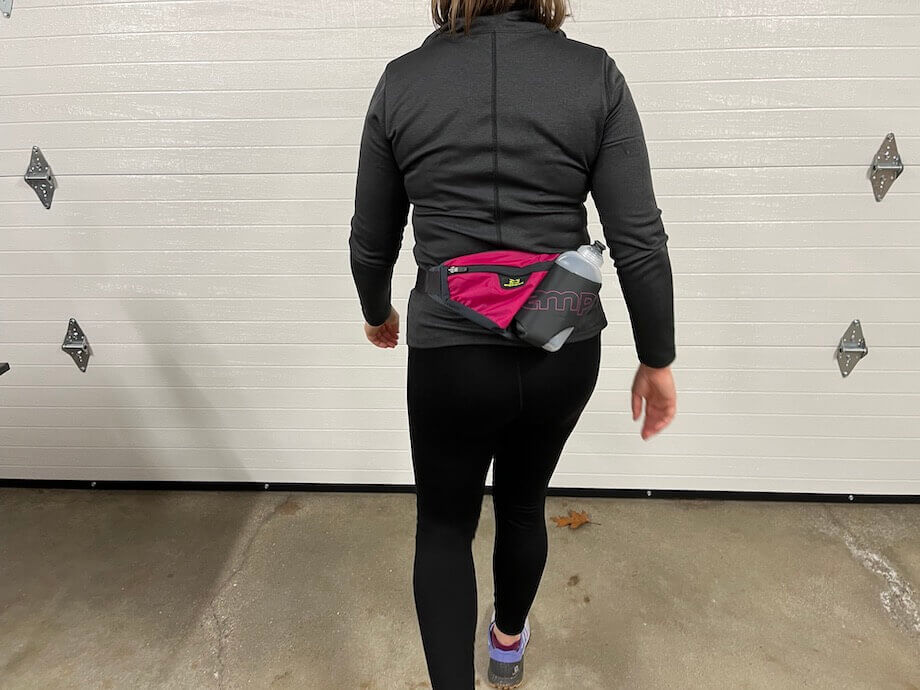 Good for: taking water with you without adding too much bulk
The Amphipod Profile-Lite High-Five K-Pack is a running waist pack that was built around hydration. It has a sloped sleeve that accommodates a 16-ounce water bottle and provides easy access mid-run. It's also insulated so it can keep your drinks colder even when your body temperature rises.
Lauren took this belt trail running and on the road, and even with a full water bottle, it didn't fall out of the pouch on the rugged terrain. There was also minimal bounce so it stayed comfortable.
The look is basic, but Lauren says it's more about function (and it isn't ugly even though it's a little bulkier than others she tested).
"This belt is simple but has it all: one pouch and one water bottle holder. The pouch fits my iPhone, but I have a minimalist case (this might not fit a big Otterbox style case). There is enough room for keys in there, too," she says.
The main compartment is sweat- and weather-resistant, and there's a vented mesh back panel that helps reduce hot spots. Another perk? The waist belt is fully adjustable, and while the adjustment does take a minute to do, the fit will work for most people.
| | |
| --- | --- |
| Material | Nylon, mesh |
| Weight | 0.34 kg (in box) |
| Sizes | One size fits most |
Other Running Belts We Researched
Lululemon Fast and Free Running Belt
Caroline Lubinsky, GGR fitness writer and self-proclaimed Lulu stan, really liked this running belt, but ultimately it didn't make the list for two reasons: It had a weird fit and had to be pushed down right on top of the butt cheeks to feel secure, and the sizing isn't very inclusive. It maxes out at a L/XL (and does run big, for the record), but it's still pretty limited.
The Nathan Zipster is decent, but had some design issues that we couldn't look past. Because it's one-size-fits-most, the belt is really long. When adjusted, the extra slack just hangs there and flaps in the wind, which feels and sounds annoying, according to Nicole. She tried to tuck it in but it kept coming out. It also felt bulky compared to others she's tried, but it does have good storage capacity so the trade-off could be worth it to you.
Fitletic Ultimate II Running Pouch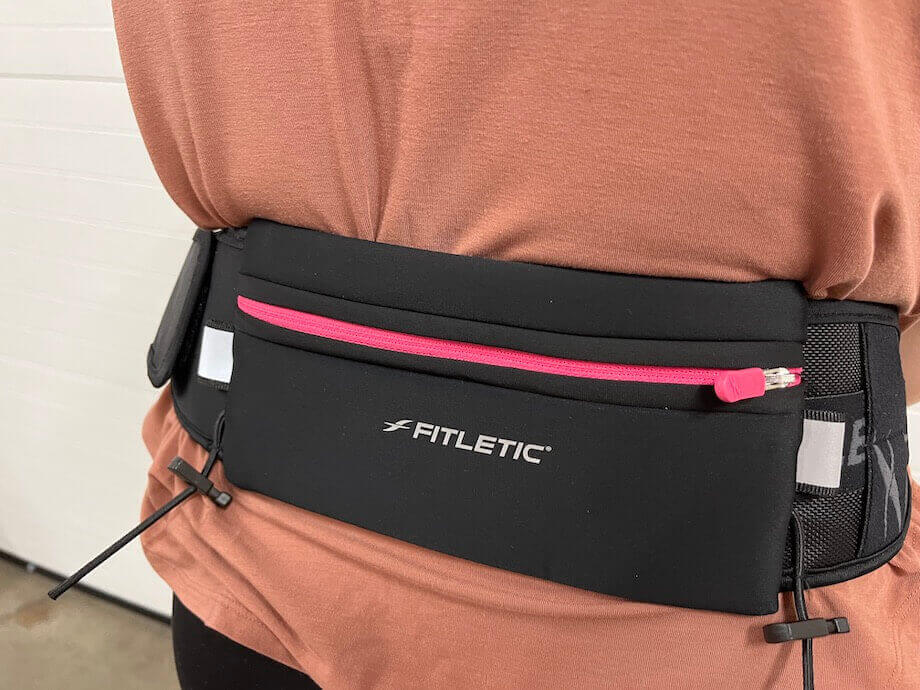 This running belt isn't bad for a budget pick, but Lauren said it felt tight and uncomfortable around her hips. You can wear it around your waist to circumvent this issue, but we think there are better-fitting options out there. This one does have decent storage, though, and specialized loops to hold running fuel such as gel pouches.
Fitletic Hydra 16 Hydration Belt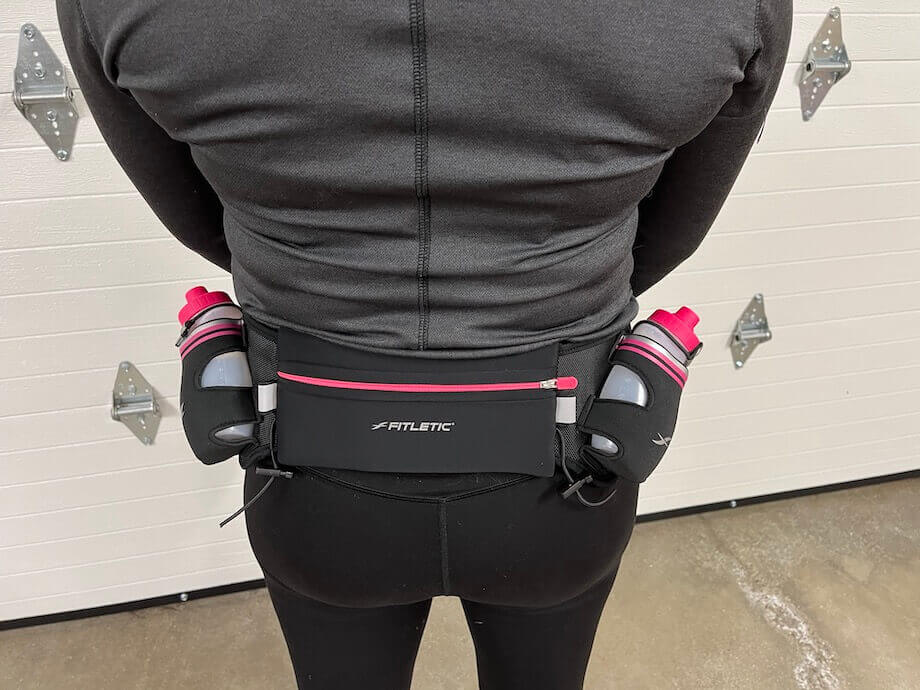 The Fitletic Hydra 16 has a similar design to the Ultimate II, but with two added pockets to hold water bottles. While having hydration handy was a perk, Lauren still couldn't get past the uncomfortable design. We think there are better hydration options out there.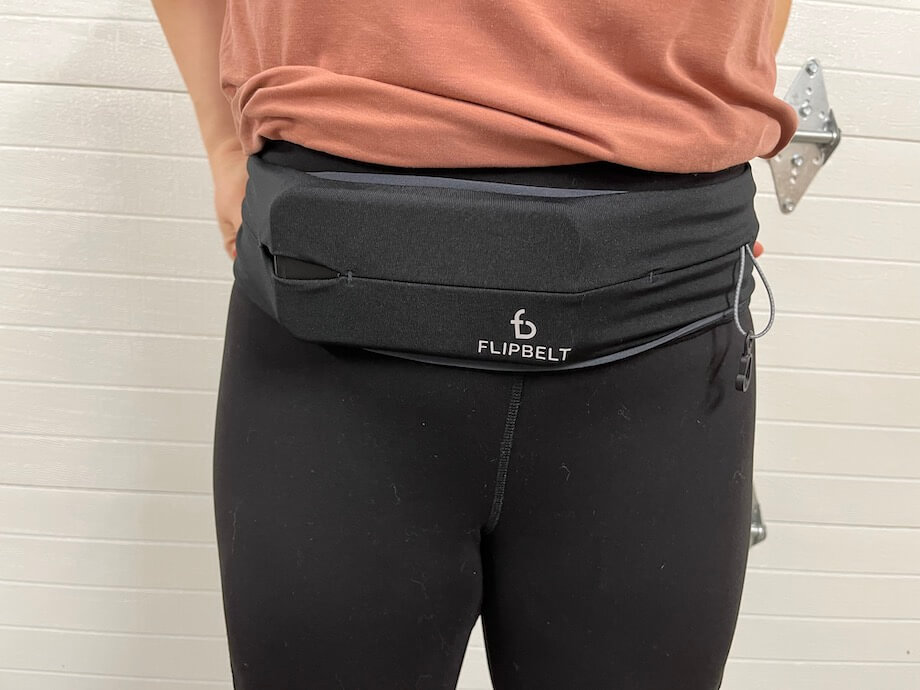 The FlipBelt Classic Running Belt is another okay option. If you're looking for a minimalist (and inexpensive) belt, this could be a good pick for you. It has slits to hold your phone, money, and ID, but no zippers or clips for added security. It also has a slip-on design that makes it a little annoying to put on—since you can't adjust it, you'll want to double check to make sure you're getting the right size.
How We Picked and Tested
Our testing always starts with extensive research. For this roundup, we looked at the most popular running belts from the most well-known brands. We also dug into some lesser known brands, making sure to consider a range of price points.
Once we narrowed our testing pool down, we strapped the belts on and got to running. We tested them with only a few items, like an ID and some cash, and loaded them up to their max capacity. If the belts came with bottle holders, we filled up the flasks for testing to see how they fared.
During our runs, we assessed fit, comfort, bounce, and functionality. We actually drank from the water bottles to see how easy they were to remove and return to their dedicated pouches. We also considered how easy the belts were to put on and take off. Some of them have clips that you can quickly wrap around your waist. Others are made of a stretchy material that you step into and pull up.
After about two weeks of testing, we rated each running belt on 12 factors, including price, purchasing/delivery, storage capacity, clasps and closures, appearance, fit, durability, performance and customer reviews/satisfaction. The belts that ended up with the highest average rating are the ones that made our list.
Benefits of Running Belts
Running belts serve double-duty. They make your run completely hands-free so you can focus on your form (while still listening to your Spotify playlist). "They also put necessities, like water, protein bars, and energy gels right at your fingertips so you can fuel up during longer runs," Amanda says.
There are running vests too—or you could just carry a backpack—but running belts have a more minimalist design. They don't trap heat or weigh you down, so if you have fewer things to carry, you can do it without adding too many extra layers.
Buying Guide (What to Look for in a Running Belt)
When shopping for a running belt, the fit, amount of storage space and material type are among the top considerations. You also want to think about whether you want hydration capabilities or not.
Adjustability/Fit
Adjustability and fit are two of the most important things to think about. If your belt is too tight or falling off as you run, you're not going to have a good time.
Some belts are one size fits most, with adjustable buckles and straps that give you a more customized fit. Others come in specific sizes and rely on spandex for compression. Either type can work, but if you choose a non-adjustable belt, just make sure you're extra diligent about measuring your dimensions to find a snug fit.
Storage Space
The main purpose of a running belt is to store your stuff, so you need to make sure the one you pick is up to the task. If you want to carry your phone, an ID, and some snacks or hydration packs with you, you'll need more space than someone who likes to run with fewer personal items. If you have a large phone, make sure the phone pouch is actually large enough to accommodate it (in our testing experience, some of them get a little tight for bigger iPhones).
When considering storage space, also think about the overall weight—you want it to hold all your stuff without weighing you down too much—as well as how the weight is distributed. The larger pockets should be in the center and any hydration pouches should sit on both sides, or in the middle, to help balance out the load.
Material Type
Since a running belt will essentially be another layer on your body, you want to make sure you're choosing a breathable material that can help regulate heat instead of trapping it. Spandex and nylon combos are a popular option, since they're often water-resistant too. You can also look for additional features, like mesh backing or pockets that allow air to flow through as your body temperature heats up.
The fabric can also affect how bulky the running belt feels—nylon and neoprene are usually very thin yet still durable. They sit closer to the body and don't add a lot of bulk or weight to your run.
Hydration Capabilities
Hydration capabilities aren't a must-have in a regular running belt (you can get a separate hydration vest for that), but they're a nice-to-have for longer runs or if you want to go completely hands-free. Some belts have extra pouches or loops that accommodate water flasks, and some belts even come with the bottles so you don't have to worry about finding one that fits. If this is important to you, make sure the belt you choose can accommodate.
FAQs
Are Running Belts Worth It?
If you want to take some essentials with you on your run, but don't want to carry them, a good running belt is absolutely worth it. Compared to other running gear, they're a pretty minimal investment—the highest priced model on our list is about $60—yet they're built to last through many runs.
Do Running Belts Slow You Down?
The right running belt won't slow you down on race day. These belts are really lightweight to begin with, weighing only a handful of ounces. The pouches are also evenly distributed to help spread out the load when you actually fill them with your stuff. 
Is An Armband Or Belt Better For Running?
It depends what you're trying to accomplish. Armbands are typically smaller, so they'll hold your phone and maybe one other small thing. Belts can accommodate more, including your keys and a Camelbak or other water bottle, depending on how they're designed. If you're going for a short run and you just want some tunes to power you through, an armband is probably sufficient. But if you want to take some extra essentials and hydration on a longer run, you probably need a belt.