We test and review fitness products based on an independent, multi-point methodology. If you use our links to purchase something, we may earn a commission. Read our disclosures.
A great pair of running shoes is the foundation of a successful run, but without proper hydration, you'd be worn out before you could even break them in. While you can certainly carry a water bottle with you when you run, it just isn't the same as strapping on a running hydration vest and hitting the pavement (or a treadmill, cause why not?).
The best hydration vests for running have ample room for water (or your hydration beverage of choice), plus snacks, energy gels, extra layers, keys, your phone, and often more. They can be fully hands-free if you opt for one with a hydration bladder or just more convenient if they utilize water bottles instead.
Of course, when you're wearing something on your torso and going for a run, it has to be as comfortable as it is functional—and comfort is just something you can't assess until you've tried it for yourself. That's why we tested multiple models of hydration packs, paying attention to special features, storage, and convenience in addition to comfort. After several weeks and many miles, this is our shortlist of the best hydration running vests.
We Ran A Lot Of Miles And Drank A Lot Of Water
To come up this list, we put these hydration vests through the ringer. We filled them up to full capacity, stuffed them to the brim, and took them on short runs, long runs, and through cities and trails. Ultimately, the winners were comfortable, didn't bounce around or throw off our form, and had enough space to hold all the gear and snacks we wanted to bring with us.
Why should you care what we have to say? Aside from the fact that many of us are runners ourselves, our testers also include certified personal trainers, CrossFit Level 1 Trainers, nutrition coaches, and former collegiate athletes. We've been exposed to a lot of gear over the years and feel fully qualified to make recommendations to you.
Best Hydration Vests for Running in 2023
Best Hydration Running Vest Overall: Patagonia Slope Runner Endurance Trail Running Vest
Good for: anyone that wants a comfortable, lightweight running vest
The Patagonia Slope Runner Endurance Trail Running Vest just works. There's nothing particularly fancy about it, but it's comfortable, fits well and feels "lux," according to Caroline Lubinsky, the CrossFit Level 1 trainer and GGR Fitness writer who tested the vest.
It has a unisex design with adjustable bungees that tighten the body of the vest and the straps. There are also bungees that act as chest straps, so you can cinch it from all directions.
The shoulder straps hold two water bottles, each of which holds 500 milliliters. Caroline says the water bottles stayed nicely in place as she ran and would gladly take it on longer treks and/or hikes.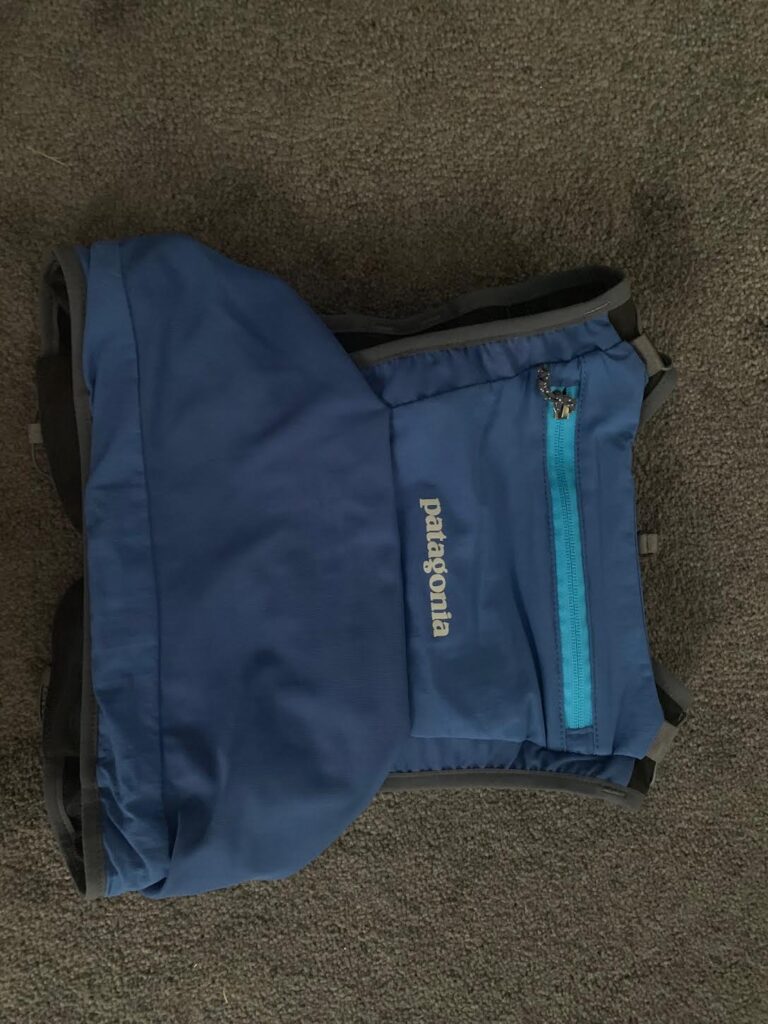 In addition to the main water compartments, it also has plenty of storage: a larger back zippered pocket and two easily accessible side pockets. Plus, it's made of nylon, so not only is it super lightweight, it's also water-resistant and really easy to clean.
The only thing that made us raise an eyebrow was the price. While we weren't shocked by the $160 investment—after all, it is on par with the brand's other prices—Caroline does feel like you're partly paying for the price. However, she says the nylon material makes it feel really durable and like it will last a long time.
| | |
| --- | --- |
| Water capacity: | 1 liter (two 500-ml bottles) |
| Total capacity | 3 liters |
| Weight: | 6.2 ounces |
| Available sizes: | XS, S, M, L |
Most Comfortable Hydration Running Vest: Nathan Quickstart 2.0 3L
Good for: longer runs and those who like to pack a lot of gear and/or snacks
During testing, the Nathan Quickstart 2.0 3L vest got high marks for comfort, function, and water capacity. It has adjustable sternum straps, plus dual side straps that ensure a snug fit without making it too tight.
While Amanda Capritto, GGR editor who tested the vest, said it took some finagling to get the right fit, the traditional clip buckles feel sturdy and don't come undone when running or hiking. It feels stretchy and soft and it doesn't rub against the skin, plus there's no bouncing even when the water bladder is full.
It's called a 3-liter vest, but that's its full gear capacity: It has a hands-free water bladder that holds 1.5 liters of water, while the storage compartments house the remaining 1.5-liter capacity. It has one main zip pocket on the back—this is where the bladder is stored, but you can also shove your other belongings in there.
"This vest has plenty of pockets, both zippered and non-zippered, and it can hold several energy gels, snacks, keys, and my phone," Amanda says. There's also a zippered phone pocket on the front, plus an extra bottle pocket if you want to add more water.
"My one gripe is that the only pocket big enough to hold my phone isn't quite long enough to easily take the phone in and out. It's like I have to stop running if I want to slip it in or out of the pocket,which is inconvenient" Amanda says.
| | |
| --- | --- |
| Water capacity: | 1.5 liters |
| Total capacity: | 3 liters |
| Weight: | 1.1 pounds |
| Available sizes: | One size fits most |
Best Hydration Vest for Storage: Black Diamond Distance 15
Good for: trail runs, hikes or any time you want to bring a full pack with you
The 15-liter capacity of the Black Diamond Distance 15 blows the others out of the water. If you're going on longer runs or outings where you need more running gear, this is the hydration vest for you.
"This pack literally has the equivalent of a school backpack on the back, so it is ready for you to store everything from your wallet, to your phone, to a raincoat, and more," says Caroline.
There's a main opening that houses a hydration bladder with a slash pocket where you can store your goods, plus two dual flask pockets in the front if you want to load up more water. (Note: Neither the hydration bladder or water bottles are included with the purchase).
This is also an excellent option for trail runners or climbers. It has quiver sleeves to carry trekking poles and ice axe holsters, and you can take any cording into the slash pocket if needed.
The Black Diamond Distance 15 is rugged too. It's made of a super strong, no-rip nylon that's weather-resistant and was tested at high altitudes. The harness has compression elastic cording on the side so you can adjust it for a snug fit. The vest is straightforward to put on and take off, and the clips are easy to tighten and loosen, according to Caroline.
The TL;DR: "I don't think I would wear this for a race day per se, but it would work well for hiking or long trail runs," Caroline says.
| | |
| --- | --- |
| Water capacity: | N/A (doesn't come with bladder or flasks) |
| Total capacity: | 15 liters |
| Weight: | 13.89 ounces |
| Available sizes: | XS, S, M, L |
Best Hydration Vest for Safety: CamelBak Ultra Pro Vest
Good for: overall safety, as well as early morning and nighttime runs
Many hydration vests have some reflective detailing, but not enough to take the place of a proper safety vest. However, the CamelBak Ultra Pro Vest has reflective accents throughout the entire harness so it works well for late-night and early morning runs.
It also has a discreet safety whistle that's very loud and "scared the crap out of" certified personal trainer and GGR editor Nicole Davis's cat when she was testing the vest.
The vest is extremely functional too. It has lots of pockets (10 total) and four places you can store 500-milliliter soft flasks—the vest comes with two. It also has a main compartment that can accommodate a 1.5-liter hydration bladder (not included), although there isn't a hose clip which is kind of a bummer.
The front pockets are designed for your phone and other small items, while the side stretch pockets are made to stow extra layers or non-essentials that you don't need to access mid-run. Nicole says these pockets are a little awkward to get to when wearing the vest, and reviewers on CamelBak's site agree.
The vest is made of micromesh so it allows plenty of ventilation and is a good option for hotter months when you want hydration without piling on warm extra layers. The fit is great too; Nicole says it lands about mid-back and doesn't look or feel bulky. Note: This particular model is a women's fit so it's cut differently than the unisex versions. There's also a men's vest.
| | |
| --- | --- |
| Water capacity: | 1 liter |
| Total capacity: | 6 liters |
| Weight: | 5 ounces |
| Available sizes: | XS, S, M, L |
Best Hydration Vest for Long Runs: Ultimate Direction Ultra Vest 6.0
Good for: avoiding chafing and/or taller runners
The name may have clued you in, but the Ultimate Direction Ultra Vest 6.0 is specifically designed for ultrarunners (although you can certainly use it on shorter runs). It has specialized cuts—roomier cuts in the back and arm holes—and protective mesh panels that help minimize chafing over long distances. It also has a wider, taller fit than the popular Vesta.
According to Caroline, it fits well, didn't weigh her down, and didn't cause chafing—everything that was super important to her. The adjustments were straightforward and easy to access and the pockets were extremely functional.
"You also have a zippered back pocket and a waterproof pocket for smaller things (they recommend it for pills) which I loved! This was well-thought out and I was impressed. Has tons of main storage with its backpack-like shape. So many little compartments," Caroline says.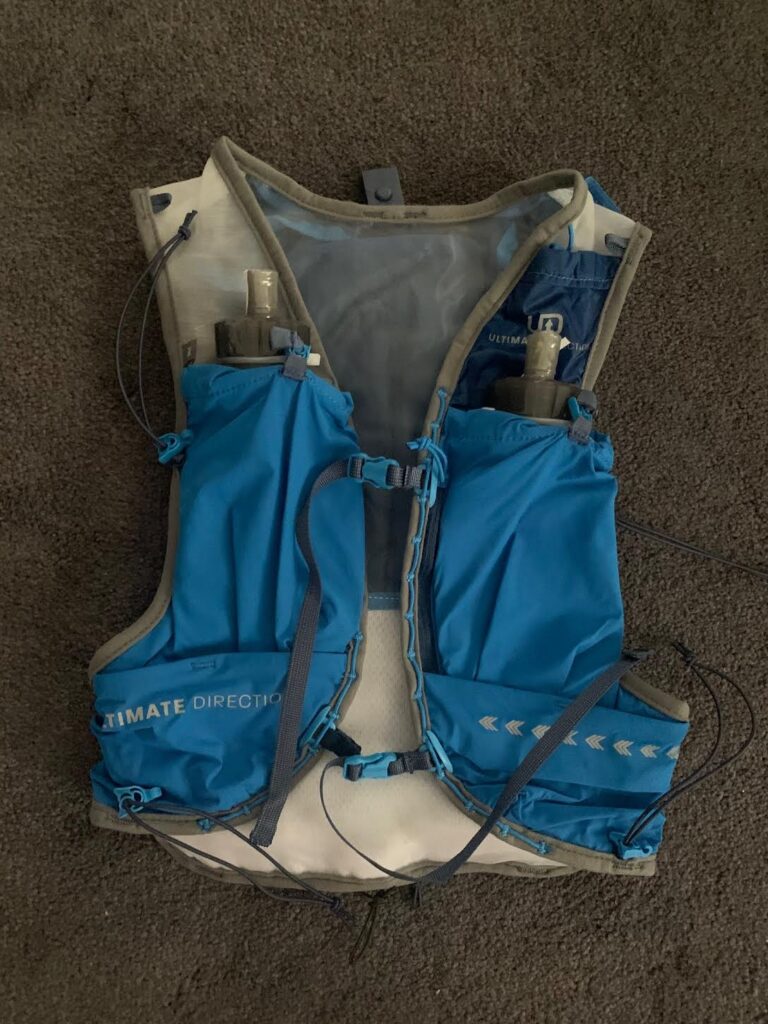 Unlike harness-style vests that mainly cover the upper back, this one has a full wraparound design with sternum clips, four hooks and bungee cords that provide a more secure fit. The main compartment is big enough for a 2-liter hydration pack (but it doesn't come with one) and zippered lat pockets are accessible when wearing the vest.
The whole vest is either waterproof (main compartment) or water-resistant (other pockets) so it can work with you through changing weather conditions.
| | |
| --- | --- |
| Water capacity: | 2 liters |
| Total capacity: | 10.3 liters |
| Weight: | 8.11 ounces |
| Available sizes: | S, M, L, XL |
Other Hydration Running Vests We Tested And/Or Researched
Salomon Adv Skin 5 Set
The Salmon advanced skin lineup gets a lot of praise, but we just didn't think it was as comfortable or functional as some of the others. The design makes it more prone to chafing around the neck and it's not as breathable, so it can get hot on longer runs. If you're sold on the Salomon brand, the Adv Skin 12 has better reviews for comfort.
The North Face Flight Race Day 8
We thought this running vest was just okay. There's a decent amount of space and it's easy to adjust, but the bottles bounced around during Caroline's tests and (in our opinion) the material doesn't feel durable enough to warrant the price tag.
Nathan VaporHowe 2.0
This is a solid race vest with a lot to offer, but ultimately there wasn't enough going for it to make it stand out from the others. However, we do love that the soft flasks have hydration tubes for easy access so you don't have to remove them from the pockets to drink.
Osprey Dyna 1.5 Trail Running Vest
We like the minimalist design and breathability of this Osprey vest, but didn't think it had enough widespread appeal to earn a spot on the list. If trail races are your thing, this could be a top pick for you though.
How We Picked and Tested
Our testing process always starts with a research phase: We looked at popular brands and top-rated vests, first digging into ratings and customer reviews to see what the public was saying. From there, we narrowed down our testing pool to highly rated options and vests that have mixed reviews (some people love them; some people don't).
When building our testing pool, we make sure to include a range of different styles. For this hydration running vest guide, it was soft flask vests versus hydration packs, plus different capacities, weights, and materials.
To test the vests, we wore them on short runs, long runs, and hikes, assessing things like comfort, breathability, and overall access (to the water and the pockets). We took note of whether there was any uncomfortable bouncing or sloshing that could negatively affect form and/or overall performance.
During our testing, we rated each vest on several factors, including hydration capacity, pockets, storage, adjustments (and how easy those adjustments were to make), appearance, fit, durability, performance, and comfort. We also noted if there was anything that made them stand out (for better or worse) from the others.
The hydration running vests that we named the "best" had the highest average rating across all categories, and no major complaints from our testers.
Benefits of Hydration Running Vests
Proper hydration is always important, but this is especially true during demanding physical activities like running. According to a July 2021 study published in the Journal of Human Kinetics1, hydration plays a role in performance, injury prevention, and recovery.
"Dehydration not only slows you down and negatively affects your energy, it can actually make you more prone to injuries and soreness post-run," says Amanda Capritto, certified personal trainer and GGR editor.
Hydration running vests keep water—or your replenishing beverage of choice—close to you at all times. Some of them have hydration bladders with an attached tube that allow you to drink hands-free. Others have water bottles or soft flasks that fit securely into the shoulder straps for easy access. Sure, you can carry a water bottle with you, but it's not as comfortable as having a properly fitted hydration pack.
Running hydration packs also serve double duty: Most of them have extra room in their main compartments or front pockets that allow you to store your phone, keys, snacks, and anything else you might need to bring with you on your runs.
Instead of being forced to carry these things—or leave them behind in your car—you can comfortably secure them in your pack.
Many are reflective too, so they can add a level of safety on darker days. However, we still recommend wearing a dedicated safety test on nighttime runs.
Buying Guide: What to Look for in a Hydration Running Vest
When choosing a hydration running vest, there are a handful of things you want to consider. Among the most important are sizing, storage capacity, the type of reservoir, and the vest's weight.
Sizing
Sizing is of utmost importance. You want a vest that's snug enough so it doesn't shift or bounce around when you're running, but you don't want it to be so tight that it causes chafing and/or you can't breathe. Check the available sizing options plus any available sizing charts to make sure the vest will work for you. Adjustable straps and bungees can help you get a custom fit.
You also want to consider if the vest is unisex or if there are different cuts for men and women. It's not a dealbreaker either way, but sometimes this can make a difference in the comfort and fit, as well as the size you should get.
Storage Capacity
Hydration running vests typically have two listed storage capacities: the total storage capacity (which includes the pockets and main compartment) and the amount of water the vest holds. Consider both when choosing a vest.
Most vests carry around one to 1.5 liters of water—a good volume for most runners. However, if you're running an ultramarathon or doing something especially demanding and won't have access to water for a while, you may want to consider a larger water capacity. The opposite is also true: If you want something to drink on short runs, a huge amount of water might not be necessary.
The overall storage capacity is something to consider too. Having a large main compartment and extra pockets is convenient if you want to bring snacks, a backup pair of running shoes, and/or extra layers with you, but it might not be necessary if you don't need to carry any extras.
Type of Reservoir
In addition to how much water the hydration vest holds, you also want to consider how it holds that water. Some vests come with water bottles or flasks, while others have a refillable bladder or hydration pack inside the vest with an attached tube that you drink from.
The best hydration packs make the vests truly hands-free, and often help distribute the extra weight evenly across your back. The water bottles are typically situated in the front of the vest and require you to grab them and drink. There's no right or wrong way here; it just comes down to what you like better.
Weight
Anything that holds you down can slow you down. Obviously a sack filled with water is going to add some weight to your body, but the lighter the vest is to start with, the less cumbersome it will be overall. When choosing a hydration running vest, make sure you're getting something that's lightweight to start—under a half-pound is best.
FAQs
Are Hydration Running Vests Worth It?
If you run often and/or hike long distances, hydration vests are absolutely worth it. Not only do they free up your hands, they also accommodate a lot more water than your average bottle. They're much more comfortable to carry too, since the weight is evenly distributed. Hydration vests also have the added benefit of pockets and other storage space so you can carry your valuables with you.
How Snug Should A Running Vest Be?
When it comes to running vests, sizing is really a Goldilocks type of situation. They should be snug so they don't shift around, but not too tight that you feel uncomfortable or like you can't reach a full chest expansion on your inhale. All running vests fit differently, so make sure you follow the manufacturer's sizing chart when choosing yours.
What Is The Best Way To Carry Water While Running?
The key to carrying water while running is to distribute it as evenly as possible so it doesn't throw off your form. With this in mind, most running vests are designed with a rear pocket that holds the water bladder in the lower back or shoulder straps that hold two identical water bottles or flasks.
References
1. Judge L, Bellar D, Popp J, et al. Hydration to maximize performance and recovery: knowledge, attitudes, and behaviors among collegiate track and field throwers. J Hum Kinet. 2021;79:111-122. doi: 10.2478/hukin-2021-0065