We test and review fitness products based on an independent, multi-point methodology. If you use our links to purchase something, we may earn a commission. Read our disclosures.
When most people think about NordicTrack, two words come to mind: durable and expensive. If you purchase a treadmill from this reputable brand, nine times out of 10, you'll get a well-built machine with a mid-range price tag.
However, NordicTrack has historically made affordable treadmills. As you'll see in our NordicTrack T 5.7 treadmill review, this is all that and a bag of chips (yes, that's a 90s reference), and might be the home gym machine you've been looking for. Although it's no longer in production today, I'd still consider it a great grab if you're looking for an entry-level treadmill. Who knows, you might spot it on Amazon, Walmart, or at someone's garage sale. As long as it's in good condition, it should serve you well.
To ensure it's the right fit for you, we'll dig into the specifics of this treadmill. While you're not going to get a 22-inch touchscreen as you'd find on the NordicTrack 2450, it still offers many of the specs people would appreciate on a treadmill. So, let's get into it!
Treadmill Testing Is What We Do
Purchasing a home treadmill is a pretty big decision! Therefore, it's important to gather information so you can select the one that's truly best for you. Sure, you can rely on your well-intentioned friends or coworkers telling you how much they love their treadmill and rave about how you should get one too. However, what's great for them might differ from what's best for you.
At Garage Gym Reviews, we try out machines and really get a feel for their strengths and weaknesses. We mentally note on our handy-dandy checklist things like if this type of motor will suffice for an advanced runner or if the tread belt is long enough for someone with a long stride. We assess the sturdiness of the treadmill and try out the entertainment features to see who'd like it or would be okay without it.
Our team of CrossFit coaches, personal trainers, and more are committed to this type of thing because our goal is to bring value to you. So whether it's a NordicTrack or ProForm, Sole Fitness, or Peloton, we can tell you the deets before you separate with your hard-earned money.
Looking for an Alternative to NordicTrack T 5.7 Treadmill?
Best Alternative to NordicTrack T 5.7 Treadmill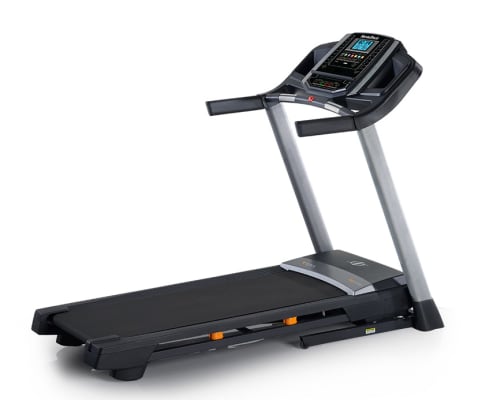 GGR Score: 3.8
Product Highlights
Entry-level foldable treadmill
iFIT-compatible
20 on-board workouts
2.6 CHP motor
Pros & Cons
Pros
Space-saver/folding deck
20 on-board workouts
iFIT- and iPod-enabled
300 pound weight capacity
Affordable
Cushioned running deck
Incline capability
One-touch controls
Cons
Requires a separate viewing device to take advantage of the benefits of iFit
Small 5-inch display
Customers consistently report that the T 6.5 S is very noisy
Motor will not support sustained running
Bottom Line
The NordicTrack T 6.5 S is a value purchase with some notable features. WIth a foldable design and compact footprint, it is a great choice for those with small spaces looking to dive into the world of cardio.
We understand that what's great for one person might not be as beneficial to you, and that's okay. We've all got different needs and wants, especially regarding treadmills. You could very well continue reading about the NordicTrack T 5.7 and feel like there are better picks for you. So, if that occurs, we recommend the NordicTrack T 6.5 S.
The NordicTrack T 6.5 S is a cost-effective folding treadmill that's simple to use, iFIT-compatible, and compact enough to operate in small spaces. It's got a 0-10% incline range and a top speed of 10 MPH. You'll also find it equipped with a 2.6 CHP motor that allows it to handle speed walking and fast jogging efficiently. If you're a casual runner, this machine might work for you too, but the 55-inch deck may be a bit restricting.
The T 6.5 S has FlexSelect cushioning, which allows you to change the deck suspension to whichever level best fits your needs. For example, if you want to simulate running outside, you'd select the level that creates a much firmer deck. But if you want to lessen the impact on your joints, switch it to a soft, cushioned level. It's nice to have that option.
In addition to the above, the T 6.5s has a 300-pound user weight capacity, so it's relatively inclusive. You'll find the typical conveniences here, like the tablet shelf, water bottle holder, etc. Overall, it's a solid treadmill.
A Quick Look at the NordicTrack T 5.7 Treadmill
Truthfully, there's a lot to love about this treadmill. It has a few tech features, but they're basic enough that you won't get frazzled trying to figure them out. In addition, the treadmill has a good incline range and a max speed appropriate for walkers, joggers, and most new folks on the fitness block. It's admittedly not the best treadmill for running, but that's okay!
You'll appreciate this home treadmill if you want something under $2,000 that doesn't make calorie-burning dreadful. Trainees won't get bored too fast, thanks to the several built-in apps and the option to utilize iFIT technology. Plus, it's not one of those humongous treadmills that makes you question if it was actually meant for the home gym or a fitness club.
A quick glance at the specs below will show you that you're getting a good and reliable treadmill. Plus, it comes with an impressive warranty plan. Seriously, a lifetime guarantee on the frame and 25 years on the motor is a win! The manufacturer also provides one year of parts protection and labor, which isn't as bragworthy, but seriously, it's better than nothing.
Pros:
SpaceSaver folding treadmill
iFIT Live module
Quiet, spin-balanced motor
Up to 10% incline
20 built-in programs
2.5 CHP DurX motor
Affordable
Impressive warranty
Cons:
Short walking belt
Time-consuming assembly process
No fancy touchscreen
NordicTrack T 5.7 Treadmill Specs
| | |
| --- | --- |
| Footprint | 73" L x 36" W x 68" H |
| Weight | 195 lbs |
| Weight capacity | 325 lbs |
| Display | 6″ LCD backlit display |
| Belt size | 55" L x 20" W |
| Incline range | 0 – 10% |
| Maximum speed | 10 MPH |
| Programming | iFIT |
Key Features of the NordicTrack T 5.7 Treadmill
One of the first things I noticed about the NordicTrack T 5.7 is its price. Back in the day, it'd cost you around $1,300 to buy one, which might've been unappealing for some people. This is primarily because while the treadmill supports and is compatible with quite a few gadgets, you'd have to purchase some of them separately to get the most out of it. As a result, some folks just went with a machine that already included those features.
However, quite a few years have passed since this machine came out; since then, the new NordicTrack treadmill series has dropped. Therefore, as you might imagine, they had to discount the old to make room for the new. I've seen this treadmill get as low as $460 from some retailers, and that's a steal!
Besides its now-appealing price tag, the machine has other features people would like. For instance, it includes 10 incline options and has a top speed of 10 MPH. Plus, the one-touch controls to make it easy to change your speed or incline.
The motor isn't half bad either. This treadmill is equipped with a 2.5 continuous horsepower DurX motor that uses a self-cooling feature to prevent it from overheating. It's also spin-balanced to ensure a quiet and seamless experience.
However, I will note that this motor is best for those who'll be walking or jogging. Serious runners who want to utilize the treadmill at its max speed and incline may notice a slight lag in the motor's performance.
Another standout feature is that it comes with 20 onboard workouts. Ten are calorie workouts, and the other 10 are distance workouts. The machine automatically controls and changes the incline and speed with each built-in activity. It's nice not to have to think about what to do, especially when you're new to working out.
Footprint, Portability, and Durability
Coming in at 73 inches long, 36 inches wide, and 68 inches high, the T 5.7 treadmill is a reasonably compact machine but it's not something you can exactly slide under a desk. However, you can fold it vertically to save space and possibly stow it in a corner.
The tread belt is 20 inches wide and 55 inches long, which is good enough for most walkers and joggers. However, it may feel tight if you're taller, wider, or have a longer stride.
Portability-wise, the treadmill does have wheels. When it's folded, you'll want to hold the frame and one of the handrails, while also placing a foot against a wheel. Then, pull back on that handrail until you can get the treadmill to roll on its wheels. From there, you can move it to whatever location you desire. Once you've found the place you'd like to put it, place a foot against a wheel and slowly lower it back to its original position.
One person could probably move it just fine, but it's recommended that two people do so. The treadmill is 195 pounds, which doesn't make it the heaviest treadmill, but it's sure not the lightest one out there, either.
The NordicTrack T Series treadmills are typically more affordable than some of the others produced by the company, but thankfully, they didn't slack on durability. As you might imagine, you can't say that about all budget-friendly treadmills.
A quick glance at a company's warranty policy can give you an idea behind the sturdiness and durability of the machine too. For example, I've seen cheaper treadmills only get 90 days of warranty on the frame, but this one offers a lifetime guarantee. That alone tells me they stand behind their products.
Ergonomics
The NordicTrack T 5.7 offers DualShox cushioning, making exercising on it slightly more comfortable. When you compare it to other treadmills in its price range, it's pretty good. However, DualShox cushioning is less soft than the FlexSelect cushioning you'll find on more expensive NordicTrack treadmills.
You'll likely be pleased if you're speed walking or going for a light jog. But if you plan on doing some hardcore running, consider a different treadmill because this one may not be as satisfactory. Some users have even expressed that it gets a little loud.
Technology Benefits and Conveniences
The good news is that the NordicTrack T 5.7 is iFIT-compatible. The bad news is that you'll need to purchase the iFIT Live module to make it work since it's not included with the machine. However, by getting the iFIT Live module, you can work out with personal trainer, Jillian Michaels.
You could also add some competition to your workout to spice things up. For example, iFIT lets you compete in a 5K race with other subscribers or your Facebook friends. Plus, you'll gain access to their nutrition and activity tracker, downloadable workout videos, and more.
The console on the machine is basic tech-wise, but it gets the job done. On the 6-inch backlit display, you can track your distance, elapsed time, number of calories burned, heart rate, and more. In addition, a scrolling cross-trainer display lets you view your workout graphically and gives you a nudge when it's time to implement some cross-training exercises.
You can use the CardioGrip heart rate monitor built into the handlebars to capture your heart rate data. The treadmill is also chest strap-compatible, but it's something you'd have to purchase separately. However, I will say that wireless chest straps aren't typically found or supported on budget-friendly treadmills, so it's nice to see it here.
Another feature worth mentioning is the treadmill's built-in Intermix Acoustics™ 2.0 sound system that has iPod compatibility. So you can work out while listening to your favorite tunes blasting through the two 2-inch speakers, but sorry, you're not going to get a fan to cool you down.
Final Verdict of Our NordicTrack T 5.7 Treadmill Review
Listen, if you're new to working out, there may not be any reason to go gung-ho and buy the most expensive machine you can find. You'd be surprised how many people do this and get a treadmill that's overwhelming and challenging to use.
In the beginning, you may need something simple and reliable. A treadmill with just enough entertainment to keep you interested and engaged and durable enough to last until you evolve into more serious training.
The NordicTrack T 5.7 treadmill is truly that machine. It's got enough for most trainees to be pleased, but if you want more, you can add to it.
Overall, I'd say it's a great entry-level and affordable treadmill.
NordicTrack T 5.7 Treadmill Rating
NordicTrack T 5.7 Treadmill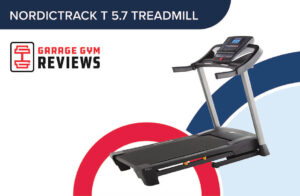 Looking for a durable treadmill at a great price? Check out our NordicTrack T 5.7 treadmill review for information on this machine.
Product Currency: USD
Product Price: 649
Product In-Stock: InStock
NordicTrack T 5.7 Treadmill FAQs
What Does NordicTrack T 5.7 Weigh?
This particular treadmill weighs just a little under 200 pounds. It's 195 pounds, to be exact. 
What is The Difference Between NordicTrack Commercial and T Series?
The T series is a typically more affordable line, but it still offers a good, quality workout experience. For instance, you might get a 10-14 inch touchscreen display, 0 – 12% incline range, and a top speed of 12 MPH. For most people, this is great. 
However, the Commercial series is what people go to when they're ready to take their running to a new level. As a result, you'll get a pricier machine with a mighty motor, an incline range of -6 and 40%, a max speed of 15 MPH, and a 22-inch or bigger screen. As you might imagine, this is a transformative running experience. 
Is the NordicTrack T Series Good for Running?
Yes, the NordicTrack T series is suitable for running. Thanks to the incline range and max speeds, you'll get variety, but serious runners may still look for a bit more. 
Can You Use The NordicTrack T Series Treadmill Without iFIT?
Absolutely! Well, sort of. One of the biggest complaints about the NordicTrack treadmills is not being able to bypass iFIT, but you totally can when you take a few extra steps. You'll still need to create an iFIT account and provide your credit card information, though. Otherwise, the treadmill won't start, which I admit is annoying. But once you do that, you can utilize the free 30 days or cancel it. 
Although, I will say that iFIT does take the workout experience to new heights and is a complementary feature. However, you know what's best for you; if you don't need it, don't feel compelled to use it.