We test and review fitness products based on an independent, multi-point methodology. If you use our links to purchase something, we may earn a commission. Read our disclosures.
When it comes to budget treadmills, we know a thing or two about what makes a good deal. The NordicTrack T 6.5 S is a no-frills home treadmill that will help you get your steps in. This series is considered entry-level for the brand, and although you won't find this model on the NordicTrack website anymore—it was discontinued, and now the EXP series is the most budget-friendly—you can still purchase the T 6.5 S through retailers like Amazon and Walmart.
This treadmill has some respectable specs, including its foldability, as well as a 300-pound user weight capacity and 2.6 CHP motor. In this NordicTrack T 6.5 S Treadmill review, I'll break down who will benefit from this machine, some important considerations for this specific model, and what to expect in this price range.
We've Put Dozens of Treadmill to The Test
The Garage Gym Reviews team of expert product testers has had hands-on experience with a multitude of different treadmills and brands. With a combined experience of assembling cardio machines, using cardio machines ourselves, and coaching clients to use these cardio machines, we have a pretty good sense of what works and what doesn't.
NordicTrack T 6.5 S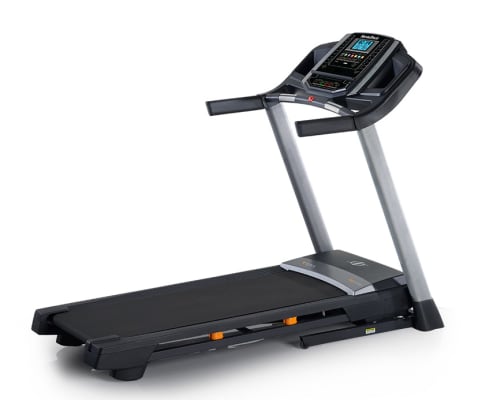 Nordictrack T 6.5 S
If simplicity is a priority and you are looking to save some cash while investing in a treadmill, this may be a great fit. The NordicTrack T 6.5 S is a basic treadmill at a low price point. For under $600, this treadmill offers access to automatic stats tracking, iFIT capabilities and an iPod compatible sound system. It also comes loaded with 20 onboard workouts offering users variability in their cardio routine. If you want to utilize iFIT, you will have to run the app and watch training via your iPad or tablet. The NordicTrack T 6.5 S is equipped with a surprisingly cushioned 22-inch-by-55-inch tread belt. While this smaller size is great for those looking to save space, taller people may find it constricting. It does, however, have a weight capacity of 300 pounds, which is pretty standard for this sized treadmill.  This NordicTrack T 6.5 S maintains speed ranging from .5-10 miles per hour and an incline up to 10 degrees. While the 2.6 continuous horsepower motor will not support long distance or heavy running, the varied speed and incline is enough to get your heart rate going. As such, it is best suited for walking or light jogging. 
A Quick Look at the NordicTrack T 6.5 S Treadmill
Prior to 2020, NordicTrack offered a budget-friendly line of treadmills called the T Series. The NordicTrack T Series treadmill models did a great job giving you all the mechanical specs you'd need for casual walking all the way to serious running. The T 6.5 S was eventually redesigned into the NordicTrack T 6.5 Si, which featured a 10-inch HD touchscreen. The Si treadmill has also been discontinued.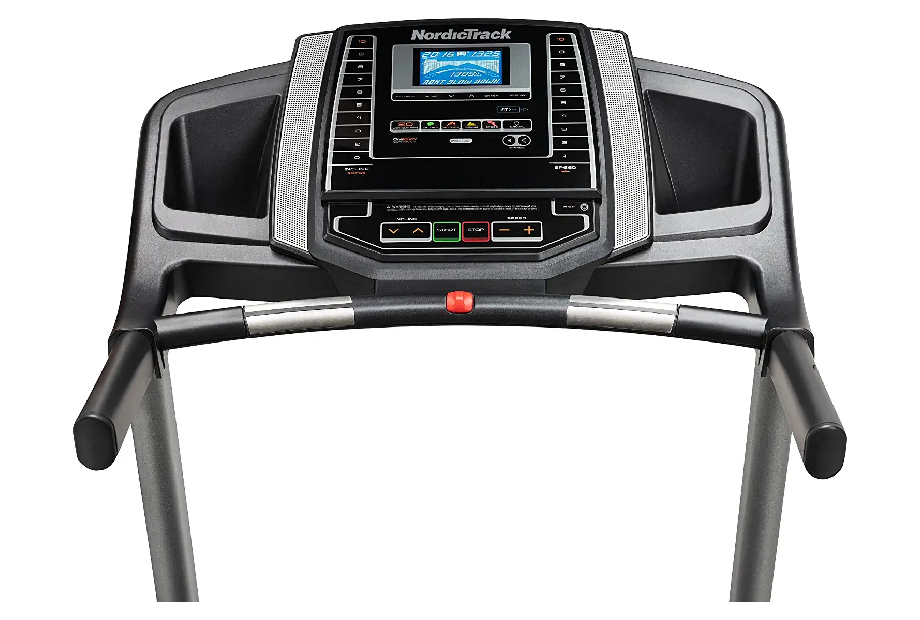 NordicTrack—sister brand to ProForm—revamped its entire inventory at the end of 2020 and replaced the T Series with a new line of affordable treadmills called the EXP series. The T Series is still one to consider, though, if you're looking for a good entry-level machine at a discounted price from a respected brand. The model we're diving into in this review, the T 6.5 S, is a utilitarian treadmill perfect for someone just starting out on a fitness journey, or who needs a simple option for walking and jogging.
My Tips
The T 6.5 S model is no longer available on the NordicTrack website, but can be found on Amazon and Walmart.com.
Although this model is not available to buy directly from NordicTrack, you should still receive the manufacturer's warranty.
Although the machine itself is a no-frills option for treadmills, you can utilize your own device to stream iFIT.
Pros:
Solid machine for a budget price
Compact footprint
20 pre-programmed workout options
Easy-to-use console and display
Solid incline range
User weight capacity would be suitable for many
Folds for easy storage
iFIT-compatible
Cons:
No touchscreen
Need your own device to use iFIT
Built-in speaker are just okay
55" deck not ideal for running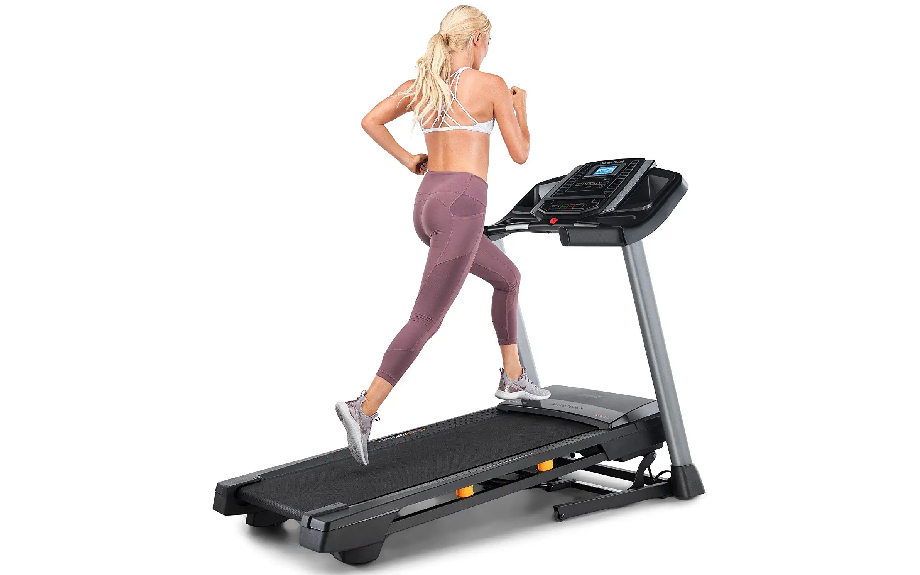 Is the NordicTrack T 6.5 S Treadmill Worth It?
This budget-friendly treadmill is going to be worth it for some people and not worth it for others (even with the price tag). I think it's safe to say if a treadmill purchase helps you get closer to your fitness goals, the purchase is worth it. However, I will also say that this is not a high-tech product. This basic, no-frills model could be a really great investment if the latest technology is not your top priority.
Great for:
Anyone looking for a budget cardio machine
Walkers, joggers, and casual runners
Someone who wants a basic display
Not recommended for:
Tall people or those with a long stride
People who want interactive programming or tech features
Serious runners
NordicTrack T 6.5 S Treadmill Specs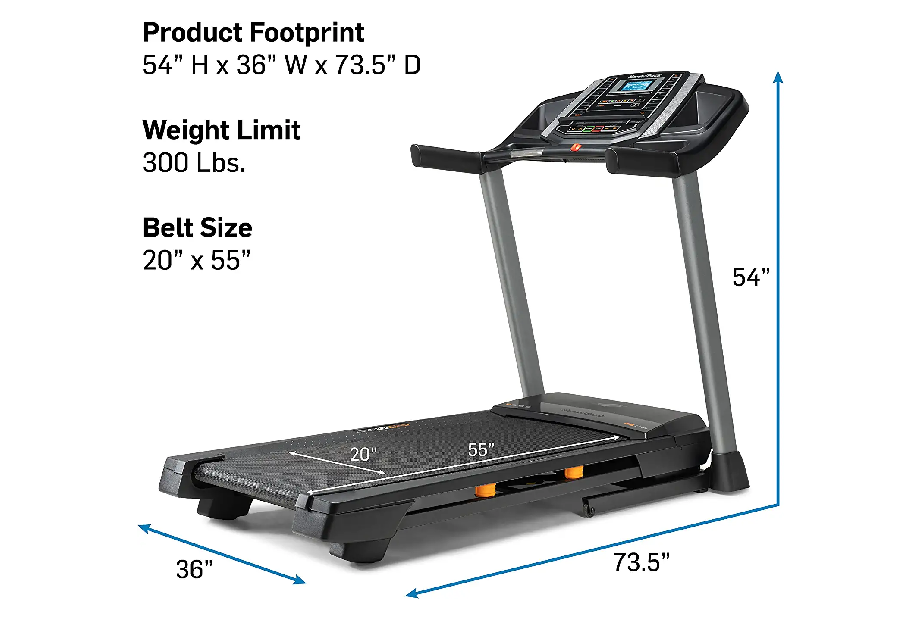 Because the T 6.5 S is no longer available on the NordicTrack website, these specs are based on what we gathered from Amazon and our knowledge of the NordicTrack brand.
| | |
| --- | --- |
| Footprint | 67.5" L x 35.75" W x 73" H |
| Weight | 203 lbs |
| Weight capacity | 300 lbs |
| Motor | 2.6 CHP |
| Incline Range | 0 to 10% |
| Warranty | 10- year frame; 2-year parts, and 1-year labor |
| Display | 5" LCD screen |
| Tread belt | 55" L x 22″ W |
| Foldable | Yes, EasyLift Assist |
| Programming | 20 pre-programmed workouts |
| Speed range | 0-10 MPH |
| Bluetooth | Yes, to stream iFIT on your own device |
| Speakers | Yes, also has an auxiliary port |
Customer Reviews
Although there are no reviews of the NordicTrack T 6.5 S on the NordicTrack website, the reviews on Amazon are current, and customers are still buying this model. Overall, the reviews vary a lot, but it has an overall rating of 4.4 out of 5 stars. Most people, even in the good reviews, mentioned their qualms with the iFIT membership commitment.
In general, most customers were happy with the price of the machine and thought it was a valuable addition to their home gym. Most reviewers also reported the T 6.5 S felt sturdy, didn't shake, and was easy-to-use (after the initial setup).
Workout Experience on the NordicTrack T 6.5 S Treadmill
Although no one on our team has used this particular model, we have incredible familiarity with the NordicTrack brand and countless comparable models. Our testers have a lot of recent experience with iFIT programming and from what we've gathered, the setup process on the T 6.5 S will prompt you to create an iFIT account before you can get the treadmill to move and function for the first time.
The monitor will prompt you to use the website to set up an account and get started with your free 30-day trial. Once set up with an account (where you'll have to provide your credit card information), you'll have the option to to cancel your membership before the 30-day trial is up.
Although it's not a huge deal to sign up for iFIT and later cancel if you don't want to commit to interactive programming, I thought I would dig around to see if there was a workaround for the setup process.
According to a handful of reviews and forums, you can hold down on the iFIT logo for 30 seconds to bypass the membership prompt. The logo is located under the right-hand corner of the monitor. I haven't given this a try, but I thought it is worth mentioning if you want to use the machine sans iFIT.
Additionally, it's worth mentioning that whatever route you choose with iFIT, there are 20 pre-programmed workouts to choose from that do not require an iFIT membership or internet access.
The 5-inch backlit display gives you nothing but the basics: speed, distance, incline, heart rate, and calories burned. You can change speeds or incline at whole integers with easy-to-read one-touch controls on either side of the backlit monitor. For more refined controls, below the console there are up and down arrows allowing you to control your speed and incline at smaller decimals.
Next to the display is an auxiliary input if you want to plug your smartphone or iPod in and use the built-in sound system. Although our product testers have not had our hands on this treadmill, I've read the speakers are just okay.
Footprint, Portability, Durability, & Construction
For the price, I think the alloy steel construction that NordicTrack is known for is quite a deal. The build is super solid and doesn't shake even if you decide to run.
For folding treadmills, this folding mechanism is one of our favorites. This treadmill doesn't fold flat, but instead features a space-saver design, and the EasyLift Assist with built-in hydraulics makes folding a breeze. The deck folds up toward the console and rests at an upward angle. From this position, it's fairly easy to tip the treadmill slightly on to the wheels under the stabilizers and move it into a corner and out of the way.
The T 6.5 S is a pretty compact machine—it's quite a bit shorter than the popular NordicTrack Commercial 1750, one of our favorite treadmills and more similar in size to what you'd find in a commercial gym. That means it's not going to take up your entire gym space to get your steps in.
The Ergonomics
The 55-inch-long running surface on the T 6.5 S will not make this machine suitable for all runners. Walking and jogging will be okay for most people, especially if you stand under six-feet tall. However, if you're fairly tall, this running deck will feel awkward to take your full, natural strides at top speeds.
Another feature I like about this treadmill is the ability to turn on or off the cushioning with NordicTrack's FlexSelect cushioning feature. This is a great option if you want to lessen the impact on your joints or simulate road running.
You'll also find the traditional built-in features that you'll find in the best treadmills like water bottle holders, smartphone or tablet shelf, bold start and stop buttons, and the safety key.
Technology Benefits and Conveniences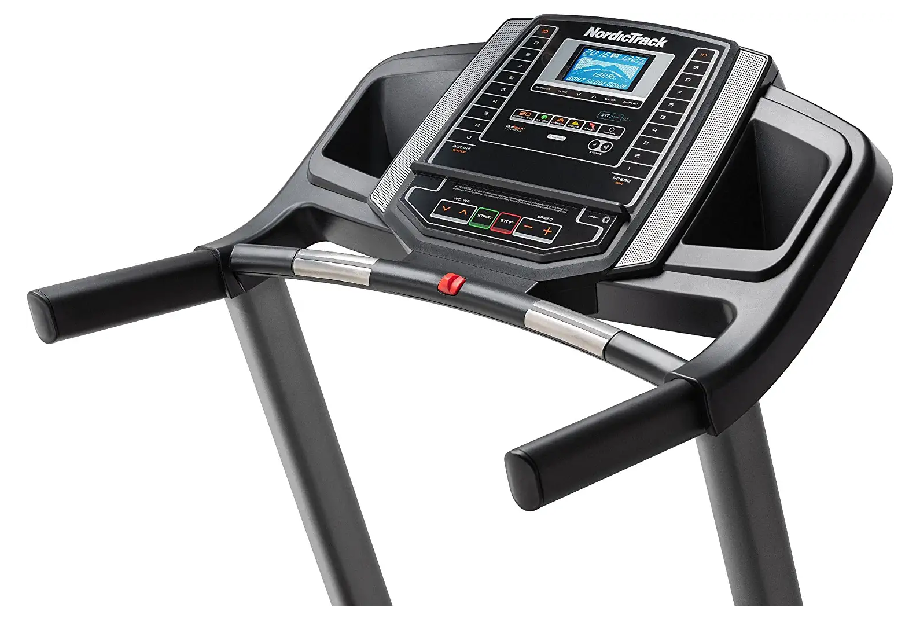 This machine, although not outfitted with a touchscreen and built-in iFIT capabilities, can connect to a smartphone or tablet via Bluetooth. Why would you want to connect your phone and a treadmill, you ask? With an iFIT subscription, the personal trainers who lead interactive workouts can also control the treadmill incline, decline, and speed without you touching the console.
This connectivity option also allows the treadmill and device to communicate so you get an accurate reading of the workout stats. For the price, this capability is a nice added touch.
Comparison to the Horizon 7.0 AT and ProForm Carbon T7
Given the specs of the NordicTrack T 6.5 S, we think the Horizon 7.0 AT treadmill and the Proform Carbon T7 are pretty comparable. For what it provides, the T 6.5 S is a great value. Check it out for yourself.
| | | | |
| --- | --- | --- | --- |
| Treadmill: | NordicTrack T 6.5 S | Horizon 7.0 AT | ProForm Carbon T7 |
| Price: | $649 | $999 | $999 |
| Deck: | 55" L x 22" W | 60" L x 20" W | 55" L x 20" W |
| Motor: | 2.6 CHP | 3.0 CHP | 2.6 CHP |
| Display: | 5" LCD screen | 7″ LCD Screen | 7" smart HD Touchscreen |
| Warranty: | 10- year frame; 2-year parts, and 1-year labor | Lifetime on frame and motor, 3 years on parts, 1 year on labor | 10-year frame, 1-year parts and labor |
| Incline/Decline: | 0-10% | 0-15% | 0-10% |
| Speed: | 0-10 MPH | 0.5 –12 MPH | 0-10 MPH |
| Footprint: | 73" L X 35.75" W x 67.5" H | 76.5″ L x 36″ W x 59″ H | 73.5" L x 35.2" W x57.5" H |
| Weight: | 203 lbs | 253 lbs | 223 lbs |
| User Weight Capacity: | 300 lbs | 325 lbs | 300 lbs |
| Foldable | Yes | Yes | Yes |
| Interactive Programming | iFIT programming with your own device via Bluetooth | Can connect to a variety of apps like Peloton and Zwift via Bluetooth | iFIT |
RELATED: ProForm Carbon T7 review
Horizon 7.0 AT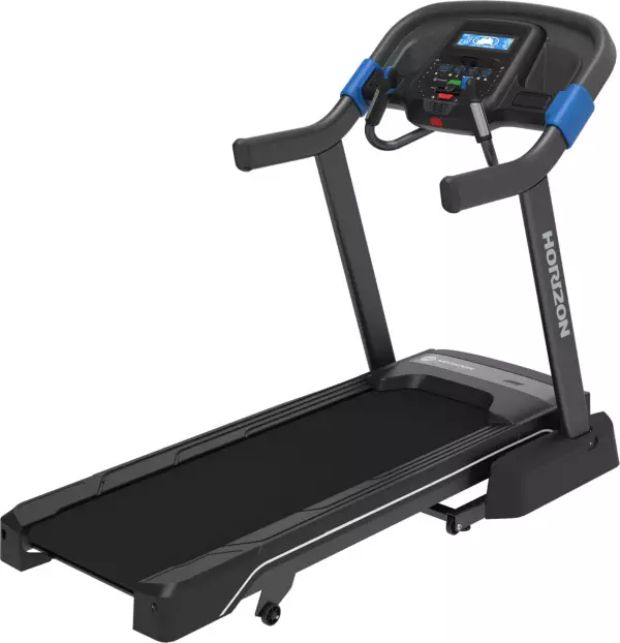 Horizon 7.0 AT Treadmill
Tired of searching for a budget treadmill that'll support your running habits? Look no further than the Horizon 7.0 AT Treadmill. This machine has a well-cushioned deck to aid in a more comfortable indoor run as well as a 60-inch deck (which is what we'd recommend most for running). I also enjoy the QuickDial adjustment feature, which allows users to change their speeds and incline up to "33% faster than other treadmills." This is useful if you love doing HIIT or sprints where you may need to quickly adjust the speed or incline.I would recommend shelling out the extra cash to get professional assembly. The 7.0 AT is a weighty cardio machine, and would best be completed with another helper (or a professional).
ProForm Carbon T7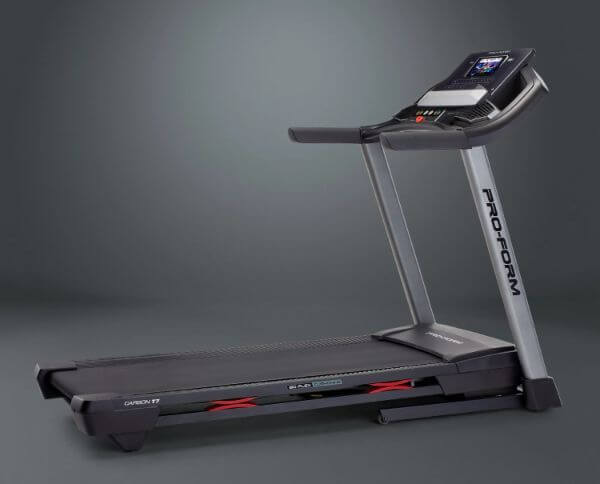 ProForm Carbon T7 Folding Treadmill
If you're someone who thrives off external motivation or training with a tribe, the ProForm Carbon T7 may be for you. Included in your purchase is a 30-day iFIT family membership, which provides exclusive access to thousands of on-demand and live-streaming classes led by world-class trainers. Users can also join various training programs or use the leaderboard as a source of motivation to hit their fitness goals.Alternatively, use the 7-inch touchscreen to gaze at vivid scenery from around the world as you run and listen to your favorite music via the built-in speakers. Unfortunately, the T7 does not come with any pre-programmed workouts so if you do not plan on continuing the iFIT membership past the 30-day trial, this treadmill may not be for you. The T7 is, however, an affordable, compact treadmill designed to save space. Its easy folding design allows users to conveniently store it out of the way when not in use. Featuring a patented flex cushioning, the running deck on the T7 is designed to reduce impact on joints decreasing the bodily wear and tear often associated with treadmill running. While the T7 boasts an impressive 300-pound user weight capacity, its 20-inch by 55-inch running deck may feel constricting for those above average height and weight.Powered by a 2.6 CHP motor, the ProForm Carbon T7 supports speeds up to 10 miles per hour, which can be controlled with a quick speed button, and incline grades up to 10 percent. These specs make this treadmill best suited for walking or light running but probably not sustained or intense running.  Check out our full ProForm Carbon T7 review.
Customer Experience
When it comes to buying equipment on a third-party website, like Amazon, the warranty is something to go over carefully. Some manufacturers honor their standard warranty, while others do not unless it's purchased directly through the manufacturer website or when a product is discontinued.
In the case of the NordicTrack T 6.5 S, it is a discontinued model but the standard NordicTrack warranty on treadmills still exists: 10 years on the frame; two years on parts, and one year on labor.
When financing options are available on Amazon, there will be a text box under the price of the item detailing them. We noticed that out of our team of expert testers, those who have Prime memberships were offered financing options of $54 per month for 12 months (plus shipping, handling, and tax) with 0% interest when approved for the Prime Store Card.
Additionally, it's worth mentioning that Amazon generally accepts returns within the first 30 days of delivery for unused and unopened products.
Ordering and Assembling the NordicTrack T 6.5 S Treadmill
Based on the experience of our team's product testers assembling other NordicTrack treadmills and customer reviews, I think you'll need to carve out at least two hours on the assembling process—and a helping hand is recommended.
On Amazon, there's a professional assembly option available for $100 if you'd rather leave it to the experts.
Final Verdict of Our NordicTrack T 6.5 S Treadmill Review
This simple yet sturdy model is a great option for a budget treadmill. It's built with solid alloy steel construction and has added conveniences we like to see on a treadmill, like cupholders and a device shelf.
The T 6.5 S folding treadmill has an incredibly easy-to-use hydraulic system and a compact footprint.
Its decent 2.6 CHP motor is suitable for walking and light jogging.
A 300-pound user weight capacity works for a variety of users.
iFIT capabilities are a nice added touch for this price point.
NordicTrack T 6.5 S Rating
NordicTrack T 6.5 S Treadmill
In our NordicTrack T 6.5 S Treadmill review, we'll hash out if this budget treadmill is going to become your favorite piece of cardio equipment.
Product Brand: NordicTrack
Product Currency: $
Product Price: 649.00
Product In-Stock: InStock
NordicTrack T 6.5 S Treadmill Review FAQs
Can you run on the NordicTrack T 6.5 S?
Running and high-intensity training is not recommended for the T 6.5 S because of the lack of motor horsepower, the smaller rollers, and the length of the walking deck.
Can you use the T 6.5 S without iFIT?
Yes, however you will need to create an iFIT account account and have your credit card handy during the process. The treadmill doesn't start up without an active membership. The first 30 days are free, and if you cancel during the initial trial period you can continue to use the treadmill in manual mode without any membership fees or internet access.
Is the NordicTrack T 6.5 S Bluetooth-compatible?
Yes, the T 6.5 S has Bluetooth compatibility with the iFIT subscription for interactive workout programs, where you can track your workouts in addition to experience hands-free manipulation of the speed and incline of the machine.