We test and review fitness products based on an independent, multi-point methodology. If you use our links to purchase something, we may earn a commission. Read our disclosures.
I'll admit it: Amazon is one of the first places I go when looking to buy, well, just about anything. Who can argue with a world of retail literally right at your fingertips? You can get a treadmill delivered toat your door, with free shipping, within days of placing an order. Amazing.
The team at Garage Gym Reviews, including myself, has personally been on some of the best treadmills on Amazon. We spent days going through dozens of treadmills before picking our top eight Amazon treadmills by using strict testing criteria developed by certified personal trainers, competitive triathletes, and CrossFit coaches who have ran on motorized treadmills, foldable treadmills, manual treadmills, and commercial treadmills. You'd be hard-pressed to find a running machine we haven't personally tested or researched. I'm here to tell you which ones are worth it, and which should get a hard pass.
The Best Treadmills on Amazon
Best Overall Treadmill on Amazon: NordicTrack Commercial 1750
Good for: Those looking for a high-quality machine with a host of great features
Pros:
Compatible with iFIT programming
Spacious running deck
3.5 CHP motor
Speeds up to 12 MPH
Incline and decline capabilities
Multiple models available on Amazon
Financing available
Cons:
Large footprint, but folds
Newest model is on the pricey end
Warranty is voided if you store it in a garage
The NordicTrack Commercial 1750 was the first truly "smart" treadmill I had ever stepped on, and I was in awe. Right away, you notice the 10-inch high-definition touchscreen that displays iFIT interactive programming. iFIT features countless immersive and engaging running workouts that guide you along mountain paths or island seascapes. The app also changes the settings of your machine in real time as the course moves up and down hills.
The original model of the 1750 (which is available on Amazon) has flexible cushioning, which means you can turn the cushioning on for a lower-impact option, or off if you want to simulate road running.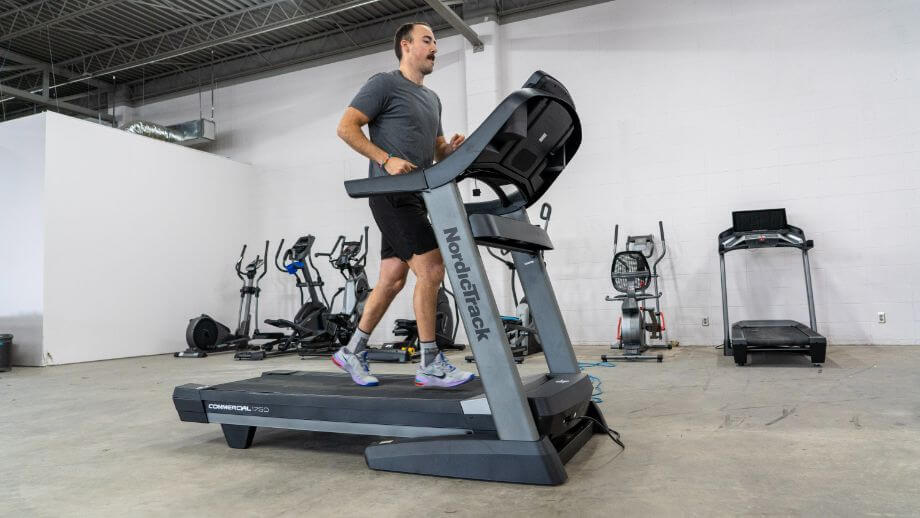 NordicTrack did away with this feature with the 2023 model (also available for purchase on Amazon), but both versions feature a host of other features: Bluetooth speakers, built-in fan, water bottle holders, compatibility with wireless heart rate monitors, both incline and decline running capabilities, and a very powerful motor.
There are a few downsides. First, I assembled this machine on my own, and it took me close to two hours. It's a complicated, heavy process (the 1750 weighs over 300 pounds). Fortunately, Amazon offers assembly for just $99.
Depending on which model of the 1750 you get (the 2019 or the 2023 version), you'll be paying close to $2,000. Also, if you want iFIT programming, you'll end up with an additional monthly subscription cost. I do think that if you have the money, the juice is worth the squeeze.
Read our full NordicTrack Commercial 1750 review.
| | |
| --- | --- |
| Motor | 3.5 CHP |
| Speed | 0 to 12 MPH |
| Incline | -3% decline to 15% incline |
| Programming | Compatible with iFIT |
| Weight Capacity | 300 lbs |
Best Treadmill With iFIT on Amazon: ProForm Carbon T7
Good for: People who want interactive programming on an affordable treadmill
Pros:
30-day free trial of iFIT included
As of this writing, more affordable on Amazon than on ProForm
7" HD touchscreen
Foldable
Cons:
55" deck may be short for taller runners
Heavy at 223 lbs
2.6 CHP motor has a max speed of 10 MPH
I like iFIT programming almost as much as I love talking about fitness. I've used iFIT on about a dozen compatible machines. We even state in our iFIT review that it's a great competitor to the Peloton app. Why? Because there are interactive workouts in which the instructor actually controls the machine for you. The app suggests workouts appropriate for your fitness level, tracks your progress, and even auto-adjusts your machine.
Narrowing down the best treadmill with iFIT on Amazon really came down to this: How do you get the most value out of the programming without having to spend a fortune? That's why my pick here is the ProForm Carbon T7.
Priced under $1,200, this machine comes with a 30-day free trial for iFIT membership, is delivered inside your door for free, and is listed cheaper on Amazon than on ProForm's website.
Other than saving you money, the ProForm Carbon T7 has some decent specs: a weight capacity of 300 pounds, a high-definition touchscreen, a folding deck to reduce footprint, and a built-in fan.
If you're a serious runner, a 2.6 continuous horsepower motor with a top speed of 10 MPH may not quite fit your needs. Also, the running surface is 55 inches long, which will fit most people, but very tall runners may find they need to shorten their stride.
While I haven't been on the Carbon T7, our team has tested and reviewed the ProForm Carbon T10, which is the more expensive version of this model.
| | |
| --- | --- |
| Motor | 2.6 CHP |
| Speed | 0 to 10 MPH |
| Incline | 0 to 10% |
| Programming | Compatible with iFIT |
| Weight Capacity | 300 lbs |
Best Smart Treadmill on Amazon: Echelon Stride
Good for: Walkers and joggers looking for a compact smart treadmill
Pros:
Free 30-day membership of Echelon workout app
Easy to use
Compact design that folds to 10" tall
Money-back guarantee
Auto-folding technology
Heart rate monitoring
Financing available
Cons:
Low-power 1.75 CHP motor
55" deck may feel short for some
Very basic LCD display
Short one-year warranty
A smart treadmill can still be basic and easy-to-understand, as evidenced by the Echelon Stride. This machine comes with a free, 30-day trial membership of Echelon's workout app, which you access through using your own smart device instead of a more expensive built-in touchscreen. The app features more than 3,000 on-demand workouts to do on your machine.
For a "smart" treadmill, I think the Stride has one of the most basic displays on the market. There are three small windows telling you your pace, workout time, and other metrics. However, this also makes it very easy to use, as you just turn it on and go without having to navigate additional technology. I did a few workouts on the Stride and found the display to be adequate for what I needed.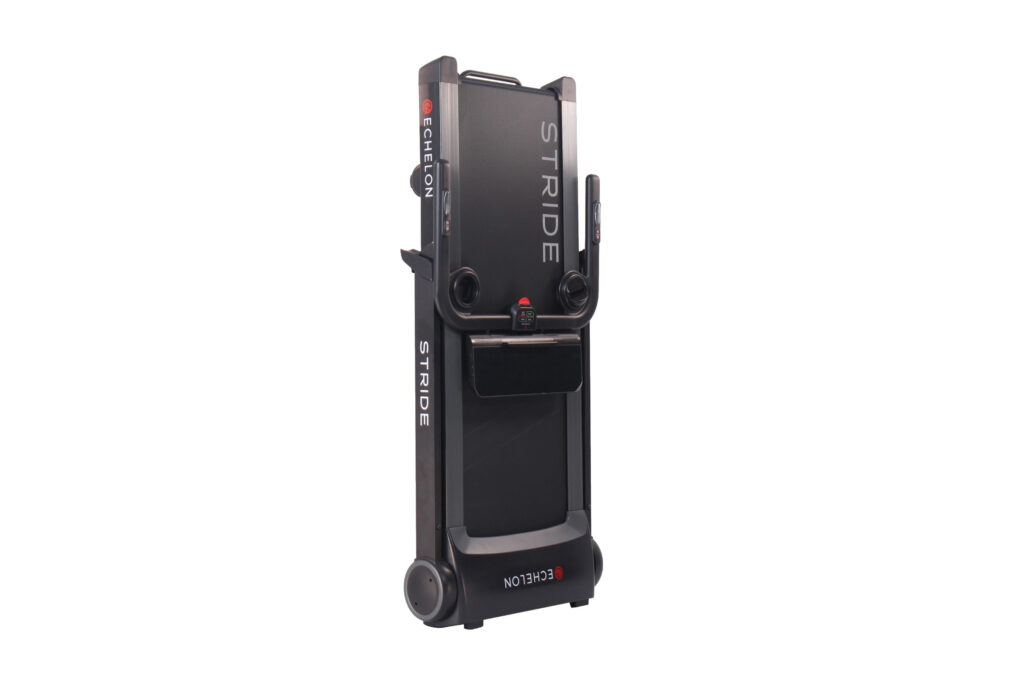 The Stride features eight built-in workouts. That means that if you don't want to use or pay for the app, you don't have to, because you still have access to preset workouts on the machine.
One thing I really loved about the Stride is its compact size. I assembled this myself, which only took 10 minutes because all you have to do is attach the foldable arms. And when folded, the Stride is just 10 inches deep—small enough to slide under your bed. At 156 pounds, this is a lighter treadmill, which means you can move it around easier.
As the basic model in Echelon's treadmill line, the Stride is priced above $1,000, though financing is available on Amazon with Affirm. The 1.75 continuous horsepower motor isn't ideal for frequent running, but will support walking just fine.
Check out our full Echelon Stride review.
| | |
| --- | --- |
| Motor | 1.75 CHP |
| Speed | 0.5 to 12 MPH |
| Incline | 0 to 10% |
| Programming | 8 preset workouts, also compatible with Echelon's fitness app |
| Weight Capacity | 300 lbs |
Best Running Treadmill on Amazon: NordicTrack T-Series
Good for: Runners looking for an affordable treadmill with interactive programming
Pros:
Flexible cushioning options
Incline settings up to 10%
Free trial of iFIT included
20 preset workout programs
Foldable
Cons:
Shorter running deck at 55"
Tops out at 10 MPH
Storing in a garage voids the warranty
There are two models of the T-Series treadmill on Amazon: the 6.5S and the 6.5Si. They are similar in just about every way other than the display (the 6.5S has a 5-inch backlit display, and the 6.5Si has 10-inch smart HD touchscreen). While I haven't been on either (yet), I am very experienced with other NordicTrack treadmills and can vouch for these machines.
Either one is great for runners for a number of reasons. First, I love the flexible cushioning, which I have used on the NordicTrack Commercial 1750. NordicTrack calls this "Flex Select Cushioning." This means you can choose between a more cushioned treadmill for better shock absorption, or a more responsive deck to better emulate running on the road. I also like the 10% incline on this machine so you can run hills.
Plus, you have built-in workouts on this treadmill. Yes, like other NordicTrack products, it's compatible with iFIT, but there are also 20 on-board running workouts if you would rather not pay the monthly subscription for the app.
Let's talk motor and speed: This has a 2.6 continuous horsepower motor, so it may need more maintenance if you're a very frequent runner or have multiple people doing long runs throughout the week. Also, the top speed is 10 MPH. That's equivalent to a 6-minute mile, which is moving at a pretty good clip. However, if your training requires higher speeds, I'd look for a different treadmill.
Both T-Series models support up to 300 pounds and have belts that are 55 inches long. While 55 inches isn't ideal for very tall people (we like to see 60-inch belts there), it will accommodate most runners.
RELATED: The Best Treadmill for Runners
| | |
| --- | --- |
| Motor | 2.6 CHP |
| Speed | 0 to 10 MPH |
| Incline | 0 to 10% |
| Programming | 20 present workouts, compatible with iFIT |
| Weight Capacity | 300 lbs |
Best Folding Treadmill on Amazon: Horizon T101
Good for: Those looking for a space-saving cardio machine
Pros:
Folds and unfolds easily
Compact footprint for a high-powered machine
Quiet motor
Quick assembly
Bluetooth speakers
Lifetime frame and motor warranty
6 on-board programs
Cons:
Horizon doesn't disclose motor power
Very simple display
On the heavier side at 180 lbs
Horizon treadmills have historically been pleasant surprises to me. One of our expert product testers and staff writers, Caroline Lubinsky, used and reviewed the Horizon 7.0 AT, calling it a "dream." Why? Because this brand packs a lot of value into its machines.
The Go Series treadmills from Horizon are the brand's more affordable machines, featuring the T101, T202, and T303. Amazon sells the T101, which is a folding treadmill that doesn't break the bank. For around $1,000, you get a machine that has one-step folding (just lift and lock the deck in place), a smaller footprint than other commercial machines (just 71 inches long), and a quiet motor. Not too shabby.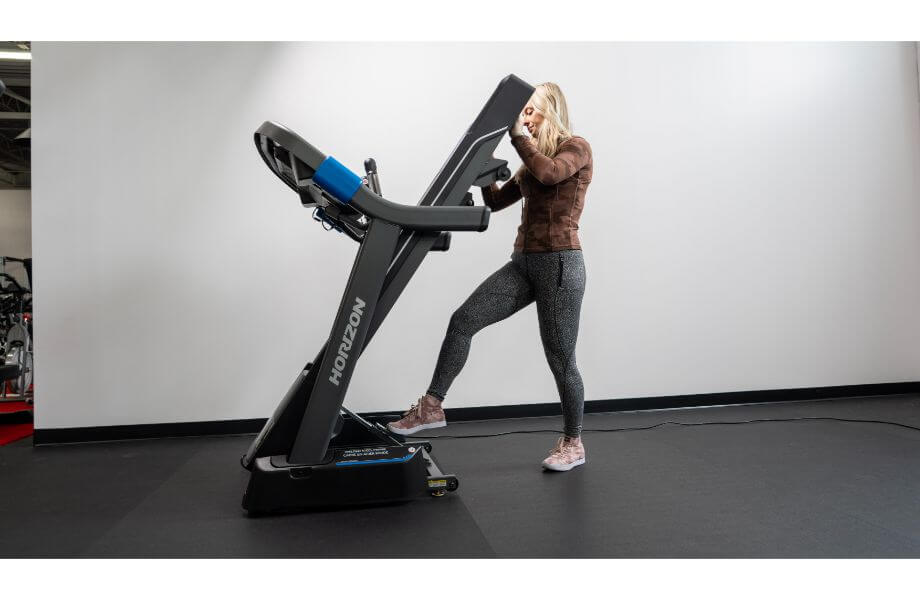 There is a lot more to like about this machine, like three-zone cushioning in the deck to provide the right kind of support whether you're walking, jogging, or sprinting. It also has some fun extras, like Bluetooth speakers to stream your music, a device holder for your smartphone or tablet, and even a fan to keep you cool.
There is one area where Horizon disappoints me: They don't release the motor size. On Amazon, the motor is listed as "2 horsepower." I don't trust it. My educated guess is that the motor is around 2.5 continuous horsepower, just based on top speed and the sheer weight of the treadmill (180 pounds). However, I wouldn't expect a high-powered motor on a treadmill in this price range. I think you're getting a great value for the price of this budget-friendly treadmill.
| | |
| --- | --- |
| Motor | Horizon doesn't disclose |
| Speed | 0 to 10 MPH |
| Incline | 0 to 10% |
| Programming | 6 preset programs |
| Weight Capacity | 300 lbs |
Best Budget Treadmill on Amazon: Sunny Health & Fitness SF-T4400
Good for: Someone looking for a quality treadmill under $500
Pros:
Priced under $500
Free shipping on Amazon
Folds
Convenient handrail buttons
9 on-board programs
Shock-absorbing belt
Small footprint
Lightweight
Cons:
Manual incline
Weight capacity is just 220 lbs
2.2 peak horsepower motor not ideal for runners
Currently listed on Amazon as a treadmill under $500, the Sunny Health and Fitness SF-T4400 gives a lot for a little. At just over 103 pounds, the SF-T4400 is easy to move, it folds, and it has a very small footprint at 62 inches long and 25.5 inches wide.
But just because it's small and doesn't cost much doesn't mean you have to make huge sacrifices. This machine comes with nine built-in workout programs, a shock-absorbing belt, and buttons on the handrails so you can easily adjust your speed.
GGR staff writer and product reviewer Anthony O'Reilly spent a good amount of time with this machine, stating, "I was pleasantly surprised by my cardio experience, which mostly consisted of walking and some light jogging."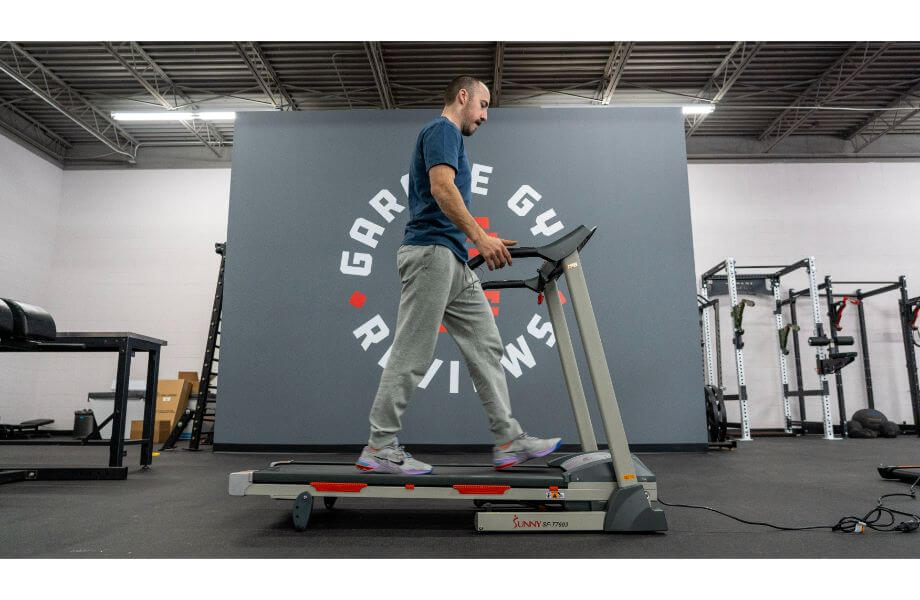 No running though? That's because with a 2.2 peak horsepower motor, this treadmill isn't meant to go very fast or sustain heavy usage. Although the SF-T4400 does have a few incline levels, you adjust them manually by actually lifting the deck.
But, that's what you can expect from a treadmill in this price range. You can still get in a great workout, but you won't have all the bells and whistles of a high-end machine.
Read our full Sunny Health and Fitness SF-T4400 review.
| | |
| --- | --- |
| Motor | 2.2 peak horsepower |
| Speed | .5 to 9 MPH |
| Incline | 3 levels up to 2.5 degrees |
| Programming | 9 on-board programs |
| Weight Capacity | 220 lbs |
Best Treadmill Under $1,000 on Amazon: Schwinn 810 Treadmill
Good for: A high-end experience on a lower-priced treadmill
Pros:
Priced around $900 with free delivery
User-friendly
Foldable
Device holder and USB charging port
Dual water bottle holders
Holds 2 user profiles
Compact footprint
Cons:
Bluetooth connectivity may go in and out
Basic display
Unclear horsepower
If you're looking at treadmills for under $1,000, you should expect to get almost everything you want, sacrificing only the high-tech features that come on more expensive machines. And that's what you'll get with the Schwinn 810 Treadmill.
First of all, this is a compact treadmill, and it folds incredibly smoothly. GGR staff writer Caroline Lubinsky, who tested the 810, noted, "I think this was the most graceful treadmill deck lowering I'd ever seen."
Also, the 810 touts an impressive 16 built-in training programs for you to choose from when you're ready to work out. It can connect via Bluetooth to Explore the World, an app Schwinn uses for interactive programming (monthly subscription required). While Caroline said that Explore the World isn't Peloton-level programming, it is easy to use and provides a sufficient workout experience.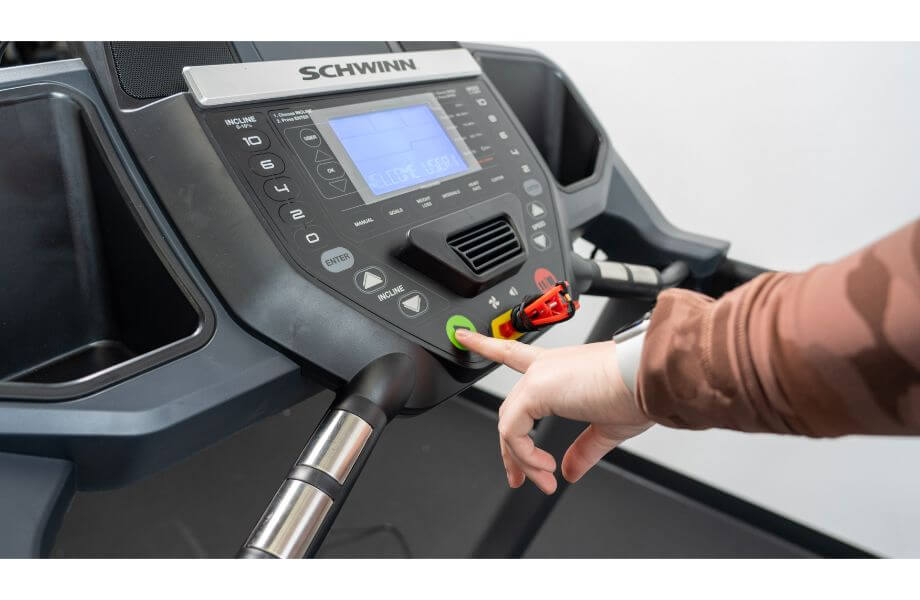 I'm happy to report that the 810 doesn't skimp on the extras: You get a device holder, a USB charging port for your device, dual water bottle holders, and up to 10% incline. What you won't get is a fancy touchscreen, but that's pretty common in this price range.
Schwinn doesn't have the motor power of the 810 listed, and I don't trust Amazon's note that it's a 1.9 horsepower motor. That's incredibly underwhelming, especially for a machine that can reach speeds of 10 MPH. Caroline had no problem running on the 810, so my hunch is that the motor is somewhere in the 2.0 to 2.6 range.
Learn more over on our Schwinn 810 treadmill review.
| | |
| --- | --- |
| Motor | Not disclosed |
| Speed | 0 to 10 MPH |
| Incline | 0 to 10% |
| Programming | 16 preset workouts |
| Weight Capacity | 275 lbs |
Best Under-Desk Treadmill on Amazon: UREVO 2-in-1 Under Desk Treadmill
Good for: Someone looking to get in steps quietly while working
Pros:
Small footprint
Very portable
Has handles that fold down for space-saving
Priced under $400
Quiet motor
Remote control to adjust speed
Cons:
Very short deck at 42.5"
No built-in workouts
No incline
Work from home? Want to get your 10,000 steps during meetings? The UREVO 2-in-1 Under Desk Treadmill is a great solution. It has a very small footprint at 54.7 inches long and 26.4 inches wide, which is ideal for placing under your standing desk. Plus, it only weighs 59 pounds and has transport wheels, making it a breeze to move around.
Caroline Lubinsky, staff writer and resident GGR treadmill expert, used the UREVO for several workouts and noted, "This is a great machine for people who struggle to hit their steps during the day." One of the reasons for that, she said, is the almost-impossibly quiet motor. If you're on a work call, you can't very well have a loud whirring in the background. Also, there is a remote control to adjust speed so you're not fumbling for buttons down on the deck.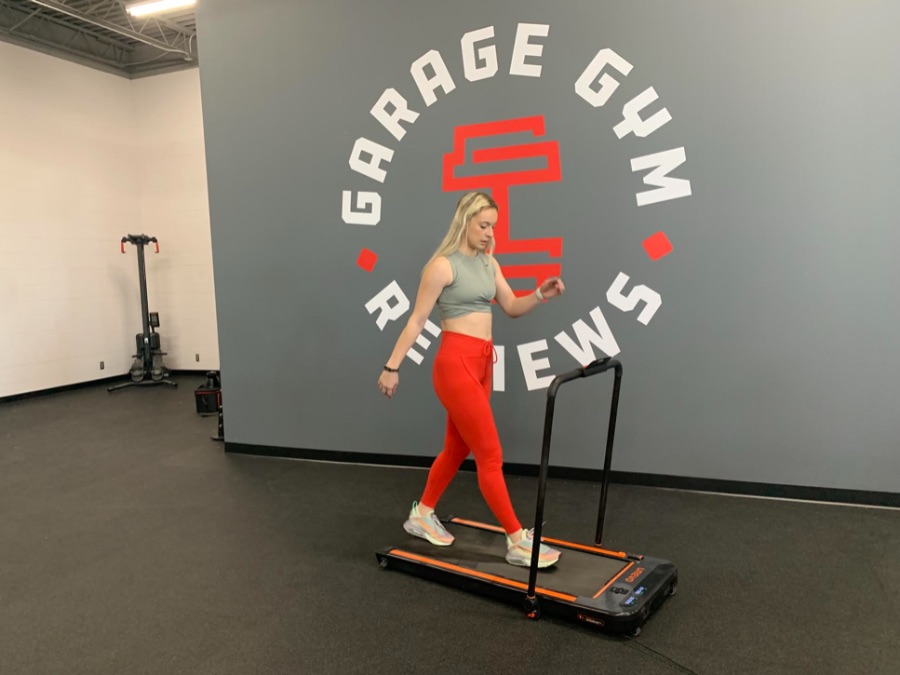 With the good comes the not-quite-as-good: The compact size of the UREVO means a very short treadmill deck at just 42.5 inches. Caroline stands 5-foot-9-inches tall and said she had to alter her stride a little to make sure she wasn't falling off the belt.
Also, you won't find built-in workouts or an incline on this machine, but that's pretty typical of a treadmill meant for under-desk use.
Read more at our UREVO treadmill review.
| | |
| --- | --- |
| Motor | 2.5 horsepower |
| Speed | 0 to 7.6 MPH |
| Incline | None |
| Programming | None |
| Weight Capacity | 265 lbs |
Our Thoughts on Other Treadmills on Amazon
Sole F63: We really love this machine, but we don't love that Amazon lists it for about $300 more than what it's listed for on Sole's website.
ProForm Pro 2000: This is a fantastic, iFIT-compatible machine from a brand we trust. We have used the Pro 9000 and have few complaints.
GoPlus 2-in-1: With just a 40-inch treadmill deck, we didn't like this as much as we like other walking treadmills.
XTERRA Fitness TR150: Our expert testers felt the folding design on this machine simply wasn't safe.
How We Test Treadmills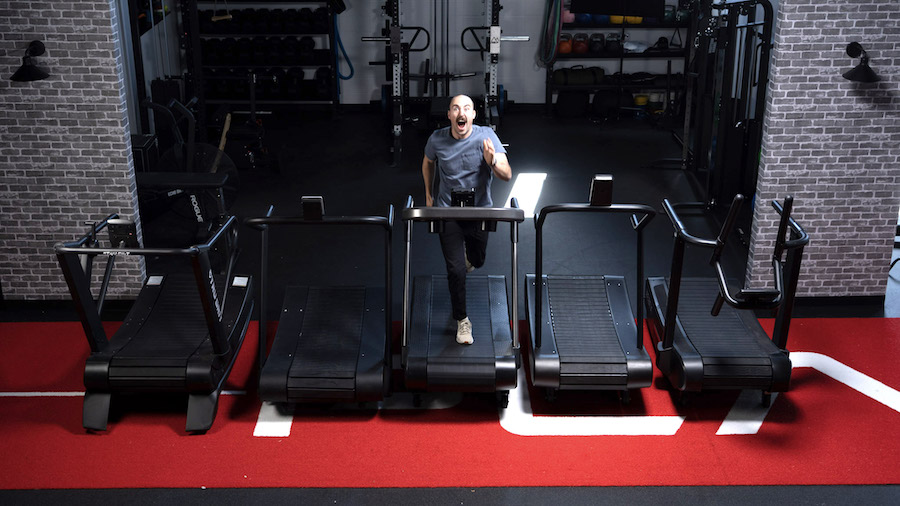 We take our product testing very seriously. When it comes to treadmills for home use, we have a structured, 14-point methodology to evaluate qualities that include:
Weight capacity: Can it support a range of users (we like to see capacities of up to 300 pounds), or does it fall short?
Speed: What is the speed range? Could runners use it for sprint intervals?
Incline: Can you do hill workouts, and is the incline adjustment manual or motorized?
Deck size: Is the treadmill belt long enough to accommodate tall runners?
Motor power: What is the motor power, and can it withstand frequent running?
Programming: Does the machine have built-in programs or access to apps for workouts?
Durability: Does the treadmill shake while in use?
Warranty: Does the manufacturer stand by the machine with a good warranty, which should be at least 10 to 15 years on the frame and motor?
Benefits of Buying a Treadmill on Amazon
You can buy exercise equipment just about anywhere, but there are a few reasons you might want to buy on Amazon:
Free Shipping
Probably the biggest reason people shop on Amazon is for the free shipping that Prime members get. If you're talking about home fitness equipment, this is especially key because shipping treadmills that weigh hundreds of pounds can otherwise get quite expensive.
Customer Reviews
I'm a big fan of reading customer reviews on Amazon. Sure, you have to take them with a grain of salt, and sometimes Amazon includes reviews for the wrong product, and some reviews are so old they are no longer relevant. BUT, you can still find great pieces of advice in the reviews for tips on assembly, how to use the machine, or even troubleshooting issues.
Financing
Amazon does a great job of offering financing for home treadmills and other high-priced equipment. You'll typically see options for using Affirm, though once in a while, there are other payment plans available on Amazon.
What to Look for in a Treadmill on Amazon
If you're in the market for a running machine, you should definitely know what to look for in a treadmill. However, if you're shopping on Amazon specifically, there are a few key things I want you to pay attention to.
Price
You might notice that prices on Amazon differ from prices on manufacturer sites. There are a few different reasons for this, but what really matters to you, the consumer, is the bottom line. Sometimes, the manufacturer is cheaper, sometimes, Amazon is cheaper. Do yourself a favor and compare prices before you purchase anything.
Warranty
Read the fine print on Amazon regarding the warranty. Some manufacturers honor the warranty of machines sold through Amazon, but some models may be discontinued or out of warranty.
RELATED: History of Treadmills
Motor and Speed
Amazon is great at a lot of things, but having accurate specs for fitness equipment is not one of them. I have found so many discrepancies researching products on Amazon and comparing it to what the manufacturer says.
This is especially important when looking at motor size and speed limits. Both of those are directly tied to your fitness goals: If you're a runner, you want a motor of 3.0 continuous horsepower or higher and speeds that match your training. So you can see what Amazon has to say, but double check it with the product manufacturer.
Assembly Options
I have found that Amazon often bests top brands when it comes to assembly costs. You'll find professional assembly for as little as $100 through Amazon when it's twice as much through the manufacturer.
Know your options, though: Amazon often gives you several choices for delivery and assembly, ranging from leaving the box on the curb to fully assembling it in your home.
Shipping Costs
If you're a Prime member, you'll find a lot of treadmills ship free. However, that isn't always the case. Many of us have fallen victim to failing to check the cost of shipping on Amazon, assuming that it's free. Trust me: You don't want to feel the sting of the smack in the face that is an unexpected treadmill shipping cost.
FAQs About Treadmills on Amazon
Which treadmill is best for home?
Is Amazon a good place to buy a treadmill?
I love that Amazon features some of the best-selling treadmills on the market, and often ships them for free. I have found that the online retailer isn't always the best at giving accurate information about the machines, so double check any specs you find with the product manufacturer.
What is the best treadmill under $500?