We test and review fitness products based on an independent, multi-point methodology. If you use our links to purchase something, we may earn a commission. Read our disclosures.
If your parents put you in a ton of different sports growing up under the pretense of being a well-rounded individual, congrats! You have something in common with the NordicTrack EXP 10i treadmill. Rather than being a specialist in one category, the EXP 10i is above-average in a variety of ways.
In this NordicTrack EXP 10i review, I'll clue you in on the specs, warranty, and what it's like to actually use this cardio machine. Keep reading to figure out if this machine is the right fit for you and your home gym.
Treadin' Our Way Through NordicTrack Machines
I know treadmills like I know the freckle above my lip—they are just a part of me. If there's anyone you want to guide you on your journey to finding the best treadmill, it's the team at Garage Gym Reviews. After all, we're a qualified bunch—think certified personal trainers, nutrition coaches, and former college athletes.
NordicTrack EXP 10i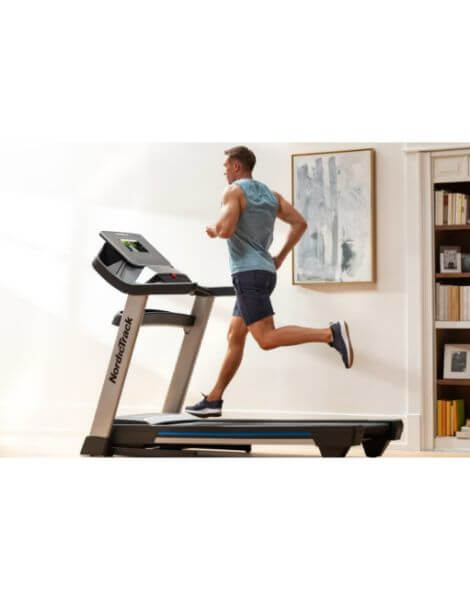 NordicTrack EXP 10i Treadmill
The NordicTrack EXP 10i Treadmill is a solid mid-range treadmill to add to your home gym. While using the treadmill, you can choose from a library of over 17,000 iFIT workouts with various trainers and incline and decline capabilities to get a great training session in.The treadmill is made with special deck cushioning called FlexSelect and wireless Bluetooth connectivity so you can have a comfortable and quiet workout every time. View thousands of workouts on the 10" touchscreen as you move through your daily routine.There's also a -3% decline to 12% incline and speeds from zero to 12 MPH, so you or your trainer can specialize your workout to you.
A Quick Look at the NordicTrack EXP 10i
The NordicTrack EXP 10i is one of three machines in the EXP-treadmill family. These include the EXP 14i, the EXP 7i, and the EXP 10i. All three of these machines are under $1,700 and are what I'd consider a mid-range treadmill.
The EXP 10i is the middle-priced option at $1,500. Let's see if it lives up to the price.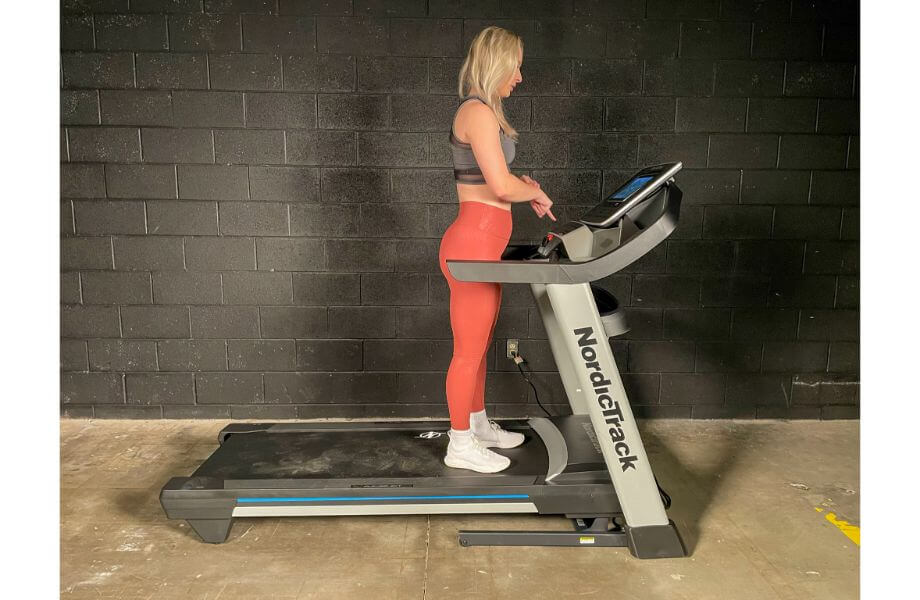 My Tips:
Take advantage of the free 30-day iFIT membership trial you'll receive with the purchase of the EXP 10i.
Consider putting a treadmill mat under this machine to reduce unnecessary noise.
Pros:
300-pound weight capacity
3.5 CHP motor
Generous belt size
Features incline and decline options
Adjustable FlexSelect Cushioning
Stable while being used
10″ touchscreen
Cons:
Assembly requires two people
Heavy at 229 lbs
Loud when changing speed, incline, or decline
Is the NordicTrack EXP 10i Worth It?
Although the NordicTrack EXP 10i is a solid machine, it isn't the best choice for everyone. After all, some people prefer specialist machines that do one thing exceptionally well (like having a massive touchscreen or insane incline options). Check out who I think should add this treadmill to their repertoire and who should buy something else.
Great for:
Runners, walkers, or joggers
Someone who needs a foldable machine
Those who want adjustable belt cushioning
Not recommended for:
Someone who needs a quiet machine
Super small spaces
An individual who wants a large touchscreen
NordicTrack EXP 10i Specs
| | |
| --- | --- |
| Footprint | 79.9" L x 35.08" W x 59.25" H |
| Weight | 229 lbs |
| Weight capacity | 300 lbs |
| Price | Around $1,500 |
| Warranty | 10-year frame, 2-year parts, 1-year labor |
| Motor | 3.5 CHP |
| Top speed | 12 MPH |
| Incline and decline | -3% to 12% |
| Display | 10" HD touchscreen |
| Tread belt | 20" W x 60" L |
| Foldable | Yes; EasyLift Assist |
| Fan | AutoBreeze workout fan |
| Wi-Fi | 2.4GHz and 5GHz connection |
| Bluetooth headphone connectivity | Yes |
Using the NordicTrack EXP 10i Treadmill
Stability is a big thing for me when I test treadmills. I mean, who the heck wants to run or walk on a machine that is wobbling the entire time? Not me. Luckily, the NordicTrack EXP 10i is an extremely stable machine––I didn't notice any shaking or play in the frame as I ran. As a disclaimer, I'm about half the weight capacity, so your mileage may vary if you are a bit closer to the 300-pound limit.
The 20-inch-by-60-inch deck on the EXP 10i is what I'd recommend for anyone who enjoys running or has a longer stride. Generally speaking, it is best to have at least a 55-inch-long deck if you plan to do anything more than walking or casual jogging.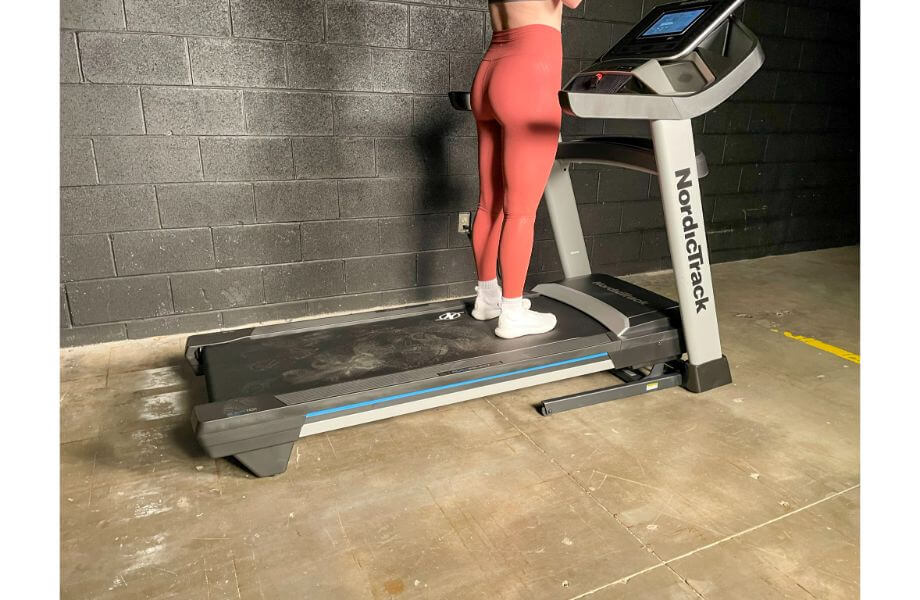 Since I've tried every treadmill NordicTrack currently produces, I will say that the EXP 10i is much louder than some of the more expensive offerings from the brand. I changed the speed, incline, and decline and was surprised at just how noisy the machine sounded. It definitely isn't a treadmill I'd recommend using next to a sleeping baby.
I'm assuming the noise has something to do with the strength of the 3.5 CHP motor. This is definitely not a wimpy motor, but some of NordicTrack's treadmills have motors over 4.0 CHP, so by comparison, it is weaker. You'll be able to comfortably run without fear of the motor giving out, but this is just something to keep in mind.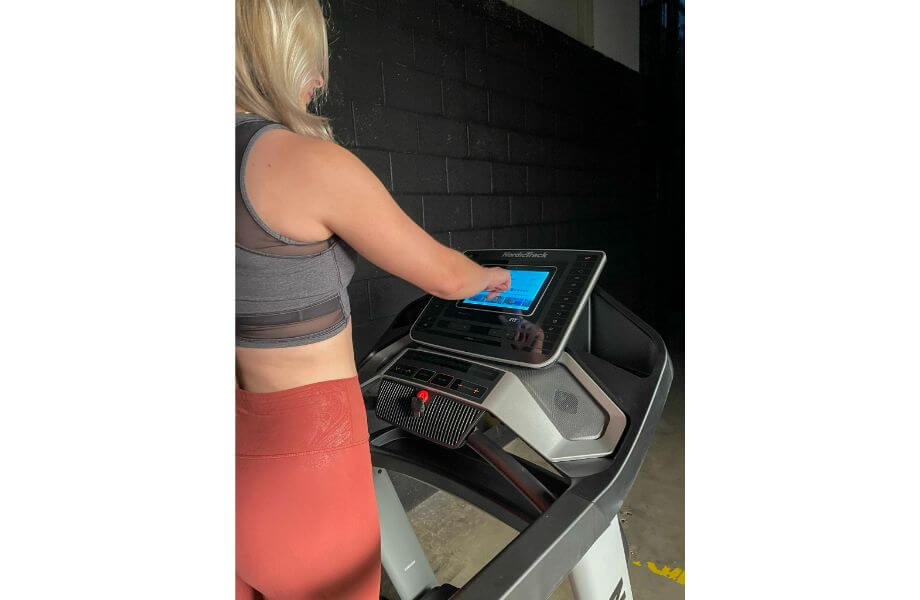 Although this machine has quick-select buttons on either side of the 10-inch touchscreen, the controls are less responsive than the other NordicTrack treadmills. However, I do like that a mid-range machine (such as the EXP 10i) has both incline and decline options. The EXP 10i has a pretty standard maximum incline of 12 percent and a 3-percent decline, which is decidedly less common.
I'm also a fan of the FlexSelect cushioning on the EXP 10i, which NordicTrack sadly did away with on the NordicTrack Commercial 1750. This cushioning can be changed using a lever located on the underside of the deck. If you're more keen on a running path that feels similar to the outdoors, you'll appreciate this feature. You'll also definitely like the FlexSelect cushioning if you want a more cushioned experience or have family members who will share this machine with you and prefer different cushioning levels.
Footprint and Portability
Like most treadmills today, the NordicTrack EXP 10i folds for easy storage. It is 229 pounds, so I would recommend grabbing at least one other person to help you move the machine up or down the stairs.
If you're just moving the EXP 10i within a room, you'll be able to take advantage of the included transport wheels. I'm also a fan of the gas shock, which allows the machine to unfold gently without smashing any toes.
The footprint of the EXP 10i is pretty standard for a treadmill, so I'd recommend having a designated space for the machine to live. Although the EXP 10i does fold, it doesn't fold flat enough to be stored underneath a couch or a bed. This means you should plan where your new treadmill will live ahead of time.
It is also worth noting that you cannot store the NordicTrack EXP 10i in a garage or the warranty will be voided.
Technology Benefits
All current NordicTrack treadmills are compatible with iFIT programming, and the EXP 10i is no different. This machine features a 10-inch touchscreen and (currently) a free, 30-day iFIT membership trial. I like that NordicTrack gives you the option to try the programming before you commit to the subscription. Besides the typical running, walking, and jogging classes, you'll find strength, yoga, pilates, and more on-demand.
If you choose to continue with an iFIT subscription, a family membership is $396 per year and an individual membership is $180 per year.
Conveniences
Curious about what extras you'll find on the EXP 10i? Take a look:
Google Maps
Automatic trainer control
Bluetooth connectivity
Workout fan
Integrated device tray
Cup holders
Smart-response drive system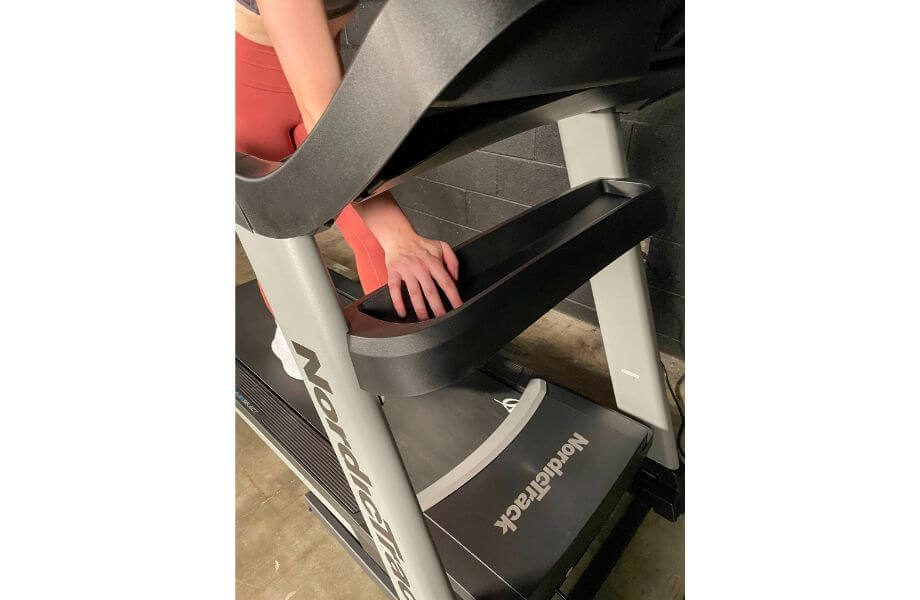 Comparison to Sole F65
The NordicTrack EXP 10i is an all-around solid treadmill, but the Sole F65 also has plenty going for it. Check out the main differences and similarities between the two machines:
Sole F65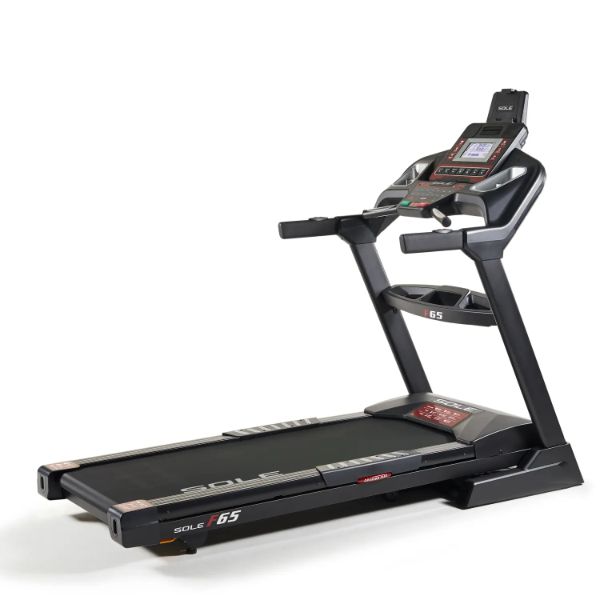 Sole F65

The Sole F65 treadmill is one in a line of almost half a dozen treadmills in the brand's F series. Priced around $1,400, this machine features a powerful motor equipped to handle speeds of up to 12 MPH, making it an ideal choice for runners. Additionally, 15 incline levels add challenges to workouts and simulate hill running.One of the noticeable upgrades the Sole F65 has is a spacious running deck that measures 60 inches long and 22 inches wide. This accommodates tall runners and those needing a little more space. Plus, it's one of the largest running surface areas you'll find on a treadmill in this price range.We love that the F65 comes with lots of extras: a cooling fan, Bluetooth-enabled speakers, water bottle holder, and tablet holder to store your smart device. There are also six preset workouts for you to choose from to do your workout.This is a large machine that takes up substantial space in your home gym, but the deck does fold to reduce the machine's footprint.
| | | |
| --- | --- | --- |
| Treadmill | NordicTrack EXP 10i | Sole F65 |
| Price | Around $1,500 | Around $1,400 |
| Warranty | 10-year frame, 2-year parts, 1-year labor warranty | Lifetime frame and motor, 3-year deck, parts, and electronics, and 1-year labor warranty |
| Folding treadmill | Yes | Yes |
| Running deck size | 20" W x 60" L | 22″ W X 60″ L |
| Decline capabilities | Yes | No |
| Motor | 3.5 CHP | 3.25 CHP |
| Weight | 229 lbs | 262 lbs |
| Display | 10-inch HD touchscreen display | 7.5-inch LCD display |
| Footprint | 79.9" L x 35.08" W x 59.25" H | 82" L x 37" W x 66" H |
Want to learn more? Read our full Sole F65 treadmill review.
Customer Experience
NordicTrack offers excellent financing options through TD Bank. If you qualify, you can pay as little as $39 per month for 39 months with 0% APR.
Although the NordicTrack website does have a live chat feature, it does take a while to get a response to your question. I've also read other NordicTrack reviews (not related to this machine specifically) that state it is difficult getting a timely customer service response.
Customer Reviews
There are not currently any reviews available for the EXP 10i on the NordicTrack website. The NordicTrack website only shows the occasional iFIT programming review and a smattering of ratings from customers. We will update if this changes.
This machine is also not currently available on Amazon or Best Buy, so I cannot give you other reviewers' opinions from different sites.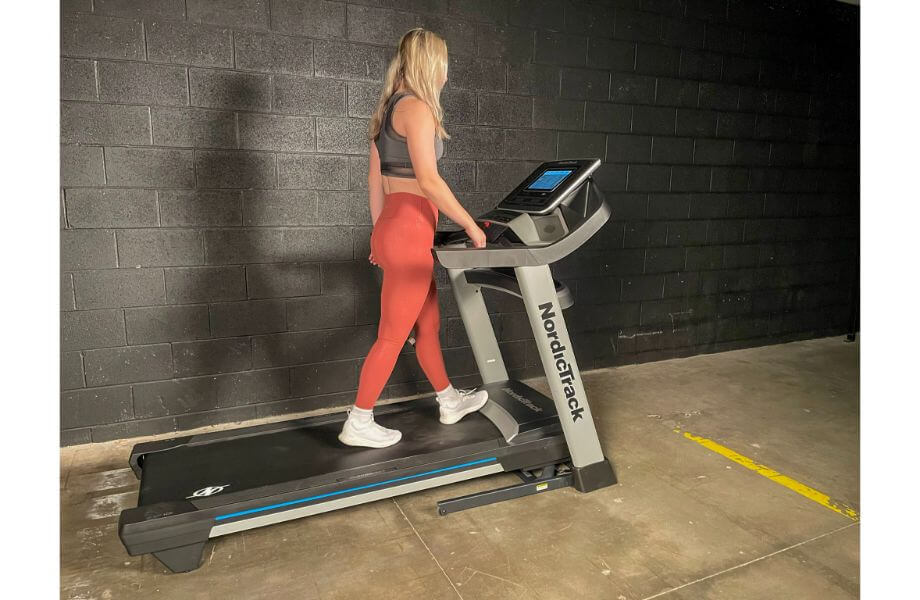 Ordering and Assembling the NordicTrack EXP 10i Treadmill
You can order the NordicTrack EXP 10i on the brand's website very easily. You'll have the option to pay an additional $199 for professional assembly or get free delivery to the first dry spot outside your home. Since this machine is fairly heavy, it is in your best interest to grab another person to help you or pay for professional delivery.
Our NordicTrack rep (who has put together dozens of these machines) says the common person definitely needs another set of hands during the assembly process.
Final Verdict of Our NordicTrack EXP 10i Treadmill Review
If you're looking for a solid mid-range treadmill with a variety of useful features, you'll likely appreciate the NordicTrack EXP 10i treadmill. Here are my main takeaways:
The EXP 10i is pretty loud, so don't expect it to be a quiet little mouse.
The 10-inch touchscreen with iFIT capabilities is excellent.
Tall individuals and runners will like the sizable deck and incline/decline options.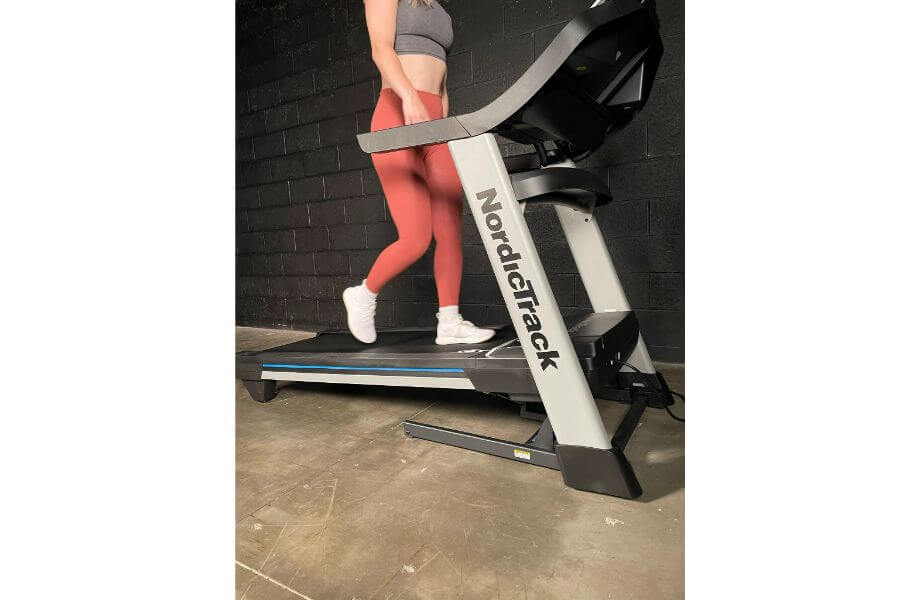 NordicTrack EXP 10i Treadmill Rating
NordicTrack EXP 10i Treadmill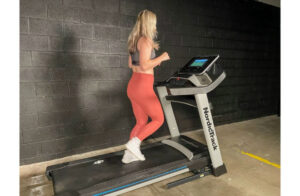 Check out our NordicTrack EXP 10i review for all the information on this mid-range treadmill.
Product Brand: NordicTrack
Product Currency: $
Product Price: 1499.00
Product In-Stock: InStock
NordicTrack EXP 10i Treadmill FAQs
How much does the NordicTrack EXP 10i weigh?
The NordicTrack EXP 10i weighs 229 pounds in the box. I would recommend getting another person to help you unbox and assemble (if you decide to not pay for professional assembly). 
It is also smart to get another set of hands involved if you need to move this treadmill up a set of stairs. No machine is worth hurting yourself over, so make sure to always keep your safety in mind.
How long do NordicTrack treadmills last?
If you properly maintain your NordicTrack machine, you'll likely get plenty of years of use out of it. I recommend utilizing your warranty whenever possible.
How much is a one-year iFIT membership?
An iFIT family membership is $396 per year, which includes five user profiles. A single membership costs $180 per year. Currently, NordicTrack is offering a free 30-day iFIT trial with the purchase of a cardio machine. I suggest taking advantage of this promotion while it lasts.
What are some other good treadmills besides the NordicTrack EXP 10i?
If you want a less expensive version of the EXP 10i, I recommend the EXP 7i treadmill. It has a lot of the same features as the EXP 10i but at a lower price. Not sure about these options? Check out a few more of my favorites:
NordicTrack X22i
ProForm Pro 2000
NordicTrack T 6.5 S