We test and review fitness products based on an independent, multi-point methodology. If you use our links to purchase something, we may earn a commission. Read our disclosures.
The Teeter FitSpine Inversion Tables are some of the best-selling inversion tables that decompress the spine in an effort to reduce back pain. The X1, X3, and LX9 Inversion Tables improve upon the original EP models at a similar price point. After using Teeter Inversion Tables and Gravity Boots over the past decade, I feel that Teeters are the best inversion tables on the market.
In this Teeter Fitspine Inversion Tables review, we'll look at the Teeter FitSpine X1, X3, and LX9 to compare them to the company's previous models. Overall, the FitSpine is an improved version of the popular Teeter EP-560, though you can't go wrong with either one. Although the EP-560 is a more budget-friendly table, the FitSpine series offer more features and the latest technology, and in our opinion are a worthwhile upgrade for those who struggle with sciatica.
Best Inversion Table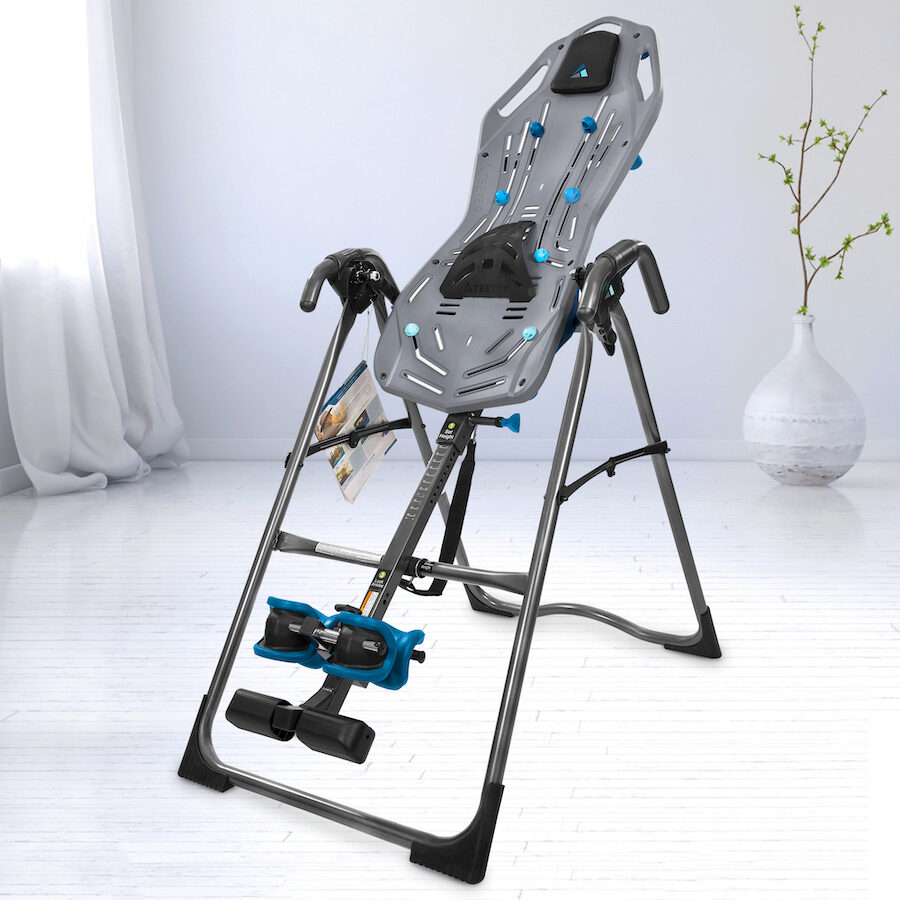 Teeter FitSpine Inversion Table
Join the millions who have found natural relief with Teeter Inversion Tables. The Teeter is a gentle, passive way to target pain at the source, decompressing joints to help improve spinal health and relieve back pain.At a Glance: Inversion Table BenefitsRelieve Back Pain Indicated for Herniated Discs, Sciatica and More Reduce Muscle Tension and Spasm Enhance Flexibility Improve Posture Build Core Strength Through Inverted Exercise Relief in Just Minutes a DayBuilt for the BenefitsIntroduce your back to relaxation and relief with the Teeter FitSpine X1, X2, and X3 Inversion Table. The innovative FlexTech Bed is supported by an 8-point floating suspension system, which flexes as you move and enables the best decompressive stretch.The unique track design on the table bed accommodates the included Lumbar Bridge and Acupressure Nodes for targeted traction and pressure-point relief. Grip-and-Stretch Handholds built into the bed and A-Frame allow you to enhance your stretching and decompression.As with all Teeter Inversion Tables, patented wrap-around Ergo-Embrace Supports reduce pressure on the ankles and the Ankle Comfort Dial lets you easily customize your fit.
Why You Should Trust Us
I've used Teeter products for nearly a decade now, and though I'm still relatively young I've found inverting to be an excellent way to decompress my spine and lower back. I'll spend time inverting with one of Teeter's inversion tables after almost every lower-body training day (i.e. when I squat or deadlift) to keep back pain at bay.
In addition to my personal use with inversion products, my team and I are constantly testing mobility and recovery devices to recommend to our readers
This means I have a deep understanding of this product, and can give you a thorough and honest review of it.
A Quick Look at the Teeter Fitspine Inversion Tables
An inversion table is designed to take gravitational pressure off of your nerve roots and spinal discs while increasing the space between the vertebrae in your spinal column. Although there are mixed opinions on whether they provide, true, long-lasting relief from back pain, the short-term benefits have been enjoyable and worth the little effort required for use, even if it's just a placebo.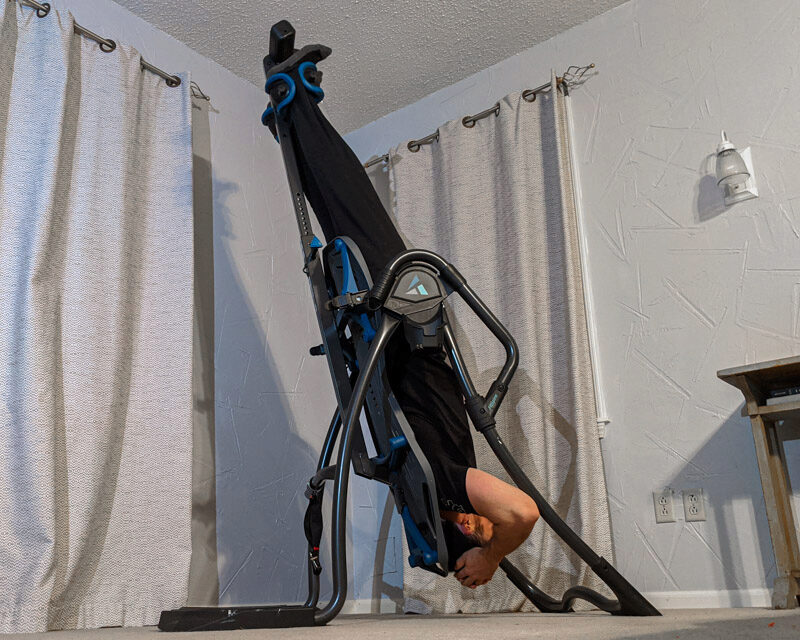 Teeter has been making Inversion Tables for decades, and the FitSpine Series is one of their latest series.
While Teeter isn't the only company making inversion tables, theirs are the only ones that's registered as a medical device to treat back pain, muscle tension, degenerative disc disease, herniated discs, muscle spasms, sciatica, spinal stenosis, facet syndrome, and spinal curvature. (It should not be used to replace a chiropractor or other licensed medical professionals, however).
Coop's Tips:
Because inversion therapy causes you to hang upside down, forcing blood to rush to your head, it should not be used by people with high blood pressure, heart disease, or glaucoma.
First time using an inversion table? Take it slow, and talk to a chiropractor or physical therapist to learn if it might be right for you.
There are more budget-friendly tables on sites like Amazon, but they won't have the heavy duty construction these have.
My Favorite Things
It's very comfortable and easy to use thanks to its ergonomic design
The tablebed moves with you to provide better range of motion
Comes with a 5-year warranty
Optional lock-out feature for full inversions
My Callouts:
Some of the features, like the cupholder and acupressure nodes, are nice but feel unnecessary in my opinion
Inversion therapy is a great temporary measure for back pain, but won't provide a permanent solution
Not budget-friendly
Are the Teeter Fitspine Inversion Tables Worth It?
The model we received for testing and review is the Teeter FitSpine LX9 Inversion Table. This features everything from the other models, as well as some additional comfort options that aren't necessary but do add to the functionality of the unit.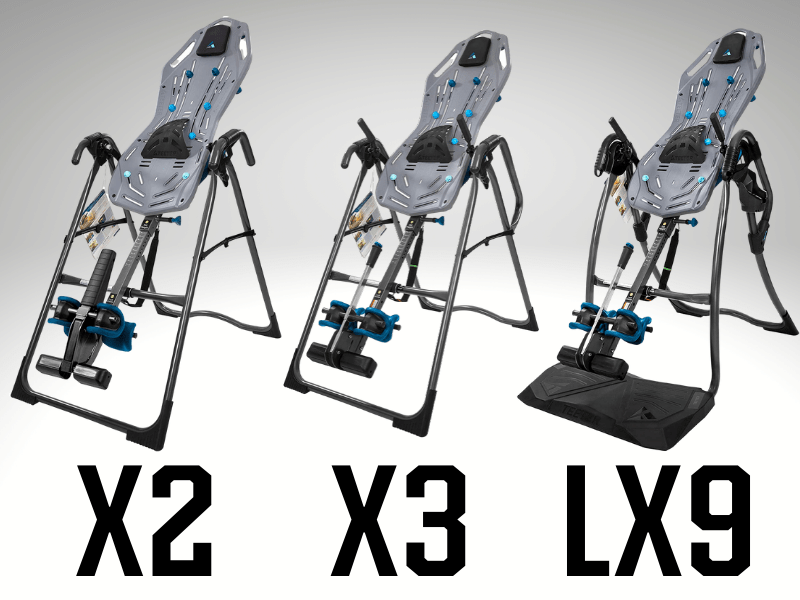 The biggest difference between the FitSpine LX9 and the Teeter EP-560 is the FitSpine table has an improved FlexTech bed that, due to being supported by an 8-point "suspension," flexes with you as you move around. Is this revolutionary? Not really, but it does feel more comfortable than previous versions and we think it's worth the money for those looking for back pain relief.
While the Teeter Fitspine Inversion Tables are definitely high-quality, that doesn't mean they're meant for everyone. Here's who I think would benefit from one, and who might not.
Great for:
Trainees who constantly suffer from lower back pain and need temporary relief
People in physical therapy for back pain (studies show inversion therapy helps speed up the healing process)
People who want spinal decompression but don't have a pull-up bar to use Teeter's Gravity Boots
Not recommended for:
People with heart issues or high blood pressure
Anyone who needs a permanent solution for their back pain
Anyone heavier than 300 pounds
Teeter Fitspine LX9 Inversion Tables Specs
| | |
| --- | --- |
| Footprint | 81.5" L x 27.5" W x 87.0" H |
| Weight | 73 lbs |
| Weight capacity | 300 lbs |
| Height capacity | 4'8" – 6'6" |
Using the Teeter Fitspine Inversion Tables
I like Teeter and have for many years. The brand's Gravity Boots are my main recommendation for those who have a pull-up bar and no problem getting into position (they're also incredible for inverted sit-ups). However, doing the required maneuvers to get into that position can be very difficult and not possible for most of the population. This is where inversion tables come in handy.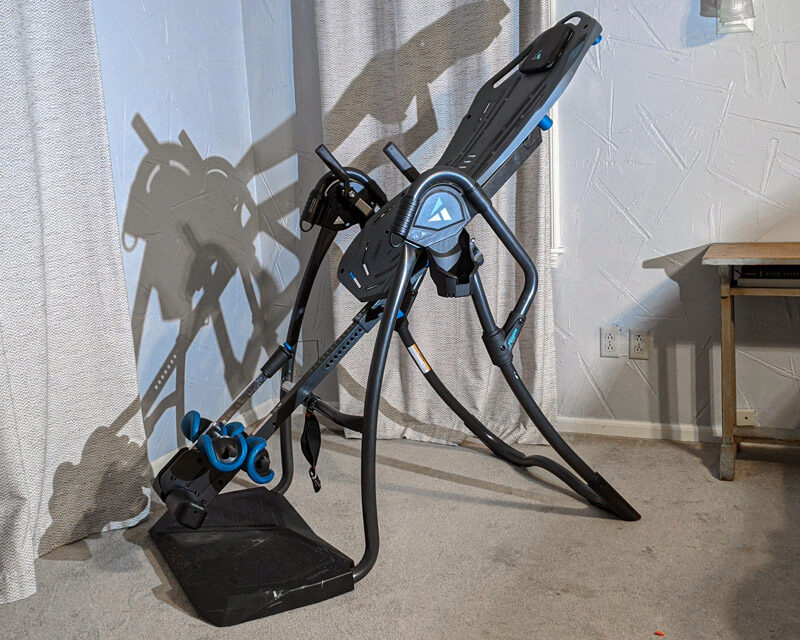 The Teeter FitSpine Inversion Tables have taken what works on their previous table models and added some new features at a slightly higher, but sometimes very similar price point.
Here are a few examples of how Teeter has been able to upgrade their inversion tables and separate themselves from the competition.
Ankle Lock System
An important part of an inversion table is the ankle lock system, and Teeter's is one of the best in the industry. Talk to anyone who's used an inversion table and they will tell you that the most uncomfortable part of inversion isn't being upside down, it's having your ankles locked into a device that can feel tight and pinch into your ankles.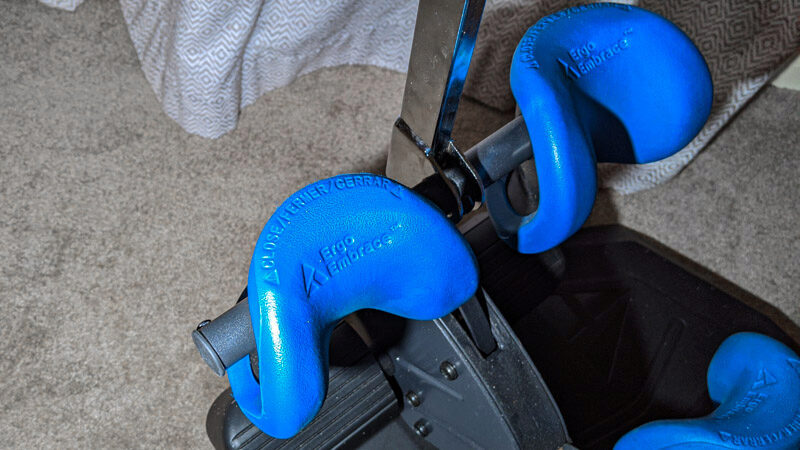 I've used all sorts of different inversion methods with varying ways of securing the feet and the FitSpine is, by far, the most comfortable table I've used. In comparison to competitors, I find the foam to be denser and less likely to pinch.
Teeter' ankle closure system wraps all the way around the ankle, allowing you to feel secure, even when fully upside down (how I hang most of the time.) On the LX9 model, the ankle lock handle adjustment system is very quick and easy to use. This is a more expensive feature and for most people, we'd suggest going with a cheaper model, but if you prefer having the ease of use allowed by the LX9, it may be worth it for you.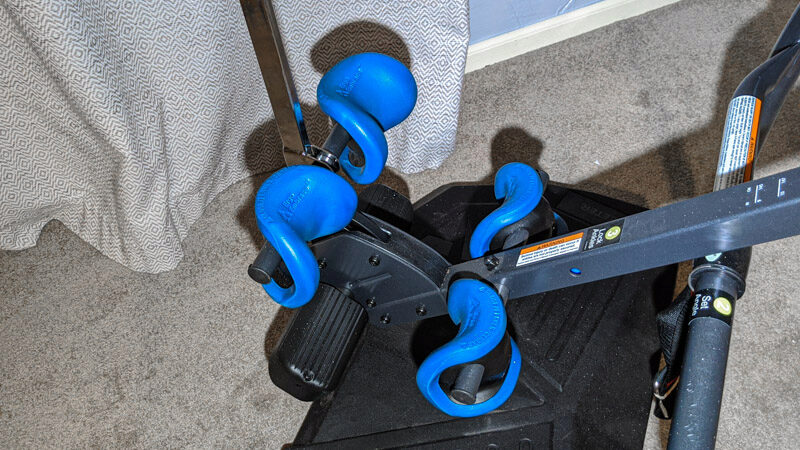 FlexTech Bed
The other improvement seen in the FitSpine series over the older models is the FlexTech Bed. It's still plastic, and from what I've seen appears to be made of the same material as their other models. The difference here is that the FlexTech Bed uses an "8-point floating suspension system." What this amounts to is a bed that is secured in eight different points.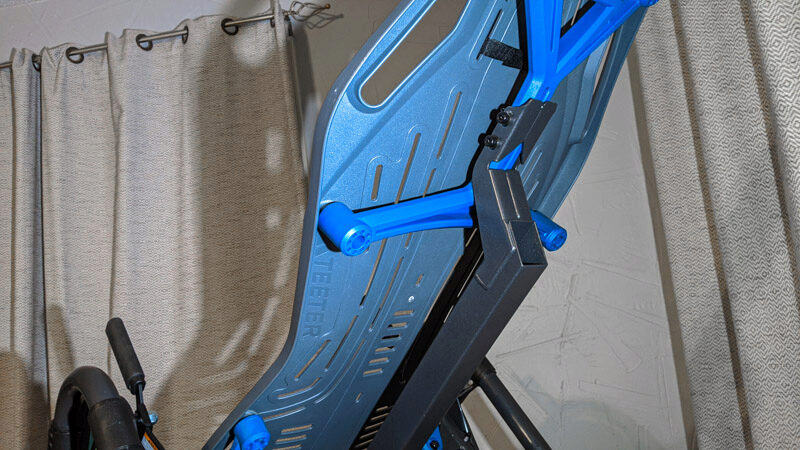 This isn't revolutionary, in my opinion, but it does feel more comfortable than previous models due to it flexing while I move about adjusting my positioning on the bed.
What Could Have Been Left Off the FitSpine Inversion Tables
There are some other features that are included with the FitSpine that I personally didn't find very useful. One is the Adjustable Lumbar Bridge, which supports traction on the lower back. It didn't feel any different using the table with it or without it.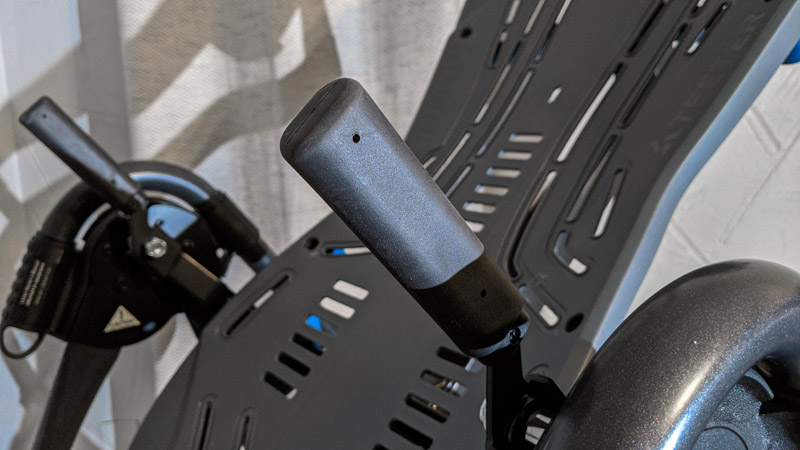 Next are the acupressure nodes, which are for pressure point relief and trigger point release. I do believe in the short-term benefits of trigger point release therapy, but due to hanging upside down on the table and not having a lot of pressure resting on the nodes, they won't really do what they're designed to do for most people, in my opinion.
The extra-long stretch max handles are nice for pushing against and getting back upright, I will say. The base model doesn't include these, but they are a feature I do really enjoy about the FitSpine LX9. Some of the models come with a traction handle that allows you to control how much decompression you get at each angle, which is a great feature for beginners.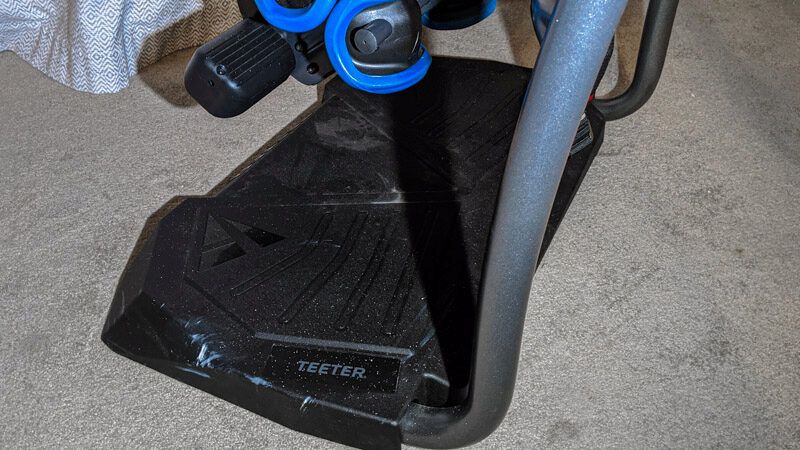 Finally, the cupholder, boarding platform, and headrest are all nice to have on the unit but didn't feel necessary for my use. If you're older and want to be more comfortable, I could see how they could accomplish that goal, however, I think people would be better off spending a bit less on the other models.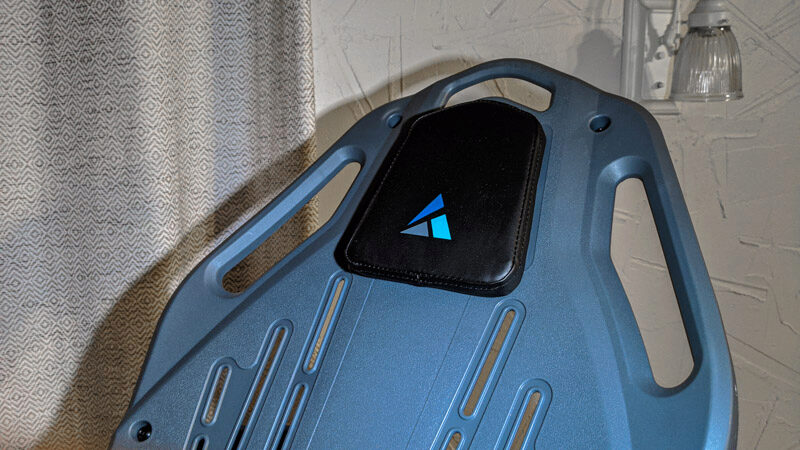 Stowability
For those in tight spaces, the Teeter FitSpine LX9 Inversion Table can be folded to fit under a bed or behind a couch. Here are its folded dimensions:
27.5 inches in length
27.5 inches in width
68 inches in height
Teeter FitSpine vs. Teeter EP Inversion Table Series
The biggest difference that I can see between the tables is the new FlexTech Bed and its associated features as well as the color change. The higher-end tables like the LX9 do have some additional features, but overall, the big one is the bed.
Teeter EP-560l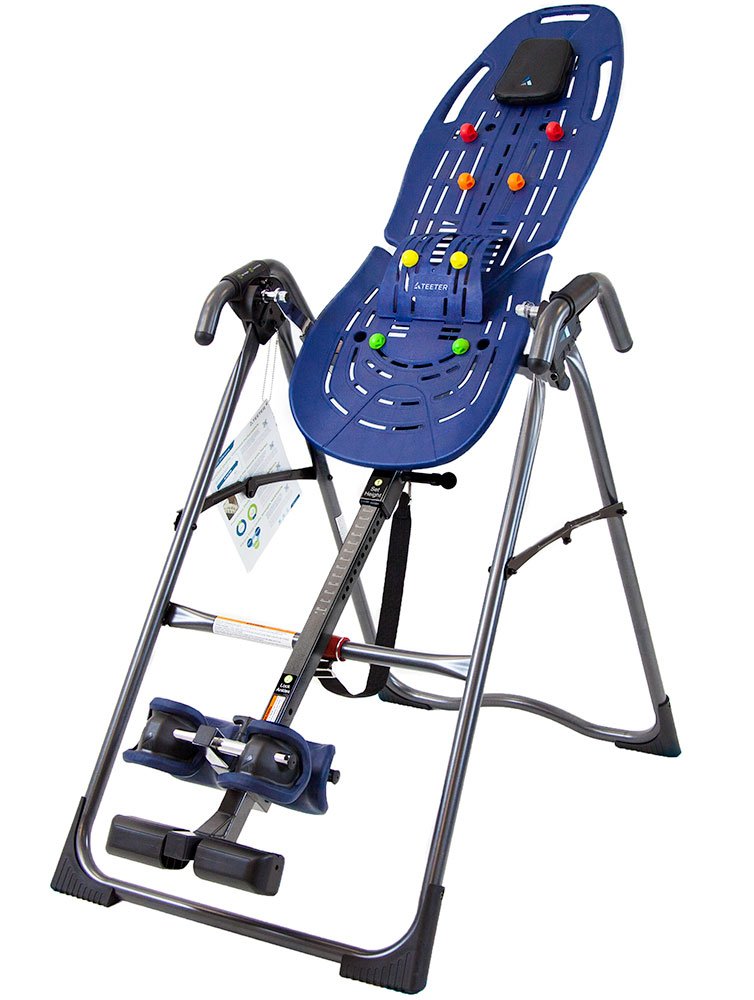 Teeter EP-560 Inversion Table
The Teeter is an effective, FDA Registered 510(k) medical device designed to provide traction to the spine while stretching the para-spinal muscles. The Teeter is indicated for Back Pain, Sciatica, Muscle Tension, Degenerative Disc Disease, Herniated Discs, Spinal Stenosis, Spinal Curvature due to Tight Muscles, Muscle Spasm & Facet Syndrome*.FDA REGISTERED 510(k) DEVICE: Teeter is the ONLY FDA registered inversion table. Indicated for back pain, muscle tension, herniated disc, sciatica, muscle spasm, and more (see below) PREMIUM FEATURES: Acupressure Nodes (8) in varied heights for trigger-point release and focused relief. Lumbar Bridge with adjustable arch for added traction and support UNMATCHED COMFORT AND SUPPORT: Patented wrap-around ankle cups for ergonomic fit. Contoured Bed flexes for comfort and optimizes stretch for maximum relief PRECISION ROTATION FOR TOTAL CONTROL: It's easy to do - simple arm movements shift your body weight so you can effortlessly invert and return to the upright position TRUST TEETER: UL 3rd-Party Safety Certification; Heavy-gauge steel parts with patented security features; Easy 5-Step Assembly; 35-Year Legacy; 300 lb, 4ft 8in- 6ft 6in user capacity
For most, the Teeter EP-560 is still an excellent, FDA-registered inversion table with great ankle comfort. If you want the cheapest, go with the Ep-560. If you want the new features and better resale value of a newer unit, go with the FitSpine X.
Ordering and Assembling the Teeter Fitspine Inversion Tables
The Teeter FitSpine Inversion Tables are easy to order through Teeter's website, and each table can be split into quarterly or monthly payments. They generally take a week to 10 days to ship, and there's free shipping for people in the continental United States (people in Hawaii and Alaska must pay $200).
The assembly is somewhat complicated, and there are some reviews that screws were not shipped with their order. You can follow the instructions included with your order or on the BILT app (which shows step-by-step assembly instructions).
Customer Experience
Teeter can be contacted through a form on their website, phone during normal business hours (8 a.m. to 4 p.m. PST), and a live chat.
Warranty and Returns
The Teeter FitSpine Inversion Tables come with a 5-year warranty, which is more generous than what most companies offer. The warranty only covers manufacturing defects, so if you use the tables in an improper way and break it you're out of luck.
You have 60 days from when you order your inversion table to return it for all your money back, minus shipping and handling, but the item must be in its original condition.
Customer Reviews
The Teeter FitSpine LX9, the inversion table we reviewed, has more than 2,000 5 star ratings. Many reviews state that using the table allowed them to get rid of their back pain, which was causing them to put their lives on hold.
"I bought my teeter after missing one day of work and not being able to play with my grandchildren," a reviewer by the name of Captain Fun wrote. "My lower back has been pain free after starting the teeter exercises. I'm 62 years old and I'm back to playing like a youngster again! Water skiing, snow skiing, motocross, and playing with my grandchildren."

Not everyone is a fan, though. Some of the negative reviews said the ankle supports and other safety features were uncomfortable, and some complained the table did more harm than good.
"Actually my wife was in more pain on the table, actually got stuck on it," reviewer Yarish wrote. "We used it maybe 3 times each. Wish I returned it but just had more going on that was more important."
Final Verdict of Our Teeter Fitspine Inversion Tables Review
Overall, the Teeter Fitspine X Models are, in my opinion, the best inversion tables currently available. I do love the price and usefulness of Teeter's Gravity Boots, but also understand that for most people, they're much more difficult to use and don't allow for easing into complete inversion. If you want an inversion table, it seems pretty obvious to me that Teeter is the gold standard currently.
They're simple to use, inexpensive, and highly effective, which makes them perfect for home gyms and people who want to improve the health of their spine.
RELATED: Best Home Gym Equipment
Teeter FitSpine Inversion Tables FAQs
Does the teeter Fitspine really work?
Many people are unfamiliar with the concept of hanging upside down to ease back discomfort. Yes, to put it succinctly. Inversion relieves pressure on the discs and surrounding nerves by using gravity and your own bodyweight to decompress the spine.
How many times a week should you use an inversion table?
Try it twice a day to assist your body get used to it faster. Increase your angle by 10 to 20 degrees every week until you're comfortable with one to five minutes at an angle of 60 to 90 degrees. Use the inversion table three times or more each day, or if you have severe back discomfort.
What's the difference between Teeter LX9 and X3?
The FitSpine LX9 is the FitSpine Series' premium variant. It comes with the same deluxe EZ Reach Ankle Lock System, Stretch Max Handles, and EZ Angle Tether as the X3. In addition, the LX9 includes extra pleasures that improve user accessibility and comfort.
Full Rating
Teeter FitSpine Inversion Tables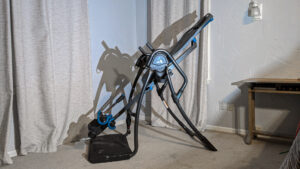 Teeter is the creator of the best-selling inversion table of all time. The Teeter FitSpine X1, X3, and LX9 Inversion Tables are their latest offerings that improve upon the original EP models, but at a similar price point. After using Teeter Inversion Tables and Gravity Boots over the past decade and testing the latest FitSpine series for review, I feel that Teeter's are the best inversion tables on the market and although the FitSpine offers minor improvements over the previous versions, you can't go wrong with any of their models.
Product Brand: Teeter
Product Currency: $
Product Price: 349.99
Product In-Stock: InStock