We test and review fitness products based on an independent, multi-point methodology. If you use our links to purchase something, we may earn a commission. Read our disclosures.
If you're not looking to spend your life savings on a cardio machine but still want to get some heart-healthy exercise in, consider a durable, mid-range treadmill that will last you for years to come.
In this NordicTrack EXP 7i treadmill review, I'll detail why this may be the ideal piece of cardio equipment for you and your home gym (or maybe not). Check out all my thoughts below to see if you should click "add to cart" for this exercise machine.
Over 2,000 Pieces of Fitness Equipment Reviewed
Since Garage Gym Reviews was started in 2014, we have rigorously tested and reviewed thousands of the hottest pieces of fitness equipment on the market. Plus, we have the certifications to back ourselves up (we do like to put our money where our mouth is)––we're certified personal trainers, nutrition coaches, and CrossFit L1 trainers, so it's safe to say we know our stuff.
NordicTrack EXP 7i Treadmill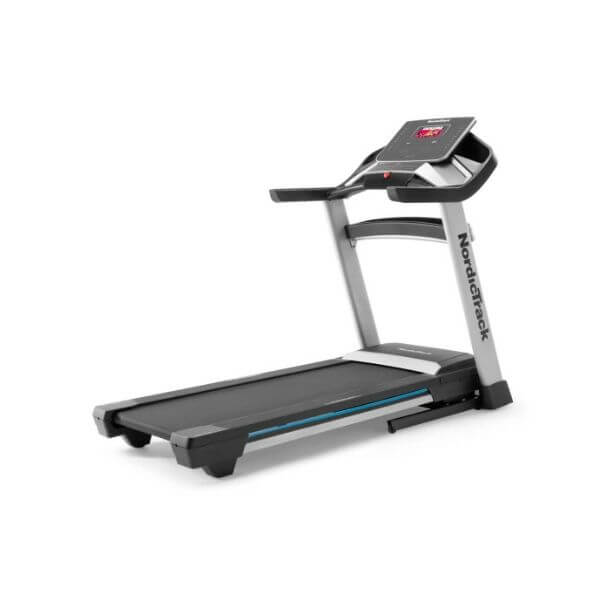 Product Highlights
7-inch touchscreen display

iFIT-enabled and comes with a free 30-day family membership

3.0 CHP motor suited for walking or running

Speeds from 0 to 12 mph with incline ranges up to 12%

Folding design

20-inch-by-60-inch cushioned running deck to reduce stress on joints and back

Supports weights up to 300 pounds

Conveniences include Bluetooth connectivity, a console fan, and tray for storage
Pros & Cons
Pros
Interactive 7-inch screen allows for easy access to the iFIT library
Folding design
Large running surface for a folding treadmill
Cushioned running deck
One-month family membership to iFIT is included with purchase
Cons
Small screen
No tablet or phone holder
Heavy
Bottom Line
True to the NordicTrack brand, the NordicTrack EXP 7i is a high-quality treadmill best suited for walkers, joggers, hikers, and the casual runner. With iFIT connectivity, you will have no shortage of motivation to stay on track towards your fitness goals.
A Quick Look at the NordicTrack EXP 7i Treadmill
I've tried out almost every NordicTrack treadmill the brand currently offers, so I was excited to get my hands on the EXP 7i and give my honest opinion. I'm a huge fan of the NordicTrack Commercial 1750, and would definitely recommend it to almost anyone (provided you can afford it). I was hopeful the EXP 7i would perform similarly, but did it? Keep reading to find out more.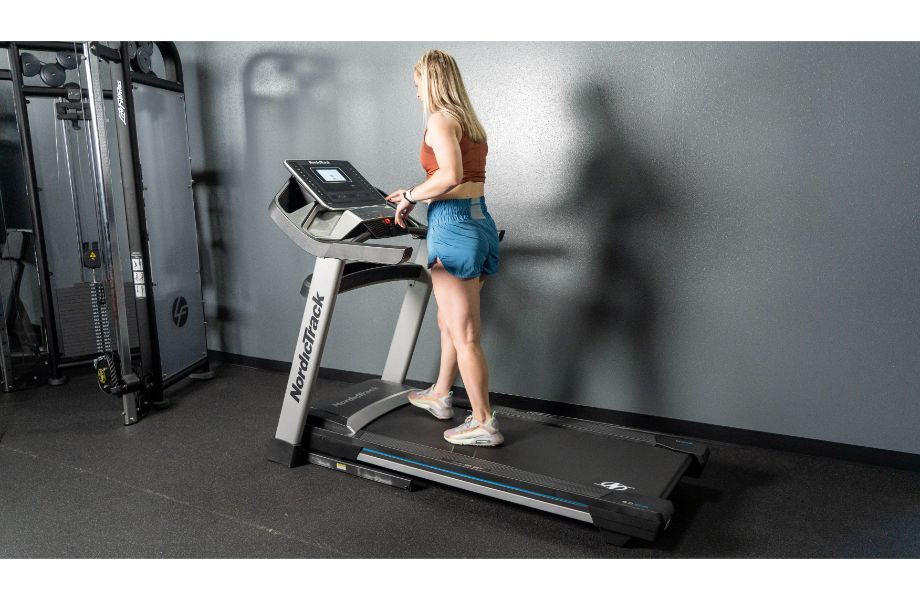 My Tips:
Can't afford this machine all at once? No problem; NordicTrack has excellent financing options available.
NordicTrack is currently offering a free 30-day iFIT trial. If you decide not to continue with the subscription, don't forget to cancel if you don't want your credit card to be charged.
Is the NordicTrack EXP 7i Treadmill Worth It?
The NordicTrack EXP 7i is a high-quality cardio machine a lot of people would enjoy using. There are a lot of positive components on the EXP 7i, but it isn't all rosy. Check out who I think would really benefit from purchasing this and who should click "add to cart" to something else.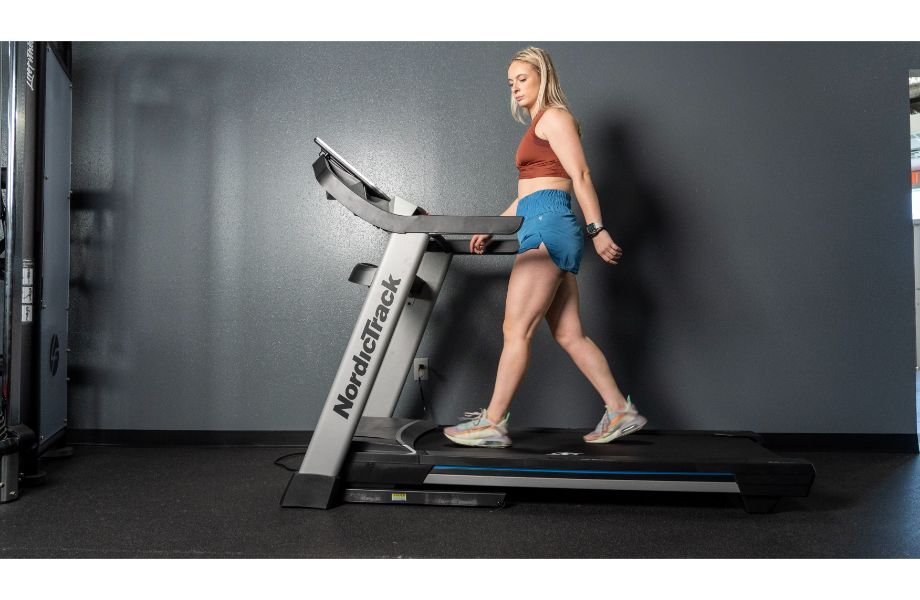 Great for:
People with joint pain
Tall individuals or those with a long stride
Runners, walkers, or joggers
Not recommended for
People with bad eyesight
Those who want a large screen
NordicTrack EXP 7i Video Review
NordicTrack Exp 7i Treadmill Specs
Footprint
Weight
Weight Capacity
Warranty
Incline
Speed Range
Motor Horsepower
Running Belt
Heart Rate Monitoring
Treadmill Features



Touchscreen
77.3" L x 35.3" W x 59.6" H
222 lbs
300 lbs
10-year frame, 2-year parts, 1-year labor
0-12% incline
0-12 mph
3.0 CHP
20" W x 60" L
No
Gas shock folding mechanism, smart-response drive system, commercial tread belt size, iFIT trainer (subscription purchased separately)
7" HD smart touchscreen
Zoomin' and Speedin' on the NordicTrack EXP 7i Treadmill
When I think about budget treadmills, I usually think about a price tag of $1,000 or less. The NordicTrack EXP 7i is $1,099, which puts it closer to a mid-range treadmill. However, it is a great price for all you're getting with this machine from NordicTrack.
One of my biggest gripes about lower-priced treadmills is usually deck size. As a way to keep costs down, companies often make their treadmill decks shorter and skinnier. You can probably imagine this makes it more difficult for people to comfortably run or sprint without feeling like they're going to fall off.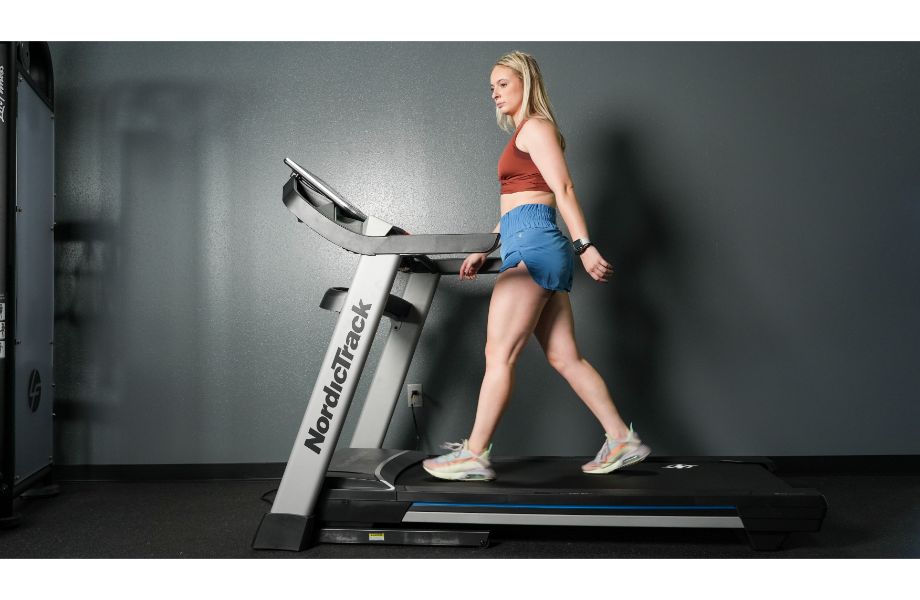 In this case, NordicTrack did not do us dirty with the EXP 7i. The deck is a supportive 20 inches wide by 60 inches long, which is exactly what you should look for if you're taller, have a long stride, or enjoy frequent running. Plus, the 3.0 CHP motor has the ideal amount of horsepower to support jogging, walking, running, or sprinting.
Both the incline and speed options are excellent. You'll be able to select between 0 and12 percent incline and 0 to12 MPH for all your workout needs. Generally speaking, if you're used to using the treadmill at a commercial gym, they usually will tap out in the exact same incline and speed ranges, so this treadmill is in good company.
Screen-wise, I'm not a fan. My eyesight isn't the best, and the more tired I get, the drier my eyes (and contacts) become, making it difficult for me to see the 7-inch screen. I do love iFIT, but since the screen is so small on this machine, it feels like I'm doing the equivalent of just squinting at my phone.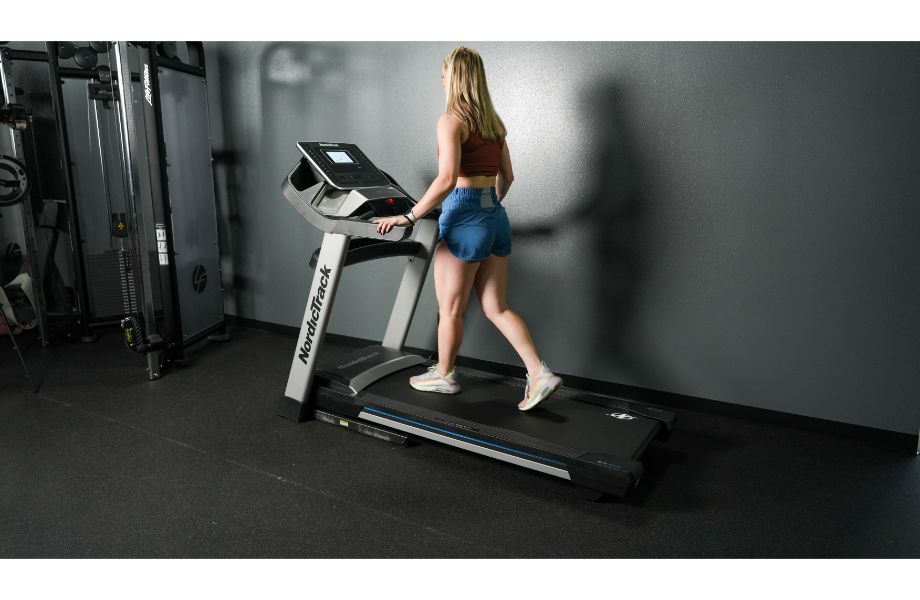 Size and Portability
Although the actual footprint of the EXP 7i is pretty standard when it comes to mid-range treadmills, this machine is really heavy—I'm talking 222 pounds in-box weight when this lands on your doorstep (or inside, depending on your delivery choice). Even when unboxed and assembled, you'll need a friend to help you move this machine.
GGR Head of Content Kate Meier moved this machine on her own without much issue, but we need to remember she's a literal competitive weightlifter who could probably crush us with her pinky finger.
If you're attempting to move this machine around a room––and not up or down stairs–– there are two transport wheels on the back that make moving the EXP 7i easier. Simply tip the folded machine carefully to the back wheels, and wheel it to your desired position.
The NordicTrack EXP 7i is foldable (yay!) and has a gas shock to allow for a gentle unfolding process versus the deck slamming down with force. I still would caution you to make sure there are no small hands or paws around before unfolding the treadmill.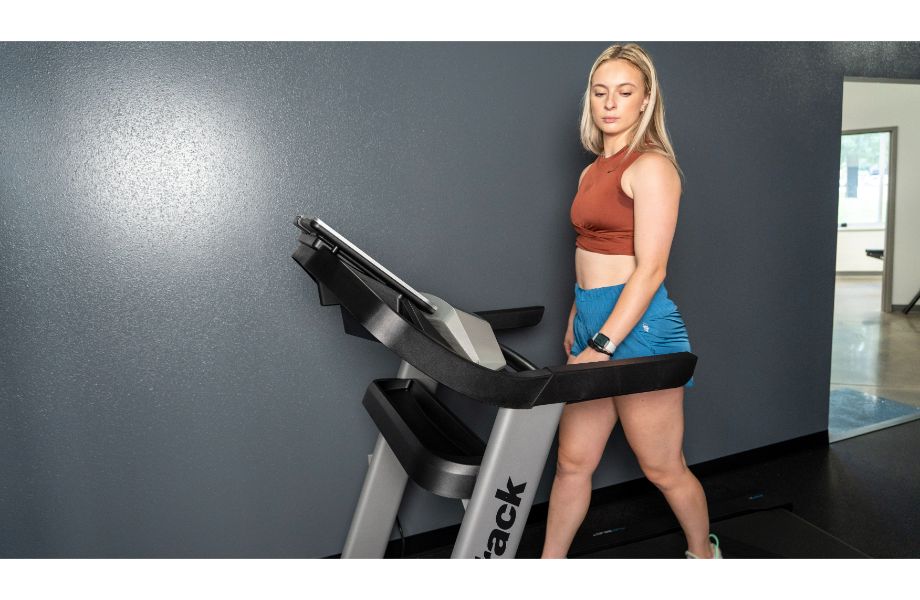 The Ergonomics
Comfort is key, and the NordicTrack EXP 7i treadmill lives up to this demand. Similar to previous NordicTrack Commercial 1750 iterations, the EXP 7i features FlexSelect Cushioning. This adjustable cushioning feature can help you change the deck of your treadmill to simulate running outdoors or the equivalent of jogging on a cloud.
I really enjoy this added feature, and am sad they took it off of the newest 2023 NordicTrack Commercial 1750. I think it can make any treadmill a usable option for an entire family, no matter if you're training for a road race or have joint pain. However, my one bone to pick is actually doing the switching itself. In order to use the FlexSelect, you have to first fold the treadmill and then manually do the switch, which is under the deck.
If you're 5 feet, 9 inches, or taller, you'll probably be slightly irritated at the workout fan. It hits me directly in the chest versus in the face, which is my ideal spot (and probably a lot of yours, too). For my short friends, you'll probably be thrilled to have a fan on your treadmill that actually hits you in the right spot.
In some of the customer reviews, I noticed there were some complaints about the water bottle holders on either side of the screen. I personally didn't dislike them and thought they were the appropriate size for an average water bottle (or two). Maybe previous models had small bottle holders, but in testing the latest edition, I didn't find this to be the case.
Technology Benefits and Conveniences
For those who desperately want a screen for interactive programming but don't want to pay thousands for their new treadmill, you might enjoy this EXP 7i. I like that they included a small touchscreen, but boy, is it small. At just 7 inches, it's only an inch or so larger than a typical iPhone. If you have poor eyesight, you really will struggle to actually see the type on the screen.
I wish they had included a larger screen, but I understand that comes with a larger price tag. Still, it reminds me of the ProForm Carbon T7, which has a similarly sized screen and costs around the same.
I've said it before and I'll say it again: iFIT rocks! It's a close second to Peloton programming for me (which I love) because there are so many different workout options. You'll be able to do things like run in the Swiss Alps with an instructor or just complete a treadmill jog with an in-studio feel.
Plus, you'll be able to take advantage of automatic trainer control, which allows the machine to adjust to the suggested incline and speed of whatever class you're taking. I like this feature because it allows me to zone out and just focus on the workout at hand versus worrying about switching up the controls.
Obviously, you do have to pay a monthly subscription fee if you're interested in using iFIT. The iFIT family membership allows for up to five profiles and is $39 per month. If you just want an individual plan, the cost is only $15 per month.
Other notable technology features include things like Bluetooth Audio Connectivity and Google Maps Workout Technology. The Bluetooth Audio Connectivity is useful if you're looking to listen to your iFIT class with something like your AirPods. I'm also a fan of the Google Maps Workout Technology, because you can pretend to run in different places around the world (like near your childhood home or in your favorite vacation destination) without leaving home.
Comparison to Sole F63
Although the Sole F63 was previously $1,000, the treadmill has since jumped in price and now costs $1,099, which is the exact same (as of the time of this publication) as the NordicTrack EXP 7i. Since they now cost the exact same price, I thought it might be fun to compare these two treadmills. Check out the specs below:
| | | |
| --- | --- | --- |
| Treadmill: | NordicTrack EXP 7i | Sole F63 |
| Warranty | 10 years on frame, 2 years on parts, 1 year on labor | Lifetime frame and motor |
| Footprint | 77.3" L x 35.3" W x 59.6" H | 66" H x 82" L x 35" W |
| Folding Treadmill | Yes | Yes |
| Display | 7-inch touchscreen | LCD monitor |
| User Weight Capacity | 300 lbs | 325 lbs |
| Tread Belt | 20″ W x 60″ L | 20″ W x 60″ L |
| On-Demand Workouts | Yes; via iFIT subscription sold separately | No screen to view it on, but can purchase Studio programming separately and stream on personal device |
Want to learn more? Check out our full Sole F63 treadmill review for the inside scoop.
Customer Reviews
The NordicTrack EXP 7i has over 180 reviews on Dick's Sporting Goods website with an average rating of 4.1 stars out of 5. Happy customers thought the machine was sturdy, enjoyable because of iFIT, and seemed well made.
"I have been using this treadmill for a while now and I like it a lot. The equipment is high-quality, comparable to a gym treadmill," explains reviewer Brianda.
Others were less enthusiastic about the treadmill and didn't love the assembly process, misdirected fan, or the tiny screen to view iFIT on.
"Without the iFIT membership, there is no content, just manual mode. I would think there could be a few preset courses, but it doesn't seem like there are any options beyond the full manual," complained customer MRWJ.
Final Verdict of Our NordicTrack EXP 7i Treadmill Review
For just over $1,000, the EXP 7i impressed me. The deck is ideally sized, and the motor can support running, walking, jogging, and sprinting with ease. However, if you don't have the best eyesight, you may struggle to use or read the small 7-inch screen that comes with the EXP 7i.
NordicTrack EXP 7i Treadmill Rating
NordicTrack EXP 7i Treadmill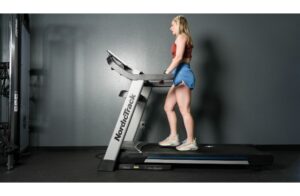 In this NordicTrack EXP 7i treadmill review, I'll give you the 4-1-1 on all things related to this well-made cardio machine.
Product Brand: NordicTrack
Product Currency: USD
Product Price: 1099.00
Product In-Stock: InStock