We test and review fitness products based on an independent, multi-point methodology. If you use our links to purchase something, we may earn a commission. Read our disclosures.
Nexus is a revolutionary new technology that allows for (nearly) complete tracking of performance during CrossFit workouts. Utilizing the Push Band 2.0 with a new app designed specifically for CrossFit, this could be revolutionary for both CrossFit Competitions and training.
NEXUS Performance
NEXUS Performance Tracker
Includes: 1 PUSH Band 2.0 1 Arm strap 1 NEXUS Launch compression sleeveArm Strap Sizing (from the widest part of forearm, near your elbow): - Small Strap (9-12 in / 22-30 cm) - Large Strap (11.5-17.5 in / 29-44 cm)NEXUS Sleeve Sizing - Small: Bicep (9-11 in) Forearm (9-10.75 in) - Medium: Bicep (11-13 in) Forearm (10.25-12.75 in) - Large: Bicep (13-15 in) Forearm (11-13 in) ** If you are between sizes, choose smaller size for compression and larger size for comfort.Compatibility - iOS 9 devices and up - Bluetooth 4.1 and above - Does not support iPod 5 ** Does not support Android
Nexus Performance Tracker Review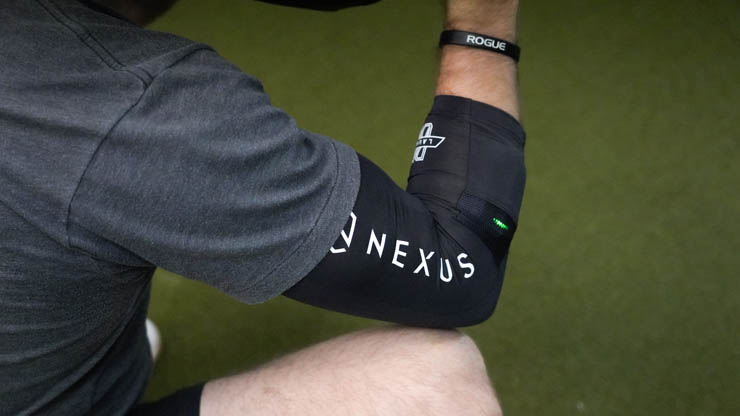 NEXUS is a revolutionary new technology that allows for complete tracking of performance during functional fitness workouts. It was specifically made with Crossfit athletes in mind. The technology could be a game changer for many fitness enthusiasts, but it is still in its infancy so it hasn't been completely dialed in yet. It does perform quite well though and is on its way to doing big things in the fitness world.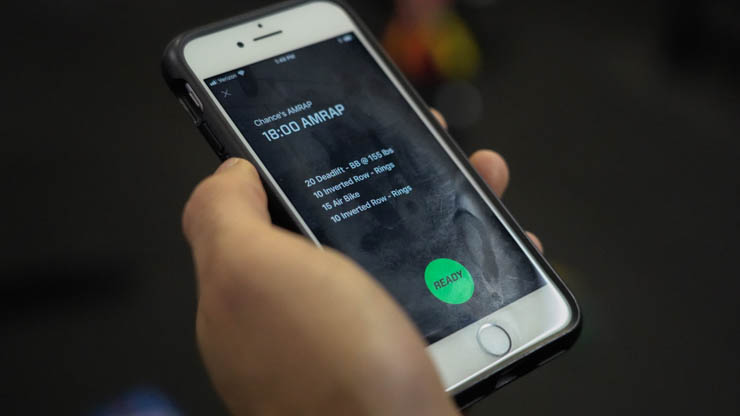 The NEXUS technology takes advantage of the tracking capabilities of the PUSH band and uses it to track movement during Crossfit-style workouts. It is able to track movement distances, changes in direction, and speed to determine how many reps of each movement is done and, to a certain degree, what movement is being done. This can be very helpful in AMRAP (As Many Reps As Possible) workouts as it takes the math at the end out of it and keeps you honest.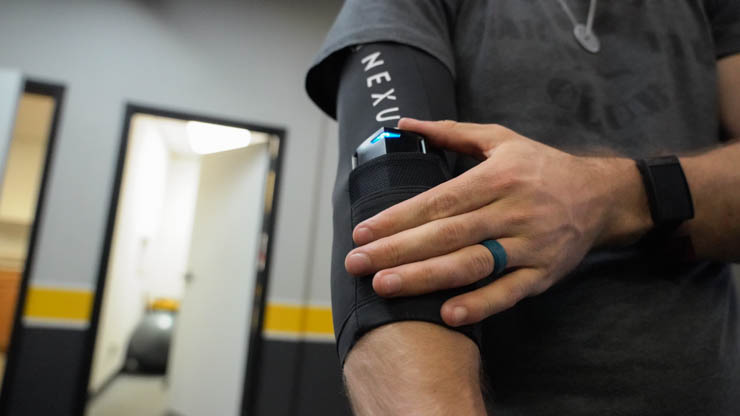 The NEXUS program was dialed in using machine learning algorithms which took huge amounts of data to find specific "fingerprints" of each movement so that the information gathered from the PUSH band can be used to determine if the desired exercise is being performed. This limits the device from thinking extraneous movement- like grabbing your water bottle- is a rep. Because of this, the technology is much more accurate when counting reps and is actually able to transition between different movements.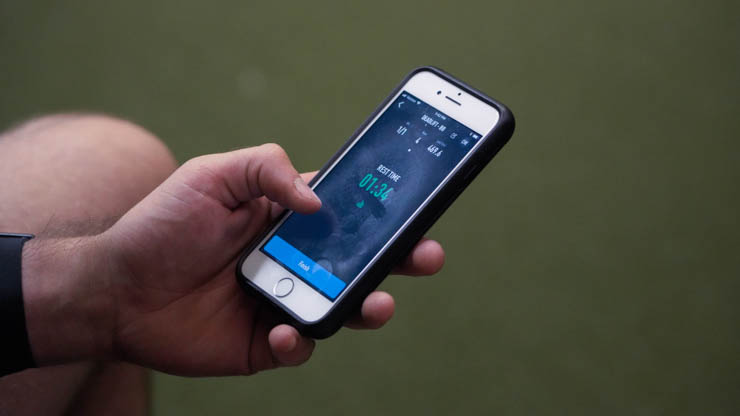 In order to track a workout, you simply input the rounds, reps, and time domain, press go on the app and press the button on top of the PUSH device. After a 3 second countdown, the NEXUS technology then tracks your movement and determines how many reps you do.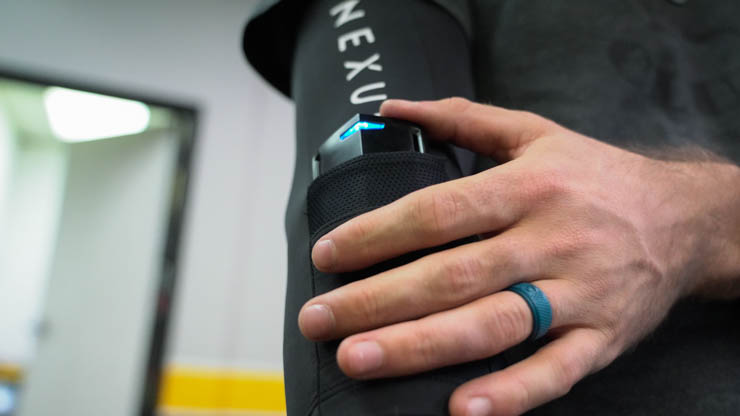 Once the workout is over, either the timer will beep and counting stop or you press the button on top of the PUSH band to stop the timer. The app then calculates your total work done, power output throughout the workout, round splits, movement cadence, and work to rest ratios.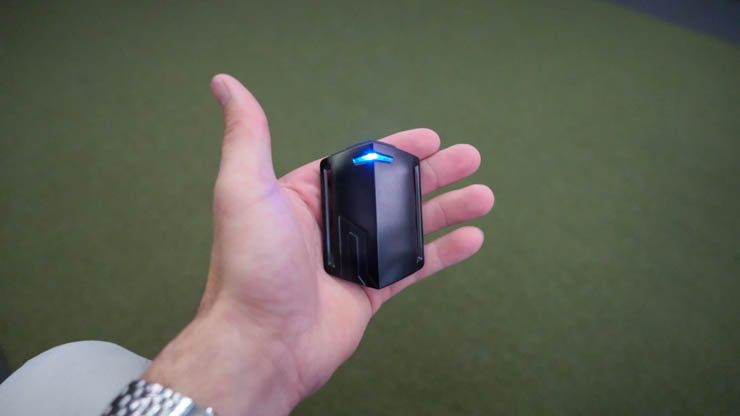 All these seemed to be fairly accurate, though there were times the work to rest ratio would seem unreasonably low (like .2 to 1 work to rest) during workouts that had fairly continuous motion. This may have been due to the types of movements done, but there didn't seem to be a trend as it didn't do this every workout. Like many other numbers during workouts, this shouldn't be used as a direct correlation to theeffectiveness of the workout but rather just to assist in determining efficiency.
One downfall to this technology is that it has no way of taking no-reps into account. This is something that may be a difficult hurdle in the future and could be the one factor that keeps it from breaking into competitive Crossfit competitions.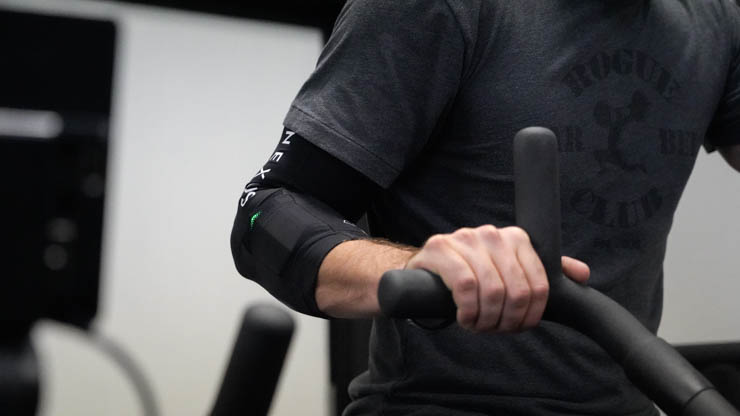 For the most part, the NEXUS app tracks workouts fairly accurately, but there are some things that can cause it to be inaccurate. For example, it has no way to truly measure calories on an assault bike, which causes the reps to get off in a workout that includes them. It also cannot track running, so any workout that includes running will not be possible to do with the band or will need to be adjusted accordingly.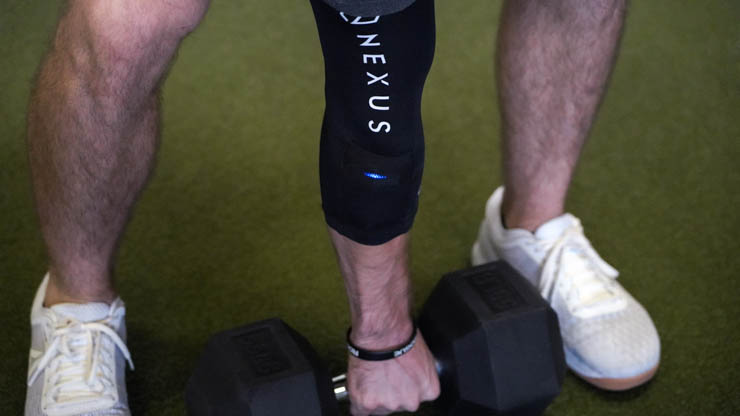 One other issue is that any excess movement between reps in a workout could cause the band to get off track with the reps. This is highly dependent on the movement that is being done though, as the position of the band is taken into consideration when determining reps. They are currently working on perfecting the software's ability to differentiate between the actual movement and any extraneous movement.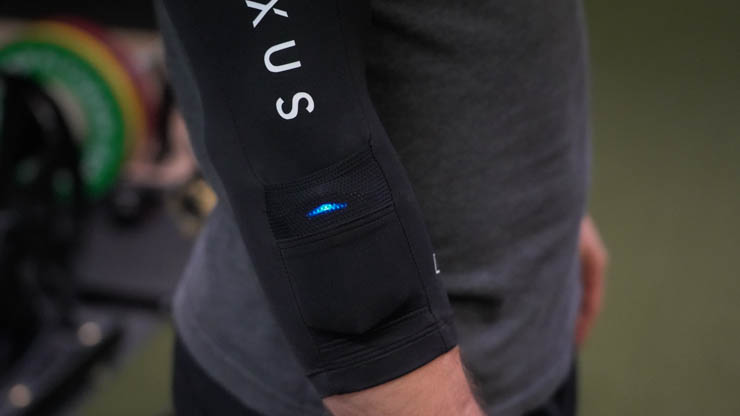 The reps can be edited at the end, but by that point it takes out a lot of the convenience of using the band. I believe these are all problems that will be cleared up as the technology matures. And this is what needs to be understood, this is generation 1 and to be honest, we've been blown away by it's accuracy and execution of the idea for a first version. Seriously, it's pretty remarkable technology.
At the time of our testing, the app is limited to tracking only "AMRAP" and "for time" workouts, but it shows that many other workout styles are going to be coming, including tracking strength and every minute on the minute (EMOM) workouts.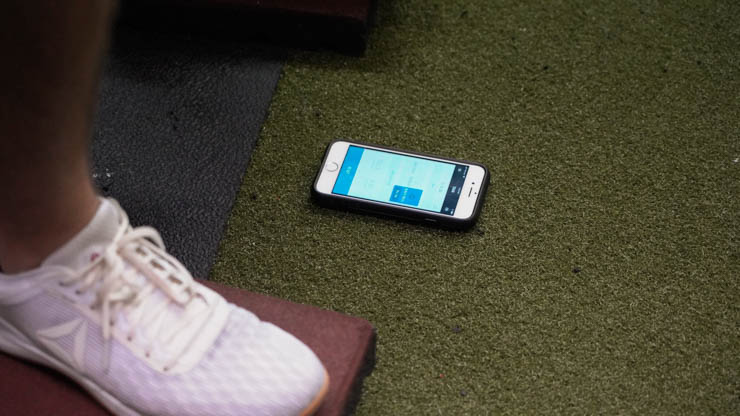 The app comes with some Crossfit benchmark, hero, and open workouts pre-downloaded, so you can simply click on the one you want and it will track accordingly. This makes it much more convenient if you are doing one of these workouts as it saves the time of having to input the movements.
If you want to make your own workout, it is fairly quick. You simply choose the type of workout and time domain then put the exercises in the order you want and the reps you will be doing. They currently have over 140 different exercises that can be input with many more expected to be added in the future.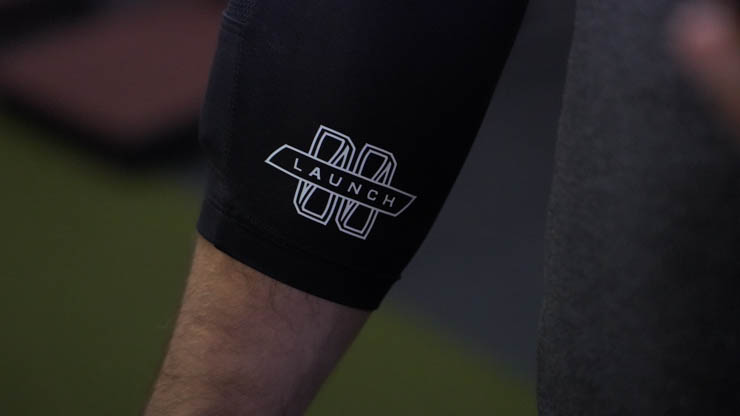 Unfortunately, if the movement you would like to do is not on their program, there is currently no way to add it. Your best option at that point is to use a similar movement in the program or adjust the workout accordingly.
With a technology like this, I don't see there being a viable way to customize movements that need to be counted because each movement has a specific algorithm that is used. However, as the library of movements expands, movements that are not available will become fewer and fewer.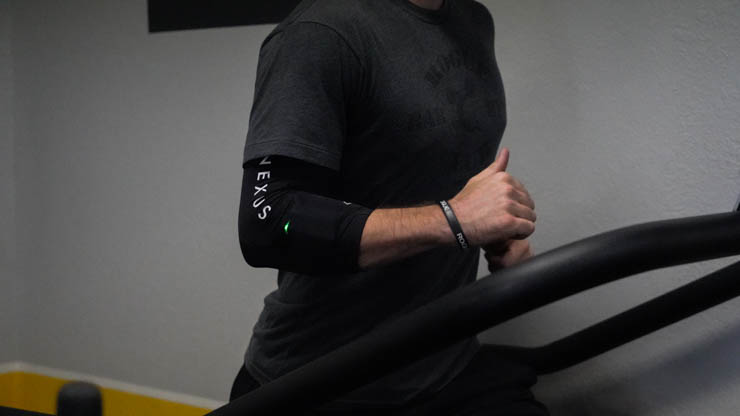 The NEXUS app offers a leaderboard that can be used to compare yourself to others using the band. It is based off total workload for that week. Crossfit gyms could greatly improve the atmosphere of their gym by utilizing this and allowing their athletes to compare and compete with one another. This will also allow the app to be used like Strava which has been used for years by cyclists and is incredibly popular. The more robust this gets, the more the platform will be adopted.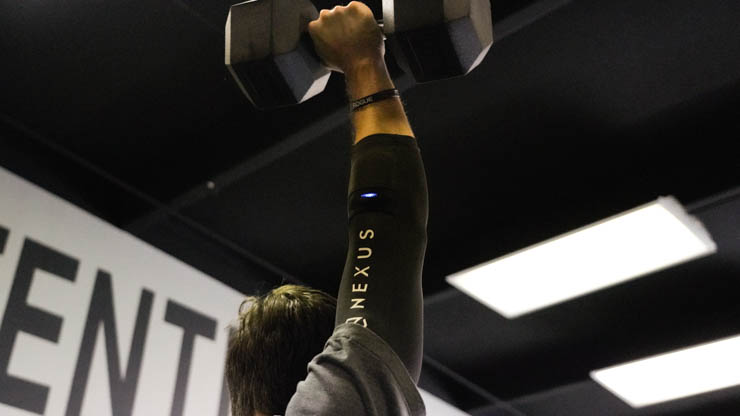 It should be noted that the metrics found by the NEXUS program through the PUSH band are only external metrics. Other internal metrics such as heart rate, respiration rate, and rate of perceived exertion should be taken into consideration to get a complete analysis of workout performance.
Overall, I would say that the PUSH and NEXUS technologies are doing amazing things in furthering athlete's abilities to get real-time information on their workouts. Neither of the programs are 100% perfected, but they are doing things that nobody else has been able to do and I know they will keep improving. Both of these technologies could be what you need to take your performance to the next level.
Suggested Improvements
Although we're fans of what NEXUS has done, there are obvious holes that need to be addressed in the technology, although we've been informed they're working on many of these.
First of all, the accuracy of the program needs to be dialed in more. Though it is quite accurate, any time there is a chance for it to miscalculate a movement it affects the usefulness of the program. They have done well to get it as far as they have and I know they will continue to perfect their programming in this area.
Next, they need to get up as many different workout types as they can. With it being limited to AMRAP and for time workouts, the usefulness, especially for competitive Crossfitters, is limited. The app shows availability for them to expand to many different domains and even strength work and the faster they can get those released, the better off they will be.
Currently, the app is only available on iOS devices, but we'd like to see it on the Google Play Store as well.
Finally, I would like to see NEXUS partner with another company like WHOOP to be able to track internal metrics as well. This would allow for a complete overview of each workout which could give athletes even more of a competitive edge.
Full Rating
Nexus Performance Tracker
Nexus is a revolutionary new technology that allows for (nearly) complete tracking of performance during CrossFit workouts. Utilizing the Push Band 2.0 with a new app designed specifically for CrossFit, this could be revolutionary for both CrossFit Competitions and training.
Product Brand: Nexus
Product Currency: $
Product Price: 299
Product In-Stock: InStock
Nexus Performance Tracker FAQs
What is the Nexus Performance Tracker?
Nexus is a ground-breaking new technology that enables for near-complete performance tracking throughout CrossFit sessions. Using the Push Band 2.0 in conjunction with a new CrossFit-specific software, this might be revolutionary for both CrossFit competitions and training.
How does the nexus Performance tracker work?
The NEXUS technology makes use of the PUSH band's tracking capabilities to keep track of movement during Crossfit-style exercises. It can measure movement lengths, direction changes, and speed to figure out how many repetitions of each action are performed and, to a degree, what movement is being performed. This is especially useful in AMRAP (As Many Reps As Possible) exercises since it eliminates the math at the end and keeps you accountable.
Where to Purchase
NEXUS Performance
NEXUS Performance Tracker
Includes: 1 PUSH Band 2.0 1 Arm strap 1 NEXUS Launch compression sleeveArm Strap Sizing (from the widest part of forearm, near your elbow): - Small Strap (9-12 in / 22-30 cm) - Large Strap (11.5-17.5 in / 29-44 cm)NEXUS Sleeve Sizing - Small: Bicep (9-11 in) Forearm (9-10.75 in) - Medium: Bicep (11-13 in) Forearm (10.25-12.75 in) - Large: Bicep (13-15 in) Forearm (11-13 in) ** If you are between sizes, choose smaller size for compression and larger size for comfort.Compatibility - iOS 9 devices and up - Bluetooth 4.1 and above - Does not support iPod 5 ** Does not support Android