We test and review fitness products based on an independent, multi-point methodology. If you use our links to purchase something, we may earn a commission. Read our disclosures.
Whoop is one of the best fitness trackers on the market in the same way that the iPhone is one of the best smartphones. Both products have revolutionized their respective industries but that doesn't mean you should buy every iteration of either, especially if you have an earlier model that still works just fine.
Our in-depth Whoop 4.0 review will let existing Whoop users know whether it's worth the upgrade, and help first-time buyers decide if it's a good investment.
Other Review Websites Better Watch Out…We're Here to Dominate
Yeah, we're called Garage Gym Reviews but we're so much more than a bunch of people who like working out in garage gyms. We're also a group of certified personal trainers, CrossFit Level 1 Trainers, competitive weightlifters, and Olympic athletes who live and breathe everything fitness. Many of us routinely wear fitness trackers like the Whoop, FitBit, Garmin, and Apple Watch.
And because some of us (OK, maybe just me) are also nerds, we're more than happy to dig into the scientific studies that reveal the truth about fitness trackers and how well they work on giving you insight into your health.
Whoop 4.0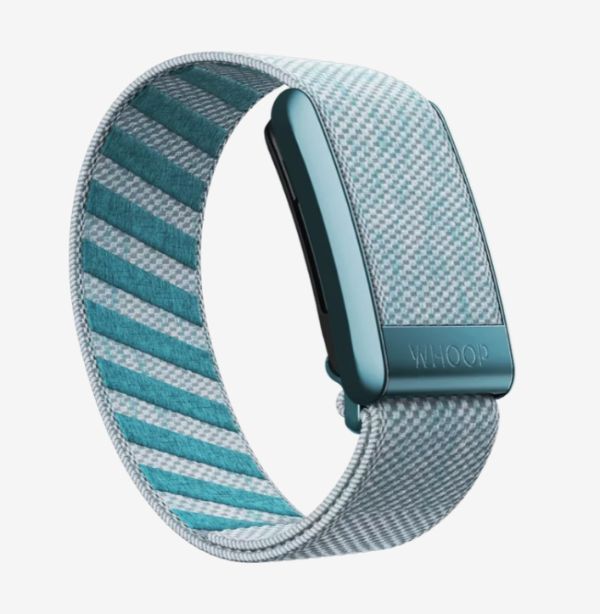 Whoop 4.0
The Whoop 4.0 fitness tracker is designed to capture your key vital signs—blood oxygen, skin temperature, heart rate, sleep quality and more—continuously. Smaller than its predecessor, the Whoop 3.0, by 33%, but fitted with a more powerful sensor, the Whoop 4.0 has a four- to five-day battery life, Bluetooth capability, and is waterproof up to 10 meters. Simply download the compatible Whoop app to access the in-depth insights into your sleep, training, and recovery. New with the Whoop 4.0, you can gain a picture of your overall health. An SPO2 sensor and skin temperature sensor measure your blood oxygen levels, skin temperature, and heart rate to see how you might be deviating from your baseline vitals because of stress or illness. You can customize the look of your Whoop 4.0 with a variety of band, hook, clasp, and fast link slider color and finishes. It's comfortable to wear, and is designed so you never have to take it off. Whoop is unlike other fitness wearables in that you'll pay a monthly membership fee—starting at $30 monthly for six months—and you'll receive the band for free.
A Quick Look at the Whoop 4.0
The first Whoop wearable strap was released in 2015 and was primarily marketed toward professional athletes like Lebron James and Michael Phelps. Even more athletes have since signed on, not just as users, but as investors, too.
What separates the Whoop 4.0 from other fitness trackers is that it doesn't just track traditional health metrics like your heart rate and respiratory rate, but it also records your blood oxygen levels, skin temperature, and your sleep. Whoop will then let you know whether you're good to train or if you need a rest day.
There's a monthly membership required to access Whoop's features, and you can choose from a $30 monthly subscription for a minimum of a year, an annual membership for $300, or two-year membership for $480.
My Tips
Don't like wearing a Whoop band? There's a line of clothing called Whoop Body that allows you to hide the tracker in leggings, sports bras, and more.
Understand that even the best fitness trackers are somewhat flawed, and their baseline assessments are not always 100-percent accurate.
Pros:
Tracks sleep, strain, and health metrics
Battery runs for 4-5 days
Customizable band options
Silent alarm
Cons:
No interface and can't tell time like other fitness trackers
Monthly membership required to access tracking features
No daily step count
No notifications
Is the Whoop 4.0 Worth It?
If you're someone who already has a Whoop, we think this is one of those cases where it's worth it to upgrade. The Whoop 4.0 has some new features that aren't available on the Whoop 3.0 that we'll get into later, and Whoop actually allows you to donate your old Whoop strap to whoever you want—they'll get two free months of a Whoop membership and you'll get 30 free days. It's a win-win.
If you're looking to get into Whoop for the first time, know that this isn't just a simple step tracker or heart rate monitor. Whoop collects serious data for serious athletes, so if you're someone who's not super (and I mean super) into improving your performance, you'd probably be better with another option, like the FitBit Charge 5.
Great for:
Those looking for actionable insight into their health and fitness
Serious athletes looking to improve their recovery
Anyone looking to learn more about their sleeping patterns
Not recommended for:
People who want a fitness tracker or smartwatch that can tell time or take calls
Anyone looking for a budget-friendly fitness tracker
Those interested in tracking daily step counts
Whoop 4.0 Specs
| | |
| --- | --- |
| Size | 1.7" x 1.1" x 0.4" |
| Battery life | 4-5 days |
| Water resistant | 10 meters for 2 hours |
| Dustproof | IP68 |
| Metrics tracked | Sleep, heart rate variability, blood oxygen, skin temperature, calories burned |
| Workout profiles | 80+ |
Using the Whoop 4.0 For Workouts
If you take one thing away from this Whoop 4.0 review let it be this: This is not your run-of-the-mill fitness tracker. For one, it doesn't count how many steps you take throughout the day, which matters to some people (as a New York City native, I happen to love seeing how many miles I've walked each day).
Secondly, Whoop doesn't automatically track everything you do—not exactly at least. You'll have to sync your strap to the Whoop app, which is where you'll record how long you workout and what type of training you do so it can accurately track your heart rate zones during cardio and/or strength training. It has options for everything from weightlifting to riding your Peloton.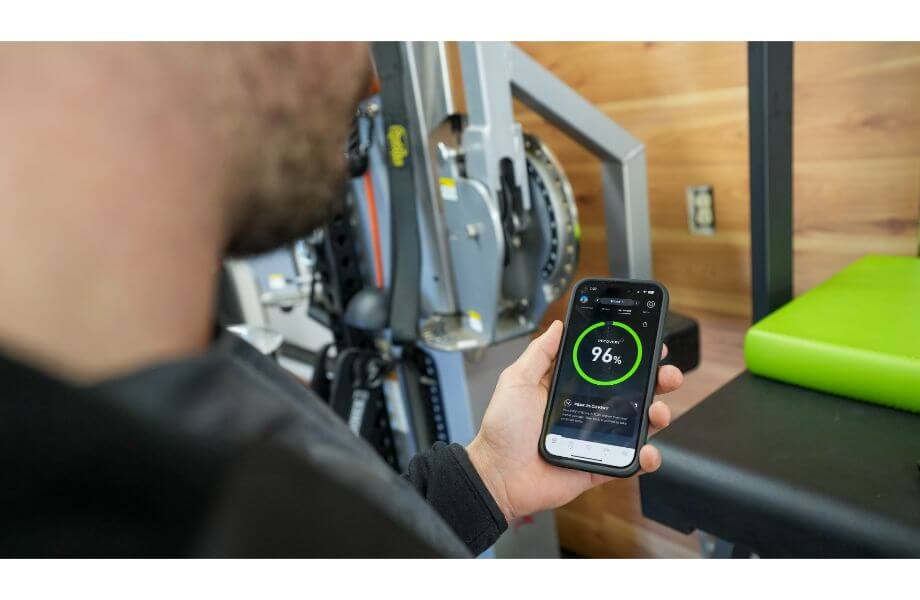 The Whoop app will show you graphs with your average heart rate data, max heart rate, heart rate variability (HRV), and calories burned throughout your workout, all of which is used to determine your workout strain.
Workout what? Workout strain—or how hard you trained on a particular day. Basically, Whoop will track how rigorous you trained throughout the day, how well you slept, and other metrics to determine if your body is ready to attack another session or if it needs a rest day.
You'll know whether you're good to go or need to rest based on your recovery score, which is a readiness score your Whoop strain coach gives you to determine how well you've recovered from your workout strain.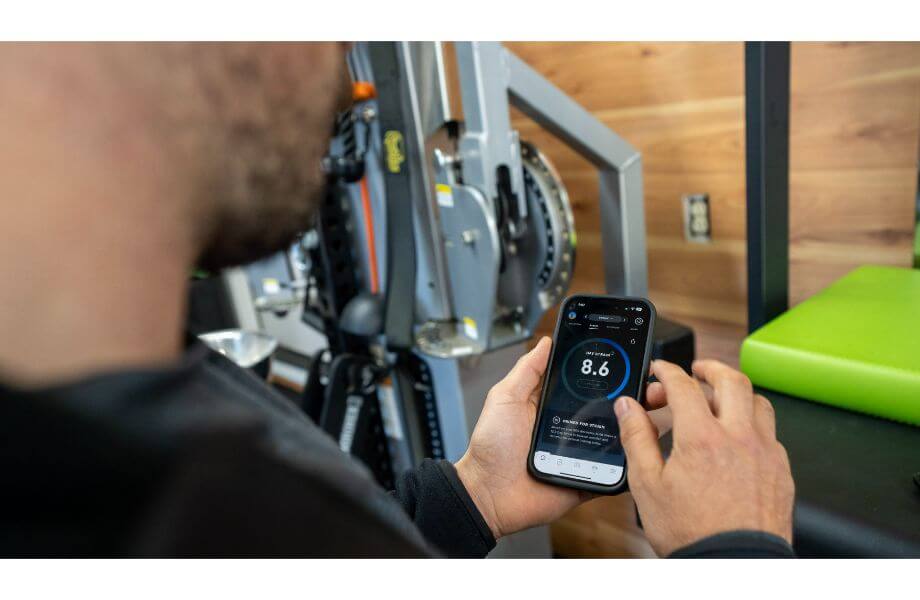 Here's how the Whoop recovery score system works:
67 percent or higher, you're good to train.
A score between 34 and 66 percent means you can train but your performance may not be at its best
A recovery score under 33 percent means you should do a light workout or just rest
Garage Gym Reviews founder and Whoop user Cooper Mitchell has complained in the past that the recovery score is not entirely accurate—there have been some days where he went all out and the strap gave him a low recovery score, and others where he did barely anything and he got a high score.
We'll dig a little deeper into this, and why it's just one reason that you should take fitness trackers' advice with a grain of salt in a later section.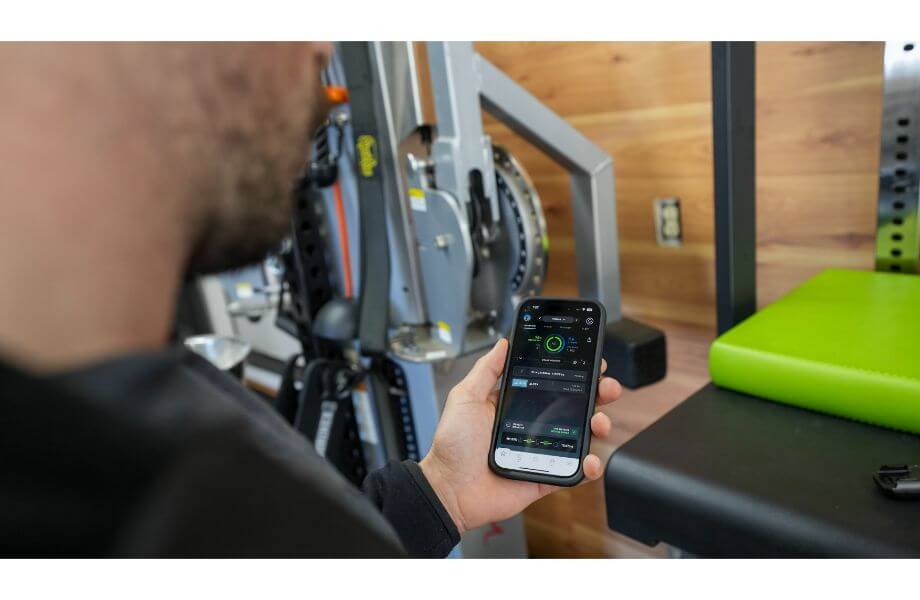 Oh, also the Whoop 4.0 is just a strap. There's no interface or anything that makes it look like a watch, like other fitness trackers, which leads people like Coop to have two wristbands on their arm.
"I have been asked a couple of times why I was wearing two watches, and then I had to tell them what it was," Coop says. "I wish Whoop would place a small digital clock on the side or something so it could tell time."
Using the Whoop 4.0 For Sleep Tracking
Just like with the workouts, you need to log into the app to fully track your sleep data with the Whoop 4.0. The strap itself will give you a sleep score based on how much you sleep and how well you sleep, but to get the full value out of the strap, you need to tell the app what you want to do the next day—"get by," "perform," or "peak."
Based on what you want to do, the app's sleep coach will make suggestions on how long your next night's sleep should be. This is your "sleep goal."
You'll get daily reports on your sleep performance with information on how many hours of sleep you got, if there were any disturbances during certain sleep stages (which can be normal, even if you don't wake up), and even how long it took you to fall asleep.
Why We Recommend Upgrading from the Whoop 3.0 to the Whoop 4.0
I asked Coop if he thought people should upgrade to the new Whoop, and he said yes—but not for the fancier tech or flashy strap options. Nope, it's because it has a silent vibrating alarm, otherwise known as a haptic alarm.
"I wake up at 5 a.m. while my family is still asleep, and it only wakes me up and no one else in the house," he says. "It is awesome!"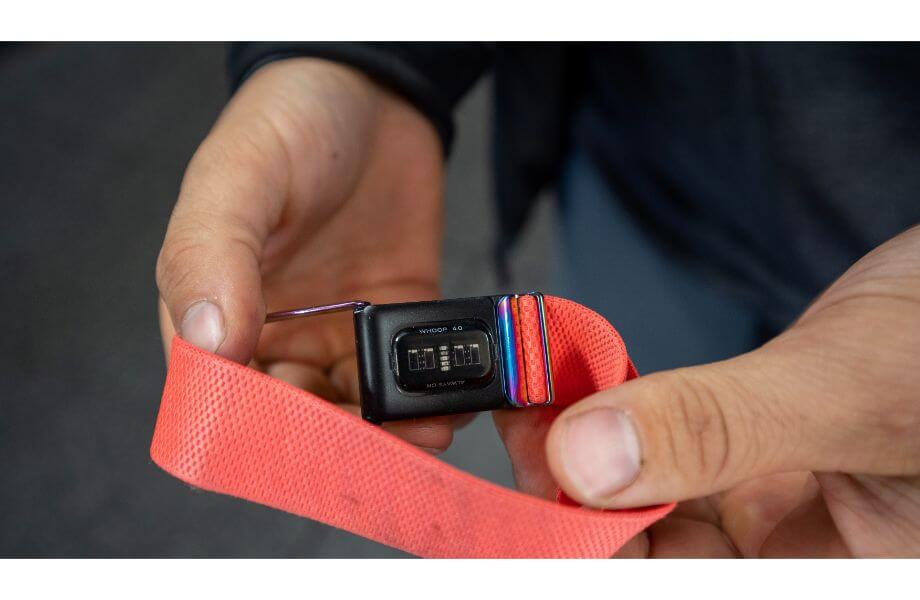 The Whoop 4.0 is also 33 percent smaller than the Whoop 3.0, though the latter wasn't that large to begin with.
It also comes with two new health metrics: skin temperature and blood oxygen. Both health metrics are used to calculate your workout strain, and may be an indicator of underlying injuries or illnesses.
The hardware is also more dustproof and waterproof than its predecessors.
Battery Life and Durability
The Whoop 4.0 has a battery life of four to five days—which is pretty darn impressive for such a small watch that's working around the clock (no pun here since the Whoop doesn't have a time feature). There's also a slide-on battery pack that allows you to charge the Whoop while you're wearing it, and you should be able to get a full charge in about an hour.
Beats having to take it off and plug it into a charger. You can track the battery level through the LED battery indicator, though some users have reported it's difficult to spot the tracker.
The Whoop 4.0 is fairly waterproof, but when it comes to being water-resistant, it falls short.
The Whoop 4.0 is waterproof up to 10 meters, which sounds great until you realize 10 meters is only 32 feet. Now that's still a lot, but other fitness trackers like the Apple Watch can be submerged up to 50 meters—or 164 feet.
But you should have no problem showering, doing the dishes, or even going into the sauna while wearing the Whoop 4.0.
Look and Feel of Whoop 4.0
The Whoop 4.0 comes in dozens of design options available in a soft Superknit or durable Proknit strap. All of the color options look quite stunning, and there's even an option to design each element, which is what Coop did.
"Because I'm extra I bought a bright orange with a rainbow metal clip and I like the way it looks," Coop says.
He adds that while he definitely notices that it's on his wrist—contrary to Whoop's marketing claim that it "feels like nothing"—it's minimal. "I definitely notice it there, especially when working out and hitting it with a kettlebell or something, but it's not much of a nuisance," he adds. "I use it while I roll at Jiu-Jitsu and use the arm sleeve to keep it in place, which works very well."
Warranty, Financing, Returns
Whoop offers a one-year warranty for its straps, which may sound low but that's actually the industry standard for most fitness trackers.
Unfortunately, you're unable to finance your Whoop purchase.
You have 30 days from the date of delivery to try the Whoop 4.0 before deciding whether you want to return it for a full refund, minus shipping and handling.
Customer Reviews
Whoop does not publish customer reviews on its website and it's unavailable on third-party sites like Amazon.
Do Fitness Trackers Work?
Here's my take on fitness trackers as a certified personal trainer: I think they can provide some great insight into your fitness levels, but at the end of the day, a piece of technology will never know your body better than you will.
As we mentioned before, Coop has had days when he felt the Whoop either overestimated his strain or underestimated it.
Most studies1 have shown that fitness trackers are pretty reliable in tracking things like resting heart rate and steps, and even outperformed certain medical-grade health monitors, but that metrics like caloric expenditure and sleep2 should only be viewed as "estimates" and not wholly accurate readings.
Final Verdict of Our Whoop 4.0 Review
Frankly put, Whoop is just not meant for everyone. If you're someone who's training for an elite competition, such as a triathlon or a powerlifting meet, then you could definitely benefit from the insights it provides into your workout strain, recovery, and sleep.
But if you're someone who just wants some basic metrics like your daily step count and heart rate, you might find the Whoop to be a bit extravagant.
Whoop 4.0 Rating
Whoop 4.0
Our Whoop 4.0 review will let you know if you fall into the category of people who would benefit from buying this fitness tracker.
Product Brand: Whoop
Product Currency: $
Product Price: 239
Product In-Stock: InStock
Whoop 4.0 FAQs
Is the Whoop 4.0 worth it?
The Whoop 4.0 is worth it only if you're a serious athlete who's looking for in-depth insight into your health and performance. It's not worth it if you're someone looking for a smartwatch (the Whoop 4.0 strap doesn't have an interface and cannot tell time) or if you want to track your daily step count.
How much does a Whoop 4.0 cost?
That depends on what style of strap you go for. The traditional black strap is free, and you'd only have to pay for the monthly subscription, which starts at $30 per month. There are other subscription plans that cost more, and other strap designs that add to the price.
What does the Whoop 4.0 do?
The Whoop 4.0 tracks several health and performance metrics, such as sleep quality, skin temperature, blood oxygen levels, resting heart rate, and more. It does not tell time, track your step count, or take calls like other fitness trackers and smartwatches. 
References
Germini F, Noronha N, Borg Debono V, et al. Accuracy and Acceptability of Wrist-Wearable Activity-Tracking Devices: Systematic Review of the Literature. J Med Internet Res. 2023;24(1):e30791. Published 2023 Jan 21. doi:10.2196/30791
Haghayegh S, Khoshnevis S, Smolensky MH, Diller KR, Castriotta RJ. Accuracy of Wristband Fitbit Models in Assessing Sleep: Systematic Review and Meta-Analysis. J Med Internet Res. 2019;21(11):e16273. Published 2019 Nov 28. doi:10.2196/16273