We test and review fitness products based on an independent, multi-point methodology. If you use our links to purchase something, we may earn a commission. Read our disclosures.
Resistance bands offer a legitimate strength training option if you're someone with limited space, who travels often, or who just likes the idea of adding accommodating resistance to your existing routine. Much like free weights, bands are versatile and allow you to design full body workouts or target specific muscle groups. With a little creativity, you can customize band workouts to fit your needs and meet your fitness goals.
In this Torroband review, I'll be laying out the specs of these heavy-duty tube bands and letting you know who will benefit from this purchase. The complete package comes with multiple bands, attachments, and can even be packed away into a carrying bag and used as a total-body gym on the go.
We Know Strength Equipment and Accessories
Our expert product testers have used a plethora of the best resistance bands on the market including tube bands, loop bands, and mini bands. We're also a team of fitness industry professionals with over a decade of collective experience including CrossFit Level 1 Trainers, certified personal trainers, and nutrition coaches.
For this Torroband review, GGR founder and OG product tester Coop Mitchell tested the set of bands through a variety of movements like chest flyes, good mornings, and rows.
Torroband Resistance Bands
GGR Score: 3.35
Product Highlights
Up to 300 lbs of resistance

Simple and easy to set-up anywhere

Triple-layer cloth

Patent pending handles for efficient grip

Sturdy and well-built design
Pros & Cons
Pros
A variety of different weight resistances will always provide a challenge
Allows you to take your training with you wherever you go
Can complete a variety of different exercises
Affordable compared to large pieces of gym equipment
Cons
Will need to have something to anchor your bands to
Some customers had issues with shipping times
Bottom Line
There are a variety of workout routines you can complete with the Torroband Resistance Bands, and they can be adaptable to people of any age or fitness level.
A Quick Look at the Torroband
Torroband is a Miami-based company that sells more than just bands. The brand offers a lightweight jump rope, a sandbag alternative (that uses water as resistance), and a pair of unique pull up grips. The brand also manufactures pull up assistance loop bands in addition to tube bands with handles.
Before You Buy
Resistance bands are versatile and can be anchored with the included attachments or by looping around a squat rack, support beam, or pull up bar
If you're new to resistance bands, it's worth noting that 40 pounds is the lightest tube band Torroband offers, which could be too much for some folks
According to customer reviews on Facebook, orders can take weeks to ship
Is the Torroband Worth It?
Torroband offers a heavy-duty tube band that can be attractive to some home gym owners, but these bands won't be suitable for everyone.
Coop appreciates the solid construction of the bands and also notes, "The biggest feature Torroband has going is the fact they offer heavier bands than many competitors," he says. "You could also just loop up multiple lighter bands to achieve the same result."
He also mentions the price point on the Torrobands is a bit overpriced versus the competition. While we have seen these bands on sale, the MSRP is $199 for a set of four bands and an assortment of attachments.
Great for:
Folks who want to have resistance training options for small spaces
Anyone on the road who needs a convenient travel bag and portable gym option
Individuals looking for a low-cost home gym solution
Not recommended for:
People who primarily perform powerlifting, CrossFit, or Weightlifting training
Folks who like high-tech gym equipment
Anyone looking for budget tube bands
Torroband Specs
| | |
| --- | --- |
| Price | $199 |
| Number of bands | 4 |
| Band resistance | 40, 60, 70, 80-lb band |
| Total resistance | 350 lbs |
| Handles | 2 patent-pending anti-slip handles |
| Ankle straps | 2 padded straps |
| Door anchor | Yes |
| Waist pad | Yes |
| Warranty | 2-year warranty |
Workout Experience With The Torroband
Torroband markets its tube bands as the "world's most powerful resistance bands" with up to 350 pounds of band tension. While I can't personally attest to Torroband's claim (especially knowing the silver Rogue Monster Band can alone provide 200 pounds of band tension), I will say for tube bands, this brand delivers some remarkable resistance.
Each Torroband set comes with four bands, all with different resistance levels including a 40, 50, 70, and 80-pound band. Coop mentions that he appreciates the fact the weight labeled on the band is consistent with the workout experience. However, when I asked Coop what stood out about Torroband, he said, "Not much, to be honest.
"Torroband offers heavier resistance than some of its competitors, but not all," says Coop. "These bands can be added together on a single handle with a carabiner hook, which is a nice feature, but not the first [brand] to do it."
The set of tube bands comes with handles, ankle straps, a waist pad, and a door hook to anchor your bands in a closed door. The variety of attachments makes it possible to perform upper and lower body home workouts—from isolation exercises like triceps push-downs and glute kickbacks to compound movements like lat pull-downs and squats.
The Torroband set ranges from 40 to 80 pounds per band and can be added together to create up to 350 pounds of resistance, which can accommodate even advanced lifters.
That said, Torroband might not be the best for a true novice lifter. "I would like to see lighter increments, but I think beginners could be fine," says Coop. "I think everyone could see benefits from lifting with bands."
Take Torroband Wherever You Go
The Torrobands provide home gym folks with two valuable factors: portability and versatility. With your purchase, everything including the bands, handles, and other attachments fit into a small carrying bag so you can take the whole package with you or use it as a storage solution when you're not working out.
Durability and Construction
Firstly, the handles on the Torrobands are patent-pending with two layers of plastic. The bottom layer is designed for durability and the top layer features corrugated holes making it easier for you to grip the handles when the tension gets higher. For reference, most tube bands come with foam-covered handles that can be difficult to grip through a full range of motion.
When I asked Coop about the durability and feel of the bands and the attachment point, he said that both were solid. "Torroband is pretty well made," says Coop. "Although I vastly prefer sheathed bands for the added safety."
Although the material is not disclosed on the website, the tube bands are heavy-duty and thicker than the average tube band purchased from Amazon. Torroband also features triple layer cloth and heavy-duty stitching on the handles and at the ends of each band.
Comparison to Similar Products
Torroband is going to be a win for your home gym if you're looking for heavy resistance to build muscle and get stronger. That said, there are quite a few other bands on the market to choose from, but most sets of tube bands can't offer 350 pounds of tension.
According to Coop, "Torrobands are a bit overpriced versus competitors. Sheathed bands are much safer and offer comparable prices."
Sheathed bands offer a covering over the elastic or latex band to protect against excessive rubbing and scraping other surfaces. It also keeps you safe if a band were to break during exercise.
That said, the Torroband still reigns supreme when it comes to total resistance and the heaviest band offered. Here is a look at Torroband up against Rogue Tube bands and FitCord sheathed bands:
| | | | |
| --- | --- | --- | --- |
| | Rogue Tube bands | FitCord | Torroband |
| Price | $75 | $42-45 per band | $199 |
| How many bands | 6 bands in complete package | Sold individually on Amazon | 4 bands |
| Heaviest band | 60 lbs | 55 lbs | 80 lbs |
| Sheathed | No | Yes | No |
Rogue Tube Resistance Bands
GGR Score: 4.6
Product Highlights
Made extremely well
Option to purchase just one or in a set
Comfortable handles
Color-coded
Pros & Cons
Pros
High quality handles with textured grip
Well-made bands
Fairly portable
Cons
Resistance tension isn't printed on the tube bands
Sometimes squeak while in use
On the shorter side
Bottom Line
If you're looking for tube resistance bands with handles, these are easily the highest quality. The grips on the handles are a nice touch that similar tube bands don't always have.
FitCord X-Over Resistance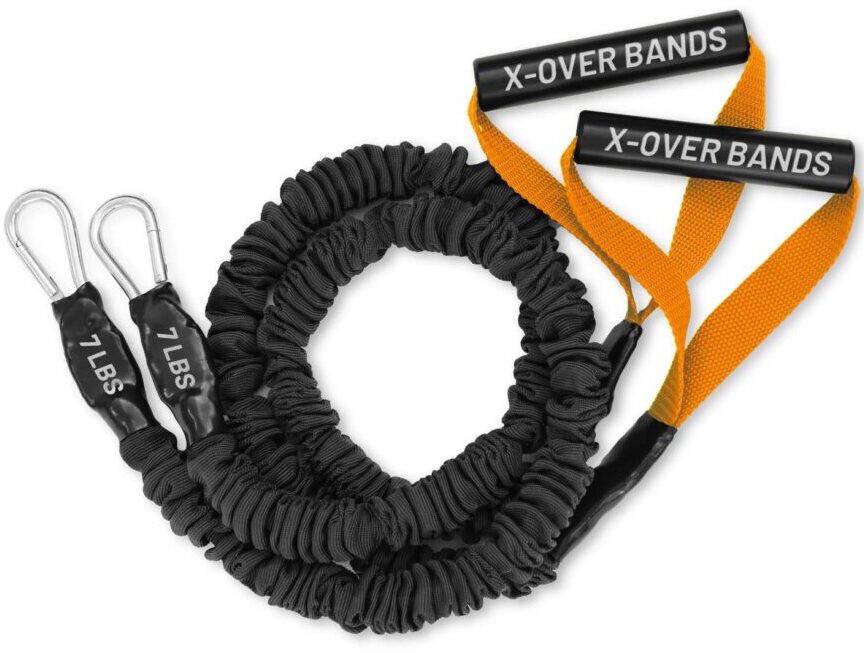 GGR Score: 4.1
Community Score: 4.8
Product Highlights
Made in the USA
Great for developing shoulder strength for any type of throwing motion
Good for rehabbing rotator cuff injuries
Lasts for 150,000 reps
Made in USA
Pros & Cons
Pros
Made in America
Good for all fitness programs, physical therapy and injury rehab applications
Tested by an Independent Laboratory and found to last beyond 150,000 repetitions before breaking
Cons
Ultimate Door Anchor sold separately
Pricey
Bottom Line
X-Over Resistance Bands are made in the U.S. and are great for developing shoulder strength for any type of throwing motion associated with Baseball, Softball, Tennis, Volleyball, Swimming, Golf and other activities requiring shoulder stability.
Customer Experience
Torroband.com is the brand's official website, but there are other subdomains I found through the brand's Instagram linktr.ee landing page and Facebook page (vip.torrbband.com and sale.torroband.com).
These two subdomains are visually different from the main website, but the contact information is the same across all three sites. That said, email is the only form of communication the brand offers to its customers. So, to confirm that all three websites (torroband.com, vip.torrbband.com, and sale.torroband.com) are all affiliated with Torroband I emailed customer service at hi@torroband.com.
Two days later, I got a response from Torroband's legal team confirming that vip.torroband.com and sale.torroband.com are legitimate landing pages for torroband.com.
Torroband does offer a 60-day money back guarantee if you're not satisfied with your purchase. To process a return, you'll have to start by emailing hi@torroband.com to receive return instructions. Although you might have to email customer service for the official details, the website makes it clear that you will need to return your products in the original packaging.
Additionally, there is a disclaimer that orders placed outside of Torroband.com—on third-party sites like Amazon and eBay—will not be protected under the warranty. The two-year limited warranty is also only applicable to items that are considered defective. The warranty does not cover wear and tear.
Ordering Torroband
Ordering on Torroband.com is straightforward. You'll select the items you want to add to your cart and proceed to the checkout. At checkout, you will enter your personal information followed by your credit card information. Purchases on Torroband.com are not eligible for financing.
Customer Reviews
I can't help but notice the stark contrast between the reviews featured on the official website and the Torroband Facebook page. The website features glowing 5-out-of-5-star reviews, while the Facebook page has 67 reviews and a 1.8-out-of-5-star rating.
I read several customer reviews on the Torroband Facebook page that said it took weeks (in some cases months) to receive their orders from Torroband.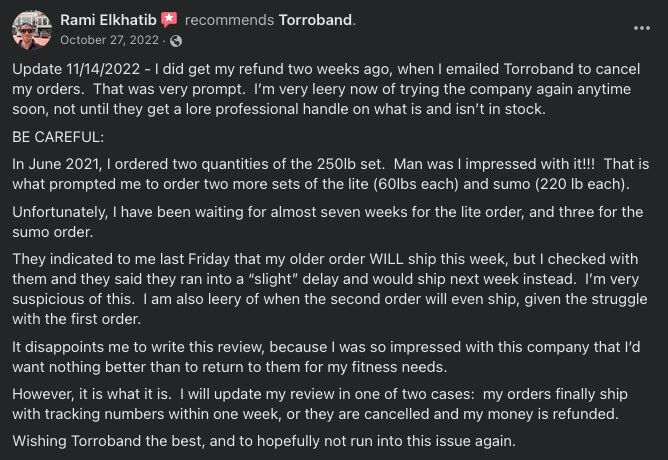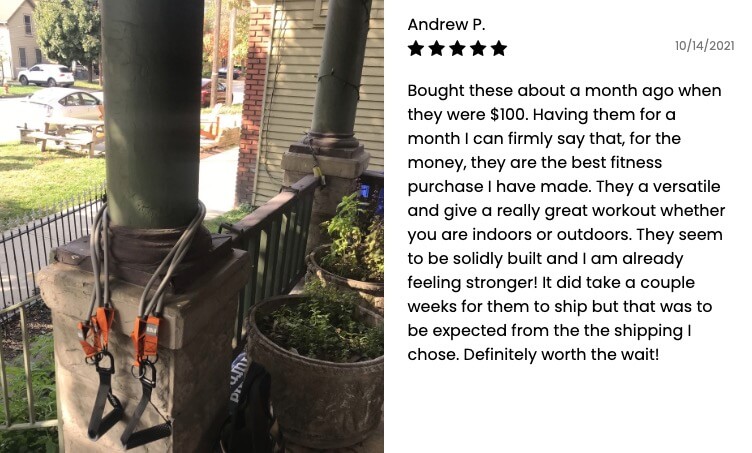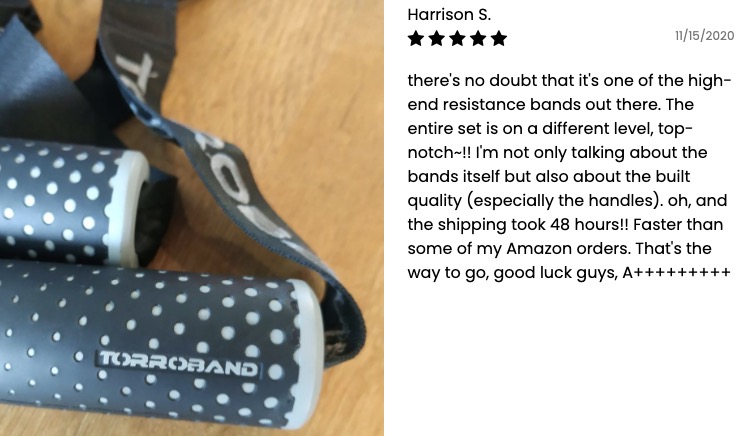 Final Verdict of Our Torroband Review
Although the website domains are a bit confusing, Torrobands could be suitable for home gym owners of varying fitness levels. I think beginners and experienced lifters alike can benefit from a set of heavy-duty bands. However, not all exercises are suitable for 40 pounds of band resistance. For some of my favorite upper-body band exercises, I often grab with a band with less than 20 pounds of band resistance.
That said, here are some things we like about Torroband:
Heavy-duty construction
Versatile attachments
Comes with a carrying bag
Here are some questionable things about Torroband:
Expensive for tube bands
Website and subdomains can be confusing
Product reviews on brand's Facebook page are hit or miss
Torroband Rating
Torroband
Find out about our experience with these tube bands in this Torroband review.
Product Currency: $
Product In-Stock: InStock
Torroband FAQs
Are torrobands good?
Torrobands offer a high-quality, durable resistance band training option for folks looking for more resistance than the average tube band.
Do resistance bands actually work?
Resistance bands designed for strength training can provide enough resistance for even highly trained individuals to feel challenged during movements like rows, chest flyes, and squats.
What are the disadvantages of resistance bands?
One of the disadvantages to using resistance bands is the stretching that happens over time to the latex material. Because actual tears can happen with prolonged use, bands can snap unexpectedly during use. For this reason, Coop recommends using sheathed resistance bands for added protection when bands fail.