We test and review fitness products based on an independent, multi-point methodology. If you use our links to purchase something, we may earn a commission. Read our disclosures.
Was I tempted to sneak in as many "Lord of the Rings" references into this Oura Ring review as possible? Absolutely, but I know your time is precious, so in the spirit of fellowship, I've decided to keep them to a minimum.
In all seriousness, I'll be taking a close look at this ring to let you know whether it's a worthy fitness tracker and how it compares to the many others on the market today. We asked Garage Gym Reviews founder and fitness fanatic Cooper Mitchell to try it out for a few weeks, and now you'll get to read his unfiltered and honest thoughts on it.
You'll Like Our Fitness Tracker Reviews So Much You'll Put a Ring On It
Writing fitness equipment reviews might be our job, but it's also our passion. Our team of CrossFit Level 1 Trainers, certified personal trainers, and competitive endurance athletes have personally tested a wide range of fitness trackers, such as the Whoop, Garmin, FitBit, and Apple Watch.
That is why we're able to provide an in-depth look at these products and give you the pros and cons of each before you decide to purchase them.
Oura Ring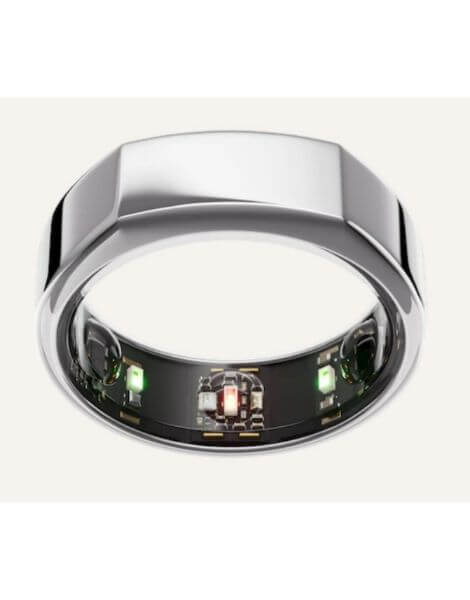 GGR Score: 4.2
Product Highlights
Measures your heart rate, oxygen saturation levels, and skin temperature

Over time, it can track your sleep patterns and suggest improvements

Battery lasts 7 days and can fully charge in 20 minutes

Can help you find your balance between activity and recovery

Water resistant up to 100 m
Pros & Cons
Pros
Long battery life
Fast charging
No membership required
Cons
May develop scratches with daily wear
Limited statistics without membership
Comparably expensive
Bottom Line
If you are looking for a fitness tracker that is more subtle and sleek than a traditional wrist tracker, the Oura Ring is a great alternative option.
A Quick Look at the Oura Ring
The Oura Ring Generation 3 is a wearable fitness tracker that—and this shouldn't come as much of a surprise—is worn on your ring finger rather than on your wrist like most other trackers. And for the record, it can be your index finger, middle finger, or ring finger—whichever you prefer.
Design aside, the Oura Ring fitness tracker functions similarly to many of the other models you're probably familiar with in that it measures your daily heart rate, calories burned, activity levels, sleep patterns, and other health metrics.
The ring's readings are recorded on the Oura Ring app but can also be synced with Apple Health. Those readings allow users to make informed decisions on their health and wellness—for example, the ring can tell you if you need to take a break from training or if you're at risk of getting sick.
Before You Buy
The Oura app works best with the latest versions of Apple iOS and Android, so be sure your smartphone has the latest operating system.
The Oura Rings work on traditional ring sizes—if you don't know your ring size, you can order a free sizing kit from the company's website or visit a Therabody store near you to find out.
Is the Oura Ring Worth It?
The Oura Ring Gen 3 starts at around $300, but may be more expensive depending on what type of design you order. There is a monthly subscription required to access all your data, but at $5.99 per month (with the first month free), it's one of the most budget-friendly subscription costs we've seen for any smart home gym equipment or fitness tracker.
Of course, price isn't the only thing people take into consideration when looking for fitness equipment. Here's a quick glance at who we think would enjoy the Oura Ring and who might want to look elsewhere for a fitness tracker.
Great for:
People who want a comfortable health tracker
Swimmers, or anyone else who needs a tracker that is waterproof
Anyone looking to get insight into their sleeping habits
Not recommended for:
Those more focused on tracking their activity levels than health tracking
Anyone who wants a smartwatch that can tell time and send notifications
People who do a lot of physical labor with their hands
Oura Ring Specs
| | |
| --- | --- |
| Size | 6-13 |
| Dimensions | 7.9 mm wide and 2.55 mm thick |
| Battery life | 7 days |
| Water resistant | Up to 100 meters (330 feet) |
| Metrics tracked | Body temperature, calories burned, sleep, blood oxygen, resting heart rate, and heart rate variability (HRV), breathing rate, respiratory rate, steps and daily movement |
| Workout profiles | 50+ |
| Colors | Silver, Black, Stealth, Gold, Rose Gold |
| Membership | $5.99 per month with first month free |
Wearing and Using the Oura Ring Fitness Tracker
To say there are countless fitness trackers on the market would be an understatement, so if you're wondering what makes the Oura Ring different from all the others, the answer is it's a smart ring. No, seriously.
"The ring portion feels like the main separator," Coop says. "It's surprisingly lightweight and most of the time, I forget it's on."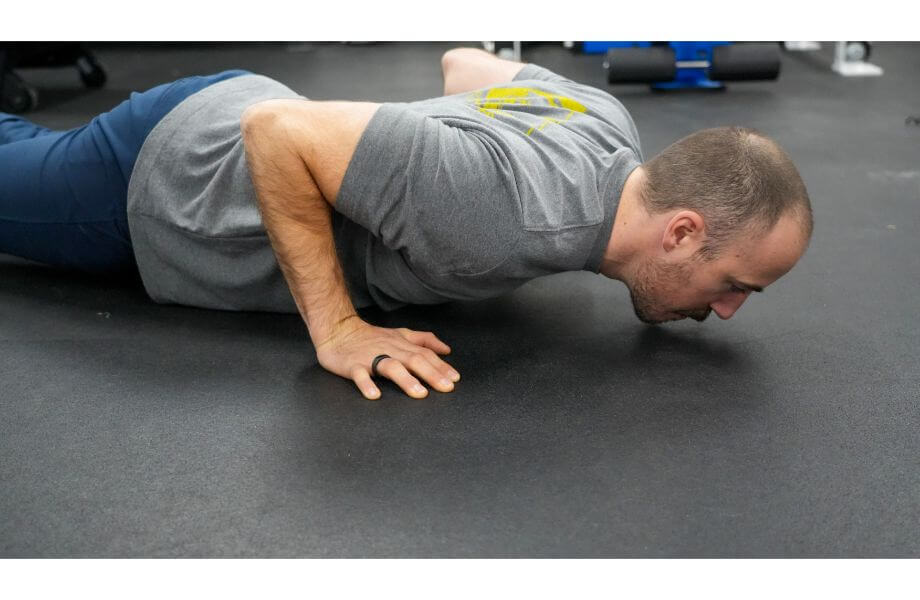 That said, if you're someone who does a lot of resistance training exercises this might not be the best choice from a comfort standpoint. "It's uncomfortable when used in that environment," Coop says. "Thankfully, I will often wear an Apple Watch while training and it will collect that data within the app."
Coop, and other Oura users I spoke to, said one of their favorite features is the quick charge and long battery life. A full charge takes anywhere from 20 to 80 minutes, depending on how depleted the battery is, and you won't need to plug it back in for another week.
Using the Oura Ring for Training and Recovery
No matter whether you're a swimmer, bodybuilder, CrossFitter, or acrobat, the Oura Ring can be used to track your heart rate, activity levels, and training frequency. Each activity can be logged in the Oura app, which can also show things such as your total caloric burn, workout heart rate, total distance traveled, pace, and more.
It will also tell you when it might be a good idea not to train. This is known as a Readiness Score, which takes your body's temperature, heart rate, and sleep into consideration before giving you a number between 1-100. Here's what the numbers mean: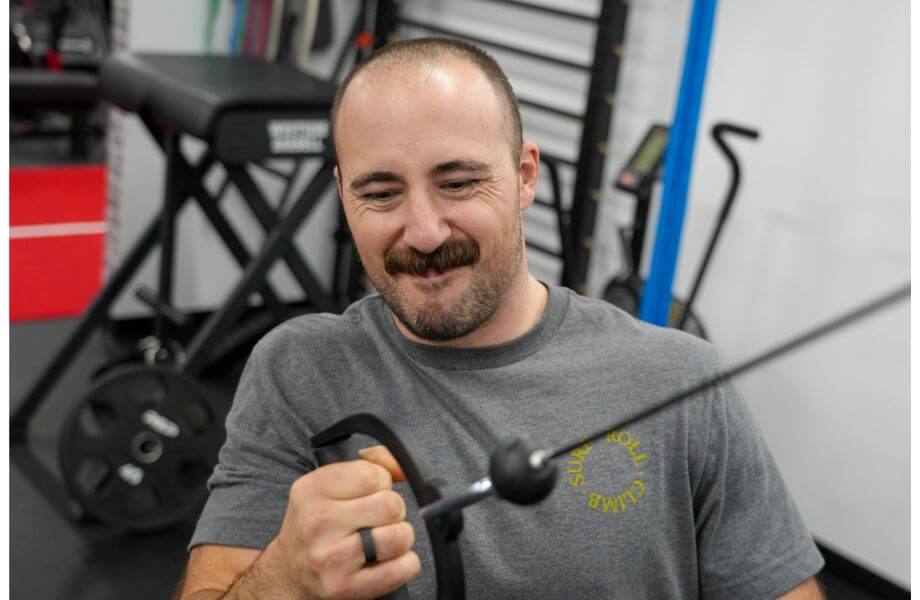 85 or higher: You're good to workout!
70-84: You're a little tired but you can still train.
Under 70: You need to focus on recovery instead of training.
Oura also has something called an Activity Score, which you can use to gauge how well you're balancing training and recovery. Here's how the activity tracking scores pan out:
85 or higher: You have great balance.
70-84: Your balance is good.
Under 70: You should make some lifestyle changes to improve your activity-rest balance.
Your Activity Score will influence your Readiness Score, and vice-versa.
Using the Oura Ring for Sleep Tracking
The Oura Ring also gives you a Sleep Score, which as you might guess shows you how well you slept the previous night. You should probably know how they breakdown their scores by now, but just in case you don't here it is: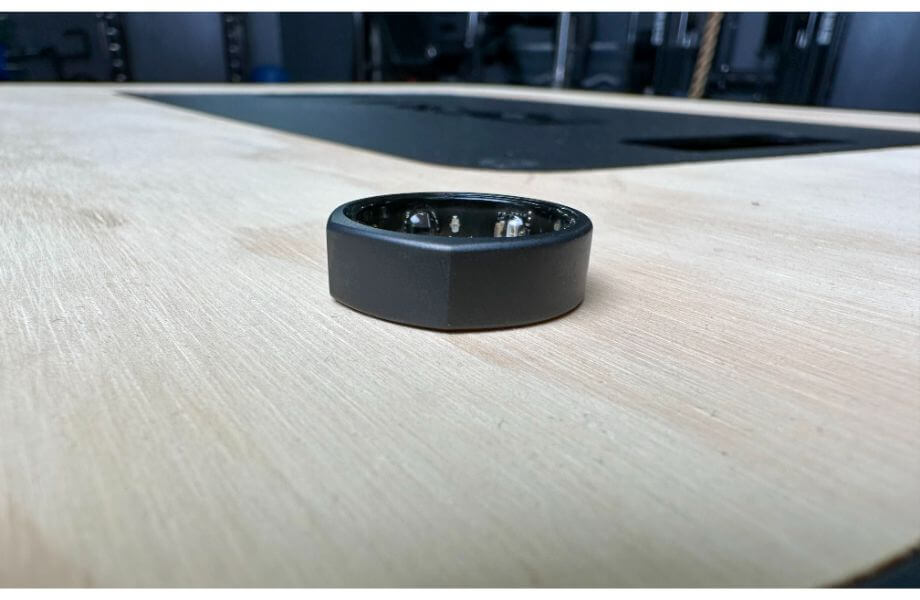 85 or higher: You had a great night's sleep!
70-84: You slept really well.
Under 70: You need to make some changes to get better sleep.
The tracker records several metrics, such as your body temperature and blood oxygen levels, to measure your sleep quality. It will also keep track of how quick it took you to fall asleep (known as latency), total sleep, how much REM sleep and deep sleep you got in a night, if there were any disturbances (such as increased heart rate), and how much you tossed and turned in the middle of the night.
One study1 found that the Oura Ring was on par with medical-grade sleep trackers when it came to tracking total sleep time and sleep efficiency.
Reading the Oura Ring's Data
The Oura Ring sends all of its readings to the Oura app, but it can also be synced with your Apple Watch or Google Fit. Coop told me the data and graphs are pretty easy to read, even for those who are new to using activity trackers.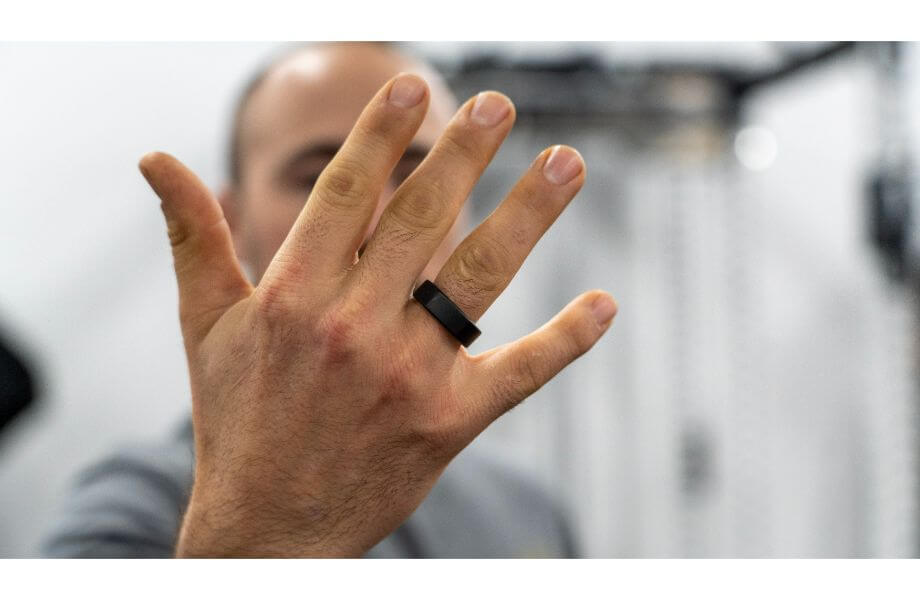 "The numbers are pretty self-explanatory and you can click on anything you don't know and they give great, quick reads on what the metric is," he says, "as well as cumulative metrics such as a sleep score that is more of an average of everything."
Oura recommends wearing the ring for two weeks to get a baseline reading of your health metrics and various sleep stages to give you the most accurate readings.
Waterproof and Dustproof
The Oura Ring is waterproof up to 100 meters, or 330 feet, for up to one hour, so it can be worn during showers, washing the dishes, or when you're going for a high dive.
I wasn't able to find any specifics for the Oura Ring's dustproof capabilities, but the electric components are fully sealed so it should be fine for most activities.
Battery Life
The Oura Ring can hold a full charge for up to a week, or eight days in some cases, and only takes 20 to 80 minutes to recharge. A free charger is included with your Oura Ring.
Look and Feel of the Oura Ring
The Oura Ring comes in two designs: Heritage, which is more like an octagon, and Horizon, which is like your typical circular wedding ring. There are five color options: Silver, Black, Stealth, Gold, and Rose Gold. Oura Ring vs Whoop 4.0
Whoop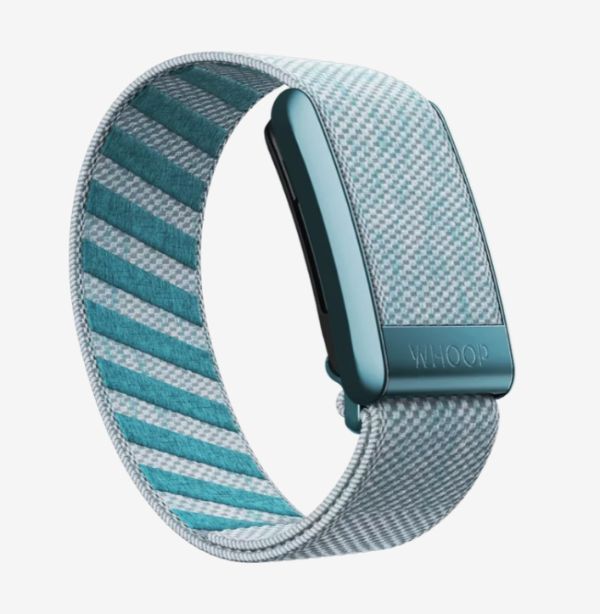 GGR Score: 4.5
Product Highlights
The Whoop 4.0 fitness tracker is designed to capture your key vital signs—blood oxygen, skin temperature, heart rate, sleep quality and more—continuously. There's no watch face or display; instead, you'll use the Whoop app to deep dive into your sleep, training, and recovery so that you can perform at your peak. 
Pros & Cons
Pros
24/7 physiological data available
Offers more in-depth metrics than most other fitness trackers
Comes with a "coaching" feature to tell you when to train and when to rest
Comfortable to wear
App is user-friendly
Cons
Monthly membership fee required
No step counter
No watch face or display
Bottom Line
If you're someone who takes their training seriously, the Whoop 4.0 could be an effective tool for you to use.
The Oura Ring and Whoop are similar in that both are focused on providing you with data on how hard you've trained and letting you know when it might be time to take a break. Both also stray from most fitness trackers in that you can't tell time with them or accept phone calls, like you can with the Apple Watch or the Garmin.
Related: Read our Apple Watch Series 6 review.
In Coop's opinion, the Oura Ring is the better choice for most people since it can track things like daily steps, but if you're a high-performance athlete, you should go for the Whoop strap.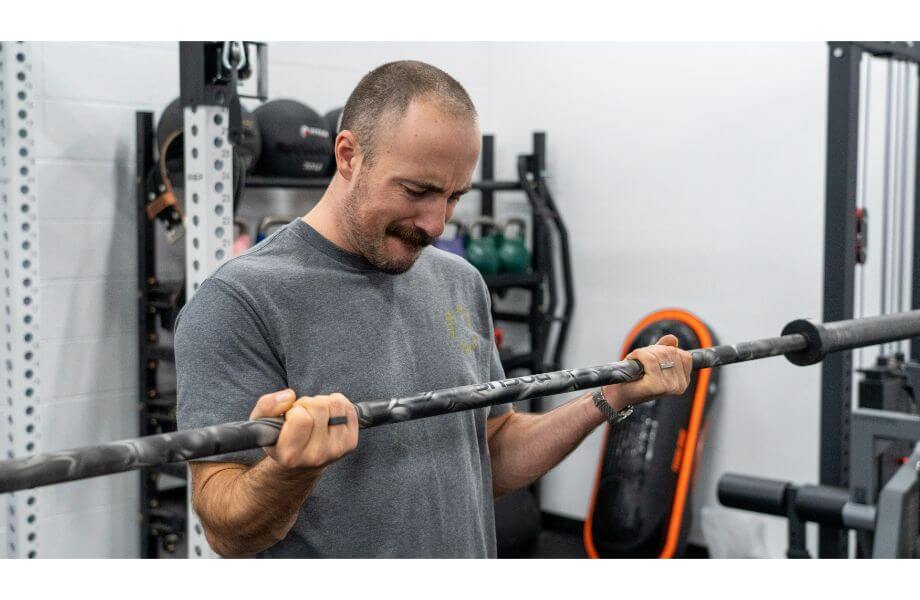 "Whoop is better for athletes and those who train a lot, but the form factor of Oura combined with their focus on well-being is very well done," he says.
Read our full Whoop 4.0 review for more of our thoughts on this fitness tracker.
| | | |
| --- | --- | --- |
| | Oura Ring | Whoop 4.0 |
| Price | Varies by design | Varies by design |
| Subscription fee | $5.99 per month | $30 per month |
| Dimensions | Varies | 1.7" x 1.1" x 0.4" |
| Metrics tracked | Body temperature, calorie burn, sleep, blood oxygen, heart rate and heart rate variability, breathing rate, steps and daily movement | Sleep, heart rate variability, blood oxygen, skin temperature, calorie burn |
| Workout profiles | 50+ | 80+ |
| Waterproof | 100 meters for 1 hour | 10 meters for 2 hours |
Warranty, Financing, Returns
The Oura Ring has a disappointing warranty of only one year from the date of purchase, which will only cover manufacturing defects. If, for whatever reason, you receive a replacement ring before the end of your one-year warranty your coverage will be extended for an additional 90 days or for the remainder of the original one-year policy—whichever is longer.
There are financing options available at checkout starting at $25 per month.
You have 30 days from the date of delivery to return your Oura Ring, or exchange it for a new one, for a full refund, minus shipping and handling.
Customer Reviews
The Oura Ring only publishes select customer reviews on its website, and all of them are positive. iIt's not available on third-party websites like Amazon.
Final Verdict of Our Oura Ring Review
The Oura Ring is a unique fitness tracker and one that we think can provide everyday people with actionable data that can improve their overall wellness. The upfront cost might be prohibitive for some, but they do have one of the more affordable monthly subscription costs we've seen.
Unlike the Whoop, it can track everyday metrics such as steps in addition to more advanced information such as your blood oxygen levels. And the comfort of just wearing it around your finger can't be beat.
Oura Ring Rating
Oura Ring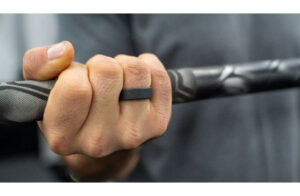 Our Oura Ring review looks at whether this uniquely designed fitness tracker is better than the rest.
Product Brand: Oura
Product Currency: USD
Product Price: 299.00
Product In-Stock: InStock
Oura Ring FAQs
Is an Oura Ring worth it?
If you're looking for more advanced data beyond how many steps you're taking or your average heart rate, then yes. The Oura Ring can provide you with in-depth information on your sleep, blood oxygen levels, and more to help improve your overall wellness.
What does the Oura Ring do?
The Oura Ring reads and records several health markers through your finger to provide you with data on your training habits, sleep, and overall wellness. These numbers are sent to the Oura app, which you can use to make lifestyle changes to improve your health.
Does the Oura Ring have a monthly fee?
The Oura Ring has a monthly fee of $5.99.
References
Asgari Mehrabadi M, Azimi I, Sarhaddi F, et al. Sleep Tracking of a Commercially Available Smart Ring and Smartwatch Against Medical-Grade Actigraphy in Everyday Settings: Instrument Validation Study. JMIR Mhealth Uhealth. 2020;8(10):e20465. Published 2020 Nov 2. doi:10.2196/20465