We test and review fitness products based on an independent, multi-point methodology. If you use our links to purchase something, we may earn a commission. Read our disclosures.
The Rogue Thompson Fatbells are a collaboration between Rogue Fitness and powerlifting legend Donnie Thompson that are designed to essentially replace both kettlebells and dumbbells. We find, after using them for more than two years, that they are a great addition to training, but not a perfect replacement for kettlebells. They could be a great alternative to the standard dumbbell and I use a similar style of handheld weight for much of my dumbbell training.
In this Rogue Thompson Fatbells review, we'll go over what it's like to lift with these hybrid free weights and whether we'd recommend them for most people's home gyms.
Rogue Fatbells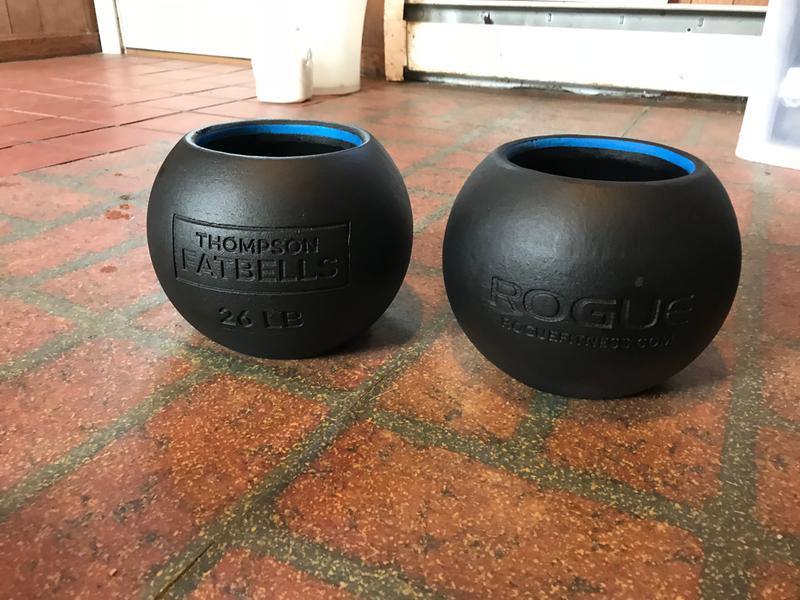 Rogue Thompson Fatbells
The Rogue Thompson Fatbell was co-developed with powerlifting legend Donnie Thompson as a revolutionary new take on the traditional kettlebell. With this design, we've made the simple but significant change of re-positioning the handle inside of the bell—set dead center and straight across like a dumbbell handle within an open-ended, cast-iron sphere. The result, as Donnie explains it himself, is a "perfect geometric shape for maximizing optimal performance," as your hand and the bell essentially act as one. The center mass design allows athletes to improve the efficiency and balance of every swing/press while also reducing common kettlebell safety risks.With your hand inside the sphere, "every single infinitesimal point on the surface of that sphere is equal distance to the center of your hand." This dynamic reduces the shearing force on joints and adds more load distribution on muscle and connective tissue.Rogue Thompson Fatbells are available in many different weight increments and include Rogue's signature black powder coat finish. The 9LB, 13LB, and 18LB Fatbell feature an additional, second opening on the underside of the sphere for athletes with smaller hands.For Donnie Thompson, decades of experience as both a champion powerlifter and world renowned trainer went into conceptualizing this new breed of kettlebell. Since his first sketch of a spheroid bell with an internal handle back in 2006, the blueprint was refined and perfected into its current dynamic form. If it meets Donnie's standards, it's up to just about anybody's.The center mass design of the Fatbell allows athletes to improve the efficiency and balance of every swing/press while also reducing common kettlebell safety risks. As Donnie Thompson puts it, this is the "perfect geometric shape for maximizing optimal performance," as your hand and the bell essentially act as one. "Every single infinitesimal point on the surface of that sphere is equal distance to the center of your hand." This dynamic reduces the shearing force on joints and adds more load distribution on muscle and connective tissue.Thompson Fatbells feature a solid, cast-iron construction with a black powdercoat finish and a grip-friendly ergo handle. The exterior design includes both Rogue and Thompson branding, as well as a color-coded stripe around the opening for quick recognition. All bells 26LB and up have a flat machined base, while the 9LB, 13LB, and 18LB bells are opened-ended on both the top and bottom, providing an alternative option for athletes with smaller hands.SPECIFICATIONS:Based on an original design by Donnie Thompson Interior Handle and Center Mass reduce shearing force, add more load distribution on muscle & connective tissue Solid Cast Iron construction 9LB - 18LB Bells: 32MM diameter Ergo Handle 26LB - 88LB Bells: 37MM diameter Ergo Handle 97+LB Bells: 40MM diameter Ergo Handle Flat machined base (open-ended on 18LB bell) Black Powder Coat Finish Rogue and Thompson branding w/ color-coded stripe for quick recognition Applications: Presses, Swings, Lunges, Snatches, Cleans, Rows, and moreBELL WEIGHT / DIAMETER9LB - 161MM 13LB - 172MM 18LB - 185MM 26LB - 194MM 35LB - 204MM 44LB - 214MM 53LB - 221MM 62LB - 230MM 70LB - 236MM 80LB - 244MM 88LB - 244MM 97LB - 256MM 106LB - 262MM 124LB - 273MM 150LB - 286MM
Why You Should Trust Us
For one, my neighbors know me as "that guy who always has boxes delivered to his front step." I'm kidding, but only a little. In all seriousness, I'm always trying to get my hands on the latest and greatest home gym equipment so I can give you an unbiased and thorough review so you can click "add to cart" on the best barbells, squat racks, and free weights for your home gym.
Just as I do in this Fatbell review, I go over everything from how a free weight feels when you first put your hand on it to how durable the material it's made of is likely to be. I also do my best to update these reviews to let you know how certain equipment has stood the test of time (some do a lot better than others).
A Quick Look at the Rogue Thompson Fatbells
Every once in a while a fitness device comes around that changes the industry. The traditional dumbbell, one of the most prominent pieces of exercise equipment in gyms around the world, has stayed relatively the same for some time (with the exception of adjustable dumbbells).
It has a handle with two weights on either side of the hand and is mostly used for pressing and pulling movements. Sometimes for snatches as well.
The kettlebell, a piece of training equipment that has also been around for quite a while, possibly longer, has made its way into the hearts and minds of the general training public in the USA pretty heavily within the past two decades. The kettlebell, for those unaware, is mostly used for dynamic movements like swings, snatches, and clean and jerks.
Just imagine with me for a second though what it would look like to combine the two.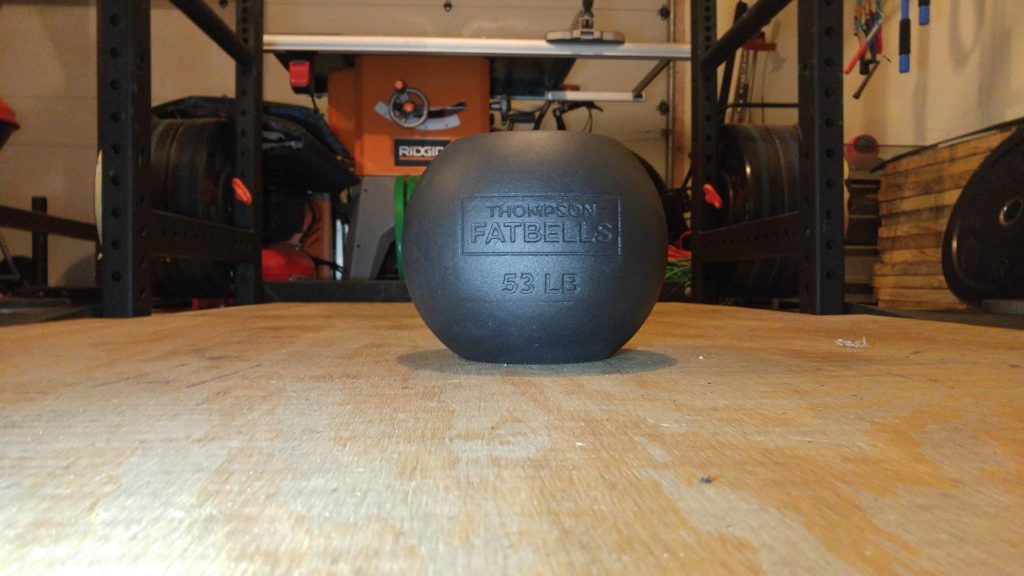 That's exactly what Rogue has done in partnering with Mr. 3000 himself, Donnie Thompson, in creating the Rogue Thompson Fatbells.
Coop's Tips:
This is great for people looking for a dumbbell alternative, but not those seeking a kettlebell alternative.
Try one or two Fatbells before purchasing an entire set
My Favorite Things:
Rogue has released more weight increments for the Fatbells
Easier on your joints than traditional free weights due to the equal load distribution
You're able to get better muscle contraction than dumbbells due to the Fatbells' smaller diameter
My Callouts:
The paint on them chips quite easily
They can cost anywhere between $2-$3 per pound (depending on which ones you buy)
Sorinex makes a competing product called CMBs that use a superior material, ductile iron, but cost much more.
Video Review
Are the Rogue Thompson Fatbells Worth It?
What you really wanted to know, and what I wanted to know was simply: "Why should I purchase Fatbells versus dumbbells or kettlebells?" First off, I'd like to say, all three have their place.
But, I want to be clear when I say, if I could only choose one, I would choose the Rogue Thompson Fatbells (I just wish they would have made the weight increments match dumbbells, not kettlebells…)
The five main reasons why I'd pick them over the more classic free weights are more versatility, improved muscle contraction, a more cohesive hand-weight connection, the weights' smaller diameter, and the fact that they could provide a bit more safety.
This is my opinion, though, and I would pick Fatbells because they feel good to me and work well for my personal training goals. But you may not feel the same, and that's OK. Here's who I think might side with me, and who should probably just stick to dumbbells or kettlebells.
(If you choose the latter, check out my dumbbells vs. kettlebells comparison to check out which one of those two are the best for you).
Great for:
People who want a do-it-all free weight that combines the best parts of a dumbbell and some parts of the kettlebell
Anyone who's looking to switch up their strength training regimen
Anyone who needs a free weight that's easier on their joints
Lifters that like options
Not recommended for:
Home gym owners on a budget
People who prefer adjustable free weights
People with smaller hands
Rogue Thompson Fatbells Specs
| | |
| --- | --- |
| Construction | Cast iron |
| Weight Increments | 9 lbs.-150 lbs. |
| Handle diameter | 32mm for 9-18 lb. bells; 37mm for 26-88 lb. bells; and 40 mm for 97+ lb. bells |
| Finish | Black powder coat |
| Made in the USA? | No |
Benefits of Using the Rogue Thompson Fatbells
The Fatbells are solid, simple as that. They aren't overly complicated, and the 53-pound Fatbell I purchased is just over 53 pounds, which is pretty good considering they're made of cast iron.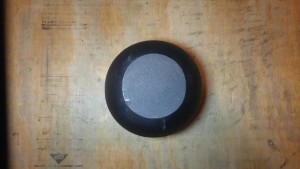 Let's now break down exactly why one should use a Rogue Thompson Fatbell over a dumbbell or kettlebell.
Versatility
You can do everything you can do with a dumbbell with the Fatbells. In my opinion, they're a dumbbell replacement that will lead to fewer wrist injuries as well as a better connection. You can also use them for one-arm swings, snatches, clean and jerks, and just about everything you can do with kettlebells except for two-handed swings. Two-handed swings are considered by many in the kettlebell world to be an improper use of the kettlebell anyway.
Blood Gorging
This is a little hard to explain, but in speaking with Donnie Thompson, he spoke a lot on how the muscles became much more engorged with blood (or, in other words, more blood rushes to them) than when you use the traditional dumbbell or kettlebell. This is something I also noticed, but mainly at higher repetitions.
Essentially, this happens because the Fatbell is causing more muscles to kick into high gear than if you were holding a kettlebell or dumbbell. This phenomenon, known as muscle recruitment, causes blood to flow to the muscles needed to lift the weight so they have enough oxygen to help you eek out as many reps as possible, which in turn means you'll build more muscle and strength.
Hand-Weight Connection
When you place your hand inside of the sphere, it feels much more a part of your hand than any dumbbell, and especially a kettlebell. As is written on the description on Rogue's website: "Every single infinitesimal point on the surface of that sphere is equal distance to the center of your hand."
This causes fewer shearing forces on your joints and causes more load distribution on the muscles and connective tissue. You really have to use one to feel it.
Smaller Diameter
Due to the Fatbells' diameter, you can get a much better contraction when pressing, such as on the bench press, due to being able to lower the Fatbells into a deeper stretch. With dumbbells, they're so big and awkward they just get in the way causing many egos to grow (you know what I mean if you've ever been to a Globo gym and seen the guy benching with 150-pound dumbbells).
Safer
Due to the flat machined base, the Fatbells don't roll around. They also don't rock back and forth in your hand due to the weight being placed 360 degrees around it. They're also easy to dump and I never felt any worry about getting cut by the edge of the bell as it's rounded and smooth.
Weight Increments
My main beef with the Rogue Thompson Fatbells is in their weight increments. Currently, the Fatbells range from 9 to 150 pounds but they mimic kettlebell weight increments (which are based on an extinct unit of measurement called a "pood").
In my mind, kettlebells will always have their place due to the way the weight is loaded below the handle. The Fatbells are a dumbbell replacement. Meaning they should come in increments of 5 pounds, which I believe will happen when more people begin to adopt using the Fatbells.
Imagine walking into a gym and instead of dumbbells, you see a row of Fatbells. Eventually that will happen and it will be glorious!
Construction and Aesthetics
The Rogue Thompson Fatbells are made out of solid cast iron. There's really no getting around how solid cast iron is, and it's the same material many kettlebells are made of.
There is a 37-millimeter handle welded in the center of the 53-pound bell (it has a larger diameter for heavier weights, and a smaller diameter for lighter ones) that feels very similar to the size of some dumbbells. Because it's cast iron, it also takes chalk really well, which allows you to get a great grip.
They look very similar to planter pots, and one reason for that is the bulbous shape and the flat machined base. As Rogue seems to do with just about every other piece of equipment they produce, it has a black powder coat finish.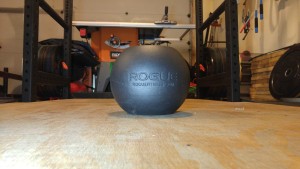 To help identify the size of the bell, there is a stripe running on the inside lip of the bell. It's a nice touch, and will help in commercial gym settings.
That being said, I don't think the stripe was very well done. To me, it looks like somebody took a paint brush and just slapped it on. I would have liked to see a perfectly symmetrical line as I don't think it would have been that difficult, but this is kind of just me nitpicking.
The History Behind the Rogue Thompson Fatbells
I've been following Donnie Thompson's journey for quite some time.
Powerlifting was my first foray into strength training, as my father was a powerlifter many years ago and impressed upon me the importance of strength. When Donnie was attempting to break the 3,000-pound barrier (3,000 total pounds in the squat, deadlift, and bench), I remember seeing him on the cover of Powerlifting USA (a great magazine that is no longer around).
Donnie seemed to use unique training methods in building massive slabs of muscle, and one such method was using traditional kettlebells. This may seem like no big deal today, but a powerlifter using kettlebells 10 years ago was unheard of.
The story of the Fatbells' creation is quoted on his personal website, and goes like this:
It was 2006 and I was training extremely hard for professional powerlifting. One night after squats, I went to bed and started dreaming I was swinging the 48k KettleBell. Suddenly, I pushed my hand into the center of the KB while holding the handle. My hand was dead center inside the KettleBell. It felt amazing. Control and ease of movement no matter what I did with it. IT WAS PERFECT. I woke up and immediately drew a picture of it. The time was 3am and I thought I was going crazy. Maybe too many KettleBell Swings? Not sure but continued drawing my dream and this is what I came up with: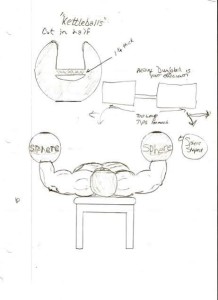 The idea for what would eventually become the Rogue Thompson Fatbells was born.
If you'd like to read more of the story, which I find pretty interesting, you can find it here.
Long story short though, after talking with many companies, Rogue eventually decided to produce them, and Sorinex took his idea to create the center mass bells (sometimes called CMBs).
The Sorinex Center Mass Bells have two openings and are made from a stronger iron, but Rogue's is a better value due to the lower price point.
Sorinex Center Mass Bells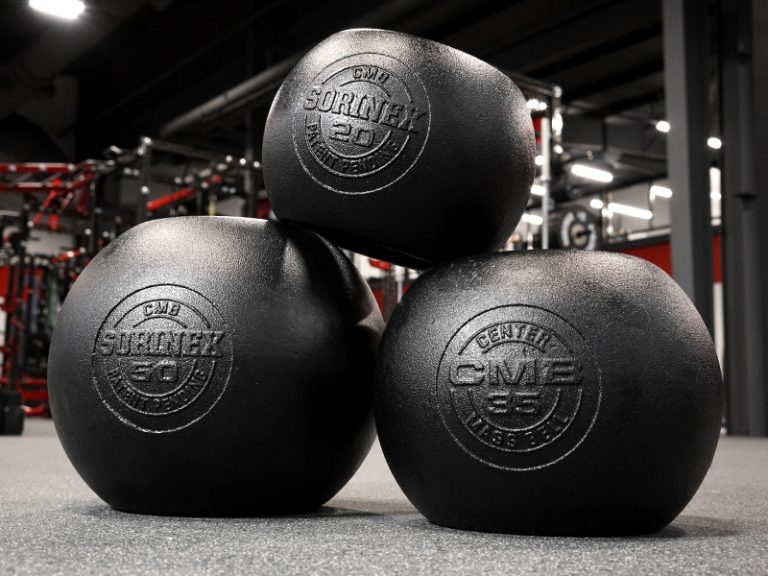 Sorinex Center Mass Bells
The Sorinex Original Center Mass Bell is a step above similar products; a modern interpretation of historically proven methods ranging from the 11th century India's Nal Stones to even the ancient Chinese art of black cauldron lifting.Perfected cylindrical weight balanced in all three planes. The CMBâ"¢ offers the most simplistic form of external load and allows athletes to focus on natural gross loaded movement. A shorter learning curve and a faster and more connected kinetic chain. Center Mass Bell® are made with ductile iron as opposed to cast iron, which is more prone to cracking when dropped on hard surfaces. Ductile iron is a more expensive material, but we strive to ensure the highest quality of all our products. Therefore the CMBâ"¢ has a Limited Lifetime Warranty.
Ordering the Rogue Thompson Fatbells
Unlike dumbbells or kettlebells, you only get one Fatbell per order. Most weight increments are readily available, but you might have some difficulty if you're looking to buy some of the lighter Fatbells. You can always ask Rogue to notify you when the weight increment you're looking for is back in stock.
Customer Experience
Rogue Fitness is a very popular company, so while you can reach them through email, phone, or live chat it might take them a while to get back to you. That said, their customer service team is unmatched.
While their Fatbells are more budget-friendly than similar products out there, that's not the case for all Rogue products. Luckily, I've written a guide on how to save money on Rogue equipment.
Warranty and Returns
The Rogue Thompson Fatbells come with a limited lifetime warranty, which just means Rogue will only replace them if there's a manufacturing defect. You won't get a replacement if you mistreat the Fatbell.
You have 30 days from the date of delivery to return the product, in new condition and in its original packing.
Customer Reviews
The Rogue Thompson Fatbells have a 4.9 average rating (out of 5) with 142 reviews on RogueFitness.com. A lot of reviewers expressed initial skepticism about the product, but were sold once they got their hands on it.
"The Fatbell is a multi-exercise chunk of iron that is only limited by your imagination," reviewer TSully Fitness from Washington State wrote. "It combines many of the features and exercises of both dumbbells and kettle bells. I plan on adding more to my modest home gym collection. I recommend one or two for you."
Some of the negative complaints deal with paint chipping from the Fatbell.
Final Verdict of Our Rogue Thompson Fatbells Review
The Rogue Thompson Fatbells are not a fad product.
I'm sure when dumbbells came out, many people looked at them as a silly idea. That's typical of innovation and is very typical of innovation in the fitness industry. Mainly due to the Shake Weights and ab growers of the world.
I've been using Sorinex CMBs, which are essentially a more expensive Thompson Fatbell that feature holes on both sides and use ductile iron and I love the design. In fact, this design of handheld weight has replaced dumbbells for much of my training.
Rogue Thompson Fatbells are the best value for this style of hand weight and I certainly recommend them. Although, I want to be clear, I don't think they're a perfect substitute for kettlebells.
Full Rating
Rogue Thompson Fatbells
The Rogue Thompson Fatbells are a collaboration between Rogue Fitness and Donnie Thompson that are designed to essentially replace both kettlebells and dumbbells. We find, after using them over two years, that they are a great addition to training, but not a replacement for kettlebells.
Product Brand: Rogue Fitness
Product Currency: $
Product Price: 85
Product In-Stock: InStock
Rogue Thompson Fatbells FAQ
Are Fatbells worth it? 
The Rogue Thompson Fatbells offer a unique and great workout experience, and if you have the budget for them I'd highly recommend trying out one or two. 
Are Thompson Fatbells sold as pairs or single?
The Rogue Thompson Fatbells are sold individually, not in pairs. 
What do you use Fatbells for? 
The same thing you would do with kettlebells or dumbbells: snatches, curls, swings (just not double-handed), rows, and more.