We test and review fitness products based on an independent, multi-point methodology. If you use our links to purchase something, we may earn a commission. Read our disclosures.
Whenever the holiday season arrives or a birthday comes, we want to show the loved ones in our lives that we appreciate them. We try to get them gifts based on their interests to show we've been paying attention and that we truly care about them.
However, not every interest or hobby is equal. Some fitness hobbies can be downright expensive; still, there are plenty of pieces of fitness equipment that are affordable—even a bargain. For those who are looking for gifts to show you care, but that are a little cheaper than the best Lululemon shorts, here we've compiled our gift guide for the best fitness gifts under $25. Read on to find out how to show you care and still keep to your budget this holiday season.
Gifts for Calisthenics
Best Exercise Ball
Living.Fit Exercise Ball
This 22-inch-wide exercise ball is made with high-quality material to help prevent bursting. The Living.Fit Exercise Ball is great for core and abdominal exercises requiring balance and coordination. Step up your loved one's next core workout with this stability ball.
Check Price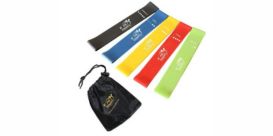 Best Loop Resistance Bands
Fit Simplify Loop Exercise Bands
Fit Simplify Loop Bands come in a set of five bands, and can provide the fitness lover in your life with up to 74 pounds of resistance. Small and portable, the loop bands come with a carrying case as well. These are the ideal addition to any gym fanatic's warm-up routine.
Check Price
Best Exercise Mat
Rogue Yoga Mat
This Exercise Mat is made of a textured, non-slip PVC foam, and is perfect for yoga, pilates, and other calisthenics. Thin and lightweight, this yoga mat rolls up for easy transport, so your loved one can take it from one fitness class to the other.
Check Price
Fitness Accessories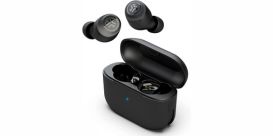 Best Earbuds
JLab Go Air Pop Wireless Earbuds
Great for hikers, cyclists, and gym-goers alike, these budget-friendly earbuds will last for over eight hours, plus an extra 32 hours from a charged case. Coming in eight cool colors, these Bluetooth earbuds are sleek and have an in-ear fit sure to stay secured during a long workout or hike.
Check Price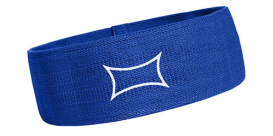 Best Hip Circle
Mark Bell Sling Shot Hip Circle
Active dads and others will like the Mark Bell Sling Shot as a gift. Made of a durable fabric, this hip circle will help activate your glutes and hip flexors prior to your workout. This hip circle slides on the hips easily and doesn't slip off during your exercising.
Check Price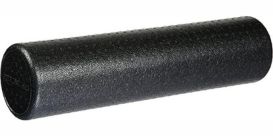 Best Foam Roller
Amazon Basics High-Density Foam Roller
Start your next at-home workout with mobility work on this foam roller from Amazon Basics. Coming in three different lengths—18, 24, or 36 inches—this foam roller will help massage sore muscles before or after workouts. Molded with foam, this roller is firm and will keep its shape, too.
Check Price
Fitness Apparel
Best Leggings
The Gym People Running Leggings
Give the runner in your life these women's leggings from The Gym People. The perfect holiday gift, these leggings come in an array of different colors and patterns, sure to fit your loved one's style. Also, with sizes all the way to 3XL, you're sure to find the right size for her.
Check Price
Best Training Socks
Stance Performance Crew Socks
For a unique gift that'll match your loved one's personality, go with Stance socks. Providing a multitude of colorway options, each pair is sleek and able to match their activewear easily. Made with performance in mind, these socks are also breathable and have targeted cushioning.
Check Price
Best Workout Gloves
Ihuan Breathable Fingerless Workout Gloves
Before your gym friend's next fitness class, get them a pair of Ihuan Workout Gloves. These unisex gloves are breathable with a cushioned padding on the palm to protect the hands and also maintain a good grip on a barbell, dumbbell, or pull-up bar.
Check Price
Other Gift Ideas for Budget Fitness Gifts
If you're still looking for inspiration for the perfect gift for the fitness enthusiast in your life, here are some more ideas for gifts keeping budget in mind. While not every item in these lists is inexpensive, and most are not under $25, most of our best-in-class roundups have budget-friendly options. Looking through here, you're sure to find something that suits the fitness lover you know without breaking the bank.
What to Look for in Fitness Gifts
When you're looking for the perfect gift for your loved one, there are a couple things to consider, both for your sake and your loved one's sake.
Budget
The first thing to look at is what your budget is—how much money can you work with? What is considered a budget price for a piece of equipment will depend largely on what kind of equipment it is. The price of a budget-friendly functional trainer will differ greatly from a budget-friendly slam ball. The amount of money you have to spend for your loved one will determine what sort of gift you're looking at.
Interest
It's important to know what fitness interests the fitness enthusiast in your life has. If they weightlift, then it probably isn't a good idea to get them the best running shoes you can find. In a similar way, a runner or cyclist won't get as much out of a cable machine, unless they resistance train as well.
Sizing
If you're looking at apparel or support gear, it's a good idea to know your loved one's size. This is where you can be sly and ask a quick question in the middle of a conversation, or you can be sneaky and snoop around through their closet wardrobe. Either way, you run the risk of being found out, so be careful! As a less risky method, maybe ask a mutual friend if they know, too.
Footprint
Fitness equipment can range from large, bulky squat racks to small and compact exercise equipment. Before getting the largest home gym you can find, you might need to think about the space you have to work with. If your loved one doesn't have a large garage gym, then some smaller equipment or apparel might be a viable option. If you have the space for it, then you can think about treadmills, barbells and plates, or power racks.
Fitness Gifts Under $25 FAQs
What is a good gift for someone who is interested in fitness?
There are many great options for gifts for a fitness enthusiast. Some questions to ask yourself to help narrow down your choices would be to know your friend's interests: Are they more of a weightlifter, or do they prefer cardio workouts?
After learning about their interests, it's good to consider how much space your friend might have for gym equipment. If space is limited, then smaller support gear, like wrist wraps or knee sleeves, would be ideal. Apparel like cross-training shoes or workout shorts are great options as well.
What are some fitness gifts that are under $25?
There are many fitness-related gifts that fall under $25, but some of the more common gifts would be support gear, apparel, or supplements. Support gear would be aids for training, like lifting straps, workout gloves, or lifting chalk. Apparel under $25 would include socks, some workout shorts and leggings, and T-shirts. Finally, supplement prices can range from high to low, but there are many value-priced supplement options for protein, creatine, and pre-workout.
What to gift people who go to the gym?
If you have a gym goer in your life, there are many things you can get them for the gym. Weightlifting shoes, other apparel, and support gear like wrist wraps, are all great things they can use at the gym; plus, they're easy to carry to and from the gym in a simple gym bag.