We test and review fitness products based on an independent, multi-point methodology. If you use our links to purchase something, we may earn a commission. Read our disclosures.
Weslo, which operates under the iFIT parent company (formerly ICON Health & Fitness) and includes brands such as ProForm, NordicTrack, HealthRider, and FreeMotion Fitness, has a vast array of treadmill options currently on the market. As with any piece of fitness equipment, there are going to be issues that arise throughout its lifetime.
Are you in this spot and wondering how to fix a Weslo Treadmill? We've got you covered in our comprehensive guide.
Steps to Take When Your Weslo Treadmill Breaks Down
There are a few common steps that you can take when your Weslo treadmill breaks down to determine the extent of your issue.
Step 1: Assess the Issue
Assessing where and what the issue is with your Weslo treadmill is going to be your first step. The three main components of a treadmill are the frame, motor, and deck. Each of these also has multiple regions where issues can occur, but narrowing down the problem starts here. This can also help determine if the issue is something you can fix on your own or if you will need to call for some help.
Step 2: Consult Your Owner's Manual
While it's very easy to toss an owner's manual after you put your equipment together, with something that has as many working parts as your Weslo treadmill, you will want to hang on to that for times like this.
Oftentimes the owner's manual will have a list of specific troubleshooting tips that can help you easily get your treadmill back up and running. If you have misplaced your owner's manual, look for the model number on the machine and see if you can find one on Amazon or other places online. You can also use your manual to make sure that the treadmill assembly has been completed properly, in case you aren't the first owner of the machine.
Step 3: Seek Professional Help When Necessary
If you assess the issue and determine that the motor, control board, or wiring is the issue, it is best to seek professional help for fixing your treadmill. Those are all parts that have very sensitive and complex pieces. If you don't know what you're doing, you can end up making the issue worse instead of better.
If you need to seek professional help for your treadmill repair, be sure and check your treadmill's warranty so that you know if the part or service will be covered or if it will be an out-of-pocket expense.
Most Weslo models, including one of the most popular styles in the Weslo Cadence G 5.9, require you to register within 30 days of your purchase in order for the extended 90-day warranty to be activated. You can do this at www.wesloservice.com/registration.
RELATED: Troubleshooting ProForm Treadmills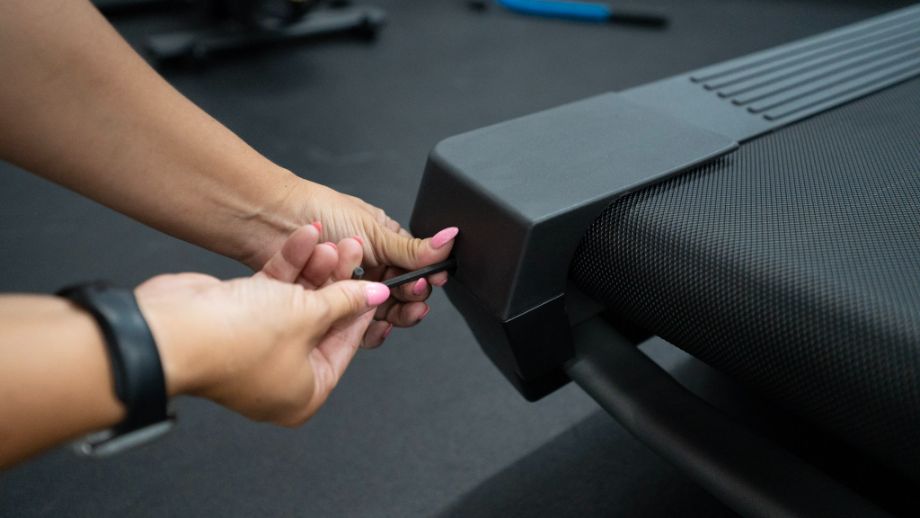 Troubleshooting Common Treadmill Issues
Since most treadmills have a similar set-up and core parts, there are some common troubleshooting steps you can try when your treadmill isn't working properly. Let's go over a few and see if they get you back up and running (literally!).
Treadmill Belt Moves Oddly
If your treadmill belt is moving oddly while you're using the treadmill, there are a few different things that could be the issue. Is your walking belt centered correctly? Is the belt too tight or too loose? Has the belt not been lubricated properly with regular maintenance?
After you decide which issue your treadmill is, try giving your treadmill a belt adjustment and see if you notice any improvement in how the belt is moving. Some of these adjustments can be completed with a screwdriver and some treadmill lube.
Treadmill Motor Is Loud/Not Working
If your treadmill motor seems louder than usual you want to listen and try to see if you can notice the pitch of the new sound it is making. If the sound comes off as more of a screeching sound, then it could be a loose pulley in your machine. If the sound comes off as more of a loud grinding sound, you could have a bearing that needs repair or replacement.
There are other issues that can cause loud noises in treadmills, including a worn motor belt, your drive motor, drive belt, and other parts inside the motor becoming misaligned over time.
You could even have a clogged motor because when your treadmill motor is running, it is constantly sucking in dirt and debris from its surroundings. If your treadmill motor is loud or not working, try to pinpoint the issue so that if you need to call a professional you can give them more information to go on when diagnosing the problem.
Treadmill Not Turning On
If your treadmill is not turning on, it could be as simple of a fix as taking the power cord and unplugging it and then plugging it back in. Treadmills have a tendency to build up static electricity, especially if you aren't using a proper surge suppressor, and can end up flipping your outlet or breaker. You also want to check that the safety key is properly placed as it is designed to make the treadmill not turn on if it isn't secured.
Some models of Weslo treadmills have a power button on the side that can also be tripped. Look to see if yours has this, and if it does, then you need to turn the switch back on and then wait for 5 minutes before trying to use the treadmill, giving it time to reset.
Other Treadmill Parts Not Working
While the belt, motor, and ability to turn on are some of the most common treadmill issues, there are still many other treadmill parts that might need to be fixed. An issue with the incline systems is also very common in treadmills. You can often find full videos of DIY options on YouTube that can help you determine why your treadmill isn't working.
One large component that we haven't gone over yet is the display. This can vary largely between treadmill models as far as size and complexity, but almost every treadmill has at least some kind of screen that you can at least track your speed and distance. Sometimes these issues can be fixed with something as simple as new batteries or a quick unplug and plug back in, while others might require a professional.
Treadmills are pieced together with hundreds of small moving parts, circuit breakers, and wires that with daily use are going to have issues that come up. One of the best steps you can take in keeping major issues at bay is to keep up with a proper maintenance routine. While this won't make all issues go away it will often make them less severe, and hopefully less expensive to fix!
Hopefully, with some replacement parts and an okay from your local treadmill doctor, you will be back on your way to logging miles.
How to Fix a Weslo Treadmill: Q&A
How do I reset my Weslo treadmill?
You can reset your Weslo Treadmill by either flipping the power switch on the side and then waiting 5 minutes before using or you can unplug the power cord from your surge suppressor and then plug it back in. 
Is it worth fixing my treadmill?
There are many treadmill problems that can arise. Many of them can be small fixes and definitely worth completing versus buying an entirely new treadmill. If the issue is in the motor or circuit boards, those can be more expensive and you will want to take into consideration the age of your machine and how many miles it has on it before making the decision of whether to fix it or not. 
What to do if treadmill is not working?
If your treadmill is not working you can try a few simple troubleshooting steps to see if you can fix it. The first one many people go to is to unplug the machine and then plug it back in. If that doesn't solve your problem, make sure that your breaker hasn't been flipped and that the power switch on the side hasn't been tripped. Ensuring that the security key is in place is another quick troubleshooting step to take. If you try all of these and the treadmill is still not working you will probably need to call in a professional to assess the situation. 
Why does my treadmill turn on but won't move?
If your treadmill turns on but won't move it could be an issue with the running belt or with a pulley inside of the machine. Check your owner's manual and see if there are any steps you can try at home to fix the issue. If not, you may need to reach out for professional help with your treadmill.