We test and review fitness products based on an independent, multi-point methodology. If you use our links to purchase something, we may earn a commission. Read our disclosures.
The Weslo Cadence G 5.9i folding treadmill remains a hot-button piece of fitness equipment in the cardio space even now, well after its initial release in 2016. But after multiple discussions and more than 2,500 Amazon reviews, it appears this treadmill is going to the great home gym in the sky.
In this Weslo Cadence G 5.9i treadmill review, we'll tell you everything you need to know about the model so you can make an educated decision regarding whether or not to add it to your home gym if you're able to find it on the secondary market. 
The Cadence G 5.9i boasts a small footprint, iFIT compatibility, and during its production cost under $300 on Amazon. However, there are also several callouts we think you should be aware of, mainly in the customer experience department.
We have a staff of dedicated testers committed to testing and reviewing products and have spent hundreds of hours trying out dozens of different treadmills. Although we haven't tested this model personally, we're confident in our ability to provide an in-depth, comprehensive review based on customer reviews, product research, and our experience dealing with similar machines.
Looking for an Alternative to the Weslo Cadence G 5.9i Treadmill
Looking for something similar to the Weslo Cadence G 5.9i Treadmill? Anthony O'Reilly, GGR's performance editor and a certified personal trainer, recommends the Sunny Health And Fitness SF – T7603 Treadmill. "Like the Weslo, the Sunny treadmill is a great entry-level treadmill that's super-affordable for most people," Anthony says. "Neither are meant for runners, but rather for people who just want to move daily and aren't looking to spend money."
Anthony points out that both treadmills aren't meant for heavy use because they boast small weight limits, weaker-than-average motors, and the inclines use manual adjustment—though it's not every day you find a budget-friendly treadmill that has an incline.
Best Alternative to Weslo Cadence G 5.9i
Product Highlights
Compact and foldable
Simple to build solo
Foldable with a gas shock for gentle release
Handles have speed adjustments
2.2 CHP motor
Pros & Cons
Pros
Compact
Easy to fold
Lightweight
Sturdy, all-steel frame
Shock absorption
Reviewers report easy assembly
Cons
Weaker motor will not support sustained or intense runs
Small running deck not suited for taller individuals
Some users report the lifespan is very short
Bottom Line
If you're looking for a seriously affordable, compact, portable and simple treadmill, the Sunny Health & Fitness SF-T7603 folding treadmill may be for you. While this machine won't support sustained or intense running, it's a value purchase for walkers, joggers and casual runners.
A Quick Look at the Weslo Cadence G 5.9i Treadmill 
The Weslo Cadence G 5.9i is a foldable treadmill manufactured by the brand ICON Health and Fitness, which is now iFIT. Weslo specializes in low-priced treadmills under $500, and the Weslo collection is available online for purchase on Amazon.
The Cadence G 5.9i is a solid budget option as far as foldable treadmills go. It features the brand's so-called SpaceSaver technology that allows the machine to fold efficiently, and has an LCD display compatible with iFIT technology so you can download interactive workouts if you so desire.
There aren't a ton of luxury features or add-ons available with this model, which should be expected since the price is so low. The machine has a 2.25 horsepower motor, a 275-pound weight limit, and a max speed of 10 MPH with two incline adjustments available.
My Tips
You don't need to subscribe to iFIT in order to use this machine. When you power it on, hold the Bluetooth button for 15 to 20 seconds to put the machine in manual mode.
This machine was described as particularly loud by some users, so it's best suited in environments where noise isn't a concern
Pros
Comes with 30-day iFIT free trial
Compact footprint
Foldable for easy storage
Budget friendly at under $300
Light at just 118 pounds
Cons
Standard LCD display
Some users complained it was difficult to assemble
Users reported confusion in setting the machine up and bypassing the initial "Hello" message on the LCD display
Some users described the motor as being noisy
Only 2 manual incline adjustments available
Is the Weslo Cadence G 5.9 Treadmill Worth It?
Generally speaking, this model aligns pretty well with most treadmills under $500. The 2.25 CHP motor is pretty standard, and the Weslo even boasts a smaller footprint and a slightly larger weight capacity compared to some of the other models we've reviewed. The deck is a little shorter than some other models and the display is pretty primitive, although the iFIT capability and the preset programs available give it a leg up here. 
Great for:
Those looking for a compact treadmill with a small footprint and folding capability
People who enjoy downloading interactive workout programs
Exercisers looking to do cardio workout at varying degrees of incline
Anyone looking for a budget treadmill option for their home gym
Those who mainly use treadmills for walking and jogging
Not recommended for:
Athletes working out in an area where noise is a concern
Athletes who prefer a touchscreen or more advanced LED display
Buyers looking for lots of add-ons and extra features for their treadmill
Athletes planning to use their treadmill for long-distance runs or sprints
Weslo Cadence G 5.9 Treadmill Specs
| | |
| --- | --- |
| Footprint | 55.5" (H) x 29" (W) x 64.5" (L) |
| Weight | 118 lbs |
| Weight capacity | 275 lbs |
| Display | LCD, iFIT-compatible |
| Motor | 2.25 HP Drive System |
| Speed | 0-10 MPH |
| Incline | 2 position manual |
| Construction | Space Saver Design |
| Warranty | 1-Year Motor, 90-Day Parts & Labor |
Customer Reviews
The reviews for this treadmill on Amazon are largely positive, with a composite score of 4.2 stars out of 5 emerging from over 2,600 reviews. Positive Amazon reviews like the one below say that the Weslo Cadence G 5.9i is easy to assemble, user-friendly, and offers a wide range of effective treadmill workouts.
However, there are also numerous critical reviews for the product. In one, the user claims the treadmill was difficult to assemble and believes Weslo is trying to trick their customers into subscribing to iFIT when doing so isn't necessary to use the treadmill.
The general consensus seems to be that once you get past the initial process of assembling and booting up the machine, it works as advertised without too much trouble.
The confusion with the iFIT subscription, however, does seem a bit sketchy. Treadmills equipped with iFIT can be a great way to enhance your cardio workout, but the fact that so many users thought it was required to purchase a subscription to use the machine is a major callout.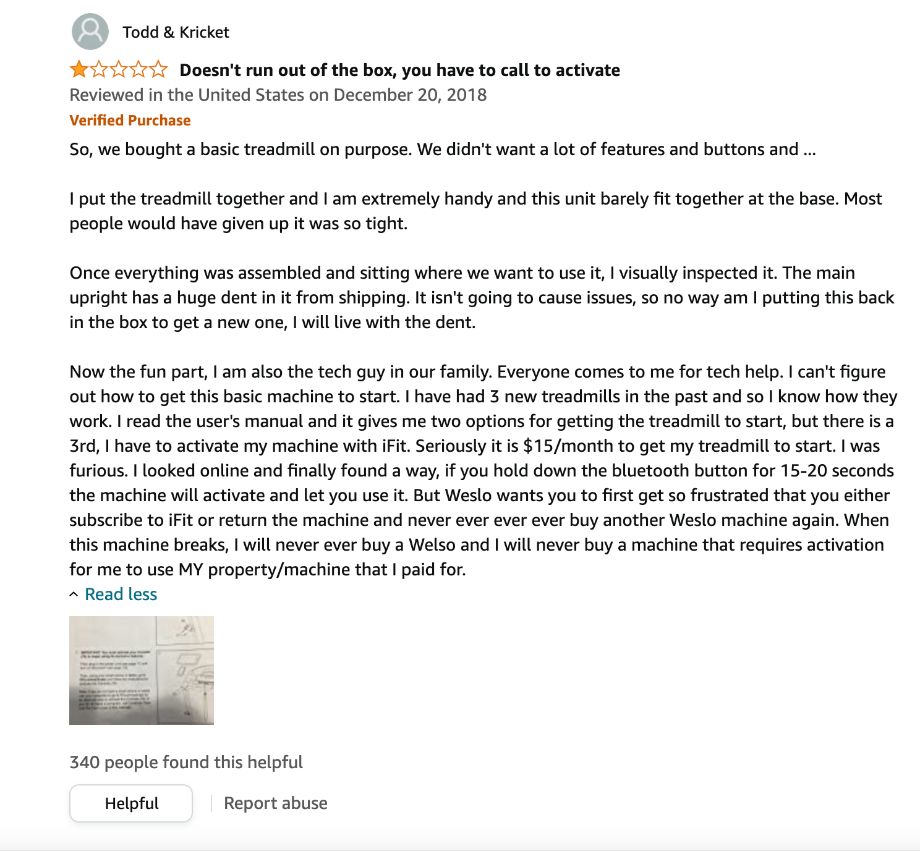 From a durability standpoint, there was one user who updated their Amazon review after having used the 5.9i for three years and remains satisfied with its performance after performing little maintenance.
"It's been a few years and this treadmill is – still – running great," user R. Reyes says. "I do add the same treadmill lubricant underneath the belt every so often but it's still working perfectly."
Weslo Cadence G 5.9i vs XTERRA Fitness TR150
Though our testers may not have used the Weslo Cadence G 5.9i, one (our beloved Coop) did spend a fair amount of time using the XTERRA TR150 folding treadmill, which is similar to the Cadence G 5.9i in a number of ways. Both machines have a compact footprint, a 2.25 HP motor, an LCD display, and their price points are similar as well. Additionally, both have a maximum speed of 10 MPH.
From a durability standpoint, our tester noted that though it often takes a while to truly know the durability of a treadmill, the belt and frame appeared to hold up well after light use, which aligns with the earlier customer review from the Cadence G 5.9i. The simplicity of the machine was praised, though our tester also said that the machine may not be the best option for long runs or sprints, as the belt is somewhat loose which causes the machine to rattle. So, maybe don't plan to train for a marathon on it.
Again, the experience of working out on the Cadence G 5.9i will certainly be somewhat different than what was described above. However, given the striking similarities between the two machines, we think that what we learned while testing the XTERRA TR150 could be valuable to you if you're considering purchasing the Weslo model.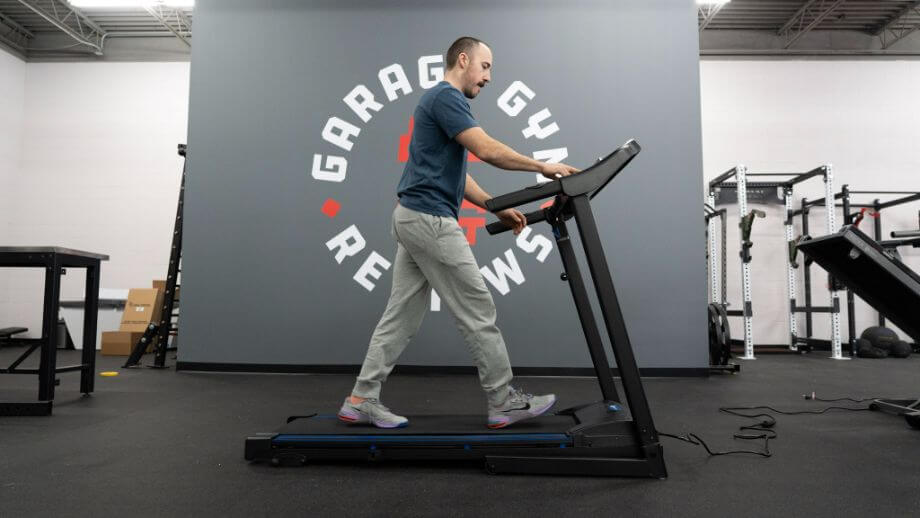 Footprint and Portability
One of the most prominent talking points about the Cadence G 5.9i is its reduced footprint and the SpaceSaver technology that allows it to fold up for easy storage and transportation. When fully assembled, the machine has a height of 55.5 inches, a width of 29 inches and a length of 64.5 inches.
The treadmill belt itself is 16 inches by 50 inches and features ComfortCell Cushioning technology — extra padding on the belt meant to take pressure off your joints — to minimize the impact of your cardio workout. A 50-inch deck is a little on the short side for taller people. Generally, we like to see decks of around 60 inches to accommodate long strides.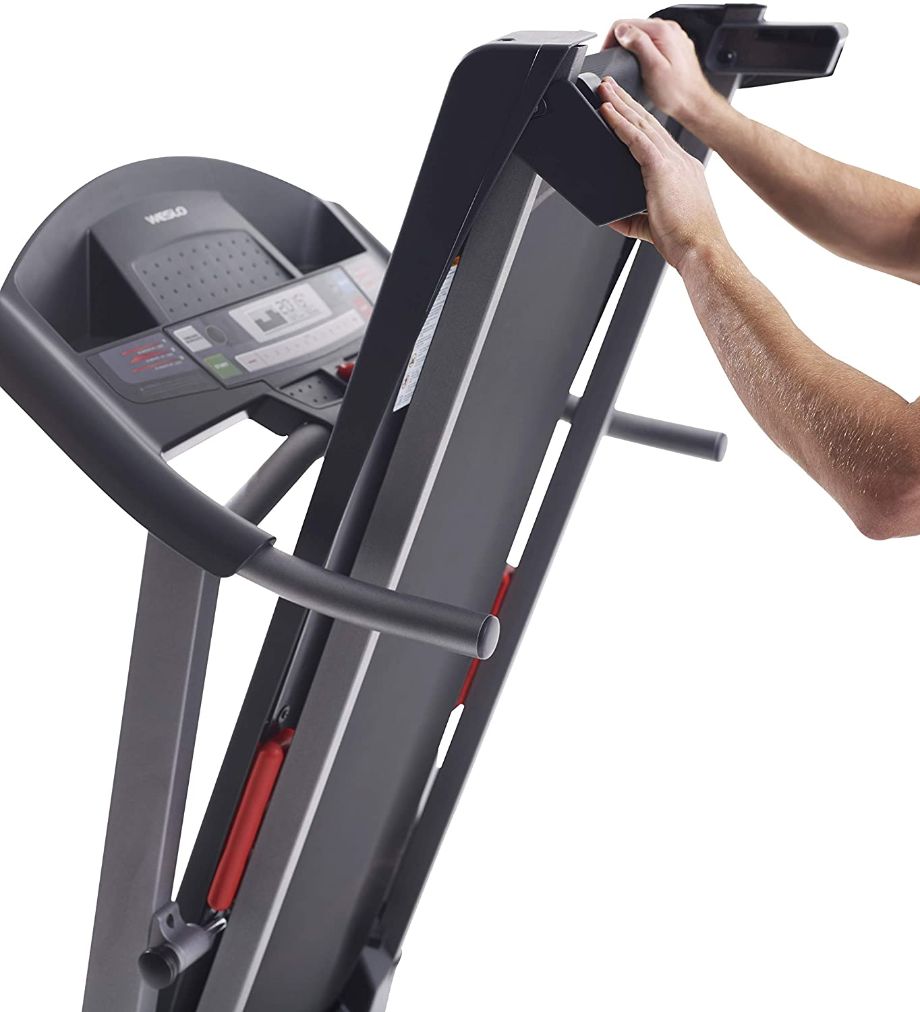 This model features a 2.25 HP motor and a maximum speed of 10 MPH, which can be easily shifted using Digital QuickSpeed Controls found right below the LCD monitor. Some reviews did mention the machine gets pretty loud during training, which can make home use difficult if noise is an issue for you. If this is the case, check out our list of quietest home gym treadmill options.
The Ergonomics
The model does have an incline feature, though there are just two adjustments available for the Cadence G 5.9i. This is a lower number than most luxury models, but is fairly standard considering the price point of the machine.
The presence of manual incline vs automated also makes it more of a chore to switch between levels during training. You'll have to step off the tread belt and fold in the feet connected to the back of the treadmill deck, which will allow you to train at an incline.
Console
The console features an LCD display that shows you the details of your workouts as they happen, keeping track of things like minutes elapsed, distance traveled, and heart rate (using the thumb sensor that tracks your pulse). A series of buttons below the LCD monitor allow you to change speed and incline fairly easily.
The display itself is pretty basic, but there's room to rest a tablet or smartphone above it if you choose to use the machine's iFIT function.
However, one in-depth customer review from user R. Reyes reported that the heart rate monitor function of the Weslo was way off base, reporting numbers that were nearly 20 beats per minute below what they should be. This wasn't mentioned in other reviews, but certainly something to keep an eye on. It is also not surprising, because pulse monitors often lack the accuracy of a true heart rate monitor.
These discrepancies also could stem from the fact that the basic tracking features likely don't take into account factors like user weight and height; you'll have to find a more personalized method if you want completely accurate numbers.
Technology Benefits and Conveniences
The Weslo Cadence G 5.9i is iFIT compatible, and it comes with a 30-day free trial to the fitness technology platform. iFIT allows you to download interactive workouts on your tablet or smartphone and pair the workouts with your treadmill. It is NOT necessary to subscribe to iFIT in order to use the machine, although there was some confusion with this throughout the customer reviews.
This model also offers several onboard preset workouts separate from the iFIT add-on. These can be accessed via a button to the left of the LCD display.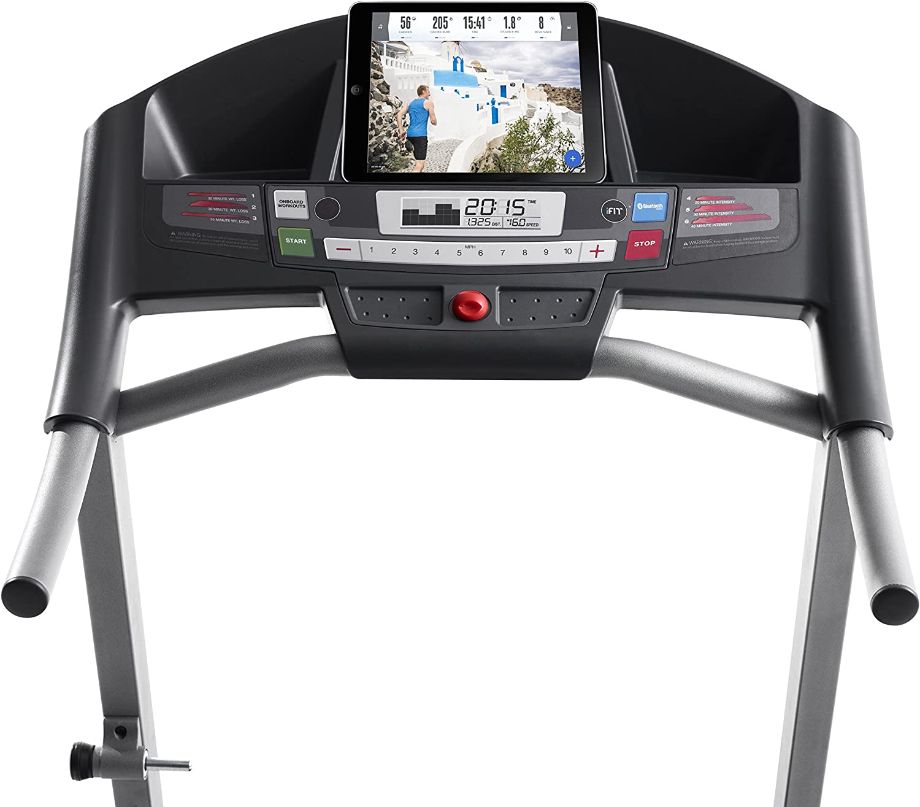 Customer Experience
Most of what I saw told me that once you get past the initial roadblocks of assembling the machine and powering it on, it works well and does everything it's advertised to. Several users noted that they've been using this model for years and have few complaints about the performance of the actual machine.
However, there were a few callouts that popped up consistently throughout the Amazon reviews. The main complaint was that some users couldn't figure out how to bypass the greeting message on the LCD display to actually begin using the machine. There was a prompt on the screen to sign up for a paid subscription to the iFIT software, and many people thought the subscription was necessary in order to use the treadmill.
This is NOT the case. In order to bypass this message, hold the Bluetooth button on the LCD display down for 20 seconds and you should be all set. However, this is apparently not made clear in the instructions for the 5.9i, so be careful.
A few other users mentioned that their models were somewhat damaged during transit, arriving with dents or chips in the machine and that the product wasn't adequately protected by its packaging. Some other users said that the assembly process was also difficult, as they struggled to fit the various pieces together.
Shipping and Assembling the Weslo Cadence G 5.9i Treadmill
The Weslo Cadence G 5.9i can be ordered on Amazon.. Financing options are available via Affirm, though you have to go through an approval process first. Amazon offers a 12-month program in which you pay $24.41 per month to cover the cost of the machine.
The 5.9i can be shipped through Amazon, with free delivery available for Prime members. The delivery time is estimated to be about one calendar week after the initial order is submitted.
The assembly is where things started to get hairy in the customer reviews. One user criticized the machine because the pieces fit together too tightly for easy assembly, while others noted they had no major issues when putting it together. Just make sure you follow the instruction manual as closely as possible and you should be able to get your machine up and running.
Unfortunately, the assembly manual linked on the Amazon page for this product took me to a set of instructions for an older model, so I wasn't able to parse through the guide myself.
Warranty
This model comes with a one-year warranty on the motor and a 90-day warranty for parts & labor. This is fairly standard compared to other similarly priced models, although some do offer lifetime warranties for the frame.
The warranty does not cover damage that the product accrues during the shipping process (at least, it didn't for the older model of the Weslo Cadence G 5.9, this could have changed). To activate the warranty, go to www.wesloservice.com/registration.
Final Verdict of Our Weslo Cadence G 5.9 Treadmill Review
The Weslo Cadence G 5.9i seems to be a solid foldable treadmill budget option. It won't dazzle you with fancy add-ons and features, and it's less versatile than most of the high-end models you'll find.
However, in a price range under $300, the value is certainly there. The iFIT compatibility allows you to add another level to your cardio, and there are enough adjustments in speed and incline available on the machine to keep things interesting.
This machine isn't perfect; it's loud and the startup process was unclear for a lot of folks, and a 10 MPH maximum speed with two incline options isn't anything exceptional. Even so, if you're looking for a no-frills, functional, compact budget pick that still allows you to reap the benefits of treadmill use, the Weslo Cadence G 5.9i could be a great treadmill for your home gym.
Weslo Cadence G 5.9 Treadmill Rating
Weslo Cadence G 5.9i Treadmill
The Weslo Cadence G 5.9i Treadmill is a great option for those looking for a budget-friendly, compact foldable treadmill with iFIT compatibility.
Product Brand: iFIT
Product Currency: USD
Product Price: 499.00
Product In-Stock: InStock
Weslo Cadence G 5.9 Treadmill FAQs
Does the Weslo Cadence G 5.9i treadmill incline?
Yes. This model offers two manual incline adjustments.
Is Weslo treadmill a good brand?
The Weslo Cadence G 5.9i treadmill holds a composite score of 4.2 stars out of 5 on Amazon based on over 2,600 customer reviews. Users generally seem satisfied with their Weslo products based on performance, value, and durability.
How much weight does a Weslo treadmill hold?
The maximum weight capacity for the Weslo Cadence G 5.9i model is 275 pounds.
Are Weslo treadmills good for running?
You can certainly use Weslo treadmills for running; however, when our tester tried out the XTERRA TR 150 treadmill (very similar to the Weslo Cadence G 5.9i), he noted that the machine worked better for walking or jogging.