We test and review fitness products based on an independent, multi-point methodology. If you use our links to purchase something, we may earn a commission. Read our disclosures.
Sometimes I get to test and review cool things like smart workout mirrors. Other times I'm tasked with testing things I didn't even know existed and, quite frankly, didn't see a purpose in.
I'm talking about folding exercise bikes, which my barbell-crazed self has no vested interest in. But hey, I guess that's just part of being the best fitness equipment reviews team on the internet—bringing readers like you unbiased reviews on products I may not necessarily use myself. (To be fair, I did end up liking one enough to keep it in my home gym permanently.)
Without further ado, I bring you the Garage Gym Reviews' guide to the best folding exercise bikes.
Dozens of Exercise Bikes Tested and Reviewed by Personal Trainers
Our team is full of experts in fitness and gym equipment, including cardio equipment. We've reviewed some of the top cardio machines, from compact treadmills to ellipticals to stationary bikes and air bikes. For this guide, three members of our team tested indoor folding exercise bikes to find the ones with standout features.
Best Folding Exercise Bikes in 2023
Best Overall Folding Exercise Bike: Marcy Foldable Upright Exercise Bike
Good for: Experienced fitness enthusiasts who need a foldable bike with ample resistance
This foldable exercise bike is the one that changed my perception of foldable bikes and actually became a permanent fixture in my home gym. It doesn't have enough resistance for me to use it in an actual workout, but it's now a staple in my warm-ups and cool-downs.
I like the Marcy Foldable Exercise Bike because it's heavier and sturdier than any of the others I've tried, and the steel tubing is thicker. It's actually made of 14-gauge steel, so it's objectively stronger than most foldable exercise bikes, which tend to be made of 16- or 18-gauge steel. (The higher the number, the thinner the steel.)
Thanks to its sturdy construction, this Marcy folding bike feels stable during use. I didn't experience any feelings of instability, even while pedaling hard. This bike would be a good choice for beginners to start cardio workouts because of its stronger steel frame. I wouldn't exactly call it heavy-duty, but most people will probably be able to get a more intense workout on the Marcy bike than others, thanks to its stability. 
RELATED: Treadmill HIIT Workout
It also has an LCD screen larger than most, but it only displays three basic stats: time, distance, and calories. The Marcy foldable bike doesn't have any special tech features, but then again, neither do most folding exercise bikes.
This isn't the smallest folding exercise bike out there (unfolded, it's 34 inches long, 19 inches wide, and 44 inches tall; folded, it's 18.5 inches long, 18.5 inches wide, and 51.5 inches tall). It does have wheels, though, and it's easy to move around and store.
Best Adjustable Folding Exercise Bike: LEIKE X Bike Ultra-Quiet Folding Exercise Bike
Good for: People who want a comfortable bike they can put a lot of miles on
Our writer and reviewer Anthony O'Reilly not only tested this indoor cycling bike, but he has also actually been using it for close to two years and has put well over 3,000 miles on it. And while he's 6 feet, 3 inches, he's also seen it work for people much shorter than that.
This is one of the best adjustable folding bikes simply because it can accommodate tall people and shorter folks (thanks to its seven-seat adjustment levels), while still maintaining features you can't go without, like a comfortable seat and a wide seat with a backrest. The handlebars and pedals are also adjustable.
It has a stand that fits most laptops and has 12 levels of magnetic resistance, beating out the average eight. It can be used as both a recumbent and upright bike, so you can customize your ride each day. While this bike doesn't have a true tablet holder, it does have a lip where the LCD monitor is, and you can place your device there. This bike is low on tech capabilities, but so are the rest.
Anthony was able to store the LEIKE X Bike in his 300-square-foot apartment in NYC, and when he moved to a (thankfully) larger place, the bike fit in the moving truck with no problem. No disassembly was required.
Additionally, this bike has a higher maximum user weight than most other foldable bikes. The LEIKE bike can support up to 300 pounds, while 250 to 275 pounds seems to be the average maximum weight.
Best Lightweight Folding Exercise Bike: Xspec Indoor Foldable Stationary Compact Upright
Good for: Anyone whose primary concern is portability
Weighing in at just 33 pounds, this Xspec folding exercise bike is an ideal stationary bike for anyone who knows they'll be moving their bike around a lot. It's pretty lightweight, so most people should be able to simply pick it up, but it also has transport wheels that work fairly well. It might be a bit of a pain to roll around on thick carpet, but I had no problems wheeling it around my space.
Because it only weighs a hair over 30 pounds, I wasn't shocked when I started a workout on this bike and felt shaky. It's not a deal-breaking amount of shakiness, but it's definitely noticeable compared to the Marcy foldable bike, which is my pick for the best overall folding exercise bike.
The Xspec folding bike has a wide, comfortable, adjustable seat and adjustable pedals (although the seat could be easier to adjust—there are two big screws you have to remove every time you want to adjust it).
The handlebars have palm-based pulse sensors, but I honestly would recommend wearing a fitness tracker instead. I don't think heart rate monitors built into cardio equipment are generally very accurate. The LCD screen is small, but it shows your heart rate, calories burned, time, and distance.
Another reason I recommend this bike is because it only took about 40 minutes for me to assemble it. Some others took upwards of an hour, and a few never got fully assembled.
Best Budget Folding Exercise Bike: Pooboo Folding Exercise Bike
Good for: People who want extra features for a good price
This indoor exercise bike has a lot more to offer than the average folding exercise bike—and for a good price. It has resistance bands and push-up handles, so you can use your indoor exercise bike for an upper-body workout in addition to cardio and lower body to make for a solid full-body workout.
On top of those extra features, the Pooboo Folding Exercise Bike also has several conveniences, which make it a good value for the price. Between the resistance bands, push-up functionality, pulse sensors, LCD screen with stats displayed, eight levels of resistance, an adjustable seat and adjustable pedals, and phone holder, you're getting a lot for the approximate $200 price point. 
RELATED: Best Resistance Bands
Time will tell about the durability. It has a one-year warranty in any case.
Best Folding Exercise Bike with Desk: Exerpeutic ExerWORK 1000
Good for: People who want to get a cardio workout in while working
We're sure you've seen at least one coworker getting a cardio workout in while on an all-hands Zoom meeting, and if you want to get in on the trend we recommend the Exerpeutic ExerWORK 1000. Not only does this folding exercise bike come with a quiet belt drive and magnetic resistance, but it has a built-in desk that can be adjusted for people of various heights.
It comes with eight levels of resistance, so it won't be the most intense workout but you'll burn more calories with it than you would sitting still. Plus, it's a recumbent-style bike so it takes all the stress off your joints. And because it's a folding exercise bike, it won't take up much room in your home office/gym.
The seat is comfortable, the desk is pretty sturdy, and it comes with an LCD screen to track all your metrics. We read some reviews that said shorter people had a difficult time finding a position that felt natural to them while using the desk, so this might be best for people on the taller end of the spectrum.
Best Folding Exercise Bike for Seniors: Exerpeutic 400XL Folding Recumbent Bike
Good for: Older adults who want to prioritize comfort
Like the rest of the best exercise bikes on this list, the Exerpeutic 400XL Folding Recumbent Bike uses a magnetic resistance system. It has a large seat and the seat cushion is comfortable.
Recumbent exercise bikes are great for older adults because the positioning takes pressure off of the joints and supports the lower back. However, this bike would work for all fitness levels. Even if you're an advanced exerciser and don't plan on using this type of bike for your main workouts, you can still get a great workout.
This recumbent bike in particular has a performance monitor that shows pulse, time, distance, calories, and pace. The seat and pedals are adjustable, and there are rear handlebars to accommodate different preferences for hand placement.
I'd recommend having someone help you with assembly, as some of the components are heavy and hard to hold in place while you try to screw in a bolt. This one took me a while to assemble, but I was overall pleased with the build afterward. It feels sturdier than a lot of folding bikes and, thanks to the lower seat position, is easier to get in and out of.
Just keep in mind that the recumbent position takes up more floor space than the upright position. If you're tight on space, this might not be the best pick for you.
Related: Check out the best treadmills for seniors
Best Compact Folding Exercise Bike: Sharper Image Space Saving Stationary Bike
Good for: Anyone whose primary concern is saving space
Another Garage Gym Reviews staff writer, Caroline Lubinsky, tested the Sharper Image Space Saving Stationary Bike. At $350, it's priced higher than most stationary folding bikes, but it could be worth it for you if you're really concerned about space. It legitimately folds up entirely into a small rectangle, whereas most foldable bikes just kind of scrunch up to become thinner, but taller. 
Caroline said one of the best features about the bike is that it doesn't require any assembly. That's a rare thing to find these days. It only took her about 10 minutes to unwrap the plastic from the bike and pop out the folding pieces to get started on a workout.
However, she thinks it's kind of pricey for an exercise bike that doesn't even have a backrest or a screen. She also wouldn't recommend it to anyone who struggles with balance, as the base is small and the pedals are somewhat close together. Additionally, this bike is probably best used on a hard floor versus carpet, due to its potential shakiness.
That said, the Sharper Image folding exercise bike is by far the most compact piece of equipment out of all the ones our team tested. It folds up into just 25.5 inches in length, 7 inches in width, and 23 inches in height. It can easily be stored under a bed or in a small closet. Even when it's unfolded, this stationary bike may still fit under a desk, so you could use it while you work.
Despite its small size, this bike supports riders from 5 feet tall to 6 feet, 4 inches tall, and has a 250-pound weight limit. It has eight levels of magnetic resistance, which is standard for folding exercise bikes.
Other Folding Exercise Bikes We Tested
In addition to our top picks above, we also tested a few other folding exercise bikes we think are worth mentioning. While they aren't our favorites, one of them might be right for you.
Fitnation Flex Bike Ultra
This isn't a bad magnetic upright exercise bike. It has all of the basic features—magnetic tension control, cushioned seat, adjustable resistance, LCD display, folding functionality—but it's more expensive than most for no clear reason to our team. I didn't find anything super special about the Fitnation Flex Bike Ultra, so for the $300 MSRP, I'm not sure it's worth it. You can get similar features for a lower price elsewhere. I'll give credit where credit is due, though: This bike folds into a semi-recumbent position, which most upright bikes don't.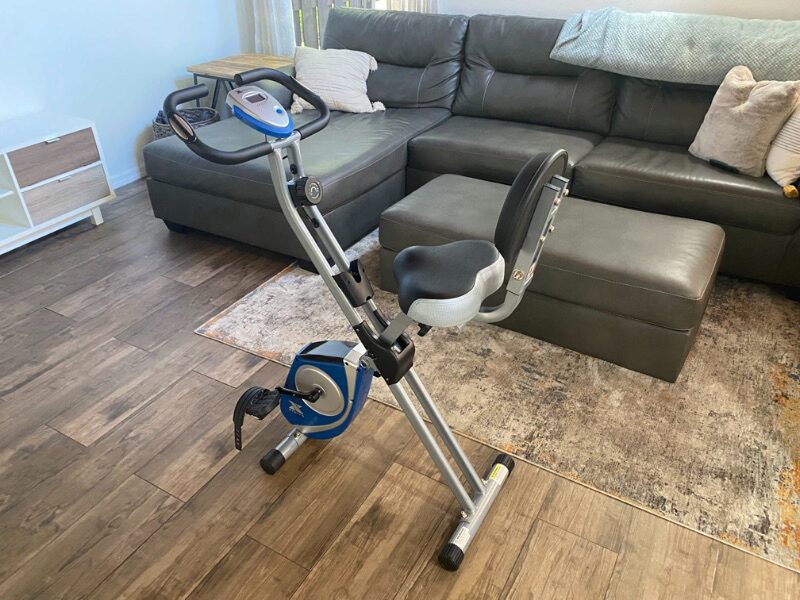 XTERRA Fitness FB350 Folding Exercise Bike
The XTERRA Fitness FB350 folding bike is a pretty standard X-frame folding bike. It has a magnetic belt drive like all the others on our list, and I had no problems with the cycling experience once I finally put this bike together. Key word: finally. It took me over two hours to assemble this bike. The instructions weren't great, the pre-drilled holes didn't match up, and it was just awkward to assemble alone. If you buy this bike, or its sister product, the XTERRA Fitness FB150 Folding Exercise Bike, I recommend having someone help with assembly.
ShareVgo Bluetooth Smart Folding Exercise Bike
Caroline tested this ShareVgo bike and it wasn't a favorite. Her key callouts include: The backrest is great, but the seat isn't as comfortable as others; it feels flimsy and creaky when riding; and the warranty isn't impressive. "I don't have high confidence that this bike will hold up over time," she said. "I weigh 100 pounds less than the max user capacity of 250 and I felt like it creaked horribly when being ridden. It also only has a 90-day warranty, which seems suspicious when you compare it to all the other foldable bike warranties of a year or more."
How We Picked and Tested the Best Folding Exercise Bikes
Our team of product testers took all of these folding exercise bikes through their paces. From ordering to assembling to pedaling, we spent hours with each bike to find out which ones are worth your money. Here's a glimpse at how we compiled our list of the best folding exercise bikes:
Research: As always, we began with research and any prior experience we had with folding exercise bikes (which, to be frank, was little to none—they weren't exactly our forte before creating this guide). There are hundreds of these bikes available on Amazon and elsewhere, so we spent a lot of time boiling down the options based on overall ratings, customer reviews, and brand reputability.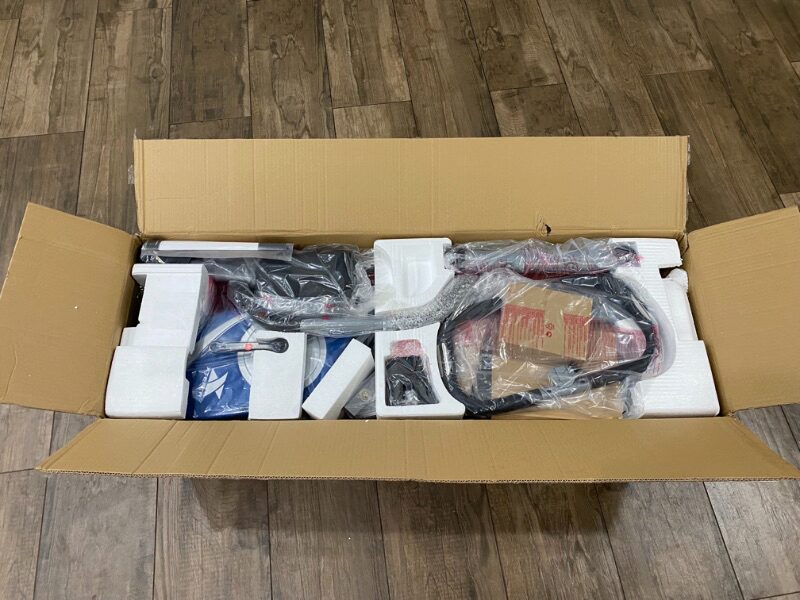 Ordering and assembly: After creating our shortlist, we personally ordered all of these folding exercise bikes through Amazon or the manufacturer website. We got them delivered just like a normal customer would, and then we assembled them just like anyone else would.
Workouts: Our team used the folding exercise bikes for warmups, workouts, and cool-downs. All of the bikes were used for both endurance and interval training, and we made sure to take advantage of all of the features on each bike, including resistance levels and adjustability of the seats and handlebars. We made sure to take note of things such as how easy it is to adjust the resistance, how sturdy the bike feels during intense intervals, and how comfortable it is for long workouts.
Benefits of Folding Exercise Bikes
Biking is a great form of exercise—here's a look at some of the benefits of folding exercise bikes and why you might want to add one to your home gym.
RELATED: Stationary Bike Benefits
Low-Impact Exercise
For those who need to spare their joints from high-impact workouts, biking is among the best forms of low-impact exercise. You can get your heart pumping without taking a toll on your ankles, knees, or hips in the way that other forms of cardio (*ahem* running) do.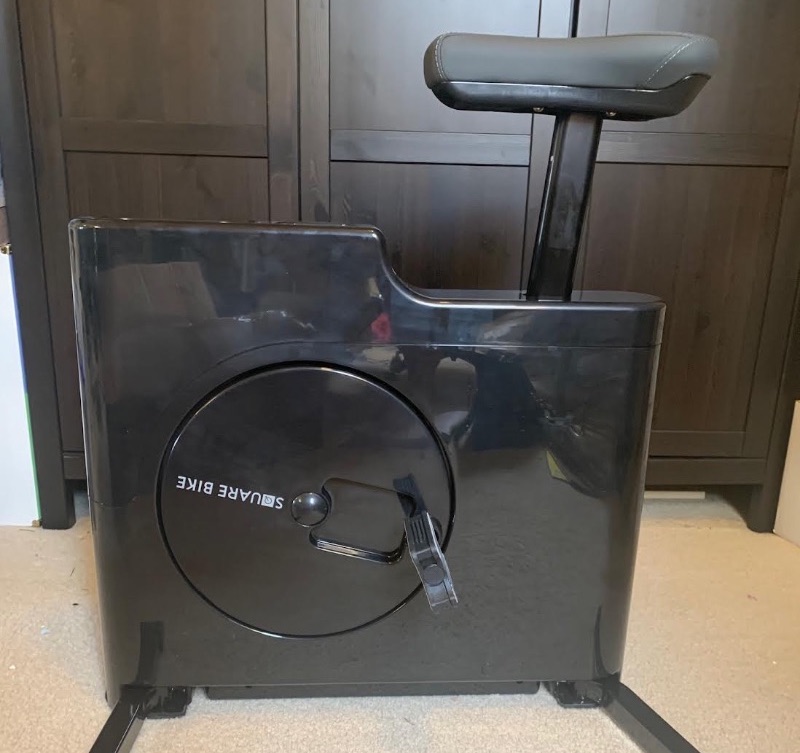 Cardiovascular Health
Using a folding exercise bike can improve your cardiovascular health by increasing your overall aerobic fitness, which lowers your risk of developing cardiovascular disease. Biking regularly may decrease your resting heart rate, lower blood pressure readings, and improve your cardiac output (how efficiently your heart pumps blood through the body).
Improved Circulation
Using a stationary bike, especially intermittently throughout the day, encourages blood flow and reduces fluid buildup in your legs. If you work a desk job, a folding exercise bike can be an antidote to swollen knees and ankles (a product of sitting all day).
More Daily Movement
Investing in a folding exercise bike is one way to help you increase your overall daily movement. You can easily take work calls from a stationary bike or hop on for five minutes as a quick break. Doing this will increase your non-exercise activity thermogenesis (NEAT), which is a fancy way of saying all the calories you burn outside of structured exercise or sport.
Budget-Friendly
Folding exercise bikes cost a few hundred dollars, max, whereas something like a Peloton or NordicTrack s22i Studio Bike. Of course, you won't get all the fancy tech specs with one of these folding exercise bikes, but if all you care about is pedaling and saving money, a folding bike is the way to go.
Space-Saving
Not only will a foldable exercise bike save you some cash, it'll also save space in your home. Whether you have a decked-out home gym setup or you're trying to make the most of a small apartment, a folding exercise bike will leave room for other equipment you're yearning for.
What to Look for in a Folding Exercise Bike
Before you buy, make sure to account for these factors.
Budget
Budget is always a good place to start. If you have a number in mind, you can filter your search on Amazon or wherever you're shopping. Generally speaking, $300 is on the high end for folding exercise bikes, while you'll find some priced as low as $80 to $100. Even with something as simple as a folding bike, you get what you pay for. We recommend looking in the $150 to $250 range if you can, as you're most likely to find the best value.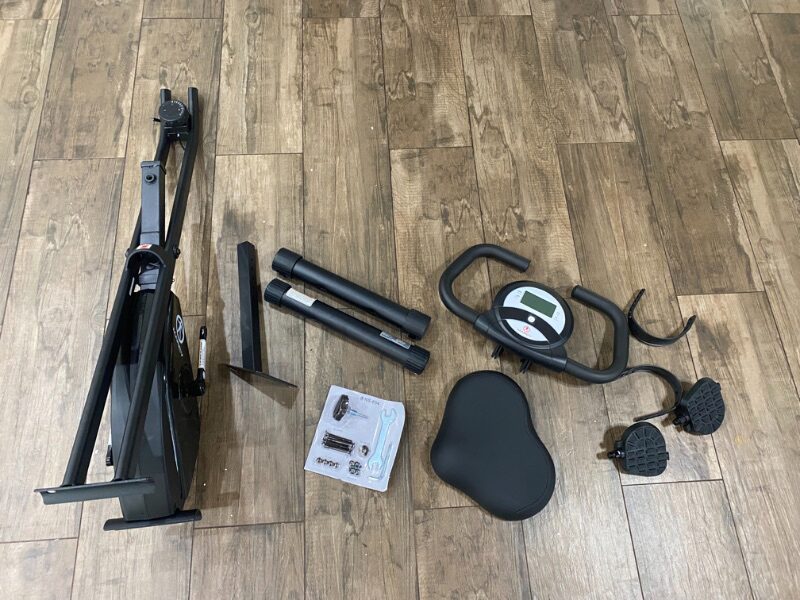 Ordering and Assembly
Make sure to double check the delivery notes before you click the buy button. Some of these bikes are pretty heavy, so it may be helpful for certain people to look for a folding bike with an indoor delivery option (versus having to drag it in from your doorstep). Some companies offer assembly services for an extra charge, but it's probably not worth it for most people as these bikes are pretty easy to put together.
Resistance Types
The type of resistance matters. Most folding exercise bikes have magnetic resistance, which produces the quietest type of flywheel. Magnetic flywheels also don't require any maintenance. An air-powered flywheel will be noisier and may require more maintenance, but has virtually unlimited resistance.
Conveniences and Comfort
Does the bike have an adjustable seat, a backrest, rear handlebars, and adjustable front handlebars? What about a water bottle holder, a place for your phone, or a cooling fan? These are all important features to look for and will make a difference in your overall experience with a bike.
Portability
Check to see if the folding bike has wheels for easy transportation. Most do, but not all, and it might be a dealbreaker if the bike isn't easy to move around.
Sturdiness
Check to see if the exercise bike stays still during heavy pedaling, especially if you're someone who's a little bit heavier. If it wobbles, it's probably not safe to ride on for long periods of time.
Best Folding Exercise Bike FAQs
How do I choose a folding exercise bike? 
When searching for a folding exercise bike, make sure to consider: your budget, the ordering and assembly process, the bike's resistance mechanism, comfort and convenience features, and portability.
RELATED: How to choose an exercise bike
Can you get a good workout on a folding exercise bike? 
Advanced exercisers may not feel like a folding exercise bike provides a good enough workout—people who have been exercising for a long time might be better off choosing a bike with more resistance settings or pre-programmed workouts.  However, those new to fitness can definitely get a good workout on a folding exercise bike. And, sometimes, it's not purely about the workout: Even fitness veterans can benefit from a folding exercise bike for warmups or for increasing their overall daily movement. 
Are exercise bikes good for losing weight?
Any exercise machine can help you lose weight, but remember, losing weight requires more than just exercise. Sustainable and permanent weight loss occurs when you burn more calories than you consume over time. This is achieved with both exercise and nutrition, as well as sleep, stress management, and other factors. 
Is it okay to use an exercise bike every day? 
Sure, you can use an exercise bike every day. Just remember that rest days are good and to take one when you need one.
Should I get an exercise bike, an elliptical, or a treadmill?
Treadmills, ellipticals, and exercise bikes have their own uses, pros, and cons. We recommend reading a variety of treadmill reviews and exercise bike reviews to learn more about high-quality cardio equipment and what type of exercise best satisfies your needs.
Is a folding exercise bike worth it?
Yes! They're space-friendly, usually pretty affordable, and can help you stay active throughout the day.
How much should a folding exercise bike cost?
You can find a high-quality folding exercise bike for under $500, and much less than that if you're willing to give up conveniences like an advanced monitor.