We test and review fitness products based on an independent, multi-point methodology. If you use our links to purchase something, we may earn a commission. Read our disclosures.
Home gyms just keep getting more and more futuristic. Between Peloton, Apple Watch, Hydrow, and all of the other smart home gym equipment out there, you can completely ditch your gym membership for a super high-tech home fitness space. We personally think a workout mirror is one of the best investments you could make if you decide to go this route—and after testing nearly 10 of them, we created this guide to the 4 best workout mirrors.
[Workout] Mirror on the Wall, Who's the Best Gym Review Website?
This guide is a joint effort between myself and Coop, master of home gyms. We both spent weeks with several of the best workout mirrors, testing them for production quality, versatility, workout experience, and so much more. Not only have we actually been hands-on with these products for extended periods of time, but we've also spent more hours than anyone can count with other smart home gym equipment and traditional workout equipment, allowing us to form educated opinions about the value and effectiveness of these workout mirrors.
Best Workout Mirrors in 2023
Best Workout Mirror Overall: Tonal
Good for: People who want a smart fitness mirror that allows them to lift heavy weights.
Tonal is the smart home gym for serious lifters. It's actually not a real mirror—it doesn't have a reflective screen like the others—but we still think it belongs on this list because it's close enough (and it does something other fitness mirrors can't do: allows you to lift up to 200 pounds).
The main selling point for Tonal is definitely the amount of resistance it offers. I don't think Tonal can truly replace a barbell and weight plates, but I do think it can be an all-in-one solution for people who don't do things like Olympic weightlifting or extreme powerlifting. Basically, if you're the average fitness enthusiast who likes resistance training and wants smart gym equipment, Tonal is the way to go.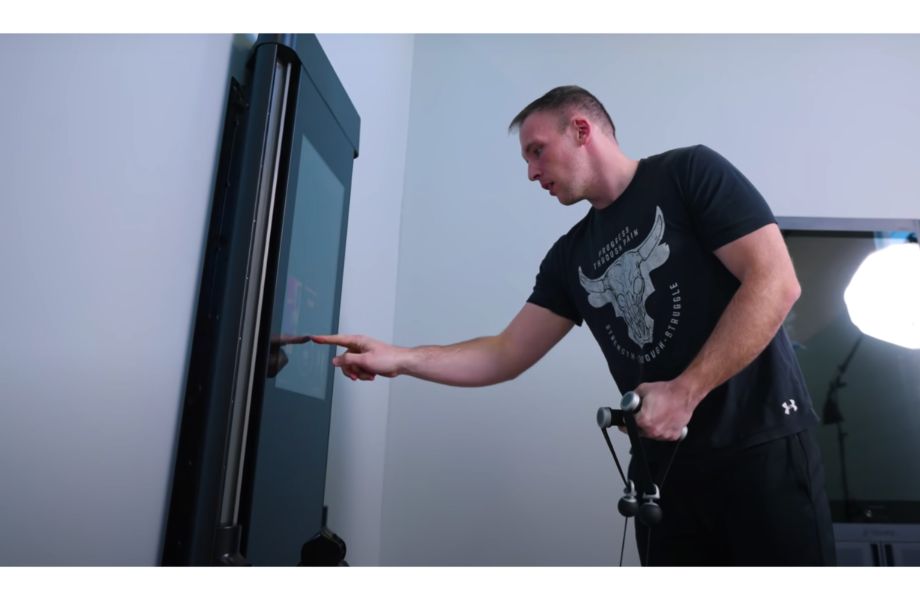 It has on-demand workouts as well as a live class schedule. The production is high-quality and the accessories, including the bench and workout mat, are comfortable and nice to use. In my opinion, the best thing about Tonal is how it continually assesses your strength and automatically adjusts the weight for you based on the movement, your strength assessment, and the number of reps and sets.
On Tonal, you can control everything directly from the touchscreen or from the app. I prefer to just use the screen as I find it more convenient. Workouts are categorized by type (e.g., strength training, cardio, etc.) as well as by duration, and fitness level. Tonal also has some great periodized programming, which sets it apart from other workout mirrors. Periodized programming is important for effectively reaching fitness goals, as it progressively challenges your body.
My only gripe with Tonal is that it's kind of annoying to do full-body workouts. Because you have to adjust the arms every time you do a new movement, it adds a lot of time between sets. For this reason, I found myself doing only straight sets on Tonal instead of doing any supersets or circuit work.
Nonetheless, Coop and I both think Tonal is a fantastic strength training tool and deserves a spot in any high-tech home gym.
Read our full Tonal review and full in-depth Tonal vs. Tempo comparison!
RELATED: Tonal Coupon
Best Budget Workout Mirror: lululemon Studio Mirror
Good for: People who want virtual personal training and classes in a small package.
OK, budget workout mirror is a relative term, but at around $995 the lululemon Studio Mirror is your best choice out of all our recommendations.
The standout feature here is the one-on-one personal training. The Mirror has a two-way camera that allows you to directly engage with a certified personal trainer in your own living room. The personal training sessions cost an extra $40 per half-hour on top of the $39/month subscription. That's actually really inexpensive for 1:1 personal training, and the fact that you don't have to leave your house for it is amazing. The lululemon Studio Mirror is something we recommend over and over again.
The Mirror was the first interactive workout mirror to hit the market, hence the very appropriate name. It's a smart home gym that doubles as a full-length mirror. It's literally like a gym membership, but in the comfort of your own home.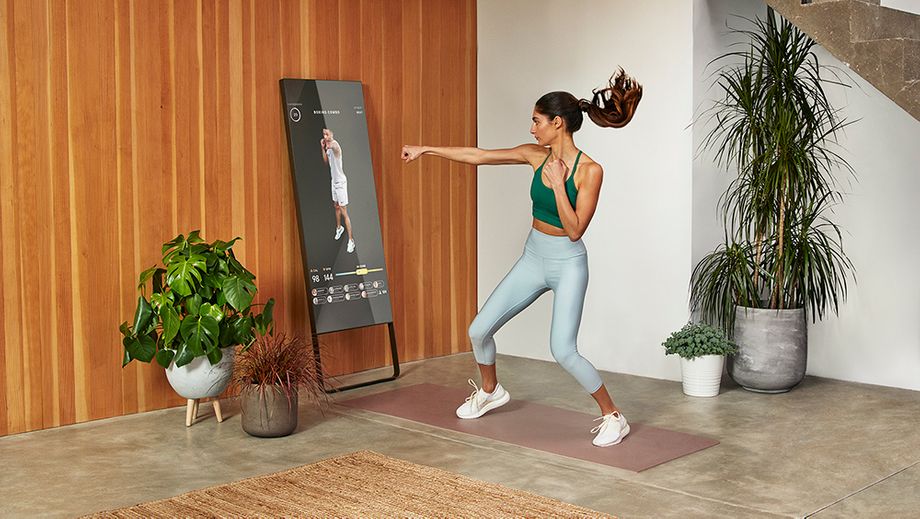 RELATED: Home Gym vs Gym Membership
I definitely see the value in it for people who enjoy fitness studios and trying different types of classes. The classes are very high energy, whether they're on-demand or live.
They're also very community-driven. The Mirror has a library of over 50 types of workout categories, including strength training, yoga, cardio, HIIT, bootcamp, boxing, pre-/postnatal, flexibility, Pilates, barre, and more. Still, you're limited if you don't separately buy things like dumbbells and kettlebells.
I have to give a nod to the production quality: It's very clear that Mirror has invested a lot of money and effort into hiring not only energetic and educated trainers, but talented audio/visual professionals. You can make adjustments to trainer volume and music volume independently if you want, which I think is a fantastic feature. There are several music stations built in, and you can also connect Mirror to your Apple Music or Spotify account to stream the music you want to listen to.
As for delivery and setup, it's a breeze. A professional team will come install this compact exercise equipment on the wall of your choosing or set it up on the carbon steel stand. Everything will be up and running before they leave.
Read my full MIRROR review.
Best Workout Mirror for Weightlifting: Tempo Studio
Good for: People who like to try many types of exercise and thrive on coaching feedback.
Tempo Studio is a freestanding workout mirror with an A-frame cabinet that houses your fitness equipment. The base Tempo package comes with a workout mat, two 7.5-pound dumbbell handles, four 10-pound weight plates, four 5-pound plates, four 2.5-pound plates, and four 1.25-pound plates. If you want to lift heavier weights, you'll have to upgrade your package to one that includes the barbell and more weight plates, or buy extra weight plates separately.
I recommend Tempo to anyone who likes to do a lot of different types of home workouts and enjoys receiving feedback on their exercise technique. Tempo's AI is especially helpful for beginners who may still need help developing safe exercise form.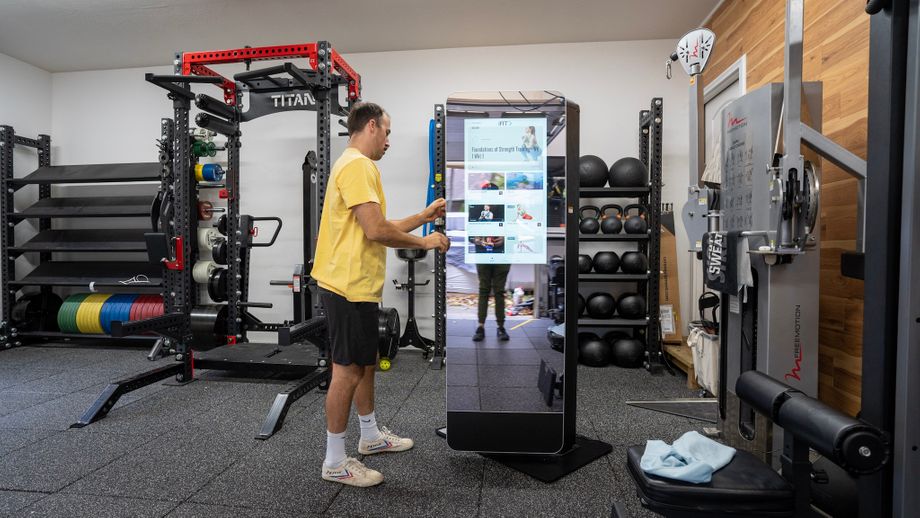 Similar to the Peloton Guide, as you work out, Tempo's 3D motion sensors capture your movement to detect form deviations. If a deviation is detected, Tempo shows a cue on-screen to help you fix it. For example, if your heels raise up during squats, Tempo will remind you to keep your feet flat on the ground.
Related: Check out our Peloton Guide review.
You'll have to subscribe to the Tempo Fit app to access the workouts, just like with all of the other mirrors. When you do, you'll get live and on-demand workouts that feel just like being in a fitness studio, complete with high-energy music, motivating instructors, and a leaderboard.
(Pssst: Get the best Tempo discount codes.)
Best Workout Mirror for Studio Workouts: NordicTrack Vault
Good for: People who want an all-in-one smart home gym with immersive fitness classes.
The NordicTrack Vault is a solidly-built workout mirror, but we wouldn't exactly call it "smart" like the others. It's not as high-tech, but that doesn't mean it isn't fun to use. The Vault uses iFit, which is one of our favorite apps for interactive programming. Very few fitness streaming apps offer workouts as immersive as what you get with iFit.
So, while there aren't any smart personal training capabilities or rep tracking, you can still get an effective and enjoyable workout with the Vault. This workout mirror comes with a suite of workout equipment, or you can choose the standalone version if you already have dumbbells, kettlebells, and other equipment. Both versions come with vertical storage that includes shelving and hangers to neatly organize your equipment.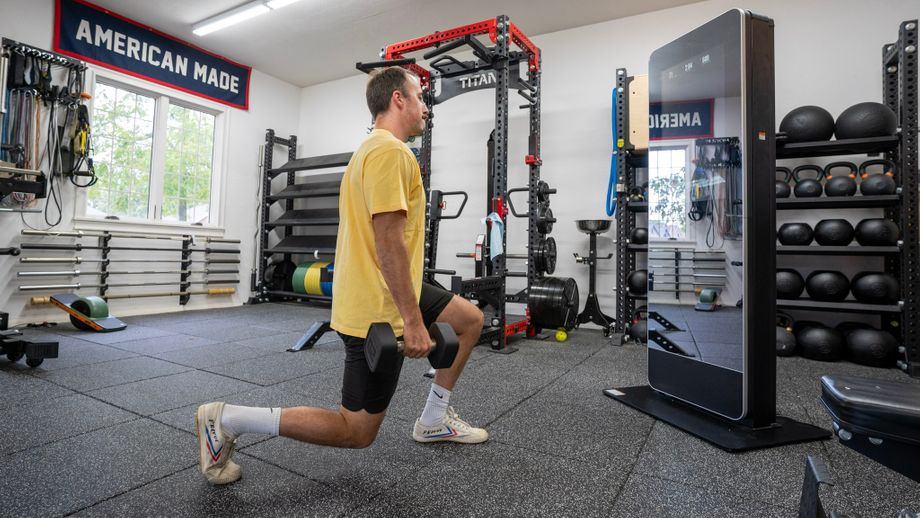 As far as build goes, the Vault is impressive—a beast of a machine, if you will. It weighs 258 pounds without the accessories. The base is heavy, making it feel very stable, and you can bolt it to a wall for extra stability if you want. It has a beautiful reflective screen and nice, large speakers. The accessories sit solidly on the shelves without worry that they'll cave or bend.
The equipment that comes with the Vault is very high quality: There's great knurling on the dumbbells, and the kettlebells and bands feel nice in use. Coop thinks adjustable dumbbells are the way to go for systems like this, but I beg to differ. This just goes to show that there's really no true best workout mirror: They all have their own qualities and characteristics that are good for some people, not for others.
Just please– don't store this in your garage. One of our lovely readers had their warranty voided on a NordicTrack product because they kept the machine in their garage. It is in the fine print within the manual, so it is something to be aware of.
Anyway, the bottom line for the Vault is, if you enjoy the type of immersive programming that iFit offers, the Vault is an awesome vessel to stream it.
Read my full NordicTrack Vault review.
Other Workout Mirrors We Researched
In addition to our top four picks for smart workout mirrors, we have also tested and researched a few others. Here are our thoughts on the ones that didn't make the top list.
Echelon Reflect
Neither Coop nor I were impressed with the Echelon Reflect. For starters, Coop's arrived in unusable condition with the screen smashed. So, as of this writing, he didn't even get a chance to try it yet. But as Coop always says, delivery is the first impression when it comes to home gym equipment, and the Reflect did not make a good one.
My experience with the Reflect was better than Coop's, but not ideal. It didn't make a great first impression on me, either, because I didn't realize when ordering that there was no installation assistance. That's my fault—I should've paid more attention—but I was not enthused when I had to wall mount the 52-pound, 50-inch device myself.
Once I got the Reflect turned on, I was hoping for a redemption. I didn't get the one I was hoping for. The content quality isn't up to par with other options on the market (grainier visuals, wonky audio), yet it's priced the same as the lululemon Studio Mirror. The workouts themselves are good. If you can get past the sometimes-frustrating production quality, you'll enjoy the 2,000+ built-in workouts on the Reflect.
Check out our full Echelon Reflect review here.
Proform Vue
I didn't test the Proform Vue, but Coop did, and he wasn't impressed. Similar to my thoughts on the Echelon Reflect, Coop feels the Proform Vue isn't worth its price point. Again, at $1,500, you should consider choosing the lululemon Studio Mirror or even the base version of the NordicTrack Vault, which costs $1,999 for the device sans equipment and accessories.
Coop's overall sentiment? Disappointed. While the aesthetics are great—the reflective screen looks nice and the design is sleek—the functionality lacks. The touchscreen can be buggy and slow to load. And honestly, the equipment it comes with isn't high-quality either. In Coop's opinion, a better value proposition would be to lower the price and just not include the equipment.
Unlike the lululemon Studio Mirror, Tempo, and Tonal, there's no white glove delivery. The assembly is pretty straightforward and simple, though, with the exception of the storage pegs of the back of the machine. Those are difficult to install as they have very small screws and awkward positioning. Be warned: do not assemble and keep this in your garage. The Vue's warranty will be voided.
Pretty much the only selling point of the Vue is that it uses iFit programming, but if you want iFit programming, you should go with the NordicTrack Vault, which has better hardware, video, and audio quality.
Forme Studio Lift
We haven't tested this fitness mirror, but we're keeping our eye on it. It looks like a cross between Tonal and the Studio Mirror, with a mirrored screen and motorized arms for resistance training. From what we can tell, the Forme Studio Lift has a large workout library with on-demand classes and encompasses most of the latest tech: a 43-inch 4K display, two-way camera for 1:1 personal training, and independent motors for the resistance training arms.
It also comes with a good deal of equipment and accessories, including a non-slip exercise mat, cleaning supplies for the mirrored screen, a rope attachment, short bar, ankle straps, handles, and more. And it's built with a storage cabinet to tuck away all of this equipment when not in use.
The price point throws us off a bit: It's the most expensive workout mirror we've come across at $5,995. We can't give a true recommendation for this workout mirror until we try it, but we thought it was worth including, and we will update this review when we do get our hands on it.
How We Picked and Tested
Coop and I spent a few weeks with each fitness mirror. We both tested the lululemon Studio Mirror, Tempo Studio, Tonal, and NordicTrack Vault. I tested the Echelon Reflect and he tested the Proform Vue.
Here's the criteria we looked at for workout mirrors. We kept all of these factors top-of-mind as we worked out with each fitness mirror, making sure to engage in the full breadth of features each offered, on the apps and the devices themselves. We completed workouts in several categories on each mirror, and for the ones that came with equipment, we made sure to use all of the items.
Purchase price
How much does the unit cost? Does it cover everything, such as attachments, or do you have to pay more for certain features?
Monthly subscription fees
Most workout mirrors require a monthly subscription fee to access all workouts and features. We considered how expensive each one is.
Financing options
Does the company allow you to finance your purchase?
Delivery and assembly
Are there options for white glove delivery and assembly? How difficult is it to assemble yourself?
Durability
Will the unit last long? How about the attachments?
Tech specs
Are things like WiFi and Bluetooth connectivity, smart features, cameras, and speakers included? Are they of good quality?
Audio and video quality
It's the Year of Our Lord 2023—these workout mirrors should have clear, or at least non-lagging video and audio quality.
Music options
Can you play music during your workouts? Does it come through the machine or can you sync your Spotify account?
Types of workout classes
Is there only one type of workout class or is there a variety?
Instruction
Does the workout mirror offer things like real-time feedback, form corrections, cues, weight recommendations, etc.?
Workout experience
How challenging were the workouts?
Versatility
Can the workout mirror be used for different training types? How many exercises can you do with it?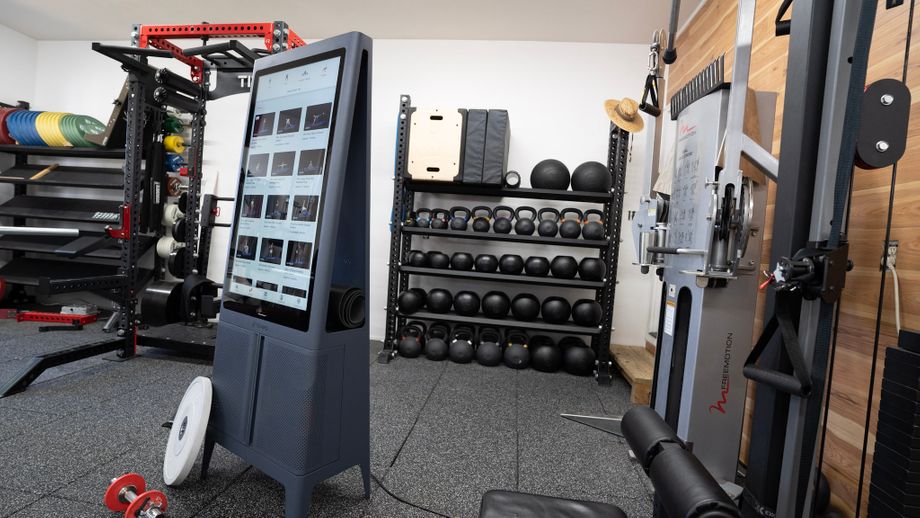 What is a workout mirror?
The most innovative piece of training equipment you can get your hands on nowadays is a workout mirror. It's literally a mirror with a built-in digital screen that lets you view your reflection while also following along with the actions on the screen. It's like having your own high-tech membership with your own fitness trainer at home.
Some of the fitness mirrors also have cameras, sensors, and other features that can instruct you through custom exercises, automatically alter weight and intensity, and even measure your progress. The variation and functionality of this single piece of training equipment is very unique!
Are Workout Mirrors Worth It?
Workout mirrors are definitely here to stay, and I think they're worth it for a select group of people: those who have a climate-controlled indoor space and want a lot of versatility in a relatively small package. And, of course, people who have the budget for one of these things.
What I definitely don't want to do is make anyone feel like they need a fitness mirror or any other fancy, high-tech smart home gym equipment. There is literally nothing you can do on these mirrors that you can't do with a good ol' barbell, some weight plates, and a pair of dumbbells. If guided instruction or a training program is what you're after, there are plenty of apps, such as Future, JuggernautAI, and NCFit to help with that.
That said, a smart fitness mirror can definitely be the right solution for someone who:
Wants an indoor home gym
Has enough space to house a fitness mirror (and wall space to install it, if applicable)
Doesn't mind paying a subscription fee for the workouts and coaching on top of the purchase price
Tends to like boutique fitness studio vibes
Doesn't have an interest in powerlifting or Olympic weightlifting (most fitness mirrors aren't very conducive to heavy lifting or advanced barbell training)
Has the budget and wants a smart fitness mirror as an accessory to their other home gym equipment
I wouldn't recommend a workout mirror to someone who:
Wants to build their home gym outdoors or in a non-climate-controlled garage (this voids the warranty on smart workout mirrors)
Is interested in training for powerlifting, Olympic weightlifting, or CrossFit
Doesn't want to pay a monthly membership fee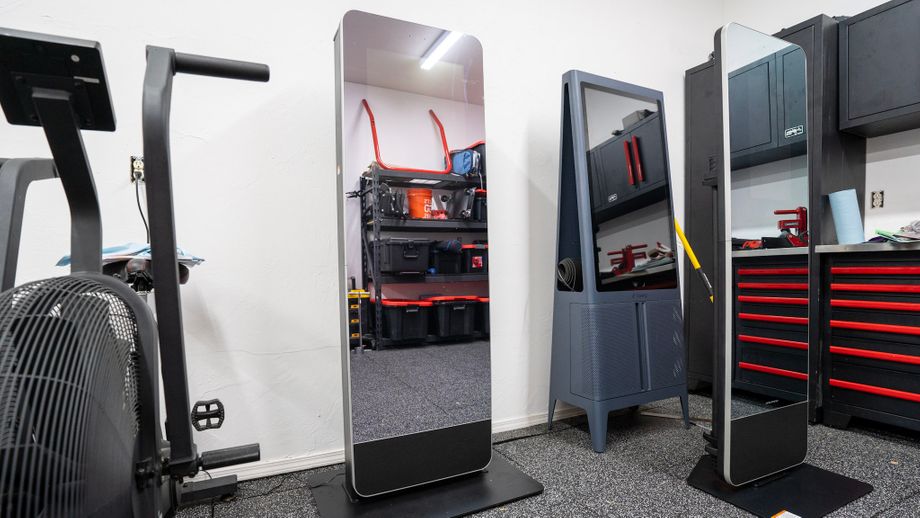 How to Choose the Best Workout Mirror for Your Home Gym
Choosing a workout mirror is no small decision. They aren't exactly budget-friendly pieces of equipment, so it's a good idea to really dig into your priorities and what you want and need out of a smart fitness mirror. Here are some factors we suggest considering before you purchase.
Budget
Definitely set your budget first. Workout mirrors are priced around $1,000 on the low end and upward of $5,000 on the high end. Don't forget to factor in monthly subscription prices, too, since all of these devices require a membership to operate. If you plan on financing, make sure to check interest rates.
Overall, we know MIRRORs can be expensive, but you always catch a great deal during specific times of the year, such as Black Friday or Labor Day to score a discount.
Space and Installation
Make sure you have enough floor space and wall space for the workout mirror you want. Some, like Tonal, require a good bit of empty wall space. Others, such as Tempo Studio, don't require wall installation but do require ample floor space to work properly.
Type of Workouts
All of our top picks for workout mirrors have many workout categories. It's standard that these devices come equipped with strength training, cardio, interval training, and some sort of wellness classes, such as yoga, Pilates, or flexibility training.
Classes
All workout mirrors have some element of instruction, but if you want true one-on-one personal training, you're limited to the MIRROR or Forme Studio Lift. Tempo Studio and Tonal use artificial intelligence to provide exercise corrections and suggestions, while the NordicTrack Vault and Proform Vue utilize interactive programming.
Check whether the device you want has live classes, on-demand classes, periodized programming, or challenges to keep you motivated. It's essential to choose a fitness mirror that offers the type of programming you enjoy, otherwise you'll have a very expensive hunk of metal sitting in your home.
If you're wondering how virtual workout classes differ from in-person, here's what GGR writer Caroline Lubinsky had to say: "Mirror workout classes are an excellent choice for people who are short on time or prefer to workout solo. I enjoy being able to simply walk over to my fitness mirror and begin a workout with the tap of a button. You don't have to worry about comparing yourself to others or spend 40 minutes in the car driving to a group workout class––you'll get a similar experience with less hassle when using a fitness mirror."
RELATED: Best Online Workout Programs
Included Equipment
Obviously, the more equipment you have, the more movements you can do. Some workout mirrors come with dumbbells, kettlebells, resistance bands, yoga mat, heart rate monitor, recovery rollers, yoga blocks, and more, while others have the option to add on accessories and equipment. If you already have gym equipment, you can just use what you have to complement your experience with a workout mirror.
Free Trial
Some workout mirrors offer free trials of their consoles or app, so consider trying one out for a few weeks to see if it's something you'd like to stick with. This also allows you to get your money back should you decide it's not the right fit.
Benefits of Workout Mirrors
Workout mirrors have three benefits: convenience, accountability, and versatility.
They're convenient because you don't have to travel to a gym to train—all you have to do is walk into the room where your workout mirror is set up and get moving.
The accountability factor doesn't apply to all workout mirrors, though many offer some mechanism to keep you on track. It's like a personal trainer who lives in your home (OK, that's a little weird, but you know what we mean).
Versatility, of course, refers to the fact that you can do many types of workouts with workout mirrors.
FAQs About Workout Mirrors
What is a workout mirror?
A workout mirror is a type of smart home gym equipment that uses a mirrored screen to display live and on-demand workout classes.
How much does a workout mirror cost?
Workout mirrors range in price from about $1,000 to more than $5,000. They also require monthly memberships to work, ranging from about $20 per month to more than $50 per month.
Are workout mirrors like personal trainers?
Workout mirrors serve less as personal trainers and more as group fitness instructors. For the most part, you'll be following along with a certified fitness trainer in a way that mimics group fitness classes. Some workout mirrors, such as Tempo Studio, utilize smart technology that provides technique feedback to help you improve your form. The MIRROR is the only workout mirror with true personal training capabilities.
Can a workout mirror see you?
No, workout mirrors can't see you, unless you enable a two-way camera. The MIRROR is the only smart fitness mirror with a two-way camera for personal training capabilities, and you can always turn it off or cover it.
What kind of workouts can you do with a fitness mirror?
Fitness mirrors have workouts spanning a large range of workout categories. Most include strength, cardio, yoga, mobility, high-intensity interval training (HIIT), and bootcamp-style classes.
Do workout mirrors have to be installed on your wall?
Some workout mirrors require wall installation, such as Tonal, while others have the option to use a floor stand.
Are workout mirrors worth it?
We think there are many people who can benefit from a workout mirror, including those in compact workout spaces, those short on time, and those who are interested in the future of fitness.
How does a workout mirror work?
It depends on the model. Some have a two-way camera that allows a trainer to see your workout form, while others use AI (artificial intelligence) to judge your form. Others simply have virtual workouts on the screen for you to follow along with at home.