We test and review fitness products based on an independent, multi-point methodology. If you use our links to purchase something, we may earn a commission. Read our disclosures.
Gone are the days when "home gym setup" meant an Olympic barbell and some weight plates occupying a corner of your garage. These days, fitness enthusiasts have full-fledged gyms in their garages, basements, backyards, and even living rooms—and lots of them are brimming with the latest, greatest smart home gym equipment.
In our Echelon Reflect review, I take a close look at one contender in the smart workout mirror category and tell you if it's worth your money.
Why You Should Trust Us
I've tested most of the major smart workout mirrors on the market, as has Coop. Combined, we've tested them all. Coop and I have used the various smart mirrors in our own home gyms for weeks, making sure to do different types of workouts and consider every part of the experience, from workout experience to audio and visual quality to tech specs.
Echelon Reflect Fitness Mirror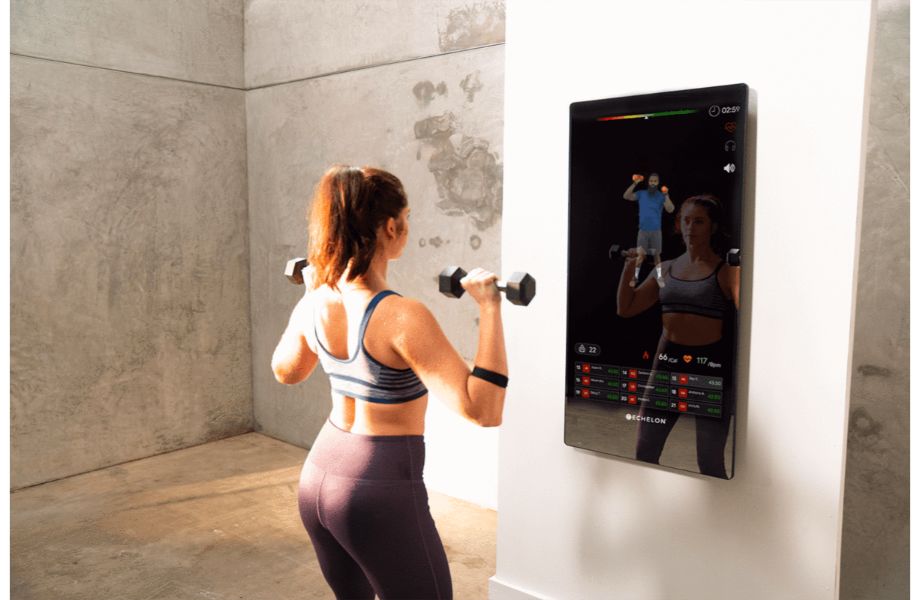 Echelon Reflect 50-inch
Echelon Reflect is a smart fitness mirror from Echelon Fitness. It has more than 2,000 workouts built in, which you can stream on the 50-inch class HD touchscreen. The mirrored display allows you to self-correct your exercise technique as you follow along with your fitness instructor. On the Reflect, you can do yoga, kickboxing, cardio, strength training, Pilates, bootcamp classes, and more.
A Quick Look at the Echelon Reflect
The Echelon Reflect is a smart workout mirror from the brand Echelon Fitness, which also makes treadmills, exercise bikes, and rowing machines. There are two versions of the Reflect: a 40-inch, which isn't a touchscreen, and a 50-inch, which has a 32-inch touchscreen. We tested the 50-inch touchscreen version, which is officially called the Reflect Touch.
The Reflect is, in essence, identical to the other products in this category of fitness equipment. It's a reflective surface that streams live fitness classes and on-demand workouts. But, much more goes into the making of a good fitness mirror than that.
My Tips:
Echelon doesn't offer white-glove delivery for the Reflect, so be ready (or have someone ready) to hoist a 52-pound mirror onto wall brackets. I recommend having two people complete the installation.
There's no option to connect the Reflect to third-party music streaming services (i.e. Apple Music or Spotify), so you'll need to have a separate audio setup, whether that's a speaker or Bluetooth headphones connected to your phone.
Buy an 8-inch-by-8-inch VESA stand if you don't want to mount the Reflect to your wall.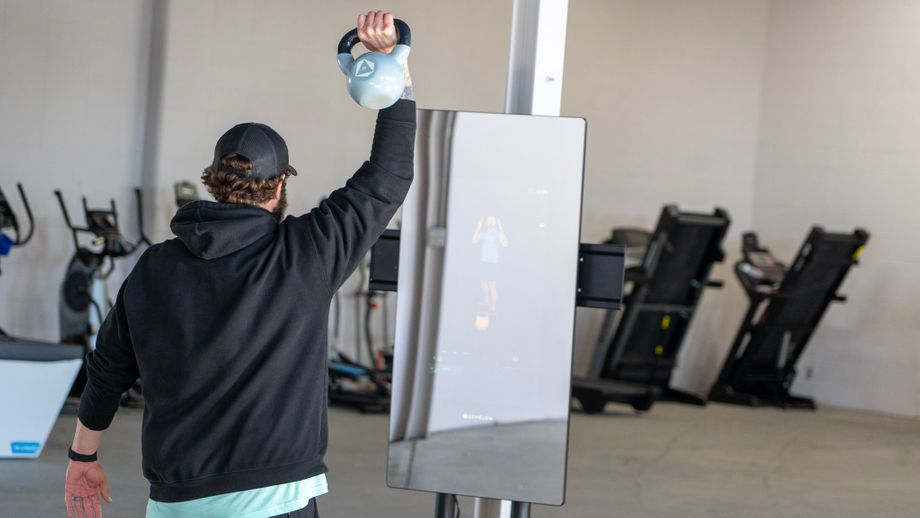 My Favorites:
The Reflect looks great hanging up on any wall
Live workouts and on-demand classes available 24/7
No app download required for the 50-inch Reflect
My Callouts:
Audio and visual quality is not the best
Touchscreen can be buggy and lag
Wall mounting process requires two people
Is the Echelon Reflect Worth It?
I feel the same way about the Echelon Reflect as Coop does about the ProForm Vue: There's better out there for the price.
At $1,500, the Reflect's production quality is poor compared to other workout mirrors at this price point. After testing the Echelon Reflect, the MIRROR, and most of the other workout mirrors on the market, I'm of the mind that you're better off spending $1,500 on the MIRROR or putting it toward a more expensive, but higher quality, product (such as Tonal).
I always try to see the best in fitness equipment and identify who the product might be good for, even if I didn't have an impressive experience. In the case of the Echelon Reflect, I was only able to come up with one group of people who might be better off buying it instead of another similar option.
Great for:
People who already use Echelon United for other Echelon equipment and don't want to subscribe to a different fitness streaming app.
Not recommended for:
People looking for the highest quality workout mirror.
People who want a fitness mirror that comes with strength training equipment.
Echelon Reflect Specs
| | |
| --- | --- |
| Dimensions | 50" H x 20" W X 2" D |
| Weight | 52 lb |
| Display | 50" mirror, 32" HD touchscreen |
| Speakers | Bluetooth audio compatible |
| Microphone | None |
| Camera | None |
| Power | Standard AC outlet |
| Heart Rate | No |
| Warranty | 12-month limited parts and labor |
Using the Echelon Reflect
In concept, the Echelon Reflect mirrors (see what I did there) the MIRROR, which is considered the original smart workout mirror. The Reflect does what it's supposed to—streams workout classes—but it doesn't do it as well as some other fitness mirrors.
Overall, I wasn't enthused by my experience. The audio and visual quality are subpar compared to other products in its class and at this price point, and the lack of real "smart" features such as rep tracking or form feedback made me feel less engaged than I felt while testing other workout mirrors.
There are some things I like about the Reflect, including the sleek design and ability to navigate the menu directly from the screen, but not enough to make me feel like it's worth $1,500 considering the other options.
Types of Workouts
With the monthly membership, the Reflect Touch has all the basic workout categories you'd expect from an all-in-one home workout solution:
Cardio/endurance
Strength training
Bootcamp/HIIT
Dance cardio, such as Zumba
Pilates
Yoga
Barre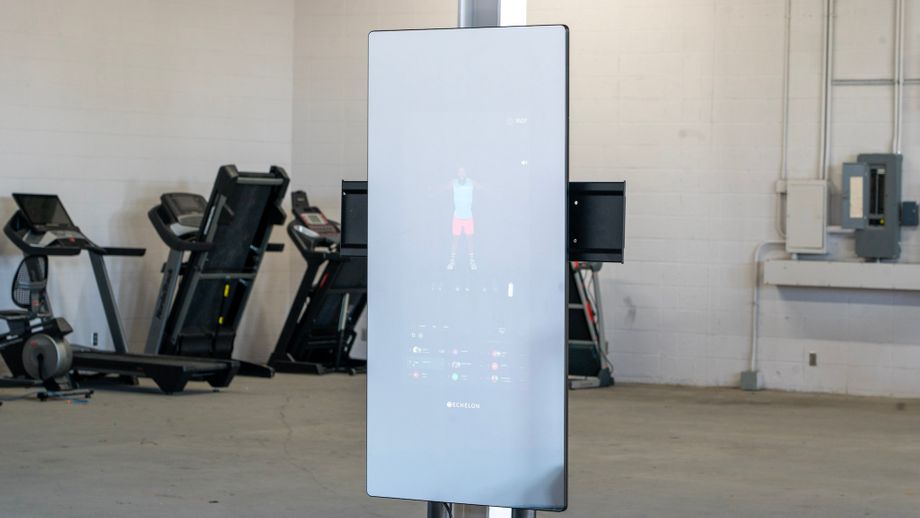 In my opinion, the Reflect's saving grace is the workouts themselves. Despite being someone who prefers lifting weights, doing CrossFit, or training for endurance events, I found myself enjoying most of the Reflect workouts I did. Of course, it would've been more enjoyable had the production quality been better, but if I'm talking about the actual workouts and nothing else, I give Echelon a thumbs up.
You do need to subscribe to Echelon United to get all of the workouts. There's a monthly fee of $40 per month, but the price drops slightly if you prepay for a year or two years. The app is available for iOS and Android, but you won't actually need it if you buy the Reflect Touch 50-inch mirror: You can log into your account directly from the touchscreen and navigate on-screen.
Here's a pro tip: If you're interested in trying Echelon workouts before committing to a $1,500 piece of equipment, sign up for a 30-day free trial of Echelon FitPass. This is a separate subscription (it'll cost $12 per month after the trial) for off-equipment workouts. This'll give you a taste of the workout class style you'll get on the Reflect.
Community
If you're big on community, you'll love the Echelon United app. Within the app, you can post workout results and view others' results on your feed; celebrate milestones such as your 10th, 50th, and 100th workout; join challenges; and view a leaderboard for certain types of classes.
Equipment
The Reflect doesn't come with any gym equipment. If you want to do strength training workouts that require dumbbells, kettlebells, a barbell, or any other equipment, you'll have to buy that separately. Echelon United does offer plenty of bodyweight strength training workouts, though.
Audio and Visual
This is where the Echelon Reflect disappointed me most. The A/V quality just isn't there. Although the specs say the Reflect has a 1080p HD display, the graphics look a bit fuzzy, especially when compared to the crystal-clear imagery on other workout mirrors. The audio could also be better: Sometimes, the music volume is too loud to properly hear the instructor, and sometimes, the instructor volume is too loud and drowns out the music. Independent audio controls could fix this, although the best solution would be better audio editing at the time of production.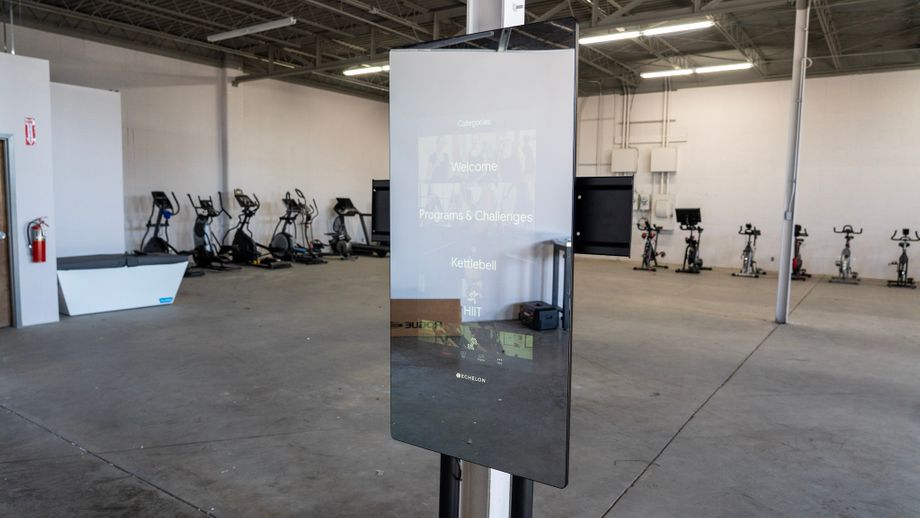 Tech Specs
The Reflect is typically lumped into the category of smart workout mirrors, but it's not the smartest of the bunch. In fact, the Reflect doesn't have what I'd call true "smart" features, just basic tech features you'd expect from this class of equipment.
By the basics, I mean a touchscreen display and Bluetooth connectivity. The Reflect doesn't track reps or critique exercise form like Tempo, and it doesn't have smart weight calibration like Tonal. It's essentially a big screen for displaying your home workouts. You could, theoretically, do the same thing on your phone or an Apple TV.
I don't say this to knock the Reflect, but to make sure people know what they're buying. For a true piece of smart home gym equipment, look to Tempo Studio or Tonal.
Suggested Improvements
Our team has tested other equipment from Echelon and love it all for the most part. We just feel the brand fell a little short with the Reflect. Here's what we would like to see in a new iteration of the Reflect:
Better A/V editing. A crisper image and clearer audio—and/or independent volume controls for music and instructors—would make the overall experience far better.
Native Apple Music, Spotify, or Pandora experience. I enjoyed how I could connect my Apple Music account directly to the MIRROR and play my own music choices from the native speakers, instead of having to silence the MIRROR music and play from a different speaker.
An improved filtering experience. Getting more granular with workout filtering would help members more quickly find the workouts they want to do.
More sensitive touchscreen. Reducing lag time and bugginess on the touchscreen alone would serve as a major improvement to the product.
VESA stand included with the product. I would've loved to have the option to use a stand instead of drilling holes to mount the Reflect on my wall, without having to purchase something separately.
White glove installation. It's super helpful to have professional installers handle a product as bulky, heavy, fragile, and expensive as the Reflect. I would (and most people probably would) pay extra for this.
Camera for shout-outs and personal training. While I didn't use the camera when I tested the MIRROR, I know a lot of people really enjoy the real-time instructor shout-outs during live classes and the personal training capabilities.
With those improvements, I think the Reflect would be well worth its $1,500 price tag.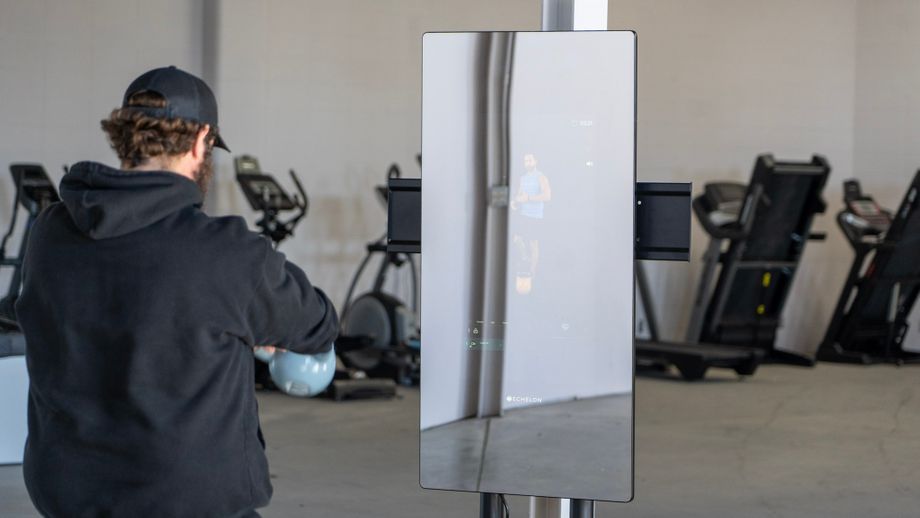 Echelon Reflect vs. The MIRROR
Though there are several workout mirrors out there, the Echelon Reflect is most often compared to the MIRROR. This is because, on the surface, they're the most similar: Unlike the others—Tempo Studio, Tonal, ProForm Vue, and NordicTrack Vault—the Reflect and MIRROR both have wall mount and stand options; neither come with equipment; and they're both reflective surfaces that stream workouts.
Both fitness mirrors require a monthly subscription and connect to your WiFi to deliver the content.
However, the Reflect and the MIRROR differ in a lot of ways. For one, the MIRROR has superior audio and visual quality. It also has more workout categories you won't find on the Echelon, such as pre-/post-natal workouts; compatible heart rate monitors; and a leaderboard you can view during live classes.
Unlike the MIRROR, the Reflect doesn't have a two-way facing camera, and as such, there's no real-time personal training functionality. While the instructors do a good job of, well, instructing you through the workout classes, it's no substitute for a one-on-one personal trainer.
One thing I do like about the Reflect over the MIRROR is that you don't have to subscribe to a secondary app to deliver content through other workout equipment. For example, if you already have a different Echelon product (such as the Echelon Stride treadmill), you only need one membership to Echelon United to do workouts on both machines. 
You can read our full Lululemon MIRROR review for more details, plus our guide to the best smart workout mirrors to see how the Echelon Reflect stacks up against other popular fitness mirrors.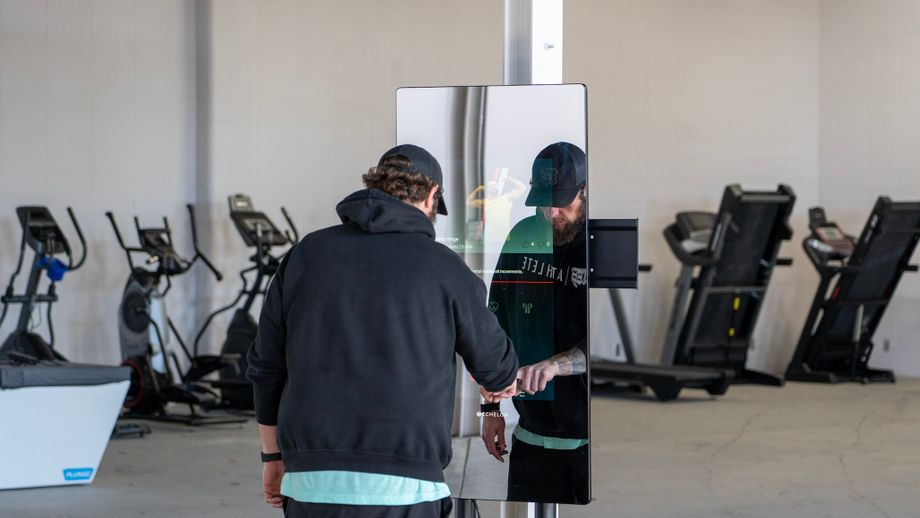 Ordering, Unboxing, and Assembling the Echelon Reflect
My Echelon Reflect arrived packaged well, with no damage to the unit. Unfortunately, Coop can't say the same. When he opened his Reflect, it was cracked and unusable. I searched for customer reviews to find out if anyone else had the same problem, and I didn't find any, so I think it's safe to say that it was a fault of the delivery service and not Echelon.
Footprint and Portability
The Reflect isn't designed to be portable, nor are any other workout mirrors. It weighs 52 pounds and mounts to your wall using steel brackets, so make sure you choose a spot you really like. Of course, you can move it if you need to, but you will have to patch and paint the screw holes from the first installation.
Although there's no information about this on the website, you can also opt to mount the Reflect on a 200-by-200-millimeter (8-inch-by-8-inch) VESA stand—the same kind you'd buy for a 55-inch TV. I did not know this until I received the Reflect, because the only place this information appears is in the instruction pamphlet. Had I known at the time of ordering, I probably would've ordered a stand to avoid drilling holes in my wall. But, by the time I got the Reflect, I didn't want to wait any longer for a stand to be delivered.
If you mount the Reflect on your wall, it doesn't require any floor space. Using a stand will require a few square inches of floor space, plus the recommended 6-foot-by-6-foot area to make sure you don't smack your hand on a piece of furniture while working out (been there).
Construction and Durability
Once it's up on the wall, the Reflect isn't going anywhere unless you purposely take it down or, perhaps, experience a major earthquake.
The wall brackets feel very strong and sturdy, despite the device weighing a hefty 52 pounds.
The mirror itself is fingerprint-resistant and the frame on the back of the reflective surface is thick, durable plastic.
Customer Experience
Echelon seems to take care of its customers. If you have any problems, you can reach the company via phone or text, which is super convenient. You can also submit a support request through the website or browse the FAQ page to see if your question is answered there.
The Reflect is backed by a 30-day satisfaction guarantee: You can return the product for a full refund, no questions asked, within 30 days if you don't like it. Better yet, Echelon sends a prepaid shipping label for all returns. This return policy does not apply if you order the Reflect from a third-party retailer such as Amazon. You'll need to check the retailer's return policy if you purchased from anywhere that wasn't echelonfit.com.
As for warranty, you'll get a 12-month limited parts and labor warranty when you buy the Echelon Reflect.
Customer Reviews
Echelon Reflect reviews online are lukewarm for the most part, although the product has an average four-star rating.
A lot of buyers complain about the same things I've mentioned: Wonky audio, grainy visuals, and that the screen is smaller than expected (only 32 inches of the full 50-inch mirror). Some reviews also say the workouts aren't super engaging, but just okay.
There are some overwhelmingly positive reviews, such as from one buyer who said the Reflect helped her pivot her workout routine after hospitalization.
Final Verdict of Our Echelon Reflect Review
When all is said and done, the Echelon Reflect is a relatively simple product that allows you to complete various workouts from the comfort of your own home.
The Reflect is very similar to the MIRROR, but the production quality isn't as good.
It doesn't come with dumbbells or any other equipment, but you could use any items you already own.
The same app that streams on the Reflect also streams on other Echelon products, such as the Connect Bikes.
Full Rating
Echelon Reflect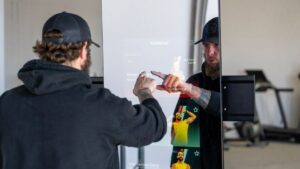 The Echelon Reflect is a fitness mirror from Echelon Fitness. It streams live and on-demand workouts in a variety of categories, including strength, HIIT, cardio, yoga, and more.
Product Brand: Echelon Fitness
Product Currency: USD
Product Price: 1500
Product In-Stock: InStock
Echelon Reflect FAQs
Which is better, Echelon or MIRROR? 
After thorough testing, the Garage Gym Reviews team has decided that the MIRROR is better than the Echelon Reflect in most respects. We recommend the Reflect to people who already subscribe to Echelon United for other Echelon fitness equipment. 
Does Echelon Reflect come with equipment?
No, the Echelon Reflect does not come with any gym equipment other than the mirror itself. If you want to use kettlebells, dumbbells, resistance bands, a barbell, weight plates, or other items, you'll have to buy those separately (or use gear you already own).
Do you need a membership to use Echelon Reflect?
Yes, you have to subscribe to Echelon United in order to use the Echelon Reflect.