We test and review fitness products based on an independent, multi-point methodology. If you use our links to purchase something, we may earn a commission. Read our disclosures.
What do you think of when you think of a home gym? Is it an all-in-one functional trainer, a fully loaded setup with barbells and squat racks, or a high-tech virtual setup with 50+ workout categories?
The latter is a growing class of home fitness equipment that includes the lululemon Mirror, a sleek piece of glass that doubles as a virtual fitness studio. In our lululemon Mirror review, I cover everything you need to know about this popular workout mirror. By the end, you'll know if it's a smart investment for your fitness or not.
We've Tested Nearly Every Workout Mirror on the Market
Our team has spent hands-on time with almost every workout mirror product: the lululemon Mirror, Tempo Studio, Tonal, NordicTrack Vault, and Echelon Reflect. We've experienced first-hand what makes each of these products so special (or not so special), and understand who may benefit the most from each different fitness mirror.
lululemon Mirror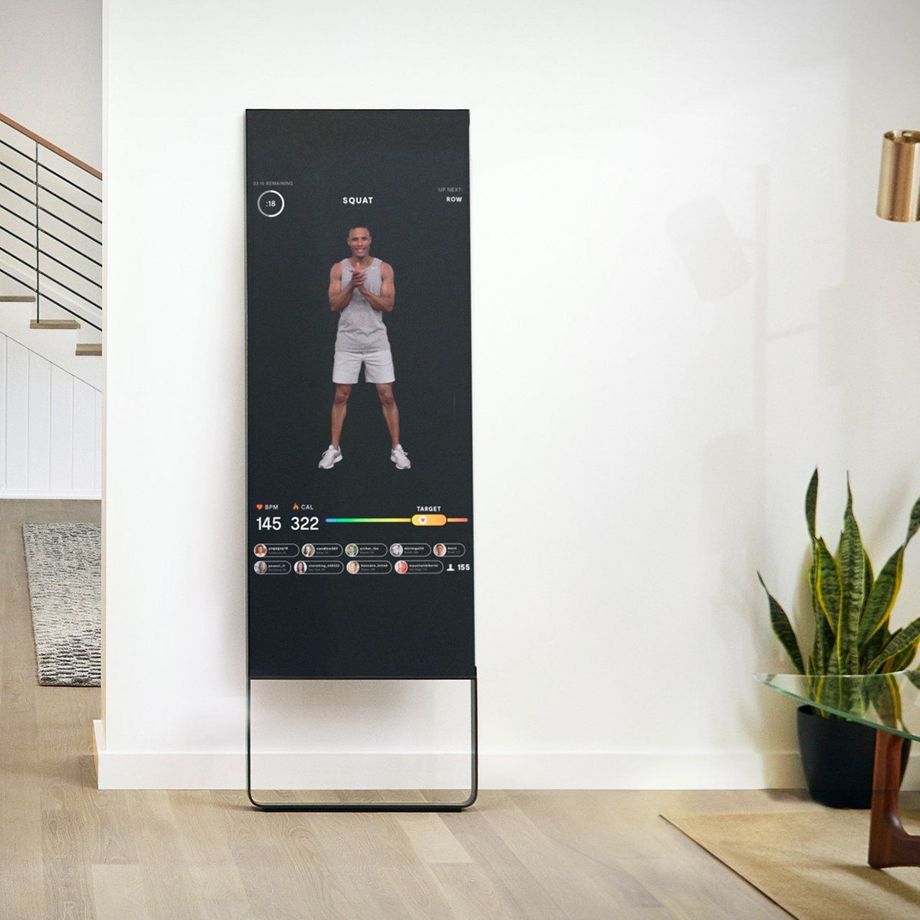 Community Score: 2.7
Product Highlights
Can be used as a full-length mirror when not in use
50 different types of workouts
More affordable than most other workout mirrors
Can't be moved once installed
Great video quality
Pros & Cons
Pros
Delivery and installation process was super easy, quick, and seamless
Visual and audio quality are absolutely outstanding
Looks great in any room, blends in like any normal mirror when not in use
Has a massive workout library spanning more than 50 genres
Two-way camera allows for real one-on-one personal training
Cons
Lacks in the programming department; grouped-together workouts seem somewhat haphazard
Despite its futuristic design, MIRROR is not a touchscreen
It can feel weird to know there's a two-way camera
Bottom Line
The MIRROR is a nearly invisible smart home gym that installs in your wall or leans against it on a carbon frame stand. When not in use, the MIRROR serves as an aesthetic full-length mirror. In use, the MIRROR offers more than 50 different types of workouts, from strength training to yoga to cardio HIIT.
A Quick Look at the lululemon Mirror
The lululemon Mirror was the first futuristic workout mirror to launch—hence why the company was able to score the simple and pointed name. When the lululemon Mirror launched in 2018, it forever altered the landscape of home gym equipment. It was the first such product to pack so much versatility into one sleek design, and it accelerated the inevitable but slow-moving marriage of fitness and technology.
My Tips:
This workout mirror is awesome if you love boutique fitness studio vibes and high-energy classes. If that's not you, I encourage you to look into other options.
You don't have to install the lululemon Mirror on your walls, but the installation team will strongly encourage it. If you don't want holes drilled, ask for the stand mount option.
Don't forget that the surface price tag isn't the total cost. lululemon Mirror runs on a monthly membership, which costs extra on top of the purchase price.
Pros:
Delivery and installation process was super easy, quick, and seamless
Visual and audio quality are absolutely outstanding
Looks great in any room, blends in like any normal mirror when not in use
Has a massive workout library spanning more than 50 genres
Two-way camera allows for real one-on-one personal training
Cons:
Lacks in the programming department; grouped-together workouts seem somewhat haphazard
Despite its futuristic design, MIRROR is not a touchscreen.
It can feel weird to know there's a two-way camera when you're doing live workouts (even though the instructors aren't zeroing in on anyone). I always slid the camera cover over it, which is similar to the Peloton Guide.
RELATED: The lululemon Mirror made our Best Fitness Gifts list!
Is the lululemon Mirror Worth It?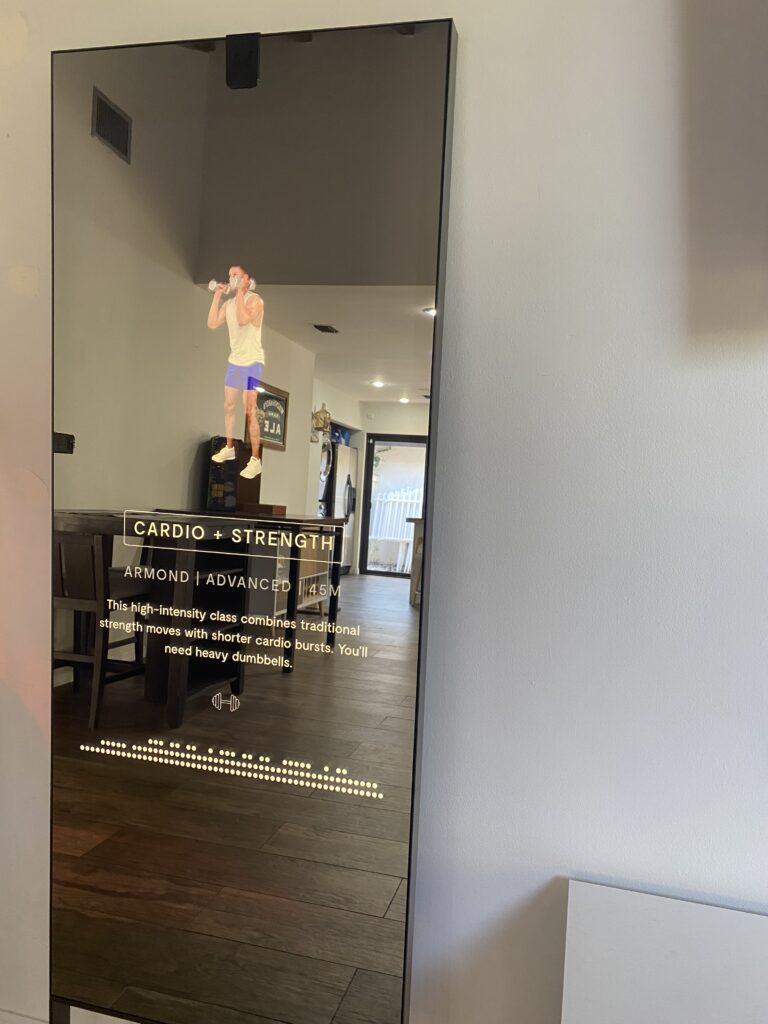 As with all home gym equipment, whether or not a specific piece is worth it to you depends entirely on your goals, desires, and preferences. I think, for a particular group of people, the MIRROR is absolutely worth it.
The person who gets the most out of the lululemon Mirror will love the boutique studio vibes and fast-paced class workouts; enjoy motivation from energetic instructors; appreciate that most of the workouts can be completed in less than an hour; and value the fact that the lululemon Mirror offers dozens of types of workouts so there's always something new to try.
On the flip side, people who love throwing down with a barbell and weight plates—and don't care to hear "You got this!" or "Halfway there!"—aren't likely to jibe with what MIRROR brings to the table.
Great for:
People who love participating in high-energy group fitness classes
Anyone who wants a workout mirror with true personal training capabilities
People who like to try new workouts and want a ton of on-demand options
Someone who wants a versatile piece of equipment that takes up virtually no space
Not recommended for:
People who want to lift heavy weights
Anyone looking for on-demand periodized fitness programming to advance toward a specific goal
Home gym owners who plan to build out an extensive space with tons of equipment (kind of defeats the purpose of the MIRROR)
Using the lululemon Mirror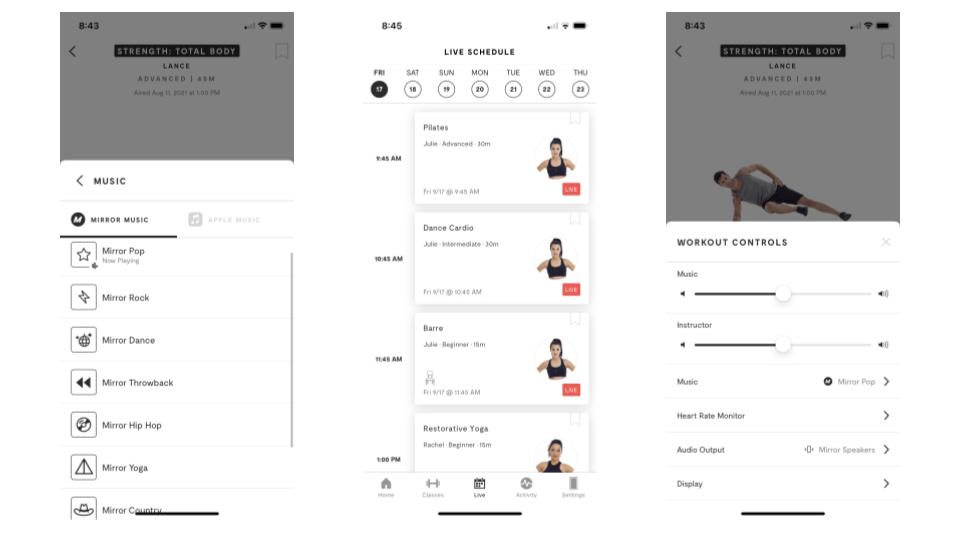 Point blank: I'm not the target persona for the lululemon Mirror. I much prefer to load up a barbell in my backyard gym and throw down free weights to some loud music, working up a sweat under the sun. I've never liked going to studio classes or watching on-demand workouts. That said, I was pleasantly surprised with my lululemon Mirror experience.
I went into this experience fully understanding that I may not like the workout content on the MIRROR—but also knowing that my preferences aren't the same as everyone else's. I'm so glad I gave it a shot, because it was actually pretty fun. And if it was fun for me, I can confidently say it would be nothing short of perfect for someone who is actually the intended buyer.
Types of Workouts
On the lululemon Mirror, you can access hundreds of home workouts. The workout library is chock-full of pre-recorded, on-demand classes, and you can stream live classes most hours of the day.
The main workout categories in the lululemon Mirror app are:
Barre
Boxing
Chair
Competitive
Dance
Family
Kickboxing
Meditation
Pilates
Pre- and postnatal
Strength training
Stretching
Tai chi
Toning
Yoga
Once you select the type of workout you want to do, you can filter further in a few different ways. You can choose to filter by:
Muscle group focus
Specific instructor
Intensity or difficulty level
Length
Equipment
Type of class (e.g., for yoga, you can choose from vinyasa, restorative, arm balances, etc.)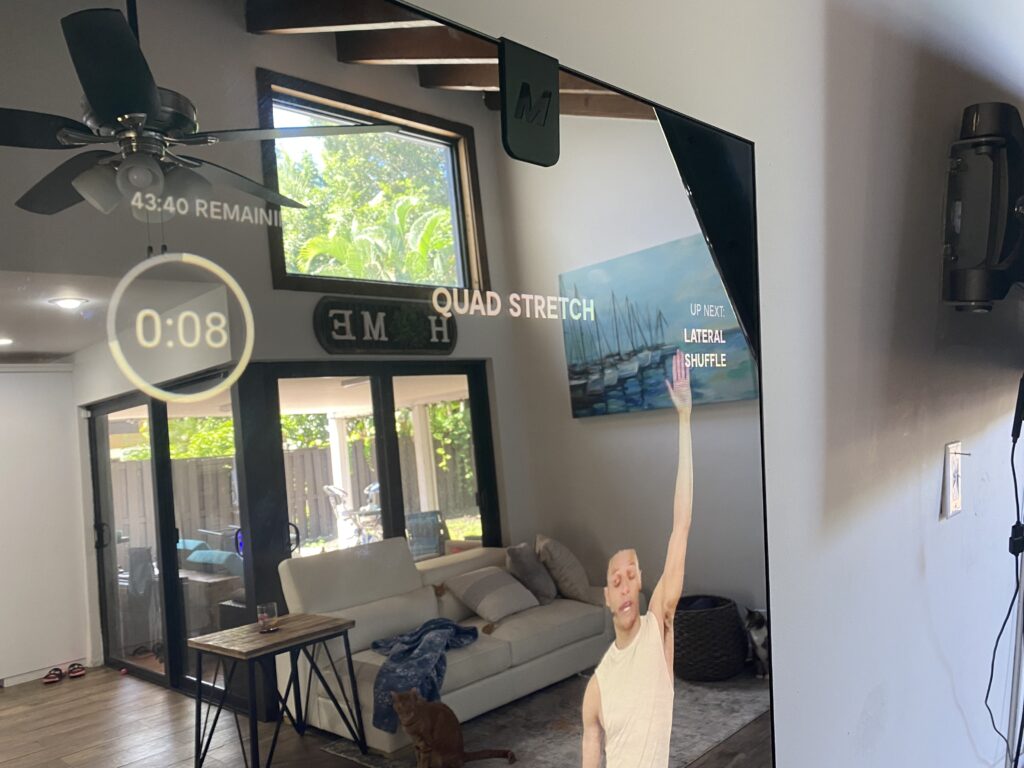 I was pleasantly surprised to find the lululemon Mirror workout classes as difficult as I did. As someone who's been lifting weights for 10-ish years and running half marathons once a year, I didn't expect to find myself so winded or sore, even when choosing the advanced workouts.
The strength training classes were mostly a different style than I'm used to (more circuits than straight sets), and I was able to try new things like dance cardio, which was absolutely embarrassing and something I'd never do outside of my own home. So shoutout to MIRROR for allowing me to comfortably confirm that rhythmic HIIT is not my thing.
Similar to my thoughts on the Proform Vue, while the workout classes are fun, I'd like to see some improvements to the program options. MIRROR does have fitness programs, but they're not really programs. They're more like similar classes lumped together for the sake of something to follow. It'd be awesome to see MIRROR enlist some personal trainers to write periodized programs for specific goals.
Personal Training
I didn't use the personal training feature when I tested the lululemon Mirror. I think it's pretty cool that you can essentially have a certified trainer in your living room… but not actually there. It feels very visionary, albeit a little strange.
This is where it becomes handy to see your own reflection. Your personal trainer can see you, give you cues in real-time, and you can watch your form in the MIRROR to correct any technique flaws.
Personal training sessions cost extra on top of the monthly subscription price for the app, but would be worth it to someone who wants or needs more guidance than what you can get through the classes.
Community
During live workouts, you can see how many people are streaming the class with you. Username bubbles float across the bottom of the screen, and it can feel really motivating to know you're "in class" with 200 other people.
I'm not sure how exactly the two-way camera works, but I know instructors can see something—I'm envisioning a massive screen with tons of little squares of participants, like a mass Zoom meeting—because they give shout-outs during class and say specific names. It's honestly kind of weird, and I didn't like it, so I turned my camera off. But I guess I can see how some people would love getting a virtual shoutout from their instructor.
After lululemon Mirror classes (on-demand or live), you can snap a selfie within the app on your phone and share it to the leaderboard for that class. It's a fun way to see other people you virtually worked out with.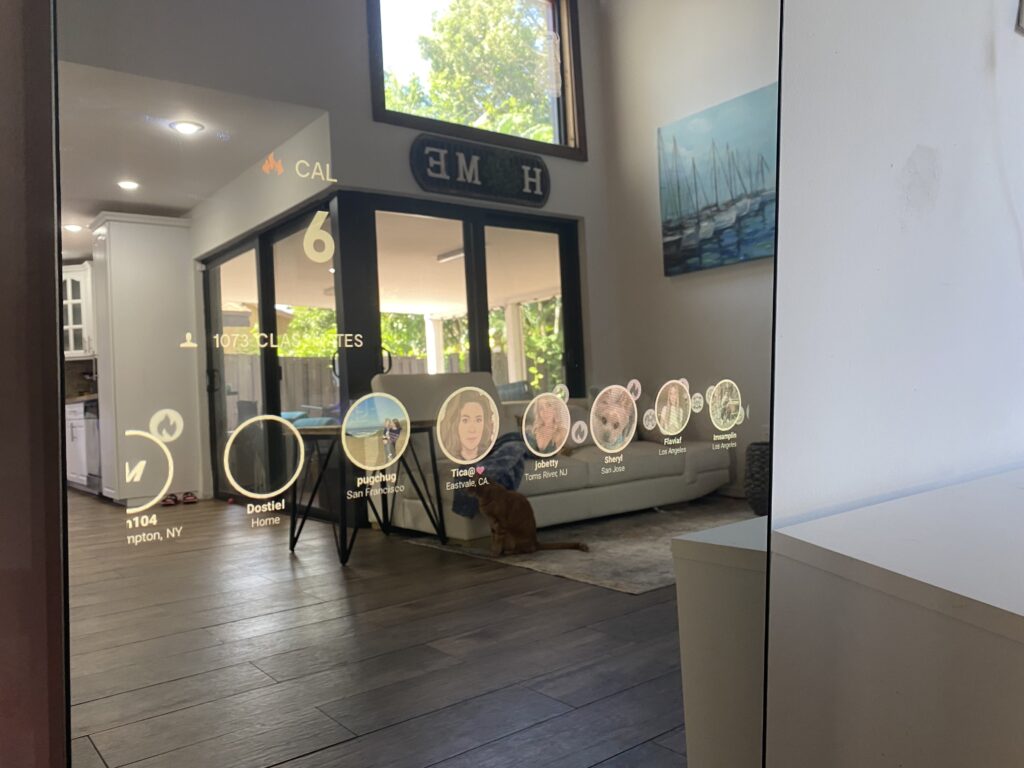 Equipment
The MIRROR does not come with any traditional gym equipment, such as dumbbells or kettlebells. If you plan to do strength training workouts, I recommend buying a few items if you have the space. You can also filter by equipment to find workouts that use what you already have. While there are plenty of bodyweight workouts on the lululemon Mirror, you'll definitely be selling yourself short without any other fitness equipment.
RELATED: Best Compact Exercise Equipment
You can buy some MIRROR-branded accessories, including mini resistance bands and a heart rate monitor. The heart rate monitor is recommended since it syncs to the lululemon Mirror and allows you to more accurately track things like your calorie burn. (Although, if you have an Apple Watch or other fitness tracker, you can just use that.)
Since Lululemon acquired lululemon Mirror in 2020, there are also some Lululemon items in the shop, such as yoga blocks, yoga mats, and yoga towels. None of these are necessary for a good experience with the MIRROR, but at minimum, a mat would make floor exercises more comfortable.
Audio and Visual
I was blown away by the audio and visual quality of the workout content on the lululemon Mirror. The picture is crystal clear and the audio is sharp. One of my favorite features: You can independently adjust the music volume and the trainer volume. For example, if you're having trouble hearing the trainer but don't want to turn the music up, you can turn up the volume for just the trainer's voice.
Tech Specs
The lululemon Mirror requires a subscription to function. When you purchase your lululemon Mirror, you'll be prompted to sign up for the app membership, where all of the fitness content lives. The subscription costs $39 per month, but still cheaper than a traditional gym membership at most places. Even if you finance the device itself, you're looking at less than $70 per month until you pay it off.
RELATED: Home Gym vs Gym Membership
You must use the iOS or Android companion app to select and start workouts; since the lululemon Mirror is not a touch-screen, there's no option for on-screen navigation. I found this annoying because it just seems like the lululemon Mirror should be a touch-screen, so I kept accidentally touching and smudging it. It's really not the end of the world, but it is a slight annoyance I feel is worth pointing out.
The lululemon Mirror connects to WiFi and has Bluetooth connectivity to communicate with devices such as Bluetooth heart rate monitors and fitness trackers. You can also connect your Spotify or Apple Music account to the lululemon Mirror if you want to listen to your own playlist instead of the built-in music stations.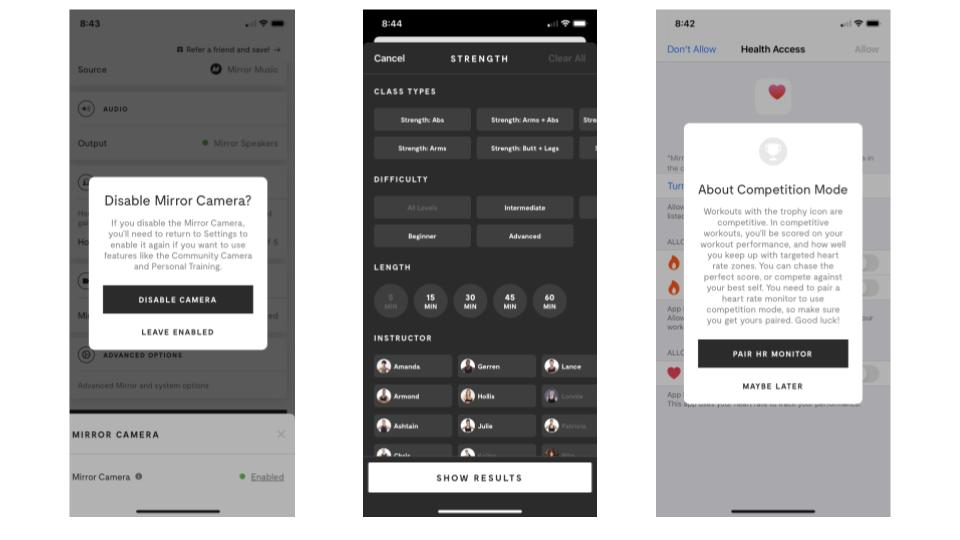 I honestly thought the lululemon Mirror was going to have many more smart features than it does. It doesn't have smart training capabilities like Tonal, which can adjust your weights for you, or Tempo, which can provide technique feedback in real time. Sure, the workouts are interactive and you can sign up for personal training thanks to the two-way camera. But if you think about it, the Mirror is really just a giant fitness app on your wall.
RELATED: Best Smart Home Gym Equipment
One particular feature I love about the lululemon Mirror is that you can toggle everything you see on-screen. If you don't want to see the little community bubbles with other people's usernames, you can toggle that off. You can also remove stats like calorie burn and heart rate.
lululemon Mirror Price
The lululemon Mirror typically costs around $1,500 (just for the unit), but there are often sales where you can get it much cheaper than that. You'll also have to pay a $250 delivery and installation fee and $39 monthly subscription for the MIRROR companion app.
lululemon Mirror Design
The MIRROR has a sleek, futuristic design that makes it look like…well, a mirror. Unlike other workout mirrors, however, it is not a touchscreen.
lululemon Mirror Setup
One of the very best things about the MIRROR is the delivery and assembly experience. I do not like assembling fitness equipment. And I thoroughly enjoyed the MIRROR assembly process because I didn't lay a finger on the product.
lululemon Mirror offers a white glove delivery service, and it's worth every penny of the $250 cost. Sometimes, the Mirror runs promotions wherein delivery and assembly are free, so keep an eye out for that.
My lululemon Mirror was delivered by XPO. The delivery team called me a couple of weeks prior to the scheduled delivery date with an estimated timeframe. You may continue to get periodic update phone calls leading up to the delivery date. On the day of, you'll get a courtesy call 30 minutes before delivery to make sure you're home.
Once the delivery team arrives, you show them where you want it installed, and they set everything up for you. They even help with the WiFi connection and make sure the device is on, connected, and working before they leave.
The package comes with a cleaning solution and cleaning cloth for maintenance.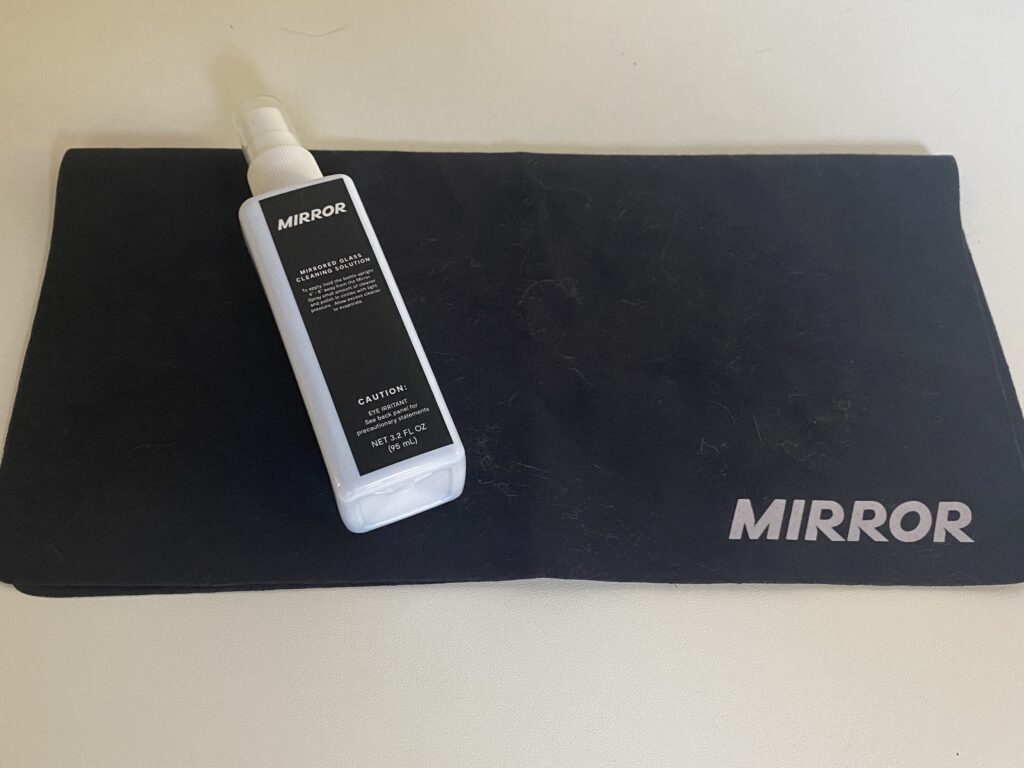 Footprint and Portability
The lululemon Mirror is not very big. It's less than 2 feet wide and only 1.4 inches in depth. It's 52 inches tall, but it'll end up sitting higher than that once you mount it.
You can choose to mount the lululemon Mirror to your wall, or you can choose to mount it on a stand with an optional wall anchor. I chose the stand because I didn't want any more holes drilled in my walls and I wanted the option to move the lululemon Mirror if I needed to.
If you choose the stand, you simply lean the lululemon Mirror against the wall. I chose not to use the security bracket because, like I said, I didn't want any holes drilled. Regardless, the device is 100% sturdy and, at 70 pounds, it won't budge unless you actually pick it up or forcefully push it.
This thing is very sturdy and pretty heavy, weighing in at about 70 pounds. Because of the nature of the device—tall and skinny—it's awkward to move alone. I've moved it from room to room by myself, but it would've been much easier and less nerve-wracking with some help.
When you're not using it, the lululemon Mirror doubles as a stunning full-length mirror. The mirrored glass itself is insanely clear; I genuinely don't think I've ever seen glass so translucent. It looks great in any room, too. No one would guess you had an entire home gym in your family room if they didn't already know what it was.
Construction and Durability
The glass seems extremely high quality, as does the steel frame. According to the product specs, the lululemon Mirror frame is constructed of carbon steel with a powder coat. I have no concerns about the durability of the frame.
The screen, of course, is glass. So there's some inherent risk there, especially if you have young children or spastic pets at home. It's probably a good idea to keep your lululemon Mirror in a place where it can't accidentally be smashed with a ball or scratched by paws and claws.
To clean the glass, use the spray bottle of cleaner and cloth that the lululemon Mirror came with. When you run out of cleaner, you can either buy more from the lululemon Mirror website or just use regular glass cleaner.
lululemon Mirror Specs
| | |
| --- | --- |
| Dimensions | 52.6″ H, 21.1″ W, 1.7″ D |
| Weight | 70lbs |
| Frame | Carbon steel |
| Display | 40" full HD 1080p |
| Speakers | 2 x 10 watt high-fidelity stereo speakers |
| Microphone | Embedded omnidirectional microphone |
| Camera | 5 megapixel front-facing camera |
| Power | 6 ft right angle UL certified cables |
| Internet | Dual-band 802.11 A/B/G/N Wi-Fi |
| Heart Rate | Syncs with Bluetooth™ heart rate monitors, Apple Watches, and Android Wear OS Watches |
| Connectivity | Bluetooth |
| Warranty | Standard one-year |
Customer Experience
lululemon Mirror definitely takes care of its customers. Not only does the white glove delivery and installation service make it quick and easy to start using your MIRROR, but you also get to enjoy a 30-day risk free home trial.
You can use all of the features of the lululemon Mirror, including live classes, for a full month to decide if you like it. If you decide to return it, the company will pick it up for free and give you a full refund.
If you decide to keep the lululemon Mirror, you get a limited one-year warranty that covers it against manufacturer defects.
For any questions or concerns about the lululemon Mirror, you can contact the company through online chat, email, or phone.
Customer Reviews
Reviews of the lululemon Mirror are generally glowing. It has 4.9/5 stars on the lululemon website and many of the reviews mention how the MIRROR finally got the buyer to start exercising regularly and actually enjoy it. That's a huge win in my book!
There are no reviews on Amazon or other places, since the MIRROR is only sold directly through the MIRROR website, but check out the Facebook page if you want more proof that a lot of people love this thing.
Final Verdict of Our MIRROR Review
From bootcamp to boxing, the lululemon Mirror has a little bit of everything. It provides a fun and immersive experience with a nice community element. But to be upfront, if you aren't part of MIRROR's target market, you won't like it no matter how luxurious the experience is.
Workout videos are high-quality and overall content quality is phenomenal
Lacking in intentional fitness programming like you get with other workout mirrors, such as Tonal
Not well-suited for people who don't like group fitness classes
Not the most portable smart home gym, but movable in-home if you choose the standing mount
MIRROR Rating
MIRROR
The MIRROR provides a fun and immersive workout experience for those who enjoy the community element of working out. Overall the workouts and content quality is great.
Product Brand: MIRROR
Product Currency: USD
Product Price: 1495
Product In-Stock: InStock
lululemon Mirror FAQs
Can you use the lululemon Mirror without subscription?
Unfortunately, no. To use the MIRROR you must pay a $39 monthly subscription cost to access all its features and personal training classes.
Is lululemon Mirror a good workout?
MIRROR has a variety of workout classes that challenge some longtime fitness enthusiasts on our team, so yes it can be a very good workout for people of all fitness levels.
Is the Mirror owned by Lululemon?
Yes, Lululemon acquired MIRROR in July 2020.
Can lululemon Mirror trainers see you?
lululemon Mirror trainers can see you if you enable the two-way camera on the device. You can always turn the camera off or cover it with the lens cover.