We test and review fitness products based on an independent, multi-point methodology. If you use our links to purchase something, we may earn a commission. Read our disclosures.
Some of the best weightlifting shoes out there are quite pricey, but they can sometimes be a worthwhile investment. This is especially true if you're a professional weightlifter who needs a raised heel for things like squats or cleans, and needs to feel more stable during training.
In our NOBULL Lifter Shoes review, we'll let you know whether these shoes are worth the nearly $300 price tag. That's not exactly chump change, and since weightlifting shoes aren't a necessity for most home gym athletes, we want to make sure you're getting your money's worth. Read on to find out our thoughts.
Why You Should Trust Us
I've tried on just about every type of training shoe on the planet from barefoot-style shoes to running shoes and everything in between. And my Garage Gym Reviews team is equally as obsessed with testing the latest pairs of shoes from Reebok, Nike, Adidas, and other brands not only because we enjoy trying out new kicks, but because we're passionate about letting you know our thoughts on them, and we use them in our own training.
As with our other reviews, we put every pair of shoes through the ringer before we write a review. We'll let you know how the laces, toe box, and every other part of the shoe holds up during rigorous training sessions because we know you train just as hard as we do (and in some cases, probably harder).
NOBULL Lifter Shoes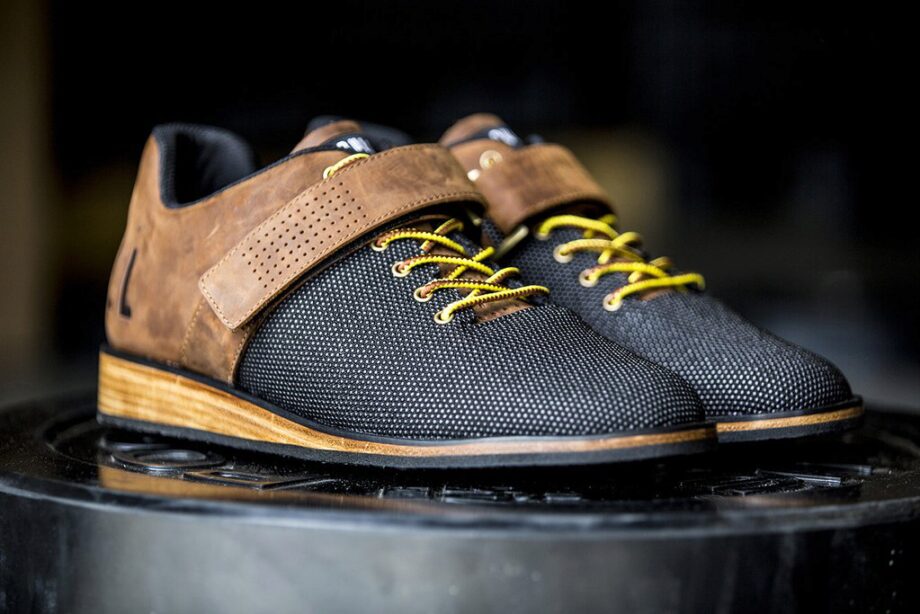 A Quick Look at the NOBULL Lifter Shoes
NOBULL was named the official footwear and apparel brand of CrossFit in 2021, and most of their products are geared toward that community. The NOBULL Lifter Shoes, however, are more geared toward people who engage in heavy lifting on a regular basis such as Olympic lifters and powerlifters (though the raised heel doesn't lend itself to deadlifts, which require a flat midsole).
RELATED: Best Deadlift Shoes
That doesn't mean you can't use them in a WOD that features some running, but if rope climbs or box jumps are on the menu you'd be better off with the NOBULL Trainers, or another pair of cross-training shoes.
One of the main attractions of these shoes, at least for me, is the stacked leather heels. I personally love the look of them and how it helps make them look like an older-style boot. That doesn't help the functionality of the shoe, but it's still cool.
Coop's Tips:
Many people on NOBULL's website recommend ordering a half size up from what you usually wear.
The SuperFabric upper may need an extended break-in period.
Don't cut the tags before trying them on for the first time if you think you may want to return them.
Pros: 
Multiple colorway options for men and women
The stacked leather heel looks really cool
These shoes do help you feel quite stable and grip to the platform well
Cons: 
Single stitching may cause separation of material, and there have been reports of that happening
Even if these were cheaper they wouldn't be my first pick for a weightlifting shoe
Lack of breathability led to these feeling hot to workout with during the summer months
Video Review
Are the NOBULL Lifter Shoes Worth It?
I have no problem paying a premium for home gym equipment or training shoes, so long as whatever it is I'm spending my hard-earned money on performs much better than budget-friendly items. The keyword there is "much better"–if there's a negligible difference between the two, I'm going to opt for the less expensive option.
The NOBULL Lifter Shoes go for $299, which is a lot even for a weightlifting shoe. For comparison, I consider the Nike Romaleos 4 to be quite expensive and it sells for a full Benjamin less than the NOBULLs. Even the Nike Metcon 7, one of the most popular training shoes, only retails for $130.
So is it worth paying the extra cash for the NOBULL Lifters? In my opinion, not really. Don't get me wrong, these are good shoes and they'll help you perform well on the platform. They also look really badass and if that's what's important to you, then I'd say go for it.
I just don't think they're that much better than the less expensive options, but you could disagree with me (many people certainly have in the past). Here's who I think might be a fan of these shoes, and who probably wouldn't be.
Great for:
Anyone with narrow feet
People who want a unique looking weightlifting shoe
Trainees who want a leather-stacked heel
Not recommended for:
Anyone with wide feet
People who are on a budget
Olympic weightlifters who put a lot of use into their lifters
(P.S. Here's how to get a NOBULL discount code.)
NOBULL Lifter Shoes Specs
| | |
| --- | --- |
| Price | $299 |
| Heel-to-toe drop | 18.5mm |
| Size range | Men's 8-18; Women's 5-11 |
| Colorways | 7 |
| Tread | Rubber |
| Upper material | SuperFabric |
Working out in the NOBULL Lifter Shoes
I tested the NOBULL Lifter shoes by doing Olympic lifting, as well as some powerlifting, in them. Basically anything that involved moving a barbell loaded with heavy weights. I felt stable in them while lifting and they gripped to the platform well. One thing I noticed was they were a little more flexible than shoes made with a plastic heel (the Savaleos and Roms, for example).
The stacked leather heel looks cool, but I have concerns about its durability. Specifically, I believe it's likely to compress faster than shoes that have a wood or hard plastic heel, which can not only result in deterioration of the shoe but foot problems down the line.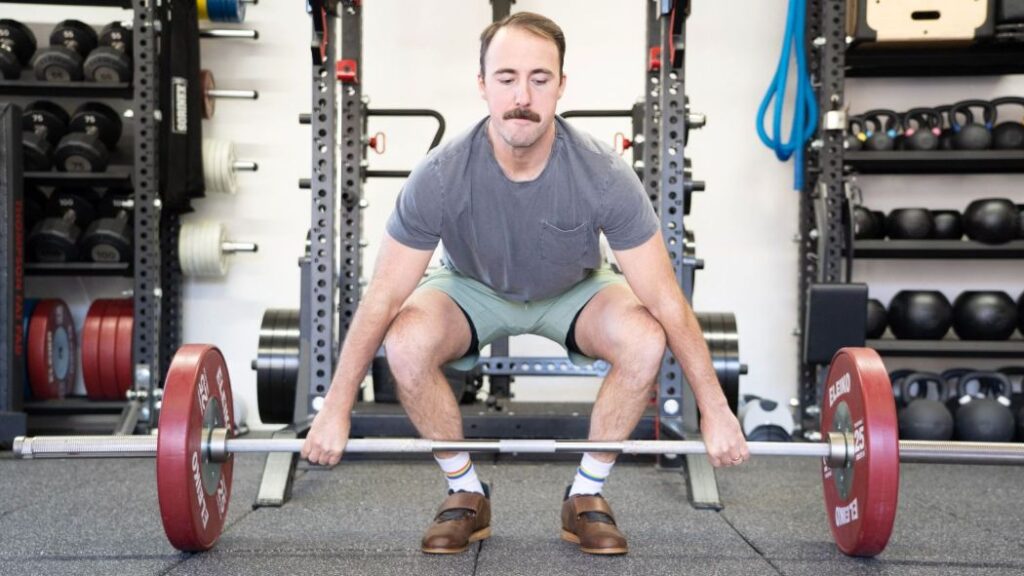 These shoes also have a pretty narrow toe box, which is generally what you don't want in a weightlifting shoe. Having a wider toe box allows you to spread out your toes to give you a better grip and balance, but I have a pretty narrow foot so this wasn't a huge problem for me. It could be for those with larger feet, though.
Breathability
If you're someone who has sweaty feet, or just wants a breathable shoe, then I don't think the NOBULL Lifter Shoes are for you. I found them to be incredibly hot, especially during the summer months, which is a little strange since the upper is made from the same SuperFabric material as the NOBULL Trainers (and those were plenty breathable).
Durability and Construction
My main issue with the NOBULL Lifter Shoes is the lack of durability. Again, if I'm paying $299 for something I want it to last quite a while. Now, in full transparency, my shoes are still in good condition, but I've read some reports of separation and I could see how that might happen.
One reason is because the shoe is put together with single stitching, which means the various materials may unravel faster than shoes with multiple stitching. One of the biggest complaints we've seen is the rubber separating from the outsole, but that hasn't happened to mine just yet (we'll keep you updated on whether it does).
The velcro strap that's used in addition to laces for tightening is pretty thin and weak, so I wouldn't suggest tugging on it that hard when strapping your foot in.
I'm a fan of the abrasion-resistant SuperFabric used on the upper, and on the Trainers the material helped make those sneakers very breathable and lightweight without sacrificing durability.
The version I tested had leather on the toe instead of the SuperFabric, but I've used the SuperFabric version previously. But, for some reason, I just didn't get the same breathability on the Lifter shoes, and again the single stitching makes me worried it might become separated from the rest of the shoe.
Heel
One area where the construction is top-tier is in the stacked leather heel, an example of great craftsmanship (similar to the heel on the much more affordable Do-Win Classic). The heels are handmade, taking anywhere from two to three hours to make after having been hand selected and embedded with natural oils.
These NOBULL shoes have a 18.5mm heel-to-toe drop, making them great for squats and snatches. But again, I do have concerns it might compress over time versus the hard plastic used by competitors shoes at this price point.
NOBULL Lifter Shoes Colorways and Designs
One of the most controversial parts of any NOBULL shoes is the design, but honestly I'm a fan and that includes the NOBULL Lifter Shoes. There are seven colorway options, for men and women shoes, with different options for each. Women, for example, can buy a purple camo that's not available for men. Don't worry guys, there's special options for us, too including a nautical blue pair.
NOBULL Lifter Shoes vs. Nike Savaleos
The Nike Savaleos are one of my favorite weightlifting shoes, primarily because they're pretty budget-friendly when compared to similar pairs. Are they the best? No, but when put head-to-head against something like the NOBULL Lifter shoes, I think they do just fine.
Nike Savaleos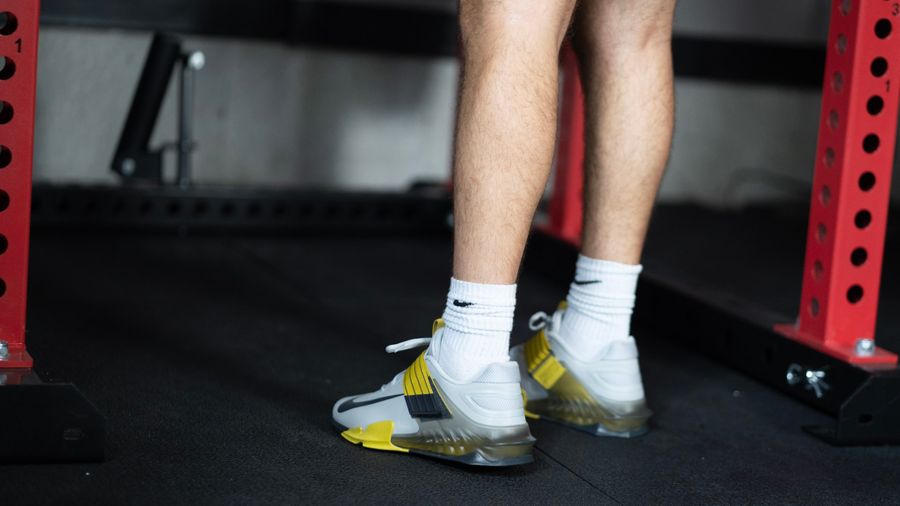 Nike Savaleos Weightlifting Shoes
Nike Savaleos weightlifting shoes are a great entry-level option for people interested in Olympic weightlifting, as well as people who need extra support for reaching full depth during squats. With a wide toe box, an elevated EVA heel, and a hook-and-loop strap to keep your foot locked down, the Savaleos will make you feel more confident during your lifting sessions.
The Savaloes have a 15.5-millimeter heel-to-toe drop, compared to NOBULL's 18.5, so the latter are better for those who need help getting parallel on squats. The Savaleos also have a little more cushioning than I usually like in a weightlifting shoe so they're not the best for super heavy lifters.
But if you're a recreational athlete, the Savaleos will get the job done, and at $120 you're paying a lot less than the NOBULL's. They're also the better pick for people with wide feet because of the larger toe box.
NOBULL Lifter Shoes vs. Nike Romaleos 4
The Nike Romaleos 4 are another great looking pair of weightlifting shoes, and they also have great functionality. They have a 20-millimeter heel-to-toe-drop, providing an even more upright position for those with poor ankle mobility during squats than the NOBULL Lifter shoes, two Velcro straps in addition to laces, and are more breathable.
Nike Romaleos 4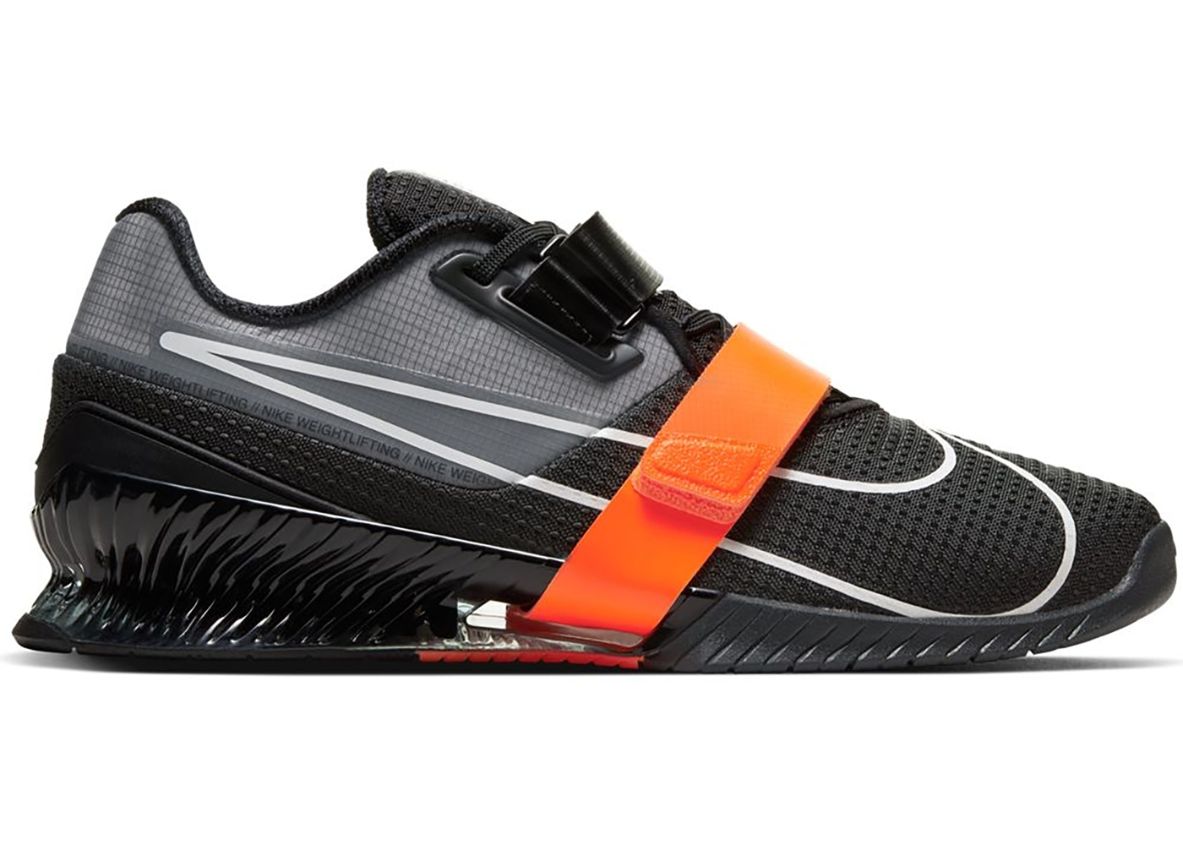 Nike Romaleos 4
The Nike Romaleos 4 weightlifting shoe is the latest iteration in this line. It blends the breathability of the Romaleos 3 with the sturdy outsole of the Romaleos 2. The Rom 4s feature a 20mm heel to toe drop as well as dual velcro straps.
Another thing I like about Nike is you actually get to try the Roms 4 on for 60 days before deciding whether you want to return them. With NOBULL, you can basically only put them on your feet and you have to decide then and there whether you want to keep them.
I do have concerns about the Roms' durability, but considering they're $100 less than the NOBULLs, this would probably be my pick for anyone trying to go for a higher-end weightlifting shoe.
NOBULL Lifter Shoes vs. Adidas Adipower 2
Weightlifting shoes are meant to…well, help you lift weights, but that doesn't mean they can't do other things, too. Enter the Adidas Adipower 2, which I find to be a great weightlifting shoe that can also be worn by Crossfitters.
Adidas Adipower 2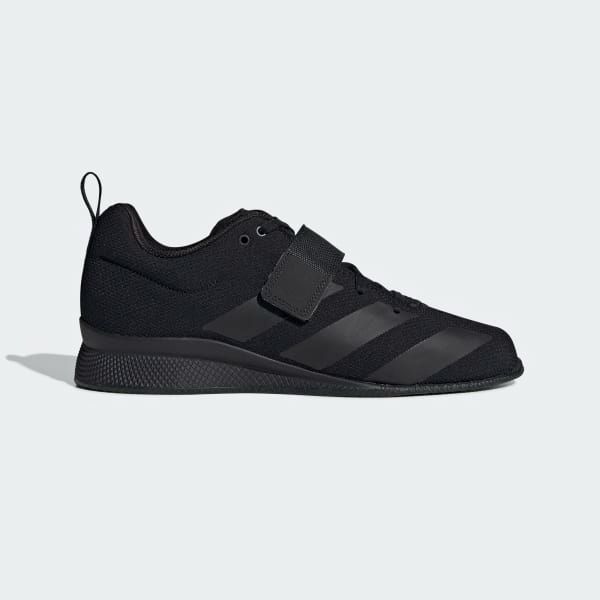 Adidas AdiPower 2
Redesigned for a new reign. Showing off a streamlined silhouette, these weightlifting shoes have a breathable woven textile upper with inner reinforcements for added stability. It hugs the foot for targeted support while accommodating the natural flexing of the toes. Laces and a strap work together to lock down your midfoot while a raised heel adds stability.
It has a 20.1mm elevated heel, but it's still flexible enough to be worn during short bursts of cardio (I wouldn't take these out on a ruck, though). I'm also more confident in the durability of the textile woven upper than I am of the NOBULL Lifter shoes, especially since the latter comes with single stitching.
Plus, the Adipowers are $200 so more affordable (a relative term) than the NOBULL's, but your money's going further since you can do more with them.
For more, check out my Adidas Adipower 2 review.
Ordering the NOBULL Lifter Shoes
I had no issues ordering the NOBULL Lifter Shoes or with delivery, but there may be limited quantities on these shoes from time to time. NOBULL also offers free shipping on any orders above $99, which these shoes obviously qualify for. Plus, if you're international NOBULL will waive any customs fees or import duties.
Returns and Exchanges
NOBULL allows you to return your shoes within 60 days of delivery, but they must be unworn with the tags still on them and in their original box, so you can't really take them out for a test run. That's not to say you can't put your feet in them to make sure they fit, but we wouldn't recommend taking them to the weight room.
If you receive any damaged shoes or ordered the wrong size you can exchange them (the form can be found on NOBULL's website), but this is for U.S. customers only.
Customer Reviews
While I'm not that big of a fan of the NOBULL Lifter shoes, there are people who seem to love them. They have an average rating of 4.8 stars, out of 5, on NOBULL's website.
"This is one of the best weightlifting shoes on the market right now," reviewer Mario T. wrote. "It feels like what weightlifting shoes used to be. I would recommend for experienced weightlifters, that are stable in their technique."
The negative reviews revolve around the fact that the shoes run small, and some said they didn't feel steady while lifting in them.
"Color and look were 10/10. I got tons of head turns," reviewer Clay H. wrote. "Unfortunately, I never once felt comfortable during my squats. The lift was not what I was looking for. I'd rather be barefoot then have a feeling of leaning/tilting forward."
Final Verdict of Our NOBULL Lifter Shoes Review
I'm a big fan of NOBULL's CrossFit shoes, but in my experience the NOBULL Lifter shoes weren't of the same high quality caliber. In my opinion, $299 is way too high for the quality, durability, and performance of the shoe. The reports of materials separating from each other also makes me hesitant to recommend these considering how expensive they are. I'll be keeping an eye on mine to see how they withstand the tests of time.
But even if these shoes were less expensive, I don't know if I'd recommend them over other pairs. Again, it's not that they're necessarily bad–I've just worn better.
RELATED: Best Crossfit Shoes
Full Rating
NOBULL Lifter Shoes
The NOBULL Lifter shoes are a pair of weightlifting shoes that provide great stability and comfort, but at a high price.
Product Brand: NOBULL
Product Currency: $
Product Price: 299.99
Product In-Stock: InStock
NOBULL Lifter Shoes FAQ
Are NOBULL Lifters worth it? 
There are a lot of people who seem to think so, but if you're asking our opinion, we think there are less expensive shoes that perform much better than the NOBULL Lifter shoes.
What is the purpose of lifter shoes?
Lifter shoes put your body in a more anatomically correct position to lift heavy loads, and also provide plenty of feedback to give you the foot drive you need to perform a squat or a snatch. They also help lifters grip the platform to avoid slipping while lifting.
Are lifters necessary?
They're not necessary, and you can certainly do the same things while barefoot, but here are some of the ways they can provide a boost to your performance.
Improved stability due to the wide base 
Make subtle changes to your body positioning for easier lifting
Elevated heel provides ankle mobility while allowing you to keep torso upright during squats