We test and review fitness products based on an independent, multi-point methodology. If you use our links to purchase something, we may earn a commission. Read our disclosures.
When Quavo so beautifully said "Put that thing in sport (skrrt, skrrt)," he wasn't talking about a treadmill (or maybe he was?! #conspiracy). Either way, I'm always looking to find great treadmills that make you feel like you're in sport mode during your workout.
In our ProForm Sport 6.0 treadmill review, we'll take a deep dive into this budget-friendly cardio machine. Although we haven't specifically been on the Sport 6.0, we have been on almost every other treadmill that ProForm currently produces. We feel confident we can give you an honest assessment using the Sport 6.0's specs, our knowledge of industry standards, and prior testing experience.
Sporty Spice Knows Her Treadmills
In case you weren't sure, I'm the knockoff Sporty Spice in question. After all, I am a former NCAA D1 soccer player (and I certainly dress the part with my fair share of athleisure). I am also extremely well-versed in cardio machine specs and industry standards, particularly when it comes to treadmills. If you were looking for a subject-matter expert on treadmills, you've found one––and the rest of the GGR squad certainly isn't too shabby either.
Our team of expert product testers and reviewers are certified personal trainers, nutrition coaches, and CrossFit L-1 certified. It's safe to say we know fitness inside and out, and we're chomping at the bit to share our knowledge with you.
ProForm Sport 6.0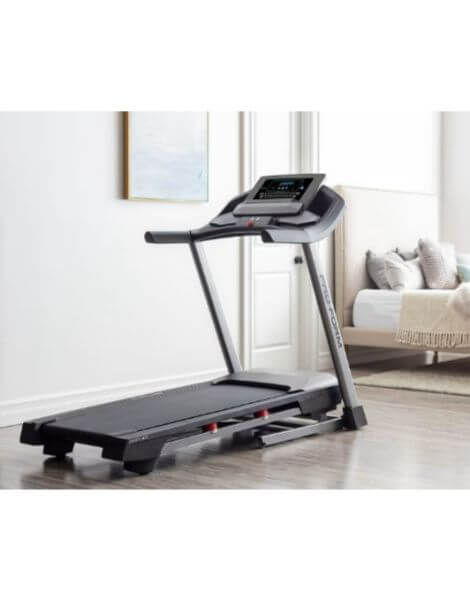 GGR Score: 3.9
Community Score: 2
Product Highlights
2.6 continuous horsepower (CHP) motor supports speeds up to 10 MPH

Incline ranges up to 10%

5-inch high contrast multi-color display

iFIT-enabled (30-day free trial included in purchase)

Integrated tablet holder

Patented SpaceSaver Design with EasyLift Assist folding design

20" by 50" running belt
Pros & Cons
Pros
Around $1,000
Incline adjustability
Foldable
300-lb user weight capacity
Quick speed controls
Compatible with iFIT
Tablet holder
Aux port for iPod or headphones
Financing options are available
Cons
2.6 CHP motor is subpar
Short treadmill belt
Website doesn't share warranty or weight of the machine
Lacks heart rate monitoring system
Bottom Line
If you are looking for a budget-friendly compact treadmill to walk or do some light jogging, the ProForm 6.0 Treadmill may be for you.
A Quick Look at the ProForm Sport 6.0
The Sport 6.0 is part of a lesser-known collection of treadmills from the brand ProForm. Although the majority of the treadmills in the Sport collection are not produced anymore, ProForm does still have the Sport 6.0 in stock. For reference, the Sport 7.0, Sport 12.0 ST, Sport 9.0 S, and Performance Sport are all still on the website, but are not available for purchase.
My Tips:
Make sure to utilize your included activation code for a 30-day free trial of iFIT when you purchase the ProForm Sport 6.0.
Take a look at our ProForm Promo Codes to get the best deal on your new machine!
Is the ProForm Sport 6.0 Worth It?
Trying to figure out if the ProForm Sport 6.0 is the right choice for you? Here's who I think will love this machine and who should take a look at something else.
ProForm Sport 6.0 Specs
| | |
| --- | --- |
| Price | Around $1,000 |
| Footprint | 57.5″ H x 35.2″ W x 73.0″ D |
| Weight capacity | 300 lbs |
| Top speed | 10 MPH |
| Incline | 0-10% |
| Motor | 2.6 CHP Mach Z motor |
| Display | 5″ multi-color display |
| Tread belt | 20″ W x 50″ L |
| Sound system | Yes; built-in speakers |
| Folding treadmill | Yes; Spacesaver design |
| Compatible with | iFIT membership |
Customer Reviews
ProForm doesn't show any of the customer reviews on their website for the Sport 6.0. Luckily, a variety of other retailers carry this machine including Sam's Club. On the Sam's Club website, there are over 155 reviews with an average rating of 3.8 stars out of 5.
Happy customers liked the straightforward assembly process, sturdiness, and iFIT compatibility.
"This treadmill is very quiet and it is easy to change the speed and the incline," reviewer Kristy explains. "You can use the number buttons to type in what speed or incline you want, or just use the +/- buttons to make small adjustments. You can adjust the display to where it rotates through all the data or only the data points you want or just leave it on the time counter."
Others didn't like the spotty customer service, having to recalibrate the machine, and the loudness the Sport 6.0 produced.
"This is not a solid machine," customer Kris lamented. "It's ridiculously loud. Plus, it feels like it pauses with every step I take. I really wanted to start running again because as a single mom it's hard to go to the gym. I plan to return this treadmill."
Bebopping Around on the ProForm Sport 6.0
Although I haven't personally used the ProForm Sport 6.0, I can deduce a variety of things based on the specs, customer reviews, and previous experiences on ProForm machines. Firstly, I noticed that reviewers are quite divided when it comes to the perceived noise level of the Sport 6.0.
Some people are saying it is extremely noisy, while others say it is whisper-quiet. In my opinion, a lot of this has to do with general maintenance. When the exact same model of a treadmill is loud for one person but not for another, lubrication is usually the solution. Just like you would add WD-40 onto a squeaky door jam, you should also regularly lubricate your machine to prevent excessive noise.
In terms of the specs, the Sport 6.0 has a 300-pound user weight capacity, which hits the industry standard. This is an inclusive touch for a treadmill that is around the $1,000 mark.
If you plan to use this treadmill for walking and jogging only, the motor and deck length likely won't bother you. However, if you're a taller person or a serious runner, this might not be the best choice for you. The 20-inch-by-50-inch deck is a solid 10 inches shorter than what we'd expect to see on a treadmill for runners, but it will be ideal for walkers.
It is also worth taking into account the 2.6 CHP motor. This isn't terrible by any means, but we generally recommend a motor horsepower of at least 3.0 for those who run frequently.
Footprint and Portability
Unfortunately, I can't tell you the weight of this machine because ProForm doesn't share this spec with us. However, based on comparable ProForm machines, it likely weighs between 200 to 250 pounds. This means you'll probably need another set of hands to help you get it up the stairs, but you should be able to move the machine solo around a room because of the transport wheels.
Another thing I like about the ProForm Sport 6.0? It's foldable! This is a huge plus when it comes to storing the treadmill and keeping it out of the way when it isn't being used. I also like that the Sport 6.0 has a gas shock, which makes the deck of the treadmill land gracefully on the floor versus slamming onto the ground.
Technology Benefits and Conveniences
Although the ProForm Sport 6.0 doesn't have a touchscreen, it does have a five-inch display with which you can view various metrics like time elapsed, calories burned, speed, incline, and distance traveled.
Plus, ProForm currently offers a free, 30-day trial of iFIT programming with the purchase of the ProForm Sport 6.0. Although you won't be able to view any classes on the treadmill itself, you can attach your own smart device to the holder included.
Interactive programming fiends, listen up: iFIT offers a variety of different classes on-demand. Choose to walk through a densely packed rainforest, take a class in a studio setting, or jog along sandy shores with the guidance of an instructor. If you decide to continue with iFIT after the free trial is over, you can choose between a family or individual plan. The family plan costs $396 per year, whereas the individual membership is $180 per year.
On the far right of the Sport 6.0's dashboard, you'll find a small auxiliary port where you can plug in your own headphones. On the product page, I don't see any reference of this particular model having Bluetooth connectivity, which is slightly disappointing.
However, I can't say I'm feeling any disappointment about the water bottle holders. The Sport 6.0 features dual bottle holders, both of which are quite sizable.
Comparison to ProForm Carbon T14 Treadmill
ProForm Carbon T14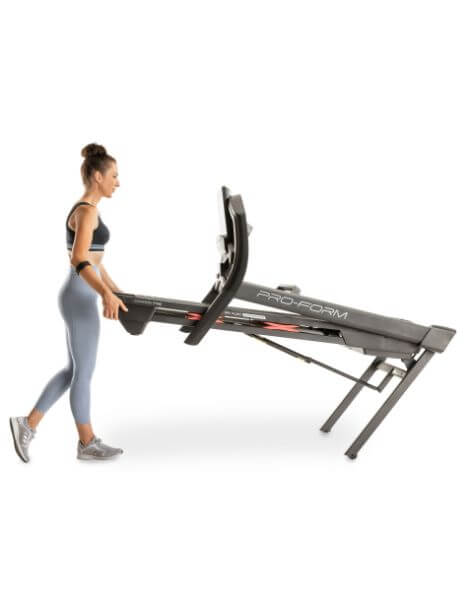 Community Score: 4
Product Highlights
14" HD touchscreen 
0-12% incline 
0-10 MPH 
iFit compatible
Pros & Cons
Pros
Free shipping
30-day return policy
300 lbs user weight capacity
0-12 degrees incline
Folds up with EasyLift assist to store after workout
iFit compatible with trainer controls
Cons
Top speed of 10 MPH is lower than similarly priced competitors
2.75 CHP motor
Screen does not rotate for off treadmill workouts
55" long tread belt may be too short for taller users
No user reviews available at time of publishing
Bottom Line
The Carbon T14 is a treadmill at a higher price-point that doesn't have all the features of similarly priced treadmills. Unless you are set on purchasing a treadmill with iFit capabilities there is probably a better treadmill for you. Additionally, without any customer reviews we aren't comfortable recommending it.
The ProForm Carbon T14 is a treadmill with similar specs to the Sport 6.0 (do you see how similar the footprints are?). At around $1,400, the Carbon T14 is almost $400 more than the Sport 6.0, but for good reason. The T14 has an impressive 14-inch touchscreen with which you can view iFIT programming. You'll also be treated to additional incline options, a slightly more powerful motor, and a longer deck.
Check out the comparison chart below for the full breakdown:
Want to learn more? Take a look at our full ProForm Carbon T14 treadmill review.
| | ProForm Sport 6.0 | ProForm Carbon T14 |
| --- | --- | --- |
| Price | Around $1,000 | Around $1,400 |
| Motor | 2.6 CHP | 2.75 CHP |
| Treadmill belt | 20" W x 50" L | 20" W x 55" L |
| Weight capacity | 300 lbs | 300 lbs |
| Footprint | 35.2″ W x 73.0″ D x 57.5″ H | 35.2" W x 73.5" D x 57.5" H |
| Display | 5" multi-color LCD display | 14" smart HD touchscreen |
| Foldable | Yes | Yes |
| Incline | 0-10% | 0-12% |
Customer Experience
Oddly enough, ProForm doesn't disclose the warranty for this particular treadmill on the product page. However, if we look at the other ProForm treadmills currently on the website, you'll notice that they all have the same warranty: 10 years on the frame.
I would venture to guess that the Sport 6.0 also has the same coverage. Although 10 years isn't bad, it doesn't hit the industry standard of 15 years or more on a treadmill frame.
Returns-wise, you have a standard 30 days from receipt to send the ProForm Sport 6.0 back to the warehouse. However, you will be subject to a 10-percent restocking fee and a sizable $250 shipping charge.
Ordering and Assembling the ProForm Sport 6.0
Although the ProForm Sport 6.0 isn't explicitly advertised on the ProForm site, you can still find it with minimal effort by clicking our link above. Once you've added the Sport 6.0 to your cart, you'll have the option to pay for the machine in full or take advantage of ProForm's financing options.
If you decide to go the financing route, you may pay as little as $90 per month with 0% APR for 12 months (if you qualify). Otherwise, the cost of the Sport 6.0 is a little over $1,000 after taxes.
While you're checking out, you'll also have to choose a delivery option. ProForm currently offers free standard delivery, which means they'll just stick the box outside of your front door and you'll be in charge of the rest. If you're a bit wary of lugging a treadmill inside your home, you can pay for professional delivery and assembly for $199.
Final Verdict of Our ProForm Sport 6.0 Review
Depending on what you're looking for in a treadmill, the ProForm Sport 6.0 may be a good option for you and your home gym. Here are our final takeaways after looking into this piece of fitness equipment:
The $1,000 price tag is reasonable and may make the Sport 6.0 a solid budget option for some people.
This machine has a shorter deck, so it would work best for someone who primarily plans to use their treadmill for walking or jogging.
If you're looking for a treadmill with a touchscreen, you won't find it on the Sport 6.0. However, you will be able to attach your tablet to the device holder if you want to view interactive programming like iFIT.
ProForm doesn't disclose the warranty on this product, which is worth keeping in mind.
ProForm Sport 6.0 Rating
ProForm Sport 6.0 Treadmill
Check out our full ProForm Sport 6.0 treadmill review for the 4-1-1 on this budget-friendly cardio machine.
Product Brand: ProForm
Product Currency: $
Product Price: 999
Product In-Stock: InStock
ProForm Sport 6.0 FAQs
Why should I buy a ProForm machine?
ProForm is a reliable treadmill brand for those who are looking to purchase a mid-range machine. You get a solidly built treadmill that is compatible with iFIT workout programs and has excellent financing options. 
ProForm also makes a variety of other equipment including rowing machines, ellipticals, and exercise bikes. Both ProForm and NordicTrack are under the same parent company, iFIT Health and Fitness (formerly ICON Health and Fitness). 
What walking apps should I use with the ProForm Sport 6.0 treadmill?
GGR writer (and certified personal trainer) Anthony O'Reilly really knows his stuff when it comes to walking. Here are his top picks for the best walking apps:
– Best Overall Walking App: Strava
– Best Walking App for Workouts: iFIT
– Best Walking App for Motivation: Fitbit
– Best Walking App for Accountability: Nike Run Club
– Best Walking App for Tracking Metrics: MapMyWalk
– Best Walking App for Apple Watch: Apple Fitness+
– Best Walking App for a Cause: Charity Miles
Does the ProForm Sport 6.0 treadmill have cushioning?
According to the product page for the ProForm Sport 6.0, there isn't anything specifically mentioned about the belt cushioning. It is safe to assume that it is likely similar to that of other ProForm treadmills––possibly ProShox, ProResponse, or Treadsoft cushioning.