We test and review fitness products based on an independent, multi-point methodology. If you use our links to purchase something, we may earn a commission. Read our disclosures.
Pesky tummy troubles? Intense blood sugar spikes and dips? These are crappy to deal with while you're getting your exercise on, or really at any point of the day.
Many pieces to this puzzle can come into play here—like choosing a whey-based protein powder when hypersensitive to dairy products, or not using the best running fuel. But dietary fiber, or lack thereof, can also be an innocent factor.
So if you're among the 95 percent of the population who doesn't consume enough fiber, we can help you close America's fiber intake gap1. Even if you're in the 5 percent who do consume adequate fiber, that means getting 25 grams per day for women and 38 grams per day for men, don't flush and move on just yet.
After testing more than a dozen fiber supplements, we're excited to reveal nine of the best fiber supplements to all of you. So, pop a squat as we talk about all things fiber and address which supplement could save you from tummy troubles, uncontrolled blood sugars, and more.
9 Best Fiber Supplements for 2023
Best Fiber Supplement Overall: Metamucil 4-in-1 Psyllium Fiber Supplement
Good for: Those looking for a four-stop-shop fiber supplement with a flavor punch
Metamucil 4-in-1 Psyllium Fiber Supplement claims to be a quadruple threat for benefiting appetite, heart health, blood sugars, and digestive health. One scoop of the fiber supplement provides 5 grams of total dietary fiber, 2 grams of soluble fiber, and 15 calories.
The primary fiber source is psyllium husk2, which is a type of functional fiber. Compared to dietary fiber that naturally occurs in plants, functional fibers are extracted from plants or synthetically made for supplemental use.
Psyllium mostly contains soluble fiber, meaning it absorbs water and creates a gel-like consistency, that may help increase feelings of fullness, slow digestion, control blood sugar sugars, and lower cholesterol levels. Psyllium also contains smaller amounts of insoluble fiber, a type of fiber that stays intact, adds bulk to stools, and enhances bowel regularity.
As far as dosing, Metamucil recommends starting with one serving (or 1 teaspoon) per day and then gradually increasing to a desired daily intake—or up to three servings per their recommendation. Metamucil also warns of initial changes in bowel habits and minor bloating as the body adjusts to increased fiber intake, which aligns with the blanket recommendation of slowly increasing dietary fiber from whole food sources.
The powder is also orange-flavored and sugar-free, but does contain artificial ingredients like aspartame and Yellow 6. The Metamucil 4-in-1 fiber powder also comes in convenient travel packets for those on the run (pun may or may not be intended).
And for those who enjoy or stay most consistent with challenges, first plug into workout gamification then sign up for Metamucil's Two-Week Challenge. You'll receive 14 days of "emails full of tips, tricks, and reminders to keep you going strong!"

GGR writer and expert product tester Lauren Strong tested this Metamucil powder and actually really liked the taste: "Tastes like Tang! I don't mind this at all," she says. "The first time was a little weird and I didn't know what to expect, but I've had it a bunch of times now and I keep getting more used to it. Totally worth it to pump up the fiber!"
She also said she's noticed a "noticeably curbed appetite" after drinking this during the day, plus credits this powder for better digestion—it's a "yes" from us!
| | |
| --- | --- |
| Dose Instructions | Up to 3 servings daily, each serving mixed with at least 8 fluid ounces of water |
| Main Fiber Source(s) | Psyllium fiber |
| Amount of Fiber Per Serving | 3 g |
| Cost | $29.48/180 servings = $0.16/serving*Amazon also offers a Subscribe & Save option |
| Soluble/Insoluble Fiber | Soluble |
Best Fiber Supplement With Prebiotic: Garden of Life Dr Formulated Organic Fiber Supplement
Good for: Those wanting to nourish their gut's probiotics for digestive, heart, immune, and overall health
Garden of Life's fiber supplement is formulated by Dr. David Perlmutter, an expert in brain health, neurology, and the human microbiome. The doctor-designed powder contains 5 grams of "organic prebiotic fiber blend" of acacia fiber, orange and apple peels, baobab, and cranberry seed.
Prebiotic fibers3 are known to feed and nourish probiotics, also known as "good" live bacteria. They also make their way down to the colon to ferment and produce short-chain fatty acids, which play promising roles in gut health, immune function, and more. The orange and apple peels4 are considered prebiotics, along with insoluble fibers to offer stool bulk and promote regularity.
Acacia fiber5, also known as acacia gum (AG), is a non-viscous soluble fiber shown to increase satiety—or the feelings of fullness—and lower blood glucose levels. It can also be a source of prebiotics to improve gut health6 and lower inflammation.
The baobab fruit7 and cranberry seeds8 further enhance the nutrient profile of the fiber supplement. Together, they boost the fiber content and provide powerful antioxidants and other impressive micronutrients.
The fiber supplement also comes in citrus flavor or unflavored options, both of which are claimed to dissolve easily and mix clearly. Adults are recommended to mix and drink 1 tablespoon (or a serving) in any water, juice, smoothies, soup, and any soft food.
Garden of Life prides itself on containing traceable ingredients and is Certified Carbonfree, meaning each qualifying product aims to reduce its carbon footprint when possible. The fiber supplement is also third-party certified USDA Organic, non-GMO, vegan, gluten-free, and kosher-friendly.
Lauren tested this fiber supplement as well, and suffice it to say, she was not a huge fan. "Because this is unflavored I expected no taste, but there is a taste and it's just really bad. I'm not surprised because it's ultra-organic, which I'm into, but this just tasted like wet dirt." She also said it did not mix well, which added to the unpleasant experience for her. Perhaps the Citrus option would be a better choice?
| | |
| --- | --- |
| Dose Instructions | 1 Tbsp (a serving) of powder stirred into at least 8 pounds of fluid |
| Main Fiber Source(s) | Acacia fiber, apple and orange peels, baobab fruit, and cranberry seeds |
| Amount of Fiber Per Serving | 5 g |
| Cost | 16.48/32 servings = $0.52/serving |
| Soluble/Insoluble Fiber | 4 g/1 g |
Best Fiber Supplement With Greens: Transparent Labs Prebiotic Aquatic Greens + Fiber
Good for: Fiber seekers who also want a powerful nutrient punch
This isn't the first time we reviewed Transparent Labs Prebiotic Greens, and there's a reason why it made our best greens powders list. Now, it's also among our favorite fiber supplements. The prebiotic greens was not only highlighted as one of the more affordable and tastiest (comes in Peach Mango but also unflavored), but also due to its health-enhancing prebiotic fibers.
Transparent Labs Prebiotic Greens claims it "does it better in two parts." The first part doesn't provide ordinary greens like kale and spinach, but rather an algae blend of spirulina and chlorella14 to deliver potent nutrients that display powerful antioxidant properties.
Part "#2" (this is too ironic!) is a prebiotic blend containing 3 grams each of organic acacia and green banana flour, as well as 1 gram organic Jerusalem artichoke fiber. The combination of soluble, insoluble, and slow-fermenting fibers can support a healthy gut.

The two-pronged approach is like a superfood dream team, as it claims to "optimize your often-overlooked microbiome and consequently affecting all aspects of digestion and wellbeing."
Amanda tried the Peach Mango flavor of Prebiotic Greens and said it tastes like grass, but mixing it with orange juice made it taste better. She also didn't notice any side effects one way or the other, but as with many of these products, you have to take them for a while to truly get their effects.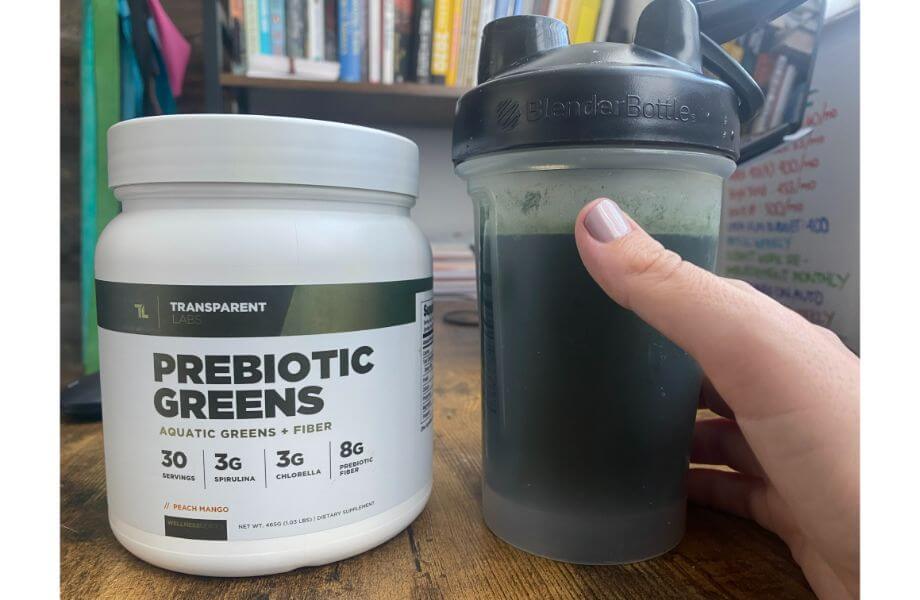 | | |
| --- | --- |
| Dose Instructions | 1 scoop (serving) mixed in your favorite beverage up to three times per day |
| Main Fiber Source(s) | Acacia fiber and Jerusalem artichoke fiber |
| Amount of Fiber Per Serving | 4 grams |
| Cost | $45.99/30 scoops (servings) = $1.53/serving |
| Soluble/Insoluble Fiber | Both |
Best Budget Fiber Supplement: Benefiber Unflavored Daily Fiber Powder
Good for: The thrifty (and future fiber) consumer
Benefiber is a budget-friendly, unflavored fiber supplement touted to support good digestive health with the help of wheat dextrin. Wheat dextrin9 is a soluble fiber that can help regulate the digestive system, increase micronutrient absorption, manage blood glucose and cholesterol levels, and protect against heart and gastrointestinal disorders.
While the fiber supplement is wheat-based, dextrin from wheat Beyond Gluten tells us it's generally considered safe for individuals with celiac disease and other gluten-related disorders since it's highly processed. Even despite Benefiber noting "The wheat has been processed to allow this food to meet the Food and Drug Administration (FDA) requirements for gluten-free foods," it's still wise to consult with a healthcare professional and do what's best for your needs.
For ages 12 and above, Benefiber recommends stirring 2 teaspoons (a serving size) of the powder into at least 4 ounces of fluids—but not recommended for carbonated liquids—or soft foods up to three times each day. With each serving containing 3 grams of fiber, this would amount to 9 grams of daily fiber sourced from Benefiber.
The Benefiber Original daily fiber supplement comes in various serving packs—ranging from 39 to 190 servings—and on-the-go stick packs. Benefiber Advanced Digestive Health Prebiotic Fiber + Probiotics is also available if your tummy is needing additional love and support (but do so with caution)!
Pro saving tip: In exchange for some personal info, snag a coupon on the official Benefiber website. (I personally tested this and received a printable coupon for $1.50 off any Benefiber product.)
Tester Lauren said that this Benefiber powder is truly unflavored, and she was able to mix it into different drinks without problem. She didn't notice much difference in terms of appetite suppression, but did attribute this supplement to helping with regularity.
| | |
| --- | --- |
| Dose Instructions | 2 tsp stirred into 4-8 oz of fluids or soft foods up to 3 times per day |
| Main Fiber Source(s) | Wheat dextrin |
| Amount of Fiber Per Serving | 3 g |
| Cost | $21.83/125 servings = $0.17/serving |
| Soluble/Insoluble Fiber | Soluble |
Best Fiber Supplement for Bloating: Unbloat Daily Capsules
Good for: Those looking to beat bloating for good—or at least try to!
After 14+ years of helping others live a bloat-free life, gastroenterologist Dr. Shilpa Mehra noticed a lack of comprehensive products for effectively doing so. Enter Unbloat. The doctor-formulated fiber supplement suggests it will help you "beat bloating for good."
Unlike other fiber supplements with a fairly slim ingredients list, Unbloat contains 40 carefully selected, natural ingredients. Those 40 ingredients break down into five main categories: digestive enzymes, probiotics, herbal remedies, essential nutrients, and prebiotic fibers.
The primary prebiotic fibers include inulin and partially hydrolyzed guar gum. Inulin is naturally found in various plants—like chicory, artichoke, salsify, and Jerusalem artichoke—that stimulates the growth of beneficial intestinal bacteria. Partially hydrolyzed guar gum (PHGG)10, a water-soluble dietary fiber, shows to provide similar benefits to dietary fiber intake.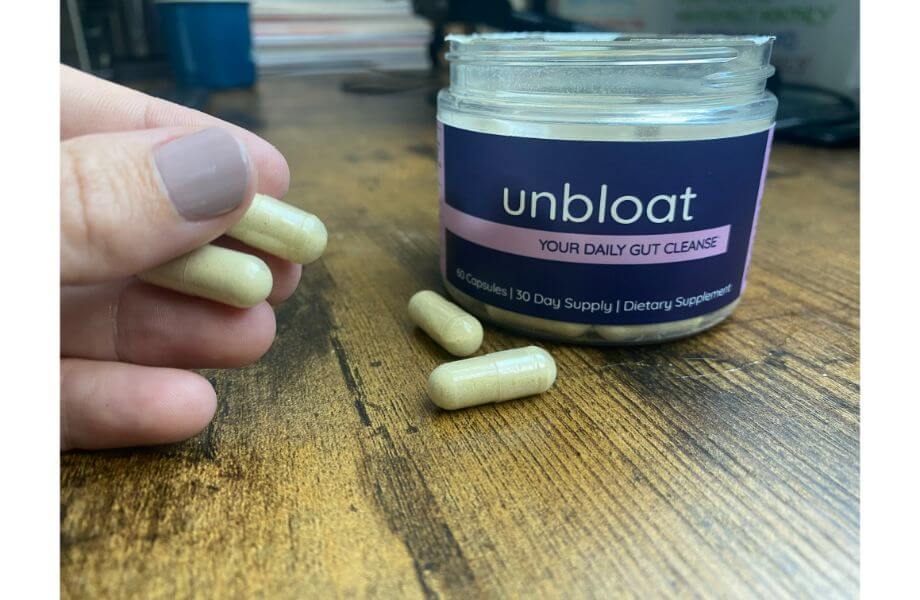 Taken together, Unbloat provides beneficial pre- and biotics, enzymes to break down foods, nutrients for bowel support, a "bloat-fighting" herbal formula featuring research-backed ingredients like ginger11 and peppermint12. It's also made in the U.S. free of common allergens, and suitable for vegan, vegetarian, ketogenic, gluten-free, and paleo diets.
Related: Best vegan protein powder
We should mention that the Supplemental Facts label also does not reveal grams of fiber like other supplements. While Unloat recommends 2 capsules per day, this can make it challenging to determine how it might fit into your daily fiber needs.
We'll also disclose the one-time purchase of $74.99 for a 30-day supply is quite steep, especially compared to the other fiber supplements on this list. However, they do offer subscribe-and-save options for monthly and quarterly savings, as well as a money-back guarantee if you are not completely satisfied with your order.
GGR writer and expert product tester Amanda Capritto tried Unbloat and said that they were fine to swallow, but she also hasn't noticed any specific effects yet—the label says wait for six to eight weeks to see results.
| | |
| --- | --- |
| Dose Instructions | 2 capsules within 30 minutes of a large meal; take an extra pill as needed |
| Main Fiber Source(s) | Inulin and partially hydrolyzed fiber |
| Amount of Fiber Per Serving | 276 mg of high-quality prebiotic fiber |
| Cost | 74.99/60 capsules (or 30 servings) = $1.25/capsule ($2.50/daily serving) |
| Soluble/Insoluble Fiber | Doesn't say |
Best Keto-Friendly Fiber Supplement: Bulletproof Innerfuel Prebiotic Fiber Powder
Good for: Keto and low-carb followers looking for extra fiber in their diets
Bulletproof's Innerfuel Prebiotic supplement is keto-friendly, containing 0 grams of net carbohydrates (carbs) per serving. Net carbs are the total carbs subtracted by fiber, as fiber is not digested and used for energy.
The keto-friendly fiber supplement suggests it contains science-backed ingredients—including organic acacia, partially hydrolyzed guar gum, and larch arabinogalactan—to support gut health and immune support. But, like all products we review, let's see for ourselves.
We've already covered acacia and partially hydrolyzed guar gum, so Bulletproof already gets our stamp of approval on these accounts. So, we'll move onto larch arabinogalactan13 which is a type of hemicellulose, or non-starch polysaccharide. The hemicellulose shows to support digestive health, enhance immune function, and help people resist common cold infections by 23 percent.
The powdered dietary supplement is unflavored and said to quickly dissolve, so you can mix one to two scoops into your favorite beverage for simple daily fiber intake. It's also free of soy, gluten, dyes, artificial fillers, and GMOs.
Amanda said that this powder is definitely unflavored, although it is a bit grainy mixed into beverages. She does warn that she should have heeded the label's instructions about dosing, though.
"The instructions say clearly: 'New to prebiotics? Start with one scoop and work your way up to two full scoops.' Well, I blatantly disregarded this and ended up with some pretty bad bloating about an hour after taking two scoops," she says. "It lasted a few hours and it was really uncomfortable. Next time I tried it, I went down to half a scoop and had no side effects. After two days, I tried one full scoop, and I was fine. I still haven't tried to consume more than one scoop since that first try though."
| | |
| --- | --- |
| Dose Instructions | Start by mixing 1 scoop (½ serving) into your favorite beverage then work up to 2 scoops (1 serving) per day |
| Main Fiber Source(s) | Acacia, partially hydrolyzed guar gum, and larch arabinogalactan |
| Amount of Fiber Per Serving | 6 grams |
| Cost | $39.59/20 servings = $1.98/serving |
| Soluble/Insoluble Fiber | Doesn't say |
Best Fiber Supplement for Kids: Mary Ruth Organics Kids Fiber Gummies
Good for: Kiddos, including picky eaters, needing a fiber boost
Mary Ruth Organics Kids Fiber Gummies are formulated with kiddos top of mind, including the pickiest of eaters who won't bother touching a colorful food unless it's a bowl of Fruit Loops.
Each gummy offers 3 grams of dietary fiber sourced from tapioca starch. Tapioca is extracted from cassava root and contains resistant starch15, which shows promising benefits for digestion and lowering the risks of chronic conditions like obesity and type 2 diabetes.
Kids aged 2 and over are recommended to take 1 gummy per day or based on guidelines of your child's pediatrician or another healthcare professional. According to KidsHealth, you can estimate your kid's fiber needs by adding 5-10 grams of fiber to their age—a 5-year-old should get about 10-15 grams of fiber daily, a 10 year old should get 15-20g, and so on.
The fruity papaya gummies are also naturally sweetened with fruit powders, although it does contain small amounts of the sugar substitutes maltitol and Stevia. The gummies are also free of common allergens, GMOs, and gelatin and made in a GMP facility for the utmost quality control.
You can also take advantage of subscribe-and-save options, including delivery frequencies every 30, 45, 60, or 90 days.
GGR editor and expert product tester Nicole Davis got these for her kids to try. Her two girls, ages four and two, love them, and of course, mom had to sneak a try too. "They taste like kid's gummy vitamins, and there is no protest to chew them up, which is a lifesaver with kids. They do taste like papaya, which I like, and think is cool for a kid's vitamin—not a flavor my kids get to taste often."
| | |
| --- | --- |
| Dose Instructions | 1 gummy per day |
| Main Fiber Source(s) | Tapioca flour |
| Amount of Fiber Per Serving | 3 grams |
| Cost | $24.99/30 daily gummies = $0.83/daily gummy serving |
| Soluble/Insoluble Fiber | Doesn't say |
Best Fiber Supplement in Pill Form: Citrucel Fiber Therapy Caplets
Good for: Those who don't want to be bothered with blending and sipping fiber powders
If you'd much rather swallow a single caplet than sip a fiber concoction, Citrucel's Fiber Therapy Caplets might just be for you. (But they do still recommend taking with at least 8 ounces of water.)
Each Citrucel fiber caplet provides 500 milligrams of methylcellulose, a synthetic form of the fiber cellulose. Methylcellulose is mostly used as a bulk-forming fiber laxative and stool-softening agent to treat constipation and other digestive conditions like diverticulosis and irritable bowel syndrome (IBS).
While it's claimed to be "the ONLY fiber for irregularity that won't cause excess gas," results can vary from one person to the next. Starting with their recommended dose of two caplets per day, then working up to six caplets each day, can lower the risks of digestive upset.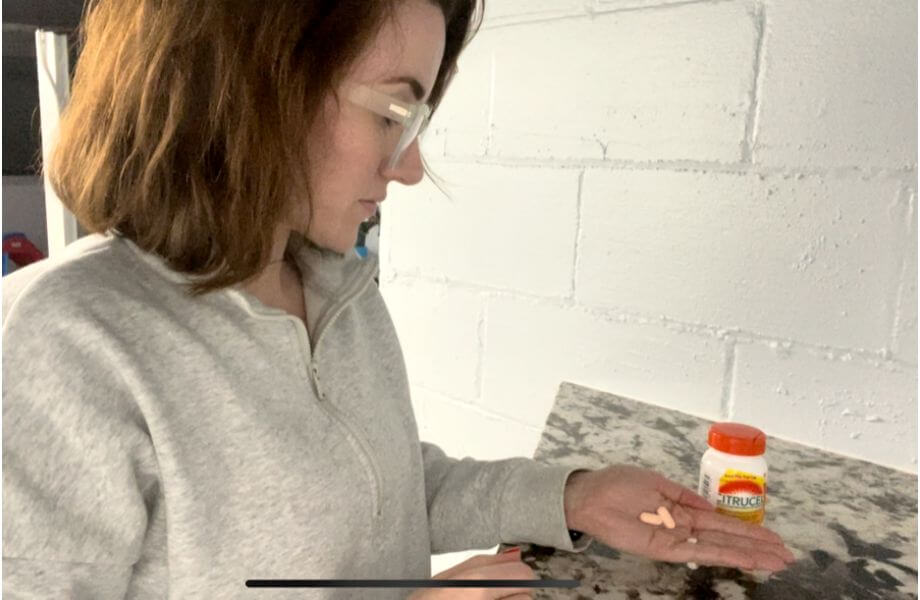 The caplets also contain pharmaceutical additives to enhance bioavailability and overall nutritional value, including dibasic calcium phosphate. It also contains yellow food dye and while FDA-approved, some consumers steer clear due to potential adverse reactions like hives and eczema.
Nicole also tried these, and while she did feel like it helped keep her regular, you have to take four caplets to get just 2 grams of fiber. So if fiber powder really isn't your thing, these will work fine, but in her opinion, it's worth looking into some of the other supplements on this list just for ease of use.
| | |
| --- | --- |
| Dose Instructions | Start taking two caplets per day with 8 ounces of water and increase up to 6 caplets per day |
| Main Fiber Source(s) | Methylcellulose |
| Amount of Fiber Per Serving | 500 mg per 1 caplet |
| Cost | $26.95/180 fiber caplets (or 90 servings) = $0.15/caplet (or $0.30/serving) |
| Soluble/Insoluble Fiber | Soluble |
Best-Tasting Fiber Supplement: Bellway Super Fiber + Fruit
Good for: Those seeking a sippable fiber supplement while igniting their flavor senses
Sip your way to a happy belly, mind, and body with Bellway Supe rFiber + Fruit. The sugar-free powdered fiber supplement comes in three fruity flavor options, including Lemon Lime, Mixed Berry, and Pineapple Passionfruit.
Masked behind the fruity flavors is psyllium husk, the functional fiber that dominates as a soluble fiber but offers smaller amounts of insoluble fiber. Taken together, psyllium can regulate appetite and improve blood cholesterol and sugar levels while keeping your bowels regular.
To reap these impressive health benefits, Bellway is quite thorough in their "what to do" and "how much to take" instructions. Here's a quick rundown:
When starting the fiber supplement, start with only a ½ scoop for the first 3 days then graduate to ½ to 1 scoop one to three times daily. The introductory period goes when increasing any type of fiber, as it allows your body to adjust and minimize any unpleasant bloating.
Add a scoop or two (after the adjustment period) of the powdered fiber into at least 8 ounces of cool water to mix just right—too hot or too cold of water apparently won't blend well. They also suggest drinking immediately, as waiting too long can cause the mixture to thicken.
Time accordingly with your medicine, specifically waiting at least two hours before or after taking to lower the risks of the fiber interfering with its absorption.
Beyond the functional psyllium husk, the remaining ingredients are quite impressive and "clean." The Ingredients list welcomes mostly natural ingredients—like turmeric, monk fruit extract, and fruit and veggie powders—to enhance color and flavor.
Nicole tried the Pineapple Passionfruit flavor of this Bellway Super Fiber + Fruit supplement and noticed right away that it smells very strong—not in a bad way, you just really get the flavor. "It doesn't taste super strong or sweet though, which is what I was expecting based on the smell. It's mild," she explains. "And definitely follow the company's instructions and drink this immediately—if you even let it sit for just a few minutes, it turns gelatinous, which is not appetizing!"
| | |
| --- | --- |
| Dose Instructions | 1 scoop mixed into at least 8 ounces of cool water 1-3 times daily |
| Main Fiber Source(s) | Psyllium husk |
| Amount of Fiber Per Serving | 5 grams |
| Cost | $29.99/50 servings = $0.60/serving |
| Soluble/Insoluble Fiber | Soluble |
Other Fiber Supplements We Researched
Just like any other supplement, there are plenty of fiber supplements on the market that still get our stamp of approval. Other reputable products we researched include:
Regular Girl Prebiotic and Probiotic Supplement
Pure Encapsulations PureLean Fiber
NOW Foods Certified Organic Inulin Pure Powder
O Positiv GOGO Fiber Gummies
Great Value Organic Chia Seeds (interesting twist)
How We Picked and Tested the Best Fiber Supplements
When plunging for the best fiber supplements, we investigated brand reputation and whether or not the product's formulations had scientific backing. We also based selections on variety to best serve everyone's specific dietary needs and preferences.
Brand reputation: Just like we hope you can trust our team of testers with our honest reviews, we base our picks on if we can do the same with other brands and their products. Brand reputation might be subjective, but we're always ensuring each is transparent and accessible for their consumers.
Evidence-based formulations: Of course, you want any product to do what it claims to do! As we hope you can tell by the fiber supplements we reviewed and selected, the core ingredients have solid evidence supporting them.
Fiber variety: Because the functions of fibers can vary based on their type, and everyone has their own unique needs, we made sure to offer variety so there's a fiber option for (just about) everyone.
Intake options: Some fiber consumers might prefer a quick swallow of a fiber capsule while others might prefer drinking their fiber elixir—unflavored or flavored, too.
Dissolvability: Speaking of fiber elixirs, does the powder dissolve easily and completely in the liquid of choice? We don't like choking down grainy and clumpy fluids, so we ensured to test out the dissovability.

Ingredients: As with any supplement, it's important to read the nutrition label to ensure your fiber supplement contains research-backed ingredients in proper dosages. A smaller dose of a certain ingredient or the omission of one could, in essence, render a fiber powder or capsule useless. You'll also want to look out for added ingredients that may not agree with your digestive system.
Benefits of Fiber Supplements
Dietitians and nutrition experts often share the common belief that people should have a foods-first approach to obtain essential nutrients. Supplements, which are intended to supplement a balanced diet, can fill in any nutritional gaps if or as needed/instructed.
Specific to fiber supplements, they can help people reach daily fiber recommendations—recall that's 25 grams per day for women and 38 grams per day for men. Consuming adequate fiber can carry over into the subsequent health benefits, including digestive health, heart health, and more.
Promotes Digestive Health
Perhaps the most common reason for considering and reaching for a fiber supplement is to support bowel regularity—or help people poop. Fiber supplements, specifically containing insoluble fibers, are best for stimulating bowel movements down the gastrointestinal tract because they add bulk to stools.
An updated 2021 review published in the Journal of Gastroenterology16 suggests fiber supplements can be a suitable therapy for relieving chronic constipation. The fermentation of fiber prebiotics17 in the colon can also increase fecal mass and lead to a stool-bulking effect. Soluble fiber may be potentially useful in alleviating symptoms of inflammatory conditions, such as irritable bowel syndrome (IBS) as well.
Supports a Healthy Heart
Did you know the body actually needs cholesterol to build healthy cells? But too much cholesterol in the blood can cause fatty deposits and block arteries, which can cause a heart attack, stroke, and other harmful (and deadly) effects—fiber can help prevent this!
Dietary fiber may support heart health, particularly by lowering cholesterol levels in the blood. Fiber has been shown to improve total cholesterol and LDL cholesterol, which is known as the "bad" kind of cholesterol.
A 2017 review published in Nutrients18 suggests soluble, gel-forming fibers—like beta-glucan and psyllium—have the most significant reductions in total cholesterol and LDL cholesterol, which is also known as the "bad" kind of cholesterol. Consuming high amounts of fiber can further significantly reduce the incidence and mortality (death) from cardiovascular disease.
A more recent 2021 study19 suggests dietary fiber is an opportunity to reduce global hyperlipemia, which is the fancier term for "high cholesterol." Fiber supplements shouldn't replace cardiovascular fitness, but they do show promising effects for supporting that blood-pumping organ.
Controls Blood Sugar Levels
Blood sugar control is important for everyone, but especially critical for people managing diabetes to prevent kidney problems, nerve damage, stroke, and other harmful complications if left uncontrolled. A review published in Diabetes Care20 proposes viscous fiber supplements should be considered to manage type 2 diabetes.
Another 2018 meta-analyses review21 suggests people who add beta-glucan and psyllium fibers, two types of soluble fibers, may be able to reduce fasting blood sugars and hemoglobin A1c—a simple blood test that measures average blood sugars over a course of three months. The review further suggests people who consume high-fiber diets may also be able to reduce their risk of type 2 diabetes.
Manages Body Weight and Appetite
Weight isn't necessarily the truest indicator of health, although carrying excess body fat can increase the risk of type 2 diabetes, heart disease, certain types of cancer, and other chronic conditions. Nutrition is a key component for losing body fat and including more fiber can help you reach a healthy body weight.
A bounty of evidence22 associates fiber intake with a lower body weight, which is thought to be explained by fiber's potential role in reducing appetite and overall calorie intake. A 2020 systematic review and meta-analysis of randomized controlled trials in The American Journal of Clinical Nutrition23 suggests viscous dietary fiber significantly improved body weight and other parameters of adiposity independently of calorie restriction.
Boosts Immune Health
Prebiotic fibers produce short-chain fatty acids (SCFAs)24, which may improve inflammatory responses and the immune system by increasing neutrophils, T helper cells, and other cells that help the body fight infection. Certain fibers25, such as β-glucans, have been shown to positively interact and influence immune cells.
Leverages Successful Aging
We all want to drink from the fountain of youth. But until we can sip (or chug) from it, we can realistically aim to get adequate fiber each day.
A 2016 review26 hints increasing fiber-rich foods could be a useful strategy for successful aging. Researchers have described "successful" aging as the absence of disease, good social engagement, lack of physical disability, little limitations in physical function, and good mental health.
Newer 2021 research27 also supports the importance of dietary importance for longevity. Despite being an animal-based study, fiber shows to delay aging by reducing inflammatory damage and improving immunity in the body.
Do I Need To Take a Fiber Supplement?
Fiber supplements aren't a necessity for everyone, though there are certain people who may experience positive benefits if they start taking one on a regular basis. As always, please consult your physician or healthcare provider before starting a new supplement regimen.
People With Digestive Issues
Anyone experiencing irregular bowel movements may want to look into finding the best fiber supplement for their needs. Insoluble fibers are better for people wanting to stimulate bowel movements while soluble fibers are better for irritable bowel syndrome (IBS)-related symptoms.
People With Heart Issues
Fiber is sometimes used to address heart issues, specifically by lowering the "bad" cholesterol—or LDL cholesterol—as well as overall cholesterol.
Diabetes Patients
A 2018 meta-analysis found that people who took beta-glucan or psyllium fiber, both soluble fibers, or ate a high-fiber diet saw significant improvement in blood sugar levels.
Buying Guide: What to Look for in Fiber Supplements
Before looking for a fiber supplement, it's wise to first consider if you ACTUALLY need one— fiber gives much truth to "too much of a good thing" In fact, consuming too much fiber can lead to adverse side effects like belly bloating, which is quite the opposite of what we're trying to achieve with fiber supplements.
To eval your fiber intake, it's helpful to keep track of your daily intake for a few days. Pay attention to the fiber on the Nutrition Facts label, as well as if you're eating your fiber-rich food sources like fruits, veggies, whole grains, legumes, flaxseeds, and chia seeds.
It's also a good idea to consult with your healthcare team before taking a supplement. This especially serves true if managing a health condition like irritable bowel syndrome and/or taking any sort of medication.
Okay, now that you are officially in the fiber supplement market, use those pointers to choose the best one for you:
Health goals: Fiber as a whole is beneficial but there are various types of fiber that offer various benefits. If your primary goal is to better manage blood sugars, a soluble fiber supplement is best. If you're mainly looking to improve digestive health, look for a product mostly containing insoluble fiber.
Lifestyle habits: Fiber comes in many forms, including drinkable powders and caplets, and some encourage taking multiple times a day while others are a one-and-daily-done. When choosing, consider which will best fit your lifestyle so that you will consistently take it—like if you want to be bothered with mixing and sipping your supplement three times per day. For those easing into fiber intake, you might consider a powder so you can control how much you consume versus a tablet already pre-dosed.
Watch out for fillers: Some fiber supplements contain helpful additions like probiotics whereas others might contain added sugars. Especially when reviewing supplements beyond our top picks, pay attention to the ingredients in them using the Ingredients label (often on the back).
Factor your budget: Most of our top picks are fairly easy on the wallet, but we also understand everyone has their own financial budget and should select accordingly.
Now that you've selected, or at least on your way to, don't forget to pair it with water. Just about any clean water will do but when increasing fiber intake, increase water intake as well. (Fiber aside, adequate hydration is essential for your health!)
FAQs About Fiber Supplements
What is a fiber supplement used for?
Fiber supplements are often used to improve bowel regularity and patterns, though they may also be helpful for improving blood cholesterol and sugar levels. They can even help improve immune function, regulate body weight and appetite, and promote anti-aging effects.
What is the best form of fiber to take?
The best form of fiber to take will often vary from one person to the next, as various types of fibers offer unique roles in the body. For instance, soluble fibers are best to lower blood cholesterol and sugars, while insoluble fibers mostly promote bowel regularity.
Is it okay to take fiber supplements every day?
If fiber supplements help you meet your daily fiber needs, taking them should not cause harm. However, before taking any supplement, it's wise to consult with your healthcare team to lower the risks of unpleasant effects of too much fiber.
Are fiber pills as good as powder?
Both fiber pills and powders prove to be safe and effective but the biggest importance is not exactly based on the form, but the type and quantity of fiber they offer. Powders may just have the upper hand on manipulating and dividing up the dose, especially when first starting on fiber supplements.
What's the best way to take fiber?
The best way to take fiber is based on the product's instructions, the recommendations offered by your healthcare team, and, overall, whatever works best for you and your needs. As a general rule of thumb, start with a lower fiber dose then slowly increase intake when introducing fiber supplements, as well as ensuring you're drinking enough water.
What is the best time of day to take fiber supplements?
It depends on how much fiber you're taking, but generally, it's better to take fiber supplements during the day to help you feel more full and avoid any unpleasant side effects while you're trying to sleep.
References: