We review free products that we receive and participate in affiliate programs, where we may be compensated for items purchased through links from our site.
See our disclosures page for more information.
The Gungnir Allrounderis an Olympic barbell that plays to its Norwegian creator's innovative prowess. Featuring built-in titanium clips known as "Slidelocks", this barbell runs the gambit of evolutionary gym-tech. Coming in at 216,000 PSI tensile strength built into the hard chrome-coated shaft with precise knurling, the Allrounder bar is innovative and of high-quality–albeit at a high price tag that will be hard to swallow for most people.
The Gungnir Allrounder may appear to be the same barbell one might take home from a successful Craigslist trade, but there is one particular facet to this bar which has drawn our attention in a big way… built-in collars known as "Slidelocks". Ease of use alongside variability creates a satisfying combination which would make any seasoned, or beginning, home gym owner/lifter question the litter of collars which have accrued on their gym floor. In this Gungnir Allrounder review, we'll go further into the reliability and durability of these built-in collars, how the knurling compares to other bars like that of Eleiko and Rogue Fitness as well as detail how we think it lines up value-wise. There is definitely more to this barbell than what would assume as a gimmick (it is novel, but I don't think that means it's a gimmick,) and that is what we are going to explore.
What is the Gungnir Barbell w/ Built-In Collars?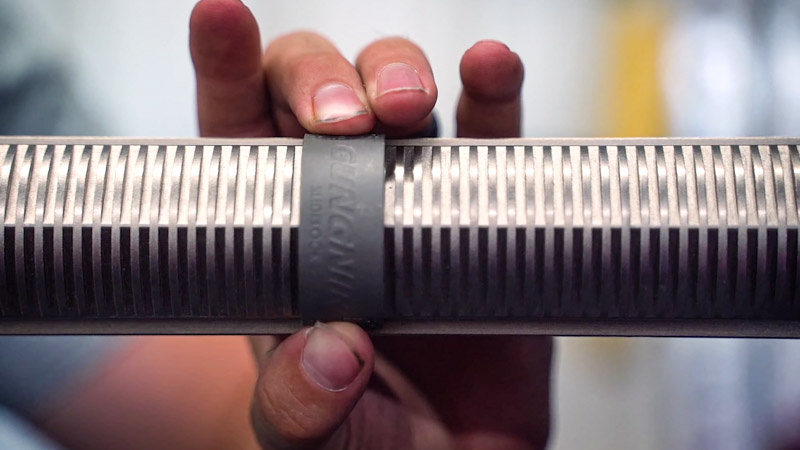 The Gungnir Allrounder is the first Olympic barbell released by Gungnir of Norway, and features built-in titanium barbell collars known as "Slidelocks". We tested the bar in all kinds of exercises such as deadlifts and squats, but even more intensive, cleans and snatches, this bar has been designed to withstand your heaviest reps and roughest drops. With more than just a simple built-in bar collar, this barbell has a hard chrome-coated shaft sporting a passive center knurl and semi-aggressive outer knurl. The use of quality machinery is evident in this bar's knurling as seen in the clean-cut between knurl and slip and the bronze bushings feature pockets to hold lubricant for a reliable spin and reduced necessity for maintenance. At a price point of >$700 this bar is meant for those who like the finer things in life and don't mind paying for them.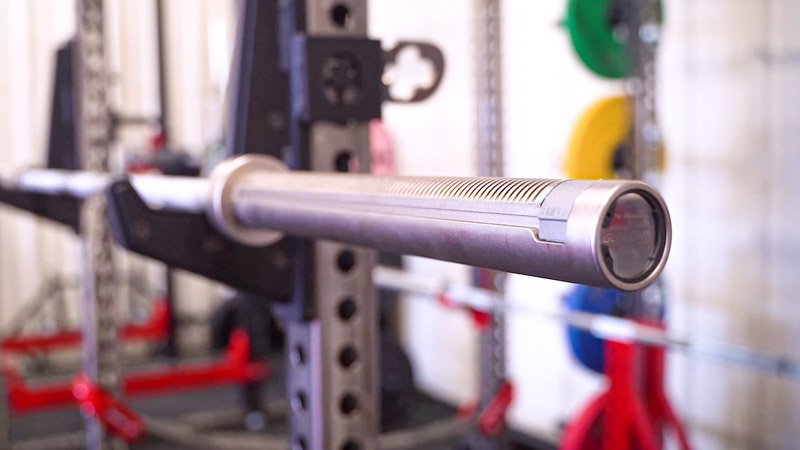 Regarding licensing, this bar's built-in bar collar, or "Slidelock", is a proprietary feature that we assume is a suspect in the bar's high-end price-point. After testing it ourselves in various exercises and movements, we have found that the proclaimed durability and ease of use are nothing to scoff at. This brings the bar verily into the marketplace as a legitimate option for home gym owner's who are looking for the bump up they may need to decrease plate switching time while providing safety and security in plate locking.
What We Like About the Gungnir Barbell
Claims made by Gungnir that the "Slidelock" technology is reliable in even the most strenuous circumstances could be enough to go on, but we decided to put it to the test ourselves. As if doing some regular cleans were not enough, we thought we would go a step further by throwing this bad boy off the top of one of our house racks. Dangerous? Yes. Overkill? Most definitely; but if we're to test the validity of such claims then here at GGR we have to put it through the wringer. So, after throwing it from a vertical distance of 15 ft (?), the Gungnir Allrounder withstood the bouncing and beating one might expect from such a height. Such resistance to turbulence may be hard to expect from what turns out to be nothing more than a magnetically secured clip, so watch our video on the product to see it for yourself.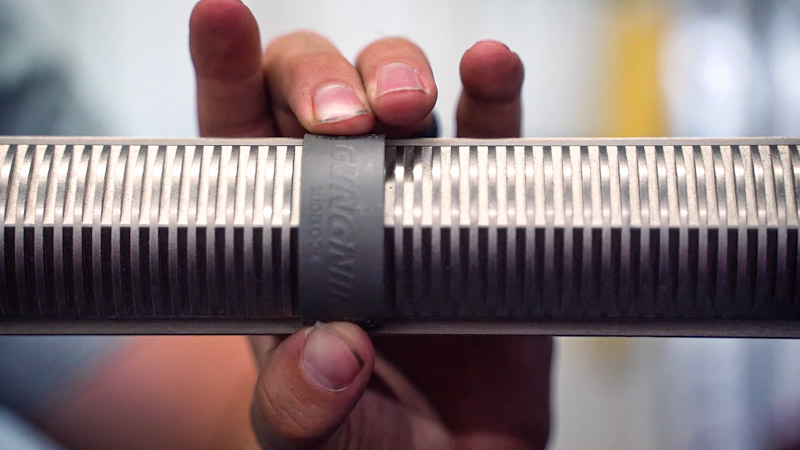 Alongside reliability, this clip brings a healthy serving of convenience. Although this bar is not the first of it's kind to break into the market with proprietary clips meant for the sake of convenience, this bar does it the right way. While keeping the clip as an intrinsic part of the bar, they confirm that simplicity is key to innovation.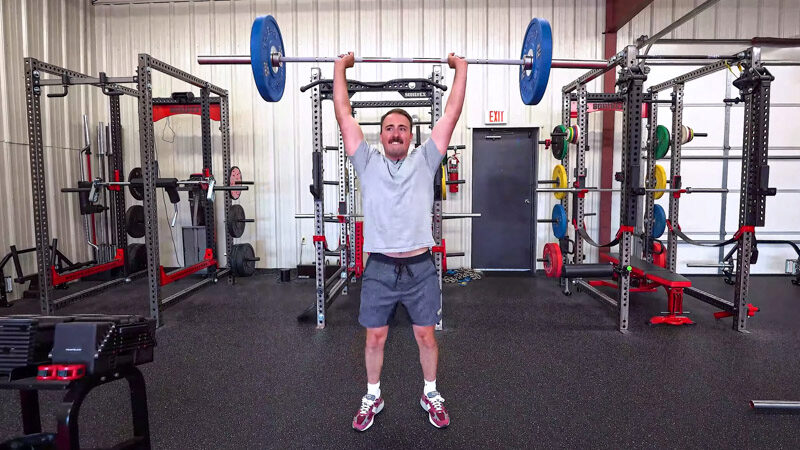 Time is a major factor to consider when building your garage gym, and this bar serves that factor well. Nothing more than a quick sliding of this clip down the shaft and securing it quickly onto the plate is necessary for you to get to work, and we like that aspect quite a lot. As an added bonus, this built-in clip reduces the extra collar weight which extraneous bar collars add (although it's minimal.) Though this may be equivalent to splitting hairs, each addition of weight to one's set is certainly something to take into consideration.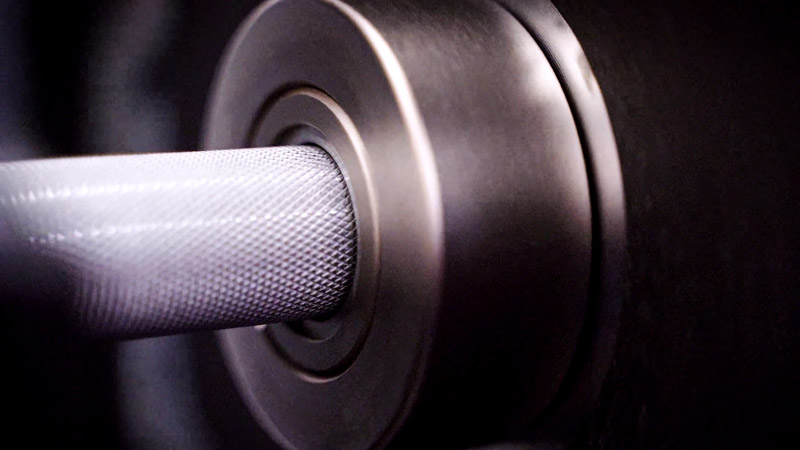 The bar itself is certainly no joke, either. With 216,000 PSI tensile strength built into a hard chrome-coated shaft (my personal preference is stainless steel), this bar stands strong when held up to the test against other Olympic hybrid barbells. Featuring standard Olympic bar dimensions (20 kg, 220 cm length, 28 mm grip, 50 mm loadable and rotatable sleeves), and other staples such as self-lubricating bronze bushings, this bar can serve a variety of purposes in any home gym owner's training routine while standing the test of time. While the bushings may not provide the same spin as a bearing bar, they certainly get the job done as any other standard Olympic bar would. Not to mention the knurling is equally satisfying as the clip itself. With a not-too-aggressive outer knurl and a passive center knurl, this bar provides sufficient grip and subsequent hold which many find mandatory in any proper barbell.
What We Don't Like About the Gungnir Barbell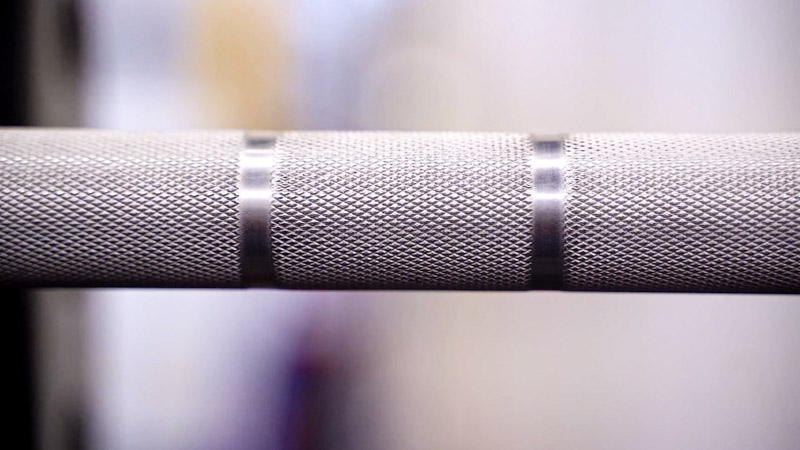 This bar lacks none of the glitz and glamour of a high-quality barbell, such as Rogue's 28mm Training Bar, while charging a rather ridiculous price in comparison. Could this piece of post-processed aluminum wrapped around either end of the bar really be the culprit for such a high price-point? While the bushings and knurl are both satisfying enough, there are plenty of bars in the market to fulfill such desires, and at lower price points as well. Not only are there other bars on the market that can beat this price, but these bars have been proven in the market. Barbells from makes such as Eleiko or Rogue have the sort of buyer's trust that a new entry like Gungnir will have to gain over time.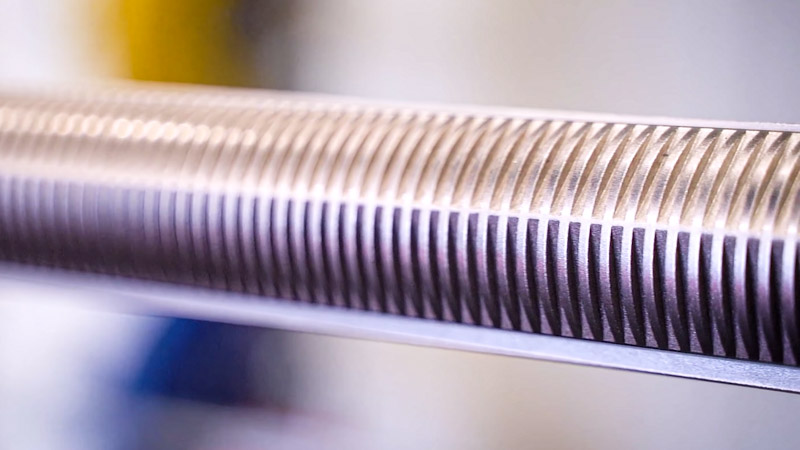 If Gungnir wants to gain mass appeal, our suggestion is a lower price, or maybe even licensing out the built-in collar technology to other companies with bulk production which makes for a lower price at the same standard of quality. However, I understand how difficult bringing a new product to market can be, especially when you consider the cost of patenting.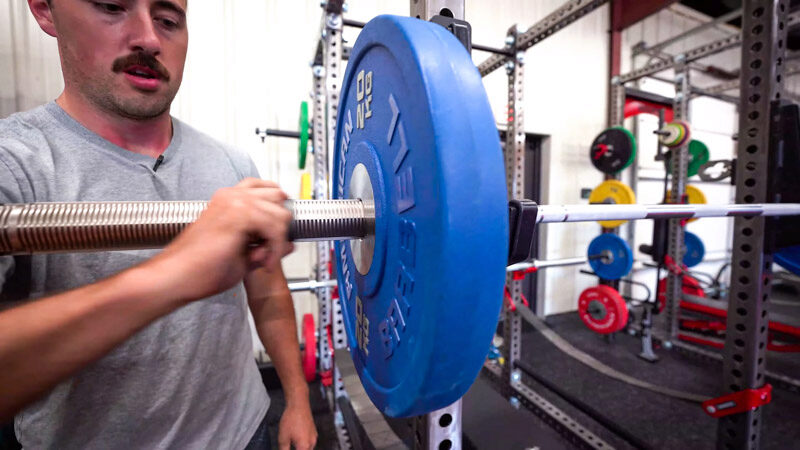 One aspect of this clip that has been brought to our attention through testing and regular usage is the tiny bit of play that takes place on different widths of plates. While our 5kg American Barbell plate sits snug as a bug between the collar and bushing, bumping up to 10kg leaves a tiny, however noticeable, room for jostle. No doubt secure, this is still a consideration worth taking into account as it can be annoying to some. Anyone using plates for high repetition workouts like those in CrossFit or Olympic Weightlifting will know that no matter how secure or reliable a bar collar may be, loosening will almost always occur.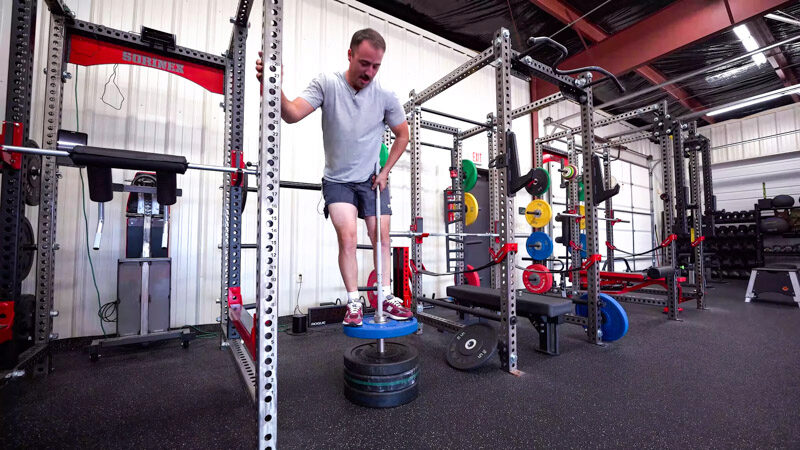 So do we think it is worth the extra hundred bucks for the added convenience this built-in collar and grooved sleeve provide? Yes. However, you're paying much more than that when you consider it against comparable bars. We like this bar, and think it certainly has a lot of potential, but there are a few changes that might need to be made to bring this into the consumer market as a reasonable option for home gym owners.
Full Rating