We test and review fitness products based on an independent, multi-point methodology. If you use our links to purchase something, we may earn a commission. Read our disclosures.
Peloton is known for bringing classroom cycling and running experiences right into your living room—if you can afford it, that is. With price tags in the thousands, smart home gym products like the Peloton Bike+ and Peloton Tread aren't exactly budget-friendly.
However, the brand's latest release, the Peloton Guide, aims to deliver an interactive strength training experience to any room with a TV and internet connection—for under $300.
In our Peloton Guide review, we give you our initial impressions of this affordable offering to people who aren't keen on cardio and prefer to hit the weights. Once we have tested it (it's scheduled to be released April 5), we can report back on whether or not we think this is a worthwhile investment.
Why You Should Trust Us
Collectively, our team has used just about every piece of smart home gym equipment or workout mirror on the market. We implement hands-on testing to dive into the assembly and functionality of each piece. As certified personal trainers and coaches, we assess the programming models with a discerning eye.
Peloton Guide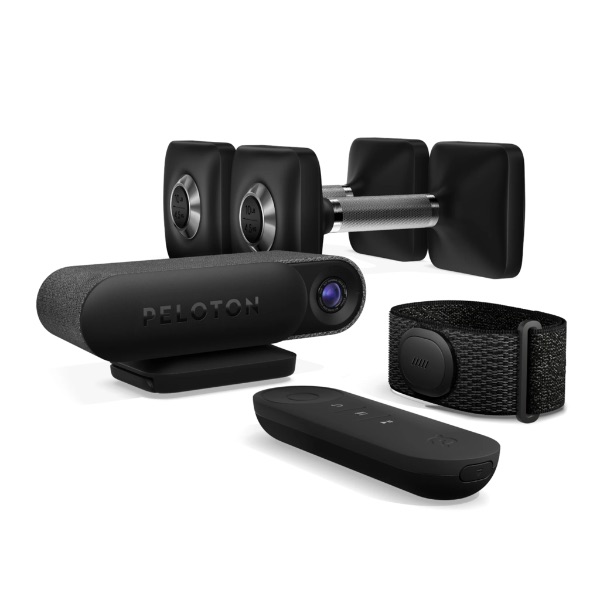 Peloton Guide
The Peloton Guide is a smart home gym priced under $500. While the brand is typically known for its work in cardio spaces, a la the Bike+ and the Tread, it is branching into the strength space through introducing the Guide.Unlike other, more expensive smart home gyms, the Guide is simply a camera that you hook up to your TV. It gives you access to Peloton Strength, which is a library of thousands of classes led by world-class, high-energy instructors. Additionally, the Guide has benefits that include "Self Mode," where you can see yourself on the screen alongside the instructors. This is intended to help you improve your form.There is also "Body Activity," which monitors which muscle groups you have worked in your exercise during the week. Body Activity will offer up suggestions to classes you can take to make sure you get a total-body workout. There is also a movement tracker with the Guide, though the brand has stopped short of sharing whether or not it is AI-powered and can offer form correction.There is a $13/month membership fee with the guide (less than what you pay for an all-access membership to the Peloton app). Also, there is no equipment included with the Guide other than the camera and the remote. You need to purchase weights separately.
Everything We Know About the Peloton Guide
At first blush, the Peloton Guide appears extremely similar to the Tempo Move. Both are relatively affordable, use minimal hardware, hook up to your TV, require monthly subscriptions, and deliver a more personalized strength workout.
That's about where the similarities end. Peloton hasn't released an abundance of information yet, but here's what we can tell you so far:
Pros:
Under $300 with $24/month membership additional
Minimal installation effort (it's just a camera)
Operates on voice command
Access to Peloton Strength app
Personalized suggestions for total-body workouts
Cons:
Weights and heart rate monitor armband sold separately
Claims to have a movement tracker, but we aren't convinced this is AI
Hard to find distinct benefits over just having the regular Peloton app
Installation
Unlike large workout mirrors, the Peloton Guide has minimal hardware for you to install in order to get going. You don't need to worry about taking up a lot of floor space or drilling holes in your wall. It is just a camera that appears to be compact enough to sit under a TV or on a shelf. It looks like you hook that up to your TV, and, with the power of Bluetooth and internet and certainly some log-ins and button-pushing, you should be good to go.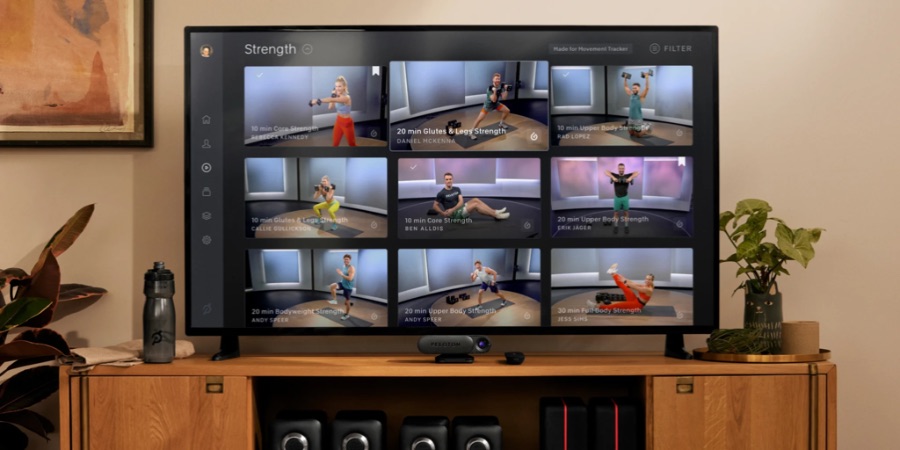 Programming and Use
From what we know, Peloton Guide gives you access to the Peloton Strength library, which is home to literally thousands of classes. Yes, it appears these are the same strength classes you get if you had the all-access membership to Peloton. And yes, these feature the same world-class instructors that put Peloton on the map: they are fun, they know what they are doing, and they are known for keeping you motivated.
The brand has, however, promised "hundreds" of new classes. We expect to see all the same great features the app offers, like the leaderboard. Also, if you already have the Peloton app, you won't have to pay an additional fee to access the classes for the Peloton Guide.
Using the Peloton Guide is seemingly as simple as turning on your TV, which is great for beginners and those new to fitness tech. You can operate the Guide with the accompanying remote, or you can go hands-free and use the voice-activated feature to turn on a class.
From a very high level, you might ask yourself if it's worth it to get Peloton Guide, or if you should just stick with the all-access membership to the Peloton app, one of the best personal training apps.
We see the Peloton Guide differing from the regular app in three main ways:

A movement tracker
"Self Mode" where you can see yourself on screen
"Body Activity" to give you personalized suggestions
Peloton said there is a "movement tracker" that will "give you credit" as you follow along with classes. They don't directly claim to be using any kind of artificial intelligence, like you'd find on more advanced smart home gyms like Tonal. From what I can gather, there won't be any kind of form correction or real-time cuing, at least not in this initial iteration.
One option you have is to put the Peloton Guide in "Self Mode" where you can see yourself on the screen. The purpose is to help you match your movement to the instructors. I'm personally a big advocate of recording yourself doing movements because it can, for some people, really help in self-awareness.
There is also the "Body Activity" section that highlights which muscle groups you have worked on during the week. This also prompts personalized class suggestions that target any muscles or areas you may have missed. It's hard to know if this is going to be unique to the Guide, or if Peloton will release it to all app members.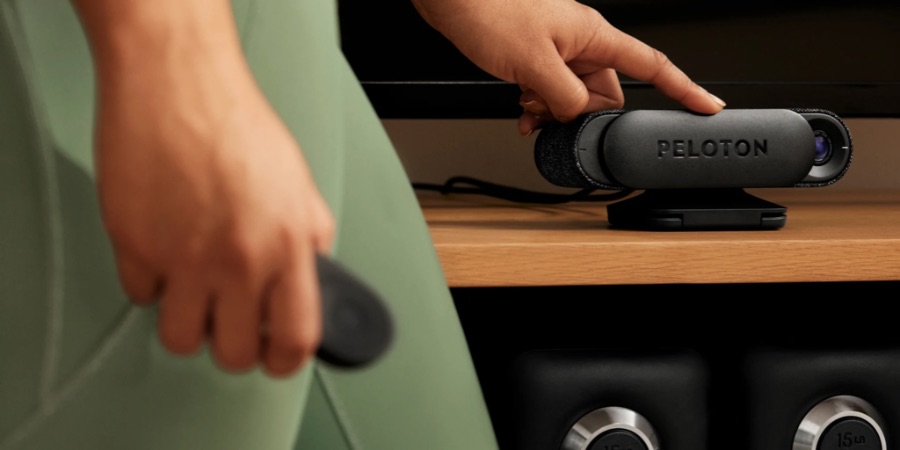 Privacy
Anytime there is a product like the MIRROR that uses cameras to record users, there is a privacy concern. Peloton notes that there is a slide on the front of the camera you can open and close. You can also disable the microphone when you aren't using the Guide.
Peloton Guide Vs. The Competition
Tempo Move
Tempo Move
The Tempo Move is a very affordable younger sister to the Tempo Studio. Access a lot of benefits you get with Tempo Studio:AI-powered form correction Access to thousands of classes Some weights includesIn order to use Move, you need to have an iPhone XR (or later version) as well as a TV.
It seems like the Tempo Move is going to be the real competition for Guide. Right now, the Move is priced at about $200 less, but the membership is $39/month ($468/year) compared to the Guide membership slated to be $24/month ($288/year).
However, you get what you pay for: the Move comes with actual weights, whereas with the Peloton Guide, you purchase dumbbells separately. The Move is a self-contained system in a box that is about the size of a small end table, and the Peloton Guide is literally just a camera and a remote (you have to buy the heart rate armband separately).
I think that the Move might have the edge because it uses the signature artificial intelligence you see in its big sister, the Tempo Studio, to offer form correction. From what I can tell, you don't get that with the Peloton Guide; you only get Body Activity and a "movement tracker" that we have yet to fully know the details of.
Peloton Guide Release Date
The Peloton Guide is set to release on April 5, according to the brand.
Final Verdict of our Peloton Guide Review
We truly don't know much yet about the Peloton Guide, aside from the fact that it should come out April 5, it will be one of the most affordable things the brand offers aside from an app membership, and it is going to be strength-focused.
My hope is that the Peloton Guide offers some kind of form correction and guidance so it's worth the investment. I'm not sure what the advantage of the Guide would be over simply getting the all-access Peloton membership, because it doesn't appear the Guide offers enough in the way of personalized training.
Peloton Guide Review FAQs
How does Peloton Guide work?
Peloton Guide is a smart home gym that couples a more personalized strength training experience with the brand's existing—and renowned—class experience.
How much will Peloton Guide cost?
The Peloton Guide system is expected to cost $295, which is far more affordable than any of the Peloton equipment, and just a hair more expensive than a Peloton all-access membership ($39/month, or $468/year). In addition to the Guide itself, you have to purchase an app membership, which is $24/month.
What is Peloton Guide's release date?
Peloton has announced that the Guide will be available for purchase on April 5.