We test and review fitness products based on an independent, multi-point methodology. If you use our links to purchase something, we may earn a commission. Read our disclosures.
Did you know ashwagandha1 got its name because its roots smell like a horse (from the Sanskrit word for horse, "ashwa")? But don't let that tidbit run you off, as consuming ashwagandha is said to give you the power of one!
Ashwagandha—botanically known as Withania somnifera—is one of the most important herbs used in Ayurveda, the traditional system of medicine in India traced back to 6,000 BC. For most of these 6,000 years, ashwagandha has been used to promote a youthful physical and mental health state.
Fast forward to today, ashwagandha continues to provide countless health benefits—like offering stress relief, increasing energy levels, and improving cognitive function—with research to back them. (Ashwagandha may be more like a multi-trick stallion than a one-trick pony.)
Because the best time to take ashwagandha might be right now, join us as we explore the best ashwagandha supplement options on the market. Even the neigh-sayers might be pleasantly surprised to learn how ashwagandha might improve their health and well-being!
Medical disclaimer: This article is intended for educational and informational purposes only. It is not intended as a substitute for medical advice. For health advice, contact a licensed healthcare provider.
Best Ashwagandha Supplement
Best Overall Ashwagandha Supplement: Transparent Labs KSM-66 Ashwagandha
Good for: Anyone looking for a reputable, high-quality ashwagandha supplement
Transparent Labs prides itself on being transparent and using the most effective doses to formulate its products. Its ashwagandha supplement is no different and contains only one ingredient—you can likely guess what it is!
The ashwagandha supplement specifically contains KSM-66®, a patented, full-spectrum ashwagandha extract—full-spectrum means it includes the various active constituents in the original herb. KSM-66® offers the highest concentration of all major root-only extracts available on the market.
KSM-66 only uses the root to produce its highly concentrated extract, which helps ensure you get at least 5% bioactive withanolides2—the main extracts from Withania somnifera that provide ashwagandha's primary benefits—at the clinically studied dose of 600 milligrams in every ashwagandha capsule. This aligns with research3 suggesting that ashwagandha with 5% of withanolides is the most effective for improving sleep quality and increasing energy levels.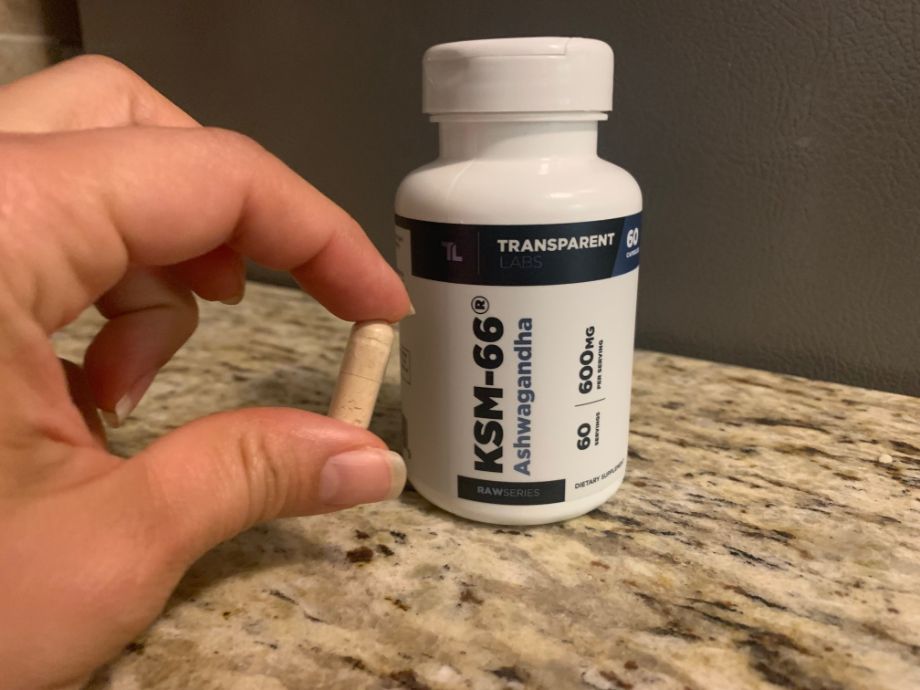 Another study4 suggests taking two 300-milligram capsules of KSM-66 daily can effectively reduce serum cortisol levels. Cortisol5, the body's primary stress hormone produced by the adrenal glands, helps mediate the stress response while regulating metabolism, inflammation, and immune function.
Like all Transparent Labs products, the ashwagandha supplement is free of artificial preservatives, sweeteners, and coloring. You can also view its Certificate of Analysis, conducted by third-party labs, by searching for "KSM-66."
GGR Head of Content, Kate Meier, says the small pill is easy to swallow and reports no negative side effects.
| | |
| --- | --- |
| Type | Capsules |
| Ashwagandha per serving | 600 mg of KSM-66® Ashwagandha Extract |
| Other ingredients | N/A |
| Dose Recommendation | Take 1 capsule with a glass of water 1-2 times daily |
| Cost | $19.99/60 servings = $0.33/serving |
Best Ashwagandha Gummies: Xwerks Ashwagandha Gummies
Good for: Chewing into stress relief and other ashwagandha benefits
Xwerks Ashwagandha Gummies contain 1,500 milligrams of a 30:1 extract standardized to 3% withanolides. When choosing an ashwagandha supplement, ConsumerLabs recommends when looking for a root extract containing at least 1.5% of withanolides—so checkmark for Xwerks for delivering when choosing an ashwagandha product.
We especially like that Xwerks backs Ashwa's claimed benefits—like increasing testosterone levels, improving physical performance, reducing stress, and maximizing sleep—with evidence-based studies. Oh, and they offer a money-back guarantee and free shipping on all orders.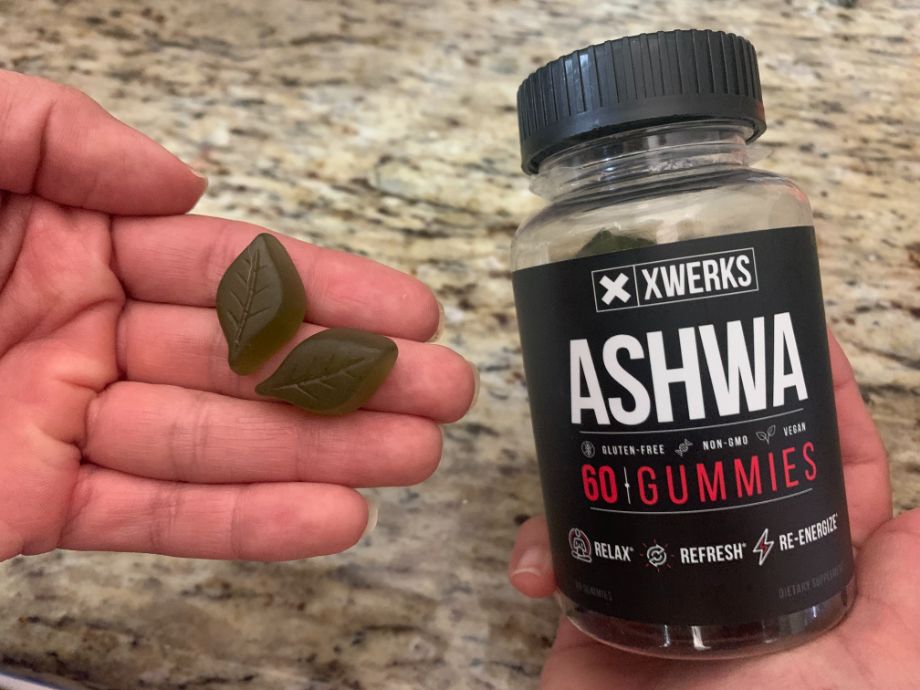 The biggest downside is that the gummies only come in one flavor. And like most gummy supplements, Ashwa contains 6 grams of added sugars from glucose syrup, sugar, and glucose. Kate Meier, GGR Head of Content, says, "There is a very slight strawberry taste to these gummies. I think you taste sugar before you taste strawberry. It's not unpleasant, it's not delicious, it's just OK."
| | |
| --- | --- |
| Type | Gummies (Strawberry) |
| Ashwagandha per serving | 1,500 mg of Ashwagandha Root |
| Other ingredients | Glucose syrup, sugar |
| Dose Recommendation | Take 1-2 gummies per day, preferably later in the day |
| Cost | $19.00/30 servings (2 gummies) = $0.63/serving |
Best Ashwagandha Blend: KOS Kiss Your Blues Away
Good for: Fighting the blues and enhancing brain functions one sip at a time
Feeling blue? "Kiss Your Blues Away" with KOS' tropical, tranquil blue blend! The blend's most active ingredients include organic blue spirulina, organic ashwagandha root, organic red reishi mushroom, organic lemon balm leaf, and organic passion flower extract. And yes, it's also USDA-Certified Organic.
The combo of ashwagandha4 and red reishi—also known as Ganoderma lucidum6—may reduce cortisol levels and ease inflammation. KOS tells us that lemon balm7 is all about the GABA—a neurotransmitter linked to improved memory and mental intelligence—and research8 shows that lemon balm can elevate mood and cognitive effects like memory.
Adding passionflower may ease anxiety even more, while blue spirulina9—a type of blue-green algae—could enhance immune functions and anti-inflammatory properties. Spirulina is also packed with nutrients like protein (up to 70% of its content), iron, and vitamins A and B12.
The blend sounds great, but since it's a blend, it's hard to tell the exact dose of each ingredient. Dosing aside, you'll enjoy a Berry Coconut Cooler flavor that can be blended into cold water, mixed as a hot blue latte, and even added to baked goods.
Kiss Your Blues Away is produced in a Good Manufacturing Practices (GMP)-certified facility and comes with a 60-day money-back guarantee if you aren't satisfied with your order for whatever reason. It's also 100% plant-based and soy-free, dairy-free, and gluten-free.
| | |
| --- | --- |
| Type | Powder Blend (Berry Coconut) |
| Ashwagandha per serving | N/A (organic ashwagandha root) |
| Other ingredients | Organic Blue Spirulina, Organic Red Reishi Mushroom, Organic Lemon Balm Leaf, Organic Passion Flower Extract  |
| Dose Recommendation | Add 1 scoop serving to 8-12 oz of cold water or your favorite beverage or recipe |
| Cost | $39.99/28 servings = $1.43/serving |
Best Pre-Workout With Ashwagandha: Onnit Alpha Brain Pre-Workout
Good for: Those looking for a pre-workout that delivers mental clarity along with a good pump
In addition to containing all the classic ingredients found in the best pre-workouts, Onnit Alpha Brain also has 225 milligrams of NooGandha—a patented form of ashwagandha. You might ask, "Why would someone want a pre-workout with ashwagandha?" The answer is that the herbal root can help improve strength/power, cardiorespiratory fitness, and fatigue/recovery, according to a February 2021 meta-analysis.
"In fact, the probability of at least a small effect size on physical performance favoring subjects supplemented with ashwagandha is very high," researchers noted. In English, there's at least a 95 percent change that ashwagandha can help your performance in the gym.
And that's exactly what a group of competitive weightlifters experienced when they tested Onnit Alpha Brain pre-workout. "We had multiple people on our team try this, and they all agreed: This brings great focus and clarity to your workout," says Kate Meier, GGR's head of content and a USA Weightlifting Level-1 coach. "It's not overly stimulating; it's more of just feeling very present and ready to do the work."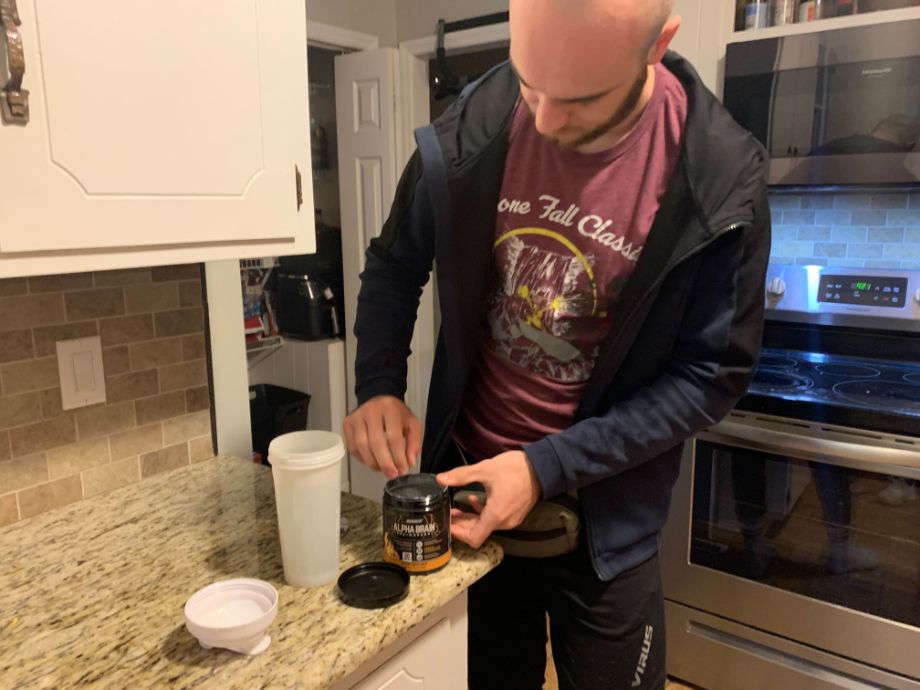 Jacob Penner, USAW-L2 coach and owner of Endless Strength Weightlifting, also endorsed the pre-workout's mental benefits and added it's pretty good in the physical department, too. "While I didn't get the tingles like I do with other pre-workouts, I definitely still got a pump," Jacob says.
Ashwagandha isn't Onnit Alpha Brain's only unique ingredient. It also contains Dynamine, a substance that can prolong caffeine's energy-boosting effects. Because of this, Onnit warms that you shouldn't take this pre-workout with any other substances that contain caffeine. That's because Dynamine has a longer half-life than caffeine, meaning it takes longer to leave your system.
Alpha Brain comes in two flavors: Tiger's Blood and Yuzu Peach. Although neither was our favorite in the taste department, Tiger's Blood is the better of the two due to its coconut, watermelon, and strawberry flavor notes.
| | |
| --- | --- |
| Type | Powder (Yuzu Peach or Tiger's Blood) |
| Ashwagandha per serving | 225 mg of ashwagandha extract |
| Other ingredients | Caffeine, L-citrulline, beta-alanine, African palm oil |
| Dose Recommendation | Add 1 scoop serving to 10-14 oz of water |
| Cost | $59.99/20 servings = $3/serving |
Best-Tasting Ashwagandha Supplement: Swolverine Ashwagandha Gummies
Good for: Anyone looking for a taste of ashwagandha and its benefits
As our top pick for the best tasting, Swolverine Ashwagandha Gummies are cherry-flavored and provide 25 milligrams of pure ashwagandha extract. According to its official product page, this concentrated extract equals 750 milligrams of non-concentrated ashwagandha.
The ashwagandha is joined with 100 micrograms of vitamin D as ergocalciferol, also known as vitamin D2. While the best vitamin D supplements typically contain cholecalciferol (or vitamin D3) due to its greater absorption, vitamin D2 can still help you reach an adequate level of the sunshine vitamin and offer benefits related to bone, immune, heart, and mental health. You'll also get 40 micrograms of zinc, a mineral critical for immune health, tissue repair and growth, and other life-sustaining processes.
The addition of pectin—a soluble fiber primarily found in the outer layer of fruits—can support good digestion and lower cholesterol. However, because fiber content is not itemized on the label, it's unclear how much you'll get. (For your fiber needs, we recommend consuming wholesome plant-based foods and considering one of the products on our best fiber supplements guide.)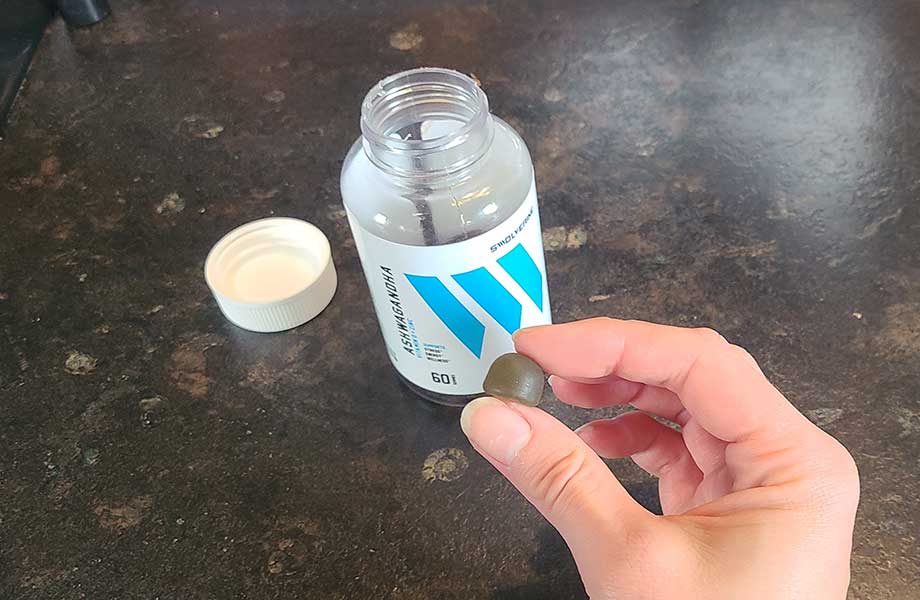 While the gummies do contain added sugars, they are flavored with natural cherry flavor and are gluten-free, non-GMO, and vegan-friendly. Also, like all Swolverine products, the ashwagandha gummies are third-party tested by Lief and Micro Quality labs. Lief is a National Sanitation Foundation (NSF) and U.S. Food and Drug Administration (FDA)-certified inspected facility that complies with Good Manufacturing Practices.
GGR editor Frieda Johnson tested these gummies and said, "They taste pretty good, especially for ashwagandha which typically has a bitter taste. There is a bit of an odd aftertaste and mouthfeel from the zinc, but it's not too bad."
| | |
| --- | --- |
| Type | Gummies (Cherry) |
| Ashwagandha per serving | 750 mg of ashwagandha root extract |
| Other ingredients | Vitamin D, Zinc, Pectin |
| Dose Recommendation | Take 1 Ashwagandha supplement gummy daily, preferably with food or as directed by a healthcare professional |
| Cost | $21.99/60 servings = $0.37/serving |
Best Budget Ashwagandha: NOW Supplements Ashwagandha
Good for: Budgeting money and prioritizing health while alleviating financial and day-to-day stress
Costing just $0.10 per serving, NOW Supplements Ashwagandha is a great option for anyone curious about ashwagandha to try without the financial stress. And don't worry, you won't have to compromise quality!
Each capsule provides 450 milligrams of ashwagandha with a minimum of 2.5% total withanolides. NOW also suggests taking the capsules up to three times daily to help you adapt to "temporary normal stress" and support a healthy immune system.
NOW Supplements ashwagandha is free of GMOs, dairy, eggs, nuts, soy, and gluten. However, it's manufactured in a GMP-certified facility that processes other products with those food allergens.
GGR Head of Content, Kate Meier, did say that she felt the least effect from these, compared to all the other kinds of ashwagandha she's taken, likely due to the lower dosage.
| | |
| --- | --- |
| Type | Capsules |
| Ashwagandha per serving | 450 mg of ashwagandha Root Extract |
| Other ingredients | N/A |
| Dose Recommendation | Take 1 capsule 2-3 times daily |
| Cost | $17.95/180 servings = $0.10/serving |
Best Vegan Ashwagandha Supplement: Pure Encapsulations Ashwagandha
Good for: Plant-based and vegan dieters looking to elevate their overall health and wellness
Pure Encapsulations Ashwagandha provides "everything you need and nothing you don't." And in this case, 500 milligrams of ashwagandha root extract were standardized to contain 2.5% withanolides without using any artificial colors, GMOs, unnecessary fillers, hydrogenated oils, common allergens, and more.
The ashwagandha capsules claim to promote mental and physical health, including stress relief, cognition, thyroid support, and joint health. Some research10 suggests taking 600 milligrams of ashwagandha daily may normalize thyroid levels in patients with an underactive thyroid. Other research11 supports that 250 milligrams of ashwagandha can reduce pain and stiffness in knee joint patients.
And as the best vegan ashwagandha supplement on our list, we can't help but mention that Pure Encapsulations is dedicated to a more sustainable and greener future. And in addition to being vegetarian and vegan-friendly, the ashwagandha capsules are also certified gluten-free.
Pure Encapsulations is also NSF-GMP registered in the US and GMP certified in Canada and exceeds the United States Pharmacopeia (USP) standards for supplement manufacturing. Any herbal ingredients are tested for 70 different pesticide compounds, along with testing for metals, toxins, contaminants, and allergens.
| | |
| --- | --- |
| Type | Capsules |
| Ashwagandha per serving | 500 mg of ashwagandha Root Extract |
| Other ingredients | N/A |
| Dose Recommendation | Take 1 capsule daily, with or between meals, or as directed by a health professional |
| Cost | $44.10/120 servings = $0.37/serving |
Best Organic Ashwagandha: Himalaya Ashwagandha
Good for: Anyone who prioritizes organic products without the worry of unwanted additives
Formulated with organic ingredients and without GMOs, Himalaya Ashwagandha is our top pick for the best organic ashwagandha supplement. Yes, it's USDA-Certified Organic!
Unlike the other ashwagandha supplements on our list, this one lists organic ashwagandha on its supplement facts list three times, so bear with us. With each caplet, you'll get 380 milligrams of organic ashwagandha root powder (0.2% withanolides), 280 milligrams of organic ashwagandha root extract (0.5% withanolides), and 10 milligrams of organic ashwagandha supercritical CO2 extract (8% withanolides).
The root extract and powder are familiar, but what's the "supercritical CO2 extract" all about? Well, a study published in Toxicology Reports12 tells us that this standardized ashwagandha extract is signature to The Himalaya Drug Company and undergoes good agricultural and collection practices (GACP) during the plant's farming, harvesting, and collecting. Really, it's just a potent concentration of ashwagandha—that's also been grown in its native Indian soil!—and adds to the overall total of the supplement.
While it goes without saying, the 100% ashwagandha supplement is free of any "extras" like synthetic additives and artificial binders. It's also routinely tested for purity and manufactured in a GMP-certified facility.
GGR editor Frieda Johnson reports that although it has a mild bitter taste, the pill is small and easy to swallow.
| | |
| --- | --- |
| Type | Caplets |
| Ashwagandha per serving | 670 mg (ashwagandha powder and extract) |
| Other ingredients | N/A |
| Dose Recommendation | Take 1 caplet per day before food |
| Cost | $19.99/60 = $0.33/serving |
Best Powdered Ashwagandha: Moon Juice Ashwagandha
Good for: Blending ashwagandha into your favorite drinks and foods
While Moon Juice Ashwagandha might not blast you off into the stars, it may help relieve stress, enhance your focus, and improve your mood. Like Transparent Labs' ashwagandha capsules, Moon Juice provides 600 milligrams of full-spectrum organic ashwagandha root powder as KSM-66 but in powder form.
You can enjoy Moon Juice blended into any beverage or food product, though they recommend the bitter flavor pairs well with chocolate, coffee, maple, and baked goods. Moon Juice also provides a recipe for "Ashwagandha Butter Coffee"—a blend of 1 tablespoon of ashwagandha powder, 2 tablespoons of ghee, 8 ounces of coffee, and an optional sweetener. But do note that a serving size is about ¼ teaspoon, so the coffee recipe is an extra potent concoction.
Digging into Moon Juice's FAQ page, the brand claims its chosen ingredients are of the highest quality and clinically tested. The plants also undergo two rounds of identity testing, where they are tested for bioactive compounds, heavy metals, mycotoxins (naturally occurring toxins in fungi), and pesticides.
The Moon Juice powder is also organic, vegan-friendly, and gluten-free. However, it is packaged in a facility that handles tree nuts, making it a potentially unsuitable option for anyone managing a tree nut allergy.
Our tester for this product, GGR editor Frieda Johnson, said, "To me it tastes like dried, powdered mushrooms; not unpleasant, but a bit earthier than I would want to drink just mixed with water. It blends into liquid fairly well, but does settle a bit and needs to be stirred several times if you're not chugging it." She also noted that she likes the brand's focus on more sustainable packaging.
| | |
| --- | --- |
| Type | Powder |
| Ashwagandha per serving | 600 mg of KSM-66 organic ashwagandha root powder |
| Other ingredients | N/A |
| Dose Recommendation | Use between 1/4–1/2 tsp daily |
| Cost | $38.00/72 servings = $0.53/serving |
Best Greens Powder with Ashwagandha: Athletic Greens AG1
Good for: Reducing daily stress while optimizing daily nutrients
As we explained in detail in our Athletic Greens review, AG1 is one unique product: It serves as a multivitamin, provides whole-food-sourced nutrients, supplies probiotics, and delivers a bounty of adaptogens, because why not? And not surprisingly, ashwagandha joins the 20+ roster of adaptogens—along with beet powder, dandelion root, green tea extract, and milk thistle, just to name a few—to help you adapt to stressful situations.
The downside of AG1 is that most of the ingredients are bulked into blends, so it's hard to tell how much ashwagandha you're actually getting out of the 2,732 milligrams "Nutrient Dense Extracts, Herbs & Antioxidant" blend. But we can at least identify the ashwagandha as a root extract in a 5:1 ratio.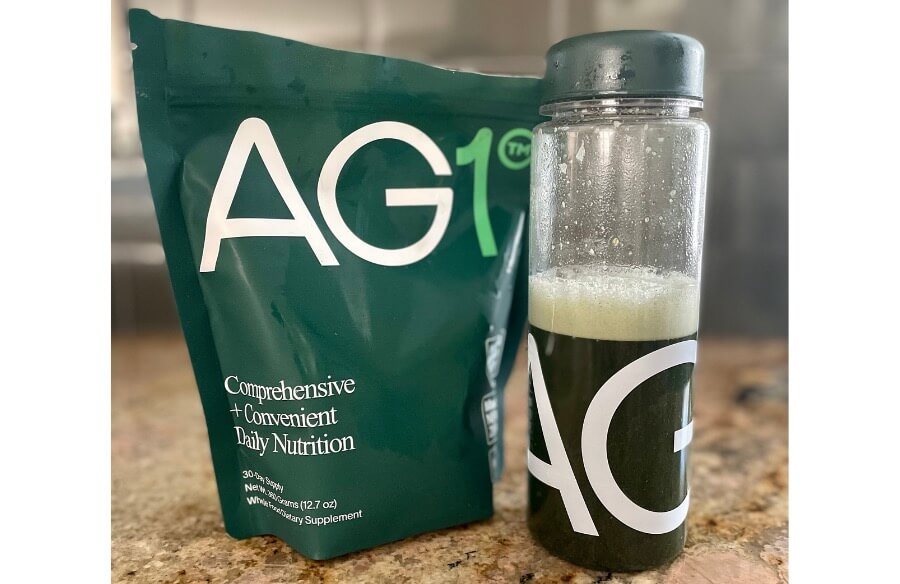 But as some major pluses, AG1 has undergone 50+ iterations and counting over the past decade—insinuating that the formula continues to be modified to (hopeful) perfection. It's also made in TGA-registered, NSF-GMP facilities and is NSF Certified for Sport®, so you can rest easy knowing that AG1 is third-party tested and free of unsafe levels of contaminants, prohibited substances, or masking agents.
GGR senior editor Nicole Davis said, "I'm always trepidatious before my first sip of a new greens powder, expecting my mouth to fill with the flavor of straight grass. But thankfully, that's not what you get with AG1. While the powder itself isn't named with a flavor and there are no flavor options, it tastes mildly like pineapple and vanilla with earthy hints. It is slightly sweet, due to the small amount of Stevia used, but no artificial sweeteners are present."
| | |
| --- | --- |
| Type | Powder |
| Ashwagandha per serving | N/A |
| Other ingredients | 75 High-Quality Vitamins, Minerals, Adaptogens, Probiotics, and Other Whole-Food Sourced Nutrients |
| Dose Recommendation | Mix 1 scoop daily in 8-10 oz of cold water, juice, milk, or in a smoothie; preferably first thing in the morning on an empty stomach or 10-15 minutes before the first meal of the day for optimal absorption. |
| Cost | $99.00/30 servings = $3.30/serving |
Best Ashwagandha Supplement for Improved Sleep: Stressballs DeStress + Snooze
Good for: Winding down your day and going from restless to stress-less sleep
Stress ruining your slumber? Say no more with Stressballs DeStress + Snooze, ashwagandha gummies formulated to fight stress so your tired brain doesn't have to.
The Blackberry-flavored gummies contain 230 milligrams of "Stressballs Snooze Herbal Blend," which is a combo of extracts from ashwagandha, chamomile, lemon balm leaf7, valerian root, and lavender. Chamomile13, valerian root, and lavender are some of the most ancient medicinal herbs used to treat many ailments like inflammation, insomnia, depression, and pain. Again, with the Stressballs mostly being a blend, the amount of each individual ingredient isn't known to the naked eye.
But we do know that the gummies also provide 2 milligrams of melatonin, a hormone that your brain produces in response to darkness to help time the body's natural circadian rhythm. There's no one-size-fits-all in how much melatonin14 you should take, although doses used in studies vary from 0.1 to 10 milligrams taken up to two hours before bedtime.
Another potential downside is that the gummies contain 5 grams of added sugar and the artificial coloring Blue 2. It's also unsuitable for anyone with a soy or tree nut (coconut) allergy, although it is gluten and lactose-free.
| | |
| --- | --- |
| Type | Gummies (Blackberry) |
| Ashwagandha per serving | N/A (ashwagandha root and leaf extract) |
| Other ingredients | Chamomile Flower Extract, Lemon Balm Leaf Extract, Valerian Root Extract, Lavender Flower Extract, Melatonin |
| Dose Recommendation | Take 2 gummies 30 minutes before bedtime |
| Cost | $13.44/24 servings = $0.56/serving |
Best Ashwagandha Supplement for Stress: HUM Ashwagandha Calm Gummies
Good for: Keeping calm, clearing the mind, and alleviating stress two gummies at a time
HUM Ashwagandha Calm Gummies are formulated to relieve stress and clear the mind, thanks to a patented extract of ashwagandha and l-theanine. Specifically, the gummies contain 125 milligrams of Sensoril®, an extract that uses both the leaves and root to deliver optimal efficacy for mood, memory, and sleep support.
HUM supports the use of Sensoril® by referencing a 2008 randomized, double-blind placebo-controlled study15 where participants were assigned to take Sensoril® ashwagandha root and leaf extracts (125 milligrams once per day, 125 milligrams twice a day, or 250 milligrams twice a day) or a placebo for 60 days. Compared to placebo participants, supplementing with 125 milligrams of ashwagandha once daily improved many health metrics—like cortisol levels, inflammatory markers, blood pressure, fasting blood sugar levels, and lipid profiles—without side effects.
Two hundred milligrams of L-theanine, an amino acid naturally found in green tea, also joins in on the stress-relief fun. According to a 2021 study published in the Journal of Medicinal Food16, L-theanine helps relieve stress disorders, improve mood, and maintain normal sleep. A 100-gram dose of L-theanine improves working memory and executive function, although 250 milligrams shows to sustain attention best.
HUM's Ashwagandha Calm Gummies are formulated by RD nutritionists and triple-tested and third-party validated for purity and quality. They also contain verified "clean" ingredients and are free of the "Tricky 12"—a set of 12 ingredients HUM avoids in supplements—that includes artificial colors, sweeteners, flavors, and preservatives.
| | |
| --- | --- |
| Type | Gummies (Mixed Berry) |
| Ashwagandha per serving | 125 mg of ashwagandha (Sensoril®) |
| Other ingredients | L-theanine |
| Dose Recommendation | Take two gummies, at any time of day, with or without food |
| Cost | $26/30 servings = $0.87/serving |
What is Ashwagandha?
Ashwagandha is a shrub that belongs to the nightshade family that grows in India and parts of the Middle East and Africa. It's been used for thousands of years by non-Western cultures, dating back as far as 6,000 B.C., to promote vitality, youthfulness, and decrease stress.
The plant made its way to the United States in recent years and can now be found in most mainstream supermarkets and supplement stores. As is the case with many ancient herbs or plants that become big in Western cultures, some companies may try to sell you ashwagandha that's under-dosed or a weaker form of the plant. Luckily, you have nutrition professionals like us to show you how to find the best ashwagandha supplements.
How We Picked and Tested the Best Ashwagandha Supplements
When picking and testing the best ashwagandha supplements on the market, we curated our selections based on the following:
Ashwagandha dose: Because there's quite a bit of variability regarding how much ashwagandha to take, we enlisted products with varying daily doses. Research17 does support that at least 240 milligrams of ashwagandha can be effective, so our top picks follow suit accordingly.
Ingredient quality and testing: Ingredients truly matter most, so we're always searching for products that contain high-quality ingredients in clinically-effective doses—and our ashwagandha picks are no different.
Form: Not everyone likes to chew gummies, just like how not everyone wants to blend and drink a powder. Because there are different ways to take ashwagandha, we rounded up reputable products in various forms.
Cost: At GGR, we always strive to make our product recommendations inclusive for any and all budgets.
Third-party testing: Dietary supplements are not tightly regulated by the Food and Drug Administration (FDA), so we prioritize products that have been independently third-party tested (more on this below).
Company reputation and reviews: We always strive to have our readers' backs, so we never want to direct them to a company that doesn't have their best interests in mind! We always review the brand's reputation by combing through its mission, core values, manufacturing processes, and consumer reviews where available.
Benefits of Ashwagandha Supplements
Used in Ayurvedic medicine for centuries, ashwagandha continues to prove itself as beneficial. Here's what the most up-to-date research tells us about the benefits of ashwagandha.
Reduces Stress
One of the most notable and longstanding benefits of ashwagandha is its potential to reduce stress levels as an adaptogen18—a substance that enhances the "state of non-specific resistance" in stress. Recent 2021 data19 reiterates that ashwagandha supplementation may improve stress' physiological, cognitive, and psychological effects.
Improves Sleep
A 2021 meta-analysis20 suggests that ashwagandha extract can improve sleep (and mental alertness) in adults. Ashwagandha, especially with higher levels of withanolides, may also help treat insomnia, according to newer 2022 data3.
Enhances Physical Performance and Recovery
According to a 2021 meta-analysis21, ashwagandha supplementation may improve variables related to physical performance—like muscle strength and cardiorespiratory fitness—in healthy men and women. Another 2021 review22 hints that withanolides in ashwagandha may manage muscle repair and recovery while improving body composition.
Increases Testosterone Levels
Testosterone plays critical roles in sexual health, lean body mass, mental health, cognition, bone density, cardiovascular function, and metabolism, just to name a few. In a 16-week, randomized, double-blind, placebo-controlled, crossover study published in the American Journal of Men's Health23, supplementing with ashwagandha showed to increase testosterone levels.
Boosts Memory and Cognition
Research published in the Journal of Dietary Supplements24 hints that ashwagandha may effectively enhance immediate and general memory and attention in people with mild cognitive impairment.
Bolsters the Immune System
While mostly tested in animal studies, recent 2021 research25 appears to be the first of its kind to investigate ashwagandha extract on the immune system in humans. The researchers found that the extract significantly improved the immune profile of healthy subjects, positioning itself as a potential therapy to reduce viral and microbial infections.
Lowers Inflammation
Inflammation26 is a complex biological response to harmful triggers—like infection, tissue injury, and tissue stress—and can lead to heart disease, type 2 diabetes, and many other chronic conditions. Ashwagandha offers several beneficial compounds that may protect against inflammation in the body and associated health risks.
Dosing and Interactions
There's currently no standard dosing recommendation for ashwagandha, as dosage often varies based on the type and the intended use. But evidence20 shows that dosing between 240-600 milligrams is effective. And according to the U.S. National Library of Medicine, adults have most often used ashwagandha in doses of up to 1,000 milligrams daily for up to 12 weeks.
It's also important to note that while ashwagandha appears safe27 and tolerable for users, herbal supplements should be cautiously approached. This is especially true for anyone managing a health condition and taking a prescription, as ashwagandha may interact with certain medications.
This said, dosing can vary widely, so starting low and slow overall is best. We also recommend consulting with your healthcare team before taking any supplement for your utmost safety.
Third-Party Testing
The best supplements typically undergo third-party testing to ensure the product contains what it's claimed to have, ashwagandha included. Common indications of third-party testing include:
Informed Choice Certified
Informed Sport Certified
NSF Certified for Sport
Good Manufacturing Practices (GMP)
Third-party verifications can also be helpful if you have specific dietary restrictions, needs, and preferences like:
Certified Gluten-Free
Certified Vegan
Non-GMO Project Verified
USDA Organic
Buying Guide: What to Look for in Ashwagandha Supplements
Ready to see how ashwagandha can benefit your health and well-being? Lean on these tips before sealing the deal:
Intent for use: Because ashwagandha is far from a one-trick pony, it's wise to consider what exactly you wish it to accomplish. For instance, if you want to use ashwagandha to kickstart your day, you might want to steer clear of a blend formulated for sleep. 
Additional ingredients: Some ashwagandha supplements are single-ingredient while others contain additional ingredients—like melatonin, L-theanine, and lemon balm. Consider whether or not you want (or need) different ingredients to elevate your ashwagandha experience. 
Form: Prefer swallowing a capsule, chewing a gummy, or sipping on a blendable powder? Ashwagandha comes in many forms, so find one that best matches how you wish to take it (consistently). 
Budget: How much are you looking to spend on ashwagandha (and your full supplement stack)? If you're new to ashwagandha, starting with a more budget-friendly product might be worthwhile before making a heftier splurge. 
Third-party testing: 'Nuff said. OK, but really, try to prioritize third-party tested products manufactured in GMP facilities. 
Brand reputation: We recommend reviewing the brand behind the product, particularly looking to identify if they are reputable, manufacture high-quality products, and will be readily available if any issues arise. Searching for customer reviews—like on its main company page or third-party seller sites (such as Amazon)—can also give you a great deal of insight about the brand.  
Best Ashwagandha Supplements FAQs
What brand is best for ashwagandha?
While no particular brand for ashwagandha is best, those that contain KSM-66, Sensoril, and other pure forms of the adaptogen are recommended. This is because these brands undergo rigorous manufacturing and testing protocols to ensure their efficacy, potency, and safety.
What form of ashwagandha is best absorbed?
Ashwagandha absorption is complex, although evidence28 suggests aqueous (water-based) extracts result in greater absorption. MSD Manual also tells us that capsules filled with liquid tend to be absorbed more quickly than those filled with solid particles.
What strength of ashwagandha is best?
Because ashwagandha strengths vary based on the product and the intended use, there's no one-size-fits-all answer on which is best. However, dosing with at least 240 milligrams shows to be effective.
Is ashwagandha KSM-66 better than ashwagandha?
KSM-66 is a patented ashwagandha form regularly tested for effectiveness and safety. While there's no consensus on whether or not KSM-66 is better than other types, products that undergo rigorous testing and exceed industry standards should be prioritized.
How often should you take ashwagandha supplements?
Most people take ashwagandha supplements twice per day, typically splitting a 600-milligram dose, for a month.
These statements have not been evaluated by the Food and Drug Administration. This product is not intended to diagnose, treat, cure, or prevent any diseases.
References