We test and review fitness products based on an independent, multi-point methodology. If you use our links to purchase something, we may earn a commission. Read our disclosures.
Buying a rowing machine goes beyond figuring out if you want a one with magnetic resistance, water resistance, or air resistance: Once you commit to forking over green for stationary rowing machines, you need to decide what noise level you deem acceptable, your budget, how much space you have to store the machine, and so much more. Overwhelming is an understatement!
To make it easier for you, we've reviewed dozens of the best rowing machines, including the Sole SR5000 Rower. In our Sole SR500 Rower review, you'll learn why this under-$2,000 machine is a good investment for anyone looking for a quiet air rower that is durable, comfortable, and user-friendly.
We Know Rowing Machines
Put simply, we've rowed, rowed, rowed a lot of rowing machines.
As a crew of equipment-obsessed fitness enthusiasts, certified personal trainers, CrossFit coaches, competitive CrossFit athletes, and even outdoor paddling enthusiasts, we know exactly what kinds of questions to ask about a rower before recommending it.
We know exactly what creature comforts, settings, and tech controls exercisers are looking for, as well as what warranty, weight capacity, durability, and shipping costs are standard for the industry. Of course, this allows us to objectively weigh in on the quality of a product for its price.
Sole SR500 Rowing Machine
Sole SR500 Rower
The Sole SR500 Rower is a well-made, extremely sturdy, and efficient rower featuring some impressive specs. Sole consistently manufactures quality cardio machines, and the SR500 is no different. With a massive user weight capacity of 515 pounds and a long aluminum rail that accommodates users of varying heights, this machine is a good option for larger and smaller athletes alike. What's more, the SR500 has a folding design with front transport wheels which makes it easy to move and store it when not in use.Both air and magnetic resistance mechanisms work together to create a smooth, challenging, and quiet workout. The 11 pre-programmed workouts can keep you motivated and add variety to your rowing experience. Unique to the SR500 is a new wireless technology that includes resistance adjustments on the rower handlebar. Users can seamlessly change resistance from a range of 16 resistance levels without letting go of the handlebar.The SR500 boasts a higher sitting position, which makes getting on and off the rower easier. This is a particularly good feature for those with limited mobility. The seat itself runs on the narrow side but it does come with ergonomically designed contours so is comfortable for most. Adjustable foot pedals are designed to fit multiple users.The small backlit LCD monitor is a bit of a let down given the price point of this rower. But, it does have all the critical fitness metrics you would want to monitor a workout: 500M split, total time, strokes per minute, total strokes, calories, speed, distance, and pulse. In addition, the monitor houses the 11 pre-programmed workouts.
A Quick Look at the Sole SR500 Rower
If you're just starting to build out your home gym, you may not be familiar with Sole Fitness. A maker of a wide variety of cardio machines (treadmills, ellipticals, rowers, stationary bikes, and stair climbers), Sole Fitness specializes in moderately priced machines that are intuitive to use—and this Sole Fitness Rower is no exception.
My Tips
Save yourself the stress and take advantage of the delivery option with assembly
Save some cash with Sole Fitness coupons
Buy a rowing seat cover if you have a sensitive tail
Pros:
Much quieter than other air-resistance indoor rowing machines on the market
Intuitive display and screen
Space efficient machine that folds in half
20-inch seat height makes it easier to get in and out of than machines that are closer to ground
Lower-impact cardiovascular workout option
Foot pedals work for a wide variety of shoe sizes
Dual magnetic and air resistance system
Adjustable resistance
Belt drive (as opposed to chain drive)
Backlit display
Folds for easy storage and to save floor space when not in use
Impressive 515-lb weight capacity
Cons:
Pricey when not on sale
Lower-tech console not ideal for people looking for more interactive programming
Seat may not be comfortable for people closer to the weight capacity
Larger-footed exercisers won't be able to wear cushier running shoes
Constructed with more plastic than other machines
Is the Sole SR500 Rower Worth It?
If you are looking for a mid-range rowing machine that is as durable as it is user-friendly, the Sole SR500 Rower is a great choice.
It's not cheap—it clocks in around $1,800—but it's certainly not the most expensive rowing machine out there, and we think it's a-okay value for the price range.
But, no product is for absolutely everyone—here's who we think should consider the SR500 and who might be better off with something else.
Great for:
Low-impact exercise
People looking for a foldable rower for their apartment or home
People with mobility limitations that make traditional rowers tough to get in and out of
Home gym owners who want a fully magnetic rower or would prefer a WaterRower
Anyone who likes predetermined, easily adjustable levels of resistance
Not recommended for:
CrossFit athletes who intend to compete (use the Concept2 Model D Rower, now known as the RowErg, for that)
People on a tight budget
People who want a smart rower with a large display screen, Bluetooth connectivity, and the ability to stream workout programs
Sole SR500 Rower Specs
| | |
| --- | --- |
| Footprint | 46" H x 94" L x 18" W |
| Weight | 115 pounds |
| User weight capacity | 515 pounds |
| Resistance | 16 levels, electromagnetic |
| Number of programs | 11 |
| Frame warranty | Lifetime |
| Parts warranty | 3 years |
| Display | LCD display |
Workout Experience: Using the Sole SR500 Rower
Once upon a time, a CrossFit athlete (hi, it's me) sat down on the Sole SR500 Rower and… basically enjoyed the experience!
My first impression is that the machine is made out of more plastic than other rowing machines I've tried in the past. However, the ride itself did not feel much different than on a machine made from higher-quality materials.
While rowing, the machine offered the smooth ride I was hoping for—each stroke felt fluid. Sure, some of that is because my rowing form has undergone a serious renovation over the last year, but most of that is that the machine was built with liquidity in mind.
My favorite part of the machine was its sound level (quite quiet) and its handlebar (ergonomic). The handle also hosts the resistance adjustment buttons, so you don't have to worry about stopping mid-rowing stroke to change the resistance level.
The machine is a notch or two louder than some other air resistance rowers on the market, but thanks to its dual magnetic/air resistance, it's far quieter than the rowing machines that usually populate CrossFit and globo gyms. This makes it an ideal option for people whose home gym is doing double duty as an office or guest bedroom.
The handle is coated with a spongy material that makes it easy to grip, and limits the risk of calluses forming (and ripping, yikes!) during long rides.
Truthfully, I wish that the seat was more comfortable. As a person with a certified bony butt, I find most rowing machines downright uncomfortable to ride for long periods of time. I was disappointed when, after 20 minutes of intervals, I had a fresh case of monkey butt (basically, peach chafing). My recommendation for anyone with a bum as bony as mine would be to invest in a padded rowing seat cover.
The foot pedals have the same level of adjustability as most other rowing machines. So, while the pedals can be adjusted for most foot sizes, I want to call out that you won't be able to wear your HOKAs on this thing. If you're going to invest in a rowing machine, you'd be wise to invest in a pair of CrossFit shoes with flatter soles, which will more easily fit in the adjustable foot cages.
If I had to make one improvement on the machine, however, it would be its screen. I like how intuitive and easy to use the console is. However, for the price of the Sole SR500 Rower, I think the technology could use a little zhuzhing up. Honestly, even a few more games and pre-set training programs would be a big improvement.
If you're looking for a machine you can hop on for some slow-and-go cardio, this console is more than sufficient. However, if you're looking for something a little spicier, you might be bored.
Worth mentioning: Sole Fitness partners with STUDIO, an app with 3,000+ classes, but there's no touch screen on this machine so you'd have to use the integrated tablet holder.
Assembling the Sole SR500 Rower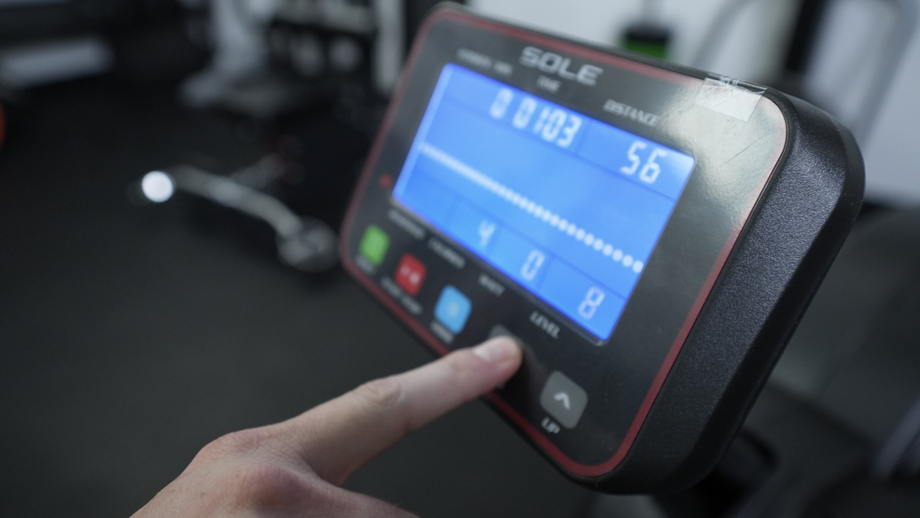 Even if you're a construction worker or contractor, odds are you hate putting together exercise equipment. After all, spending hours hunched over amorphous parts asking Dr. YouTube "what's what" is about as enjoyable as getting a root canal or banging your funny bone at rhythmic intervals.
Lucky for you, future Sole SR500 Rower owner, you won't become the Hunchback of Notre Dame or Rumplestiltskin putting together this piece of cardio equipment. Phew.
Open the Sole SR500 Rower package and you'll immediately see that all the tools and screws you need to put the machine together are smartly packaged and labeled based on what step in the setup process you need them for.
All the nuts and bolts you need to complete step one, for instance, are sectioned off from the lil baby screws you'll need from step two, and so on and so forth for the four total steps.
All in all, so long as you follow along with the instructions, you won't have to worry about wasting time figuring out the difference between different construction doohickies.
Footprint and Portability
When the machine is fully assembled, it measures 94 inches long and 18 inches wide. For a sense of comparison, that's nearly identical to the Concept2 RowErg, which is 94 inches long and 24 inches wide.
If you're looking for a machine you can tuck neatly into the corner of your office, closet-sized apartment, or garage gym, the good news is you can fold the Sole SR500 Rower in half. Yep, you can literally fold the rower in half, which allows you to stash it away in a utility closet or under your bed when it's not in use.
The machine can also be tilted on its head, like the Concept2 RowErg, but we don't recommend it because it's much less stable in this position—not ideal if you're sharing your gym space with other people or pets.
An added bonus: This machine has transport wheels at the front, which allows you to cart it around your exercise space. For people with a garage door on their gym, this is especially nice during summer months when you want to row outside.
Construction and Durability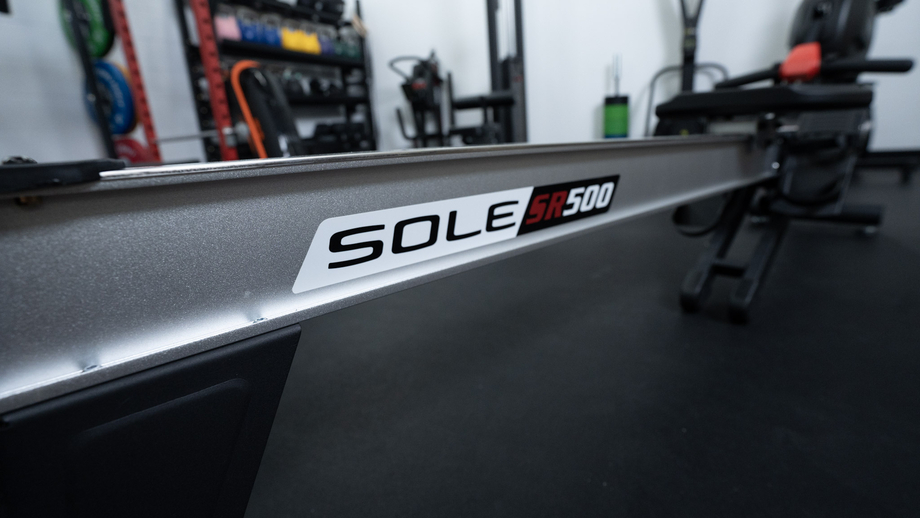 This is where our main concerns lie.
The frame of the machine includes an aluminum rail, which bodes well for its overall longevity. And the flywheel is housed in a durable plastic cage.
But Garage Gym Reviews founder and expert product tester Coop, who also tested the SR500, said of the machine: "The build quality, for the price, leaves a bit to be desired. Lots of plastic and the monitor feels very cheap. This will not last like a Concept 2."
He continues: "I think the value is okay for what you get. The problem is the C2 is less expensive and has less things to break. I do like magnetic resistance, but it's more likely to have issues and I worry that having the resistance settings on the handle could lead to premature issues."
The Ergonomics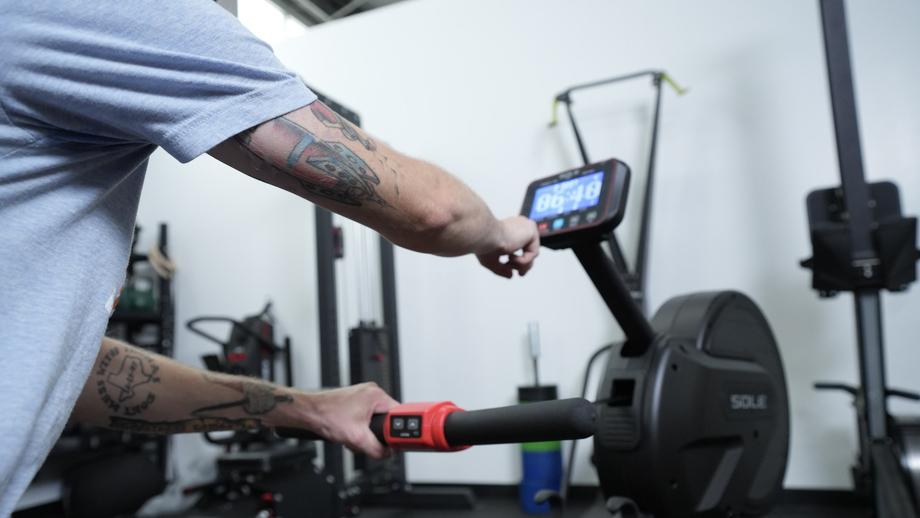 Bigfoot descendents beware, the footbeds on this rowing machine are similar to the footbeds on other rowers (like the Concept2 or the NordicTrack RW900). However, these footbeds are not great for people whose shoes of choice are extra-cushy.
Coop notes, "The rail is long enough to row with proper form and it sits higher off the ground than most rowers, which makes it easier to mount for people with mobility problems. The handles are slightly angled, which I like for long sessions on the rower and the monitor is high enough that it's easy to glance at without hurting your neck."
It's worth noting that the seat is no sofa cushion. On the contrary, it's pretty darn flat. If you have a pointy tailbone and would prefer a softer seat, I recommend investing in a Concept 2 Rower Seat Pad, which will fit on this machine, too.
Another potential con of the seat is that it may be too small for users who weigh in at the upper end of the (admittedly impressive) 515-pound weight capacity. Ultimately, this will depend on the shape of your body and width of your hips and rear.
This machine also does not have a built-in phone or water bottle holder. But since your body sits just a few inches off the ground, I personally don't think the lack of a water bottle holder is a big deal.
However, if you are someone who likes to watch Netflix or YouTube videos while you exercise, you might be annoyed to learn there isn't a place to prop up your tablet or phone.
Technology Benefits and Conveniences
The screen on the Sole SR500 Rower looks like an old Nintendo Switch (hey, Mario!). Longer than it is tall, this 5.5-inch-long LCD console simultaneously displays a number of metrics including heart rate, calories burned, 500M time, total time, wattage, resistance level, strokes per minute, and distance.
The monitor also has 11 pre-programmed workouts that users can use to do heart rate or interval training. Simply use the intuitive buttons at the bottom of the console to toggle between the different program options.
Bluntly, the biggest downside of this rower compared to the other rowers on the market is its console. Sure, it's easy to read and use. But it doesn't have as many interval options as the Concept2 Rower. Nor does it have the engaging display of a Hydrow or NordicTrack.
Sole SR500 vs Concept2 RowErg
Concept2 RowErg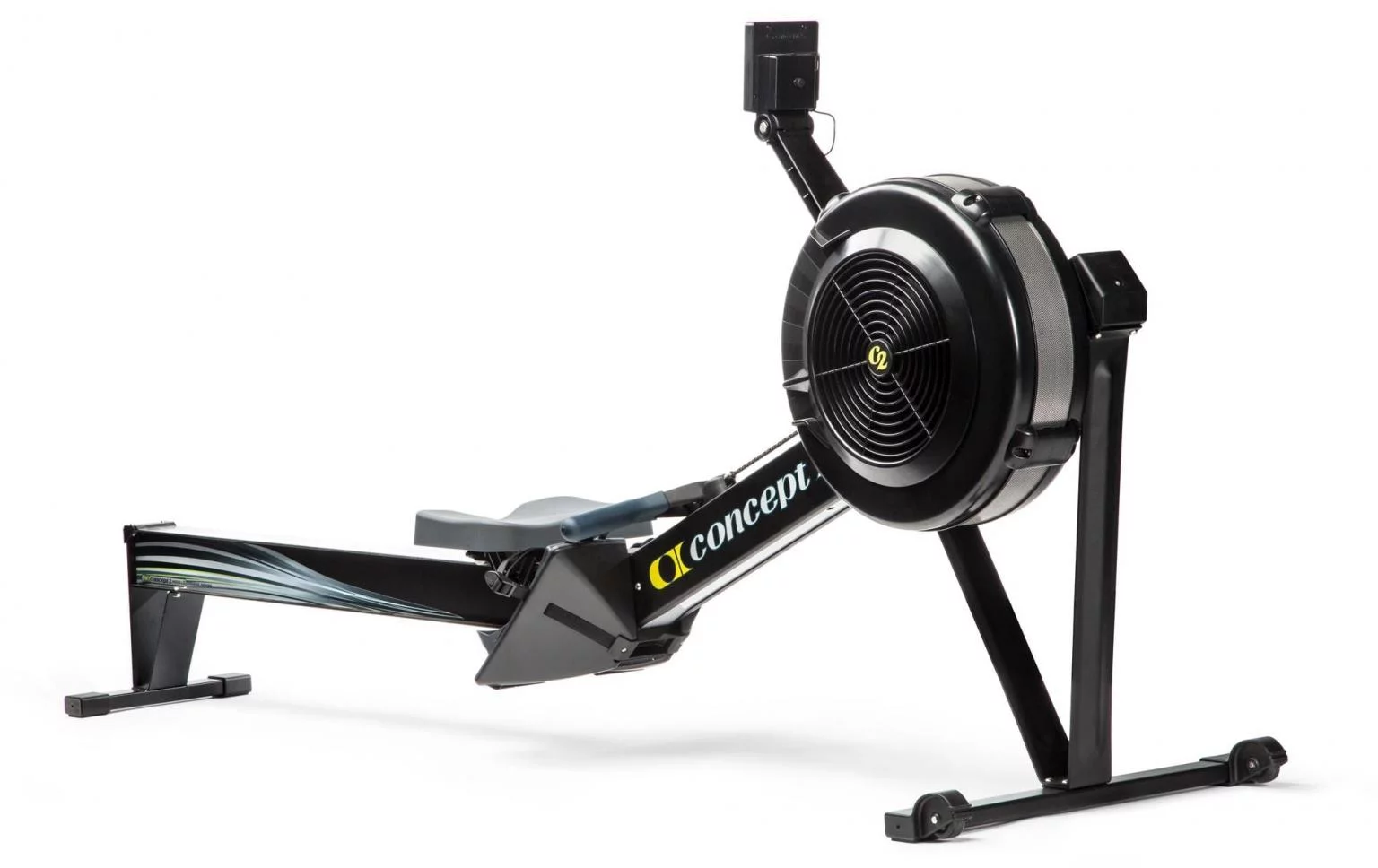 Concept2 RowErg
The Concept 2 Model D Rower is perhaps the most popular rowing machine on the market, found in commercial gyms and home gyms around the world.  It  provides a low-impact, full-body workout and uses air resistance generated by a fanned flywheel.  The Model D has an adjustable damper setting from 1 to 10 allowing you to move with ease or with more resistance and intensity.The Model D comes with adjustable foot-rests, a 14-inch seat height with an aluminum l-beam monorail and stainless steel track for a smooth back-and-forth slide.  This is a light cardio machine with wheels, which means you can move it with ease around your space. Also, for storage, the rower can be easily broken down into two segments, hung on a wall with a Rogue wall hanger, or simply tilted upright and stored vertically.  The PM5 Performance Monitor gives instant feedback on pace, watts, calories, distance, and rpms.  The monitor is easily adjustable, Bluetooth-compatible, and can easily connect to a heart rate monitor or the ErgData app.  
The Sole SR500 Rower is a decent purchase. However, you'd be wise to spend some time looking into the Concept2 Rower before handing over your CC info.
The Concept2 Rower costs less by a few hundos and offers many of the same features as the Sole SR500 Rower. We also think the Concept2 will last longer.
Sole SR500 vs Hydrow
Hydrow Essentials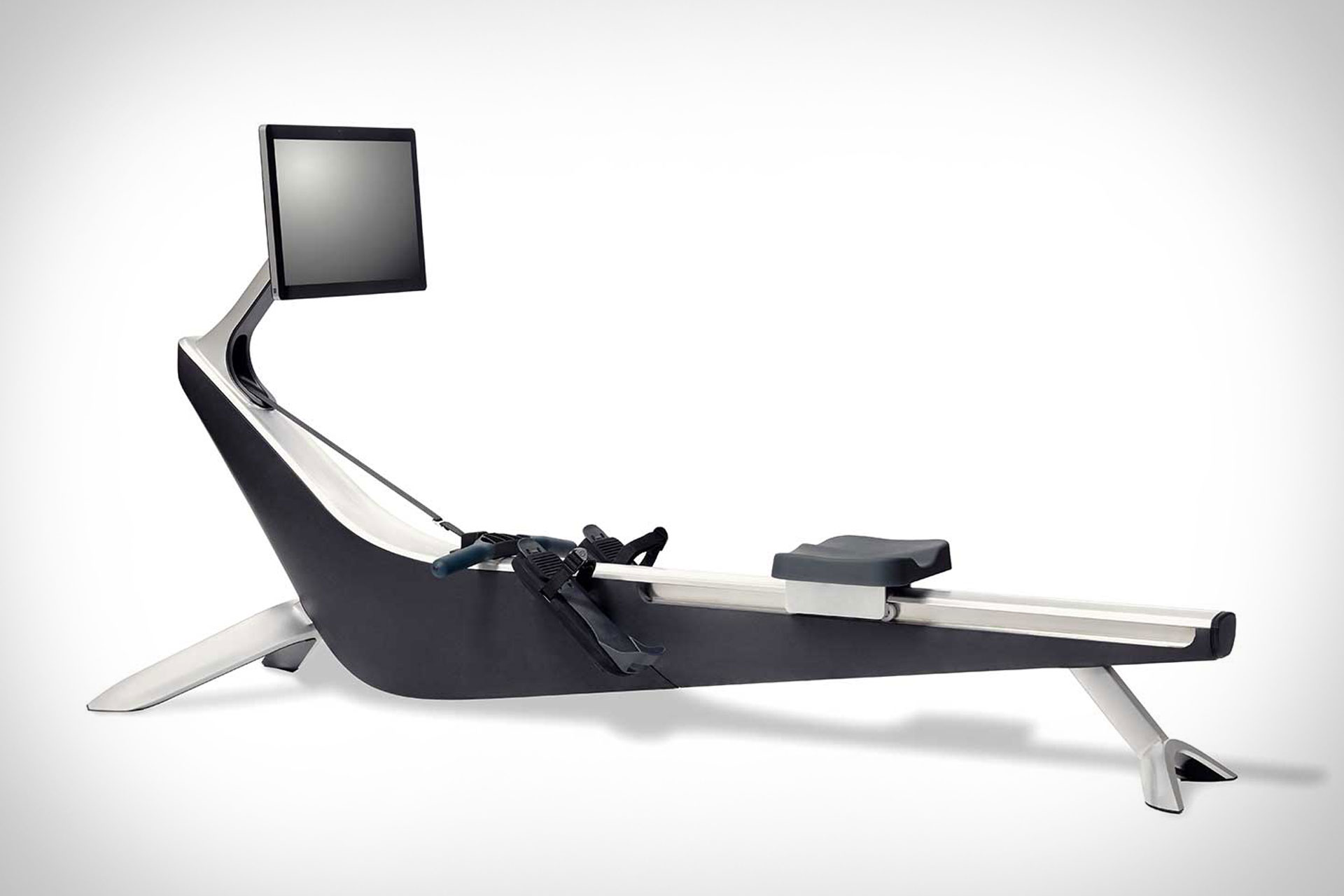 Hydrow Connected Rower
We completely re-engineered the rowing machine with patented technology, making each stroke feel like you're out on the water. Then, we built an immersive experience around it. The Hydrow was designed from the ground up. While the design team wanted to create a unique machine that was elegant and sophisticated for the home, it was just as important to engineer a machine that was unmatched in performance and built to last. Hydrow's brilliant 22" touchscreen display and impressive front-facing speakers bring the river to your living room, captivating you from the moment you sit in its seat. The Hydrow's patented drag mechanism is electromagnetic and computer-controlled. The distinctive components make it the closest thing to being on the water.Garage Gym Reviews Exclusive: Use code ROWGGR to receive $150 off any purchase that includes a rower
At around $2,500, the Hydrow Essentials package is nearly twice the price of a Sole SR500 Rower. However, if you're looking for the ability to compete against other rowers via an at-home leaderboard or engage in scenic around-the-world rowing workouts, this is a better option for you.
Customer Experience
Sole Fitness offers a satisfaction guarantee on all their products. So, if after your first 30 days you decide it doesn't fit your needs, you can return it. Best, you won't have to rebox the unit or pay for return shipping! Sole is one of few companies that accepts open-box returns without a penalty. The only catch is that the original shipping costs are not refundable.
The machine also comes with a pretty stellar warranty. The frame itself has a lifetime warranty, meaning that at any point during your time as an owner of the Sole SR500 Rower, the frame breaks, you can get it fixed at no cost to you.
The rest of the machine parts are also under warranty, but for different durations. The electronics and parts are under warranty for three years. The warranty for labor is one year.
Ordering and Assembling the Sole SR500 Rower
You can purchase the Sole SR500 Rower right on the Sole Fitness website—easy.
At full price, it rings up at $1,800. At checkout, you'll have the option to add a fitness equipment mat to your order for $99.
Another add-on you can invest in is a membership to STUDIO, an app that gives you access to thousands of instructor-led classes that deliver a smarter workout at home or on-the-go by connecting to any cardio equipment and heart rate monitor for real-time metrics.
You'll also be able to choose whether or not you want the machine to be delivered curbside (no additional price), delivered to the room you plan to use it in (an additional $199), or assembled for you (an additional $299).
If you have no interest in putting together the machine on your own, this is a GREAT option. However, with a friend, it won't take you more than 30 minutes a little elbow grease to put together on your own.
Customer Reviews
On the Sole Fitness website, the machine has an average of 5 out of 5 stars… But there's only one review. That reviewer applauds the machine's role in their weight loss journey. "This is a great machine. Used it every day since I bought it. So far [I've] lost 26lbs in 45 days," they write.
The machine's rank on Amazon is a little less enthusiastic. Out of 17 total reviews, it has a 2.6 out of 5 star rating. To be fair, that's because 3 of the reviews rated it just 1 star. The remaining raters gave the machine 4 or 5 stars.
The most common complaint from Amazon reviewers is that the machine was hard to put together. "The assembly holes do not line up to attach the seat support to [the] main component. […] Spent hours on it."
Another person rated it one star because they felt it paled in comparison to the Concept2 Rower. "Sucks compared to a C2. Inaccurate, slow, clunky, and can't fold up. Has a ribbon vs a chain. Not ergonomic at all, hits your knees. Do NOT buy this."
Bluntly, I agree that this isn't the C2 rower, but we don't fully agree with that negative review, either. If you are looking for a rower that is quiet, compact, and of decent quality, the Sole SR500 Rower could be for you.
It seems the majority of Amazon users have had good experiences with the rower.
"The machine is well-built," writes one reviewer. "I have used it quite a bit in the first month of ownership (15+ times) and I have to say that I am very pleased with the purchase. It is easy to use and yet gives you a good workout."
"One of the easiest and most enjoyable workouts I've done in years. Works the arms, back, legs and core," writes another.
Final Verdict of Our Sole SR500 Rower Review
Moderately priced and easy-to-use, the Sole SR500 Rower is a decent rowing machine for anyone looking to invest in an at-home rowing machine for a lower-impact, full-body workout. However, we think there are probably better options for a lot of people.
It's a good mid-range option, but we think it's a bit expensive for the features and construction.
It has a few built-in workout options, but you'll need to subscribe to the STUDIO app and use the tablet holder to stream workouts like you would on a Hydrow.
We still recommend the Concept2 RowErg over this rower.
Full Rating
Sole SR500 Rower
The Sole SR500 Rower is an under-$2,000 rower with several built-in workout programs and an LCD display. It features an aluminum slide rail, oversized adjustable foot cages, and resistance controls on the handlebar.
Product Brand: Sole Fitness
Product Currency: $
Product Price: 1799.99
Product In-Stock: InStock
SR500 Rower Review FAQs
Does the Sole SR500 fold?
The SR500 Rower Review does fold! This feature makes it ideal for small spaces, such as apartment and garage gyms.
Can I play games on the Sole SR500 display?
No. The big downside of the Sole SR500 is that the display is minimalist and doesn't allow you to play games. While the display does the basics well (shows you stats like total distance, 500-meter pace, and calories), it is subpar compared to other rower monitors in regards to engaging workouts.
Does Sole make a rowing machine?
Sole Fitness makes one rower known as the SR500, which is a moderately priced rower ideal for people looking for a low-impact, mid-range cardio machine.