We test and review fitness products based on an independent, multi-point methodology. If you use our links to purchase something, we may earn a commission. Read our disclosures.
You may have heard of the AssaultBike or the AssaultRunner—newer to the scene is the AssaultRower, specifically the AssaultRower Pro. This air flywheel rowing machine is, yes, made by the same company that makes the best air bike that CrossFitters love to hate: Assault Fitness.
Is it one of the best rowing machines? That's to be determined, but in our AssaultRower Pro review, you'll learn if it's the right fit for you. Our product tester, professional gear reviewer Lindsay Scheele, judged the AssaultRower Pro against a 11-point methodology that our fitness experts developed for rowing machines.
She analyzed factors such as:
On-board training programs
Compatible fitness apps and devices
Construction and durability
Comfort and ergonomics
Ease of operation
Transportation and portability
Tech capabilities
You'll notice that Lindsay compares the AssaultRower Pro to the Concept2 RowErg frequently, and there's a reason for that: They are nearly identical. However, there are some key differences
RELATED: AssaultRunner Elite Review
More than 3 Dozen Rowers Tested
As a CrossFit Level 1 coach and certified personal trainer, I've spent a lot of time on rowing machines and teaching other people how to use a rowing machine. Additionally, our product tester, Lindsay Scheele, is a professional gear reviewer who runs the Garage Gym Reviews Everything YouTube channel. Lindsay is an avid CrossFitter and is pursuing her certified personal trainer certification. Collectively, our roster of product testers has evaluated and reviewed more than 36 rowing machines.
Assault Rower Pro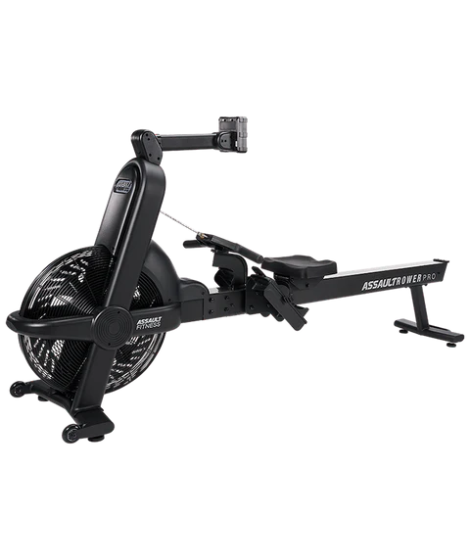 GGR Score: 4.2
Product Highlights
Fan-powered resistance rower

350-lb max weight capacity 

Simple console

Connectivity options

Tracks basic metrics

Dual-stage chain and belt drive
Pros & Cons
Pros
Unlimited resistance
Doesn't require a power outlet
Comfortable, padded seat
Bluetooth and ANT+ connectivity
Cons
Basic LCD display
No interactive programming
Bottom Line
The Assault Rower Pro lets you work as hard as you want with unlimited air resistance. The faster you row, the more air the fan intakes, and creates more drag.The Assault Rower Pro features a powder-coated steel frame, dual-stage chain and belt drive combination system, steel footplates, and an aluminum monorail for a smooth and stable rowing experience.
A Quick Look at the Assault Rower Pro
The AssaultRower Pro comes from Assault Fitness, a brand best known for the AssaultBike, which used to be the official bike of The CrossFit Games (it's now the Rogue Echo Bike).
It utilizes an air flywheel, which provides unlimited resistance, and it features an LCD screen with Bluetooth and ANT+ compatibility for heart rate monitoring.
This type of rower is great for long, steady-state cardio work as well as intervals and CrossFit workouts, although people who seriously compete in CrossFit should consider the Concept2 RowErg instead since it's the official rower used in competitions.
P.S. the AssaultRower used to be called the Assault AirRower, just like the AssaultBike used to be called the Assault AirBike—the naming conventions have changed, but the products are the same.
RELATED: AssaultRunner Pro Review
Before You Buy
The rower weighs 136 pounds in the box and the only option for delivery is curbside freight delivery, so be sure to plan a way to safely get the box inside your home.
The warranty covers the frame for 7 years and parts for 3, but there is no labor warranty, so hiring a mechanic to fix the rower if needed will fall on the buyer financially.
Video Review
Is the Assault Rower Pro Worth It?
As a category, rowers are some of the less expensive fitness equipment out there, especially compared to fancy treadmills, behemoth squat racks, or a full rack of dumbbells or kettlebells.
And at around $1,000, however, the AssaultRower Pro is even less expensive than other rowers on the market. The Hydrow Rower, for instance, has a list price of about $2,500, and the NordicTrack RW900 is listed at about $2,000. While these two magnetic rowing machines are fantastic for home use, they don't make sense for people who want the simple functionality of an air rower and/or don't have that much to spend.
The AssaultRower Pro features an air flywheel and is in line with the pricing for other top options. It costs just $10 more than the ever-popular Concept2 RowErg, and has many similar features, so yes, we think it is worth it for the right buyer.
RELATED: AssaultBike Pro Review
Great for:
People looking for a simple air rower
Those who prioritize a durable build and longevity
Individuals who may not have the budget for a high-tech, immersive rower
Not recommended for:
People who compete in CrossFit (Concept2 RowErg is the standard in CrossFit)
Individuals looking for built-in programming or on-screen workouts
Those who need an instructor on screen
Assault Rower Pro Specs
| | |
| --- | --- |
| Price | $999 |
| Product Weight | 109 lbs |
| Dimensions | 92" L x 22" W x 45" H |
| Max User Weight | 350 lbs |
| Max User Height | Not listed |
| Monitor | LCD with buttons |
| Bluetooth | Yes |
| Warranty | 7-year frame, 3-year parts, no labor |
Workout Experience: Using the AssaultRower Pro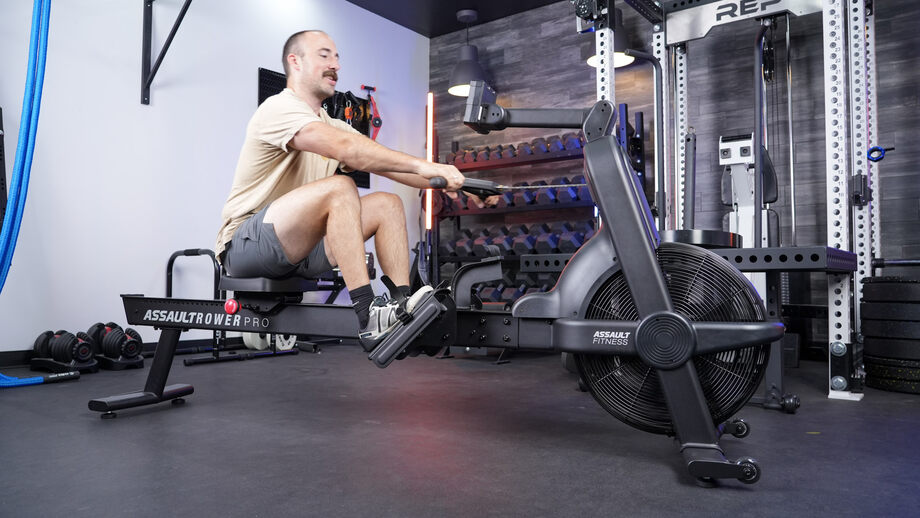 The AssaultRower Pro honestly couldn't be easier to use. If you consider how simple this rowing machine is compared to some of the fancy, high-tech touchscreen options, that shouldn't be surprising. (See the best magnetic rowing machine if the latter is something you're interested in.)
After assembly, you simply power on the LCD screen with the press of a button, strap your feet into the foot cradles, grip the handle, and begin rowing.
The foot pedals and monitor are easy to personalize to your needs, says product tester Lindsay Scheele—and that's about all you'll have to adjust. And getting the monitor going requires no more than a quick button press.
By nature, rowing machines with air flywheels can be quite noisy. However, Lindsay says the AssaultRower isn't so loud that it should bother someone a room or two away, and it certainly won't be heard indoors by your neighbors if you live in a single-family home. That said, it is louder than the Concept2, and she wouldn't recommend it for those looking specifically for a very quiet rower.
"It's incredibly solid," Lindsay says, noting, "There was no shaking or wobbling during use; the pull was smooth and consistent; the seat glides really nicely on the monorail; and the handlebars were very similar to the Concept2's (which means they are great)."
RELATED: AssaultBike Review—All Models Tested
Resistance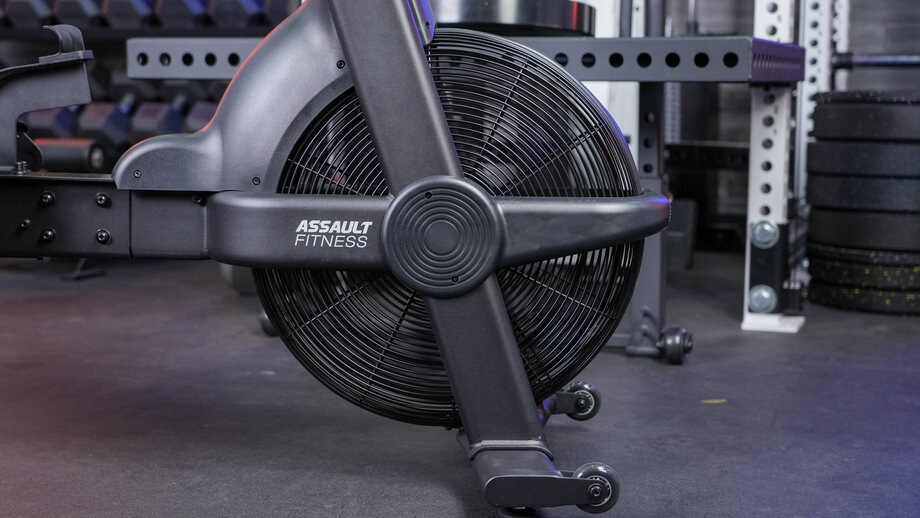 Air rowers across the board have user-dependent resistance, unlike rowers with magnetic resistance, which have defined levels of resistance. On an air resistance rower, the harder you pull, the more resistance you create. So you have unlimited resistance, so long as your power output doesn't peter out.
If you've used a Concept2 rower before, you might be thinking: Well, what about the damper? A damper doesn't actually control resistance in the way that a magnetic rower does; it just fine-tunes the amount of air entering the flywheel. But it's a moot point anyway, because the AssaultRower does not have a damper at all.
Instead, this rower uses a "dual-stage chain and belt drive" with three fan blades in the flywheel, effectively creating unlimited resistance that's entirely dependent on the exerciser's power: pull harder, the resistance increases.
Footprint and Portability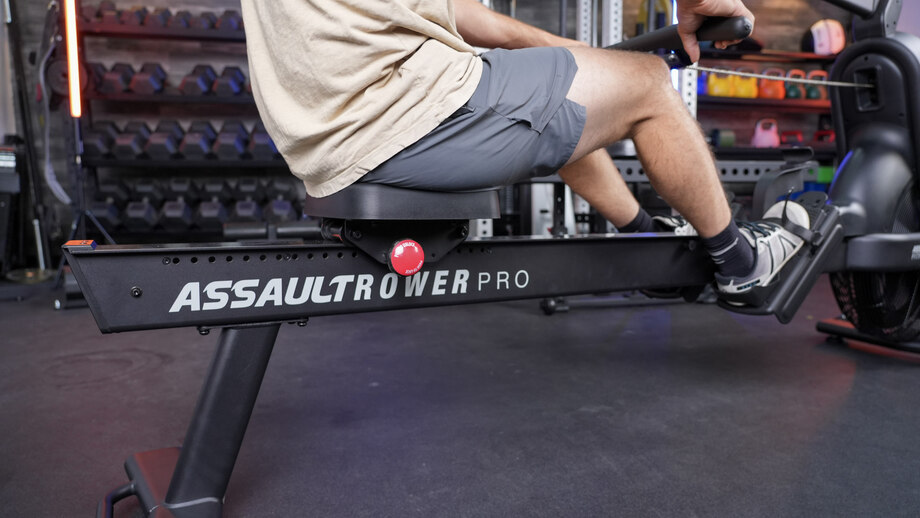 The machine is 92 inches long, 22 inches wide, and 45 inches high at the tallest point (the top of the monitor).
If you live in close quarters or have a CrossFit box on the smaller side, you'll be thrilled to know that the rower can be stored vertically and the monitor folds down to minimize how far it juts out from the wall.
The machine also has two transport wheels built into the front of the machine for easy transport from one side of your gym to the other. The wheels are durable enough that you can even haul the rower outside on nice days. The wheels roll great on hard surfaces, Lindsay says, but they can catch a little bit on carpeted areas or turf.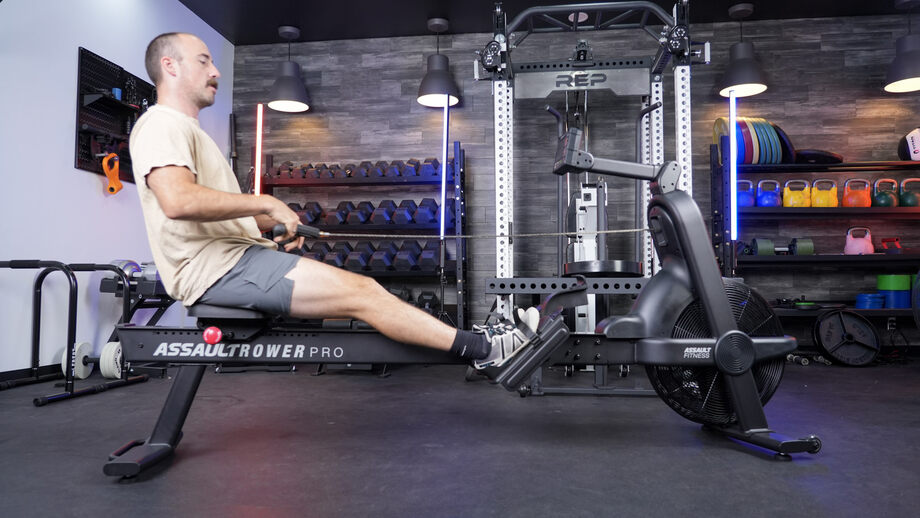 Bonus points: There's a handle on the end of the monorail to make rolling it even easier. This seems like a small detail (and I suppose it is), but it's a nice touch, and it means you don't have to hoist up the monorail from underneath.
The AssaultRower Pro weighs 109 pounds, which is quite heavy for an air rower. Lindsay rated it with 4 out of 5 points for portability because, compared to the Concept2, it weighs almost double but is nearly the same size.
One feature Lindsay really likes is the locking seat pin. When you want to move the rower, you can use an integrated pin to lock the seat in place so it doesn't move up and down the monorail as you push or pull the rower.
Durability and Construction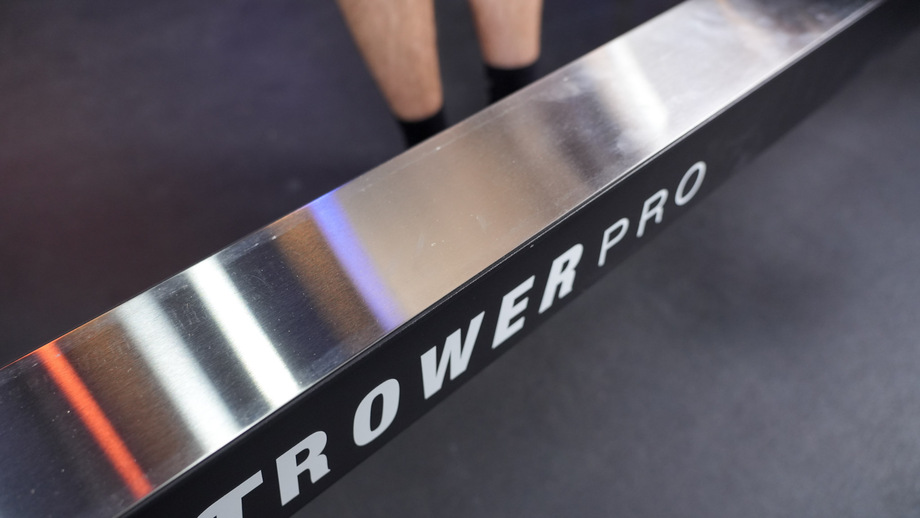 The AssaultRower Pro is a commercial-grade machine. It was designed specifically to withstand the wear and tear of daily use, and this shows in the specs: Made from a combination of aluminum and stainless steel, this machine is durable.
In fact, its construction is so heavy-duty that our product tester Lindsay Scheele knocked off a point for portability. "The only reason I rated this a 4 for footprint and portability is because this is so similar to the Concept2 and weighs almost double," Lindsay says. "They are using a lot of steel in the construction, which makes it a little heavier of a machine, but also really durable and should last quite a long time."
Lindsay rated the AssaultRower Pro with a near-perfect 4.5-out-of-5-star rating for durability thanks to its rugged construction. The build features steel-plated feet, a powder-coated steel frame, and corrosion-resistant hardware.
Assault Fitness also implemented a four-way stabilizer system, meaning you can set up for a smooth ride even if your floor is a bit lopsided.
The Ergonomics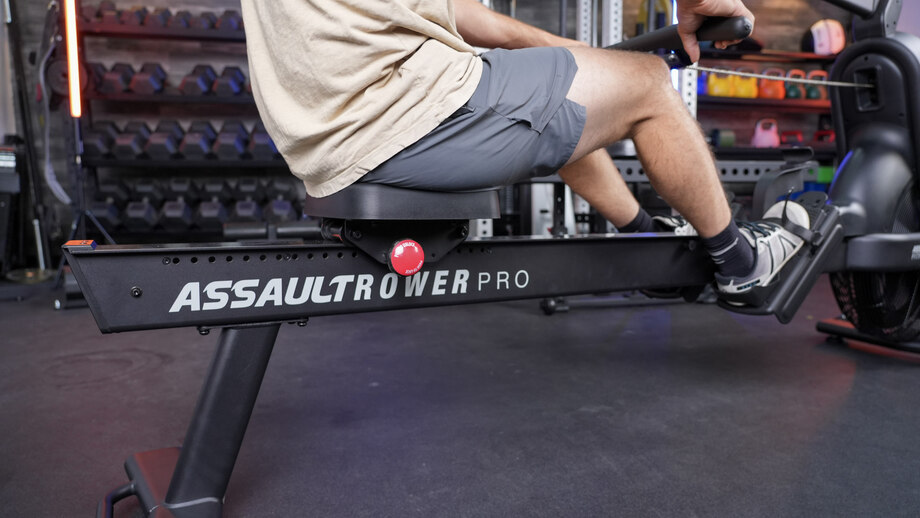 OK, onto what you all really want to know: Is the rower comfortable to use?
Product tester Lindsay Scheele says yes. She provided insights on some of the specific features and what you can expect in terms of ergonomics.
Seat Height
"The seat height is a tad higher than the Concept2's 14-inch seat height," Lindsay says, "which I really love." She notes that the slight increase in height makes it easier to get in and out of the seat. We love this for older people and people with limited mobility who may have trouble getting down and up from a low seat.
Contoured, Padded Seat
The seat on the AssaultRower is contoured to the natural shape of the rear. It's no sofa, but it's more comfortable than harder, less contoured seats on the market. In fact, this seat has a good amount of squish, says Lindsay, a welcome feature for people familiar with monkey butt (AKA dreaded butt-crack chafing from sitting on a hard rower seat).
Lindsay says she likes the seat itself on the AssaultRower more than the seat on the Concept2 because the cushioning makes it more bearable for long sessions.
Ergonomic Handle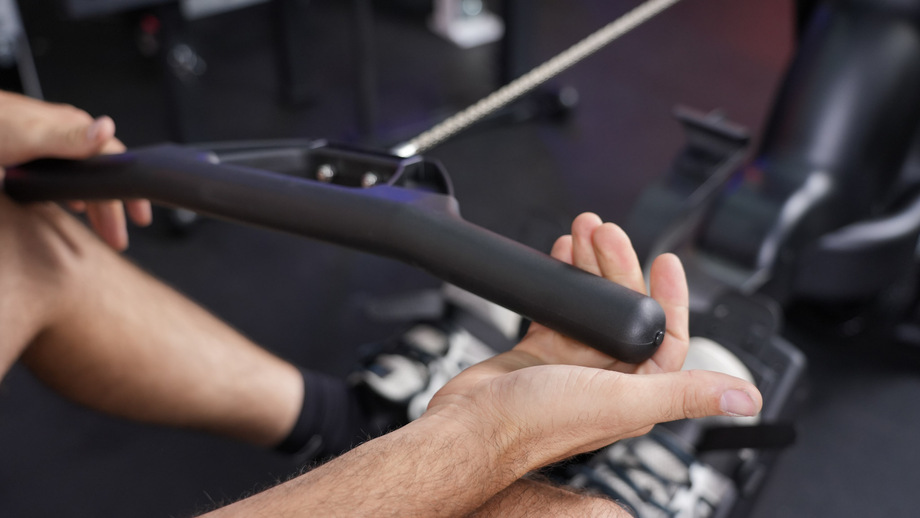 The entire time you're on the rower, you're holding a handle. So, you want that handle to be well-designed and comfortable to hand onto. The AssaultRower's handle features an angle that allows you to grip the handle and maintain a neutral wrist position. Unfortunately, the handle lacks a rubber molding for sweat absorption, so you may need some gym chalk for particularly sweaty sessions.
RELATED: Best Lifting Chalk
Easily Adjustable Foot Straps
The foot pedals are flexible and can accommodate a wide range of shoe sizes, Lindsay says. The straps lock your feet into place while rowing but are easy to loosen so it's quick to get out of the rower—this is important for people who plan to do CrossFit workouts at home and need quick transitions from the rower to another piece of equipment.
Technology Benefits and Conveniences
One of the most noteworthy features of the AssaultRower Pro—and arguably, the most overlooked—is just how easy the monitor is to use.
The monitor built into the AssaultRower Pro is a simple LCD monitor with push buttons. If you've ever used another Assault Fitness product before, it will look familiar as this is the monitor on all their conditioning equipment, says product tester Lindsay Scheele.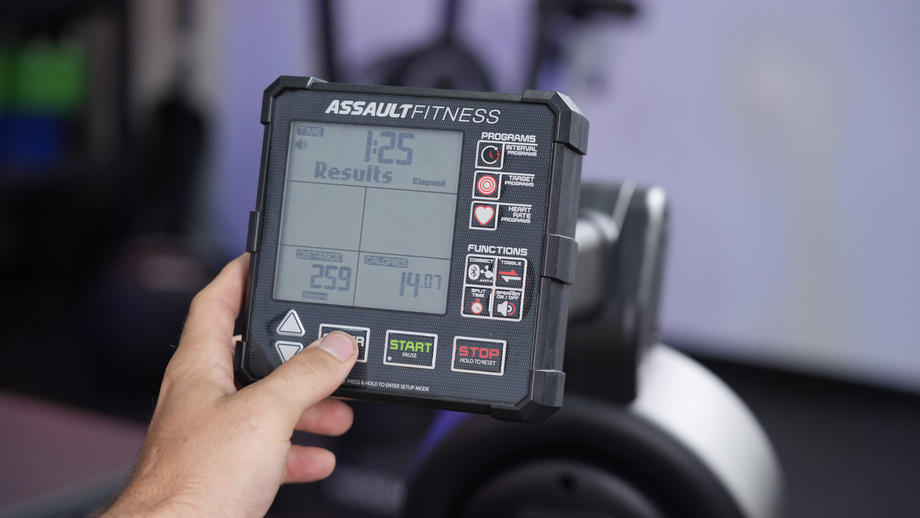 This monitor allows you to track a variety of stats across five different display screens, including:
Time
Distance
Speed RPM
Watts
Heart rate
Calories
The monitor also allows you to easily choose intervals and other workouts, although there aren't as many workout options as there are on the Concept2, Lindsay says.
It's enabled with Bluetooth- and ANT+ connectivity, so it can connect to compatible heart rate monitors if you're interested in using heart rate as a metric.
Other than these features, the AssaultRower Pro does not offer much in terms of tech, Lindsay says.
Assault Rower Pro vs Concept2 RowErg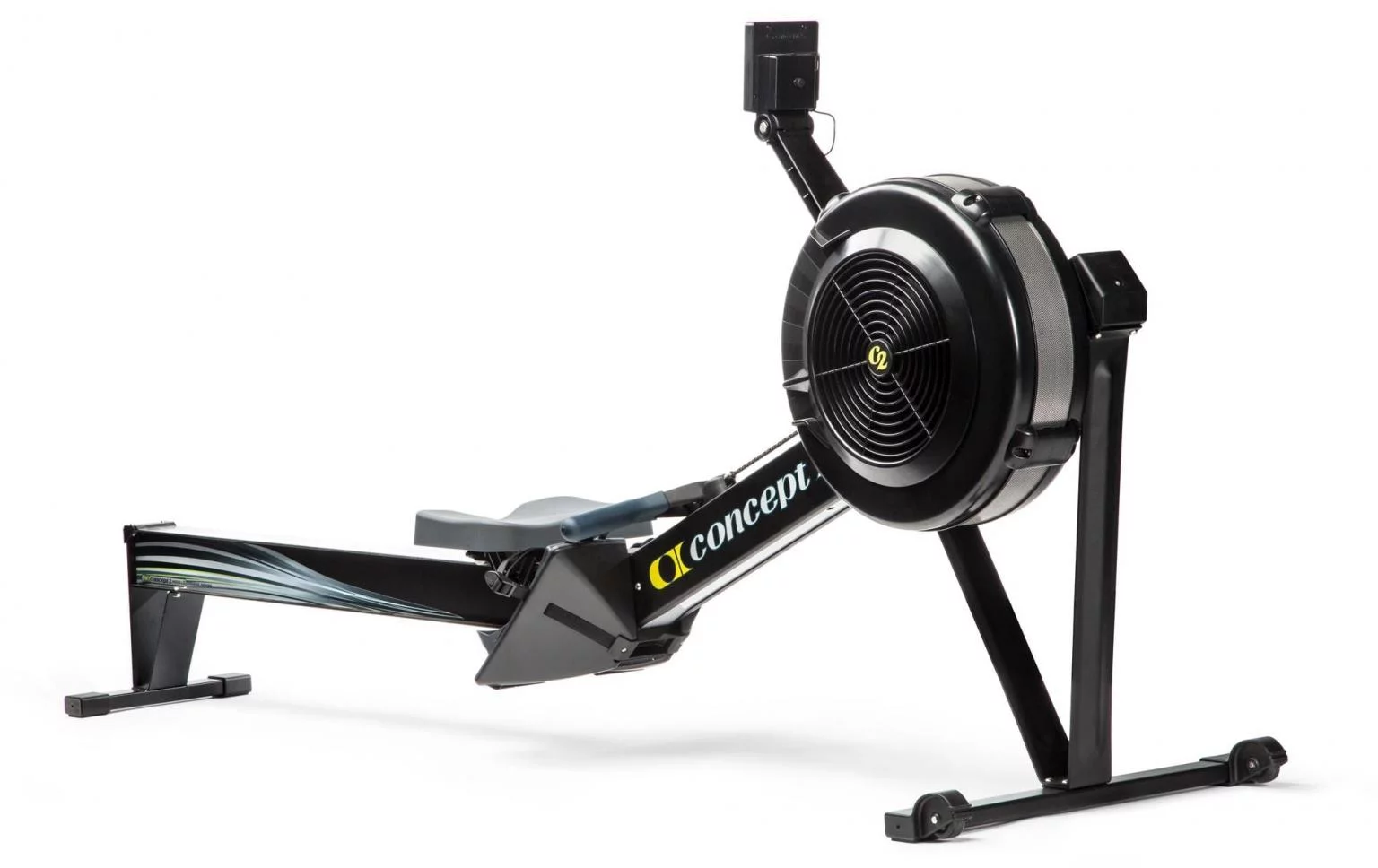 GGR Score: 4.6
Community Score: 3.4
Product Highlights
Priced around $1,000

Uses air resistance generated by the fanned flywheel

Advanced PM5 Performance Monitor

Low impact full-body workout fitness machine

Lightweight and easily portable

Can be broken down into two pieces for storage

Can also be hung for storage
Pros & Cons
Pros
Best-selling rowing machine in the world
Easy assembly
Accommodates users up to 6.6 feet tall and 500-pound weight
Ergonomic seat and handlebar
Seat is 14"
10-degree angle on handle for natural grip
Air-resistance
Adjustable airflow
Performance Monitor 5 (PM5) monitor
Nickel-plated steel chain
Adjustable footrests
Easy to store
Limited 5-year warranty
Cons
Priced around $1,000
Few built-in workouts
Bottom Line
The Concept 2 Model D Rower is the best rowing machine we've tested and reviewed, including those that are much more expensive like the WaterRower. There's a reason you can find Concept 2 products in nearly every gym in the world, including CrossFit Boxes, and home gyms. After having the Model D for over two years, we are still as satisfied with it as we were on day one.
The Concept2 RowErg, formerly known as the Concept2 Model D Rower, is like the Subaru of rowing machines. With an exceptional build quality, this machine can withstand years of workouts, sprints, and recovery flows alike.
Truthfully, there isn't much we don't love about this product. It's durable, reasonably-priced, and built to accommodate athletes of a variety of heights, weights, and shoe sizes. And the ErgData app compatibility means the RowErg is more high-tech than ever before.
All that being said, the Concept 2 RowErg and AssaultRower Pro are largely comparable in build, specs, and price. With just a $10 difference in price, I can confidently say that either of these rowing machines is a worthy addition to your home gym.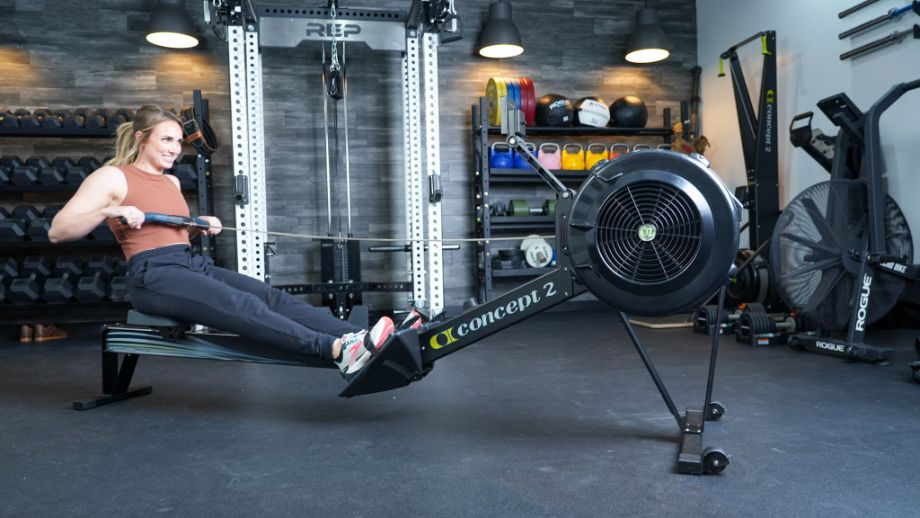 The most significant difference between the two is the user weight capacity: The RowErg supports a maximum weight of 500 pounds, while the AssaultRower supports a maximum weight of 350 pounds.
One other callout I'll make is that the Concept2 RowErg still holds the most value for people who do CrossFit. It is the rower that populates most CrossFit gyms, and it's the one used in most competitions, including the CrossFit Open.
Read our full Concept2 RowErg review and take a look at how it compares to the Assault Rower Pro in the chart below.
| | | |
| --- | --- | --- |
| | Assault Rower Pro | Concept2 RowErg |
| Price | $999 | $990 |
| Product Weight | 109 lbs | 57 lbs |
| Dimensions | 92" L x 22" W x 45" H | 96" L x 24" W x 14" seat height (20" seat height for tall legs) |
| Max User Weight | 350 lbs | 500 lbs |
| Max User Height | Not listed | 6'6" (38" inseam) |
| Monitor | LCD with buttons | PM5 |
| Bluetooth | Yes | Yes |
| Warranty | 7-year frame, 3-year parts, no labor | 5-year warranty on frame parts, 2-year warranty on other parts |
Customer Experience
Assault Fitness' customer policies are decent, but not the best. If you need financing, it's available through Affirm for those who qualify. Most orders are processed within seven to 10 business days, although Assault Fitness says sometimes, certain items can take up to 21 days for processing. You will be notified of the expected time frames during checkout.
Curbside delivery is the only option available for machines, so it's a good idea to make sure you'll be home at the time of delivery to receive the package and bring it indoors. Shipping is free.
You can make a return within 30 days of purchase, which will make for a really short window if it takes a week or more to even process the order. Additionally, returns must be approved by the company before you send the item back. You'll need to reach out to customer service to initiate the return process.
The return policy stipulates that "All products must be in original packaging and in new condition, on a pallet. If the returned product is not in original packaging, new condition or on a pallet, a 20% restocking charge will be deducted from the remaining balance to be credited."
As for warranty, Assault Fitness covers the frame for seven years from the date of purchase and parts for three years from the date of purchase. There is no warranty for labor.
Ordering and Assembling the Assault Rower Pro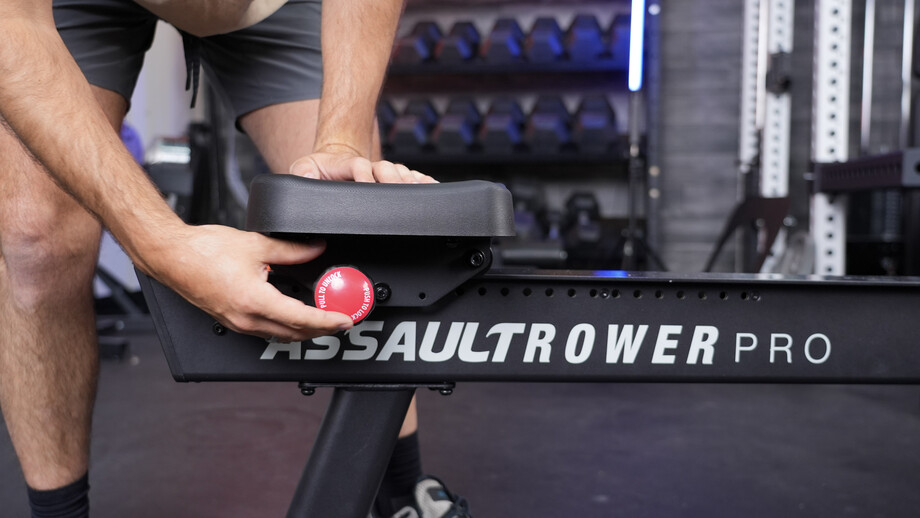 Product tester Lindsay Scheele says the assembly was easy for the most part. "It came in a well-packaged box, the instructions were clear, and one person could assemble it," she says. "It was more difficult to assemble than theConcept2 because the chain runs all the way through the monorail, which creates a little more difficulty when assembling."
She rated it with 4 out of 5 points for assembly.
When all was said and done, Lindsay said it took less than 45 minutes to fully assemble. Hoorah for quick and easy tasks!
Customer Reviews
On the Assault Fitness website, there are only two customer reviews for the AssaultRower Pro. One person wrote, "It gets everything. Legs, back, arms, core…. I really like that about the Rower Pro." Another wrote, "Love this rower! It's a great workout and super easy to store."
There are no customer reviews on this product on Amazon, so it's hard to tell as of yet how people are responding to the AssaultRower Pro.
Final Verdict of Our Assault Rower Pro Review
The AssaultRower is a solid piece of cardio equipment for your home gym. It's suitable for all skill levels and heavy-duty to the point of feeling like it belongs in a commercial gym. Still, it's easy to move; simple to operate; and features a comfortable seat and adjustable foot pedals.
Product tester Lindsay Scheele ultimately rated this product with 4.2 out of 5 points after carefully considering 11 criteria specific to rowing machines.
We still recommend the Concept2 RowErg for CrossFit athletes because it is the standard used in competition and in CrossFit gyms.
The AssaultRower Pro is a good alternative for really anyone else, but the price point is the same between the two rowers, so personal preference is the determining factor.
Assault Rower Pro Full Rating
AssaultRower Pro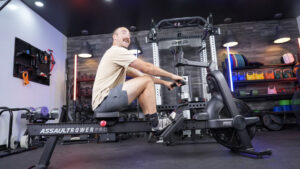 The Assault Rower Pro lets you work as hard as you want with unlimited air resistance. The faster you row, the more air the fan intakes, and creates more drag.The Assault Rower Pro features a powder-coated steel frame, dual-stage chain and belt drive combination system, steel footplates, and an aluminum monorail for a smooth and stable rowing experience.
Product Brand: Assault Fitness
Product Currency: $
Product Price: 999
Product In-Stock: InStock
AssaultRower Pro FAQs
Which is better, AssaultRower or Concept2?
The two rowing machines are largely the same, says product tester Lindsay Scheele. In her experience, the AssaultRower Pro is slightly noisier during use, but the experience is similar to that of the Concept2. The AssaultRower Pro costs about $10 more than the Concept2, so budget doesn't make much of a difference, either.
Should I get an Assault bike or rower?
The AssaultBike and AssaultRower offer different experiences. Both are good additions to a home gym and are widely used in CrossFit-style, full-body workouts, and provide the opportunity for everything from slow, steady cardio to high-intensity interval training (HIIT). However, if you struggle with back pain, a bike is the better choice, since the rowing position can put more strain on the lower back. 
Is the AssaultRower Pro or AssaultRower Elite better? 
For most people, we recommend the Pro version. The Elite will run you about $500 more for not that many extra features. The Elite is slightly heavier and larger, supposedly making it more durable, but the Pro is certainly durable enough for any home gym. According to the comparison chart on the Assault Fitness website, the only other difference between the two is the 1-year labor warranty offered for the Elite.