We test and review fitness products based on an independent, multi-point methodology. If you use our links to purchase something, we may earn a commission. Read our disclosures.
I'm dispelling the myth right here and right now: not all chalk is the same. Whether we're talking about weightlifting chalk for picking up a heavy Olympic barbell, climbing chalk for rock climbers, or a block of chalk for CrossFitters who are doing a little bit of everything, you want the best lifting chalk for your needs. Chalks are of different qualities and types, so it's important to find an effective chalk best suited for your goals and personal preference.
Our team of GGR testers got together and built this list of the best lifting chalk from the ground up, to help find the ideal chalk for a variety of needs. With our testing team consisting of certified personal trainers, CrossFit-L1 trainers, competitive athletes, and lifting coaches, we've been around chalk for a bit. We know what we're looking for in the quality of chalk and can provide you with the information to help you make your next purchase.
The Best Lifting Chalk
Best Overall Lifting Chalk: Rogue Gym Chalk
Good for: Gym owners needing high-value chalk blocks that will endure many lifting sessions
Rogue Gym Chalk takes the best overall spot for lifting chalk, as it provides great grip for a broad range of athletes at a competitive price. Although a bit pricier than other chalk blocks, ultimately this comes in at a lower price point to other alternatives to block chalk, like loose chalk, chalk balls, or liquid chalk. I use this chalk at the gym I train out of, and the grip it provides is stellar for Olympic weightlifting.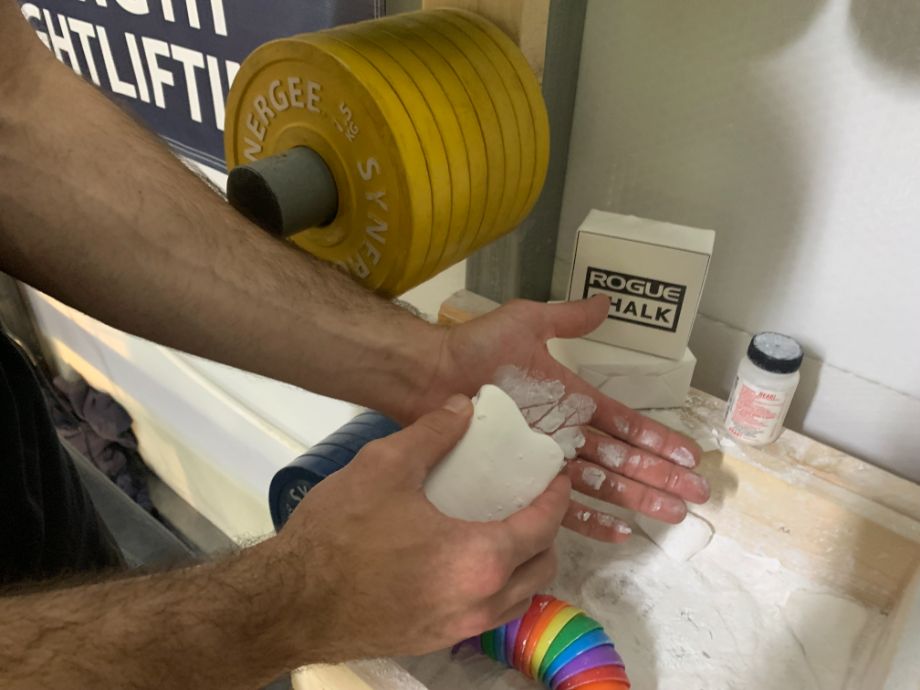 GGR Head of Content Kate Meier has also been using Rogue Gym Chalk at her gym for years. She says, "Our entire team uses it every day for pull-ups, cleans, snatches, deadlifts, and more," making it a versatile chalk that can provide good grip for most gym activities. Kate adds, "Whether you use the block or it gets ground up into a loose powder, it's super easy to put on your hands, and it stays on well."
The blocks typically come in a box of eight 2-ounce blocks, which should last for months in a home gym, but for gym owners, you can purchase them in bulk in five-box packs. Made of pure magnesium carbonate, the gym chalk has no unnecessary fillers or binders, making for a solid chalk that helps absorb moisture and improve grip.
Kate does mention a potential negative, however. "If you want a really good grip, and you're sweating, you're probably re-applying it a little more often than a liquid chalk. It's not really grippy enough to be a one-and-done." If you are maxing out a heavy deadlift or doing multiple sets of pull-ups, you will probably want to re-chalk before each barbell rep, or each set on the pull-up bar to ensure a strong grip.
| | |
| --- | --- |
| Size | 1-lb box, with 8 2-oz blocks (also available in a bulk 5-pack) |
| Price | $17 ($68 for 5-pack) |
| Ingredients | Pure magnesium carbonate |
Best Liquid Lifting Chalk: SPORTMEDIQ Pro Grade Liquid Chalk
Good for: Gym-goers who need a chalk alternative that will leave no mess on equipment
GGR's Senior Staff Writer Amanda Capritto tested the liquid chalks for this list, and SPORTMEDIQ Pro Grade Liquid Chalk was her favorite: "This is the one I'll buy when—or if—I ever run out." Coming in a big 8.5-ounce bottle, and only needing a dime-size amount per application, it probably will be awhile before Amanda has to restock on our pick for best liquid chalk.
Liquid chalk is a great alternative to traditional powder chalk, in that it dries quickly on your hands and stays on your hands, making for a long-lasting chalk that leaves little to no residue or chalk dust on equipment and clothing. SPORTMEDIQ's liquid chalk is a water-based thickener that allows rosin and chalk to mix and dry on your hands, giving a dry, grippy covering.
Once on your hands, it stays on your hands, and provides a good grip throughout an entire session. Amanda noted the longevity of the liquid chalk saying "This chalk was so good that I literally couldn't get it off when I didn't want it on my hands for the rest of the gym session. Some other liquid chalks come off with just a dry towel rub, but I had to wash my hands for this one."
At under $20 a bottle on Amazon, this liquid chalk can provide value, and be an excellent option for gym-goers who use a gym that doesn't allow traditional chalk. With that said, be careful not to inhale the rosin and chalk mixture, as it can cause irritation. Some reviews also complained that the bottle's lid broke off easily, leading to drying of the liquid chalk—although Amanda had no issues with the packaging.
| | |
| --- | --- |
| Size | 8.5 oz |
| Price | $18.12 |
| Ingredients | Water-based, rosin, chalk |
Best Chalk Ball: Primo Chalk Ball
Good for: Those needing an easy chalk application that'll help prevent messes as well
Our favorite chalk ball was hands down the Primo Chalk Ball, a 2.5-ounce cotton pouch containing Primo's unique chalk blend of magnesium carbonate and five essential oils. The essential oils are added to condition your skin while using the chalk; you might end your workout with your hands feeling better than when you started.
GGR expert panelist Jacob Penner tested out the Primo Chalk Ball and gave it high marks in its performance, saying, "My hands felt really dry throughout pull-ups, and I was in a very hot and sweaty gym." In addition to the essential oils, Primo Chalk has a natural drying agent to ensure quick drying chalk and good grip.
The ball comes in a small resealable bag, which is convenient to prevent dumping chalk everywhere when not in use. However, Jacob had trouble getting the chalk ball out of the bag, which ended up making a mess anyways: "When you pull the ball out, you kind of get chalk everywhere." If you have the room for a chalk bag or bucket in your home gym, I'd recommend getting one for a chalk ball like this, just to avoid the issue of getting it in and out of the small bag.
RELATED: How to Clean Rubber Gym Flooring
Chalk balls are great at keeping chalk use to a minimum, dispensing chalk only when squeezed. At about $9, the Primo Chalk Ball can be expensive compared to other chalks; however, the refillable chalk ball can be filled back up when low on chalk, and it saves the amount of chalk you use. With this in mind, it might be worth the purchase.
| | |
| --- | --- |
| Size | 2.5 oz |
| Price | $8.95 |
| Ingredients | Magnesium carbonate, five essential oils, natural drying agent |
Best Long-Lasting Lifting Chalk: Liquid Grip
Good for: Gym-goers wanting a chalk that will last an entire session without reapplying
If you're looking for a grip that just won't quit, Liquid Grip is a solid option. At under $18 for the large 8-ounce bottle, it's a more affordable option amongst liquid chalk; plus you can buy the 1.5-oz bottle with the large one at a discounted combo price. The smaller bottle has a cool carabiner you can snap onto your gym bag, too.
In addition to being affordable, the grip this chalk provides is incredibly long-lasting. Amanda tried it out for a lot of different strength training exercises: deadlifts, kettlebell swings, cleans, and bent-over rows, just to name a few. She reported, "This stuff lasts an entire session with one application. It's great!" She kept her grip strength without needing to re-apply once—that's some long-lasting stuff.
RELATED: Best Kettlebells for Your Home Workout
Be forewarned, though; Amanda noted the liquid chalk has a bit of a chemical smell to it. However, Liquid Grip is made from natural ingredients and products. So although it might have a strange chemical smell, the antibacterial liquid chalk is 100% biodegradable.
Additionally, some reviews claimed needing to reapply more often in a workout session. While we didn't experience this in our testing, more sweat or a more humid environment may lead to the chalk not lasting as long.
| | |
| --- | --- |
| Size | 1.5 oz or 8 oz |
| Price | $7.99 (1.5 oz), $17.99 (8 oz) |
| Ingredients | All natural products |
Best Lifting Chalk for Grip: Spider Chalk Liquid Chalk
Good for: People wanting a grippy chalk for gymnastics movements
Spider Chalk Liquid Chalk is our pick for the best chalk for grip. In Amanda's testing of this liquid chalk, she noticed how much it helped on her strict pull-ups, performed on a slick pull-up bar, saying "I was impressed at how much it helped with pull-ups, because normally I'm slipping all around on the non-knurled, non-coated, stupid pull-up bar in my condo's gym." It's not your best pull-up bar, so performing well despite subpar equipment is great.
Available in two different-sized bottles, this is one of the pricier options when it comes to liquid chalk, costing over $20 for the 8-ounce bottle. Made from magnesium carbonate and two bonding agents, the liquid chalk can still be worth it, as the liquid chalk performed well in a variety of exercises and uses, including deadlifts and power cleans while using a worn-down barbell (also at Amanda's condo's gym).
While it's a minor complaint, Amanda did notice that the Spider Chalk bottle was a harder plastic than other liquid chalks. This made squeezing chalk out in liquid form more difficult with the smaller 2-ounce bottle, although it was a minor issue.
Coincidentally, the harder plastic could be a benefit, as many liquid chalk users in general can complain about bottle breaking over time, leading to chalk drying out before it can be used. So the more heavy-duty bottle may help the container last longer.
| | |
| --- | --- |
| Size | 2 oz, 8 oz |
| Price | $12.95 (2 oz), $22.95 (8 oz) |
| Ingredients | Laboratory grad magnesium carbonate, two bonding agents |
Best Lifting Chalk in Bulk: Primo Loose Chalk
Good for: Gym owners with a large membership needing a lot of chalk
If you've ever been in a CrossFit gym, you know gym members can go through a lot of chalk. And if you're a gym owner, you probably know this even more. If you're needing chalk in bulk, Primo Loose Chalk is a fantastic option.
Available in 1-pound bags and 6-ounce packs, the loose chalk is also available in big 5-pound buckets on their website—for less than $100. While most garage gym users won't need 5 pounds of chalk all at once, this chalk can be a game changer for gym owners.
Primo blends magnesium carbonate with five essential oils and a natural drying agent to make a dry chalk that helps condition skin while being used. Performance Editor Anthony O'Reilly tried this chalk out, and remarked, "This feels good—really comfortable grip, no slipping, and I was in a hot, humid environment." He also noticed that even though the chalk was very loose, it stuck to his hands well.
The essential oils make the chalk smell nicer than most chalks. Anthony mentioned, "This smells amazing!…kind of eucalyptus-y." Additionally, Primo claims the oils can kill Staph bacteria. While we can't verify this ourselves, it's nice to have chalk that both feels and smells great.
As with any loose chalk, you can always run the risk of spilling it everywhere on your home gym flooring, so make sure you keep the chalk bag away from dropping weights. Speaking from experience, cleaning up a chalk spill is a hassle, and can still leave chalk dust behind. If loose chalk is too messy, a liquid chalk might be a good alternative; otherwise, Primo Chalk is a solid choice.
| | |
| --- | --- |
| Size | 1-lb bag or 3 6-oz packs |
| Price | $23 (1 lb), $36 (6-oz 3-pack) |
| Ingredients | Magnesium carbonate, five essential oils, natural drying agent |
Best On-The-Go Lifting Chalk: Z Athletic Chalk Ball
Good for: Traveling fitness enthusiasts needing a chalk ball to transport easily
Chalk balls are convenient for fitness enthusiasts who are constantly traveling and on the move. The ball keeps all the chalk together and stays in a bag to keep your gym bag free of any chalk messes. Our favorite chalk ball for travel is the Z Athletic Chalk Ball, as it's an affordable, high-quality chalk and comes with a resealable bag.
Anthony used these on a variety of different pieces of equipment, including a barbell, pull-up bar—even gymnastics rings. He applied the chalk to his hands easily, and was impressed by its performance. He says, "I used this on wooden rings and a metal bar. Good, solid grip. I'd definitely pay $10 for this."
And at $10 for a 2-ounce chalk ball, it's a pricier chalk ball than some others we cover, but we think it's worth it. Plus, there is an optional 3-ounce ball for only one dollar more. Take care though, as some customer reviews speak about the chalk's pouch breaking after only a few uses. While we had no issues in our testing, it might be worth considering before making a purchase.
| | |
| --- | --- |
| Size | 2 oz, 3 oz |
| Price | $9.99 (2 oz), 10.99 (3 oz) |
| Ingredients | Pure magnesium carbonate |
Best Antibacterial Lifting Chalk: Fire Team Fit Liquid Chalk
Good for: Those wanting a clean chalk that will prevent the spread of bacteria
Fire Team Fit Liquid Chalk is our pick for best antibacterial chalk. Because of its alcohol content, liquid chalk can have some antibacterial properties. However, Fire Team Fit's formula is antibacterial and claims to keep your hands germ-free while at the gym.
As an added bonus, this liquid chalk performed well, too. Amanda took this chalk through multiple barbell movements with her condo gym's worn-down, slick barbell. In her testing, this liquid chalk performed well, as she says, "Normally, when I deadlift with the barbells in my condo building gym, I'm constantly wiping my hands and wiping the bar to attempt to dry it off and give myself some more grip, to no avail for the most part…with this chalk, none of the above had to happen. Each set went super smooth and I never had to reset."
RELATED: Beginner Barbell Workout
This liquid chalk is odorless, so it won't have the chemical smell that other liquid chalks will have. Stored in a plastic squeeze bottle, Amanda had a little trouble getting the metal foil off the cap, but otherwise had no issues. The liquid chalk comes in two sizes, 50 milliliters or 250 milliliters; the smaller bottle comes with a carabiner attachment to easily add to your gym bag for easy access.
At $24 for the large bottle, this is one of the more expensive liquid chalks on the market. Still, it provides good value for a liquid chalk, allowing you to lift, do gymnastics movements, and even rock climb.
| | |
| --- | --- |
| Size | 50 ml, 250 ml |
| Price | $11.99 (50 ml), $23.99 (250 ml) |
| Ingredients | Not disclosed |
Best Budget Lifting Chalk: Bison Chalk Ball
Good for: People needing decent chalk at a good price
If you need a bit of chalk at a low price, look no further than the Bison Chalk Ball. This chalk ball is 3 ounces wrapped in a cotton pouch, all for under $6. Anthony tried out the Bison Chalk Ball, and while the chalk doesn't perform as well as some other chalks we tried, it can still have some uses—namely being a cheaper option.
The Bison Chalk Ball provided a thin coating and layer of grip, Anthony remarked on the chalk. "It might be better for some kind of climbing," he says. "It just doesn't give a good grip; I could feel the barbell knurling as if I had nothing on my hands, but not in a good way." While it may not give the best grip for barbell movements, it could very well be suited for climbing, where you'd want some dryness on your hands, but not too thick of a coating.
When it comes to budget home gym equipment, their value comes from providing good quality at an affordable or lower price. In lifting chalk, a cheaper option might only be a few dollars difference, so the amount of value you're getting from a lower-priced item may be negligible. Basically, if you can afford better chalk, you probably should look for other options. However, the Bison Chalk Ball is priced low, and will perform well enough in a pinch.
| | |
| --- | --- |
| Size | 3 oz, 4 oz |
| Price | $5.50 (3 oz), $7.70 (4 oz) |
| Ingredients | 100% natural magnesium carbonate |
Best Heavy-Duty Lifting Chalk: Friction Labs Sports Chalk
Good for: Anyone wanting good loose chalk that'll last through multiple repetitions in a workout
Our pick for best heavy-duty chalk is the Friction Labs Sports Chalk. Available in 5-ounce or 10-ounce bags, this chalk also comes in three different textures: fine, chunky, and super-chunky. Anthony tested out the super-chunky Sports Chalk, and thought it performed alright. Although it took some time to rub the chalk into his hands effectively, he said that it "feels like it works better the longer it's on your hands."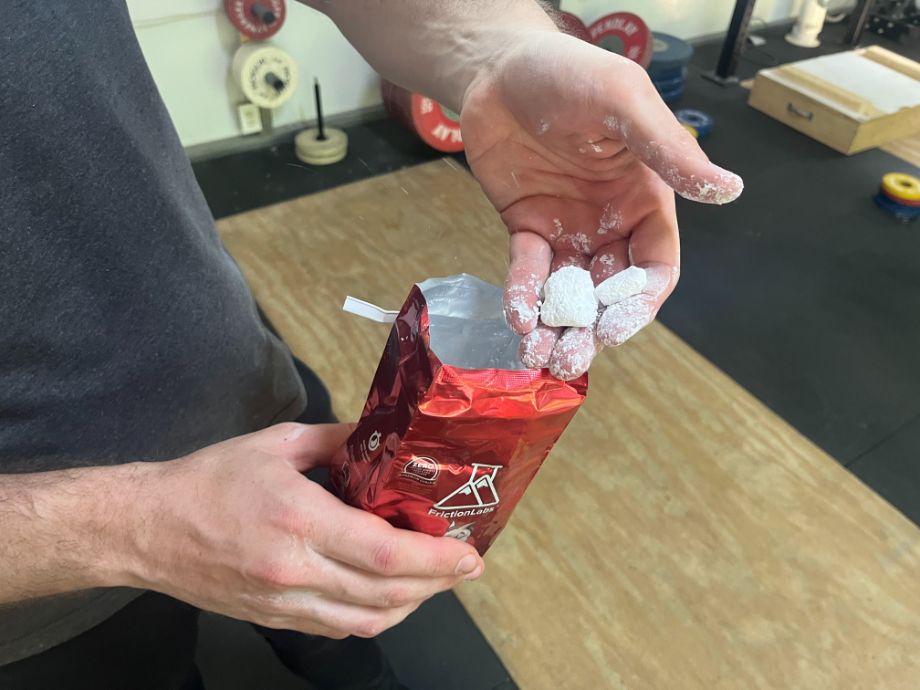 The chalk performed great, and actually didn't need to be reapplied every rep, he noted. This is a pretty rare feat with loose chalk; it can tend to need a reapplication after each rep or set of an exercise. It performed well through multiple repetitions of deadlifts and cleans, along with other barbell movements.
Although a pretty solid-performing chalk, it is on the pricier side, at $25 for the 10-ounce bag. This puts the price higher than several 1-pound options on this list. Additionally, the bag the chalk comes in, while resealable, is a little small, and leaves the possibility of spilling chalk outside of the bag while trying to get chalk out of the small opening. If you get this chalk, it may be wise to just put it in a bucket to make it accessible.
| | |
| --- | --- |
| Size | 5 oz, 10 oz |
| Price | $15 (5 oz), $25 (10 oz) |
| Ingredients | Magnesium carbonate |
Other Lifting Chalk We Researched
Here are a couple of other chalks that didn't make our top picks:
Spider Chalk Mega Blocks: At nearly $40 for one pound of chalk in block form, we didn't feel the quality of this chalk justified the cost. In Anthony's testing, the block was brittle, and applying the chalk was difficult.
SPRI Chalk Blocks: SPRI Chalk Blocks are an inexpensive option when it comes to chalk blocks, costing less than a dollar per ounce. However, we weren't able to test this chalk out, so it didn't make this list.
How We Picked and Tested
After researching dozens of brands and products, we decided on our final chalks to test out. Garage Gym Reviews Performance Editor Anthony O'Reilly and Senior Staff Writer Amanda Capritto led the testing of different lifting chalks, and Head of Content Kate Meier and her lifting team tested a couple of chalks as well.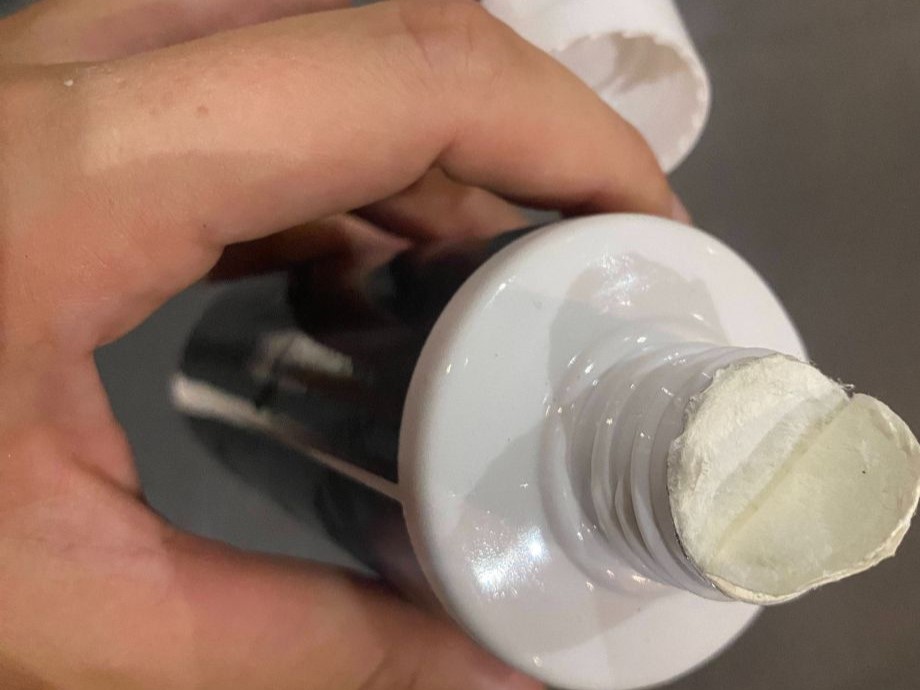 Amanda covered the liquid chalks, by using the gym equipment in her condo building's gym. The barbells aren't always the best there, making them ideal for the toughest grip testing. "I'm talking like zero knurling, got-to-wipe-your-hands-before-every-rep kind of barbells," she said on the quality (or lack thereof) of the barbells she tested on.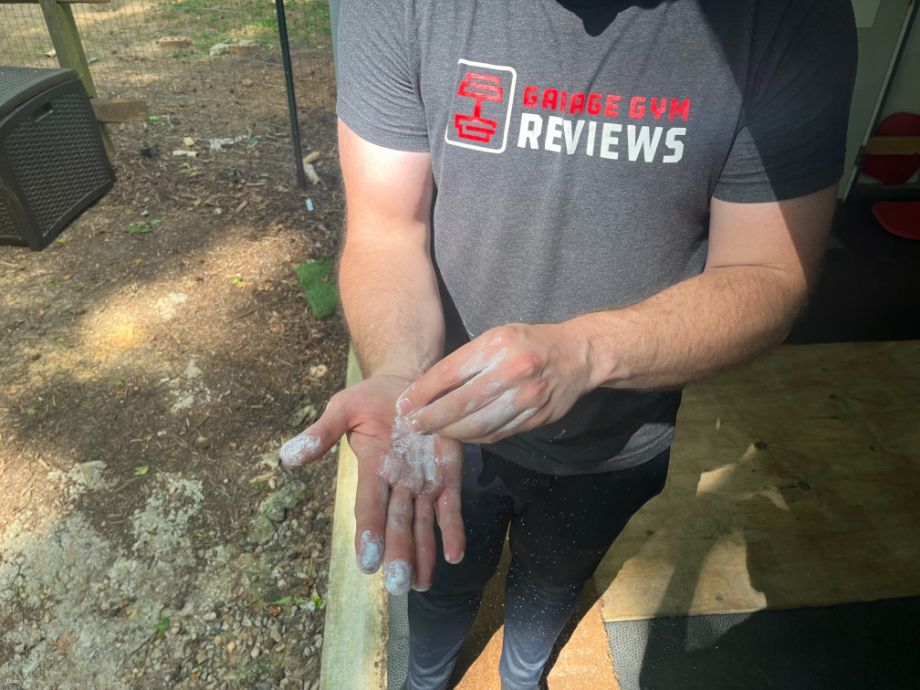 Anthony covered most of our powdered chalks and chalk balls, and he tried a variety of different exercises, including heavy deadlifts and upper body work on pull-up bars and gymnastics rings. Kate, who also has a lifting gym and barbell club, has had a lot of experience with different gym chalks through her gym, lifters, and members trying out different things.
After going through all of these chalks, and noting their ease of application and performance, we finalized our list to what you see before you.
Benefits of Lifting Chalk
While it's not exactly mandatory to use lifting chalk for weightlifting, CrossFit, or even rock climbing, it's certainly encouraged. The only drawback to chalk can be the potential mess it could make, but the improvement to grip far outweighs the risk of sweeping up a mess.
Less Sweat, Better Grip
The magnesium carbonate in lifting chalk helps absorb moisture, keeping your hands dry throughout your workout. Dry hands mean you have better grip during powerlifting or gymnastics movements, allowing you to stay better connected throughout your reps, or your heavy max-out.
Helping Prevent Rips and Tears
By keeping a layer of dry chalk on your hands, this adds protection from hand injuries, like blisters or torn calluses. Performing a lot of reps on a metal barbell or kettlebell can cause some trauma to your grip and hand, especially once you start sweating. With that excessive moisture, the hand can start to slip and rub on the metal, forming uncomfortable blisters, or tearing the skin even.
Keeping the skin dry and protected through chalk will help keep the grip connected to the pull-up bar, barbell, or dumbbell, reducing your chance of a hand injury. With that said, I've been a weightlifter long enough to know that hand-related accidents do happen; but they happen more often if you're not taking care of your hands.
RELATED: Best Gymnastics Grips for CrossFit
What to Look for in Lifting Chalk
There may be more lifting chalks out on the market than there are chalk dust particles in a CrossFit gym—and that's a lot. So it can get pretty confusing to know exactly what you need or are looking for in your lifting chalk. No need to worry, though, because we have you covered! Here are a few aspects of lifting chalk to consider.
Type of Chalk
There are several different types of lifting chalk on the market, each with their pros and cons. Here are the main ones:
Chalk block: The most common chalk form in gyms, magnesium carbonate is shaped into hard blocks that a lifter can rub their hands against to apply chalk. The blocks are easy to break apart into chunks or powder, too.
Loose chalk: This powder chalk comes broken down already, ready to grab and apply to your hands. Loose chalk can come in different textures from fine to chunky, but if you're worried about making a mess, loose chalk is most likely to cause one, even if you're being careful.
Chalk ball: A chalk ball keeps loose chalk in a mesh ball, typically cotton. Squeezing the ball dispenses chalk onto the hands, and helps keep the loose chalk contained. Although any loose chalk can potentially be messy, a chalk ball helps keep the mess to a minimum.
Liquid chalk: Possibly the least messy of the chalk types, liquid chalk is applied and rubbed on the hands as a liquid, and dries within seconds as a chalk application. Typically longer-lasting, liquid chalk tends to not need reapplying during a workout. If you're worried about making a mess in your gym, or train at a gym that doesn't allow powder chalk, this is a great alternative.
Ingredients
The ingredients will change the feel of your chalk, as well as its effectiveness. As a competitive Olympic lifter, I have gone to international competitions ready to lift and been disappointed in the quality of the chalk, feeling less like chalk and more like talcum powder. It's important to have good chalk and good grip, and the purity of the chalk will impact this.
Most high-quality lifting chalk is made of pure magnesium carbonate, so most of the time you'll want magnesium carbonate chalk. Magnesium carbonate has a unique property in that it doesn't dissolve in water. So when you sweat, the chalk doesn't dissolve, but instead absorbs the moisture to keep your grip dry and strong.
Some chalk has unnecessary fillers and binding agents; you should avoid any ingredients that don't have a purpose, as these will just lessen the quality of the chalk. But on the other hand (pun intended), some companies add natural ingredients to their chalks to help with grip or skin comfort—like essential oils or drying agents—and these types of ingredients are fine.
Container
It's smart to consider the container that these chalks come in, or any containers they might need. Loose chalk and chalk balls typically come in resealable bags, but fetching chalk from small bags might be a hassle, as we discovered in our testing. Chalk blocks usually come without any proper way to store them, so you'll need a bucket or container to store them when not in use.
Generally, I recommend if you get some form of loose chalk, in block, powder, or ball form, it's best to have a larger chalk bag or bucket to store it. This will help prevent any large messes from happening.
The exception to this rule is liquid chalk. The bottle that liquid chalk comes in is often more than enough for storage. One main thing to consider is to keep the bottle lid on when the chalk isn't being used. Exposure to the air will prematurely dry out the liquid chalk, leaving it unusable.
Best Lifting Chalk: FAQs
What is the best chalk for lifting weights?
What is the least messy chalk for lifting?
Unless you're careful, loose chalk and chalk blocks can get particularly messy during a workout, and the magnesium carbonate can leave handprints all over your equipment. A chalk ball will help keep loose chalk from spreading most everywhere while you apply the chalk, but can still leave marks on equipment.
One of the least messy chalks available is liquid chalk, which you squirt and rub onto your hands, leaving a layer of dried chalk in seconds. Liquid chalk is typically long-lasting, not needing a lot of re-application during your workout; additionally, it leaves far less residue and mess on your equipment, staying on your hands throughout your workout.
Is chalk necessary for lifting?
Chalk is not absolutely necessary for lifting, but there are enough benefits to lifting chalk that I typically recommend it to people at the gym. It can help keep your hands and grip dry, providing a better grip to a barbell, as well as lowering your risk of ripping a callus on your hand.