We test and review fitness products based on an independent, multi-point methodology. If you use our links to purchase something, we may earn a commission. Read our disclosures.
Powerlifting is built around three lifts – the squat, bench press, and deadlift. Therefore, a home gym designed for Powerlifting will require equipment that allows these three lifts to be performed, while also aiding in strengthening these lifts. These are the pieces of equipment we suggest to build the ultimate Powerlifting Home Gym.
Powerlifting has its roots in dimly lit garages where mythical tales of triumph and defeat were on display under the veil of heavy metal, chalk, and blood. Men mightier than mountains (in their own mind) have been built through home gyms since the beginning of the sport of Powerlifting, and whether you plan to compete or not, Powerlifting as a training regimenis highly effective. Although there are many who travel to gyms to train, these people will never experience the joy of stepping out your back door into a training facility enviable by even the best outfitted commercial gym.
So you've got a basement, garage, or spare room that you want to convert into a home gym for Powerlifting? Congratulations, but now you have to figure out what to fill that space up with.
In order to have a Powerlifting home gym, you're going to need some solid basics, and if you'd like to add variety and help for assistance work, you're going to need a lot more equipment. Although there's a seemingly endless amount of equipment available for purchase, you could get away with a barbell, plates, squat rack, and flat bench. That said, the more equipment you get, the more variety you can add to your training.
Whatever you choose, here is the best home gym equipment for powerlifting based upon what we've used and liked, what others we've polled use, and what we often suggest to readers.
If you want to start a home gym and have the ability to train the big three (squat, deadlift, and bench) as well as assistance work for the competition lifts, then you're going to need some heavy-duty equipment. Here are our suggestions for the best Powerlifting equipment for a home gym based on various budgets and needs.
Video Review
Strength Equipment for Powerlifting
If you're going to have a Powerlifting home gym, the most important part is basic strength training equipment. There's a never-ending amount of different pieces of equipment that will build strength through Powerlifting programming, but if you're lifting heavy poundage you're going to want equipment that can take the beating and poundage you're going to put on it.
We chose to include items that are most often used in Powerlifting programming as well as suggested by some of the top lifters and coaches in the world.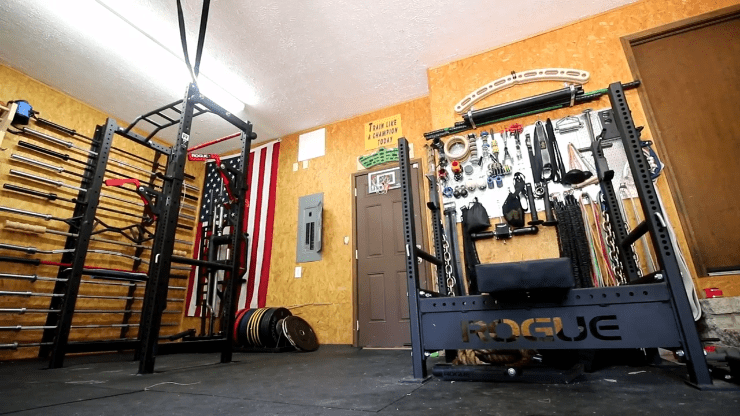 Squat Rack
Our Favorite Home Gym Squat Rack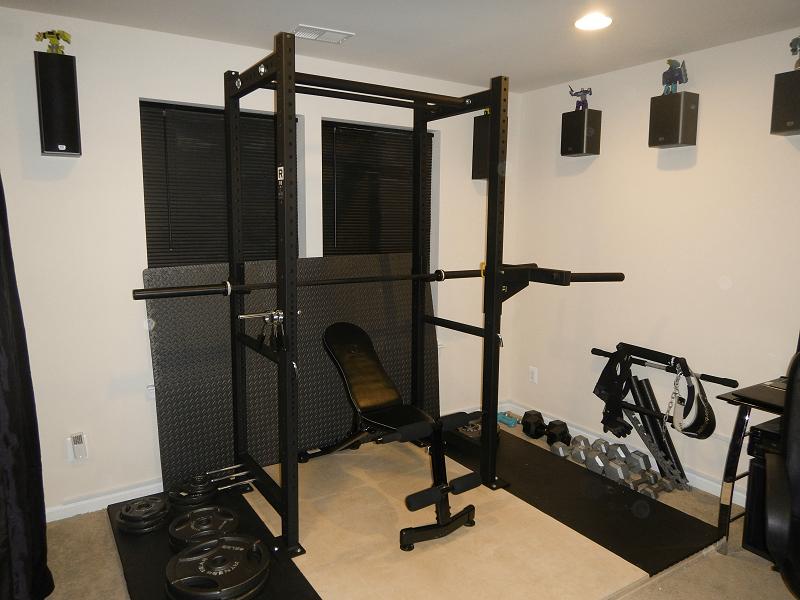 Rogue R-3 Power Rack
Part of the Rogue Infinity R-Series, our original R-3 Power Rack features 2x3" 11 Steel Gauge uprights (90 3/8" tall) with 5/8" holes in the Westside pattern—1" through the bench
The Squat Rack will be the most used piece of equipment in any Powerlifting gym. The amount of different types of work that can be performed in the rack is what's caused it to be so iconic and a staple not only in Powerlifting gyms, but any gym that's serious about increasing strength. For a Powerlifting home gym, you want a squat rack that can take the the weight you currently lift as well as what you want to in the future and keep on performing.
A rack designed for powerlifting should also have strong spotter pins or arms, band peg holes for dynamic work, and the ability to be used for both the squat and bench.
The Rogue R-3 Power Rack combines 2×3 steel tubing in a compact rack that will be stable (when bolted to the ground) for any movement or weight you can throw at it. Many people view the 3×3 steel tubing racks like the Rogue Monster Series as necessary for powerlifting, however, the Rogue R-3 Rack was designed based off of the racks Louie Simmons uses with his athletes at Westside Barbell. If the Rogue R-3 is stable and durable enough for one of the strongest gyms in the world, it's strong enough for you.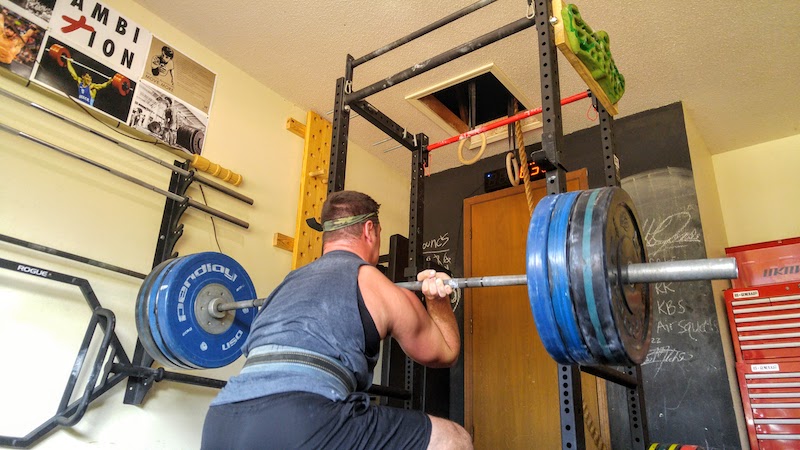 Rogue is known for outstanding attention to detail, and the R-3 Power Rack is a shining example of that. Everything from the welds to the powder-coat to even the spacing of the holes is well thought out. Going from squatting on the 1,000 lb plus rated J-Hooks to benching with the original Westside Hole Spacing that allows for dialing in the bench, there is not a better value squat rack available.After putting the Rogue R-3 Power Rack through thousands of workouts, there's no better choice for most people. You can upgrade to a thicker steel tubing, but it's not needed.
After putting the Rogue R-3 Power Rack through thousands of workouts, there's no better choice for most people. You can upgrade to a thicker steel tubing if you like the look, but it's not needed. What makes a stronger rack is not just the width of the tubing, although that helps, but also the gauge of the steel. The Infinity, Monster-Lite, and Monster lines of racks by Rogue Fitness all feature the same 11-gauge steel.
The R-3 Power Rack is also compatible with many of the accessories Rogue releases and due to the thinner steel tubing, they're also often cheaper than the Monster-Lite and Monster accessories. We reviewed the R-3 in-depth here if you're interested in more information.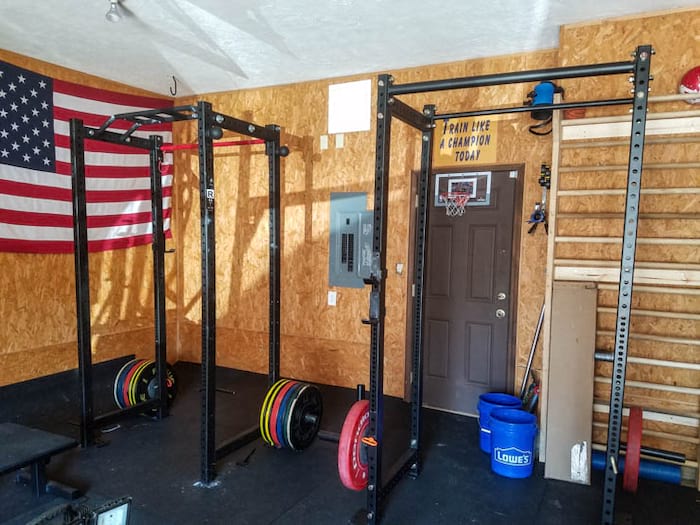 Rogue Copy for Less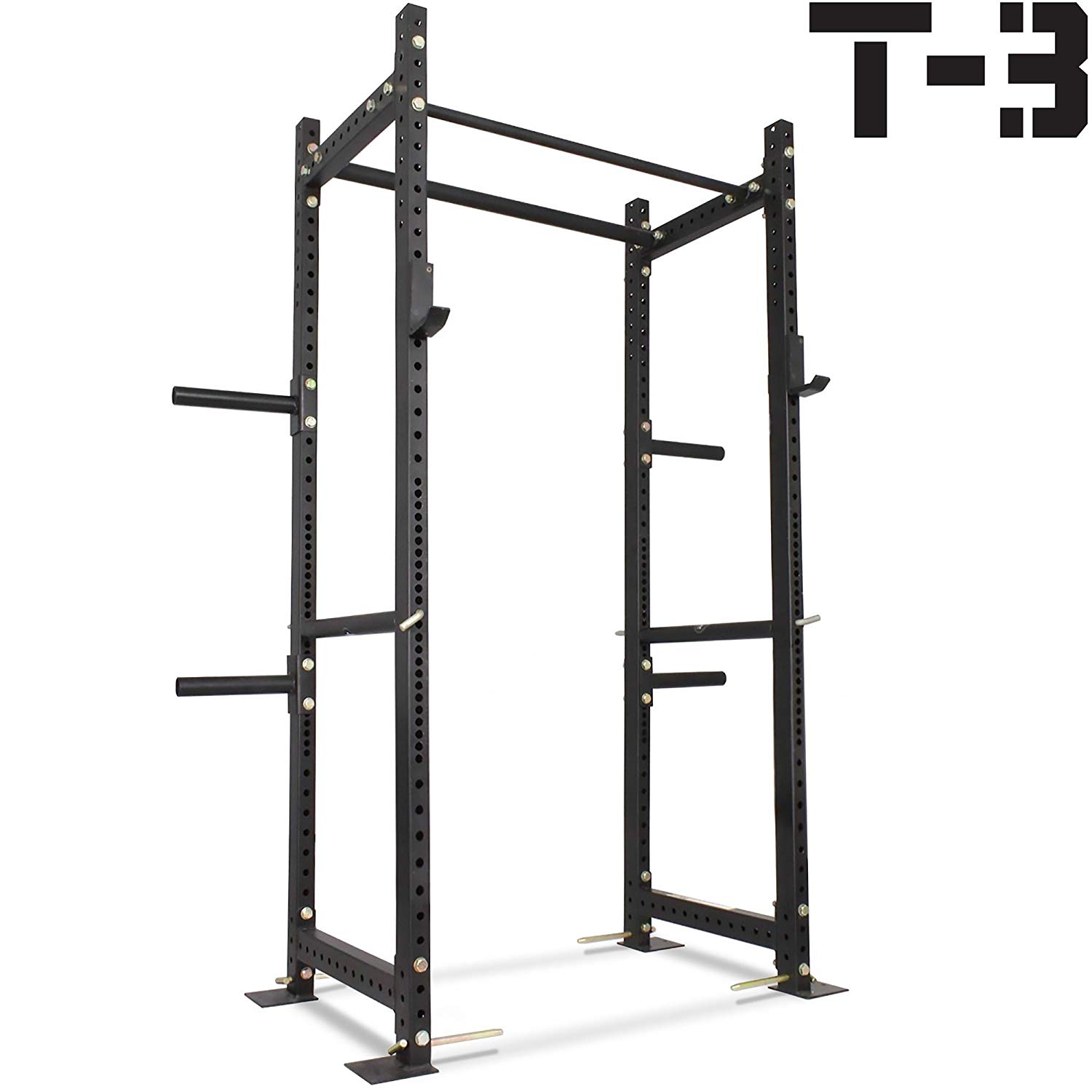 Titan T-3 Series Power Rack
The Titan T-3 Series Heavy Duty Power Rack is perfect for any professional or at home gym!Built using heavy 11ga (3.25mm) steel, this rack will not ever give way or back down. T-3 Power Racks use heavy duty 2"x 3" steel tubes– you'll most likely notice right away how every piece is heavy and solid.These power racks are the perfect fit for dips, bench press, curls, pull ups, and much more. The pre-drilled holes follow the popular "West Side" hold pattern, allowing you to move the bar up or down in 1" increments when using a bench.The weight holder attachments and J-hooks are included, and are easily installed. The 5/8" hardware also provides maximum security, even when the rack is completely maxed out. The bolt-together construction allows you to easily transport and fit the rack in to any room or basement!Features: - T-3 Series of Power Racks contain 2"x3" steel tubes - Capacity: 1000 lbs - 1" round steel j-hooks - Chin up bars: 1 1/4" & 2" diameter - Includes J-Hooks and weight holders
If you want a less-expensive power rack, but would like pretty much the same functionality as our top pick, the Rogue R-3, we suggest the Titan T-3 Power Rack as the best budget power rack. Titan Fitness has taken all of the great features Rogue is known for and packages them in a less glamorous (worse powder-coating, fewer holes, fewer welds) and less expensive package.
Despite the lower price (especially when shipping is factored in) the Titan T-3 is an outstanding power rack capable of whatever weight you want to throw at it. We reviewed the Titan T-3 in depth, comparing it to the Rogue R-3 and although we preferred the R-3, the T-3 is a worthy contender for the budget conscious. The J-cups on the Titan T-3 have the same weight rating (1,000 lbs.) as the Rogue R-3 and also features the same spotter pins (although the tubing is a higher gauge on the T-3.)
One of the cool things about Titan is that they're constantly adding new accessories that mimic what Rogue is releasing. These include matador horns (dip handles) and plate storage (4 posts come standard with the rack.) It's also worth noting that their accessories are similar to their racks regarding pricing compared to Rogue Fitness.
If you're on a strict budget, the Titan T-3 will more than handle whatever squat, bench, rack deads, and any other heavyweight movements you want to throw at it.
The All Out Option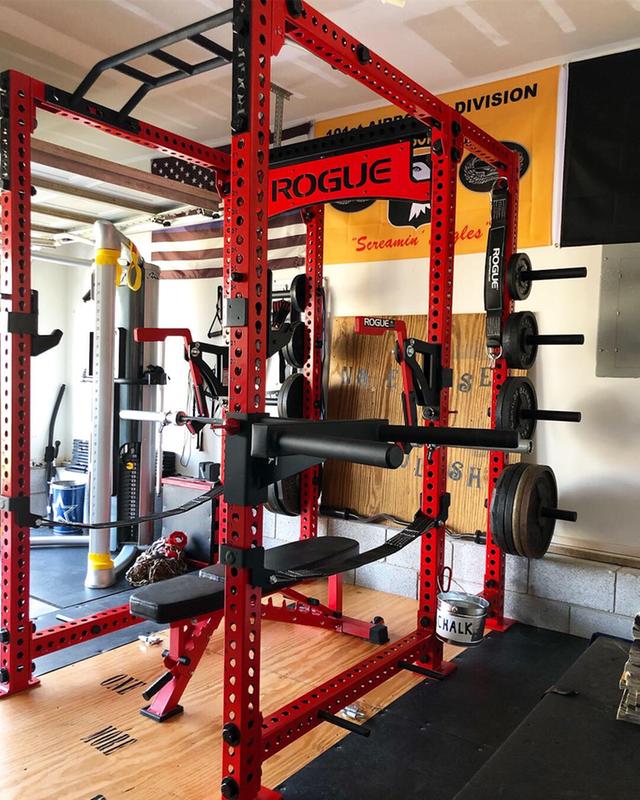 Rogue RM-6 Monster Rack 2.0
Rogue designed the fully customizable power racks of the Monster Series to meet the high demands of the top professional, collegiate, and high school athletic facilities in the world. We used bigger, 3x3" 11 Gauge Steel tubing, over-sized 1" hardware, and a bolt-together design for easier portability and affordable shipping. With Version 2.0, we've also rolled out a number of new features, including a wide spectrum of custom color options, laser-cut pin position numbers on the uprights and bottom crossmembers, and a keyhole pattern on the sides of each upright–creating compatibility with more add-ons and attachments.
If money is no issue and you want one of the best racks around, the Rogue RM-6 is hard to beat. Featuring 3×3, 11 gauge uprights along with 1″ hardware, the Monster Series of racks makes the already massive Infinity Series Racks from Rogue look like toys.
RELATED: Best home gyms
The big benefits of the Monster Series versus the Infinity Series is the laser cut pin position numbers, upright size, hardware size, and customization options. The J-Cups of both the Infinity and Monster series are rated for the same 1,000 lbs static weight, and the gauge of the steel is the same (although the Monster Series used to feature 9 gauge.) But, the Rogue Monster Series can have just about everything from the color to the height customized.
The Monster Series is also the future of Rogue's focus and as such, they offer many more attachments for the Monster Series than they do the Infinity Series. If you want a stout rack that looks as good as it performs, check out the Rogue RM-6.
Bench Press
Our Favorite Dedicated Bench Press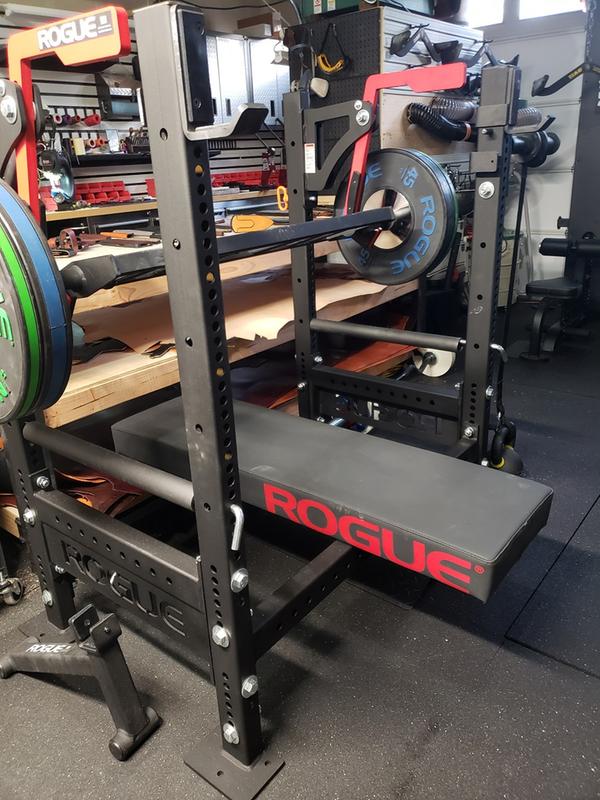 Rogue Westside Bench 2.0
Available to order with either a 12" wide standard pad or 14.5" Thompson Fat Pad, the fully updated Westside Bench is a heavy-duty juggernaut inspired by Westside Barbell's original designs. This 1000 LB weight capacity bench is manufactured in Columbus, Ohio, from 2x3" 11-Gauge, and now features a double-reinforced 7-gauge steel spine running underneath the pad–delivering maximum back support and reduced flex in the pad itself.Version 2.0 of the Westside Bench also introduces a new bolt-together design (with 0.625" hardware), meaning the full unit can be sent via parcel rather than freight, saving the customer considerably on shipping costs.The unit comes standard with Infinity J-cups, a 24" removable pin/pipe safety set, and side panels with laser-cut Rogue branding. There is 1" on-center hole spacing up the front and back of the uprights to allow for maximum height adjustability, meaning the standard 17.5" bench height can be moved up and down by 1" increments to serve a wide variety of athletes. Customers also have the option of adding elevated spotter decks that bolt onto the bench, giving spotters extra leverage and traction in case of a missed lift.
The Rogue Westside Bench 2.0 is the premier training bench currently on the market. I say training bench, because although some federations will allow it to be used in competition, the IPF will not.
The Westside Bench takes many of the same features of our favorite squat rack, the Rogue R3 and makes it into a bench. For instance, the uprights are made of the same 2×3, 11 gauge tubing and features the same Westside Hole Spacing. The feet can be bolted to the floor (although it's definitely not needed) and the same j-cups and spotter pins that the R3 uses are employed by the Westside Bench. We've reviewed the bench in great detail on our YouTube channel here:
If you want a bench that can take anything you can throw at it, including accommodating resistance like bands and chains as well as all sorts of specialty bars, the Rogue Westside Bench 2.0 is the one to get. It's also compatible with the Rogue Thompson Fat Pad (your back will thank you.)
Best Flat Bench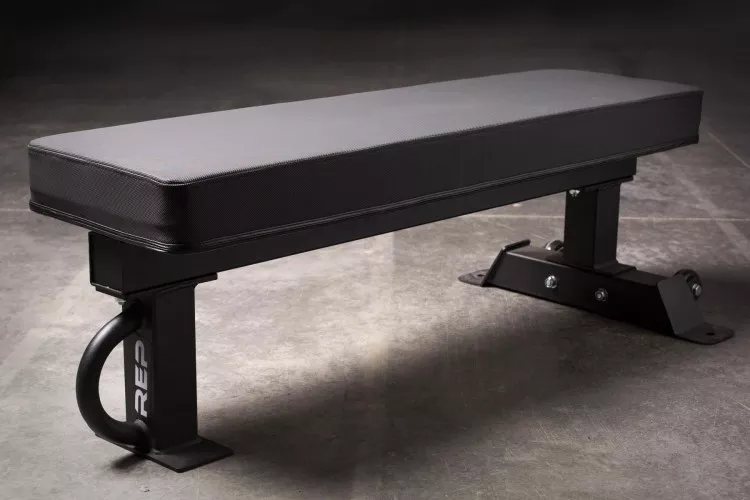 REP FB-5000 Competition Flat Bench
The Rep Fitness Competition Flat Bench is designed to handle the heaviest weights, and has compatibility with the Rep Fitness Wide Pad or the Thompson Fat Pad (with 4-bolt mounting pattern, please check yours) for those seeking an extra-wide pad.A heavy-duty bench for big lifts.Why a 3-Post Flat Bench? Nothing in the way of your feet, at powerlifting competition spec height, and rated to 1,000 lbs at an incredible price.Dims: 17" high (top of pad), 48" long (pad), 12" wide (pad), 62 lbs. 4" thick pad. Designed to meet IPF specs of height, width, and length Heavy-duty 3x3" 11 gauge steel frame with even thicker connecting plates. Durable vinyl upholstery with 4" thick pad with plywood base. Connects with 4 bolts. 2 extra bolt holes on frame for future pad compatibility. 17" height from floor to top of pad. Our bench height allows athletes to use proper positioning of the feet, and arch the back to push up serious weight with proper form. Height stays the same when using the Rep Fitness Wide Pad. If swapping our pad for the Thompson pad (must be 4-bolt mount pattern), total bench height will increase 1/2 inch, and you will need to purchase (4) 3/8"(dia)x1"(length) bolts. 3-foot design for ease of leveling, and to ensure front support does not get in the way of foot positioning. *Please note* Front foot DOES NOT need to be perfectly flat in order to be stable while you're laying down on the bench. Similar to a tripod--lay down and let all 3 points support you, not just the front foot. Welded metal endcaps Handle and wheels for easy transport. Easy assembly, 15 minutes with a wrench.
The REP FB-5000 Competition Flat Bench is by far the best value flat bench for most people. Not only is it cheap, but it's also insanely solid for how little space it takes up.
Featuring a standard bench height of 17″ and thick 3×3 legs and spine, the REP FB-5000 Flat Bench has taken everything we've thrown at it without any issues. Although the Thompson Fat Pad is our favorite bench pad, the pad on the REP Flat Utility Bench provides a firm foundation with a grippy covering.
The REP FB-5000 is one of the few benches to and was one of the first to employ a tri-pod leg style that allows the trainees front two legs to tuck under the pad for proper arch in the press. The frame of the bench is bolted to save on cost and since it's made overseas, it's priced very affordably.
Deadlift Platform
Our Favorite Deadlift Platform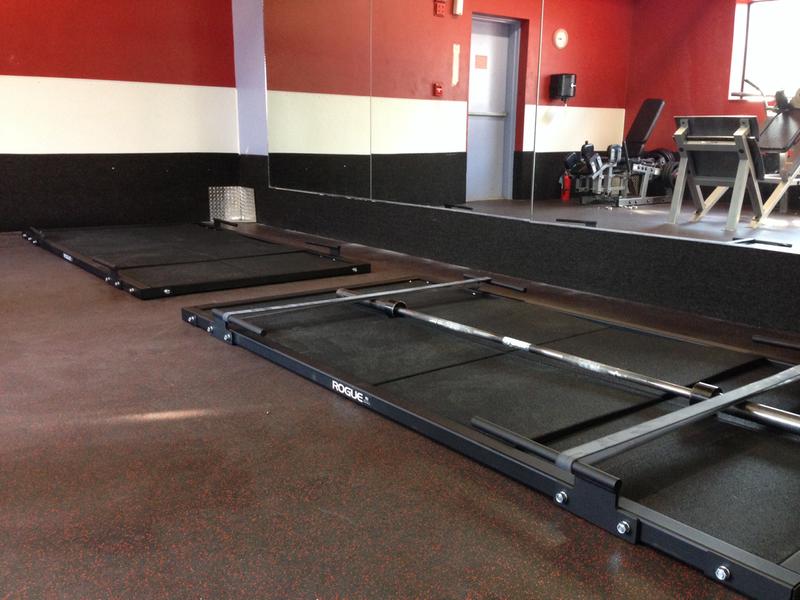 Rogue Deadlift Platform
Speed work is an essential component of any strength program, and a dependable platform can build the literal foundation for it. The 8' x 4' Rogue Deadlift Platform features a 2x2" 11-Gauge Steel frame, and ships standard with (2) floor plates. This design allows for safe band use outside of a power rack without having to bolt the platform to the floor (our standard Oly Platform, by comparison, requires bolting to the ground for band work).Customers can quickly assemble the Rogue Deadlift Platform thanks to a bolt-together design and laser-cut / precision-bent gussets. The provided band pegs are extra long to work with longer specialty barbells in addition to standard barbells, and a set of floor clips are included to secure each end of the platform to the ground.
Although most people could get by just fine making their own deadlift platform, if you'd like to buy a pre-made version that includes band pegs, the Rogue Deadlift Platform is not only your best option, it's one of your only options.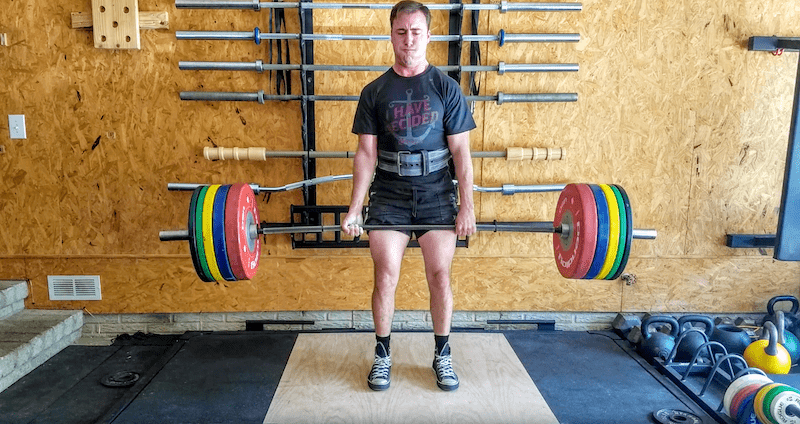 We've had the Rogue Deadlift Platform for about 6 months now and although we enjoyed our DIY Platform, the Rogue Deadlift Platform along with the band pegs is hard to beat. It not only has a professional look that matches the rest of our equipment, but it's also very functional. If you do any sort of band work, this platform makes it easy and it looks just as good as it performs.
As with anything made by Rogue, the Deadlift Platform is customizable, although we would suggest purchasing plywood and stall mats to cut down the cost of buying rubber mats.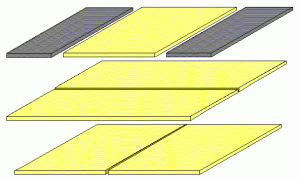 It's a great addition to any garage gym, but I would say if you aren't worried about noise and don't plan to use band pegs, then I would just do deadlifts on stall mats. Many people are worried about cracking their foundation without a platform, but the amount of weight that would have to be dropped from overhead to affect most foundations is much more than you think.
That said, the deadlift platform not only performs well, it looks cool in your gym.
FID Bench
Our Favorite FID Bench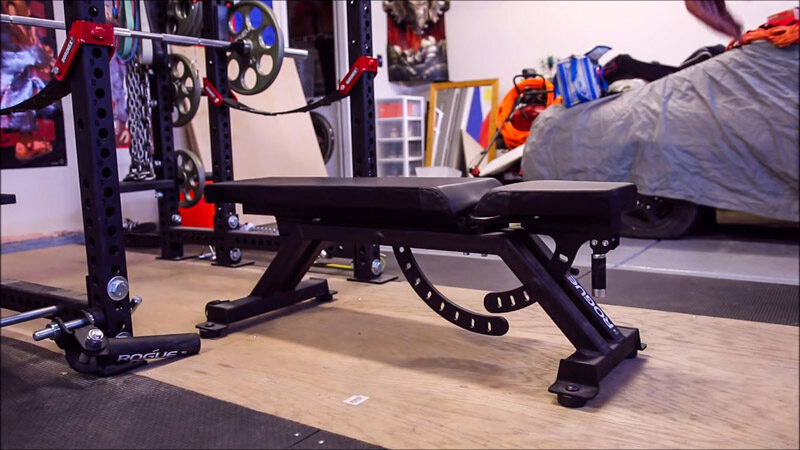 Rogue AB-3 Adjustable Bench
The Rogue AB-3 Adjustable Bench introduces a new decline setting to go along with the 50 seat and back-rest position combinations from the popular AB-2. Ideally suited for dynamic training or for gyms serving multiple athletes, this compact, 11-gauge steel weight bench offers a rare combination of sturdiness and maneuverability, with boundless customization options.The AB-3 Bench is built in the USA, and is a direct descendent of the time-tested Nebula 1080 Utility Bench. This design features an updated spine construction that allows for the connection of a telescoping foot catch assembly. The foot catch locks firmly into place using a pop pin, and sets the user up for movements including the decline bench, decline dumbbell press, and decline sit-ups, among others.Other standard features on the AB-3 Adjustable Bench include load-bearing rubber feet for stability, cordura edges for enhanced durability, and a convenient handle and wheels for easy mobility.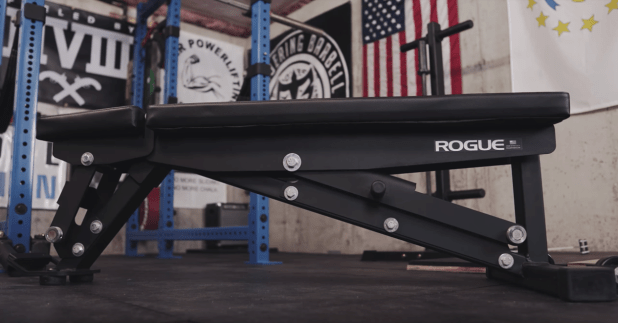 The Rep Fitness FID Adjustable Bench is the best value FID Bench available. We reviewed it in detail in the past and are still as impressed as we were when we initially wrote our review. The Rep FID Bench is constructed through both welded and bolt-together methods. It ships mostly assembled and is very easy to put together.
The top is some sort of synthetic leather which I'm not a huge fan of, but for the price, it's to be expected. The bench padding is comfortable, yet firm and grippy enough to allow for a proper drive in the bench press.The steel used is strong and the adjustable bar has no flex which is an important feature for those who do a lot of incline pressing to improve their flat bench.
If you want an FID Bench, but don't want to spend a lot, this is your best option.
The AB-3 is the only decline bench Rogue offers and among the companies producing equipment for home gyms, it's by far the best available. The AB-3 features the same pad and covering as the Flat Utility Bench, but has the ability to incline as well as detatchable foot rollers for decline work as well as crunches.
The AB-3 Adjustable Bench is the FID Bench to get if money is no object, however, for most people, we would suggest spending this kind of money on other equipment.
The Rogue AB-3 Adjustable Bench is our pick for the best FID Bench if money is no object. The reason is pretty simple, Rogue bought out Nebula who were previously creating the best FID Bench and slapped a Rogue logo on it. This bench is expensive, no question about it, but if money wasn't an issue, this is the bench you could have for the rest of your life and then pass down to your kids.
Lat Pulldown
The XMark Lat Pulldown isn't the best lat pulldown available, but most home gyms don't need a $3,000 behemoth like the one Rogue sells (although I have heard there's a possibility of them coming out with a plate-loaded economical lat pulldown.)
The X-Mark Lat Pulldown has taken many of the same things that other cheaper lat pulldowns have, beefed up some of the components, and added a low row handle. Although it will certainly not be as solid as some of the more expensive pulldowns, it will hold up to just about any weight you'll be able to lift (400 pounds weight limit) and do so pretty smoothly.
The frame of the X-Mark Lat Pulldown is made of 11 gauge steel, the same gauge that the majority of power racks are made of as well. Because of this, it's also pretty heavy, which is something you want as it will lead to less rocking when you decide to perform your pulldowns like Branch Warren.
Reverse Hyper
We've had the RH-2 Reverse Hyper in our gym for over a year and it still looks and performs like it did on day one. Not only will the reverse hyper strengthen your posterior chain, it will also traction your spine; something every powerlifter who's constantly compressing their spine could benefit from.
The Rogue RH-2 Reverse Hyper features 2×3 steel tubing with a partially bolt together construction and a heavy-duty vinyl and foam top. If you want a Reverse Hyper that can take whatever you can throw at it at the best price available, the Rogue RH-2 Reverse Hyper is your best bet.
Our Favorite Reverse Hyper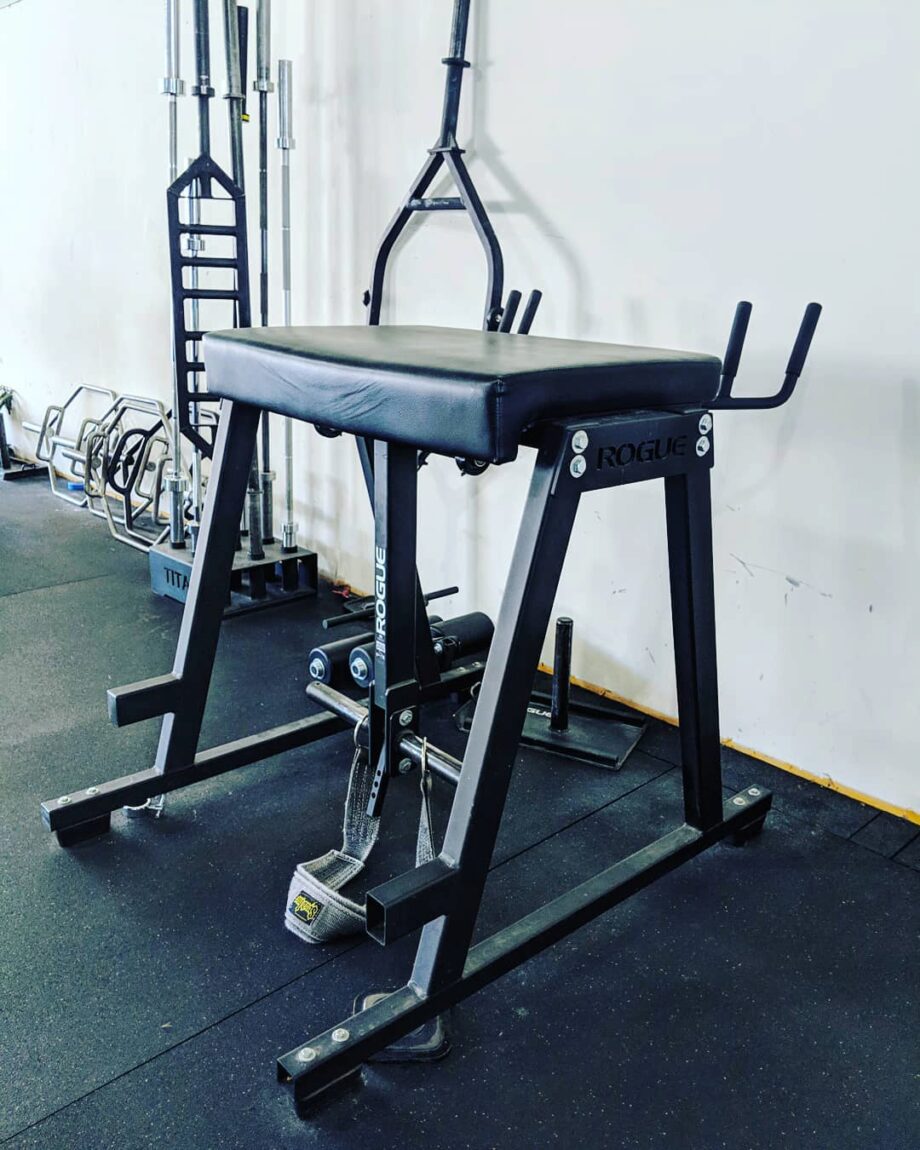 Rogue RH-2 Reverse Hyper
Manufactured and fully assembled in Columbus, Ohio, the Rogue RH-2 is a reverse hyper machine designed to meet the unique, changing needs of the athletes it serves. Widely utilized for physical therapy and back rehab exercises, the Reverse Hyper can also be used with light weights in everyday training to reduce lower back tightness and strengthen hamstrings, glutes, hips, and more.
The Reverse Hyper is one of the best pieces of strength training equipment in any gym. Sure, it won't have the same strength impact that a squat rack will have, however, the Reverse Hyper can allow to bein the squat rack more and for a longer period of time.
The best Reverse Hyper currently on the market is the Rogue Fitness RH-2 Reverse Hyper. Yes, there are Reverse Hypers with more features like a tilt top, pendulum, and rollers. But for the price, the RH-2 Reverse Hyper is the best value currently available.