We test and review fitness products based on an independent, multi-point methodology. If you use our links to purchase something, we may earn a commission. Read our disclosures.
Like wrist wraps and lifting straps, knee sleeves are a support tool designed for athletes to get the most out of their training sessions. Knee sleeves offer an element of both performance enhancement and bodily protection thanks to the compression and stability they provide the knee joint.
If you're new to lifting or just on the hunt for a new pair of sleeves to replace your old stinky ones, keep reading for several firsthand accounts from actual weightlifting athletes who tested nearly a dozen pairs of sleeves for this guide.
It's important to keep in mind that there are no universal knee sleeve sizes. Our team found this out the hard way when ordering these: Sizes we thought would fit us based on other sleeves we had didn't translate, so everyone wound up swapping around who was testing what. Any brand worth its salt should have a sizing chart—all the ones on our list to the best knee sleeves do.
Tested by a Team of Olympic Weightlifters
You already know we love fitness (and writing about it). But did you know that our team includes a roster of certified fitness professionals who actually test products with their own hands (and knees)? Yup—for this guide, our very own Kate Meier, Garage Gym Reviews Head of Content, ordered and doled out almost a dozen pairs of knee sleeves to members of her Olympic weightlifting team and had them weigh in on the good and the bad.
10 Best Knee Sleeves in 2023
Best Knee Sleeves Overall: Rogue Fitness Knee Sleeves
Good for: Trainees who want a durable, supportive knee sleeve available in a variety of widths
As our roster of product testers knows, Rogue Fitness almost never disappoints—unless you're on a budget, and then the prices are pretty disappointing (we have the Rogue discount lowdown, though!). But as Coop likes to say, "buy once, cry once," because when it comes to gym equipment, you usually get what you pay for.
Kate Meier, GGR Head of Content, weightlifter, and home gym aficionado, doled these out to her friend Mike to test. Mike is a weightlifter on Kate's team. She sums up his experience with the Rogue Fitness Knee Sleeves:
"First, it's cool that they come in camo, which is what he got to test. You know, for looking badass," she points out—this is important stuff, people!
"Mike said these provided exceptional support and fit true to size. They are too tight to slide up and down the leg, like you easily can with less compressive sleeves, so he had to grab the top and fold them down over his ankles in between sets," she explains.
"They stay in place, which is necessary for people wearing these while lifting. A 7-millimeter sleeve is thick: These are no joke in terms of support. If you want more mobility in movement, like for functional fitness, these would probably be too compressive, but Rogue makes these in 5-millimeter and 3-millimeter options."
Specs
| | |
| --- | --- |
| Material | Styrene-butadiene rubber (SBR) and neoprene blend |
| Thickness | 3,5, or 7mm |
| Sizing | XS–XL |
| IPF/IWF-approved? | Yes |
Best Knee Sleeves for Long Workouts: Element 26 Knee Wraps
Good for: Weightlifters who want a comfortable yet durable knee sleeve for prolonged training days
The Element 26 Knee Wraps are comfortable enough that they can be worn during those longer workouts without cutting off your circulation, yet durable enough that they'll support your joints during your heavier sets. We know this because Caine Wilkes, a professional weightlifter and GGR staff writer who placed 9th in the 2020 Tokyo Olympics, took them for a test drive and is now considering making them his go-to knee sleeves.
"I'd say they give a little more support than a knee sleeve, which makes them ideal, in my opinion, for Olympic lifts, where the lifting is more dynamic," he says. "And I might start using them for that myself. For heavy squats though, I'd probably want something a little thicker."
One thing that Caine, and other customer reviewers, pointed out is these wraps are long. "I'm used to thicker type wraps that will wrap really tight," Caine says. "These don't get as tight, but with the length, I was able to wrap my knee a couple of times with some support."
They come in two size options: regular (90 inches) and long (115 inches) and only one color option—black. As Caine noted, these aren't the thickest knee wraps so it's nothing something you should try when going for that PR—but if you've got a lot of volume headed your way, these will do the job perfectly.
Specs
| | |
| --- | --- |
| Material | Cotton/elastic blend |
| Thickness | Regular (2.28mm) or Long (2.92mm) |
| Sizing | Regular (90″) or Long (115″) |
| IPF/IWF-approved? | N/A |
Best Knee Sleeves for CrossFit: Rehband RX Knee Sleeves
Good for: CrossFit enthusiasts looking for a great, reasonably priced sleeve for functional training
Finding good knee sleeves for CrossFit is tough, because you want enough support to assist with heavy lifting during strength sessions or one-rep max tests, but you need enough flexibility to achieve full range of motion on many different exercises—and remain comfortable during long WODs.
Because of this, many CrossFitters end up with two pairs of sleeves: one for metcons and one for strength training sessions.
If you're looking for a pair specifically for fast-paced, high-volume CrossFit workouts, I recommend the Rehband Rx Knee Sleeves, which are 3 millimeters in width. The thinner width is perfect for that little bit of extra assistance you might need on moderately heavy squats during a squat-and-burpee couplet, or for support during intense running WODs.
I used the same pair of Rehband Rx sleeves for three years before getting a new pair, and I can't say I really even needed them—mine were fully functional but simply smelled too bad to continue torturing everyone at my gym.
While these aren't on the approved gear list for the International Weightlifting Federation or International Powerlifting Federation, if you're using these strictly for CrossFit, that doesn't matter.
Specs
| | |
| --- | --- |
| Material | SBR/neoprene blend |
| Thickness | 3mm |
| Sizing | XS–XXL |
| IPF/IWF-approved? | No |
Best Knee Sleeves for Olympic Weightlifting: 1KILO 2-Ply Knee Sleeves
Good for: Serious weightlifting athletes who need serious support
The 1Kilo 2-Ply Knee Sleeves were designed by accomplished (read: world champion) weightlifter Wil Fleming and it's quite obvious. These sleeves are unique, featuring two layers of material that's unlike the typical neoprene blend found in most sleeves.
Kate Meier, GGR Head of Content and competitive weightlifter, tested the 1KILO 2-Ply Knee Sleeves. Her overall experience was positive:
"I really love these sleeves for a few reasons: First, they are incredibly supportive in a springy way. Some compression sleeves support but restrict; the 1KILOs literally help you get out of the bottom of a squat (or it feels that way)."
"I am someone who wraps my knees around 90 percent, and then, when things get really heavy, I pull a thin sleeve over top of the wraps for extra support (I've got tweaky knees, what can I say?). I could do my heavy squats in just the 1KILOs and feel safe," she continues.
She did note that these are pretty tough to get on, even with the unique tabs on the sides.
"It was not easy to get these sleeves up over my thiccc thighs without the top of the sleeve rolling under itself on the back of my leg," she says. "In other words, they got tight. I couldn't wear them continuously throughout my sessions. I had to pull them up and down—which is fine. I usually re-wrap my knees anyway."
Specs
| | |
| --- | --- |
| Material | Proprietary elastic/Spandex blend |
| Thickness | 2-ply (mm not specified) |
| Sizing | M–XXL |
| IPF/IWF-approved? | Yes |
Best Knee Sleeves for Powerlifting: SBD 7MM Knee Sleeves
Good for: Powerlifters and anyone who wants extra support during heavy squats
SBD is a well-known and popular brand among powerlifters. Their gear is known for providing the support that powerlifting athletes need to successfully rep out extremely heavy weights, and for being durable.
The SBD 7MM Knee Sleeves are made of an ultra-thick neoprene fabric and feature double-reinforced stitching throughout.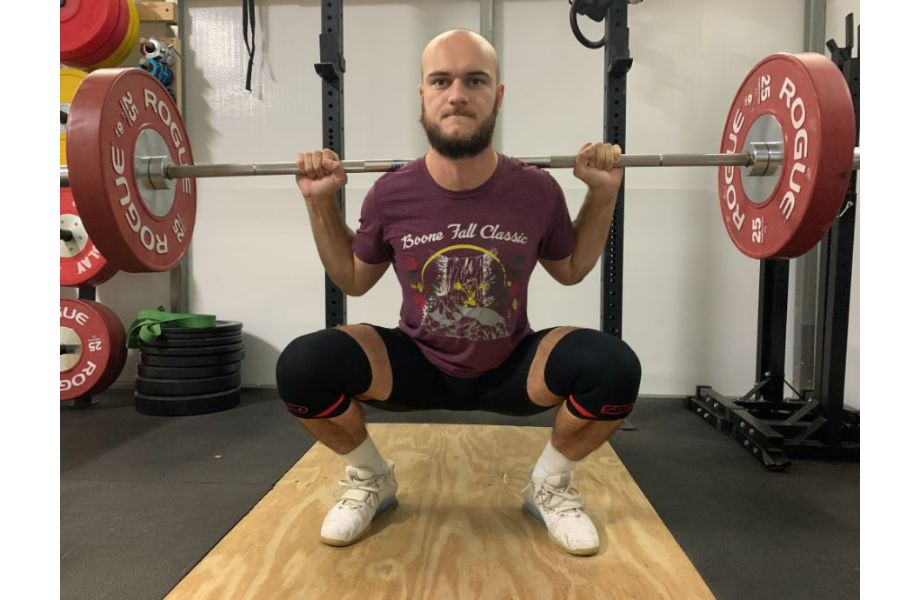 Jacob Penner, USAW-certified Level 2 weightlifting coach, tested the SBD 7MM Knee Sleeves. Here's what he thought about them:
"These are really good. I wore them for squats, cleans, snatches, and split-leg movements. These are very compressive, but without being super restrictive," he said. "That makes these great for wearing for a long period of time."
However, Jacob calls out that "they are hard to get on because they are so grippy—but that also makes them stay up really well. A 7-millimeter sleeve meets IPF regulations, and SBD literally means "squat-bench-deadlift," so this is a shoo-in for squats."
Specs
| | |
| --- | --- |
| Material | Neoprene |
| Thickness | 7 mm |
| Sizing | 3XS-5XL |
| IPF/IWF-approved? | Yes |
Best Knee Sleeves on a Budget: Gymreapers Knee Sleeves
Good for: People who want adequate support for a low price
Gymreapers is a solid brand that tops many of our guides to fitness gear. The Gymreapers knee sleeves are available in a 7-millimeter width. Our team determined that for the price, these sleeves are pretty good.
Here's what our tester, Jacob, had to say about the Gymreapers 7MM Knee Sleeves: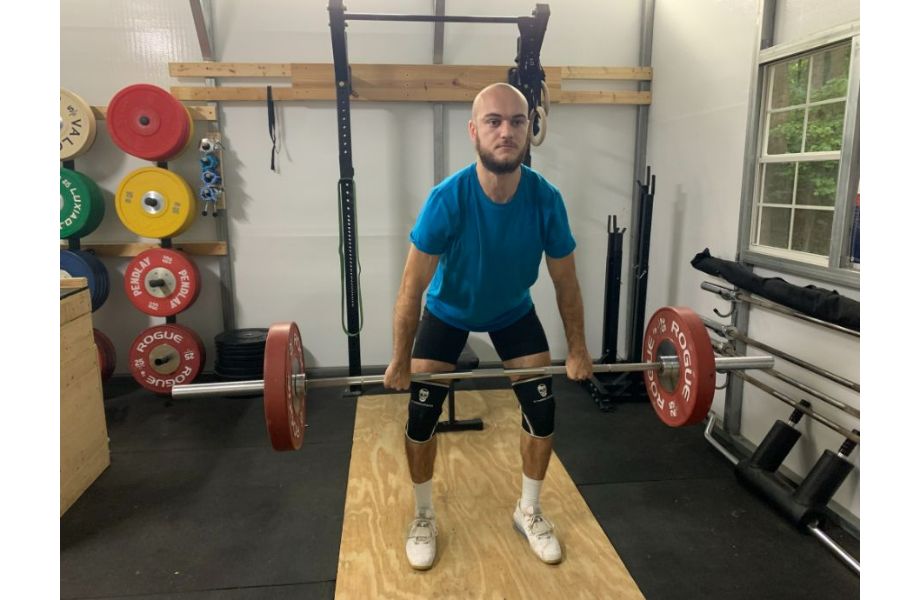 "These are decent knee sleeves. They aren't as snug as the same size in other brands, so if you want something very compressive, you might size down. Also, it could be the pair we got, but in the packaging, the sleeves were folded, and it looks like the neoprene separated where it was folded."
"I wore them during squats, snatches and cleans," he continued. "I liked these best for squatting because they kept my knees from feeling like they were falling apart. These are definitely a budget sleeve, so they aren't the highest quality, but still good for the price"
If you're new to lifting, this could be a good choice for you instead of dropping almost $100 on a pair you're unsure you'll like.
Specs
| | |
| --- | --- |
| Material | Neoprene |
| Thickness | 3, 5, and 7 mm |
| Sizing | S–XXL |
| IPF/IWF-approved? | No, USPA-approved |
Best Knee Sleeves with Gel Pads: Neenca Gel Pad Knee Sleeves
Good for: People recovering from knee injuries who have been cleared to exercise with compressive support by their healthcare team
The Neenca Knee Sleeve With Gel Pad is a full-on brace, says Kate, GGR Head of Content, who tested this sleeve.
"There is a gel circle that goes around your knee cap and metal inserts on either side of the sleeve," she explains. "I'm not used to wearing something like that, but I've also never had a serious knee injury where I would have to."
"The metal on either side provides significant support to keep the joint from having too much lateral movement, so I can see where it would be beneficial for those recovering from an injury," Kate continues.
The bottom line? The Neenca sleeve isn't uncomfortable, but those metal inserts are noticeable, and this probably isn't the best choice for people who have generally healthy knees.
Specs
| | |
| --- | --- |
| Material | Neoprene, elastic, silicone |
| Thickness | Not specified |
| Sizing | S–3XL |
| IPF/IWF-approved? | No |
Best Knee Sleeves for Circuit Training: Cambivo Knee Sleeves
Good for: Exercisers who mostly do high-volume, high-intensity workouts and don't need support for heavy lifting
Micky, a member of Kate's weightlifting team, tested the Cambivo Knee Sleeves and had a positive experience overall.
"The sleeves are easy to slip on and off with their breathable and stretchy material," he said. "The professionally made elastic band around the top of the sleeve ensures its placement throughout any intense workout from pull-up bar to burpees."
The sleeves allow for a great range of motion without caking on a layer of sweat upon completion of the workout, Micky calls out; however, the sleeves still keep your knees warm and offer leg extension support in the process.
For weightlifting, Micky admits that these aren't the best option for heavy work. Should the workout call for multiple reps at lighter weight, such as 10 reps of a back squat at 40% of your one-rep max, the sleeves perform well, he says. But for heavy training days that call 80% or more of your best movements, or a max-out day, the sleeves don't offer enough support in extension.
The Cambivo sleeves did perform well for kickboxing workouts, though, Micky says. "The sleeves were an excellent tool for keeping my knees warm while transitioning from one body weight movement to the next," he recalls, "and during circuit training, I would often switch from a bodyweight squat to a lunge hop. The sleeves stayed in place the entire workout and they made me feel safe from going from one workout to the next."
All in all, the Cambivo sleeves are a great resource if you want a light workout with support around sensitive knees. They are perfect for a hybrid workout with light barbell work. If you're wanting to go heavy, you'll need something with more support.
Specs
| | |
| --- | --- |
| Material | Elastic, silicone |
| Thickness | Not specified |
| Sizing | S–XXL |
| IPF/IWF-approved? | No |
Best Everyday Knee Sleeves: Powerlix Compression Knee Sleeves
Good for: People who want a bit of extra support for running, walking, or being on their feet all day
The Powerlix Compression Knee Sleeves are a great choice for light support during everyday activities, such as walking the dog and running errands. They're made of a breathable material that the brand lists as neoprene on Amazon, but it doesn't feel like neoprene, according to product tester Kate Meier.
"They are really breathable," she emphasizes. "I wore these running in 90-plus-degree weather, and I didn't feel like I was going to overheat."
They're lightweight, and although the width isn't specified in the product description, Kate guesses they are about 2 millimeters thick. That means they're not very compressive, but provide adequate support for everyday movements.
One of Kate's favorite attributes: You can throw these in the washing machine. (But you should still let them air-dry to preserve the elasticity.)
"These kinds of sleeves usually have markings so you know it's lined up correctly (Powerlix touts its 4-way compression), but the markings aren't very obvious," Kate says. "It's like light black on dark black, whereas other similar sleeves have clearer markings."
Specs
| | |
| --- | --- |
| Material | Neoprene |
| Thickness | Not specified |
| Sizing | S-XXL |
| IPF/IWF-approved? | No |
Best Multi-Sport Knee Sleeves: Copper Knee Brace
Good for: People who want a lightly compressive, comfortable sleeve for multiple activities
Kate, our resident Olympic weightlifter, tested the Copper Knee Brace and thinks they're great for general use.
They are "incredibly comfortable and easy to get on and off," she says, but thinks there might be some discrepancy in the product description.
"These are thin—on Amazon, it says 0.2 inches, but that's 5 millimeters, and these aren't that thick. I'd guess these are 2 millimeters at most," she says. "They're not meant for weightlifting/powerlifting/squat support. Instead, these are fantastic for everyday movement and agility-type sports."
They also have a lined grip on the top inch so they stay in place, Kate calls out. "I wore these on my knees while playing basketball with my son, and they really helped with stability on lateral movements. They are also really breathable."
Kate said she really likes that the markings are super obvious throughout the sleeve, so it's easy to line them up correctly on your leg.
They're only sold individually, not as pairs, which makes sense for something like this because you might just have one bum knee.
"The only downside I can see is that you need to hand-wash them," Kate says, "which might be due to the actual copper content. Also, these have latex, so avoid them if you have a latex allergy."
Specs
| | |
| --- | --- |
| Material | Copper, Spandex, latex |
| Thickness | About 2 mm |
| Sizing | S-4XL |
| IPF/IWF-approved? | No |
Other Knee Sleeves We Tested
1KILO 3-Ply Knee Sleeves: Jacob Penner, USAW coach, tested these and really likes them: "These are possibly the most assistive knee sleeves I've ever worn," he says. "They help me out of the bottom position in a squat (or clean)." But, because they are so compressive, it's hard to wear them for a long period of time. That's why we recommend the 2-ply version instead.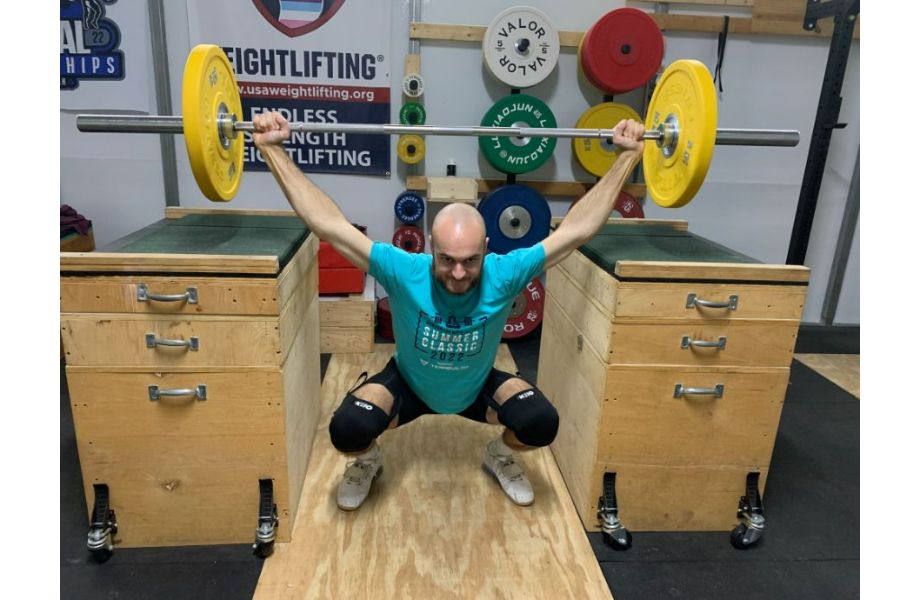 Hookgrip Knee Sleeves: These sleeves offer basic compression but are not intended for the kind of support you need during heavy lifting. They're designed more for warmth and a slight boost to circulation than anything, and although they're comfortable, we don't recommend them as one of the best pairs for those reasons.
SBD 5MM Knee Sleeves: These are just like the SBD 7MM Knee Sleeves we recommend for powerlifting and squatting, but they're a bit thinner, so they're a good choice for anyone who wants more mobility than a 7-millimeter sleeve can offer.
Iron Bull Strength Knee Sleeves: "These are just okay," Kate said after testing them. "They are priced the same as the Gymreapers, but for a 7-millimeter sleeve, the Gymreapers give better support. Both are made neoprene, but the Iron Bull Strength ones feel like lower quality."
Element 26 6-MM Knee Sleeves: Amanda, a weightlifter on Kate's team, tested the Element 26 sleeves and was pleased overall. "I really like the Element 26 sleeves because they provide great support without being too constructive," she said. "They are firm and comfortable to wear, but I can't wear them for long periods of time. The sleeves are slightly difficult to get on but come off very easily." Overall, although our roster of testers liked other sleeves better, Amanda was pleased to find a pair of knee sleeves that she likes and feels comfortable in.
How We Picked and Tested the Best Knee Sleeves
We had a lot of fun with this guide to the best knee sleeves. Garage Gym Reviews Head of Content, Kate Meier, competes with an Olympic weightlifting team out of North Carolina. For this article, we ordered nearly a dozen pairs of knee sleeves and sent them to her home gym (that she built!).
She and other members of the weightlifting team tested all of the pairs over a period of several weeks. They wore the sleeves during heavy workouts, one-rep max tests, high-volume training sessions, and even during walks, runs, and kickboxing workouts.
Here are the criteria they judged the sleeves on:
Price/value
Durability
Compression
Support
Mobility/flexibility
Ease of use (putting them on/taking them off)
Stitching/seams
Moisture wicking
Comfort
Benefits of Knee Sleeves
If you're wondering how knee sleeves might help you, here's a look at the many benefits and why you might consider implementing them into your training.
Support and Compression
First and foremost, knee sleeves offer joint support. They do this via compression. When you pull a knee sleeve on, the tight fabric helps to stabilize the knee joint and maintain proper alignment, even during high-impact and high-intensity movement.
Blood Flow
Thanks to compression, knee sleeves also alter blood flow in a beneficial way. The compression triggers your body to send more blood to the knee joint, thereby reducing pain and inflammation in the joint.
Rehab and Prehab
If you're an avid exerciser who's recovering from a knee injury, your healthcare provider might have suggested—or even prescribed—knee sleeves for your return to sport.
On the flip side, although we can't say outright that knee sleeves prevent injury, they are a great tool for maximizing joint protection during heavy or high-volume lifts, as well as during activities that require a lot of lateral or unstable movement. Think: basketball and trail running.
Warmth
In the colder months, knee sleeves can keep your joints primed and ready by keeping them warm. You'll want a pair you can wear for long periods of time, such as the Hookgrip knee sleeves, if your primary use is for warmth.
Buying Guide: What to Look for in Knee Sleeves
This quick guide will help you choose the best knee sleeves for your fitness routine.
Fit: Contour and Compression
Fit is arguably the most important factor in choosing knee sleeves. Look at your knee joint: It has natural curves extending to your lower leg and thigh. A tube-like knee sleeve won't work well—an ergonomic design with intentional contouring is ideal.
As for compression, that's where the thickness comes in. Thicker sleeves are more compressive than thinner sleeves.
Materials, Construction, and Durability
Most knee sleeves are made of neoprene or some neoprene blend. A few on this list, for instance, are made of neoprene and SBR, a rubber compound that helps prevent permanent stretching of the sleeve.
Multi-sport sleeves designed for everyday use usually have some Spandex and nylon.
When researching the materials, make sure to check for care instructions. You'll want to know ahead of time if the sleeves are machine-washable or if you have to hand-wash them.
Also look for terms like "anti-slip silicone strips" or "non-slip silicone grips" to see if the sleeves have any mechanisms to prevent them from slipping down or bunching up.
Thickness: Mobility and Support
Knee sleeves are available in a variety of widths, the most common being 3, 5, and 7 millimeters. Choose wisely: The thicker the sleeve, the more compressive it is and the less mobility you'll have. This is good for heavy weight training; not so good for CrossFit or running.
FAQs
What do knee sleeves do?
Knee sleeves help to increase blood flow and provide knee stability as lifters attempt heavy sets. They are often made of a neoprene material or a blend of neoprene and other materials.
Do knee sleeves prevent injury?
Though many brands claim that their knee sleeves or compression braces prevent injury, it's not wise to rely on a knee sleeve for injury prevention, no matter how high-quality. If you have a pre-existing knee injury, recently recovered from a knee injury, or have severe or unrelenting joint pain, you should talk to a physical therapist about your options and how to safely resume exercising.
Does wearing knee sleeves weaken the knees?
Wearing quality knee sleeves during physical activities should not cause any knee problems. However, using any type of support tool too frequently can cause you to become reliant on it. It's not a bad idea to reserve compressive knee sleeves for heavy weight training or high-impact movement, and wear no sleeves or thinner sleeves for less intense activities.
What is the difference between a knee sleeve, knee brace, and knee wraps?
Knee sleeves are support tools for athletes and fitness enthusiasts. Also called "knee compression sleeves," they are intended to provide support during weight training or during dynamic sport movements. 
A knee brace is something you'd likely get from a physical therapist or other medical professional after an injury such as an ACL sprain or muscle strain, or to deal with knee pain from osteoarthritis or tendonitis. Medical-grade knee braces often have open patella spaces or patella gel pads for support and pain relief. 
Finally, knee wraps are another type of fitness training tool that are similar to knee sleeves. They are similar to wrist wraps in that you manually wrap the fabric around your knee joint to give yourself as much or as little compression and support as you'd like.