We test and review fitness products based on an independent, multi-point methodology. If you use our links to purchase something, we may earn a commission. Read our disclosures.
Whether you're searching to buy your first pair of wrist wraps or you're looking to replace your current set, have no fear—the best wrist wraps for heavy weights or high-volume training are on this list.
Lifters of all disciplines reach for wrist wraps for the additional support they offer the wrist joint during heavy or high-volume exercise. Lifting straps help with gripping barbells, dumbbells, and kettlebells repeatedly week after week can take a toll on the ol' wrists. Wraps help prevent your grip from wavering during heavy lifts or after the fatigue sets in from high repetition.
Wrist wraps are ideal for gym goers who are into bodybuilding, Olympic weightlifting, powerlifting, or CrossFit. All styles of lifting free weights will require a little extra wrist stability from time to time—it's just a matter of which wraps work for you. Here's our expert breakdown so you can feel confident purchasing high-quality wrist wraps that support your strength training needs.
Working Hard in the Weight Room to Bring You Expert Opinions
Our team consists not just of writers and editors, but also of credentialed fitness professionals, exercise enthusiasts, and hands-on product testers. Not only have many members on our roster been using wrist wraps in our personal fitness endeavors over many collective decades, but we ordered and tested more than a dozen pairs of wrist wraps for this guide specifically.
8 Best Wrist Wraps in 2023
Best Wrist Wraps for Lifting Overall: Manimal Ravenous Wrist Wraps
Good for: Anyone who wants a good mix of support and comfort, plus a lifetime warranty
Manimal Wrist Wraps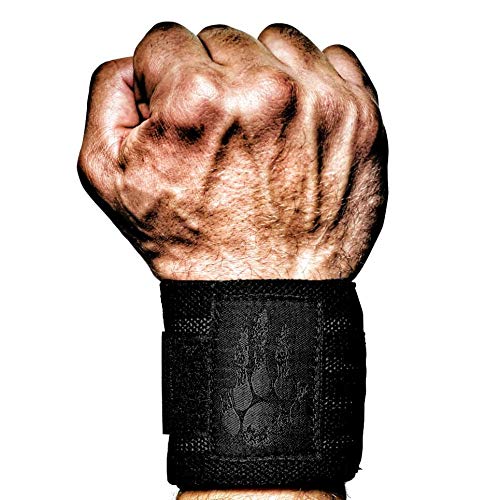 MANIMAL Wrist Wraps
MANIMAL Wrist Wraps: Designed for CrossFit, Weightlifting, Powerlifting, Strongman Training and Competition.MANIMAL Wrist wraps are designed to take a beating and keep going! We wanted to design a product that lasts a long time, not a product that lasts to the last day of a warranty like our competitors. MANIMAL Wrist Wraps lasts years of abuse, they may not look as pretty as they did the day you bought them but they will continue to perform at a MANIMAL standard for many years to come. We have pairs we have used 5 times a week for 5 years and they're still working like they were brand new! MANIMAL may cost more than other brands but that's because the unique design made with high quality materials means better performance, more comfort for all wrist sizes, both men and women.What makes MANIMAL Wrist Wraps better? Why should I buy MANIMAL?MANIMAL wrist wraps last years! Superior Velcro will never need to be re-adjusted during training and has been proven to last as long as the wrist wraps do - YEARS! Comes with a 60 day MANIMAL Limited Warranty Proven to reduce pain, fatigue and injury of the wrists. Used by record holding athletes and champions in CrossFit, Powerlifting, Weightlifting and Strongman Able to be worn on any wrists, no right or left, pull out of your bag and go Easy to put on with comfortable thumb look assistance. Trusted by thousands of athletes in competitions and training daily Developed by strength and conditioning coaches and gym owners, tested by real athletes and competitors. Proven by years of success and thousands of grateful customers Easy to wash, rinse in sink with cold water, squeeze like a sponge and hang dry.It's hard to find a quality product with a proven track record like MANIMAL. Don't put your health at risk with cheap imitation wrist wraps. Trust the product trusted by the professionals, trust MANIMAL!MANIMAL A Brand for Those who Stand Apart!
Pros:
Materials offer support, comfort, and flexibility
Lifetime warranty
Reasonably priced
Approved for use during competition in U.S. meets
Cons:
Velcro tab not reinforced
Fairly short in length
Too flexible for super heavy lifts
Manimal Ravenous Wrist Wraps are supportive enough for repping out heavy lifts yet they're flexible enough for conditioning work. The 17-inch wrist wrap will be enough length for most lifters, but might be a bit short for someone with large joints or meaty forearms.
These are some of the best lifting wrist wraps overall, and are versatile enough for every style of training, allowing you to make adjustments, whether you're loosening for more flexibility for conditioning work or tightening them up for a barbell lift.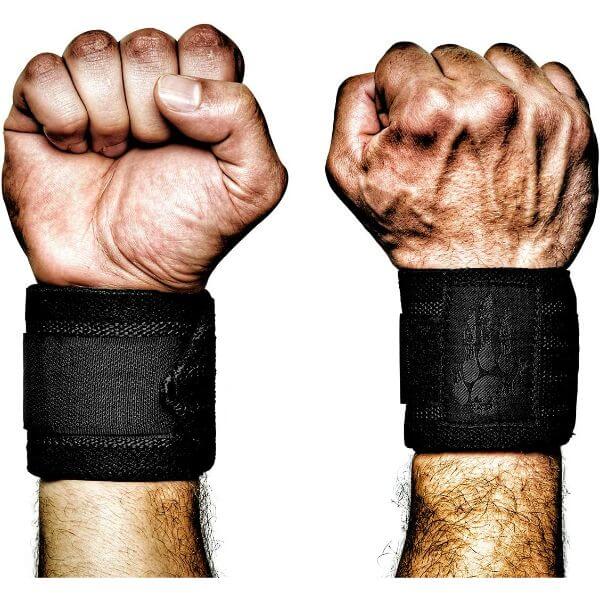 All Manimal wrist wraps are covered by a lifetime warranty for product defects (not the effects of regular wear-and-tear). Manimal suggests if your wraps are well-maintained, they'll survive at least two years of lifting and often more than that.
Manimal is also featured on the approved gear list by the United States Powerlifting Association (USPA) and is popular among powerlifters, Strongman competitors, and CrossFit enthusiasts.
Manimal Ravenous Wrist Wraps Specifications
| | |
| --- | --- |
| Material | Nylon elastic, cotton, polyester, and rubber |
| Length | 17" |
| Closure | Velcro |
Best Heavy-Duty Wrist Wraps: Gymreapers Classic Wrist Wraps
Good for: Serious athletes who desire extra reinforcement for setting PRs
Gymreapers Classic Wrist Wraps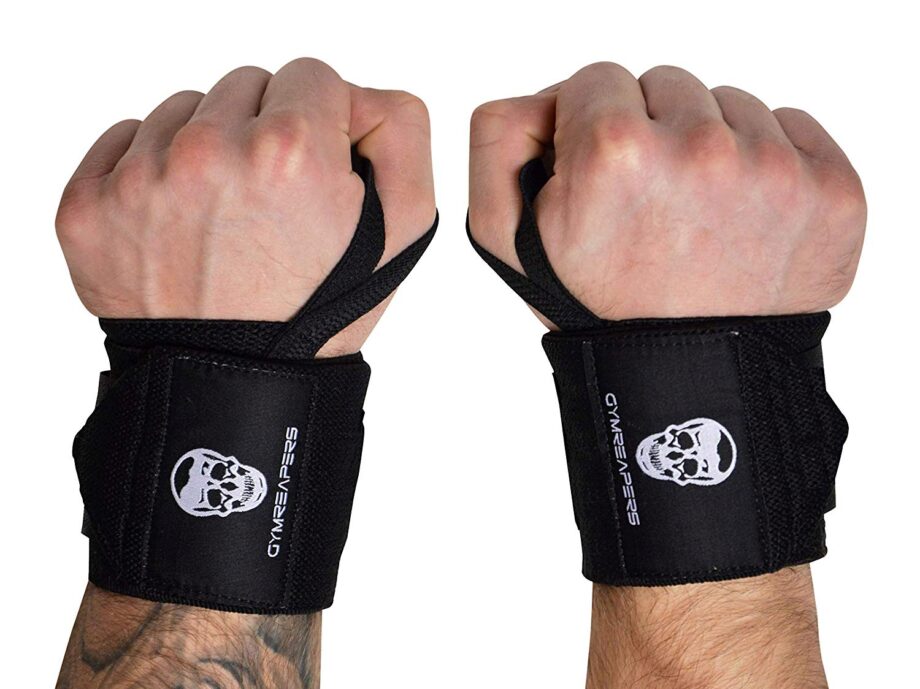 Gymreapers Wrist Wraps
Finding that perfect level of wrist support to hit your heavy lifts can be challenging. Sort of like Goldilocks...this one is too stiff and this one is too soft but this one is just right. That is what you get with Gymreapers 18-inch wrist wraps: just the right amount of support. They were tested by the best of the best in the world of powerlifters, IFBB athletes and fitness trainers so rest assured that these competition grade wrist wrap provide your wrists with the support needed for strength training, powerlifting, bodybuilding, cross training or specific exercises like bench press, shoulder press, clean and jerk, and other push movements.The usual issue people find with wrist wraps is that it is difficult to get the tension where you need without cutting off circulation to your hand. Gymreapers wrist wraps are true to length so, with 18 inches in length, 3 inches in width and a thick reinforced thumb loop, it is easy to get the right amount of tightness for support and comfort. Some reviews have reported that double stitching does fall apart after several uses. But, with a lifetime replacement, a satisfaction guarantee and hassle free returns, it is difficult to find a reason not to try these wrist wraps. Plus, they look cool rocking out a skull picture. So, go hit your next PR while sporting your favorite color in these durable yet comfortable wrist wraps. 
Pros:
Under $30
Reinforced materials for stiffness
Lifetime replacement guarantee
Multiple length options
IPF-approved for competition
Cons:
Only three colorways
May be too stiff for high-volume lifting
Only come in one size
The Gymreapers Stiff Wrist Wraps offer the ultimate heavy-duty wrist support without a heavy-duty price tag. For under $30, you'll be wearing one of the more rigid options on the market made from reinforced elastic and cotton, featuring double stitching along the edges that should remain stiff long after the first wear.
These are some of the best wrist wraps for recreational powerlifters, and since they are IPF-approved, competitors can enjoy the heavy-duty support in training and in competition. These are just as great for the recreational athlete, too!
Thes Gymreapers Classic Wrist Wraps feature reinforced, thick elastic, a double-stitched thumb loop, and a sticky velcro closure. The classic wraps come in just one length (18 inches) but this is a standard size that should be fine for the majority of lifters. Those with really small wrists might find the length and thick fabric to be too much.
These wraps are also guaranteed by a lifetime warranty that covers defect issues with a replacement pair at no cost. Woo!
Gymreapers Stiff Wrist Wraps – Heavy Duty Wrist Support Specifications
| | |
| --- | --- |
| Material | Reinforced elastic and cotton |
| Length | 18″ |
| Closure | Velcro |
Best Lightweight Wrist Wraps: Rogue Fitness Lightweight Strength Wrist Wraps
Good for: Athletes who need moderate wrist support without bulky and oversized fabric
Rogue Lightweight Wrist Wraps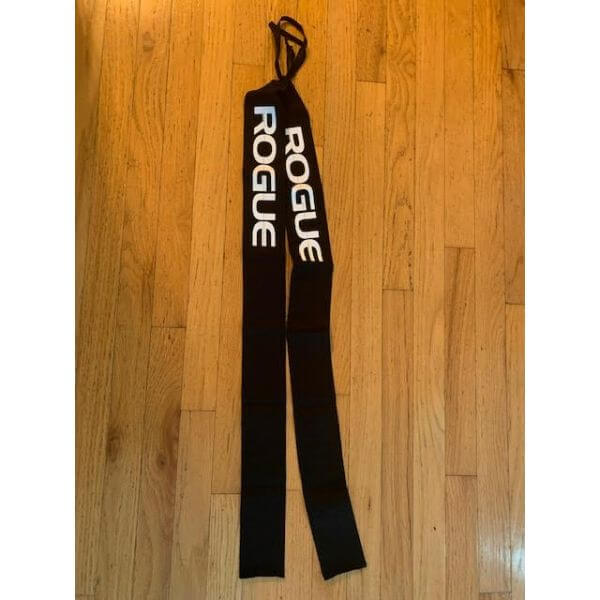 Rogue Fitness Lightweight Strength Wrist Wraps
These lightweight wrist wraps from Rogue Fitness are constructed of a soft nylon blend and sport a thumb loop for proper positioning around the wrist. Featuring a friction-style closure, these do not have the typical elastic and Velcro system you might be used to.Instead, you can tighten or loosen these wrist wraps simply by rotating the fabric around your wrist. While this takes some getting used to, it proves to be an efficient method and is popular in CrossFit because it's quick. For athletes who do many different types of lifts of varying weights in a single workout, this is ideal.
Pros:
Tighten/loosen without rewrapping
Multiple colorways
Flexible and lightweight
Available in a variety of colors
Cost less than $30
Cons:
No Velcro closure
String closure takes some getting used to
Length might be too long for slimmer wrists
The Rogue Fitness Lightweight Strength Wrist Wraps feature a lightweight nylon strap and a friction string closure.
You may be wondering: What the heck is friction closure? Well, these wraps fasten with a string and stay put with its own friction via the looping mechanism of a string.
This style of wrist wraps differs from the traditional hook-and-loop system—meaning these wraps do not have Velcro tab closures or thumb loops. This style requires an adjustment period if you're used to Velcro closures.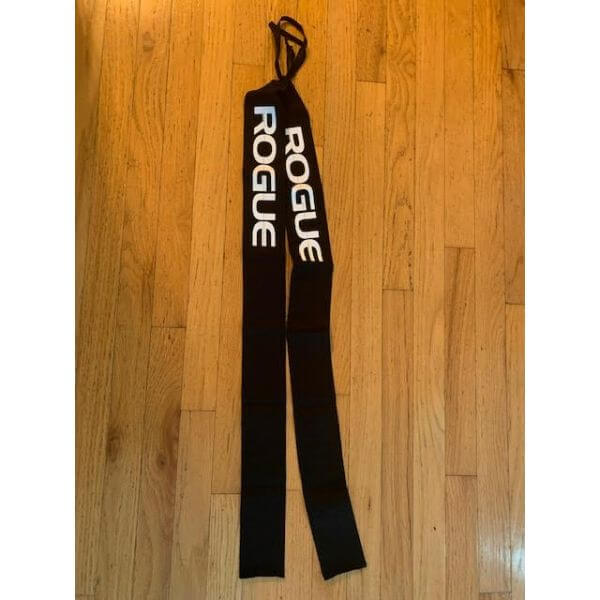 These Rogue Fitness wrist wraps give you 35 inches of nylon to work with and wrap to your preferred tightness. Once you tie off the string closure, the material can be twisted to tighten or loosen without rewrapping the whole thing. This is particularly useful for CrossFit-style workouts wherein you may need to quickly adjust your wraps without taking them off.
For people with smaller wrists, the 35 inches might prove much too long, and they may end up feeling bulky due to the layering. But, the long one-size-fits-all length means these are suitable for a wider range of wrist sizes than most wraps.
Rogue Fitness Lightweight Strength Wrist Wraps Specifications
| | |
| --- | --- |
| Material | Nylon |
| Length | 35" |
| Closure | Friction closure with string |
Best Minimalist Wrist Wraps: Element 26 IsoWrap Wrist Wraps
Good for: Trainees who want to wear wrist wraps without feeling like they're wearing wrist wraps
Element 26 Wrist Wraps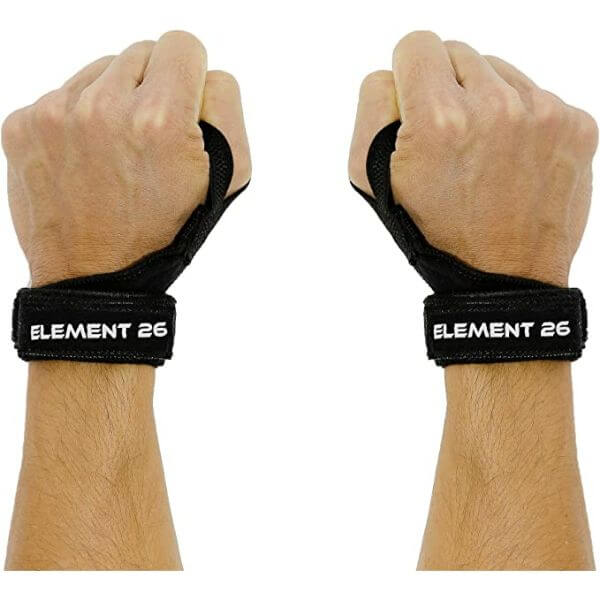 Element 26 IsoWrap Wrist Wraps
These minimalist wrist wraps from Element 26 have soared in popularity due to their unique 1-inch diameter and design that specifically targets the scaphoid bone in the wrist. The scaphoid bone lies beneath the base of your thumb and is a common site for pain and irritation, especially in people who have had wrist, forearm, elbow, or shoulder injuries.The IsoWrap Wrist Wraps feature a thumb loop and Velcro closure. They're easy to put on and take off, and quick to adjust. They are competition-approved for multiple strength sports, including powerlifting and Olympic lifting.
Pros:
Allows more natural joint mobility
Design helps support scaphoid bone in the wrist
Traditional hook-and-loop system
Lifetime warranty
Cons:
Might allow too much joint mobility for some lifters
Adjustment period to design
Won't offer enough support for very heavy lifting
The Element 26 IsoWrap Wrist Wraps are a unique option for cutting down on wrist pain and bulky materials simultaneously. These minimalist-style wrist wraps feature a traditional thumb loop, the unique part being the wraps are only 1 inch in diameter.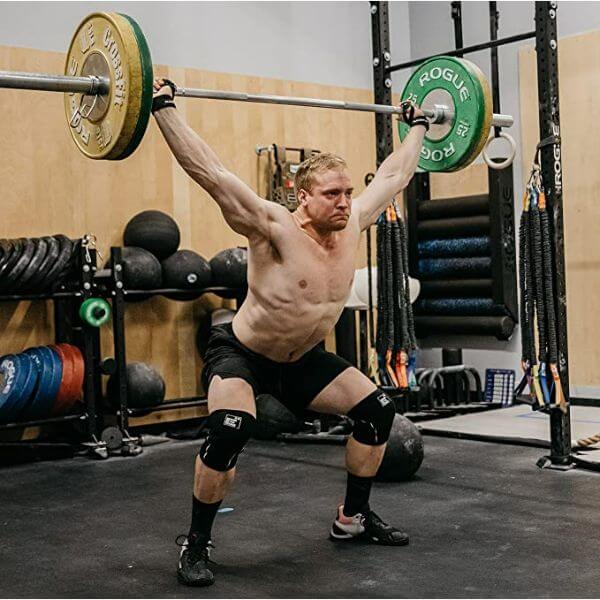 The IsoWrap is designed to decrease wrist pain without limiting mobility (check out the Element 26 YouTube video for two different ways to wrap your wrists depending on your goals). The 1-inch diameter uses minimal material to support the scaphoid bone in the wrist, located right below the thumb. According to Element 26, the scaphoid bone is the most common site for wrist irritation and pain.
With a Velcro closure mechanism, the IsoWraps are quick and easy to use during any type of workout, even CrossFit WODs during which you may need to adjust your wraps multiple times. While these are a great choice for the minimalist lifter, they probably aren't the best wrist wraps for powerlifting training. Those sticking to heavier lifts may want something a bit more supportive.
These wraps are available in cotton or suede, both backed by a lifetime warranty—but you must fill out an online form to activate it.
Element 26 IsoWrap Wrist Wraps Specifications
| | |
| --- | --- |
| Material | Cotton or suede |
| Length | 33" |
| Closure | Velcro |
Best Wrist Wraps on a Budget: Harbinger Red Line Wrist Wraps
Good for: Anyone who wants a straightforward design on a budget
Harbinger Wrist Wraps
Harbinger Red Line Wrist Wraps
Harbinger is known for its budget-friendly fitness products, particularly accessories such as straps, wraps, and belts. These Harbinger Red Line Wrist Wraps in particular are a favorite of our product testers—one member of our team has been wearing the same pair for over three years and has no intention of stopping!For the price, these elastic and nylon wraps are a fantastic option. They're just as durable as many others on the market and provide plenty of support, yet they're adjustable so you can prioritize mobility if that's what you need.
Pros:
Budget-friendly, under $20
Hook-and-loop system
Durable materials
Free shipping on Amazon
Cons:
Short 90-day warranty
High shipping price, compared to the wrist wrap, if you don't buy on Amazon
Not many colorway options
The Harbinger Red Line Wrist Wraps are constructed of 18 inches of strong, professional-grade elastic blended with cotton for comfort. The thumb loop gives you the ability to secure the wrap with the traditional hook-and-loop method. It's a classic-looking wrap that won't cost you an arm or a leg.
These Harbinger wraps offer ample support yet enough flexibility simultaneously. These have been put through the ringer by me during many types of workouts and, despite the budget-friendly price, have performed as well as any other wraps I've tried.
With the wraps priced at just $16, it's worth noting that Harbinger only offers a 90-day manufacturer's warranty. However, our product testers have no qualms with these straightforward and budget-friendly wraps and there are numerous Amazon reviews that report these wraps hold up long after the warranty ends.
In fact, one of our testers (me!) has been using the same pair of Harbinger wraps for more than three years. Huzzah!
Harbinger Red Line Wrist Wraps Specifications
| | |
| --- | --- |
| Material | Cotton and elastic |
| Length | 18" |
| Closure | Velcro |
Best Wrist Wraps and Grips Combo: JerkFit WODies
Good for: Gymnastics fiends who need both wrist support and palm protection at the same time.
WODies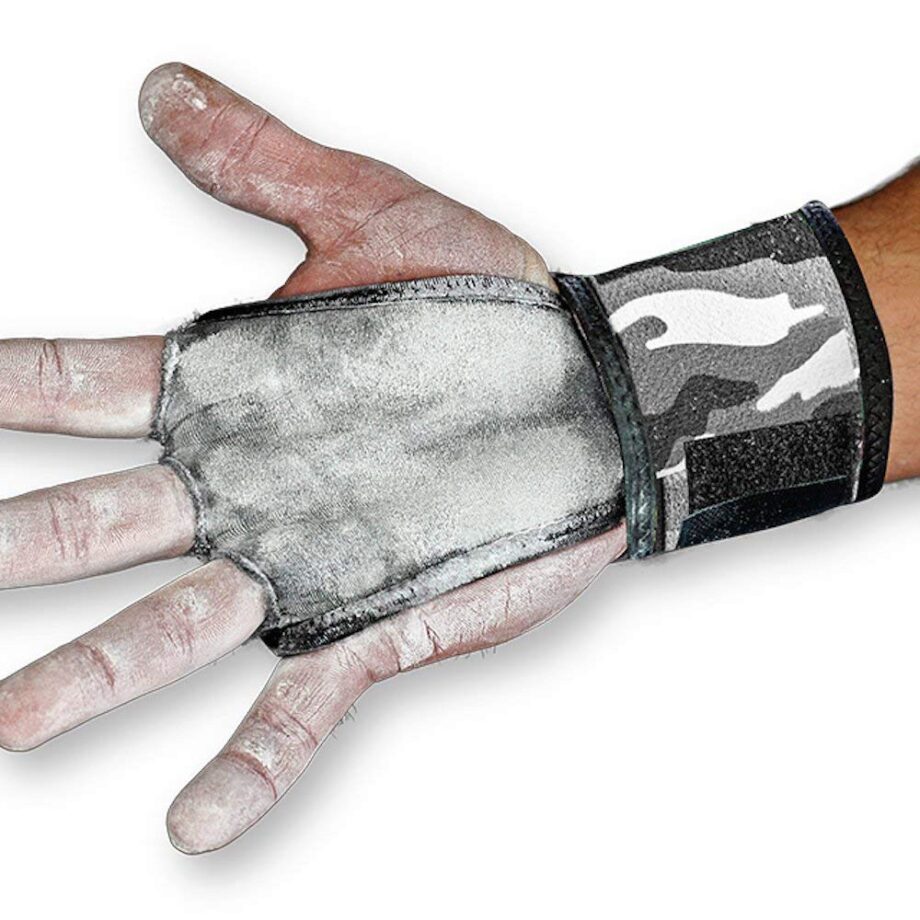 JerkFit WODies
The Original 3 Finger Glove with added Wrist Support by JerkFitCreated for athletes, by athletes, WODies are specifically designed to reduce hand tearing while adding crucial wrist support during those killer workouts. Hand-made in the USA from high-quality, hypo-allergenic latex-free woven neoprene like elastic, these powerful palm protectors provide an extra barrier on the bar for extra comfort.Specially designed to have a "natural glide" on the bar to absorb friction and lays flat to prevent bunching and pinching. Made with GRIP-RIDGE TECHNOLOGY of tiny grooves that hold more chalk for even more grip than ever before, less break in time, increased comfort & durability!You'll never want to attempt a workout without a pair again.
Pros:
Made in the USA
Safe for washer and dryer
Offers palm protection
Cons:
Minimal wrist support
Wrist wrap portion is short
Can dull the feeling of gripping
The JerkFit WODies are a unique mix of light wrist support and palm protection. Perfect for CrossFit enthusiasts, this is the two-in-one product you need to get through a grueling WOD with pull-ups and push press.
Because your palms (and fingers) are unique, WODies come in different sizes to choose from to cover the palm in addition to customizable holes where your fingers lace through the grip. The finger holes will require slight modification with scissors to get the perfect fit—watch the WODies unboxing video to see how it's done.
When worn correctly, the WODies should slip over your three middle fingers, cover the near entirety of your palm, and wrap around your wrist for joint support.
You can safely machine-wash and dry your WODies. The palm portion is made from a hypoallergenic, latex-free, woven elastic material (similar to neoprene), while the wrist wrap is made from synthetic elastic polyester cotton blend with a thin rubber core.
JerkFit does not offer a warranty on this product and reports the lifetime of WODies varies between six months to one year based on training frequency. Notably, JerkFit will offer free exchanges if you make a mistake while cutting and customizing your finger holes (and return within the first 30 days of your purchase).
JerkFit WODies Specifications
| | |
| --- | --- |
| Material | Woven elastic, polyester cotton blend |
| Length | 7" |
| Closure | Velcro |
Best Wrist Wraps for CrossFit: WOD Nation Wrist Wraps
Good for: CrossFit enthusiasts who want to crush their workouts left and right
WOD Nation Wrist Wraps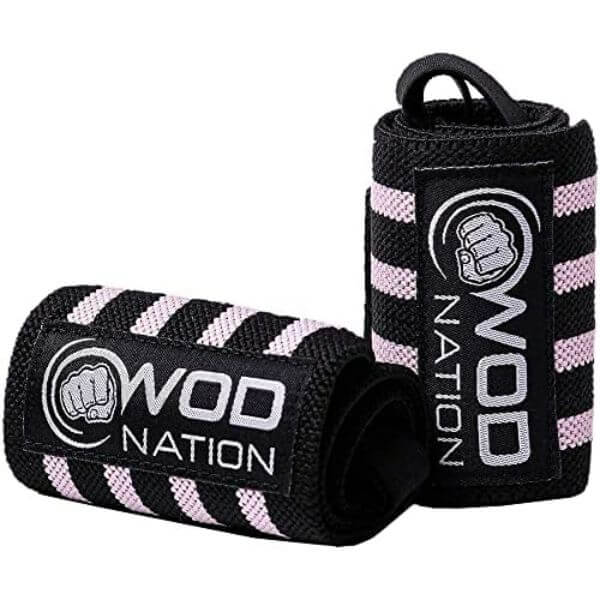 WOD Nation Wrist Wraps
Known for CrossFit gear, WOD Nation makes one of our favorite pairs of wrist wraps: The WOD Nation Wrist Wraps. Any brand with "WOD" in the name should know that durability is of the utmost importance in the sport of CrossFit.This shows in these wrist wraps, which are constructed of a strong polyester blend and feature reinforced stitching throughout. Unfortunately, the thumb loop is not reinforced, but so far, we haven't had any issues with these wraps failing us during WODs.
Pros:
Sturdy construction
Reinforced stitching on the wrap
Priced under $30
Cons:
Length could be too short for some
Does not feature reinforced thumb loops
In the sport of CrossFit, durability is king. The importance of this one factor can't be overstated: Stuff gets messed up during CrossFit WODs. Shoes get scuffed and ripped; clothes tear and suffer through chalk hands; gear is subject to the friction of bodies moving around pull-up rigs and quite literally slamming into the floor.
That is to say, if you want wrist wraps for CrossFit, you need WOD Nation Wrist Wraps. As a CrossFitter myself, I'm naturally inclined to trust a brand with "WOD" in the name. But after using these wrist wraps for a few workouts, I'm even more convinced that they are the best choice for CrossFit.
Made from a durable polyester blend, these feature a commercial-grade Velcro closure you can drag through all of your daily CrossFit sessions. Additionally, these wraps are flexible enough to handle the variety of movements you'll endure in CrossFit.
These wraps offer stability for your wrist without fully immobilizing the joint. If you're looking for maximum stiffness, these won't be the wraps for you. These wraps are designed to help you get through repetitive high-volume lifting, as seen commonly in CrossFit.
WOD Nation Wrist Wraps have a comparable price to other wrist wraps on the market, but without a warranty. WOD Nation offers a 30-day return policy on unused items.
Related: Best CrossFit Gymnastics Grips
WOD Nation Wrist Wraps Specifications
| | |
| --- | --- |
| Material | Polyester blend |
| Length | 12" or 18" |
| Closure | Velcro |
Other Wrist Wraps We Tried
Gymreapers Adjustable Support Wrist Wraps: This is the friction closure option from Gymreapers. We didn't get our hands on these yet, but we assume they perform just fine based on our experience with other Gymreapers wraps. However, we'll refrain from a full recommendation until we get to try them.
Rogue Fitness Leather Wrist Wraps: If you're a female with relatively small wrists, don't even THINK about ordering these. They're massive. They fit around my 60-pound dog's neck, if that gives you any idea. Truthfully, I couldn't even test these out because I couldn't wear them correctly.
Rogue Fitness Wrist Wraps: A basic pair of wraps from Rogue, these are nothing special compared to other elastic, Velcro wrist wraps. They're just that: a pair of wraps that'll get the job done for a low price.
Bear Grips Wrist Wraps: I love that Bear Grips Wrist Wraps are available in two straightforward options—mobility-focused and strength-focused. The former is better for high-volume workouts while the latter is great for powerlifting and attempting a new one-rep max.
Stoic Wrist Wraps: These are okay, but I don't love that the leather patch with the Stoic logo is so large. On my small wrists, this made for an awkward fit.
Benefits of Wrist Wraps
Wrist wraps are used in many sports, from bowling to baseball to weightlifting, all with the intent to stabilize the wrist joint and allow the athlete maximum power.
If you've ever noticed your own wrist hyperextending under a barbell, you know it's not a good feeling during a bench press, squat, or snatch.
Over time, a high degree of wrist flexion under a loaded barbell can lead to greater risk of injury.
Joint Support and Stability
Wrist wraps offer a generous amount of stability and prevent excessive extension of the wrist joint. Wraps give you the opportunity to put heavier weights in your hands without compromising the ideal wrist joint position (stacked straight over the forearm).
Compression
Wraps not only offer support and stability so the wrist joint isn't jostled around under the barbell, but they also allow you to choose the compression of your choice. They are adjustable to your liking. You'll notice that more compression for a heavy one-rep max isn't comfortable, but it helps you grip the bar more intensely.
One study shows an increase in performance when shot put athletes wore wrist wraps during competition versus athletes who did not. For lighter-weight, higher-volume workouts, such as a CrossFit WOD with a lot of overhead pressing, you can reduce compression to maximize mobility while still supporting your wrist joint.
Post-Injury Support
Lifting while recovering from an injury is tough to navigate.
Whether the injury is directly related to your wrist or an issue with the elbow or shoulder, adding a wrist wrap can help stabilize the wrist joint and maintain a strong wrist position, enabling your muscles and joints to get back to barbell stimulation and adaptation to keep making strength gains.
Always consult with an appropriate healthcare professional to make decisions about exercising after an injury.
How We Found the Best Wrist Wraps
This guide began like all of our others: With in-depth internet research on dozens of brands and all of the products they have available. We narrowed down our search by using our own experience with various products as well as sifting through customer reviews. Finally, we ordered the products and sent them off to various writers and editors on our team to put them to work.
During testing, we judged wrist wraps on:
Fit and comfort
Materials
Stitching
Elasticity
Mobility vs stability
Joint support
Closure mechanism
Ease of use
Size availability
Pricing
Shipping
Warranty and returns
How to Choose the Best Wrist Wraps for You
The best wrist wraps for you depend on your style of training and the amount of support you're looking for during your workouts. Here are some factors to consider when shopping for wrist wraps:
Material
Most wraps for strength sports are made from cotton or blends of cotton, elastic, and polyester. Wraps that are made only from cotton will typically not give you enough support for heavy weights and will not allow you to stretch and tighten the material while wrapping around the wrist.
Another thing to look for is reinforced stitching (often called double stitching) through the wrap—even better if it extends to the thumb loop! Extra stitching helps wraps last longer by making it harder for the fabric to unravel.
Mobility and Support
The more elasticity the wraps have, the more mobile your wrist will be when wrapped. More mobility is an attractive feature for CrossFit WODs and high-volume training. A stiffer, less elastic wrist wrap will be more conducive to heavy pressing and testing your one-rep max (especially on bench and overhead press).
Closure Style
The most common closure style you'll see in weightlifting wrist wraps is the velcro strap. It's straightforward and easy to use, even after your first wrist is all wrapped up. Weightlifters often see that the Velcro shows the first signs of noticeable wear-and-tear, long before the wrap itself.
Seen less commonly, although still popular, is the friction-style closure. Friction wrist wraps take some time to get used to if you're accustomed to no-fuss velcro.
Firstly, friction wraps do not have thumb loops and by fastening the wrap, you loop and secure the string at the opposite end of the wrap. The nice feature with this style is that micro adjustments can be made during your workouts without unfastening. For that reason, they're popular in CrossFit.
Durability
Strength in materials and stitching are the two major factors that influence how your wrist wraps will hold up (in addition to how often they get used).
Blends of cotton and synthetic materials like polyester, nylon, and rubber are common materials and create high-quality wraps with high-grade support. Washing your wrist wraps (and often air drying) is another way to ensure your wraps have a long lifespan on your wrist and in the gym bag.
Comfort
Comfort will depend on your goals when wearing wrist wraps. For heavy weights and to test your one-rep max, comfort is generally out of the question. When you wrap for a tremendous load, it's going to be tight and have maximum wrist compression.
For injury prevention and high-volume weight training, your comfort will be a top concern. A wrist wrap that is worn over the course of a long workout will need to be more flexible and breathable than the stiff and cast-like wraps for setting a new PR.
Type of Lifting
Depending on the style of strength training you get after, the amount of support you want for a wrist wrap will vary. Powerlifting wrist wraps are stiff and lock your wrist into place, so they won't be ideal for high-repetition WODs.
Wrist wraps with a friction closure mechanism allow you to more comfortably wear wraps during the workout, making them perfect for high volumes and less ideal for maximum support.
Best Wrist Wraps FAQs
What do wrist wraps help with?
Wrist wraps provide extra support for the wrist joint during heavy and high-volume lifts. The intent is to fend off fatigue and pain by preventing the wrist from hyperextending under heavy loads. 
Importantly, wrist wraps are not proven to prevent wrist injuries and evidence on the topic of wrist wraps and tendonitis is inconclusive. If you have a wrist injury of any sort, consult your healthcare professional before lifting weights with or without wraps.
Should I wear wrist wraps all the time?
If lifters started to wear wrist wraps for every set and every lift, the joint could start to weaken because the wrist is immobilized for the whole training session. Your wrist still needs the stimulation of what the weight feels like in your hands without the added support. 
It's not a bad idea to save the wraps for after the warm ups, and reserve them for heavy loads and your intense high-volume sets. 
On the other hand, competing athletes may wear wrist wraps during all training sessions and even during warm-ups to ensure that their technique does not change once they get under a heavy load. The answer to this question all depends on your goals, needs, and preferences.
How do I wear wrist wraps?
Stay high and close to the palm! Most people will start wrapping under the palm and wrap the bony protrusions of the ulna and the radius—the areas where your bone bulges out of your wrist. 
You can make the next wrap pass lower, but for the most part the wrist wrap will just continue to wrap around the same area over again until you're ready to close the velcro strap (or use the friction string). 
Powerlifters often start wrapping partially on the palm to "cast" the wrist and immobilize the wrist joint. This method is highly effective for your one-rep max bench press, but not so much for general use.
What are thumb loops for?
The thumb loops on your wrist wraps are there so you can anchor the wrap and get the correct position around your wrist. However, once your wraps are in place, unhook the loop and let the thumb free. That fragile piece of fabric can spin your wrap out of position once you start gripping the iron and lead to the elastic wearing out prematurely.
What is the difference between a wrist wrap and wrist strap?
Most lifters use wrist wraps for wrist support and rigidity for heavy lifting. Wrist lifting straps do not stabilize the wrist joint, but are instead used to assist with gripping the barbell. Typically, straps are used to pick up heavy loads when the grip could fail, particularly on the deadlift.