Few fitness phenomena have garnered as much attention as CrossFit, with an estimated 4 million people practicing CrossFit today, and we totally understand why. CrossFit's approach combines elements of HIIT, functional movements, and Olympic weightlifting to create one of the most comprehensive programs on the planet.
RELATED: What is Functional Fitness?
Unfortunately, some of what makes CrossFit so great has also acted as an entry barrier, leading beginners to believe that only elite athletes should practice CrossFit.
But that's not true; CrossFit is for everyone, from teens to seniors to average folks and athletes alike. So long as CrossFit exercises are done with proper form, they are an excellent addition to any workout routine.
RELATED: Best CrossFit Training Programs
We put together this beginner's guide to CrossFit exercises, including what they are and how to do them. Check it out!
What Is CrossFit, Exactly?
CrossFit is an exercise program that blends functional movements, high-intensity interval training (HIIT), gymnastics, and Olympic weightlifting.
RELATED: Benefits of HIIT Training
The CrossFit program is designed to enhance functional fitness and improve athletic performance of its practitioners while staying varied enough to stave off boredom and create muscle confusion1.
Class structure varies, depending on what CrossFit gym or "box" you visit, but typically include a strength section, which focuses on heavy weightlifting and weightlifting technique, and a conditioning section, during which the members perform the "WOD" or "workout of the day."
RELATED: 100+ CrossFit WODs for Hypertrophy
The WOD is where the CrossFit program truly shines. Members are awarded a score based on their performance for each WOD, essentially turning their workout into a game.
According to a 2022 review published in the Journal of Medical Internet Research2, "gamified interventions," or fitness programs that incorporate elements of game playing, "are promising for promoting [physical activity] in various populations."
So, to put it in simple terms, CrossFit is an all-encompassing exercise program that is both effective and fun!
CrossFit Exercises
You can't create the same competitive atmosphere and camaraderie in your own home gym, but you can use the same exercises to perform authentic CrossFit workouts from the comfort of home.
We're covering all the CrossFit exercises that make the program so darn good, from clean and jerks to box jumps, burpees, wall balls, and more.
Without further ado, the CrossFit exercises you need to know!
Cleans
Full Clean (Squat Clean)
Hang Squat Clean
Power Clean
Hang Power Clean
Dumbbell Clean
Snatches
Full Snatch (Squat Snatch)
Hang Squat Snatch
Power Snatch
Hang Power Snatch
Dumbbell Snatch
Presses
Strict Press
Push Press
Push Jerk
Split Jerk
Squats
Back Squat
Front Squat
Overhead Squat
Deadlifts
Conventional Deadlift
Snatch-Grip Deadlift
Gymnastics
Ring Rows
Kipping Pull-Ups
Chest-to-Bar Pull-Ups
Bar Muscle-Ups
Ring Muscle-Ups
Push-Ups
Handstand Push-Ups
Ring Dips
Handstand Walks
Wall Walks
Toes-to-Bar
Knees-to-Elbow
Pistol Squats
Aerobics
Burpees
Box Jumps
Single-Unders
Double-Unders
Rowing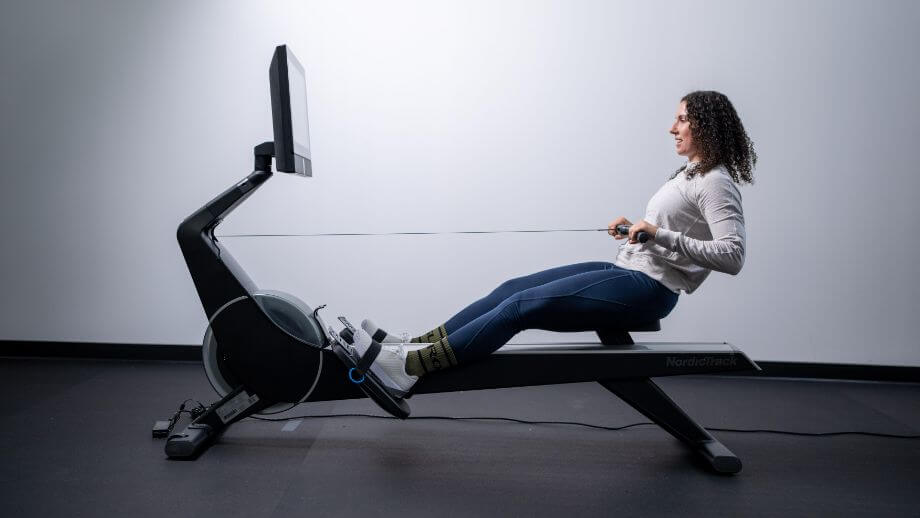 Assault Bike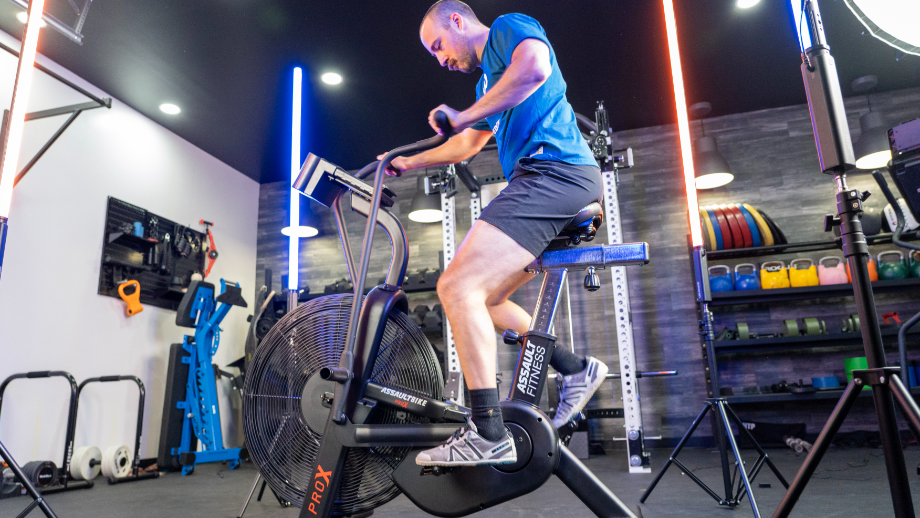 The assault bike is a high-intensity cardio machine that uses wind resistance to become more difficult the harder you pedal.
How to do it:
Adjust the seat height so your knees stay slightly bent at the lowest point of your pedal stroke. Then, sit down and grab the handles with both hands.
Pedal, creating equal force with your arms and legs.
Continue for the desired distance, duration, or calories burned.
RELATED: Best Exercise Bike with Moving Arms
Ski Erg
Think of the ski erg as a sort of standing rower that simulates the movement you would perform if you were skiing, thus the name.
How to do it:
Select your preferred damper setting. The higher the setting, the harder it is.
Stand in front of the machine, reaching up to grab both handles above your head.
Hinge forward, tightening your core, as you pull the handles down to your sides.
Return to the starting position and cycle into the next rep.
Other Exercises
Kettlebell Swings
Sumo Deadlift High Pull
Hollow Rock
Wall-Balls
Man-Maker
Devil's Press
CrossFit Exercises: Final Thoughts
Staying "constantly varied" isn't so difficult when you have this many exercises to choose from, but exercise diversity is only part of what makes CrossFit such an effective program.
CrossFit also blends elements of HIIT, Olympic weightlifting, functional movements, and a strong sense of community to create one of the best fitness experiences you'll find anywhere.
Not sure if CrossFit is for you? Drop in for a class at your local CrossFit box, or try out some of the CrossFit exercises we listed above to see if it's something you might be interested in.
What do you have to lose?
CrossFit Exercises: FAQs
References
1. Baz-Valle E, Schoenfeld BJ, Torres-Unda J, Santos-Concejero J, Balsalobre-Fernández C. The effects of exercise variation in muscle thickness, maximal strength and motivation in resistance trained men. PLoS One. 2019;14(12):e0226989. Published 2019 Dec 27. doi:10.1371/journal.pone.0226989
2. Mazeas A, Duclos M, Pereira B, Chalabaev A. Evaluating the Effectiveness of Gamification on Physical Activity: Systematic Review and Meta-analysis of Randomized Controlled Trials. J Med Internet Res. 2022;24(1):e26779. Published 2022 Jan 4. doi:10.2196/26779
3. Klimek C, Ashbeck C, Brook AJ, Durall C. Are Injuries More Common With CrossFit Training Than Other Forms of Exercise?. J Sport Rehabil. 2018;27(3):295-299. doi:10.1123/jsr.2016-0040
4. Claudino JG, Gabbett TJ, Bourgeois F, et al. CrossFit Overview: Systematic Review and Meta-analysis. Sports Med Open. 2018;4(1):11. Published 2018 Feb 26. doi:10.1186/s40798-018-0124-5