We test and review fitness products based on an independent, multi-point methodology. If you use our links to purchase something, we may earn a commission. Read our disclosures.
Although calf compression is sometimes thought of as only a tool for runners, as an Olympic weightlifter, I can tell you it has its place in other modes of training as well. In dynamic movements, we are jumping, flexing, and extending the ankles and using the calves for this, and that can lead to some sore and tired muscles after tough workouts.
Like the best knee sleeves, the best calf compression sleeves will help athletes and casual gym-goers improve their recovery, increase blood flow, and provide support during workouts. Our team of certified personal trainers, coaches, and athletes was able to research and test out some top brands to bring you our picks for the best calf compression sleeves on the market today.
We had Garage Gym Reviews' Head of Content Kate Meier test out these sleeves with a few members of her weightlifting team through a variety of workouts and day-to-day tasks, to get a feel for the sleeves' comfort and breathability. Then, looking at other factors like pricing, we finalized our list of top picks. Read on to see which sleeve is best suited for your lower leg needs.
The Best Calf Compression Sleeves
Best Overall Calf Compression Sleeves: Zensah Compression Sleeves
Good for: People looking for a stylish compression sleeve that can provide all-day support
Our pick for best overall also happens to be from the company who made the original compression leg sleeves: Zensah. Originally made to alleviate shin splints and provide calf support, the Zensah Compression Leg Sleeves are made to be breathable and comfortable while providing a good level of compression and support. Suzanne, a lifter on Kate's team, said they "felt like they were giving my legs a hug!"
Unique to Zensah's sleeves, these compression sleeves have V-shaped ribbing along the front to target shin splints specifically during workouts and activities. The moisture-wicking fabric blend keeps the sleeves lightweight and dry during intense workouts and tough runs. There are plenty of color options to choose, from plain black all the way to donut and avocado patterns.
In testing, the sleeves were comfortable, providing support while not being overly tight at the same time. Additionally, they were easy to get on and off and left no marks, even after wearing them all day long. They may run a little small, but even then, the comfort was there still.
One issue is the sizing; it was a little confusing for finding your perfect fit. Each size was really two sizes: Extra-small/Small, Small/Medium, and Large/Extra-large. If you follow the size chart provided by Zensah, you should be able to figure out which size is best for you, but it is still a bit off-putting.
The largest size provided supports a calf circumference up to 18.5 inches, so this may not be the best pick for larger athletes. Also, at $40 a pair, these are one of the more expensive options on the market. However, we think these sleeves can still provide great value for many users.
| | |
| --- | --- |
| Price | $39.99 |
| Material | 49% Polyester, 41% Nylon, 10% Spandex |
| Colors | 29 options |
| Includes | 1 pair of sleeves |
| Compression | Not disclosed |
| Sizes | XS/S, S/M, L/XL |
Best Calf Compression Sleeves for Calf Strains: McDavid Calf Compression Sleeves
Good for: Those wanting a durable calf compression sleeve to support a recent strain
Constructed out of a heavy-duty nylon, the McDavid Calf Compression Sleeves are solidly made and one of the more durable sleeves we tested out. The 5-needle stitch used in the fabric allows for a stronger seam in the sleeve. Additionally, it makes for a flatter and cleaner seam, to prevent irritation.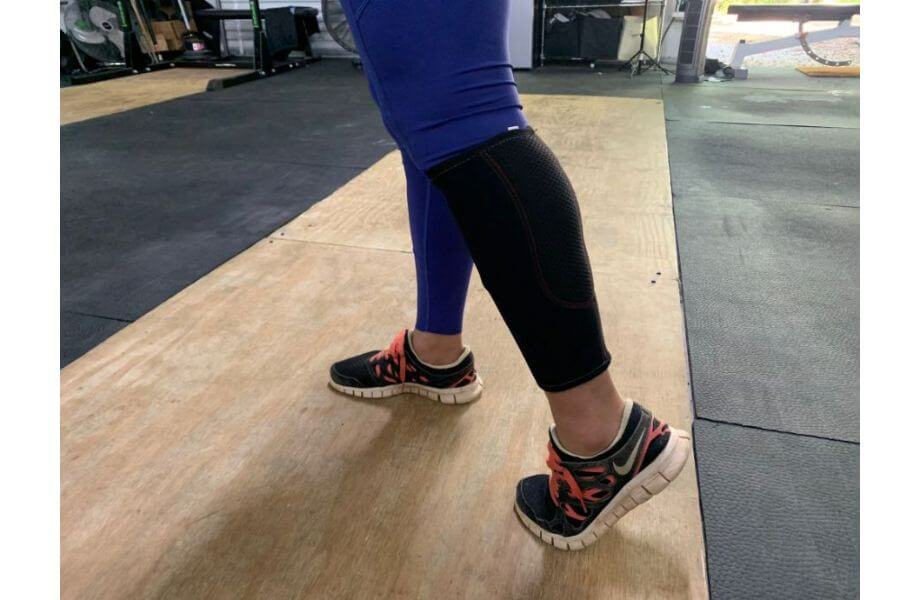 In our testing, it had pretty good compression and tightness, although the snug fit made it a little tough to take on and off. With thicker padding than most, this sleeve is sure to support the calf muscle through any strains you may experience from training. In addition to calf strains, this sleeve can help reduce calf pain from other ailments, like shin splints and varicose veins. However, this sleeve only supports calf sizing up to 18 inches.
Although the compression sleeve is only $20, it also only comes with one sleeve. This can be a positive if you are only looking for one sleeve, but to buy a pair of these, the price doubles to $40. Additionally, there are limited color options…as in only one option: black. Still, if you're looking for calf compression and support for aches and pains during your training, McDavid is a solid choice.
| | |
| --- | --- |
| Price | $19.99 |
| Material | Latex-free, heavy-duty nylon |
| Colors | Black |
| Includes | 1 sleeve |
| Compression | Not disclosed |
| Sizes | S – XL |
Best Calf Compression Sleeves for Shin Splints: DonJoy Calf Compression Sleeves
Good for: Athletes needing compressive support during their workouts
The DonJoy Calf Compression Sleeves have a unique design with their foam buttresses stitched into the front of the sleeve. This intentional addition of pressure helps relieve pain specific to shin splints. The neoprene compression also helps increase circulation and blood flow to the calf muscle, making this a great compression sleeve for muscle recovery after a tough leg workout.
RELATED: A Classic 5×5 Workout to Build Strength
The stretch webbing allows for a wide variety of ankle sizes to fit the sleeve. Additionally a bottom strap and pull tabs help get the sleeve on and off easier, although it wasn't easiest in our testing. Furthermore, these sleeves are reflective, to allow visibility in low light conditions. These sleeves have an athletic, sporty design; with only two color options, they'll still look nice during your next run.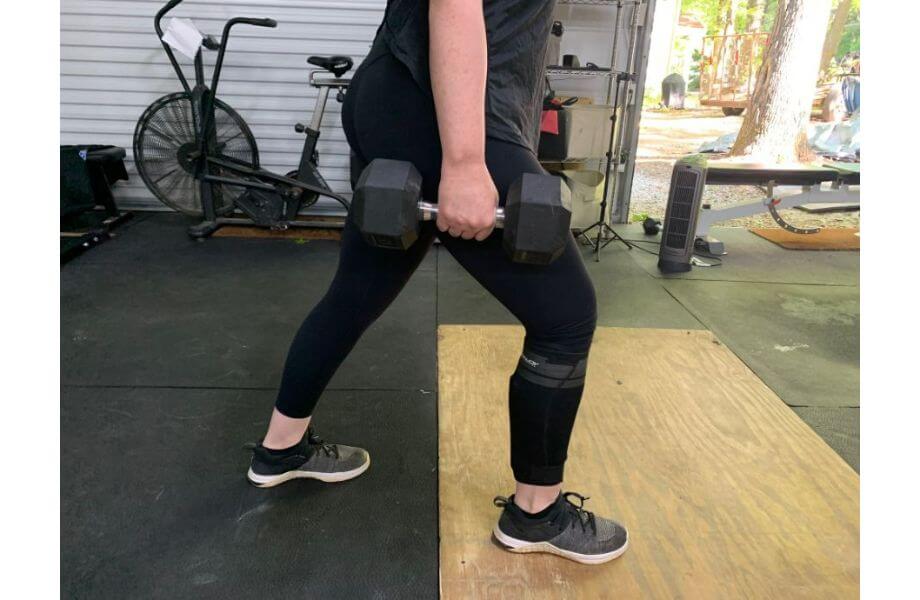 The calf sleeve's largest size supports calf circumferences of up to 48 centimeters (18.9 inches), so it may not be the best option for a larger athlete. Additionally, these sleeves are some of the most expensive sleeves on the market; prices vary on Amazon, but they can cost up to $40 just for one sleeve.
With that said, our tester for these sleeves, Mandy, was having calf and knee pain before testing these, and felt immediate relief with them on. So, they may be worth the price for the pain relief.
| | |
| --- | --- |
| Price | $13.50 – $39.99 |
| Material | Neoprene |
| Colors | Black, camo |
| Includes | 1 sleeve |
| Compression | Not disclosed |
| Sizes | XS – L |
Best Budget Calf Compression Sleeves: Rymora Calf Compression Sleeves
Good for: Those needing good compression for their calves at a low price point
Our favorite budget calf compression sleeves are from Rymora. Usually listed at $20 a pair on Amazon, the price varies depending on the color (and sale) but usually hovers around $15 or less. The sleeves come in seven different colors, and the sizing goes from extra-small all the way to XXL, covering calf measurements from 8.5 inches to 25 inches. Rymora provides sleeves for a variety of sizes, and does it with a low price tag.
The Rymora Compression Sleeves provide a compression pressure of 20 to 30 millimeters of mercury (mmHg). This is a pretty common pressure rating for compression gear, and should be enough to help alleviate muscle soreness and other pains.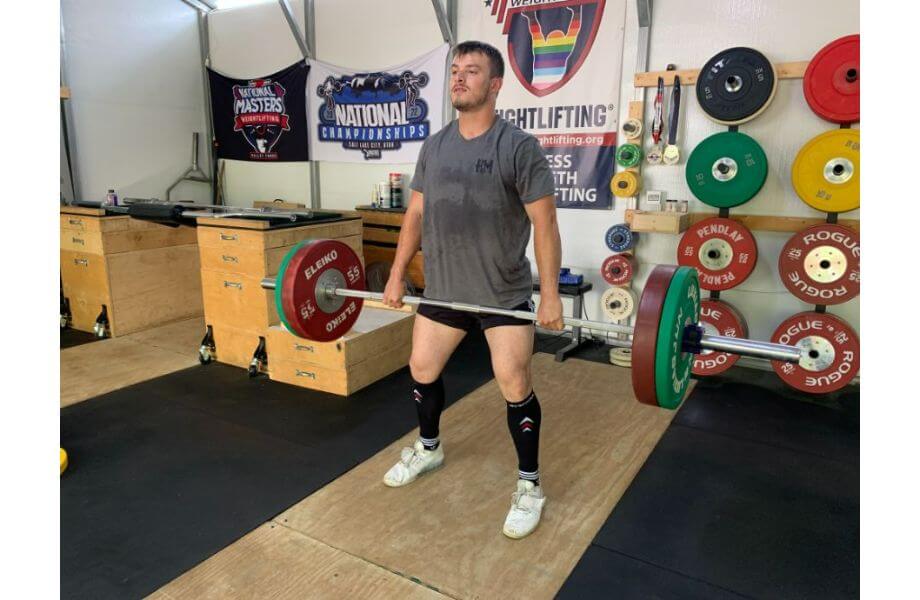 We found these sleeves to be pretty breathable, as the fabric blend was lightweight and sweat-wicking. We used these sleeves during a two-hour long training session, and they remained comfortable and breathable throughout the entire workout.
RELATED: Best Workout Leggings
Some reviews claimed that the sizing runs small on these. We'd recommend using the sizing chart provided for the product to find the proper size; our tester had no issues with sizing after measuring their calf and ordering based on the size chart. If you need a sleeve but don't feel the need to splurge, Rymora sleeves are a great, inexpensive option.
| | |
| --- | --- |
| Price | $19.99 |
| Material | 54% nylon, 39% polyester and 7% elastane |
| Colors | Black, Blue, Fluorescent, Grey, Pink, Purple, White |
| Includes | 1 pair of sleeves |
| Compression | 20-30 mmHg |
| Sizes | XS – XXL |
Best Plus-Size Calf Compression Sleeves: Zeta Plus-Size Compression Sleeves
Good for: People needing a solid compression sleeve designed for any size
If you're looking for an inclusive brand that has compression sleeves for all sizes, look no further than Zeta Plus-Size Compression Sleeves. These compression sleeves range from small to 6XL, able to support a calf circumference of up to 30 inches. In addition, these sleeves support calf lengths from 13 inches to 17 inches, with a shorter 10-inch version also available. Whatever your size or build, Zeta Wear probably has the right fit for you.
The pressure of 20 to 30 mmHg is a graduated compression, meaning the sleeves start compressive at the ankle and are looser as they travel up the leg to the wider calf. The softer material (predominantly cotton) makes this one of the easiest sleeves to take on or off, but it still provides good support for a broad range of uses.
These compression sleeves provided support to our tester all day long, while being on her feet. Even after wearing them all day long, the sleeves didn't leave any marks on her calves or ankles.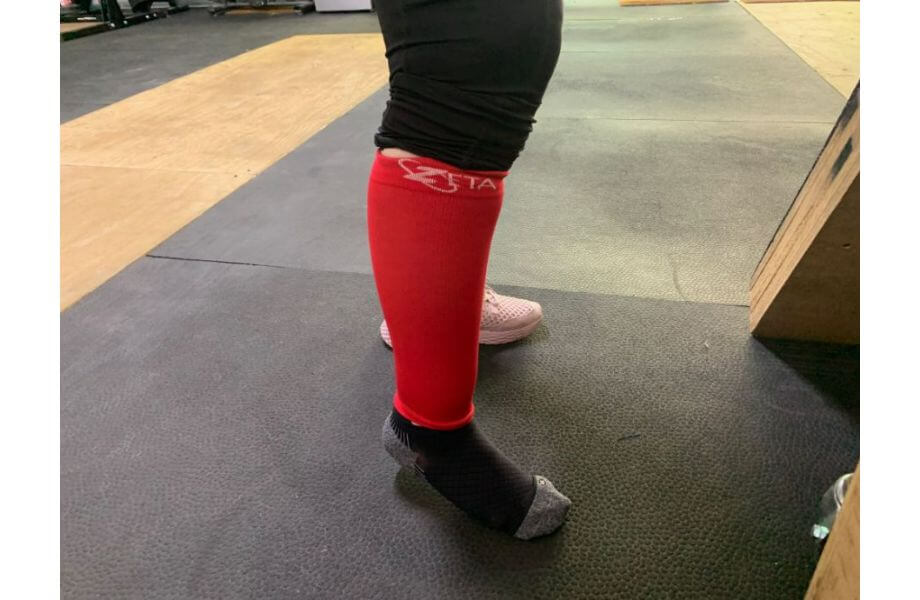 Depending on the size and color you wish to purchase, the price can vary, costing as much as $27. This makes them a little pricey, even if you are getting two sleeves with the purchase. Also, some users stated there were inconsistencies in the sizing, where the same size was bought and weren't the same size. Still, if you need compression sleeves for a larger athlete, these would be a solid find.
| | |
| --- | --- |
| Price | $19.95 – $26.99 |
| Material | 73% cotton, 19% spandex, 8% nylon |
| Colors | Black, Blue, Green, Nude, Purple, Red, Grey, Pink, White |
| Includes | 1 pair of sleeves |
| Compression | 20-30 mmHg |
| Sizes | S – 6XL |
Best Breathable Calf Compression Sleeves: ZFiSt Medical-Grade Compression Socks
Good for: People wanting long-term calf compression that'll feel comfortable all day
Our choice for best breathable sleeves aren't really sleeves at all, but socks. With good breathability, these socks are comfortable and can be used for a variety of reasons. But the comfort and breathability means they're great for long-term use, like travel, working on your feet all day, or a long-distance run.
RELATED: Best Long-Distance Running Shoes
In addition to breathability, the ZFiSt compression socks have a 20-30 mmHg graduated compression, meaning the ankle gets the most pressure, and lessens the higher up the sock goes. These high-quality, medical-grade compression socks help reduce swelling and give relief to people with edema, varicose veins, and plantar fasciitis.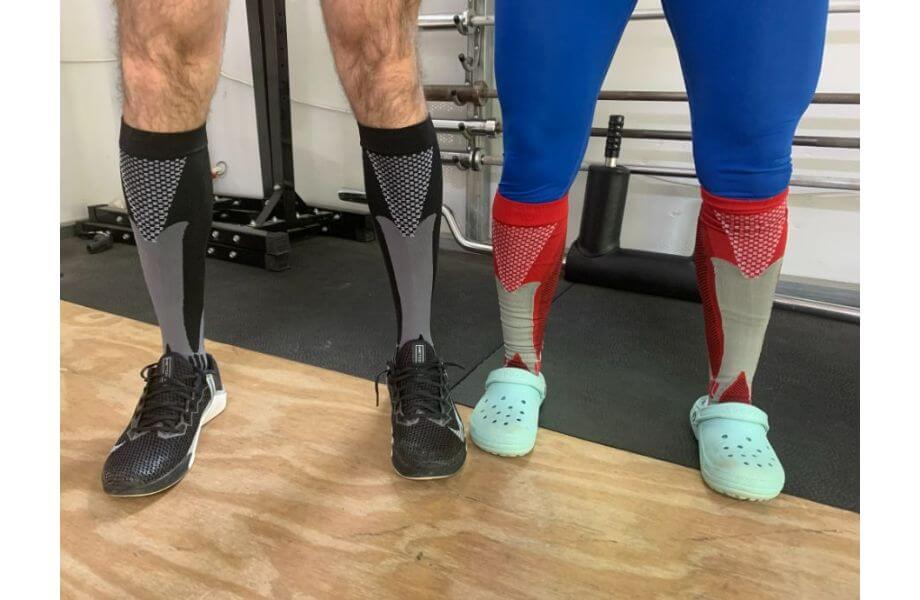 The ZFiSt socks will also provide arch support and increase blood circulation, making them great for both travel and workout recovery after any training.
There is limited sizing for these socks, as they come in two sizes, accommodating calf sizes from 8 to 18 inches. If your calf is larger, you may need a different option for compression. With that said, these are very budget-friendly compression socks, as you can purchase a pack of three pairs for $16. There are also a variety of color combinations to choose from, making this a sporty look for a medical-grade compression sock.
| | |
| --- | --- |
| Price | $15.99 |
| Material | Nylon, spandex |
| Colors | 15 options available |
| Includes | 3 pairs of socks |
| Compression | 20-30 mmHg |
| Sizes | XL, XXL |
Best Calf Compression Sleeves for Runners: Run Forever Compression Sleeves
Good for: Those needing a breathable compression sleeve for long-distance running
If you're wanting a compression sleeve that will stay supportive yet comfortable through any distance run and logged on your running app, then Run Forever Compression Sleeves might just be the sleeves for you. Made with a breathable fabric blend of nylon and spandex, these calf sleeves are lightweight and comfortable. With 20 different unique color options, these sleeves are sure to make you stand out at your next running event (unless you don't want to stand out: then they have black).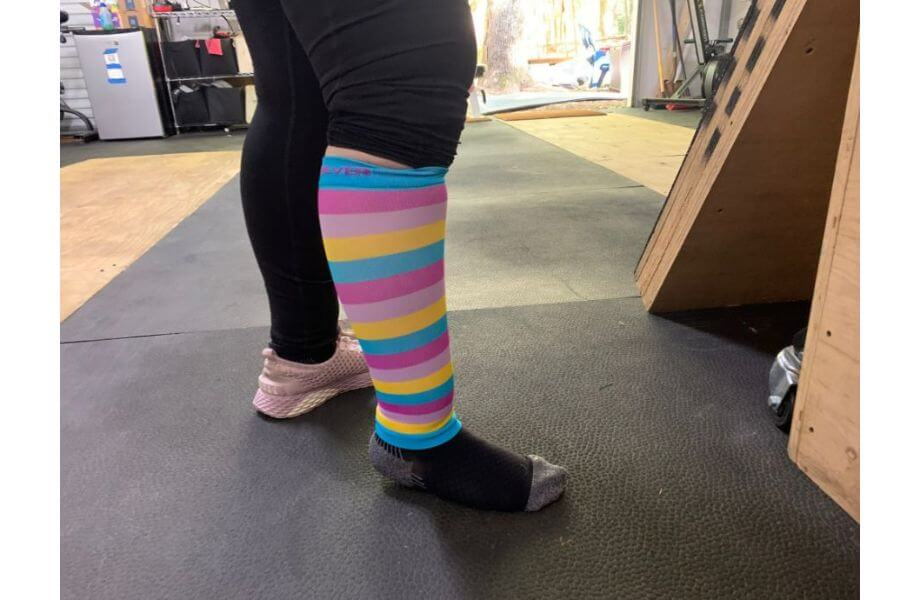 The light compression of the Run Forever Compression Sleeves is great for long-term use, such as a long-distance run, or being on your feet all day at work. In particular, Suzanne tried these out at work and remarked about their breathability, "I didn't really notice these other than my legs feeling good! I work next to a 600-degree oven and wore these under my pants, and they weren't overheating me."
These inexpensive sleeves provide support for a variety of calf sizes, up to 24 inches circumference. They're also easily washable after using them all day long. However, the lower compression level of 15 to 20 mmHg might be less compression than you are looking for. For long-term use, this can be a plus—as it won't be as constricting over a long period of time—but if you want more compression, this may not be a good choice.
| | |
| --- | --- |
| Price | $19.99 |
| Material | 70% nylon, 30% spandex |
| Colors | 20 options |
| Includes | 1 pair of sleeves |
| Compression | 15-20 mmHg |
| Sizes | S – 3XL |
Other Calf Compression Sleeves We Researched
We researched and tested out several compression sleeves to make our top picks; some of those simply didn't make the cut. Here are a few of those compression sleeves that fell short of our list.
B-Driven Full Leg Compression Sleeves: These full-leg compression sleeves provide medical-grade compression ideal for both casual and athletic use. However, our delivery from Amazon kept getting delayed to the point where we still haven't had a chance to try these sleeves out.
CEP Compression Sleeves: These polyamide-and-spandex-blend compression sleeves weren't too different from other products we tested. They also left marks on our tester's legs and ankles, and it was the sleeve most difficult to put on or take off. Also, these sleeves do not have unisex sizing, unlike most brands.
CopperJoint Compression Sleeves: We're not sure about these. While lots of reviews praise these compression sleeves, they had about as much compression as a sock in our testing. It very well could have been a sizing issue, as many customer reviews also talk about sizing issues as well.
How We Picked and Tested
For the best calf compression sleeves, GGR's Head of Content Kate Meier and several members of her weightlifting team tested out top brands. A variety of activities were done with them, from weightlifting sessions, mobility work, and even by working all day.
We noted how the compression felt, both in training and in long-term use, as well as how easily or difficult they were to slide on or off. We also noted the level of support or pain relief we'd feel by wearing these sleeves. After factoring in prices and overall value, we narrowed our list to what you see now.
Benefits of Calf Compression Sleeves
Outside of styling in rainbow-colored calf compression sleeves, there are many other reasons to have and use this training accessory.
Increased Blood Circulation
According to a 2015 study1, wearing calf compression sleeves showed increased levels of tissue oxygen saturation, and it also linked increased compression with an increased saturation. Oxygen levels are a good indicator of healthy blood flow, which is one of the prime reasons people use calf compression sleeves.
Blood circulation can be increased whether or not you are currently being active as well. Another study2 from the same year showed that wearing compression sleeves helped increase oxygen saturation both during a cycling workout at moderate intensity, as well as at rest before or after the workout. Whether you are training, running, or chilling, compression sleeves can help your circulation.
Better circulation also reduces and prevents swelling in the calves, as it helps keep blood from pooling in the legs. A study from 20123 showed significant reduction in leg swelling among those with chronic leg edema after using local compression just after two days.
Better Recovery After Workouts
Using compression gear before or after your workout might help jumpstart your recovery. A study from 20164 showed that using compression sleeves, while not improving run times, did help runners feel better recovered immediately after their run, showing slight improvements in perceived exertion and the clearance of blood lactate.
Still another study5 showed improvements in individuals who used the sleeves after exercise, including reduced swelling and inflammation. Using calf compression sleeves regularly during and after training could support your muscle recovery.
RELATED: Best Muscle Recovery Tools
Better Running—Efficiency, Not Performance
I know a study just said that run times were not improved from compression sleeves. However, this study from March 20206 did mention that wearing compression garments did reduce muscle displacement while running.
Basically, that means that compression wear helped reduce the displacement and vibrations associated with impact forces while running. Not only does this make for a more efficient run, but also a safer run, as less displacement reduces the risk of injury by an odd impact.
What to Look for in Calf Compression Sleeves
You might think compression is the same, no matter the product, but that is not the case here. There are a few things to consider that can vary in compression sleeves:
Compression
Obviously, one of the biggest things to consider in a compression sleeve is the amount and level of compression. Typically measured in a unit of pressure known as millimeters of mercury (or mmHg compression), most compression sleeves measure at 20 to 30 millimeters of mercury. Sleeves for long-term use might have less compression, or they may recommend ordering a size up for less compression.
Sizing
The most important factor in determining the proper size for your calf compression sleeve is your calf size. Most are determined by the circumference at your calf's widest point, but some sleeves may consider more:
Calf length
Calf circumference
Ankle
A large in one brand's compression sleeve will not be the same as a large in another brand's sleeve. Make sure that you refer to any size charts for a product to have the best chance of ordering the perfect fit for your calves and ankles.
Materials
Compression sleeves will vary from brand to brand, but most will feature a blend of nylon and spandex, with variances in percentages. Regardless of the material, the sleeve should be elastic enough to stretch over your calf, compressive enough to apply pressure, and still breathable enough to remain comfortable through workouts or extended use. Most fabrics also have moisture wicking properties, able to keep the sleeves dry during training.
Style
This is probably the least important aspect of a compression sleeve, but you want a compression sleeve that looks good. There are many brands with a variety of colorful options and patterns. However, if you aren't looking to stand out too much in a crowd, then most brands also provide monochrome options—and a simple black, too.
Best Calf Compression Sleeve FAQs
What are the best compression calf sleeves?
Are compression sleeves good for calves?
Compression sleeves can be great for calves; for an athlete, the compression can help promote blood flow and circulation, or it helps relieve pain from calf injuries and shin splints. Additionally, they can help provide relief from other issues, such as edema and varicose veins.
What are the cons of calf sleeves?
Calf compression sleeves can provide great relief for a multitude of issues. However, the tightness can be uncomfortable for some, and might leave marks on those whose sleeves were too tight. I'd recommend referring to a size chart before purchasing compression sleeves to help avoid getting too tight or uncomfortable of a sleeve.
References