We test and review fitness products based on an independent, multi-point methodology. If you use our links to purchase something, we may earn a commission. Read our disclosures.
Whatever long-distance running means to you—a 5K, half-marathon, or 100-miler—it's important that you get the right shoes to support your endeavors. The best long-distance running shoes optimize three important components that affect running performance: shock absorption, energy return, and transitions. Ahead, we cover nine options that fit the bill.
Thousands of Miles Later
At the time of writing this, GGR product testers have been testing walking and running shoes for nearly a year—and that's not counting all of our previous years of exercising of our own accord. Among our seven product testers, we've walked and ran thousands of miles while analyzing shoes for comfort, fit, performance, and much more. On top of that, we are a team of credentialed fitness industry professionals who have a long and varied history of competing and participating in multiple sports, including endurance sports.
Best Long-Distance Running Shoes in 2023
Best Long-Distance Running Shoes Overall: Saucony Tempus
Good for: Any runner looking to maximize shock absorption, energy return, and shoe weight
If you are looking for a daily trainer for everything from long runs to tempo runs to easy runs, and something that can get you through race day with no problems, look no further than the Saucony Tempus.
This shoe features Saucony's PWRRN PB cushioning that's known for its incredible energy return and springy feeling. At the same time, the curved midsole shape and support frame make stride transitions a breeze, while the contoured insole and sockliner keep your feet secure and stable within the shoe for motion control.
On top of that, the Tempus weighs less than 9 ounces (men's) and less than 8 ounces (women's), making the shoe extremely lightweight for all of the features it offers. Saucony really got this one right: distance runners will enjoy an optimal blend of reduced joint impact, great feedback, bounce, and the lightweight feeling all of us runners crave.
These are a good option for neutral runners and mild overpronators, too: The extended crash pad around the heel offers some forgiveness for deviation at footstrike, and the PWRRUN Frame helps prevent arch collapse upon impact.
At $160, these shoes definitely aren't cheap, but they're also not more expensive than most high-performance running shoes available these days.
| | |
| --- | --- |
| Upper construction | Ultra lightweight mesh |
| Heel-to-toe drop | 8 mm |
| Special features | Support frame and deep insole contouring |
Best Budget Long-Distance Running Shoes: Brooks Revel
Good for: Newer runners looking to amp up their mileage without spending a fortune
Good running shoes aren't cheap, and the price continues to hike as the purpose becomes more niche (for example, trail running shoes and stability shoes). Distance-running shoes are no exception, as it's considered a type of high-performance running.
However, at GGR, we're adamant about providing recommendations for all budgets, and we're quite aware that not everyone has $150 to $250 to spend on a pair of shoes. That's why we're including the Brooks Revel in this guide, which has a more palatable list price of $100.
The Revel isn't a long-distance shoe when compared to the others you're reading about here. But distance is subjective anyway, and we think this shoe can work for newer runners who want to start increasing their mileage. "Long-distance" for a beginner might mean 3 or 4 miles, and the Revel is the perfect fit for that.
Brooks categorizes these shoes as an "energize" option according to its scale that rates the cushion and guidance levels of each shoe model. This means you can expect a springy feeling that helps you bounce out of each stride; plus, at 8.01 ounces per shoe (women's), the Revel is about 1 ounce lighter than the popular Adrenaline GTS and Ghost.
As Brooks states on the website, the Revel is best for "running for fitness" and "training for a milestone" — which very well could mean your first 5K or 10K. I will say that it's unlikely the Revels will hold up as well as the more expensive options in our guide, but if you're just getting started, that'll be just fine.
RELATED: Best Running Shoes for Beginners
| | |
| --- | --- |
| Upper construction | Partially recycled mesh |
| Heel-to-toe drop | 10 mm |
| Special features | Arrow-patterned outsole for springy transitions |
Best Lightweight Long-Distance Running Shoes: HOKA Mach 5
Good for: Mid- to moderately long-distance runners who want an ultra-lightweight and roomy shoe
I never thought I'd reach for any brand over Brooks, but thanks to the fact that I have a fun job that includes testing a ton of shoes, I have learned that I really like HOKAs—at least the HOKA Mach 5s.
These may be the lightest shoes I've ever run in, and I feel it with every stride. The listed weight is 6.8 ounces per shoe for women and 8.2 ounces for men. That is really light compared to the other shoes I regularly run in: 9 ounces for the women's Brooks Adrenaline GTS, 9.1 ounces for the Brooks Ghost, and even 7.5 ounces for the On Cloudgo.
The Mach 5s also feature a very roomy toe box—they feel almost as spacious as my Altra Lone Peaks—and a gusseted stay-flat tongue that I appreciate very much.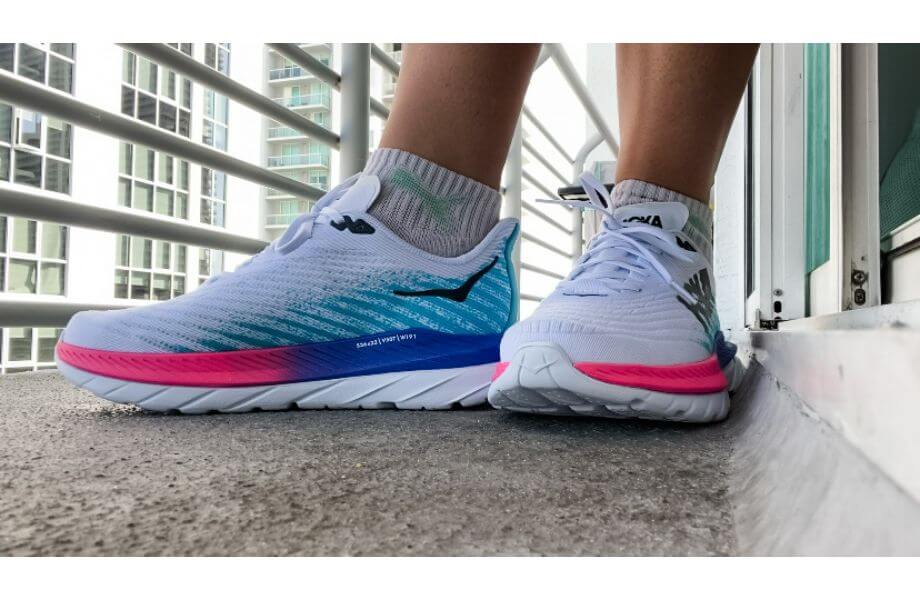 At first, I wasn't sure how to rate these shoes, because if you're not used to HOKAs, you'll be thrown off by how utterly soft they are. You almost sink into them with each foot strike. This was a new experience for me and it took several runs to get used to it. Now, though, I've logged over 30 miles in these shoes, with three of those runs being more than an hour in length—and I look forward to wearing the Mach 5s every time.
They are just so comfortable; it's like walking on clouds. I love that there's plenty of wiggle room in the toes while the heel cup stays snug. The extended heel tab is also wildly convenient and makes it so easy to pull the shoes on and off without unlacing each time.
| | |
| --- | --- |
| Upper construction | Lightweight woven mesh |
| Heel-to-toe drop | 5 mm |
| Special features | Extended heel tab for easy pull-on |
Best Neutral Long-Distance Running Shoes: Brooks Glycerin 20
Good for: Runners with neutral strides who appreciate more cushioning
For an optimal blend of cushion and neutrality, check out the Brooks Glycerin running shoes, which offer maximum DNA LOFT cushioning yet remain on the lowest end of Brooks' support spectrum.
This means the Glycerin offers all of the shock absorption you could need while leaving your feet free to do their thing. The shoes are free of any motion-control support, like the GuideRails you'll find in some other Brooks options. For that reason, we definitely don't recommend them to people who overpronate or oversupinate.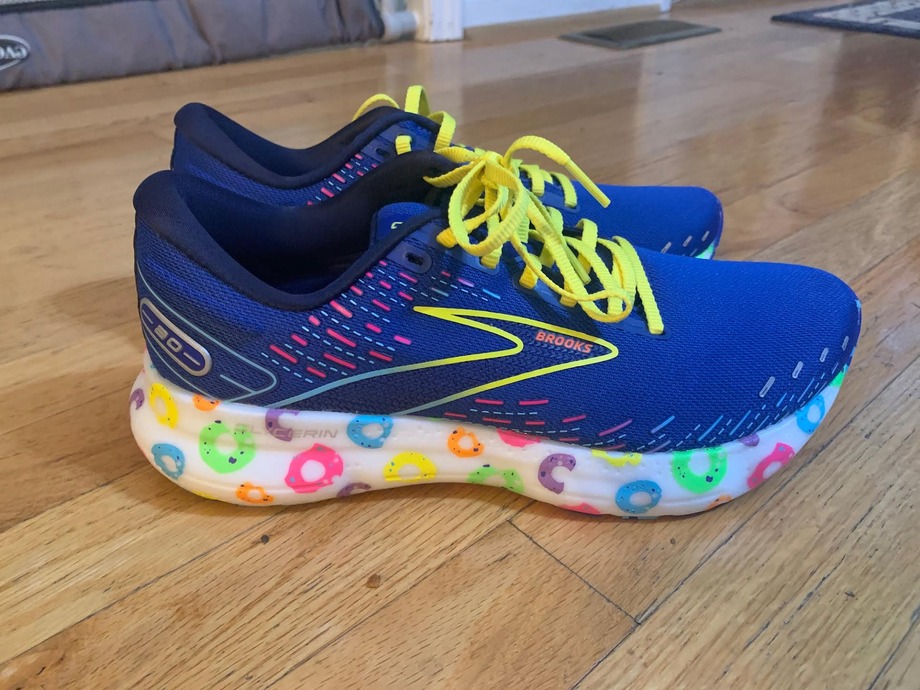 However, the Glycerin 20s are the bees' knees for runners who have good control over their foot strike. The 10-millimeter heel-to-toe drop supports smooth transitions while the plush DNA LOFT midsole foam absorbs shock. The woven mesh upper feels breathable even in hot weather, and the heel counter fits snugly around the back of the heel, according to our tester.
"These feel very durable and like they won't be wearing out before the expected time frame of several hundred miles," our tester says. "Although these are $160, I think they are worth the price. They are solid, neutral running shoes that will support your foot well."
RELATED: Best Running Shoes for High Arches
| | |
| --- | --- |
| Upper construction | Partially recycled mesh |
| Heel-to-toe drop | 10 mm |
| Special features | Widened crash pad for improved foot striking |
Best Stability Long-Distance Running Shoes: HOKA Arahi 6
Good for: People who overpronate or are prone to experiencing technique depreciation over long distances
As opposed to neutral running shoes, stability running shoes offer elements of motion control. Specifically, stability shoes aim to combat overpronation, or collapsing of the arch upon contact with the ground. Overpronating can cause pain in the feet, ankles, knees, hips, and even the back in some cases.
GGR editor and product tester Nicole Davis tested the Arahi 6. Here's what she has to say about them:
"I like these shoes and think they're a solid option for walking and running. I'll get lots of use out of them for sure. These are categorized as stable on their site, with their J-Frame tech designed specifically to prevent excessive overpronation. I don't overpronate, but they still feel comfy to me. They're also in the middle for cushion, which I like for walking purposes. They're light, breathable, easy to get on and off, and would be comfortable for extended periods."
Indeed, HOKA's J-Frame, or "Active Foot Frame," cradles the inside of the foot with an emphasis on the arch. It provides medial (meaning the inside of the foot) support throughout the entire length of the shoe. It's called the J-Frame because it wraps around the heel and lines the inside of the foot, stopping at the tip of the big toe.
As for appearance, HOKA isn't known for producing the most stylish running shoes. However, as Nicole puts it, "HOKAs are not for everyone, but I think the color combos are unique and make them a bit more fashion-forward than they could look otherwise."
| | |
| --- | --- |
| Upper construction | Lightweight woven mesh |
| Heel-to-toe drop | 5 mm |
| Special features | J-Frame for motion control |
Best Long-Distance Running Shoes for Energy Return: Karhu Ikoni
Good for: Runners looking specifically for help with transitions and power coming out of the stride
I was introduced to the Karhu brand through research for long-distance shoes specifically, and I ended up testing the Karhu Ikoni for consideration for inclusion in this guide. Looking at the Ikonis, they appear to be a basic running shoe.
But once you slip them on, you'll immediately notice they're built with a specific purpose in mind: quick transitions. The Karhu Ikonis feature a half-length fulcrum that extends from the heel to the midfoot. Karhu claims that this fulcrum increases what it calls the "rolling effect," or how your foot moves from foot strike to toe-off.
Rated high on Karhu's propulsion and guidance scales, the Ikoni intends to promote a fast, smooth toe-off while protecting the arch from collapsing upon impact with the ground. I was quite surprised with the momentum I felt while running in the Ikonis. I definitely feel the increased roll underfoot and I feel like my foot strike is more consistent when I wear these.
In addition to the fulcrum, there is also a propulsion unit in the Karhu Ikonis. A propulsion unit is strategically placed, in this case in the forefoot part of the midsole, to enhance energy return and bounce. I can't say I really noticed the effects of the propulsion unit, but I did notice the increased feedback of Karhu's AeroFoam, which is not as soft as many other midsole foams and thus provides more responsiveness.
Like most road running shoes, the upper is constructed of a woven mesh and the outsole features mild but effective rubber tread.
RELATED: Best Treadmill Running Shoes
| | |
| --- | --- |
| Upper construction | Woven mesh |
| Heel-to-toe drop | 8 mm |
| Special features | Karhu Fulcrum technology for smooth transitions |
Best Trail Long-Distance Running Shoes: Brooks Cascadia 16
Good for: Trail runners who need a comfortable, almost road-like running shoe for long trail sessions
A lot of trail running shoes are stiff and clunky. Sometimes, those characteristics are necessary, such as when you're tackling very tough terrain that requires technical, specific gear. But if you're hitting more moderate trails—and want to run for long distances—the Brooks Cascadia 16 is my recommendation.
My favorite thing about these is that they perform like a trail shoe but look and feel like a road shoe (with the exception of the outsole lugs). I like that I can wear them around Florida after it rains instead of boots but don't look silly wearing mountain shoes in the city.
Based on my testing, the Cascadias should hold up through many miles in many conditions. The lugs on the outsole are thick and tall, and there's a rock guard on the outsole as well. Additionally, the upper is woven so it's breathable but it's thicker than the mesh uppers you'll see on road running shoes. There's also a waterproof wrap around the toe box.
I feel safe and stable in these. I've worn them on loose cobblestone roads, hard-packed dirt trails, muddy trails, and running on sand, and they haven't failed me yet. They almost feel like wearing cleats—you'll definitely notice the lugs on smooth, flat surfaces.
My one complaint is that these shoes fit really tight at first. My feet ached in the midfoot region a little bit after my first run in them, which was on a soft, sandy trail. However, the shoes broke in very quickly and I haven't had any issues since.
| | |
| --- | --- |
| Upper construction | Tightly woven mesh |
| Heel-to-toe drop | 8 mm |
| Special features | Rock guard on the outsole |
Best Cushioned Long-Distance Running Shoes: On Cloudstratus
Good for: Distance runners who need optimal shock absorption and want to look stylish, too
These are the squishiest shoes since HOKA Bondis. Well, not actually—we have yet to try a pair that's more plush than the Bondis—but the Cloudstratus from On comes pretty dang close. Nicole, who tested the Cloudstratus shoes, says she really liked them, noting that they feel really stable despite the intense cushioning.
Appearance-wise, "They're probably not for everybody, just like HOKAs, but I think they're kind of cool-looking. Unique, and they have some cool color combos."
The On Cloudstratus shoes have a "nice structure to them." Nicole says, and feel like they'll last a long time. I feel the same way about my pair of On running shoes, the Cloudgos, and this is a common sentiment across our team thanks to the tightly woven engineered upper featured on most On shoes.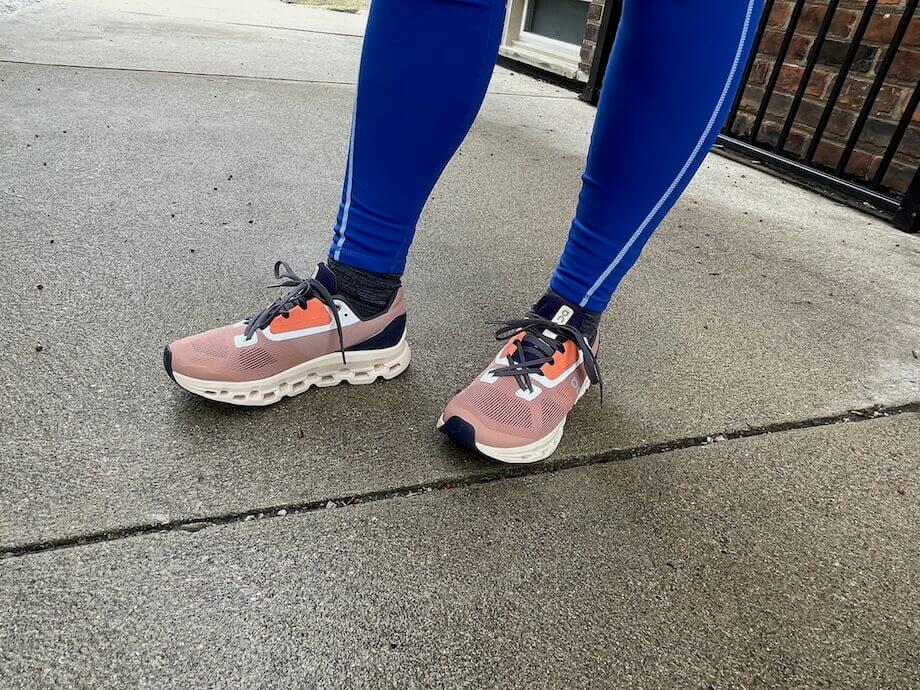 While the Cloudstratus is the max-cushion option from On, it still doesn't feel quite as shock-absorptive as a pair of HOKAs, Nicole says, but offers plenty of give in any case. "They're a neutral shoe that has a good balance between stability and cushion, and that's perfect for me," Nicole explains. "However, if you really want a super cushioned ride, HOKA—specifically the Bondi or maybe the Clifton—is probably your best bet."
At $170, Nicole isn't sure if she'd buy them again, but recognizes they're worth it for the right buyer, who would be a cushion-focused distance runner looking to stray from the typical dad vibe aesthetic that's ubiquitous across running shoe brands.
| | |
| --- | --- |
| Upper construction | Engineered mesh |
| Heel-to-toe drop | 6 mm |
| Special features | Double CloudTec® cushioning |
Best Long-Distance Racing Shoes: Adidas Adios Adizero Pro 3
Good for: Racers who want a race day-specific shoe
Designed specifically as marathon shoes, the Adidas Adios Adizero will have you saying "Adios!" to all of your competitors out on the route. Okay, they won't win the race for you, but they can certainly help.
According to tester Nicole, the Adios Adizero Pros are by far the most responsive running shoes she's ever tried. "These are the springiest, most cushioned shoes I've ever worn. It's kind of wild, actually," she says. "There is so much energy return, and they would be great for half-marathon or marathon training."
Aesthetically, "these are super modern and fun," Nicole says. "The sole is a geometric shape and the upper is literally sheer with a bent-down heel tab—very unique overall."
The upper is described as a "textile" upper, but according to Nicole, "it's basically like mesh and literally see-through." These definitely wouldn't be good for precipitation, but we hope that on race day you're encountering only clear skies.
There are three layers of foam in the sole, which Nicole says she can definitely feel while wearing the shoes. "The experience this shoe gives is unlike anything I've experienced before—they are insanely springy and cushioned…you feel like you're going to fly up with every step."
If that's not exactly what you want on race day, then what is?
The ultra-lightweight and sheer upper likely isn't as durable as the traditional upper on running shoes. That, combined with the eyebrow-raising $250 price tag, is likely why many runners save this type of shoe (similarly to the Nike Vaporflys and Alphaflys, Saucony Endorphins, and ASICS Metaspeeds) for race day only.
Nicole did say she had to return the shoes for a smaller size initially, but that the exchange process was simple and easy. If you tend to be in between sizes, consider sizing down if you decide to go after these shoes.
| | |
| --- | --- |
| Upper construction | Ultra lightweight woven textile |
| Heel-to-toe drop | 8 mm |
| Special features | ENERGYRODS for force transfer |
Other Long-Distance Running Shoes We Researched
How We Picked and Tested the Best Long-Distance Running Shoes
Testing, testing, 1, 2, 3! At GGR, product testing is the foundation of everything we do. We make recommendations based on how products perform in our day-to-day lives.
When it comes to shoes, we wear them for miles of walking and running, from intense cardio sessions to simply walking around town running errands. (See the best walking shoes, too.)
Our product testers, who are also certified personal trainers and longtime fitness enthusiasts, rate each pair of shoes for various criteria, including: fit, comfort, durability, construction, performance, weatherproofness, stability, shock absorption, transitions, traction, and value.
Benefits of Good Long-Distance Running Shoes
No matter what type of runner you are, it's important to find well-fitting shoes that are designed to support the workouts you intend to do. Shoes designed for long-distance running specifically generally provide the following benefits:
Lightweightness
Shock absorption
Energy return/bounciness
Assistance with the foot roll
Together, these features help you go the distance by minimizing the amount of impact your joints take, as well as keeping your stride efficient and strong in terms of technique.
Buying Guide: What to Look for in Long-Distance Running Shoes
As you search for your new pair of long-distance running shoes, consider these factors.
Comfort and Fit
An improperly fitting shoe means blisters and sore feet. A properly fitting shoe means speed, efficiency, and a higher probability of obtaining a coveted runner's high since you won't be worried about how bad your feet hurt.
Midfoot: Around the arch and the bony top part of your foot, the shoe should feel snug and supportive but not too tight
Insole: This is the part of the shoe that lies immediately underfoot. It should provide ample arch support, but not roll your foot into a supinated position.
Tongue and lacing: You want a tongue that's flexible and soft, and laces that aren't too starchy or stiff.
Heel counter: Your heel should fit snugly, like it's being cradled—but not squeezed.
Toe box: This area around your forefoot should feel spacious, not constricting.
Upper: The textile on the top of the shoe should feel flexible but durable, and breathable
Cushioning and Shock Absorption
The midsole is arguably the most important component of a running shoe. This typically thick foam layer lies under the insole and is responsible for how you feel at each foot strike. Some midsoles are constructed of simple foam, while others have rockers to assist with transitions, components to combat overpronation, or other features specific to certain populations or problems.
Traction
If you plan to run in wet conditions or on trails, definitely give the rubber outsole a good inspection. The deeper the lugs, generally, the better they will grip the terrain below your feet.
Weatherproofness
Most road running shoes are designed with engineered mesh uppers for breathability. You may have to sacrifice some of that breathability if you run in wet conditions or on trails where the terrain is wet. An upper made of a water-resistant material like GORETEX is better for wet weather.
FAQs
How are long-distance running shoes different from regular running shoes?
In general, long-distance running shoes are designed to absorb more shock and provide ample responsiveness, so your legs can keep moving for more time. If a shoe isn't explicitly marketed as a long-distance shoe, it's probably still fine for moderately long distances. Once you get into the realm of full marathon training, you may want to consider more specifically designed road running shoes.
Should I have more than one pair of running shoes?
Some people, generally the more experienced runners, like to have more than one pair of shoes for different training needs. For instance, a marathon runner might have a pair of daily trainers that they use for the majority of their runs, from short to long distances. They may have a specific pair race day, perhaps one with a carbon fiber plate to make their stride more springy. And then distance runners might have another pair for speed work, which would likely have a very bouncy foam midsole. 
You definitely don't need to buy a bunch of new pairs of shoes to become a better runner. You can certainly get away with just one daily training shoe that's optimized for different types of sessions. If you plan to run long distances, your best bet is to go with a lightweight distance running shoe, which you can use for other types of runs with no problems.
What is the best running shoe brand?
Some of the top running shoe brands are HOKA One One,  Brooks, ASICS, Saucony, Salomon, Altra, and Mizuno. Nike, Adidas, New Balance, and other broader brands also make many great running shoe models.