We test and review fitness products based on an independent, multi-point methodology. If you use our links to purchase something, we may earn a commission. Read our disclosures.
Whey protein is often considered the gold standard when it comes to protein powders, but if you're shifting to a more plant-based diet, you may be looking for another suitable option. And when it comes to plant-based protein powders, hemp is one of the best.
Unlike other plant options, hemp is a complete protein, which means it contains all nine essential amino acids. Most plant-based proteins are missing at least one or two. However, you do have to manage your expectations a bit.
Hemp protein typically doesn't provide as many grams of protein per serving as animal-based proteins like whey, and it's lower in some specific essential amino acids, like lysine and leucine, but it has other notable benefits. It's higher in fiber, offers essential fatty acids, and is loaded with minerals and antioxidants. Of course, like any other supplements, there are good hemp protein powders and bad ones.
To help you out, we put together this list of the best hemp protein powders you can get right now. They all provide at least 12 grams of protein per serving, and one has as much as 27 grams.
Medical disclaimer: This article is intended for educational and informational purposes only. It is not intended as a substitute for medical advice. For health advice, contact a licensed healthcare provider.
Best Hemp Protein Powder in 2023
Best Overall Hemp Protein Powder: Sunwarrior Hemp Protein
Good for: Anyone looking for a high-quality, unflavored hemp protein powder
The Sunwarrior Hemp Protein is a high-quality option with no gimmicks. It has one ingredient—organic hemp seed protein—that's naturally gluten-free, dairy-free, and soy-free. And because this hemp is grown organically, it's also non-GMO.
There are 15 grams of protein per scoop, and the brand includes a breakdown of the exact amino acid profile, or how many milligrams are coming from each amino acid. Each scoop also provides 3.5 grams of fat and 8 grams of carbohydrates (5 of which come from fiber).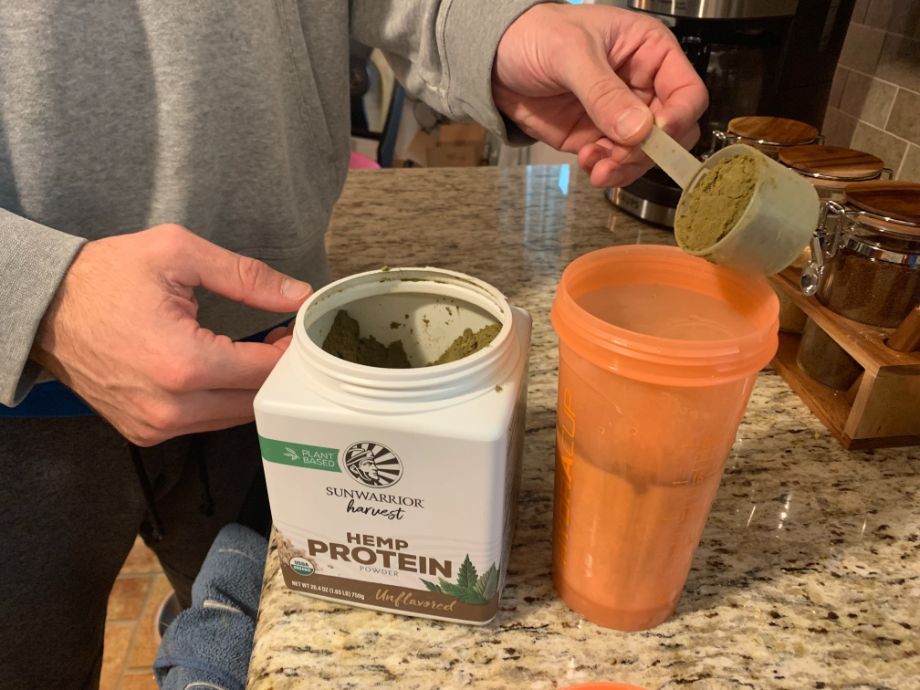 The downside is there are no flavor options, but that also means there's no added sugar and it won't really change the vibe of whatever you mix it into (outside of giving it a slightly more nutty taste). You can use it for smoothies and oatmeal, or to bump up the protein content in your baked goods, and users say it blends in smoothly.
In addition to the protein powder's individual merits, all Sunwarrior products are manufactured in the brand's own facility in Utah so they can control what goes into them. The ingredients are sustainably farmed, harvested at peak season (for maximum nutritional value), and third-party tested for purity.
Jacob Penner, USAW Level 1 Trainer and member of the GGR expert panel, tried the unflavored Sunwarrior hemp protein and thought it was fine, taste-wise. "I mixed it with cocoa and PB2 in a blender cup with milk. You can taste the hemp powder; if you don't mind the plant-y taste, this is just fine. It's not delicious, but it's not gross."
| | |
| --- | --- |
| Price per serving | $1.12 |
| Protein per serving | 15 grams |
| Sweeteners | None |
| Flavor options | Unflavored |
Best Budget Hemp Protein Powder: Evo Hemp90
Good for: Those who want to go plant-based on a budget
The Evo Hemp90 protein powder is another high-quality option that breaks down to just 50 cents per serving. Like the Sunwarrior, it only has one ingredient—hemp protein powder—but it's not certified organic, which is likely the reason for its comparatively lower price.
However, Evo Hemp calls out that hemp plants naturally don't need any chemical pesticides or fertilizers to grow, and the company uses regenerative farming practices to harvest its hemp. In other words, you're still getting a good, clean protein source without the USDA organic label.
RELATED: Best Clean Protein Powder
There are 27 grams of protein per 30-gram serving, making it one of the most concentrated hemp seed protein powders on this list. And it's balanced to ensure a 3:1 ratio of omega-6 to omega-3 essential fatty acids, which is ideal for optimal health benefits and mitigating health risks, like heart disease1.
"This one has an impressive amount of protein for a hemp powder," says GGR editor Frieda Johnson. "I like this one to put on oatmeal because even without using the whole 4-Tbsp serving, which is a bit more than I typically want on my oatmeal, I can get a decent protein boost."
This protein powder also has fewer carbohydrates—there's only 1.5 grams that come from dietary fiber—so it's more suitable for those on a low-carb or keto diet (or anyone who just wants their carbs to come from elsewhere).
| | |
| --- | --- |
| Price per serving | $0.50 |
| Protein per serving | 27 grams |
| Sweeteners | None |
| Flavor options | Unflavored |
Best Hemp and Pea Protein Blend: Now Sports Plant Protein
Good for: Anyone looking for a blend of plant proteins
Blending plant proteins can help ensure you get all the essential amino acids and nutrients you need for optimal health. This is less of a concern when hemp's involved, since it's a complete protein, but if you still like to stick to this general rule, the Now Foods Plant Complex protein powder is a good option.
RELATED: Best Vegan Protein Powder
It combines three proteins: hemp, pea, and quinoa. Each serving has 22 grams of protein, 3.9 grams of branched-chain amino acids (BCAAs). and 1.8 grams of arginine, an amino acid that has been shown to enhance protein synthesis and muscle repair2, boost muscle power, and improve blood flow.
Because of the other two proteins, it is a little higher in carbohydrates than some of the other hemp-only options. Each serving provides 2 grams of fat, 7 grams of carbohydrates and 0 grams of fiber.
As the name implies, Now Sports really markets its supplements toward athletes, so the brand undergoes third-party testing to ensure quality and purity. This protein powder has an Informed Choice certification, which means it's been tested and found to be free of a long list of ingredients that are banned in competitive sports.
This is one of the only flavored options on the list. You can choose from Vanilla or Mocha, both of which are sweetened with a combo of xylitol and stevia, so none of the carbohydrates are coming from sugar. There are also no artificial flavors, colors, or sweeteners. This protein powder is also dairy- and soy-free.
GGR performance editor Anthony O'Reilly said that this protein powder was "Inoffensive, but not exciting. I wish more of the vanilla came through in the taste but I found it to be overpowered by the liquid." He also found that he experienced some digestive distress after drinking this, which probably won't happen to most people but it's worth noting.
| | |
| --- | --- |
| Price per serving | $1.39 |
| Protein per serving | 22 grams |
| Sweeteners | Organic stevia, xylitol |
| Flavor options | Vanilla, Mocha |
Best Organic Hemp Protein Powder: Nutiva Organic Hemp Protein
Good for: Those who prioritize organic ingredients (and want a cold-pressed protein powder)
The Nutiva Organic Hemp Protein Powder has two main things going for it. First, it's certified organic, which is obviously a plus for those who want an organic protein powder. Second, it's made from whole raw hemp seeds that have been cold-pressed to make the protein powder.
According to a report in the Journal of Agricultural and Food Chemistry3, heat can reduce the digestibility of hemp protein by as much as 10%, so cold-pressing ensures that you're getting the most out of the supplement.
The nutritional profile depends on which flavor you choose. We recommend sticking with the unflavored Peak Protein, which only contains organic hemp seed protein, if you're really trying to up your protein intake for the day.
GGR editor Frieda Johnson says that while although she does wish there was more protein in each serving of the Peak Protein, just given the volume, she does like the taste. "It has a slightly nutty, bitter flavor," Frieda says. "I thought it was quite good in oatmeal with some dried fruit, cinnamon, and a drizzle of maple syrup. I didn't use the full serving amount, however, as it's a whopping 4 Tbsp, which is a bit much for a bowl of oatmeal."
The Vanilla flavor is sweetened with a combo of organic coconut sugar and organic stevia extract, so it is higher in carbohydrates and sugar. For comparison, the unflavored powder has 8 grams of carbs, 6 grams of fiber, and 1 gram of sugar, while the Vanilla version contains 13 grams of carbohydrates, 5 grams of fiber, and 8 grams of sugar. The Vanilla flavor is also lower in protein, with only 10 grams per serving.
| | |
| --- | --- |
| Price per serving | $1.02 |
| Protein per serving | 15 grams |
| Sweeteners | Organic coconut sugar, organic stevia extract (vanilla); none (unflavored) |
| Flavor options | Unflavored or Vanilla |
Best Hemp Protein Powder for Smoothies: Manitoba Harvest Hemp Yeah! Max Protein
Good for: Anyone who wants to use protein powder mainly as a smoothie add-in
Manitoba Harvest makes a handful of hemp protein supplements, but we're calling out the Hemp Yeah! Max Protein as the best protein powder for smoothies. Typically, smoothies are made with a base of fruit and some type of plant-based milk, so they're naturally low in protein and healthy fats (unless you get creative).
One serving of this protein powder can add 20 grams of protein, 4.5 grams of omega fatty acids, and 3 grams of insoluble fiber. It's higher in protein than other hemp supplements because Manitoba uses a hemp protein concentrate that gives you more bang for your buck.
This one is unsweetened so it won't really add to the flavor of your smoothies, unless you like the nutty flavor hemp, but it doesn't take away from it either. Because of this, it's a good option to really let all the other smoothie mix-ins shine.
It only has two ingredients—the hemp concentrate and oregano extract, which serves as a natural preservative. It's also USDA-certified organic and carries a Non-GMO Project Verified seal.
Another bonus: Manitoba Harvest sends its products out for third-party testing and makes the certificates of analysis (COAs) available directly on the website. When you get your package, you just have to type in the lot number and you'll be able to see a full breakdown of the testing results.
| | |
| --- | --- |
| Price per serving | $1.36 |
| Protein per serving | 20 grams |
| Sweeteners | None |
| Flavor options | Unflavored |
Best Non-GMO Hemp Protein Powder: Bob's Red Mill Hemp Protein
Good for: Those looking for a lower-protein-per-serving option
Bob's Red Mill is an unassuming brand that's been around since 1978, and has made quality products ever since. This hemp protein contains just one ingredient (the protein itself) and, in addition to being Non-GMO Project Verified, it's also kosher.
The protein per serving is on the lower side—it has 12 grams per one-fourth cup—but this is a good option if you're just trying to add a little more protein to your day. You might not use it to make a post-workout protein shake, but you can mix it into your oatmeal or add it to protein pancakes for some satiation (and fiber).
This particular protein is one of the highest fiber options on the list, too. It has 13 grams of total carbohydrates, 11 grams of which come from fiber, so it's a good option if you're having some digestive troubles and you're looking for a way to up your fiber intake.
RELATED: Best Fiber Supplements
It's worth noting that while this hemp protein used to be produced in a gluten-free facility, that's no longer the case. Hemp protein is naturally gluten-free, but Bob's Red Mill does call out that there might be some cross-contamination issues if you're really sensitive.
| | |
| --- | --- |
| Price per serving | $1.20 |
| Protein per serving | 12 grams |
| Sweeteners | None |
| Flavor options | Unflavored |
Other Hemp Protein Powders We Researched
Earth Circle Organics Hemp Powder: There's nothing wrong with his protein powder as far as quality goes, but some users say it just doesn't taste that good—and we think protein powder should be as enjoyable as possible.
Terrasoul Superfoods Organic Hemp Protein Powder: This protein powder is organic, which is great, but some reviewers say it doesn't dissolve well and feels chalky, and that's a big "no thank you" for us.
Food to Live Hemp Protein Powder: Reviewers say this hemp protein powder doesn't taste as good as others and it's a bit granular, so we left it off the list since we think there are better options out there.
How We Picked and Tested the Best Hemp Protein Powder
When choosing the hemp protein powder supplements for this roundup, we considered three main things: the ingredients, the protein per serving, and whether or not the supplement was third-party tested. We relied on our background as nutrition coaches and certified personal trainers to weed through the subpar options and give you a list of only the best.
Ingredients
There are a lot of junk protein powders out there with tons of fillers, artificial sweeteners, and generally bad ingredients that aren't doing you any favors. When choosing hemp protein powders, we looked at the ingredient list and made sure all the brands we included kept things simple.
Most of them have only one ingredient (hemp protein powder) but if we chose a flavored option, we made sure it contained only natural ingredients and sweeteners, and very few (if any) fillers.
Protein Per Serving
If you're adding a protein powder to your day, it's a pretty obvious assumption that you're trying to increase your protein intake. Whether you're using protein shakes to stay full between meals, or you want to build some muscle mass, the protein you choose needs to have a decent amount of protein in it.
Compared to whey protein, plant-based proteins typically have fewer grams per serving, but we still wanted to make sure the supplements we were recommending did the trick. To make our list, the supplement had to have at least 12 to 15 grams of protein per serving—and the serving size had to be reasonable, too.
Third-Party Testing
Because the supplement industry isn't tightly regulated—it's actually barely regulated—we think it's important for companies to put their own checks and balances in place. That means opting into third-party testing whenever possible. Third-party tests ensure that you're getting what the label actually says you are.
Most of the companies that made our list undergo third-party testing and have certifications that backup their claims. And if they don't, they have strict processes in place to track production of their protein powder from the farm to the shelf.
Benefits of Hemp Protein Powder
There are a lot of plant-based protein powders out there, so why should you choose hemp? Here are six health benefits of the superfood.
It's one of only a handful of plant-based foods that's a complete protein; in other words, it contains all nine essential aminos.
It's rich in arginine4, a precursor to nitric oxide that can help enhance exercise performance and is good for heart health.
It has a healthy ratio of healthy fats, specifically omega-6 and omega-3 fatty acids, which can promote heart health.
It contains fiber. Many protein supplements are completely devoid of fiber, which can keep you regular.
It's rich in a handful of minerals, like calcium, magnesium, zinc, and potassium. It's also a good source of vitamin E.
It can help lower postprandial (after a meal) blood sugar5 and insulin levels.
It contains antioxidants6 that may help normalize blood pressure, fight off inflammation, and protect against chronic diseases, like cancer.
Dosing and Interactions
Even natural supplements have the potential to interact with other supplements and medications, so you have to be mindful of what you're adding to your day, especially if you're on a prescription.
Hemp seeds can slow blood clotting, so it can interact with anticoagulant and antiplatelet drugs. Taking diuretics with hemp protein powder may also decrease potassium levels, which can negatively affect heart function.
If you're on medication, or you've never taken hemp protein powder before, check in with your healthcare provider to make sure it's safe for you.
FAQs About Hemp Protein Powder
Is Hemp Protein Powder Better Than Whey Protein Powder?
It really depends on your goals and preferences. From a bioavailability7 and amino acid perspective8, whey protein powder is unmatched. But if you prefer to stay away from dairy products, then hemp protein is a better option for you.
Can You Taste Hemp Protein Powder?
It depends what you mix it with, but most of the time you can taste hemp protein powder, at least a little bit. Most people describe it as an earthy or nutty flavor. If you want to mask the taste, you can mix it with some fruit and flavored almond milk in a smoothie, or opt for a flavored version instead of unflavored.
What Are The Side Effects of Hemp Protein?
Hemp protein is generally very safe, but there's still the chance for side effects, especially if you add too much too quickly. Because some hemp protein is high-fiber, the most common side effects are gastrointestinal symptoms, like bloating, gas, and diarrhea. Eventually, your body should adjust, but you can help mitigate any issues by increasing your intake slowly over time. In other words, start with a half a scoop of protein powder and work your way up until you get to a full serving.
Does Hemp Protein Have THC in It?
No, hemp protein doesn't have any THC in it. It's made from the seeds of the same family of cannabis plants, but there are no psychoactive properties.
These statements have not been evaluated by the Food and Drug Administration. This product is not intended to diagnose, treat, cure, or prevent any diseases.
References
1. Rodriguez-Leyva, D, Pierce, GN. The cardiac and haemostatic effects of dietary hempseed. Nutr Metab (Lond). 2010;7:32. doi:10.1186/1743-7075-7-32
2. Pahlavani, N, Entezari, M, Nasiri, M. et al. The effect of L-arginine supplementation on body composition and performance in male athletes: a double-blinded randomized clinical trial. Eur J Clin Nutr. 2017;71, 544–548. doi:10.1038/ejcn.2016.266
3. House, JD, Neufeld, J, Leson, G. Evaluating the quality of protein from hemp seed (Cannabis sativa L.) products through the use of the protein digestibility-corrected amino acid score method. J Agric Food Chem. 2010;58(22):11801-11807. doi:10.1021/jf102636b
4. Rodriguez-Martin, NM, Montserrat-de la Paz, S, Toscano, R, et al. Hemp (Cannabis sativa L.) protein hydrolysates promote anti-inflammatory response in primary human monocytes. Biomolecules. 2020;10(5):803. doi:10.3390/biom10050803
5. Mollard, RC, Johnston, A, Serrano, Leon A, Wang, H, Jones, PJ, MacKay, DS. Acute effects of hemp protein consumption on glycemic and satiety control: results of 2 randomized crossover trials. Appl Physiol Nutr Metab. 2021;46(8):887-896. doi:10.1139/apnm-2020-0907
6. Zhang, J, Griffin, J, Li, Y, Wang, D, Wang, W. Antioxidant properties of hemp proteins: from functional food to phytotherapy and beyond. Molecules. 2022;27(22):7924. doi:10.3390/molecules27227924
7. Devries, MC, Phillips, SM. Supplemental protein in support of muscle mass and health: advantage whey. J Food Sci. 2015;80 Suppl 1:A8-A15. doi:10.1111/1750-3841.128028. Gorissen, SHM, Crombag, JJR, Senden. JMG, et al. Protein content and amino acid composition of commercially available plant-based protein isolates. Amino Acids. 2018;50(12):1685-1695. doi:10.1007/s00726-018-2640-5