We test and review fitness products based on an independent, multi-point methodology. If you use our links to purchase something, we may earn a commission. Read our disclosures.
Get a different kind of jolt by saving money on C4 products by using our exclusive discount code.
Taking a look at the supplement aisle can be overwhelming, especially when it comes to pre-workout and energy drinks–and that's before the caffeine kicks in. But one brand you'll see just about everywhere is C4, and with good reason. The brand doesn't put a ton of caffeine in its products, and also loads them up with amino acids to help boost your performance.
If you're wondering if there's a C4 coupon code to save money on your next purchase, you've come to the right place. Garage Gym Reviews has an exclusive coupon to help you save money sitewide, and we'll also fill you in on other ways you can save money the next time you visit C4energy.com.
How to Save Money on C4 Products
GGR20: If you're looking to make a one-time purchase, you can use our C4 Energy coupon code, GGR20, to save 20 percent off any item in the C4 store. This code won't work if you subscribe to receive an item every few weeks. 
Subscription: Let's say you know you're going to want another pre-workout or any other select item within a month. You can sign up to get regular subscriptions of your favorite product at regular intervals.
Refer a Friend: You can send a friend a referral code through C4's website, and they'll get $20 off their first order (it must be $50 or more). You'll then get the same once their order is processed.
How to Apply the C4 Coupon Code
Step One: To use our code, simply load up your product and make sure you're only making a one-time purchase. At checkout, enter code GGR20 and you'll automatically save 20 percent off your order.
Step Two: Select the item you want, and click subscribe and save. At the checkout page, you'll be able to pick how often you want the item shipped to you.
Step Three: Go to C4's website and find the "Refer a Friend" page. Enter their email address, and convince them to order $50 worth of C4 products so you can get $20 off your next order.
When Do C4 Products Go on Sale?
C4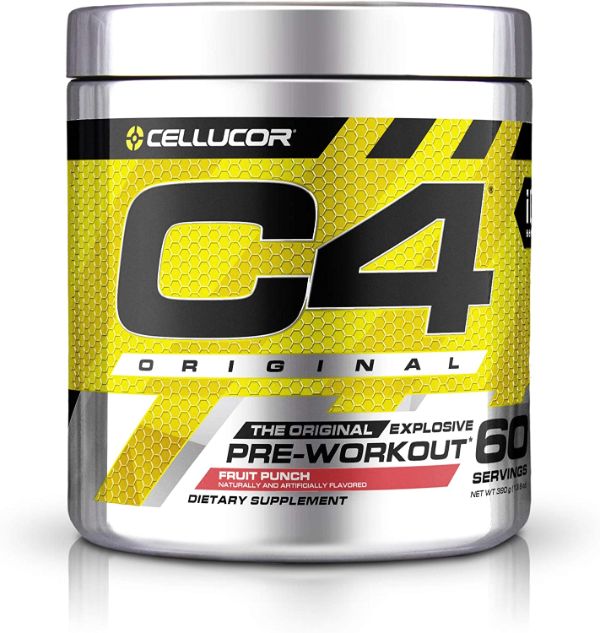 Cellucor C4 Pre-Workout
Cellucor's C4 Original Pre-Workout is stacked with high-quality, powerful ingredients that the company designed to enhance muscular endurance, foster a faster recovery, delay the onset of lactic acid, and increase focus, lean muscle mass, and motivation. The key ingredients that, when combined are said to provide you with the boost you're looking for, include CarnoSyn Beta-Alanine, Creatine Nitrate, Arginine AKG, and a proprietary Explosive Energy Blend containing 150 milligrams of caffeine and L-Tyrosine.  Cellucor C4 comes in powder form that dissolves well in water. There are five sugar-free flavors, and, taken 20 to 30 minutes before a workout, C4 is stated to lead to faster and more noticeable results, whatever your fitness goals may be. Plus, with a price per serving of about 80 cents, it's one of the most affordable pre-workouts on the market. Some users stated that there was an unpleasant aftertaste, and several also had issues with the powder crystalizing before finishing it—both things to be aware of.* These statements have not been evaluated by the Food and Drug Administration. This product is not intended to diagnose, treat, cure, or prevent any disease.
Like most other companies in the fitness industry, C4 runs sales around major holidays. Check out our holiday sales pages to learn more about the best sales on home gym equipment and supplements.
What We Love About C4
The pre-workout tingle can be fun, but caffeine can have some serious side effects if not dosed properly. One thing we love about C4 is they only use about 150-200 mg of caffeine per dose, which is enough to energize you for a long workout without the side effects that higher doses can have (such as irregular heartbeats, dizziness, and caffeine dependency).
Plus, C4 Energy offers a variety of flavors and its pre-workouts come out to $1 per serving, one of the most affordable options on the market. It also comes with 1.6 grams of the amino acid beta-alanine, which can reduce muscular fatigue.
Why Buy From C4?
Responsibly-dosed pre-workouts
Great flavor options
Affordable prices
Can use promo code GGR20 to save 20 percent off C4 energy drinks