We test and review fitness products based on an independent, multi-point methodology. If you use our links to purchase something, we may earn a commission. Read our disclosures.
If you're looking for a great, inexpensive way to get a workout for your entire body, look no further than our list for the best slam balls for your home gym. These simple, sand-filled medicine balls can add a lot of versatility to your current gym equipment, and in many cases, might save you some money over purchasing some of the best full-body workout machines.
Our team of certified personal trainers, competitive athletes, and coaches researched slam balls from top brands, which I then had the privilege to test out, noting their grip, weight, and durability. Using our knowledge of fitness equipment and the fitness industry, we compiled our top picks. Read on to see which of our favorite slam balls might be the best fit for your needs.
The Best Slam Balls
Best Overall: Living.Fit Slam Ball
Good for: Anyone looking for a durable slam ball with great grip and a dead bounce
Living.Fit gets our pick for the best slam ball overall because it presents great value at a reasonable price. In testing, it felt great to slam; the sand and air in the ball allowed for a nice dead bounce. Along with that, the slam ball also has a triangular tread pattern, which allows for a better grip, especially after a little bit of sweating.
The Living.Fit slam balls come in 16 different weight options, ranging from 5 pounds all the way up to 100 pounds, and the diameter ranges from 9 inches to 13 inches, depending on how heavy the ball is. Whether you are wanting a light ball for conditioning, or a heavy slam ball to work some strength training, Living.Fit has a slam ball the right size for you.
Many slam balls come in a durable rubber shell and filled with sand, and Living.Fit is no different. The one difference that Living.Fit does have is that these slam balls come with a 2-year warranty for home use, which means these slam balls are meant to last. And if they don't, they'll be replaced. In my testing, the Living.Fit slam balls felt like they were made with quality materials, and will last.
With that said, these are pricier slam balls. They are by no means the priciest, but are on the higher side of mid-range slam balls; a 20-pound ball will cost you right around $55. They do offer free shipping however, which is always a plus. If you are okay with the price, the Living.Fit Slam Balls are a solid choice for your home gym.
| | |
| --- | --- |
| Price of 20-lb ball | $54.99 |
| Weight options | 5, 10, 15, 20, 25, 30, 35, 40, 45, 50, 55, 60, 70, 80, 90, 100 lbs |
| Diameter | 9" (up to 20 lbs), 11" (25 – 60 lbs), or 13" (70 – 100 lbs) |
| Materials | Rubber shell, sand |
Best Slam Ball Set: REP Fitness Slam Ball
Good for: Those looking for a broad range of classic slam balls in a variety of weights
If you are searching for a good place for a set of classic slam balls, REP Fitness has you covered. Offering a sizable range of weight options from 5 pounds all the way to 70 pounds, REP's slam balls will be great for whatever slam ball exercises you wish to use them for. It's sure to last some throws and slams with its double-thick shell.
The slam ball's slightly textured surface is surprisingly grippy, although the texture isn't as aggressive as a slam ball with tread patterns. The slam ball had a bit of air in it, too, which is supposed to be part of the slam ball with the sand—adding to the ball's dead bounce. This had more than others I tested, but it also has an air valve, where you can add or subtract air from the ball to suit your preference (if the amount of air bothers you).
With the heaviest weight available being 70 pounds, it may not cover weight training for a stronger athlete. However, for the majority of athletes, these slam balls will help you accomplish your fitness goals.
RELATED: REP Fitness Sabre Bar Review
| | |
| --- | --- |
| Price of 20-lb ball | $44.99 |
| Weight options | 5, 10, 15, 20, 25, 30, 35, 40, 45, 50, 60, 70 lbs |
| Diameter | 9-10" (up to 30 lbs), 11-12" (35-50 lbs), or 13-14" (60-70 lbs) |
| Materials | Double-thick rubber shell, sand |
Best Slam Ball for Grip: Titan Fitness Rubber Tread Slam Ball
Good for: Anyone needing a slam ball with great grip even with a bit of sweat
In all of the slam balls I tested, the Titan Fitness Rubber Tread Slam Ball for sure had some of the best grip. Made with a tire tread pattern covering the entire surface, this slam ball remained grippy and easy to grab even after I broke a sweat.
Another great thing about these slam balls is the range of weights available for cardio work or strength training. Although they jump in 10-pound increments, the slam balls go all the way up to 100 pounds…plus a massive 150-pound slam ball. If you are looking to slam some heavy weight, this is one of the few brands to offer this heavy of a ball.
RELATED: Cardio vs Strength Training
Made with a high-quality rubber tread, the shell was built durable, and lasted great through my rigorous and perpetual slamming (I was trying my best to break these slam balls). Depending on the weight, the slam balls range from 10 inches to 14 inches in diameter, making them compact enough to hold for functional training and core work, like Russian twists.
Some customers of Titan Fitness have had issues with the shipping of products—barbells, power racks, and others—in a timely manner, or getting the right products. While my slam ball took a day or two longer than expected, I had no issues with my shipment. So long as there is no issue in shipping, these are a durable, grippy slam ball at a competitive price.
| | |
| --- | --- |
| Price of 20-lb ball | $44.99 |
| Weight options | 10,20, 30, 40, 50, 60, 70, 80, 90, 100, 150 lbs |
| Diameter | 10" – 14" |
| Materials | Rubber tread shell, sand |
Best Classic Slam Ball: Rogue Echo Slam Ball
Good for: Gym enthusiasts looking for the classic feel of a slam ball filled with sand
Having owned a CrossFit gym before, I appreciate the dead weight of a simple, old school slam ball. Light texture, minimal air—just a small ball filled with sand that would start to leak after a few months. Rogue Fitness provides their Echo Slam Balls with that classic feel, except they update the slam ball to withstand a lot of use. Backed by a 2-year warranty, these slam balls will endure a beating.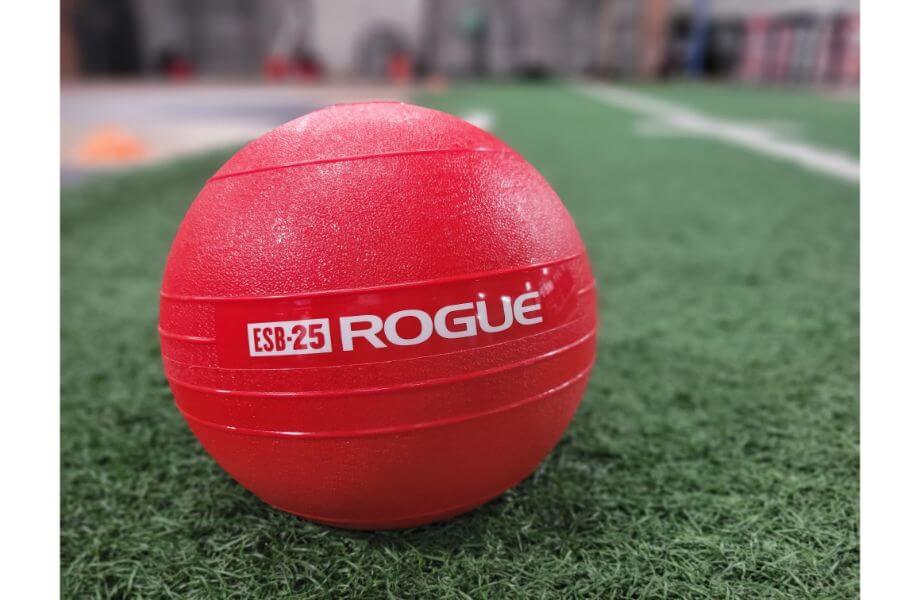 Offering weights up to 50 pounds, these slam balls also remain compact, with a 9-inch diameter on lighter weights and 10 inches for heavier weights. A light textured surface keeps this ball grippy, although it may not have the best grip once your hands are sweaty.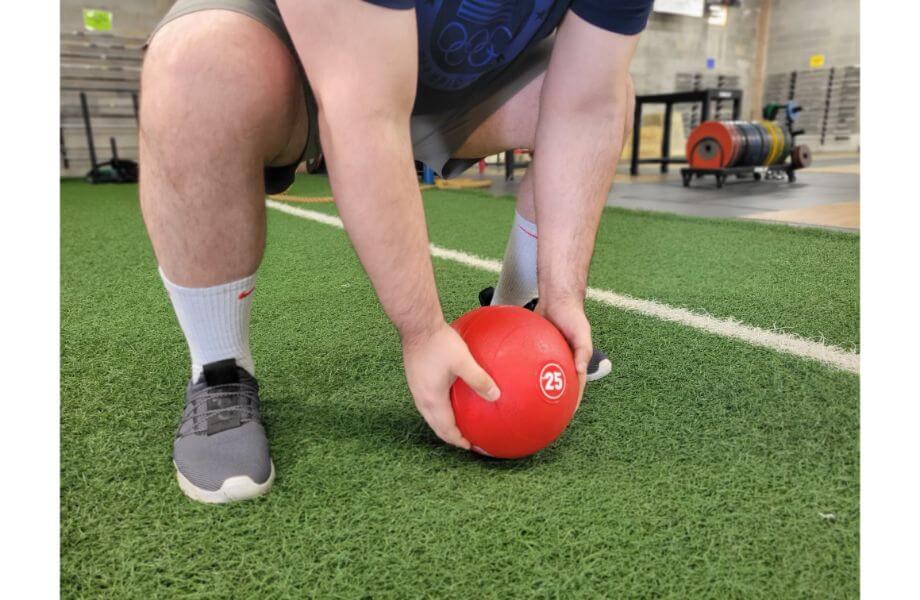 Although these are nice slam balls, they are pretty expensive, with a 20-pound ball costing $80 dollars, plus shipping. Plus, the Echo slam balls only go up to 50 pounds, which won't work if you are looking for heavier slam balls for weightlifting. Still, the price may be worth it for these slam balls' great feel and their solid warranty.
| | |
| --- | --- |
| Price of 20-lb ball | $80 |
| Weight options | 10, 15, 20, 25, 30, 35, 40, 45, 50 lbs |
| Diameter | 9" (up to 30 lbs), 10" (35 lbs and over) |
| Materials | Rubber, sand |
Most Durable: TRX Kevlar Medicine Ball
Good for: Those looking for a medicine ball that will endure lots of slams and tosses
Known for their Suspension Trainer, TRX makes some high-quality fitness equipment, and their Kevlar Medicine Balls are no exception. These medicine balls are our pick for the most durable slam ball, and in my testing, they felt very, very solid.
Available in 10-inch and 14-inch diameters, these slam balls range from 4 pounds all the way to 50 pounds. The TRX slam balls have a unique surface, stitched with a durable, heavy-duty Kevlar. With 18 panels and 936 stitches, this was easily the most solidly built slam ball I tested, and possibly one of the best medicine balls on the market.
With that said, this slam ball had the least dead bounce; with enough force, I was able to bounce the slam ball up a couple of feet, which is less ideal for slams than other balls. However, with a little bit of bounce, these slam balls will actually double for wall balls easier than other slam balls. I also tossed the medicine ball against the wall for training the obliques and core muscles, and the ball was able to bounce back comfortably.
RELATED: Free Weights Workouts for Your Home Gym
The worst aspect of this ball is its price. A 10-inch-wide, 20-pound slam ball is about $150, which is a lot more than most others slam balls I looked at. Still, if you are looking for a slam ball that will last, this one definitely will.
| | |
| --- | --- |
| Price of 20-lb ball | $149 |
| Weight options | 4, 6, 8, 10, 12, 14, 16, 18, 20, 25, 30, 35, 40, 45, 50 lbs |
| Diameter | 10" (up to 20 lbs), 14" (all weights) |
| Materials | Kevlar stitched construction |
Best Budget Slam Ball: Yes4All Slam Ball
Good for: People wanting a high value slam ball for a low price
Needing a slam ball for your high-intensity workouts, but don't want to splurge on the price? Our budget option is the Yes4All Slam Ball, and will cover all your bases, on Amazon for under $40 for a 20-pound ball. Also, in my testing, this was a great value—a good quality, durable slam ball with nice grip for a low price point.
One unique option the Yes4All slam balls provide are different color options, and each color also has a different texture pattern, from triangular and tire tread to some pretty unique patterns. I went with the orange slam ball, which had a groovy zig-zag pattern. This provided good grip, although the tread was not as aggressive or grippy as the triangular tread on other slam balls.
This slam ball is made with a durable PVC shell and comes with a one-year warranty. Still, at its cost, I would worry a little about its long-term durability. Along with that worry, these slam balls have a maximum weight of 40 pounds, which is pretty light when it comes to weight options. If you are only looking for budget home gym equipment for conditioning, though, the Yes4All is a fantastic option.
| | |
| --- | --- |
| Price of 20-lb ball | $25 – $36 |
| Weight options | 10, 12, 15, 20, 25, 30, 40 lbs |
| Diameter | 9.6" – 11.8" |
| Materials | Polyester, sand |
Best Quality Slam Ball: Rogue MK D-Ball
Good for: Anyone looking for a solid slam ball with a dead bounce and great feel
While I did not have the opportunity to test out Rogue's MK D-Ball, Garage Gym Reviews founder Coop calls the D-Ball "the gold standard" of slam balls. "It's what I use and is a staple in university and pro facilities," he says about them. I can see why, with the heavy duty matte black shell and standard 14-inch diameter making all of these slam balls a uniform size; it gives them a sharp, professional look.
In addition, the slam balls begin at 14 pounds and 20 pounds, which are common weights for CrossFit workouts. This with their uniform diameter makes them a great slam ball to double for wall balls. Furthermore, beyond 20 pounds, these slam balls go up to 100 and 150 pounds at their heaviest, providing some of the heaviest slam balls on the market. These slam balls can do quite a bit.
With their versatility also comes a hefty price tag, though. The 20-pound slam ball is over $100, and the 150-pound ball is over $500. Slam balls with these high price tags may not be in many home gym owners' budgets. Still, if it does fit into your budget, these are high quality slam balls that can be a great addition to a garage gym.
| | |
| --- | --- |
| Price of 20-lb ball | $114 |
| Weight options | 14, 20, 30, 40, 50, 60, 70, 80, 90, 100, 150 lbs |
| Diameter | 14" |
| Materials | Rubber, sand |
Most Versatile Slam Ball: Hyperwear Steelbell
Good for: Anyone looking for something to slam, but also to be more versatile than a slam ball
The Hyperwear Steelbell is a unique entry in our list of best slam balls, because it isn't quite a slam ball…instead, it's closer to a compact sandbag. Instead of sand, the Steelbell uses steelshot to keep the product compact, but also to make the weight shift dynamically more easily. With its unique design, it's one of the most versatile options I was able to test out.
With a thick neoprene exterior and strong stitching, the Hyperwear Steelbell is able to be gripped easily for a multitude of exercises, including kettlebell swings. Because of its fabric exterior, the Steelbell can be gripped easier and in more ways than a slam ball, for exercises like lunges, presses, and slams, of course. The construction like a sandbag made the Steelbell have a very dead bounce to it.
The Steelbell can get a little pricey, too, especially considering shipping charges. The price of a 20-pound bag is just shy of $80, and shipping will cost extra, too. Because the Steelbell comes preloaded with its steelshot, the shipping charges on it can start to add up. If the price matches your budget, though, the Steelbell can be worth its versatility, being able to be used as a slam ball, sandbag, or even a kettlebell.
See more of our thoughts on this slam bag in our Hyperwear Steelbell review.
| | |
| --- | --- |
| Price of 20-lb ball | $79.99 |
| Weight options | 5, 10, 15, 20, 25, 30, 40, 50, 75, 100 lbs |
| Diameter | Not disclosed |
| Materials | Neoprene exterior, steelshot |
Best Slam Ball for Beginners: Rage Fitness Slam Ball
Good for: People looking for a simple, classic slam ball to use, at a low price point
The Rage Fitness Slam Ball can be a great choice for people beginning to dabble in slam balls and odd-object training. These slam balls are inexpensive and provide a decent range of beginning weights to use. Starting at 10 pounds, the slam balls are available up to 50 pounds.
For anyone looking to begin adding odd objects to their home gym, the Rage slam balls can be a great place to start.
The Rage balls are made with a heavy duty rubber shell, with sand on the inside. There is an air valve to relieve air pressure—or to add it—from the slam ball. They give off a very classic feel, with a slightly textured surface for decent grip as well.
While it felt good in my testing, the texture on the Rage slam balls left me wanting more. In addition to the texture, the durability had me questioning how long these balls would last before leaking sand. They worked fine during my time with them, but the Rage slam balls didn't feel as durable as some other slam balls tested.
Despite the questions I had about durability, these are still a solid set of slam balls, especially for newer people working out with slam balls. If you are more advanced in your workouts, you may prefer some slam balls with heavier weights, or perhaps with better grip than these, though.
| | |
| --- | --- |
| Price of 20-lb ball | $30.38 |
| Weight options | 10, 15, 20, 25, 30, 50 lbs |
| Diameter | 9" – 11" |
| Materials | Rubber, sand |
Other Slam Balls We Researched
We looked at several slam balls before finalizing our list. Here are a few of the other slam balls that we researched and tested:
Titan Fitness Slam Balls: While Titan's standard slam balls are a solid choice with a durable rubber shell, we went with the rubber tread slam balls for our list for the better grip. Also, these slam balls only go to 60 pounds, whereas the rubber tread slam balls go to a whopping 150 pounds.
J/Fit Slam Balls: These budget-friendly slam balls have a variety of unique color options, that each provide a different grip and level of thickness. However, I'd rather have the same grip and durability regardless of which color I purchase.
TRX Training Slam Balls: These slam balls from TRX have a grooved tire tread texture for better grip. However, they will not have the same durability as their Kevlar-made med balls.
How We Picked and Tested
I have a reputation for being a pretty strong guy; I even went to the Olympics for weightlifting. So over the few weeks that I tested these slam balls, I really tried my hardest to break these slam balls down. I trained with these slam balls, and in slamming them, I slammed them—as hard as I could. Testing the durability of these slam balls was the priority. Plus, it's just fun to throw things around.
Along with that, I took these slam balls through different exercises to test versatility: movements like squats, lunges, and twists. This also helped test out the grip and feel of these slam balls, holding them through different movements. After researching slam balls and then testing, I narrowed down our top picks to the list before you, determining which ones would provide better value for your hard-earned money..
Benefits of Slam Balls
If you're on the fence about how slam balls could be useful to a home gym, here are a few useful benefits for these pieces of equipment.
Variety and Versatility
Slam balls are unique in their design to be thrown, tossed, and slammed with (mostly) no fear of breaking or bursting. You certainly can't do that with adjustable dumbbells, at least. So slam balls can be held and used for a variety of exercises that other free weights could handle—squats, presses, med ball cleans—but they can also be used for more explosive, powerful movements that most free weights can't.
You can toss these slam balls, throw them into walls, slam them into the ground, all with no worries of damage to the slam ball. Additionally, the dead bounce of a slam ball ensures it won't bounce back and damage anything else, either.
Core Strength
Slam ball workouts are a great tool for functional fitness, helping you train in movement patterns that repeat in daily life. Picking up, squatting, and throwing a slam ball mimics a lot of activities that could happen in your day-to-day life.
Whenever we functionally train, a major factor is core stability: keeping a strong torso and trunk throughout the movement. Even if your workout doesn't always involve work devoted to the abdominals or core all the time, you will be working on core strength by having to focus on core stability and strength throughout the movement. Over time, this will build you a stronger and more functional core.
Letting Off Some Steam
A gym is already a place a lot of us want to let off some steam and stress from the work day. After especially rough and stressful days, there is something uniquely fun about throwing a ball as hard as you can into the ground repeatedly that will help you unwind. I've heard people say they try to break slam balls with every slam; heck, I do it, too.
(Relatively) Low Price
Ball slams are a unique exercise that gets the entire body involved, from the legs in lifting the ball up, the upper body pressing the ball overhead, and the core keeping stable throughout the movement. You can get a pretty challenging full-body workout with a slam ball for under $100 in most cases (depending on the weight and brand). If you don't have it in your budget for the best functional trainer right now, this can be a great, inexpensive option while you save up.
What to Look for in Slam Balls
There are a few things to keep an eye out for when it comes to finding the best slam ball for you and your home gym.
Outer Shell
The shell of the slam ball needs to be durable, because you are going to be slamming it…a lot. For home gym use, a slam ball won't get near as much abuse as it would at a commercial gym, so it'll last better. However, you still want to find balls made with a heavy duty rubber shell, so it will last through some tough workouts.
Grippiness
Most slam balls will have some sort of textured surface, to help grip the ball easier. The type of texture will vary though. Some will have a bumpy textured surface, while other slam balls use a triangular or tire tread pattern to increase grip. In my experience, both of these grips start off great, but the tread patterns typically will help keep your grip if your grip becomes sweaty.
Weight Range
What weights you're looking for will depend on what you are looking to do with your slam balls. Typically lighter weights (10 to 30 pounds) are ideal for more repetitions and conditioning, while heavier weights (50 or more pounds) will be more awkward to lift and are ideal for strength training and fewer reps. Which exact weights work best for you will depend on your current strength levels as well.
Flooring
Because you are slamming them so often, most slam balls do come with at least a one-year warranty, where a company will replace slam balls that burst or leak in that time period. However, most of these warranties do not cover slamming the balls on rough, abrasive surfaces—notably rough concrete or asphalt. If you don't have smooth floors for your slam ball, you might have to invest in some proper home gym flooring first.
Best Slam Balls FAQs
What is the best slam ball?
Are slam balls any good?
Slam balls can be a great addition to any workout routine. In addition to being able to perform overhead slams, slam balls can be used for a variety of other exercises that can train your core, legs and upper body. A good slam ball will have a durable rubber shell that will last through some slams, too.
What is the best weight slam ball?
Slam balls come in different weights, and the best one for you to get will depend on what type of training you plan on using the slam ball for. Lighter weights, typically under 30 pounds, will allow you to perform higher repetitions in a slam ball workout, and will improve your conditioning. The heavier slam balls will be great weights for lower repetitions, and will focus more on building core strength and developing explosive power.