We test and review fitness products based on an independent, multi-point methodology. If you use our links to purchase something, we may earn a commission. Read our disclosures.
A high-quality barbell is essential for a well-balanced strength training routine, and often becomes the focal point of most garage gym setups. The REP Fitness Sabre Bar is a multipurpose barbell that is equally effective on your standard lifts like the bench press, squat, and deadlift, while simultaneously meeting our Olympic weightlifting needs thanks to the bronze bushings in the loading sleeves.
The REP Sabre barbell, which has both 20-kilogram and 15-kilogram options, offers incredible value, considering the modest price tag, but it's not without fault. We'll dive into what makes it a great barbell and a great buy if you can still find it anywhere, as well as some areas it could stand to improve, in our comprehensive REP Fitness Sabre Bar review.
We've Done the Labor on the Sabre
Our expert product testers, including certified personal trainers, CrossFit Level 1 trainers, nutrition experts, and competitive athletes, have tried and tested more than their fair share of home gym equipment. Our head of content, Kate Meier, owns a Sabre bar and, as of this writing has used it consistently for more than a year. She is a competitive weightlifter who has also used and reviewed bars like the Rogue Fitness Bella Bar.
Looking for an Alternative to the REP Fitness Sabre Bar?
Best Alternative to the Sabre
GGR Score: 4.5
Product Highlights
20-kg Olympic barbell for mixed use

Hard chrome or cerakote coating with Duracoat sleeves

28.5 mm shaft diameter

Dual knurl markings for IPF and IWF

190 KSI tensile strength

Composite bushing
Pros & Cons
Pros
Durable composite bushings reduce noise when dropping
Medium volcano knurling
Dual knurl markings for IPF and IWF
Designed for versatile use
Free shipping
Different color options
28.5 mm shaft provides great grip
Cons
No center knurling, which may be important for some
Shaft diameter not to IWF specs
Bottom Line
The 20-kilogram Colorado Bar from REP Fitness is a durable, versatile Olympic barbell made for heavy powerlifting, Olympic weightlifting, and cycling weights in CrossFit workouts. The barbell has two knurl markings for IWF and IPF specs. The bar is available with a hard chrome finish or different-colored cerakote finishes with Duracoat on the sleeves. With composite bushings, the barbell provides decent spin and durability that helps dampen noise when dropping weights.
The REP Sabre Bar was phased out and replaced by the REP Colorado Bar, a multi-use barbell with very similar specs to the Sabre. Named after the state where REP is headquartered, the Colorado Bar also comes in 20- and 15-kilogram options. It features a 190,000 PSI tensile strength and comes in either a hard chrome or a cerakote coating.
We have used and tested the Colorado bar, giving it perfect or near-perfect marks for its construction, tensile strength, versatility, knurling, and durability. Is this an improvement over the Sabre? Absolutely. It does cost a little more, but is still an affordable barbell.
A Quick Look at the REP Fitness Sabre Bar
REP Fitness was the brainchild of two brothers back in 2011. They began with a vision to create high-quality fitness gear while incorporating more innovation than their competitors. The REP Sabre Bar is a good representation of their vision. It boasts competitive specs at an incredible price point. Its medium knurling depth and bronze bushings make it a great Jack-of-all-trades bar that meets the needs of the novice and pro athlete alike.
Overall, there's a lot to love about the REP Fitness Sabre Bar, and most customers will be completely satisfied with this affordable purchase.
Before You Buy
Consider what lifts you will perform most often. The center knurling on the 20-kilogram version is helpful if you're a back squat maniac and want a little extra traction to hold the barbell in place on your shoulders, but the center knurling will also irritate your chest and/or throat for lifts like the clean or front squat.
Grab a REP Fitness discount code to snatch a sweet deal!
Is the REP Fitness Sabre Bar Worth It?
The REP Fitness Sabre Bar is one of our favorite Olympic barbells because of its value proportion; the 20-kilo version is around $200, and the 15-kilo version is under $200.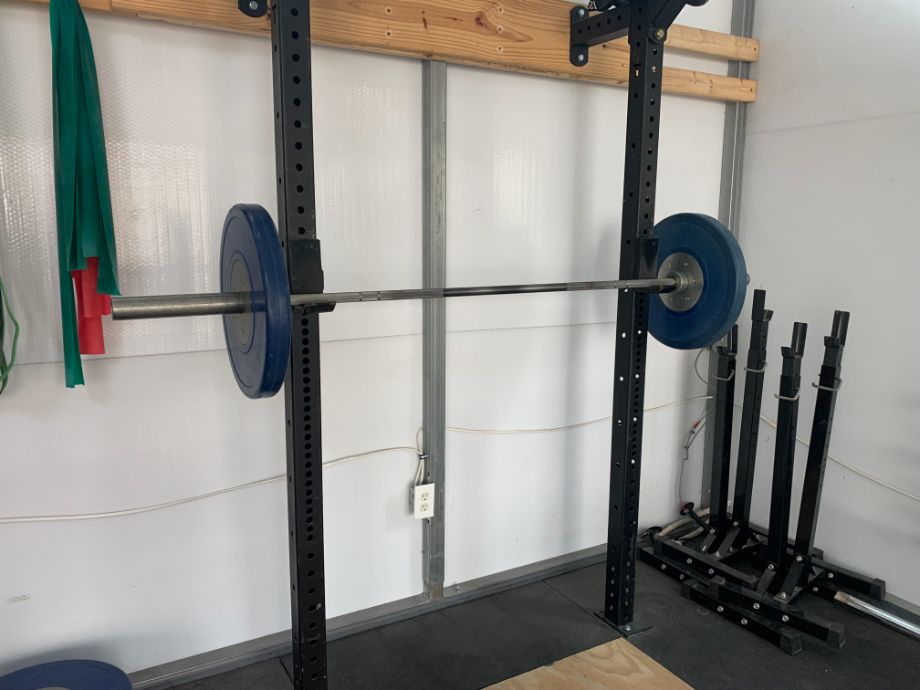 "You can literally use the Sabre bar for anything; it has a good spin for Olympic lifts, but is still solid enough for squats, presses, deadlifts, and accessory work," Kate says.
Its biggest flaws are its comparatively low tensile strength at 150K PSI, which is pretty much the lowest strength we would recommend for heavy lifters. Given the modest price tag, the REP Sabre Bar is well worth the money.
REP Fitness Sabre Bar Specs
| | |
| --- | --- |
| Barbell weight | 15-kg and 20-kg options |
| Overall length | 79.1" for the 15-kg, 87.4" for the 20-kg |
| Loadable sleeve length | 12.6" for the 15-kg, 16.9" for the 20-kg |
| Knurl markings | Dual – IWF and IPF |
| Knurl pattern | Diamond |
| Shaft diameter | 25mm for the 15-kg, 28.5mm for the 20-kg |
| Spin mechanism | Ball Bearing |
| Finish options | Zinc, black zinc |
| Tensile strength | 150K PSI |
| Weight capacity | 1,000 lbs |
| Sleeve diameter | Approximately 50mm |
| Warranty | 1-year warranty |
Workout Experience: Using the REP Fitness Sabre Bar
The REP Fitness Sabre Bar provides an excellent user experience. That's why it's a staple in Kate's home gym setup. As a multipurpose bar, the Sabre performs just as well on a bench press as it does for snatches and jerks.
"I have trained beginners on this bar, and I have used it myself in my own training," says Kate. "While it's not the best barbell for Olympic weightlifters, and it's not the best powerlifting barbell, it is a good multipurpose bar."
At 150K PSI tensile strength, it is capable of handling loads up to 1,000 pounds and, with the smooth sleeve, you can slide on weight plates easily and with less noise than similar bars in the category.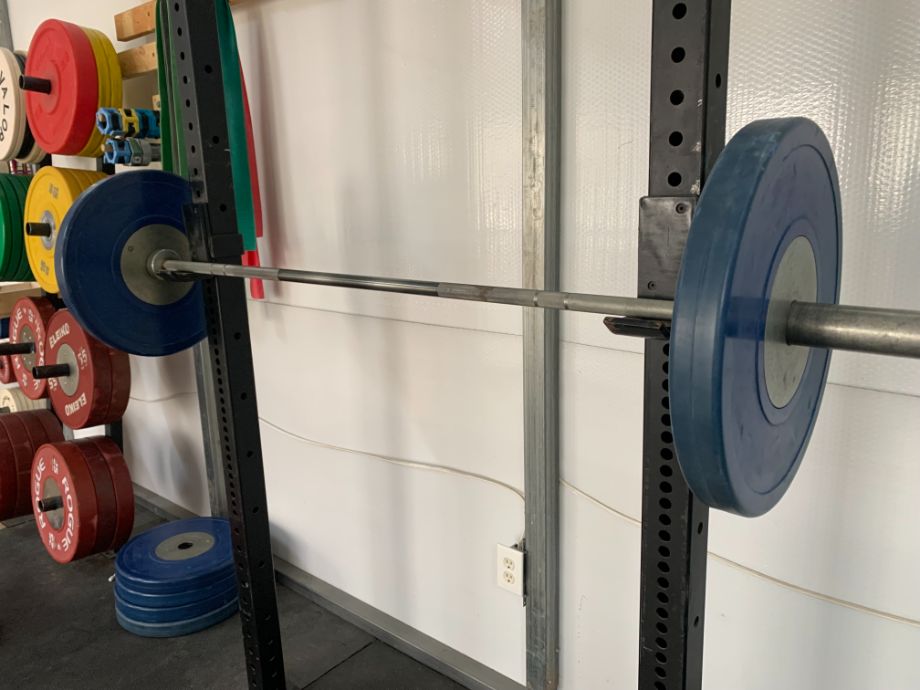 There are many places where the REP Fitness Sabre Bar shines. Let's break it down to paint a full picture of what you should expect with this exceptional bar in your home gym!
RELATED: REP Fitness Gladiator Bar Review
Bar Weight: 15-Kilo and 20-Kilo Options
First and foremost, you'll need to select if you'd like the 15-kilogram/33-pound women's barbell or men's 20-kilogram/44-pounds bar. Not only is there a slight size and weight difference between these two standard options, there is a modest price difference as well.
The 20-kilogram Olympic bar has a 28.5-millimeter shaft, and the 15-kilogram bar has a 25-millimeter shaft. Size-wise, the 15-kilo bar is slightly shorter and has a shorter loadable sleeve length.
Knurling
The REP Fitness Sabre Bar features a medium depth diamond knurling. For beginners and casual lifters, the medium depth will provide just enough tread to improve grip strength without digging into the palms. Seasoned lifters and powerlifters, on the other hand, may find the depth inadequate and prefer something more aggressive.
"While REP calls the knurling medium, I'd go as far as to call it passive," Kate says. "That isn't a dealbreaker for me, but if you like sharper knurling, this isn't the best bar for you."
Both versions of the Sabre Bar include dual knurl markings for IWF and IPF hand placements. The 20-kilo bar includes an option for a center knurling as well.
Spin
As REP Fitness calls it, the Sabre Bar features a "high-performance, ball-bearing, no-rib sleeve" for optimal smooth rotation. The bronze bushing in the sleeve helps the barbell spin fluidly, making it effective as far as Olympic barbells go.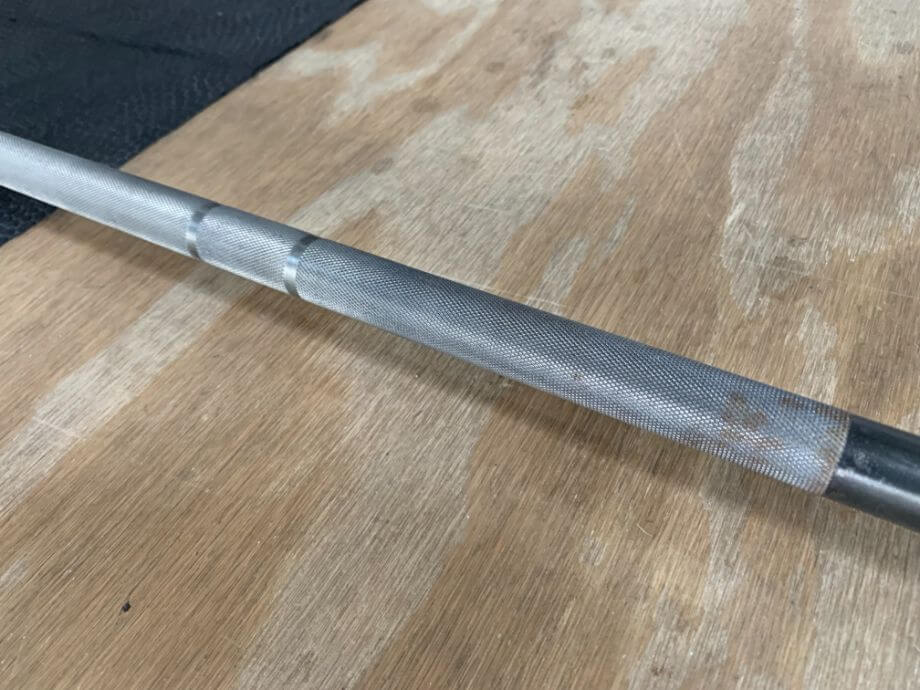 Durability and Construction
Kate has kept this bar in a non-climate-controlled garage gym for more than a year, and it is showing little signs of wear and tear. Let's dig into the specs.
Tensile Strength
The tensile strength of both the 15- and 20-kilogram versions is 150,000 PSI. For most lifters, that's more than enough leeway, even on your one-rep max deadlift, but powerlifters might prefer something stronger like the Rogue Ohio Bar, which boasts 190 KSI tensile strength.
"Tensile strength is only a big factor if you're going to lift incredibly heavy, as in hundreds of pounds, and also if you plan on dropping weight from overhead," explains Kate, who has been competing in weightlifting for more than five years. "You don't want a bar that is going to suffer permanent damage under load, but a 150K PSI is strong enough for most lifters to feel confident with this bar."
Finish
Both bars offer a zinc finish, while only the 20-kilogram comes in the sleek black zinc coating as well. The appearance of a brand new REP Fitness Sabre Bar is shiny and smooth, but zinc tends to wear out much faster than stainless steel and provides less resistance against corrosion or rust.
"My bar does have some rust on it," Kate says. "It's been in a hot, humid garage in the South, so I'm not surprised we are seeing signs of corrosion now."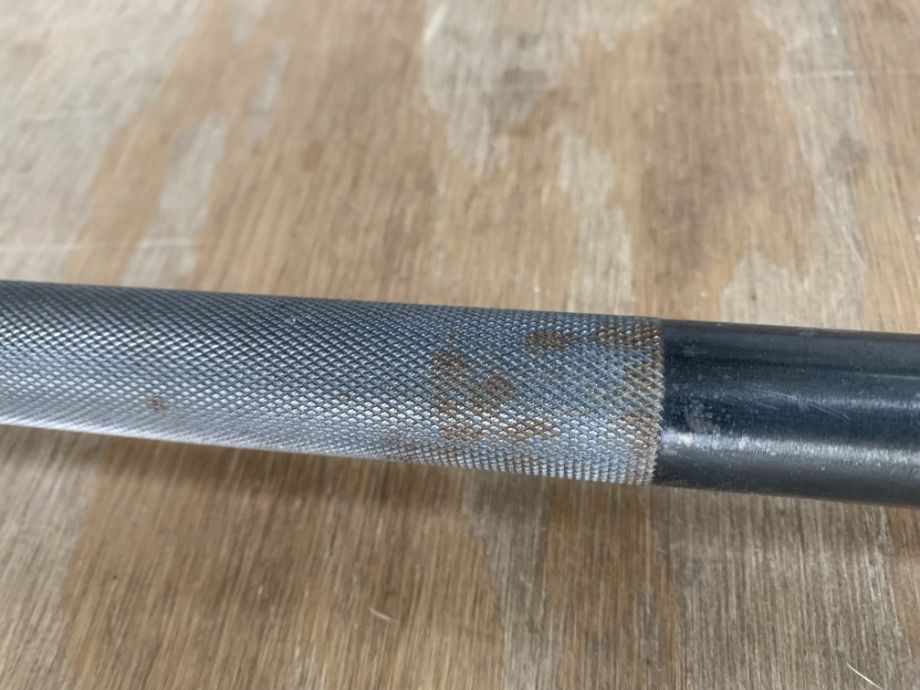 Zinc is certainly more corrosion-resistant than, say, bare steel, but it's not as high on the spectrum as cerakote or stainless steel.
RELATED: Barbell Buying Guide: A Comprehensive Look at How to Choose a Bar
Sleeves
The sleeves on the REP Fitness Sabre Bar are divine, offering near silent plate loading along its smooth, lustrous surface. Because of the smooth texture, the plates might slide more than with other barbells, but some high friction rubber bumper plates and a good ol' weight collar will solve that problem quickly.
REP Fitness Sabre Bar vs Rogue Ohio Bar
Rogue Ohio Bar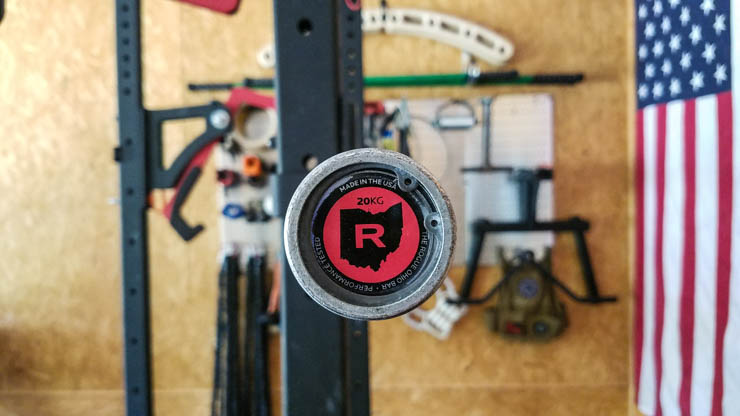 GGR Score: 4.5
Community Score: 3.2
Product Highlights
190K PSI tensile strength
Multipurpose bar with great versatility
Lifetime warranty
Bushing sleeves
Snap ring design
Made in USA
Pros & Cons
Pros
Made in the USA of US-Sourced Steel
Somewhat passive knurling
Grips with chalk
Great for a variety of training styles
Dual knurl marks
28.5-mm shaft
Bronze bushings
Lifetime warranty
Coatings include stainless steel, Cerakote, black zinc, and more.
190K tensile strength
Cons
Not outstanding for powerlifting or weightlifting in comparison to more specialized bars
Expensive
Diameter doesn't meet IWF standards
No center knurl, which may matter to some
Bottom Line
The Rogue Ohio Bar is one of the most iconic barbells in the world. It's been used at the CrossFit Games by some of the fittest athletes in the world and is just as well suited in your garage gym. The Ohio Bar is priced well despite its features and being made in the USA. Although we prefer the Rogue 2.0 Bar for its price, we don't blame you if you decide to spring for the Ohio Bar, although we'd suggest getting the Stainless Steel or Cerakote version.
The brand name Rogue carries weight in the fitness community, no pun intended! How does the Sabre stack up in a side-by-side comparison?

The Rogue Ohio beats out the Sabre in just about every category, from a higher tensile strength to an unbeatable lifetime warranty. Both bars perform well and offer an excellent user experience, but you get a little more bang for your buck buying the Ohio Bar, which comes in black oxide, stainless steel, and many other coatings.
That said, the REP Fitness Sabre Bar is more than $100 cheaper than the Rogue bar, and 150K PSI, while less durable, is often sufficient for most standard home gym applications.
If you're lifting at a beginner or intermediate level, the REP Fitness Sabre Bar will do just fine and save you money, too.
RELATED: Ohio Power Bar Review
Customer Experience
REP Fitness does a heck of a lot to make themselves a viable alternative to other brands. They feature a Loyalty Program, complete with a tasty array of rewards and discounts available, and include a 1-year warranty with your purchase of the Sabre Bar.
REP Fitness also accepts returns within 30 days of the purchase date, but you need authorization ahead of time and will be subject to a 15% restocking fee for items that are used or not in their original packaging.
Ordering the REP Fitness Sabre Bar
Ordering is simple and straightforward from the REP Fitness website. Not only do you have the option for the Sabre Bar to ship directly to your home, you may also elect to pick it up from their showroom if you happen to live near Moreno Valley, California or Carlisle, Pennsylvania.
Assembly is not too complicated for the Sabre Bar, but REP Fitness partners with Kandu On-Demand Home Services to provide assembly, if you feel like letting a pro come and take care of it instead of figuring it out on your own.
Customer Reviews
The REP Fitness Sabre Bar boasts a 4.9/5 star rating on the REP Fitness website based on nearly 200 reviews.
One reviewer, Joseph J., wrote, "This is [absolutely a] great addition to our home gym and exceeded our expectations! I would have paid double for this [barbell] knowing [the] quality of this bar."
Another reviewer, Brittany G., wrote, "I couldn't be happier that I went with REP Fitness…The bar itself is very nice, it has a great feel and I'm [pleased] with the bearing rotation…I will be buying from REP again!"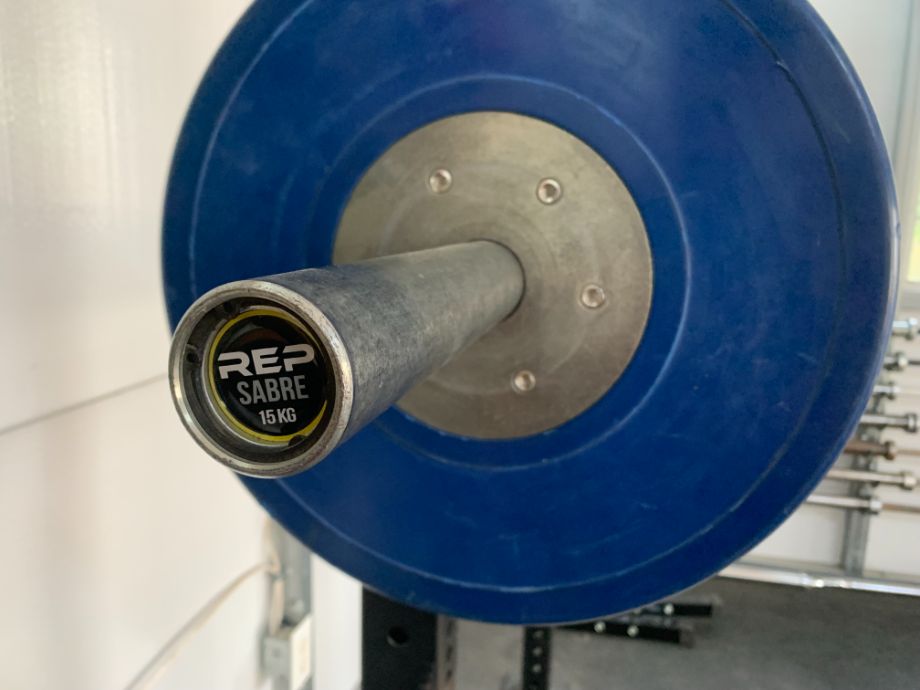 The Sabre Bar also holds a 4.5/5 star rating on Amazon based on just over 60 reviews. One reviewer, Adam B., wrote, "I've had this bar for 4 years now. Over that time I've averaged a little over 3 workouts per week…[and this] bar works well for all of them and has never let me down or left me wanting more. The knurls are still in good shape. It still rotates like it's brand new."
Overall, the customer feedback has been overwhelmingly positive, and we totally understand why. The REP Fitness Sabre Bar is a great buy with a lot to offer.
Final Verdict of Our REP Fitness Sabre Bar Review
What more can we say about this versatile and affordable weightlifting bar?
The REP Fitness Sabre Bar is incredibly useful and, as a multipurpose bar, allows you to accomplish just about anything you'd hope to with a good quality barbell.
Other than its comparatively low tensile strength, it's an excellent choice for beginners and experienced lifters alike. Given its very competitive price, you'll enjoy excellent value from the REP Fitness Sabre Bar.
REP Fitness Sabre Bar Full Rating
REP Fitness Sabre Bar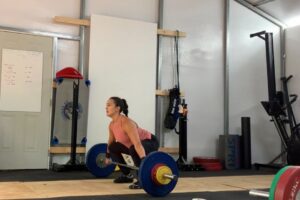 The Sabre Bar is a multipurpose barbell that works well in most home gyms, but is it right for yours? Check out our REP Fitness Sabre Bar review and find out!
Product Currency: USD
Product Price: 180
Product In-Stock: InStock
REP Fitness Sabre Bar FAQs
Is REP as good as Rogue?
REP Fitness makes high-quality fitness products, and the brand is a tough competitor of the official equipment supplier of the CrossFit Games, USA Weightlifting, the Arnold Strongman Classic, and the World's Strongest Man competitions.
Some lifters might prefer REP to Rogue, but many may still likely consider Rogue the superior choice.
Are REP barbells any good?
If the impressive Sabre Bar is any indication, we wholeheartedly feel REP Fitness makes a great barbell. The Sabre Bar is living proof you don't have to pay a premium or sacrifice quality to enjoy an incredible barbell in your home gym.
What type of barbell should I get? 
The best barbell for your purposes will depend on your personal fitness goals and current fitness level. For a little insight, check out our guide on how to choose a barbell that will support your goals.
Does REP Fitness make good gym equipment?
Beyond their barbells, REP Fitness also makes equipment ranging from heavy duty squat racks and power racks to accessories like medicine balls, Plyo boxes, and much, much more.
REP Fitness' sales and positive customer feedback are a good indication that their other products are of similar quality and value to the Sabre Bar, which we know firsthand to be an excellent product.
RELATED: Squat Stand Vs Power Rack: Which To Buy For Your Home Gym