We test and review fitness products based on an independent, multi-point methodology. If you use our links to purchase something, we may earn a commission. Read our disclosures.
After reviewing the Hyperwear Sandbell, I knew I needed to also try the Hyperwear SteelBell to see how these two unique products compared. Additionally, my Hyperwear SteelBell review looks at how the SteelBell compares to other training tools, including slam balls and kettlebells and whether it's a worthwhile buy for your home gym.
Why You Should Trust Us
In addition to reviewing most of Hyperwear's products, including the Hyper Vest Elite weight vest, SandBell PRO, and Hyper Rope battle rope, I've also reviewed sandbag products from several different brands — Rogue Strongman Sandbags, Onnit, and GoRuck to name a few. I've used enough sandbags and similar products to know what makes for a great workout tool.
Hyperwear Steelbell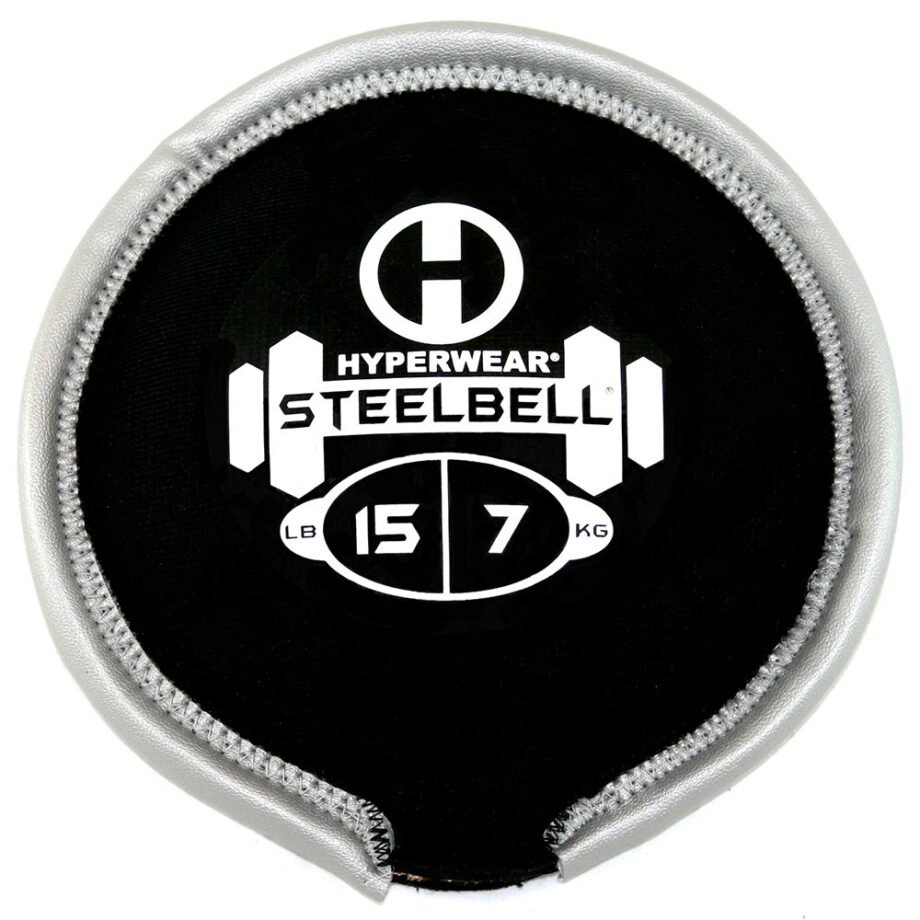 Hyperwear Steelbell

The HyperWear Steelbell Slam Ball Free Weight is filled with American-made recycled steel shot instead of the more traditional sand. With this ball, you never have to worry about leakage. The neoprene design also makes this slam ball extremely versatile. You can use this as a traditional slam ball, sandbag, or a free weight.With a variety of weights and compact size, this would be a great addition to any home gym. This product is great for unconventional as well as more conventional training. This slam ball can handle anything you throw at it.
A Quick Look at the Hyperwear SteelBell
The Hyperwear SteelBell is a fun odd object training item that can be used for a variety of movements. Tiny balls of steel—AKA steel shot—are encased by extra-thick neoprene to create a grippy yet shifty piece of equipment. This is one of those nice-to-have but totally not necessary items for a home gym. In other words, if you have money for either a barbell or a set of SteelBells, get the barbell. But if you're sitting on extra cash and want to add something unique to your home gym setup, SteelBells are worth looking at.
Coop's Tips:
SteelBells are a fun and unique training tool if you know what you're buying. If you think you're buying a sandbag or slam ball, you'll be disappointed.
These come preloaded with steel shot, so be prepared to pay a lot for shipping.
My Favorite Things:
Uses steel shot instead of sand to be more compact
Easy to grab and versatile in use
They don't leak
Lots of weight increment options up to 200 pounds
My Callouts:
Pricey, and shipping costs are high
Not color-coded to indicate weight increments
Could use updated stitching pattern for better durability
Is the Hyperwear SteelBell Worth the Hype?
Hyperwear makes interesting, niche products, and the SteelBell is no different. These are pricey and they can just be hard to justify because they ship preloaded with steel shot, which adds a significant cost. If you're looking for a unique way to potentially improve your sports performance, I say the SteelBell is worth it. It's a unique weight training tool that, thanks to the shifting steel shot, can challenge your muscles in ways a slam ball, kettlebell, or pair of dumbbells can't.
Great for:
People who want a pre-filled sandbag style product
Anyone looking for an odd object training tool
Home gym owners who have money to spend on cool but unnecessary equipment
Not recommended for:
Anyone looking for a budget buy
People who want a legit sandbag
People who hate paying for shipping
Is the Hyperwear SteelBell Durable?
Yes, the SteelBell is highly durable, thanks largely to the fact that it comes pre-filled and sealed. This is somewhat annoying because it means you have to pay for shipping the weight of the steel shot. However, it also means you won't find your gym floor overrun with tiny balls of steel.
The thick neoprene casing is double-stitched so that it withstands all the throws, slams, and tosses you put it through. The edges of the SteelBell don't appear to be stitched as well as the PRO model of the Sandbell, but they should still hold up fine.
In a sense, the SteelBell is more durable than traditional free weights, including kettlebells and dumbbells, because it won't rust or chip thanks to the fabric construction. You can safely leave a SteelBell in a non-climate-controlled environment without worrying about ruining your prized gym equipment.
What It's Like to Work Out With the Hyperwear SteelBell
I think the SteelBell feels great in hand. I really like using these and wish I had a full set. They're easy to grab, and thanks to the durable neoprene, I can throw them on the ground as hard as I want like a slamball without losing any steel shot.
The SteelBell is an awesome strength training tool for developing explosive power. You can use a SteelBell for wall slams and floor slams to strengthen the core and posterior chain; you can also do many typical CrossFit movements with them, such as power cleans and thrusters.
Depending on how you implement a SteelBell into your training—and whether you choose a lightweight or heavy one—you can use it for resistance training or cardio. Lightweight SteelBells are great for high-volume, functional fitness-style workouts. Heavy SteelBells work well for accessory strength training, including movements like farmer carries or front-rack carries, lunges, and overhead presses.

SteelBell vs. Sandbell
The SteelBell is essentially the same thing as the Sandbell, but the neoprene is filled with steel shot instead of sand. If I had to choose between the steelbells and sandbells, I'd go with the steel, because they can go heavier and they are more compact. The other difference is that the SteelBells are not color coded like the Sandbell PROs. I wish they were for easy identification of the weight increments.
SteelBell vs. Sandbag
SteelBells and sandbags are similar in many ways. Both utilize shifting weight to add an element of instability and force you to recruit more muscle fibers during training. Because the SteelBell is filled with steel shot and not sand, you can get them at heavier weights than sandbags without the added bulk. One of my favorite things about the SteelBells is how heavy they go, yet they remain compact.
RELATED: Best Workout Sandbag
SteelBell vs. Slam Ball
I think the SteelBell, like the Sandbell, is most similar in nature to a slam ball. It's not quite as compact or hard as a slam ball, but the training applications are about the same: throw it, toss it, slam it. Because the SteelBell's shell is made of fabric, it's easier to grip than a slam ball. Generally, slam balls require you to do a sort of scoop to pick them up. In contrast, you can grab a SteelBell in all sorts of ways thanks to the flexible fabric shell.
SteelBell vs. Kettlebell
The SteelBell is kind of like a soft kettlebell… Except it has no handle. So it's not really like a kettlebell after all. Compared to a kettlebell, the SteelBell is better for developing grip strength. It's a draw in terms of versatility: There are a lot of things you can do with a kettlebell that you can't do with a SteelBell, and vice versa. Namely, you can't throw a kettlebell on the floor. Or, you shouldn't, at least.
SteelBell vs. Medicine Ball
SteelBells are much more compact than medicine balls and the uses are different, too. With a medicine ball, you'll primarily be throwing it overhead such as in doing wall-balls. With a SteelBell, you're likely to use it more for slams and drags, or as a way to mimic barbell movements with an added element of instability.
Ordering, Shipping, and Delivery
As annoying as it is that you have to pay for shipping for the preloaded steel shot, it is nice that there's no setup required for the SteelBells. You won't find yourself running to Home Depot at 10 p.m. because you just got your sandbag delivered and now you need something to fill it with. Nope, these bad boys arrive at your doorstep ready to use.
Ordering from Hyperwear is simple. Just go to www.hyperwear.com, select the product you want, and add it to your cart. At checkout, you can pay with a card or with your Amazon Pay account. You can also choose to pay over time with Affirm if you're approved.
Like I've mentioned, shipping for the SteelBells is expensive (regardless of where you live, you're likely looking at paying at least $100 for shipping for the higher weight options). But it's fast. My SteelBells arrived quickly and in good condition; they were wrapped well to protect against damage.
Customer Service
To reach Hyperwear customer service, go to the Hyperwear website and click "contact us" in the footer of the webpage. There you'll find the Hyperwear customer support email address and phone number, as well as a web contact form. Hyperwear usually gets back to people pretty quickly. Alternatively, you can look at the FAQ page first to see if the answer to your question is already there.
Customer Reviews of the Hyperwear SteelBell
Most customer reviews indicate that the SteelBell is a great product. Reviewers seem to be happy with the durability and think, overall, that SteelBells are a high-quality piece of fitness equipment. Positive reviews say they're the perfect alternative to kettlebells and great for home gym owners who worry about floor damage.
One review says, "They are awkward and annoying which makes them so great for unconventional training." Sounds counterintuitive, I know—but if you've ever done odd object training, you know this buyer hit the nail on the head.
There aren't many negative reviews, but of those few, they call out things like the pricey shipping and trouble gripping the SteelBell. Some buyers say they wish the SteelBells had a handle, but in that case, I say just buy a kettlebell or a regular sandbag (or Hyperwear's Softbell set, which completely solves this problem).
Final Rating
SteelBells are very similar to Sandbells, and if you already have Sandbells, I don't really see a compelling reason to add SteelBells to your collection. However, if you're still contemplating which product to buy, I recommend the SteelBells due to the fact that they can go up heavier in weight and they take up less space than Sandbells.
I think the SteelBell is a good product but not a necessary product. For home gym owners with a flexible budget, SteelBells are a fun and unique buy.
Our takeaways:
Unique piece of equipment great for odd object training
Shipping is expensive and may make it not worth it for some
Comes preloaded with steel shot so you never have to worry about leakage
Cool alternative to sandbags and slam balls
Hyperwear SteelBell
I think the SteelBell is a good product but not a necessary product. For home gym owners with a flexible budget, SteelBells are a fun and unique buy.
Product Brand: Hyperwear
Product Currency: $
Product Price: 29.99
Product In-Stock: InStock
Hyperwear SteelBell FAQs
Some of the most commonly asked questions about the Hyperwear SteelBell are:
What type of workouts can you do with a Hyperwear Steelbell?
You can do anything from straight set strength training to CrossFit to bootcamp-style workouts with the SteelBell. They're super versatile.
Does the Hyperwear SteelBell have handles?
No, the SteelBell does not have handles, but that's part of its charm.
How heavy is the Hyperwear SteelBell?
The SteelBell is available in weight increments up to 200 pounds.