We test and review fitness products based on an independent, multi-point methodology. If you use our links to purchase something, we may earn a commission. Read our disclosures.
Workout sandbags are a great addition to any home gym, no matter your fitness level. They are versatile training tools for cardio training and can help you build muscle and strength. However, it can be tricky to pick a sandbag because they all seem so similar (and lots of them aren't exactly inexpensive). Our guide to the best workout sandbag will help you choose the right option for your home workouts.
Why You Should Trust Us
The people who write the reviews and roundups you see on Garage Gym Reviews are more than just wordsmiths (although we enjoy being those). We're also fitness enthusiasts ourselves, with everyone on our writing team participating in various types of training. We're a group of personal trainers, health coaches, CrossFit instructors, and former college athletes.
All this to say, we know fitness and gym equipment. Specific to this guide, we know sandbags. We've used them in and out of CrossFit gyms, on beaches, during road trips, and generally, anywhere else you might use a sandbag for convenience or general training.
Best Workout Sandbag in 2023
Best Overall Workout Sandbag: REP Fitness Sandbag
Good for: People looking for the best workout sandbag at a palatable price.
Despite not having had our hands on these workout sandbags yet, we believe you can't beat the price for these specs. The REP Fitness Sandbags are made of 1000D Cordura fabric, which is the creme de la creme of heavy-duty fabrics. Across the bag, you'll find triple- and quadruple-reinforced stitching, along with an oversized YKK zipper.
These use modular filler bags, which means you have to fill individual small bags with sand, seal the double Velcro closures, and load them into the outer shell. Some people prefer modular bags (like me), but others (including Coop), prefer an integrated filler bag.
The REP Fitness Sandbags come in four sizes, with the biggest bag having a weight capacity of 200 pounds. The sizes are: 5 to 25 pounds, 25 to 75 pounds, 50 to 125 pounds, and 125 to 200 pounds.
You'll enjoy the seven soft-grip handles on the REP sandbags, which allow for full-body workouts and virtually endless movement options.
Also, I love that these sandbags come in seven color options to suit everyone's preferences. A lot of workout sandbags are only available in black or gray, which is boring.
Coop says he hasn't heard many complaints about the REP Fitness Sandbags, other than a few about some of the metal grommets popping off. The bags have a one-year warranty, though, under which this should be covered. But tread carefully, because REP says you shouldn't slam, drag, or fill the bag directly without filler bags. We'll be sure to pay extra attention to the grommets during our testing to see if this is really something to be concerned about.
Finally, you can't beat the pricing. These sandbags start at $39.99 for the smallest size and increase to $89.99 for the largest size. For reference, the nearly identical sandbags from Rogue Fitness start at $130.
Best Workout Sandbag With Handles: Rogue Fitness Sandbag 2.0
Good for: People looking for industry-leading quality and versatility.
We love the Rogue Fitness Sandbag 2.0. Coop and I have both used these sandbags extensively, and they're definitely some of the best on the market: Made of 1000D Cordura fabric, these sandbags feature a nylon-backed reinforced YKK zipper, seven comfortable handles with nylon webbing, and a funnel-style filling system that nixes the need for multiple small filler bags.
The handles allow for several grip options, including single-hand carries. All of the handles have nylon webbing for comfort and reinforced stitching for durability, so you know your bag won't bust open when you hoist it onto your shoulder.
Aside from the handles, one reason Coop loves these so much is because of the integrated filler bag: "These have the best filling experience of any sandbag I've tested," he says. "The funnel filler bag is integrated so you can fill directly into the bag instead of having to fill bags and then puzzle piece them into the main bag. If you've ever filled a bag, you know the pain of filler bags."
While I agree that modular filler bags can be annoying, I do want to point out that having an integrated filler system means you're required to deal with sand directly—rather than a neatly filled, smaller bag—when you want to change the weight of your sandbag. I personally prefer modular bags for this reason, but I do see the value and convenience of integrated systems.
The maximum weight Rogue claims for these sandbags is 150 pounds, although it all depends on what filler material you use. Using something like pea gravel instead of sand can increase the weight. You have three size options with the Rogue Sandbag 2.0: small (max 40 pounds), medium (max 80 pounds), and large (max 150 pounds). Coop and I both think it would be great to see an extra-small and an extra-large option.
These bags are much more expensive than our top pick, ranging from $130 to $180, but a lot of that excess comes from the fact that they're manufactured here in the U.S.
Best Workout Sandbag for CrossFit: Rogue Strongman Sandbag
Good for: People looking for the best workout sandbag for odd-object training.
A high-quality sandbag from Rogue Fitness, these Strongman-style are great for varied training. If you've ever walked into a CrossFit gym, chances are, you've seen one (or many piled up in a corner covered in chalk).
These cylindrical, bulky sandbags are often used for throws and carries, but can also be used for power cleans, presses, and squats. This type of sandbag is extremely hard to work with, but that's exactly the point. The lack of handles means you have no assistance to pick it up and zero help with grip—it all comes from those forearms, baby!
Wish for a handle as hard as you want, but here's some tough love: Just work on your core strength and stability, dang it.
Using the Rogue Strongman Sandbags is similar to using an Atlas stone or slam balls. I'd say they're a bit easier to use than Atlas stones and a bit harder to use than slam balls. But you can use them in a lot of the same ways.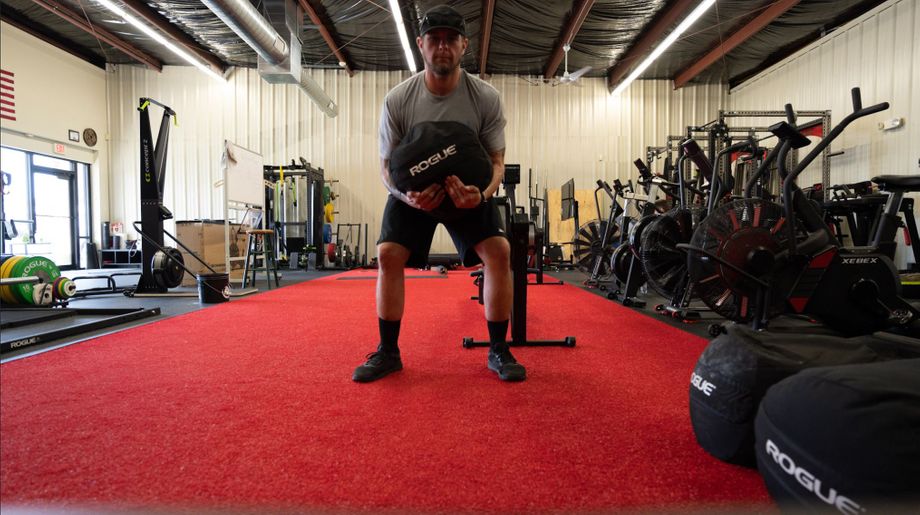 As for construction, these sandbags are made of the same 1000D Cordura as Rogue's other sandbags and most of the others on this list. They come in six sizes ranging from 100 pounds to 400 pounds in 50-pound increments. You can always fill them to less than capacity if you need less weight.
Each Strongman Sandbag has a built-in filler back accessed through an additional zipper and hook-and-loop closure. Don't use the nylon flap as a handle! It's not covered under the 9-month warranty if stitching gets ruined this way.
Read our full Rogue Strongman Sandbag review.
Most Durable Workout Sandbag: GORUCK Sandbag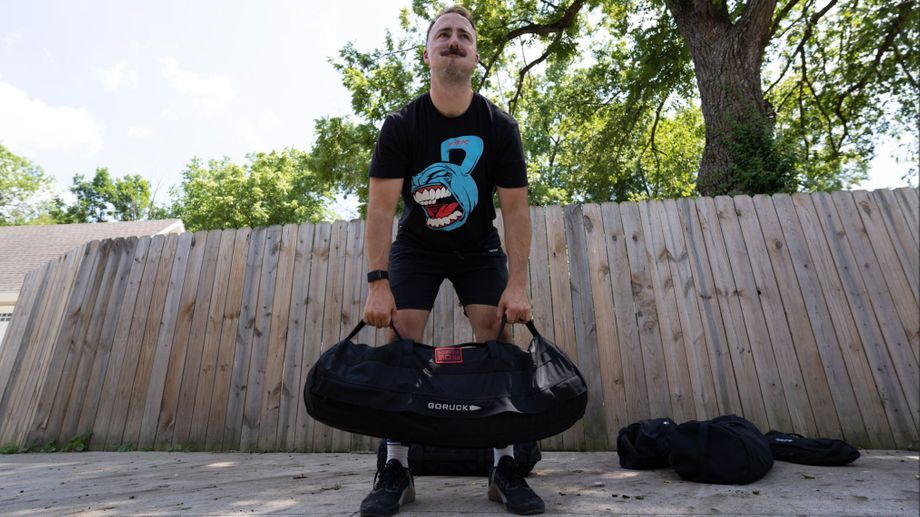 Good for: People who want to slam, drag, and throw their sandbag without worry.
For an ultra-heavy duty workout sandbag, you have to go with our top pick, the GORUCK Sandbag. These things are like cockroaches—they just never die. But unlike with cockroaches (shudder), that's a good thing for sandbags.
Coop's been using the GORUCK Sandbag for a while now, and I've used them at a couple of CrossFit gyms. They're just tanks. These GORUCK sandbags have an outer shell made of durable Cordura fabric, YKK zippers, and tough filler bags with double Velcro closures. Each of the four handles is padded and reinforced with box X stitching, so there's no worry that any of them will pop off. If one does (or if anything else happens that's not a result of misuse), you're covered under GORUCK's lifetime guarantee.
The GORUCK Sandbags come in five different sizes to choose from: 20, 40, 60, 80, and 120 pounds. The prices range from $85 for the 20-pound sandbag all the way up to $165 for the 120-pound bag.
One thing Coop was less enthused about with these sandbags is that the higher weights (80 and 120 pounds) require two filler bags instead of just one that fits the entire bag. When Coop filled the 120-pound bag, he said it was harder than it should've been to get both filler bags in the outer casing. Aside from that, we both have had pleasant (yet grueling) experiences with the GORUCK Sandbags.
I also love everything GORUCK stands behind and supports as a brand. At Garage Gym Reviews, we love supporting fitness brands that support causes we care about, and it's a big bonus that GORUCK has a giveback program for active duty military, veterans, and first responders.
Read our full GORUCK Sandbag review.
Best Pre-Filled Workout Sandbag: Hyperwear SandBell PRO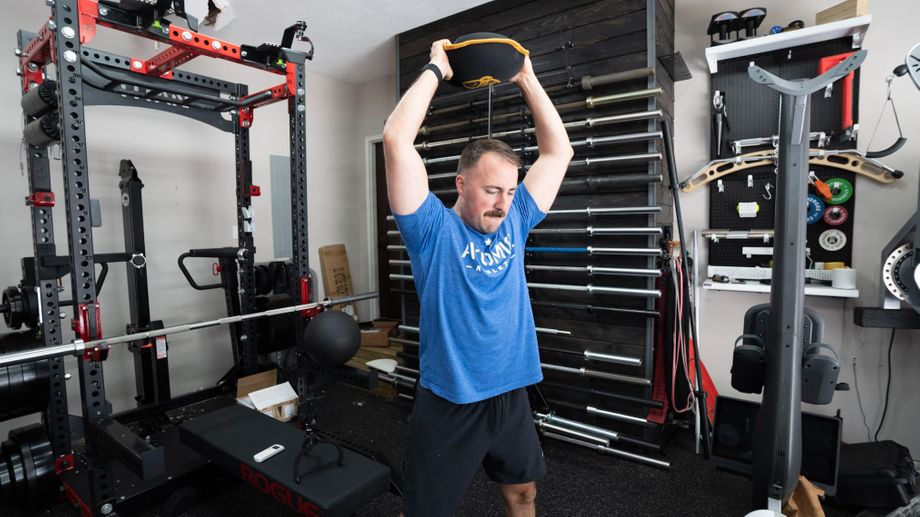 Good for: People who want a sandbag but don't want to deal with filling bags.
The Hyperwear SandBell PRO is a unique product that I'm not sure I would call a "true" sandbag. Nonetheless, it belongs on this list, because it's the only worthwhile option for a pre-filled sandbag. If you don't want to deal with filling bags at all, this is the way to go.
These disc-shaped odd object training tools are made of thick, water-resistant neoprene and come in many different weight increments from as low as 2 pounds up to 50 pounds. It would be nice to see these come in heavier weights.
Still, even at lower weights, you can get a great workout with a SandBell. Coop says this is one of the greatest multi-purpose gym items he's had the pleasure of using, and while he wouldn't call it a necessity, it's dang good fun.
Thanks to the unique shape of the SandBell and lack of handles, you can use SandBells for an odd-object iteration of just about any exercise. If you get two in equal weights, they can even double as quasi-dumbbells for exercises like curls and chest press.
The big downside to prefilled sandbags is that shipping can get insanely expensive. For the 50-pound SandBell, shipping would come out to a whopping $163 for my home address. Is it worth it? That's up to you.
They're also great for all-terrain training thanks to the neoprene construction and double stitching around the edges. This is the stuff of wetsuits, so you can trust that you can get it wet or muddy and it'll be just fine.
Read our full Hyperwear SandBell PRO review.
Most Versatile Workout Sandbag: Brute Force Sandbag
Good for: People who want a sandbag with the most possible grip options.
While all workout sandbags are versatile, we especially love the Brute Force Sandbag kits for ultimate customization. These sandbags come in four kit options: the Athlete Sandbag Kit, Strongman Sandbag Kit, Mini Sandbag Kit, and Barebones Sandbag Kit (the last has no handles).
Coop tested the Athlete Sandbag Kit, which costs $150 and carries up to 75 pounds. Like all of our top picks (aside from the unique SandBell), these bags are constructed of 1000D Cordura fabric and have YKK zippers for longevity and durability. To boot, the entire bag features reinforced stitching, so you really don't have to worry about this thing malfunctioning.
They have eight handles in comparison to the seven on the REP Fitness Sandbag and Rogue Sandbag 2.0. This means there are four full sets of handles, allowing for ultimate versatility in your home gym. The four different grips you can get— barbell, suitcase, neutral, and end-cap—mean you'll probably never run out of sandbag exercise ideas.
Each Brute Force Sandbag comes with modular filler bags. In the case of the Athlete Sandbag Kit that Coop received, there's one 50-pound filler bag and one 25-pound filler bag. If you fill both up all the way, it can be tough to smash them into the outer shell, but it's definitely doable.
I'd like to see Brute Force come out some sandbags that carry more than 125 pounds, but overall, I think the versatility and durability of these bags are great. 
Read our full Brute Force Sandbag review.
Other Workout Sandbags We Researched
The following sandbags haven't been handled in our Springfield, MO testing center yet, but we're hoping to test them all soon and provide more in-depth feedback. But for now, here are some additional sandbags we think might be worth including in our "best of" list in the future.
The Super Sandbag looks to be a super great option for beginners who want to try sandbag training. It's affordable, made of durable nylon, and comes with four modular filler bags that weigh up to 10 pounds each. It has two sets of handles with rubber grips and double-reinforced stitching.
To me, this seems like the ultimate sandbag for rucking or running. The square-ish shape and long handles make it easy (relatively) to hoist up and drape over your shoulders. There seems to be enough flex in the fabric to make it comfortable for endurance workouts, yet it still embodies all of the elements we want to see in a durable sandbag, like Cordura construction and YKK zippers.
These are reminiscent of the Rogue Strongman Sandbags with a cylindrical design and no handles to promote grip and core strength. However, they only come in three weight options: 50 pounds, 100 pounds, and 150 pounds. I like that these have the lower weight option of 50 pounds, but it's hard to beat Rogue's weight range of up to 400 pounds.
One of our Garage Gym Reviews staff writers, Sosha Lewis, uses a Talon sandbag, specifically the 70-pound strongman one. This bag is durable and it takes a beating well," she says. "It is not that easy to grab and I end up scraping my fingers up a lot, though."
Her overall sentiment: "It does a fine job, is fairly inexpensive, has free shipping (unlike Rogue) and arrived pretty quickly."
I'm interested to try these Titan Fitness sandbags because they're extremely similar to most of our top picks, but the outer shell is a different fabric. I don't have experience with a sandbag made of this waterproof material, so I'd like to see how it moves and feels during use. These might be a good option for beach or park workouts as they might better withstand outdoor elements.
The Titan Fitness PRO Sandbags are made of 1050D Cordura fabric, which is similar to the tough 1000D Cordura seen in our top picks, but with a less abrasive weave pattern. They come in four sizes with a total range of 5 to 200 pounds. Each bag has six handles and comes with modular filler bags.
Okay, so, this is not technically a sandbag, but it's hella cool. The HydroCore Bag is a U-shaped bag made of a durable plastic that you partially fill with water. It has rope handles with ball stoppers on the end to prevent grip slip, and it just looks like it provides an absolute banger of a workout. HydroCore uses the concept of inertia to increase the intensity of your training: Basically, when you pick up the back, the water wants to keep moving in whatever direction it was already moving in, so it's up to your stabilizer muscles to prevent that from happening.
How We Picked and Tested the Best Workout Sandbags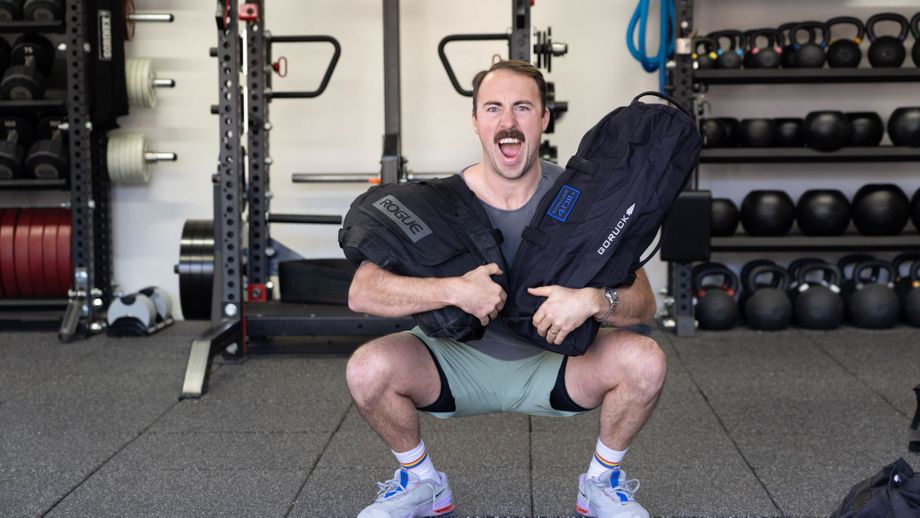 All of our "best of" lists begin with intense research. Our team always uses a combination of personal experience and customer reviews to come up with a shortlist of products for potential inclusion on a roundup. In this case, many members of the Garage Gym Reviews team had input on various sandbags, as we've all been training for years.
We've done workouts in local gyms, our home gyms, in parks, and on beaches with the sandbags mentioned in this guide. To test durability, we dropped, dragged, and slammed them (I don't care what any manufacturer says, sandbags are meant to be beat up).
During our sandbag workouts, we also made sure to take note of things like handle placement, versatility, comfort, and, of the utmost importance, how easy (or not) it was to fill the bags. Finally, we looked for any signs of wear and tear on the zippers, Velcro, and stitching, and whether sand leaked or stayed put.
Why You Should Add a Workout Sandbag to Your Home Gym
The benefits of sandbags are many.
Sandbags are, like, the epitome of functional training. Functional training refers to any type of exercise that prepares you for real-world scenarios. Y'know, like moving your king size mattress or picking up a writhing, screaming toddler with one hand because your other hand is holding the diaper bag. Basically, functional fitness prepares you for any scenario in which you have to move weight that isn't conveniently fixed like it is in the form of a barbell or a dumbbell.
Plus, sandbags are versatile. You can do everything with a sandbag that you can do with dumbbells, barbells, or kettlebells: squats, deadlifts, lunges, overhead press, chest press, rows, and much more. Of course, I can't say it's exactly the same as working out with other types of equipment, but if you're looking for one piece of equipment that's relatively inexpensive and can work all muscle groups, sandbags are the way to go. Unlike fixed weights, sandbags allow you to change the weight to appropriately challenge different body parts.
They are also just super fun to use. (And to release some pent-up anger, stress, or frustration—those who do sandbag training know how pleasing it is to throw them around.) Seriously, using a sandbag can make you feel like a total badass: wall slams, anyone?!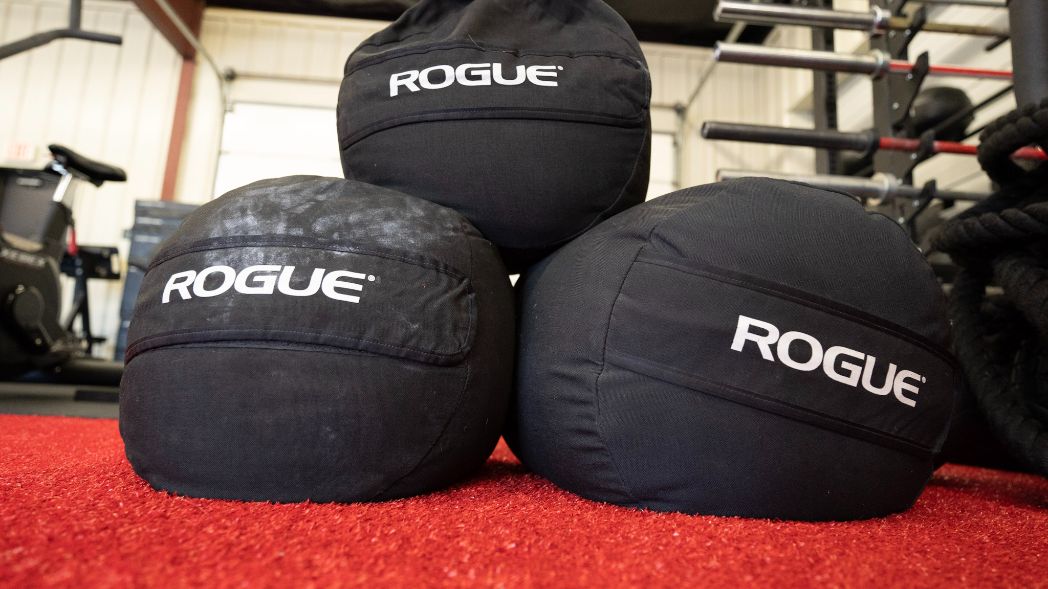 How to Choose the Best Workout Sandbag
Sandbags all seem pretty similar, so how hard can it be to choose, right? Believe it or not, there are several factors to consider before buying a workout sandbag.
Bag Material
Durability is key when it comes to a piece of equipment you're going to be dropping on the ground, throwing against walls, or dragging through sand and grass. The toughest of the tough is military-grade 1000D Cordura fabric. Cordura nylon is an ultra-heavy-duty textured material used in a number of tactical operations. It's water-repellent, abrasion-resistant, and all-around tenacious as hell. All of our top picks, except the Hyperwear Sandbell, are constructed of 1000D Cordura.
Filler Bags
You may not think the filler bags are as important as the main bag, but they are. If the filler bags start leaking, sand will eventually make its way to your gym floor. Filler bags are typically made of a tough nylon blend and should have zippers or velcro closures.
One important thing to consider is whether you want modular filler bags or fixed filler bags. Modular filler bags allow you to change the weight of your sandbag without having to deal with removal of the sand itself: You simply remove and add the filler bags you've already filled with sand. Fixed filler bags mean you have to remove or add sand itself every time you want to change the weight.
Handles and Grips
Some sandbags don't have handles, and that's by design. The lack of handles makes the already-odd object more odd to move, which is great for functional training. However, handles make a sandbag more versatile. Both types of sandbags are good; this comes down to personal preference.
Closures
Check to see if the sandbag you want has zippers (and if so, what kind of zippers), Velcro, or both. Zipper closures tend to be better, as velcro can lose its stickiness over time and allow filler material to leak. Sandbags that have both velcro and zippers should prevent leaking entirely.
Shape
Most sandbags are cylindrical or circular, but there are other options. For example, the Rogue Feedsack is a quasi-square shape that's great for rucking. Tube-shaped sandbags are the most versatile, especially those with multiple handles. Spherical sandbags are great for strength training and Strongman exercises.
Sizes
Sandbags come in different sizes to accommodate different weights. I probably don't need to say this, but the bigger the bag, the more weight it can hold. Some weight bags can hold upward of 200 pounds. In my opinion, it's better to get a bigger bag that you may not fill up all the way versus getting a smaller bag you're struggling to get enough sand into.
Primary Use
In the overall realm of things, most sandbags are pretty similar to each other. All of the best workout sandbags we recommend are made of ultra-durable material, come with filler bags, and are either tubular or round. However, the exact type of sandbag you need depends on what exactly you plan to do with it.
For example, someone training for backpacking wouldn't use a round sandbag like the Rogue Strongman Sandbags. A better choice for endurance training would be our overall top pick, the REP Fitness sandbags, due to their cylindrical shape and multiple handles.
Also consider where you'll be using the sandbag. If you plan to use it primarily outside, durability should be a top deciding factor. If you want to do sandbag workouts at the beach or other waterside locations, look for water resistant material.
Best Workout Sandbag FAQs
What exercises can you do with a sandbag?
You can do virtually anything with a sandbag, from the basics like squats and deadlifts, to more complex exercises like plank pulls, power cleans, burpee-to-thrusters, and push presses.
How effective are sandbag exercises?
Sandbag workouts can be incredibly effective if you do the exercises correctly. Just like with all fitness equipment, proper form is key to getting the most out of your hard work.
How much weight should I use for sandbag training?
This completely depends on your strength level and what exercises you're doing. In general, most people can't lift as much weight with a sandbag as they can with fixed weights like a barbell. Our best advice is to start light and experiment to see how much weight you need for different movements. Just remember not to surpass the weight limit on your sandbag so you don't damage it.