We test and review fitness products based on an independent, multi-point methodology. If you use our links to purchase something, we may earn a commission. Read our disclosures.
Looking for a rowing machine, but don't want to pay four figures for one? We don't blame you, and honestly, if you don't want a massive touchscreen display and don't care for instructor-led programming like iFIT, you don't really need to spend that much cash on a cardio machine. Our top picks for the best rowing machines under $300 have all of the essential features you need to get a great workout, without the high price tag.
Dozens of Rowing Machines Tested
Collectively, our product testers have rowed thousands upon thousands of meters on various rowing machines. We've tested and analyzed all types of rowers, including the best magnetic, water, and budget rowing machines.
Best Rowing Machines Under $300
Best Rowing Machines Overall
Best Rowing Machine Under $300 Overall: Fitness Reality 1000 Plus Rowing Machine
Good for: People who want a Bluetooth-capable rowing machine for a low price
We love the Fitness Reality 1000 Plus magnetic rowing machine for its fantastic value proposition. For under $300, you get 14 different magnetic resistance levels on a Bluetooth-enabled cardio machine that can sync with Apple Health and Google Fit, so your workout and health data is always at your fingertips.
This rowing machine also works with the MyCloudFitness app for workout programming. MyCloudFitness offers a free version and a premium subscription for $14.99 per month. With the free version, you can enjoy a limited number of rowing workouts and prebuilt fitness programs. There is a 30-day free trial of the premium subscription so you can see if you like it and want to pay the monthly fee.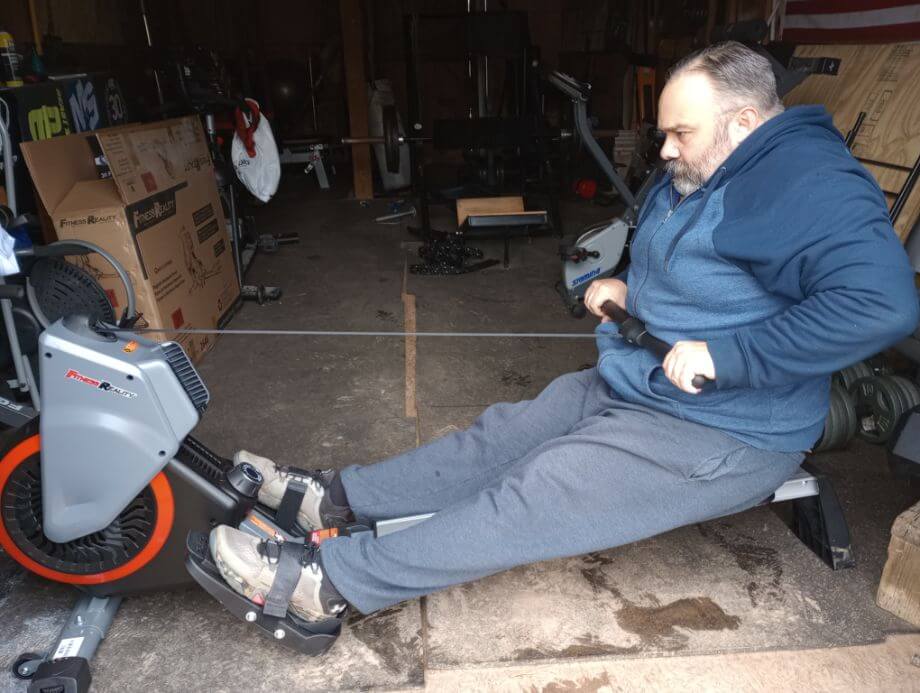 So while you can't connect to some of the best rowing apps, you can follow guided workouts on a separate screen and track your progress and this budget-friendly rower.
The rower itself features a comfy padded seat, LCD monitor, and device holder to stow your phone or tablet, and even a foldable frame so you can store the rower out of the way when you're not using it. You can also use the handlebars and pull cord to do upper body exercises, provided your machine is on a flat, stable surface.
The Fitness Reality 1000 Plus rowing machine can support a maximum user weight of 250 pounds.
Read our full guide to Fitness Reality rowing machines.
Fitness Reality 1000 Plus Specs
| | |
| --- | --- |
| Dimensions | 21.5″ W x 88.5″ L x 21.5″ H |
| Resistance Type | Magnetic |
| Resistance Levels | 14 |
| Display | LCD |
Best Folding Rowing Machine Under $300: Sunny Health and Fitness SF-RW5515
Good for: Individuals who have limited space and need to store their rower away when not in use
Sunny Health and Fitness is an established and well-known manufacturer of budget-friendly home gym equipment. If you browse our site, you'll see Sunny appear on a number of different guides to cardio equipment, from exercise bikes to steppers to treadmills.
This is because the brand consistently produces great value, meaning, products of the best quality you can expect at such low prices. The Sunny Health and Fitness SF-RW5515 rowing machine is no exception: For just $250, you can get a foldable indoor rower with eight magnetic resistance levels, an LCD screen that tracks various metrics, non-slip handlebars and foot cages, an extra-wide padded seat, and more.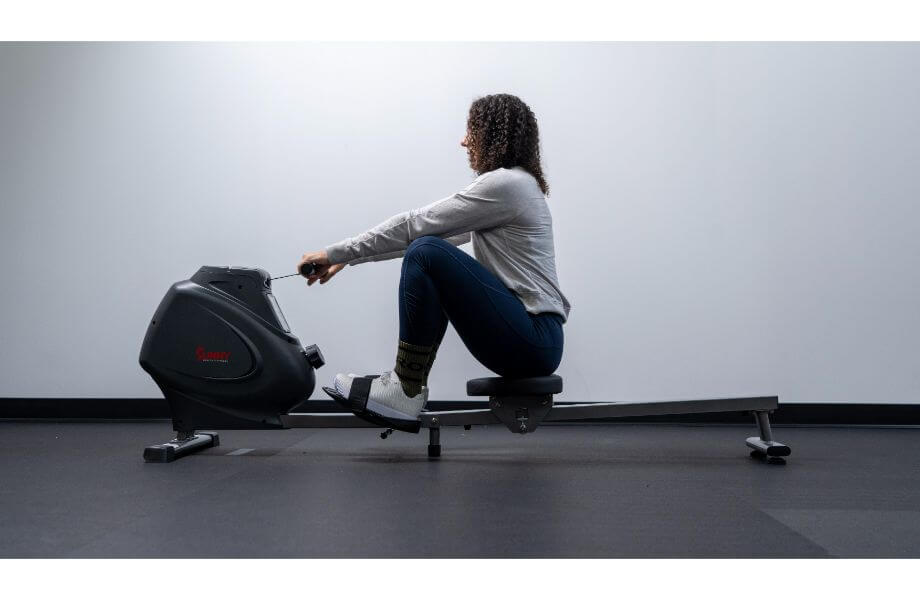 You have the option to upgrade to a Bluetooth-compatible version, but it costs an additional $100 and will take the price from under $300 to about $350.
The SF-RW5515 supports a maximum user weight of 250 pounds thanks to the steel slide rail. This is lower than the industry standard of 300 pounds, but it is a budget machine, after all.
Sunny Health and Fitness SF-RW5515 Specs
| | |
| --- | --- |
| Dimensions | 89" L x 18.9" W x 23.6" H (Folded: 43.3" L x 18.9" W x 52.4" H) |
| Resistance Type | Magnetic |
| Resistance Levels | 8 |
| Display | LCD |
Best Magnetic Rowing Machine Under $300: Sunny Health and Fitness SF-RW5801
Good for: People who want multiple levels of magnetic resistance at a low price point
The Sunny Health and Fitness SF-RW5801 is one of the machines on our guide to the best budget rowing machines. It features 16 levels of magnetic resistance and an LCD display that tracks a few metrics, including time elapsed, calories burned, distance traveled, and strokes completed.
This rowing machine features an ultra-plush contoured, padded seat with a soft faux leather veneer. The foot cages are oversized and textured, so your feet will stay in place throughout your workout. Like the SF-RW5515, the maximum user weight on the SF-RW-5801 is 250 pounds.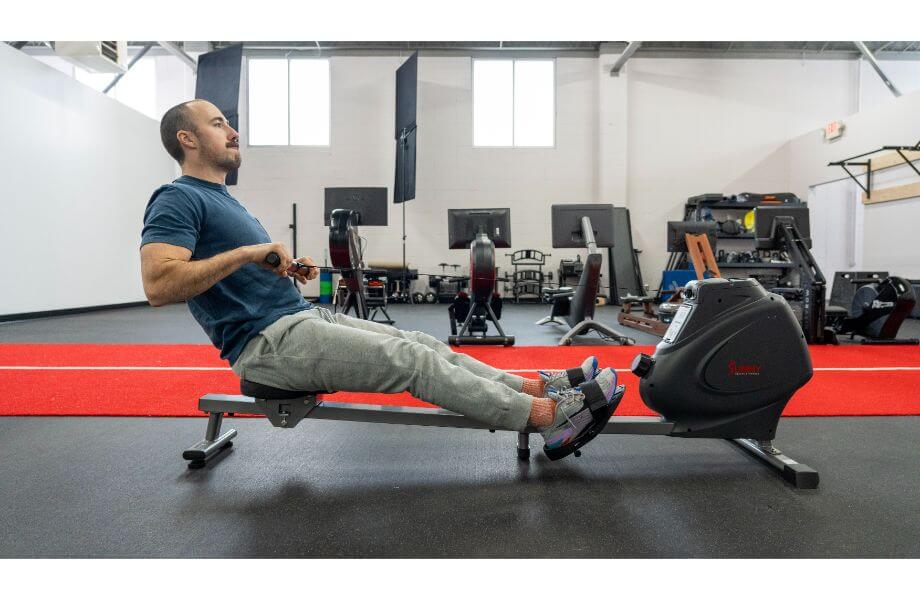 Don't forget about the SunnyFit app, which is free and contains many rowing workouts to choose from. There's no screen to stream the app on the machine, but you can rest your device in the built-in tablet holder.
If there is any wiggle room in your budget, for $100 more, you can buy the smart version of this rower, which is equipped with Bluetooth and can connect to any Bluetooth-compatible device, like a heart rate monitor.

Read our full Sunny Health and Fitness SF-RW5801 review.
Sunny Health and Fitness SF-RW5801 Specs
| | |
| --- | --- |
| Dimensions | 77" L x 23" W x 22.5" H |
| Resistance Type | Magnetic |
| Resistance Levels | 16 |
| Display | LCD |
Best Hydraulic Rowing Machine Under $300: Stamina BodyTrac Glider 1050
Good for: People on a very tight budget who just need a simple machine for simple movement
We don't generally recommend hydraulic rowing machines given their comparatively low versatility and intensity, but the Stamina BodyTrac Glider makes our guide to the best rowing machines under $300 for its great price point and suite of essential features.
This rowing machine actually costs less than $200, making it a good choice for people on very tight budgets. It has eight levels of resistance that you can change by adjusting the hydraulic cylinder. It's not as simple as turning a dial on the magnetic rower, but it's something anyone can do.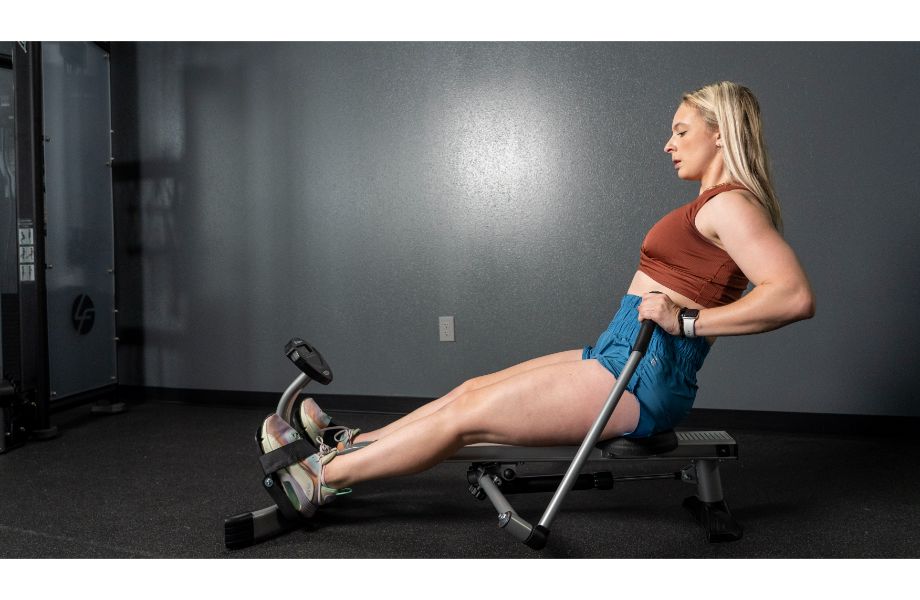 The Stamina BodyTrac Glider utilizes hydraulic pistons to create resistance, and two of our product testers agreed that the pistons mimic the feel of on-water rowing better than magnetic or air rowing machines.
While it has eight resistance levels, product tester and GGR editor Nicole Davis thinks this machine is a better choice for beginners rather than individuals who have a conditioning background. Despite the small size and low weight of this rower (38 pounds), it can support exercisers up to 250 pounds in weight.
Read our full Stamina BodyTrac Glider 1050 review.
Stamina BodyTrac Glider Specs
| | |
| --- | --- |
| Dimensions | 58.25″ L x 18.13″ W (42.5″ H when folded) |
| Resistance Type | Hydraulic |
| Resistance Levels | 8 |
| Display | LCD |
Other Budget Rowing Machines We Researched
We've had our tushes on the padded seats of many budget rowers. Not all of them fit the criteria for costing less than $300, which is why most didn't make this specific list.
There are a couple of other rowing machines that we like based on our research and knowledge of rowing machine specs, but we didn't recommend them up top because we haven't personally performed rowing strokes on them and thus aren't able to fully analyze the performance of components like the slide rail and LCD monitor. 
RELATED: Best NordicTrack rower
Here are two we heavily researched and recommend based on specs:
JOROTO MR23 Water Rowing Machine: This may be the best water rowing machine under $300. It has an alloy steel frame and a large LCD screen (compared to the displays of other rowers at this price point). The price tag on this one fluctuates, which is another reason it's not on our top list. At the time of writing, this machine is listed for $329 on Amazon, but there's an $80 coupon available, bringing it under $300.
ECHANFIT Magnetic Rower Machine: This packs a ton of features for its under-$300 price point and may be the rowing machine with the most resistance under $300. It has 16 levels of magnetic resistance and can support a user weight of up to 350 pounds.
How We Picked and Tested the Best Rowing Machines Under $300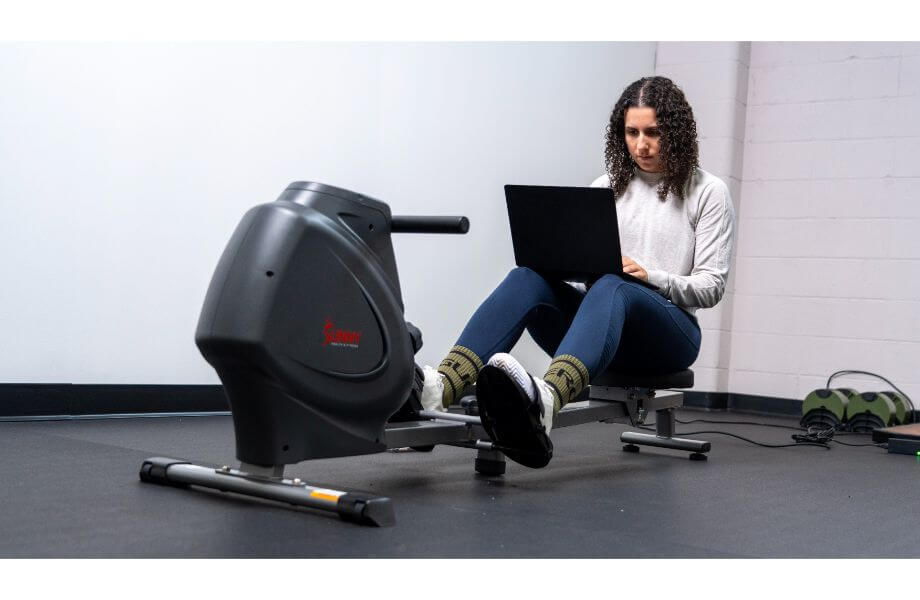 We've personal tested all four of the machines we recommend as the best rowing machines under $300, and we've heavily researched many others. Our recommendations come from actual rowing workouts our real live product testers have performed on these machines.
During our testing, we take into account factors such as the smoothness of the flywheel, whether there's a comfortable seat, price range, slide rail length, handlebar contour and comfort, weight capacity, Bluetooth connectivity, and much more.
Benefits of Rowing Machines
A rowing machine can elevate any home gym, whether you're a diehard CrossFitter or you're just looking for some simple movement with the comfort of being at home. Rowing is a great cardio workout that can improve cardiovascular health and increase endurance; not to mention, it's low-impact, so it's good for those who need to minimize joint impact.
Rowing machines also typically have transport wheels and many fold for easy storage, making them a good choice for individuals who can only dedicate a small space to their home gym.
Finally, indoor rowing machines for home use are available at many different price points, making them accessible to people with varying budgets.
Buying Guide: What to Look for in a Rowing Machine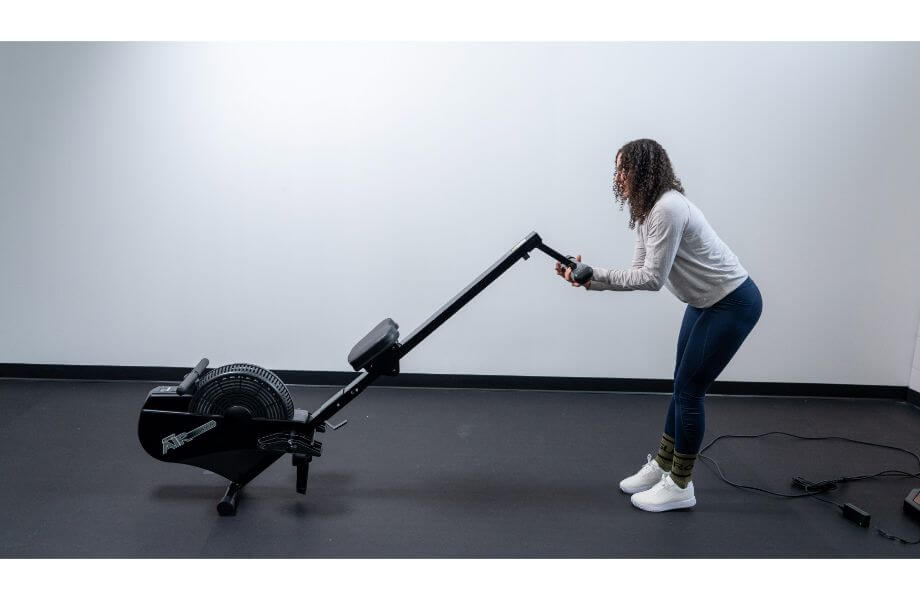 Although any cardio machine in the under-$300 price range isn't going to be the most high-end, you can still make some discerning choices to get the best option for your home gym.
Product Footprint
Compare the available space you have to the product dimensions—and actually measure it. Even if a rower can provide a great workout, it's worthless if you can't fit the machine in your home gym space.
Levels of Resistance
Depending on your fitness level, you may want more or fewer levels of resistance to work with. Magnetic resistance rowers have defined resistance levels whereas water and air rowers have unlimited resistance that varies based on how hard you pull on the pull cord with your upper body.
Tech Specs
Is the machine Bluetooth-compatible? Can you use a heart rate monitor with it? Does it automatically track stroke count? If those things don't matter to you, no need to worry over it, but they're good things to have and recognize.
Ergonomics
Details such as the shape of the foot pedals and the contour of the seat can make a big difference in the overall rowing experience. Make sure to check customer reviews to find out if any buyers have had complaints about these factors.
Warranty
At the under-$300 price point, warranties aren't typical. However, some may have a one- to three-year frame warranty, or a 30- or 60-day return period so you can try the machine.
FAQs About Rowing Machines
Here are the answers to some commonly asked questions about rowing machines.
What is the best rowing machine? 
What type of resistance is best on a rowing machine? 
Of the four types of resistance—magnetic resistance, air resistance, hydraulic resistance, and water resistance—our product testers are partial to magnetic and air rowing machines. We think these make the best home rowing machines since they don't require as much maintenance as water rowing machines and generally have more versatility in terms of adjustable resistance than hydraulic machines. Air and magnetic rowers are often foldable, too.
Are indoor rowers worth buying? 
Any fitness equipment you'll actually use is worth buying. Rowing machines make for great cardio full-body workouts, and they're also good for individuals who need to do low-impact exercise. A rower can help you meet a number of fitness goals including weight loss and improved endurance. Plus, those with digital monitors and interactive fitness classes can make the rowing experience more immersive and fun.