We test and review fitness products based on an independent, multi-point methodology. If you use our links to purchase something, we may earn a commission. Read our disclosures.
There's no shortage of exercise bikes out there, but the Wattbike Atom is truly in a class of its own. This indoor cycling bike was built to closely mimic the road feel of riding outdoors so you can translate your training gains to reality—and it does a killer job. But the retail price of just under $3,400 may be giving you some pause.
In this Wattbike Atom review, we'll dive into the features of the bike, highlighting the ride feel, tech, ergonomics, and everything else you need to know to decide if it's worth adding to your indoor training routine.
Cyclevangelists At Your Service
The Garage Gym Reviews team includes certified personal trainers, CrossFit coaches, and nutrition experts who practice what they preach. As a group, we've personally tested hundreds of exercise bikes, including the Wattbike Atom.
While we're fitness enthusiasts and think everyone could benefit from some home gym equipment, we approach things through a fair-yet-critical lens and we're always discerning about the products we recommend. We praise what we love, call out what we don't, and make specific recommendations based on your goals and fitness level. If we love a bike but don't think it's necessary for the average person, we'll let you know.
A Cycle Purist's Best Choice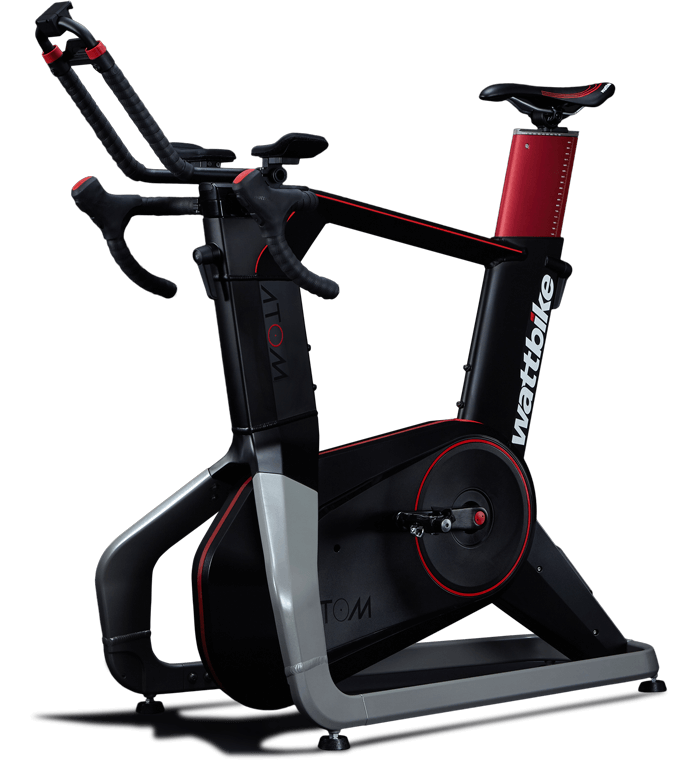 Wattbike Atom
The Wattbike Atom marks a new era in indoor training. It introduces innovative Climb Mode with automated resistance and offers unrivalled connectivity for an immersive training session. The Atom is a smart bike providing ultimate realism using Real Ride Feel technology.With Wattbike DNA at its core, the Atom combines cutting edge innovations with precision data and analysis. It helps you train harder, smarter and more effectively. Giving you that performance advantage, that crucial edge, when it really matters.This is the next generation of indoor training. This is Wattbike Atom.
A Quick Look at the Wattbike Atom
The Wattbike story starts in 2000, when the founders met with Peter Keen, Performance Director at British Cycling with a mission to build an indoor exercise bike that actually felt like riding outdoors.
After eight years of innovation, the first iteration of the Wattbike, the Pro/Trainer, was launched for elite sports teams, athletes, and testing labs. In 2012, the Wattbike went mainstream in the UK, but it wasn't until 2017 that the Atom was born. After some feedback, the next generation Wattbike Atom was released in July 2020 and that's the model that's available now.
While the Wattbike certainly gives you a killer workout, it's so much more than a typical cardio machine. This smart bike offers personalized training plans, immersive workouts, and a real bike feel that allows you to make legitimate training progress indoors.
My Tips
Keep the box and packing materials for at least 30 days after getting the bike; if you decide to return it and don't have the original packaging, your return may not be eligible for a refund.
Take advantage of the free app trials that come with the Wattbike Atom so you can decide which one (if any) you like best without having to pay.
If the bike shakes or feels unstable when you're riding, this usually means that you need to readjust the saddle height.
Pros:
Real-feel gear changes with 22 gears
4 points of adjustability for an ergonomic ride
Electromagnetic resistance makes for a quiet ride
Compatible with multiple third party riding apps; Wattbike companion app is free
Cons:
Doesn't have its own screen
Expensive
Unimpressive return policy
Only available for shipping in California
Is the Wattbike Atom Worth It?
If you're a serious cyclist, the Wattbike Atom is a worthwhile investment. "Atom is an incredible bike for those that ride on the road. For the quality and experience, I think it's priced well as it's an ultra-premium bike, but it's definitely not for most home gym owners. I'd recommend it for those that train for cycling competitions and want to train in their homes." says Coop
Great for:
Advanced riders
Those who want legitimate training sessions indoors
Those with a higher budget
Not recommended for:
Beginners who are new to cycling
Those on a tight budget
Anyone outside of California (for now)
Wattbike Atom Specs
| | |
| --- | --- |
| Footprint | 38.37" L x 19.68" W x 59.05" H |
| Weight | 99.2 pounds |
| Weight capacity | 297.62 pounds |
| Rider height | 5 feet to 6 feet 5 inches |
| Resistance System | Electromagnetic |
| Connectivity | ANT+, Bluetooth, FTMS |
| Third Party App Compatibility | Zwift, SYSTM (formerly The Sufferfest), TrainerRoad, FulGaz, RGT, or any ANT+FEC Bluetooth FTMS enabled app |
| Power Range (Wattage) | 0 to 2,500 |
| Accuracy | +/-1% |
| Gears | 22 |
| Frame | Aluminum |
Workout Experience: Using the Wattbike Atom
If you close your eyes while riding the Wattbike Atom (for the record, we don't recommend this), you would almost think you were actually riding outdoors. The instant gear shifters truly feel like a bike chain switching gears, while the gradient changes mimic the inclines and declines of outdoor rides—and the perceived exertion that comes with them.
Because of its aluminum frame, the bike is fairly lightweight, but it doesn't affect the stability at all. Once you have the seat and handlebars properly adjusted, there's no unwanted shaking, even when reaching higher speeds. If you feel any instability on this bike, it's a good indication that the seat needs to be readjusted.
The Wattbike uses electromagnetic resistance, so it has a near-silent operation. If you want to ride early in the morning or late at night when the rest of your household is in bed, you won't disturb anyone.
It's comfortable, too. There are four adjustment points so you can make sure it's set up for an ergonomic ride. While the racing-style seat can be uncomfortable at times, the proper adjustments make a huge difference in comfort level.
Footprint, Portability, Durability, Construction, etc.
The Wattbike Atom measures 38.37 inches long by 19.68 inches wide by 59.05 inches tall, but Wattbike lists its official footprint as 48.81 by 19.68 inches.
It weighs just over 99 pounds, so it's not the biggest or heaviest exercise bike out there and can definitely work in more compact spaces. There are two hidden wheels in the front of the frame so you can tilt it up and roll it out of the way for easier storage.
RELATED: Best Compact Exercise Equipment
As for durability and construction? It has a sturdy aluminum frame and its covers are made of a heavy-duty ABS plastic.
Coop is a huge fan: "This bike is of fantastic quality—easily one of the best-built cycling trainers in the world. [The Wattbike Atom] is literally world-class, but you pay for it," he says.
The Ergonomics
According to Coop, the Wattbike Atom is "as comfortable as any road bike," and it has lots of adjustment points so you can "dial it in" so it fits just right.
You can raise or lower the saddle height with the lock on the seatpost; adjust the saddle position forward or backward (you'll need an allen key for this but there's a set included); raise or lower the handlebar height to the closest millimeter; and adjust the handlebar position forward or backward (you'll also need an allen key for this).
When all is said and done, the saddle should be in line with your hips and the handlebars should be at a similar height. There should be 90 degrees between your arm and torso, and when your feet are horizontal during your pedal stroke, your knee should be directly above the center of the pedal. This ergonomic positioning is fully possible with all the adjustment points of the bike.
Technology Benefits and Conveniences
The Wattbike Atom is a true smart trainer, which means it's loaded with technology. It has a power output of 0 to 2,500 watts, smart automatic resistance and electronic gear shifting in the handlebars with 22 gears.
When you're connected to a third-party app and going through your virtual workouts, the Atom automatically responds to elevation changes and provides instant feedback on your leg balance and pedal stroke. The bike reads your data 1,000 times per second within a 1% power accuracy.
If you prefer to focus on your pedal technique and let the bike do the work, you can also ride in erg mode. When this is activated, the bike automatically changes the resistance of your workout so you can focus on your form and speed instead.
The only thing missing is an actual screen. Instead of a connected display, the Wattbike Atom has a tablet holder where you can place your iPad or other similar device. And while the UK version of the bike has optional accessories, like a heart rate strap, you'll have to bring your own for the US version. The Atom is compatible with any Bluetooth, ANT, ANT+, Polar and Wattbike straps and belts.
The Wattbike Atom has Bluetooth and ANT+ so it's compatible with many third-party apps. You can use the free companion app, The Wattbike Hub, in place of Zwift or similar programs. This app has similar functionality, with more than 100 workouts, training plans, and challenges. It also provides instant data feedback including w/kg, functional threshold power (FTP), calories burned, and max heart rate (HR). There are often firmware upgrades that make the app more user-friendly.
Comparison to Similar Products
So how does the Wattbike Atom compare to other smart bikes like Peloton and NordicTrack S22i? The short answer: It doesn't because it's a lot different.
"Atom is a cycling purist's tool. It's meant to be used by world-class athletes or those that live on a bike," says Coop. On the other hand, "Peloton is great for those that want classes and to be motivated, but Atom is very different."
It also has very different purposes and quality than the CAROL Bike, according to Coop. "The CAROL Bike is made to be used for five minutes or so at a time. Atom is meant for literally hours at a time," he says.
If we had to compare it to other indoor bikes, it would probably be closest to the Wahoo Kickr Bike or the Tacx Neo Bike. While you used to have to rely on turbo trainers to get the same feel as riding outdoors, Wahoo and Tacx (now owned by Garmin) have developed these smart trainers to make things a little easier (no wheel removal required).
Both are a similar investment. The Wahoo retails for just under $4,000, while the Tacx is about $200 cheaper than the Wattbike Atom at a retail price of $3,200.
Wahoo Kickr Bike
The Wahoo Kickr Bike offers a similar realistic road feel and real-time physical grade changes, including resistance changes and ascent/descent changes from 20% to -15%. There are five physical adjustments, including the stack, reach, setback, saddle height, and frame height, and programmable gearing that lets you configure the trainer exactly like your outdoor bike by choosing the number of speeds and cassette tooth count.
Tacx Neo Bike
The Tacx Neo Bike also offers a real road feel. It connects with Tacx software or the Zwift app and will shake or vibrate to mimic riding on different surfaces, like cobblestone or gravel. It has fully customizable pedal, saddle, tri-bars, bar tape, and crank lengths, and has a gear feel that mimics real gear changes, i.e. your bike chain jumping into a different gear when you ride. The Tacx Neo Bike is designed for sprints—it stays stable up to 2,200 watts—so if you want to do high-intensity interval training (HIIT), it can accomodate.
Customer Experience
The Wattbike is backed by a pretty standard return policy and warranty. Once you receive the bike, you have 30 days to decide whether or not you like it and want to keep it. If you decide to return it, Wattbike will come pick it up and take it back, but there is some fine print.
First, you have to pay for the cost of that return, whether that includes an in-person pickup or shipping. You'll get a quote for the price for in-person returns when you request the pickup. The bike also has to be in its original condition and packaging, so make sure you keep the box and any relevant packing material during the return window.
If you keep the bike, you're backed by a limited parts-only warranty. You'll get six months of coverage for consumable parts, one year for moving and wearing parts, two years for the motor and other parts, and five years on the frame. This applies to new bikes only. Reconditioned bikes max out at two years of coverage and clearance bikes are only covered for one year.
While these policies are average, customers say the delivery time and customer support is exceptional. Trustpilot has lots of comments that bikes were received quickly—even before the estimated time when checking out—and customer service and support was exceptional, with speedy replies and solutions to any problems.
Ordering and Assembling the Wattbike Atom
Because Wattbike is a UK-based company, shipping is limited in the US. Currently, the Atom only ships to California addresses, but the brand is working on expanding its delivery areas. You can sign up for notifications on the website if you want to stay in the know.
If you live in The Golden State and want to order, you can pay in full or finance for six, 12 or 36 months through Affirm. Six and 12-month financing plans are interest-free, but the APR on 36-month loans can go up to 30% depending on your credit score.
Regardless of the financing option you choose, you'll get free shipping and delivery. Right after you order, you'll receive an email and/or text message from Wattbike's third-party shipping service to schedule a delivery date. The bike gets sent out within one to two business days.
The Wattbike Atom arrives almost fully assembled and ready to go. All you have to do is attach the pedals and tri bars, adjust the handlebars, and seat and then plug it in. If you want the Wattbike to match your road bike, you can use the bike fit calculator to adjust the fit down to the millimeter.
Because adjustments are super straightforward—there are only four adjustment points—the bike is ideal for households with multiple users too.
Customer Reviews
According to Trustpilot reviews, customers are happy with the bike and the brand's customer service. At the time of writing, Wattbike has an average 4.5 out of five stars, with 71% of customers giving it five stars.
Some common themes are fast delivery, easy assembly and set up, high-quality construction, and a great riding experience. Many pleasantly surprised customers say it feels just like riding a real bike and while they were hesitant to purchase it at first because of its price tag, they're happy they did.
Customers who had to take advantage of the warranty also left the experience happy. "You often don't know how good a company is until something goes wrong, and after an issue I had with my 13-month-old Wattbike Atom, I'm happy to say that Wattbike is great," writes one 5-star reviewer.
As for complaints? The biggest gripes were issues with missing accessories on delivery and software problems. One user was disappointed to find out (after ordering) that you can't use the bike with a laptop or PC; it's only compatible with iOS and Android. (For the record, you can connect to a PC with Zwift.)
Final Verdict of Our Wattbike Atom Review
While it may be too intense for the casual rider, the Wattbike Atom is a top-of-the-line bike for serious cyclists. If you're looking for an indoor bike that very closely mimics the feel of a road bike, and don't mind paying the $3,400 price tag, you'll be thrilled with the Wattbike.
Wattbike Atom Rating
Wattbike Atom
In this Wattbike Atom review, we'll dive into the smart trainer's tech, functionality and ergonomics to help you decide if it's right for you.
Product Brand: Wattbike
Product Currency: $
Product Price: 3399.00
Product In-Stock: InStock
Wattbike Atom FAQs
Is A Wattbike Atom Good For Zwift?
Yes, the Wattbike Atom is good for Zwift. In fact, Wattbike states that it's "the best smart trainer to use with Zwift." It's also compatible with any other third-party app that supports ANT+FEC connectivity, Bluetooth, and Fitness Machine Service (FTMS) protocol, including Fulgaz, TrainerRoad, TrainingPeaks, Rouvy and Strava. When you purchase a Wattbike Atom, you'll get free trials to Zwift, TrainerRoad, TrainingPeaks, and Fulgaz.
Is Wattbike Good For Beginners?
The Wattbike is built for advanced riders, not beginners. While beginners can certainly use it, we recommend starting out with a less intense model and working your way as you get into your biking rhythm. Read our guide to the best exercise bikes overall.
Is A Wattbike A Spin Bike?
The Wattbike is not a spin bike. (Spin is a trademarked term by Mad Dogg Athletics.) It's an indoor stationary bike that's built to simulate the feel of a road bike. If you're not sure which type of exercise bike is right for you, check out our guide on how to choose.
Do You Need A Subscription For Wattbike?
You don't need a subscription for Wattbike. The bike does connect to a companion app, called The Wattbike Hub app, that provides training metrics and analysis, but it's free to download and use. If you'd rather use a different third-party app, you'll have to pay for that corresponding subscription cost.