We test and review fitness products based on an independent, multi-point methodology. If you use our links to purchase something, we may earn a commission. Read our disclosures.
A rowing machine can be a solid way to get in a full-body workout while pushing your cardiovascular system. Fitness Reality makes several quality rowers that could potentially be easier on the budget than some of the top-tier machines on the market. But, which would be best for your home gym, and which would be best for your personal goals? It would be nice to read some reviews to help you answer those questions, wouldn't it?
We have your Fitness Reality rowing machine reviews right here, and after reading this, you will know which machine will be the best fit for your home gym so you can make the most out of your training.
Rowers? Yeah, We Know Rowers
The team at Garage Gym Reviews know a lot about rowers. That's because we study them, use them, test them, and review them. Air rowers, magnetic rowers, water rowers: If it is a machine that simulates rowing, we know what to look for. We analyze everything from the front stabilizers to the back stabilizers and everything in between.
We've studied machines from companies ranging from Concept 2 to Sunny Health and Fitness. We know what to look for when it comes to a quality rowing machine, and we want to share that knowledge with you so you can buy the best rower for your personal training goals and needs.
Fitness Reality's Line of Exercise Rowers
Fitness Reality makes a variety of equipment, including five rowers that can all add functionality to your training. The machines range from water rowing machines to magnetic rowers as well as fan rowers. The list of rowers is below, and we'll break down why each of them would be a solid addition to your personal workout space.
Which Fitness Reality Rower Should You Buy?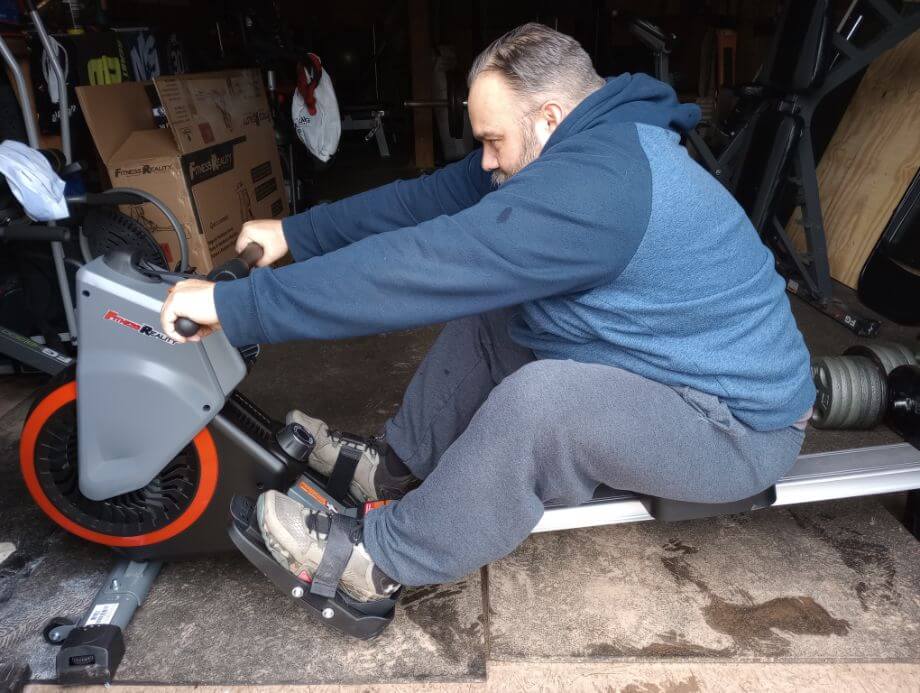 All rowers have similar motions, but there are three different forms of resistance that are widely used: magnetic, fan, and water. All of them are effective methods of resistance to work with while rowing, but they all have their differences as well.
Magnetic Rower: Magnetic resistance can help provide a smooth and strong rowing stroke.
Fan Rower: Rowing against a fan can create progressive air resistance.
Water Rower: Water resistance can have low impact on the joints and tendons.
Beginners and older fitness enthusiasts may want to use either a magnetic rower or a water rower, while more advanced athletes can benefit from using an air rower. As for training goals, if you're training for speed or endurance, a magnetic rower would be beneficial while strength training athletes can reap the most rewards from the air rower.
Fitness Reality Rower Comparison Chart
| | | | | | |
| --- | --- | --- | --- | --- | --- |
| | Fan Rower | 4000 MR | 1000 MR | 5000X | 3000 WR |
| Price | $405 | $349 | $199 | $599 | $492 |
| Rower Type | Air and Magnetic | Magnetic | Magnetic | Water | Water |
| Resistance Levels | 14 | 16 | 14 | 6 | 6 |
| Footprint | 23″ D x 70″ W x 26″ H | 25″ D x 72″ W x 51.5″H | 21.5″ D x 88.5″ W x 21.5″ H | 42.7" D, 11.2" W, 25.5" H | 20" D, 77.3" W, 34" H |
| Weight | 44 lbs | 116.4 lbs | 62 lbs | 54.9 lbs | 71.9 lbs |
| Weight Capacity | 300 lbs | 300 lbs | 250 lbs | 300 lbs | 300 lbs |
| Display | 3.5-inch LCD | 5-inch LCD | 3.5-inch LCD | 4.5-inch LCD | 4.5-inch LCD |
| Footrests | Adjustable | Adjustable | Adjustable | Adjustable | Adjustable |
| Programming | Through MyCloudFitness app | 15 programs | Through MyCloudFitness app | 13 level race options, 3 HIIT intervals | 13 level race options, 5 standard goals |
| Foldable | Yes | Yes | Yes | No | No |
| Warranty | 1-year limited | Frame: 5 years; parts: 3 years; electronics/wearable parts; 2 years | 1-year limited | 1-year limited | 3-year limited |
Fitness Reality Magnetic Rowing Machines: 1000MR and 4000MR
Fitness Reality 4000MR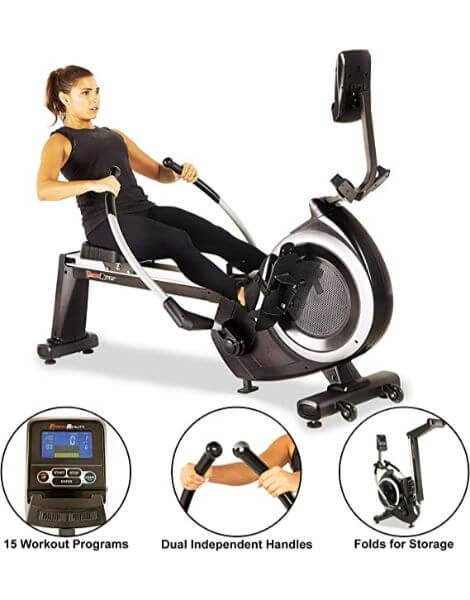 Product Highlights
16 levels of resistance

Dual independent rowing handles

15 workout programs included

Folds for easy storage

Backlit 5-inch LCD console
Pros & Cons
Pros
Large, contoured seat
Non-slip grips on handles
Transportation wheels on bottom
10 preset programs, 5 custom programs
Smartphone holder on console
Resistance controlled by button
Simulates rowing with oars
Long warranty
Cons
Heavy machine to move
Comparably long assembly time (2 hours)
Bottom Line
Athletes, people that need to lose weight, and committed garage gym owners can consider the Fitness Reality 4000 MR a dependable and high-quality rower for the price tag that is on it. You'll find it can serve you well for warm-ups, training, cool-downs, and everything in between.
Pros:
Consistent pulling motion
Less noisy than water or air rowers
Easy to use fitness equipment
Low joint impact
Cons:
Doesn't emulate water rowing
Small LCD screens
Magnetic rowing machines are going to be the quietest out of the three, and they will have the smoothest motion when you pull on the handle. All of the Fitness Reality Magnetic Rowing machines are not only quiet, but they include at least 14 levels of resistance (the 4000 MR offers 16), and they are easy to store.
The heaviest is the 4000MR, which weighs 116 pounds, but they support 250-300 pounds. They are compatible with the MyCloud Fitness app, where you can find unique challenges to take your training to the next level. The 4000MR in particular also has the best warranty of the five reviewed here with five years on the frame.
These magnetic rowers would be beneficial for people who live in apartments, don't want to disturb others, or beginners who want to feel comfortable while rowing. They won't break the bank, either. The 1000MR costs around $200, while the more expensive 4000MR is still set at $349. Older adults that want a dependable machine for simple rowing workouts will be pleased with a Fitness Reality magnetic rower.
Fitness Reality Air Rowers: Fan Rower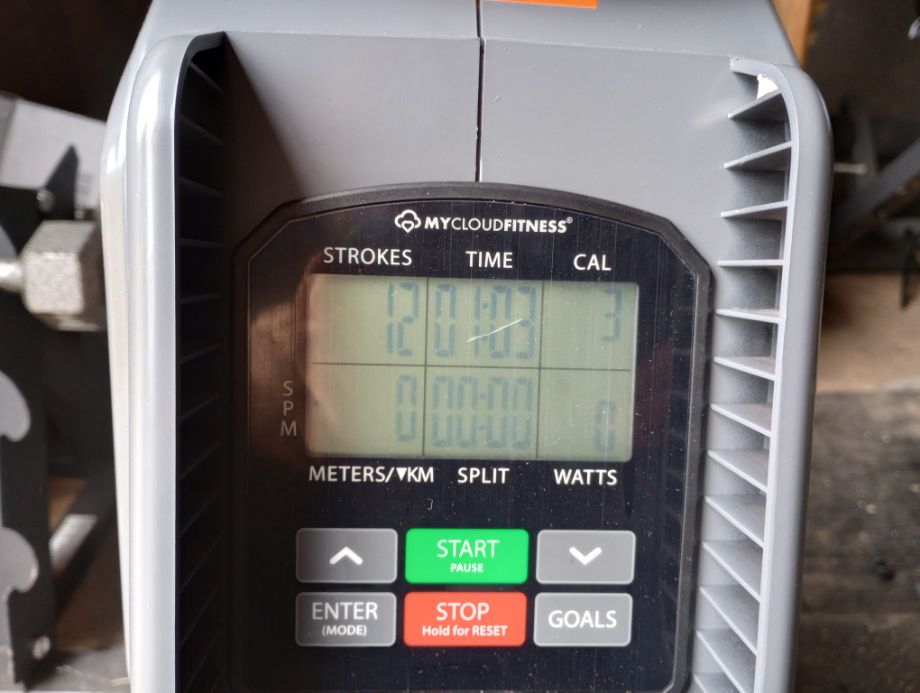 Fitness Reality Fan Rower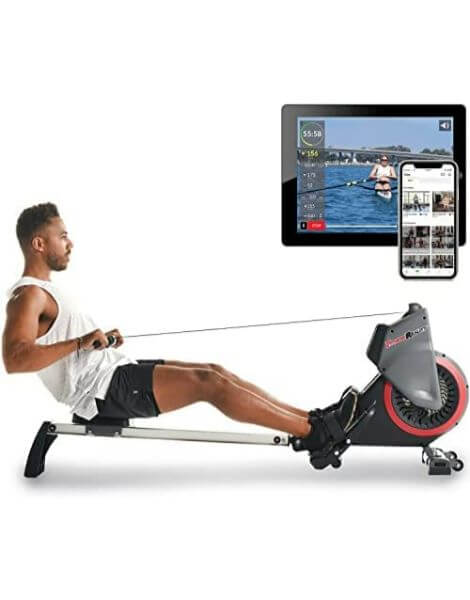 Product Highlights
Featuring both magnetic and air resistance, it provides unique challenge for training

Compatible with Bluetooth to work with MyCloudFitness app

Lightweight and foldable for easy moving and storage

Assembly takes less than 30 minutes with tools included

Track progress by time, distance, and calories burned

14 levels of resistance available by dial
Pros & Cons
Pros
High weight capacity (300 lbs)
Easy adjustments
Quiet and smooth machine
Lightweight and portable
Bluetooth-compatible
Low cost for high quality (a good value)
Soft and comfortable handle
Cons
Can't personalize tracking info
App service requires subscription
May have durability issues
Bottom Line
The Dual Transmission Fan Rower is a high quality rower that is very budget-friendly for most home gym owners. You need the app subscription to reap all the benefits, but even on its own, it can be a very serviceable rower for people who want to add a full-body cardio option to their workout spaces. The combination of air and magnetic resistance will provide a challenge to fitness enthusiasts of all levels.
Pros:
Can simulate water rowing
More resistance on the handlebar
Suitable for all fitness levels
Can improve pulling strength
Cons:
May be louder than magnetic rowers
Only one fan rower available
Fitness Reality only has one air rower, and it also uses magnetic resistance, but the Fan Rower would be a wise investment for athletes that want to make upper body strength and muscle-building goals. The dual forms of resistance can gradually increase, and you can feel like you're working multiple muscle groups without having to do as many full-body exercises.  
The footprint of the Fitness Reality Air Rower isn't as large as other fan rowers, so it can also be a good choice for people with tight training quarters. At a little over $400, it comes in at a lower cost than the high-end rowers in the category, and it can last as long as many of the more expensive versions.
I own this rower, and it is a solid machine to train on for beginners as well as those who have been training for a while. If you use it in an outdoor home gym or a home gym with no heat, you can use it in somewhat cold temperatures, but you need to start slow so it can warm up before going all-out on a session.
The display is easy to read, but the numbers are based on the "average" user, which isn't defined in their manuals. You will need to connect it to My Cloud Fitness for a more personalized experience. The handlebar of the machine is comfortable, which is important since the resistance changes throughout the motion. The motion on the slide is smooth while the seat itself is made for sitting on for longer sessions. These factors combined with the adjustable footrests make this a great choice for people that consider comfort a priority.
Fitness Reality Water Rowing Machines: 3000WR and 5000X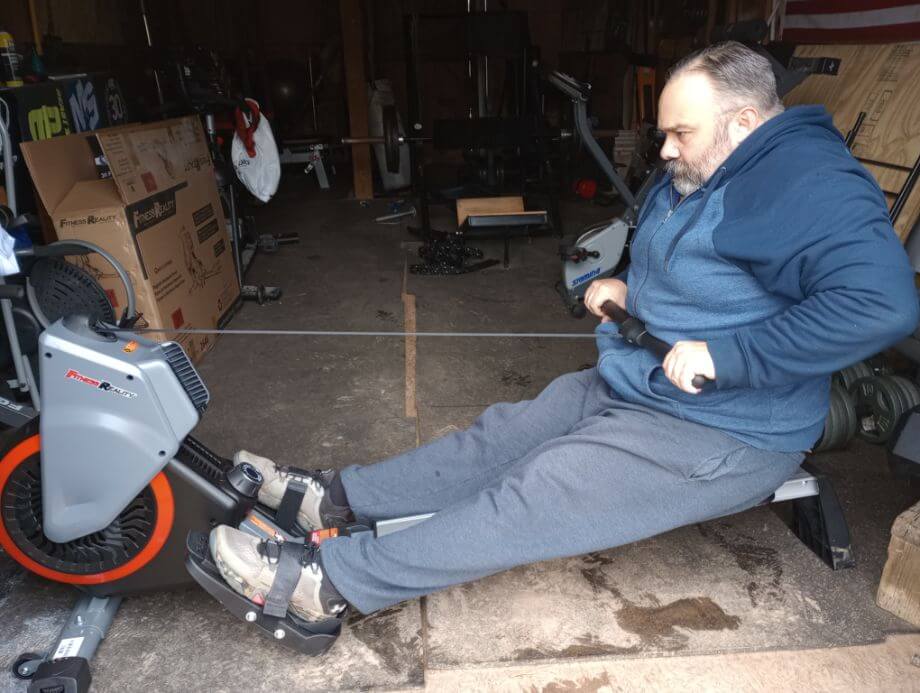 Fitness Reality 3000WR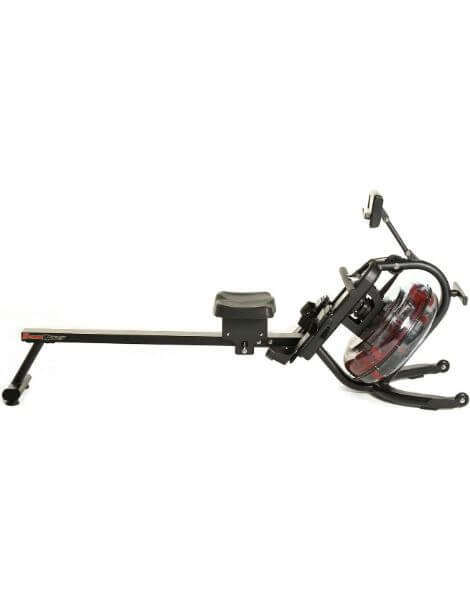 Product Highlights
Angled water tank offers unique resistance

6 different levels of resistance

Capability with MyCloudFitness app

13 race options and 5 preset workout goals

Stores vertically when not in use
Pros & Cons
Pros
19-inch anti-slip handle
Bluetooth connectivity
Transport wheels on bottom
Water pump and funnel included
Track progress by time, distance, and calories burned
4.5-inch LCD display
Cons
Does not fold
Machine doesn't store personal info
Bottom Line
Home gym owners that are working with a budget can get their value from this machine. It won't break the bank, and it will deliver the level of training you need. If you're looking for a water-resistance rower at a fair price, this would be one worth considering.
Pros:
Simulates rowing in water
The equipment to fill/drain tank is included
Strong build quality
Suitable for every level of training
13 race level options
Cons:
Extra maintenance may be required
Don't fold, but they stand vertically
More expensive than air or magnetic rowers
Tanks need to be emptied each time
There are two water rowing machines in the Fitness Reality fleet. The 3000WR is set at a cost of a little below $500, and the 5000X is the most expensive out of all five, coming in at $599. They require the greatest initial investment, but they offer their own benefits as well. Both machines offer six levels of resistance.
People that want to simulate water rowing can use a water rower. The water in the tank helps provide the resistance while you're pulling on the handlebar. Some people may find the sound of the water soothing while others may not. People that want to test themselves against others will find the race options appealing. There are 13 levels that allow you to push yourself against comparable competition.
You have to fill the tank before starting and drain it after you finish, but the extra time can be worth spending because of the benefits these machines provide. Using a water rower will have less impact on the joints and can help you get stronger as well as burn calories.
Like most water rowing machines, the 3000WR and 5000X don't fold, but they can stand vertically. Empty the tank, and stand it up on its end to keep it anywhere in the home gym or the house if you want to do your cardio in a different room.
RELATED: Stamina Rowing Machine Reviews
What to Look For in Fitness Reality Rowers
There are several factors to consider when you're looking to purchase a Fitness Reality rower. You should know what type of resistance to look for, how easy it is to program, the durability of the machine, and what kind of technology do you need to maximize your potential with the rower?
You should also think about if it folds or has transportation wheels for easy storage, if the app you should use is compatible with Android or iOS, and the warranty coverage that is provided. All of this can add value to the rower you plan to buy.
Type of Resistance: Fan, Water, Magnetic
All three types of resistance can help you get in better shape, but your specific goals should help you determine what type of rower would serve you best. Beginners and people that want a smooth motion with minimal maintenance should opt for a rower that provides magnetic resistance.
If you want to simulate being on a boat for rowing as a sport, or you simply prefer to have a natural method of training, then you would be wise to look at the rowers that provide water resistance such as the 5000X and 3000WR.
Fan rowers like the Fitness Reality Fan Rower would be the best bet for those of you that want to maximize power and add a form of cardio to support muscle-building efforts. Because the resistance increases as you pull, you will feel a greater challenge as the total count of strokes increases.
Programming
All Fitness Reality rowers have programs available through the MyCloud Fitness app. That app is available for both Android and iOS users. Once you download the app, you can select the machine and the programs that you can choose from will come up. The machines are also compatible with Bluetooth. You can see your progress throughout the session on the LCD monitors, which vary on size from machine to machine.
Durability: Weight Capacity and Flywheel
All Fitness Reality rowers are designed to support at least 250 pounds, which is the capacity for the 1000MR. The other four will support 300 pounds. They are all constructed of steel as well, so they will withstand the toll of many workouts that you have.
Fitness Reality doesn't share much information about their flywheels, but the magnetic and air rowers include 12-pound flywheels. The weight of those for the water rowers are unknown.
RELATED: Heart-Pumping Interval Rowing Workouts
Technology
The technology of these rowers are limited without the My Cloud Fitness app. You can track the basic info such as strokes and distance on the LCD screen. The calories burned are based on the "average user," but the definition of an average user isn't established. You will need to use your own heart rate monitor if you want to keep up with that information.
Conveniences
Storing these rowers is simple, thanks to the transportation wheels on the front of each machine. The water rowers don't fold, but they stand up vertically. So, you can position it next to a wall so it's out of the way. You should empty the water tank before storing these rowers away.
The magnetic and air rowers are foldable, and folding them is as simple as pulling a pin and folding the slide rail of the machine up. Place the pin back in the hole once it's folded, and you won't have to worry about it again until you're ready to use it.
The foot pads are adjustable on all five machines. The foot straps can be loosened and tightened to keep your feet in place, and the heel pads are wide enough that you won't need to be concerned about your foot slipping out in the middle of an intense workout.
Fitness Reality Policies
Nobody wants to consider having to return exercise equipment, but sometimes it has to be done. Each company has their own warranty or return policies, and Fitness Reality is no different. Hopefully, you won't have to take advantage of these services, but here is what you should know if you ever do.
Warranty
All of the Fitness Reality rowers have warranty policies, but they differ from machine to machine. The Fan Rower, 1000 MR, and 5000X all have one-year limited warranties, while the 3000WR has a three-year warranty. The best warranty of all is with the 4000MR. It comes with a five-year frame warranty, three years for parts, and two years for the electronic parts. If the place you purchase the rower from has any extra warranties, you should consider them before placing the order.
Returns
Paradigm Health and Wellness (PHW) is the parent company of Fitness Reality, and they offer a full refund on returned machines within 30 days of the purchase if you order straight from their website. This doesn't apply to extra parts you purchase from them separately.
If you purchase your rower from Amazon or a retail store, then you would have to go through the business you purchased the rower from in order to receive that refund.
Financing
All of Fitness Reality's rowers are valued in what could be considered a fair price range, but they don't offer financing options through their website. If you purchase your machine through Amazon, then you can explore financing options based on your approval through their application process.
Fitness Reality Rowers: Final Thoughts
Fitness Reality rowing machines are a great choice for people that are either starting their fitness journeys or are creating their first garage gym. They don't cost as much as other brands, and these high-quality machines would be a great way to train the entire body in a functional way at home. The Fitness Reality line of rowers can be well worth the commitment starting out or even as a long-term solution for your cardio needs.
Fitness Reality Rower Reviews: FAQs 
Which is the best rowing machine in the market?
Many people feel that the Concept 2 rower is the gold standard machine, and that is for good reason. It's a great machine that can help people of all fitness levels. However, the best rowing machine for you is the one you're most likely to use, whether that's a machine with water resistance or a magnetic rower or a traditional air rower. You can see our choices for the best rowing machines here.
Is 20 minutes on the rowing machine good for you?
Twenty minutes is plenty of time to get a great full-body and cardio workout in. You might not burn as many calories as you would on an exercise bike or elliptical, but it will still be a very effective session. You can do all 20 minutes in a row, or you can try doing one-minute sessions in between sets of traditional weight training workouts. 
One example for an upper-body workout would be to superset 60 seconds on the rower with 20 reps of triceps extensions. Either method of using the rower can be productive as long as you stay consistent with your training.
Are rowing machines really worth it?
We feel they are, but it depends on if you buy the right machine for your personal goals and needs. The right rowing machine for you should be able to support your weight, withstand a lot of hours of workouts, and be comfortable for you. If the one you buy fits that criteria, then they are a great investment for your garage gym. 
Is using a rowing machine good for belly fat?
You may not burn as many calories on a rower as you would an air bike, treadmill, or elliptical with moving arms, but a rowing machine can help you lose weight as long as you're following a sensible nutrition plan and train consistently. Don't forget to get good sleep as well.