We review free products that we receive and participate in affiliate programs, where we may be compensated for items purchased through links from our site.
See our disclosures page for more information.
The Rogue RML-90SLIM Rack is the most compact and best-priced squat rack that Rogue Fitness makes. It's an extremely simple rack that is designed for the budget-conscious and space-restrained, yet offers most of the functionality of a standard squat stand with a pull-up bar while sitting only 16" from the wall. After testing and reviewing the RML-90SLIM, we recommend it highly and actually think it's one of the best squat racksfrom Rogue to date.
Rogue SLIM Rack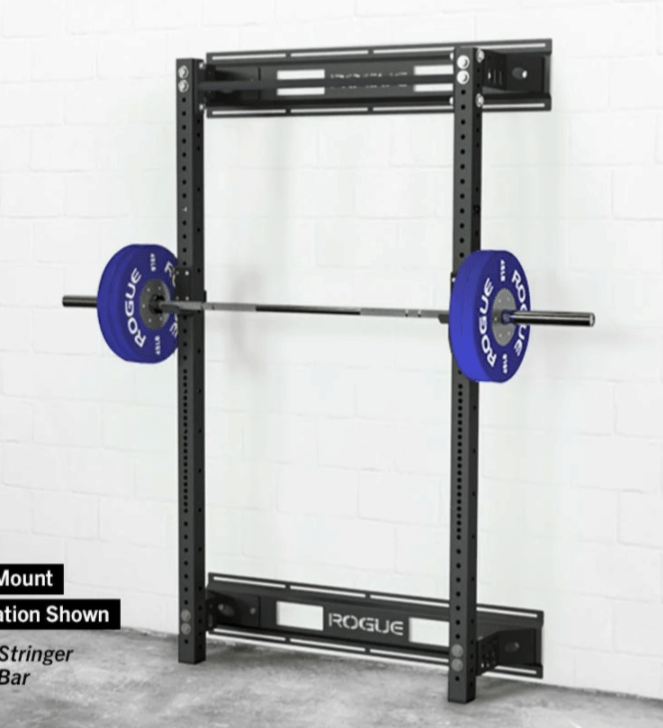 Rogue RML-90SLIM Rack
The Rogue 90" Slim Rack combines a simple, efficient set-up with the reliable stability of two wall-mounted Monster Lite uprights (3x3" 11-gauge steel). All versions of this rack are manufactured in the USA and include Westside hole spacing (1" through bench and clean pull zone, 2" spacing above and below), a texture black finish, a pair of Monster Lite J-cups, and UHMW plastic feet to protect your flooring. Customers can also custom-select several key components of the unit's set-up, including the type of mount (bracket vs. crossmember) and whether to include Rogue Stringers and/or a 43" Single Pull-Up Bar. Well suited to most garage gyms / home gyms, the compact Slim Rack is 90.375" tall and creates a minimal footprint, with the front face of the uprights extending just 15" from the wall in the crossmember mount option. Specifications: Made in the USA Wall-Mounted Rack (2) 90" Uprights: 3x3" 11-gauge steel Westside Hole Spacing - ⅝" holes Finish: Texture Black (2) UHMW Protective Plastic Feet (2) Monster Lite J-Cups
When the pandemic started in the US and gyms started shutting down Sorinex came out with the OFF-GRID Squat Rack which was specifically for people that were starting a home gym. The OFF-GRID Rack which we reviewed was a basic rack with cutouts similar to what's seen on barbell racks. The idea for the rack was that it was small, compact, and cheap to ship and make, and one of the best squat racks Rogue created. Well, the RML-90SLIM is Rogue's answer to that rack. There are now two styles that use this similar build and they are the Rogue RML-90SLIM and RML-90SLIM Door Mount Fold Back Racks. This is a review of both of them as they're essentially the same, sans the foldback componentry.
What is the Rogue RML-90SLIM Rack?
The Rogue RML-90SLIM is Rogue's most compact, wall-mounted squat rack. Despite having a robust feature set, it's also one of Rogue's most budget-friendly squat racks.

The Rack comes in two variations, a fixed version and a foldable, door-mount version.
Rogue RML-90SLIM Specs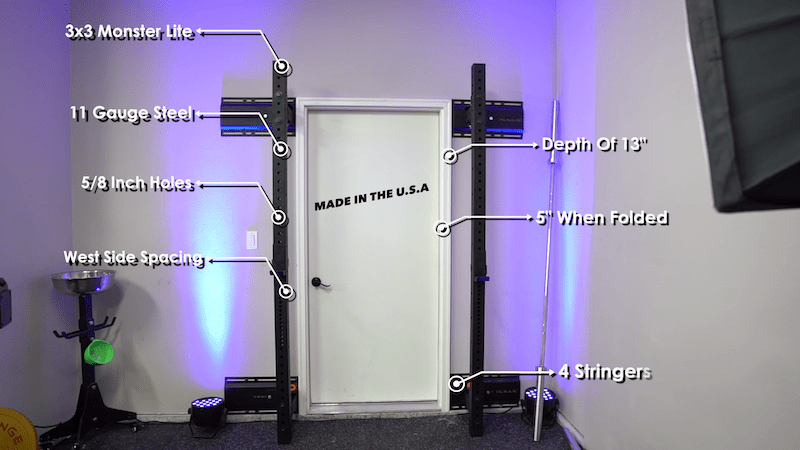 Here are the specs: The RML-90SLIM is made in the USA using their standard 3″x3″, 11-gauge steel, 5/8″ hole pattern uprights which are called the Monster Lite uprights. It features Westside Hole Spacing through the bench area making it easy to place your j-cups and safety arms at an ideal height. The depth of the rack from mounting surface is about 13 inches which gives your head enough room to get under the bar during a squat without scraping your nose on the wall (unless you have a really, really long nose.) If you go with the RML-90SLIMDM version, it sits just 5″ inches when folded against the wall. There are stringers that can be bought for the rack that make install easier and the final product look better and the uprights can have laser-cut numbers added for $50.
What We Like About the Rogue RML-90SLIM Rack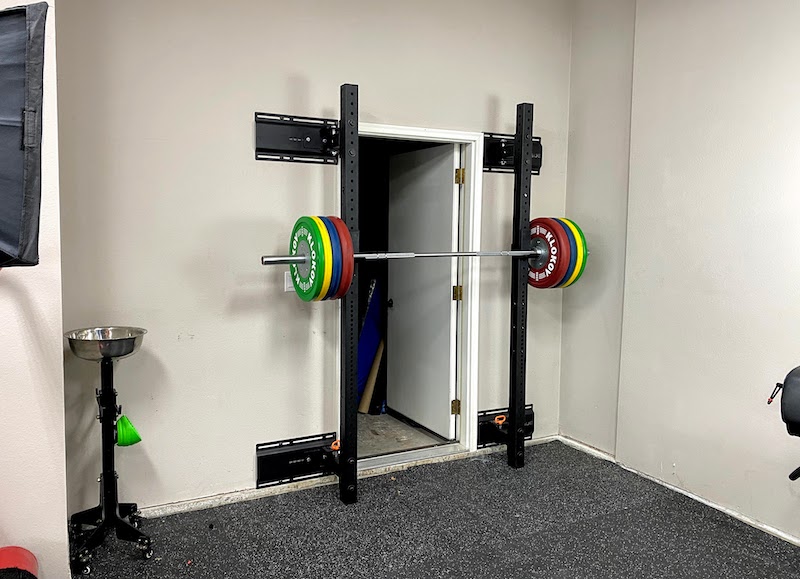 There's a lot to like the RML-90SLIM and one of the biggest things is the overall value. This is one of Rogue Fitness' cheapest racks, yet despite competing with many imported equipment companies like Titan Fitness on price, the rack is made in the USA of US-sourced steel.
The RML-90SLIM and RML-90SLIMDM fit a wide range of people as they can both go in front of a doorway or against any wall without taking up an enormous amount of real estate. One comment we often hear from people building a home gym is they have a worry about bolting any of their equipment to their wall studs.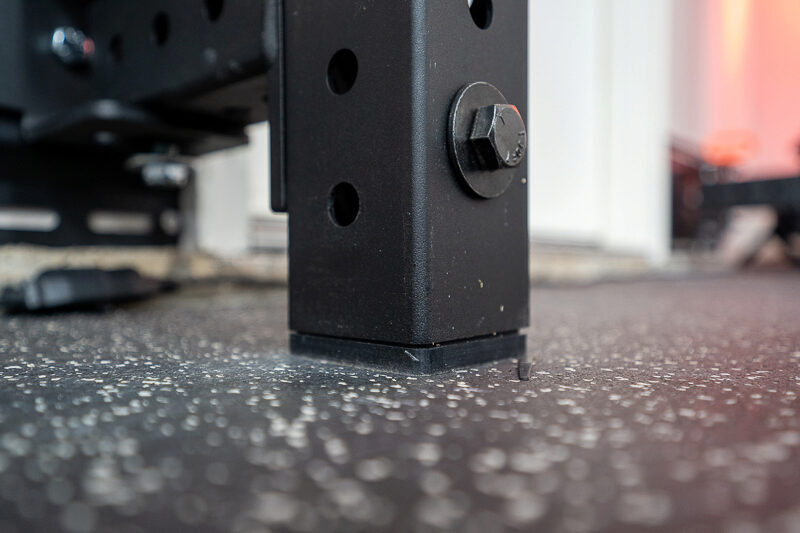 However, I don't think this should be a worry for any of the wall-mounted racks we've tested as the weight is majorly loaded against the ground due to the uprights making contact with the floor. So there's going to be very little pull from the stringers/studs. If you really are worried, we dropped 500 LB on the spotter arms of a PRx Profile Rack without issue, for science purposes of course.
The ideal audience for this rack is someone what limited space that wants a garage gym but still wants to park their car inside, or has a doorway they want to put a rack in front of, or is simply limited on space and is simply too limited on space for a stand-alone rack.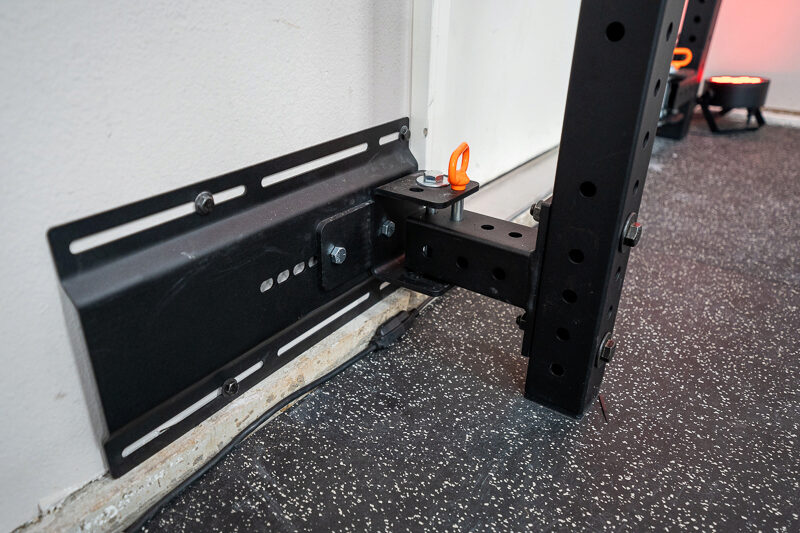 The compactness of these racks is tremendous and although you may feel a little claustrophobic using the rack with your face so close to the wall, the functionality works fine. There's enough room for plates to fit on the bar, and sliding a weight bench underneath for bench press proves no problem (unless you want to use an adjustable bench–more to come on that in a moment.).
Despite the compactness of the rack being a stand-out feature, its maximized by the fact that the uprights are made to use the standard attachments Rogue has for the rest of the Monster Lite line.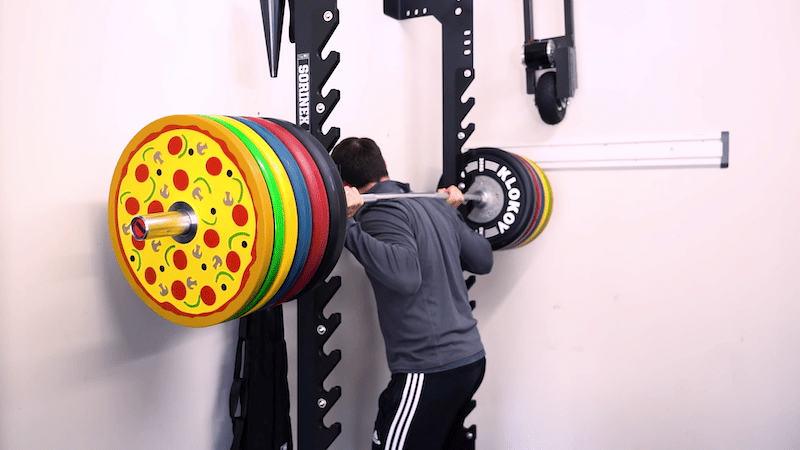 This was one of our biggest complaints with theSorinex OFF-GRID Rack. It was a good rack, but because of its design, it couldn't accept any of the accessories Sorinex or any other companies make and it doesn't appear they plan on offering many. This means if you buy the rack, what you get is what you'll have for the rest of your ownership. So, if you see a cool attachment, you won't be able to buy it because it won't fit your rack.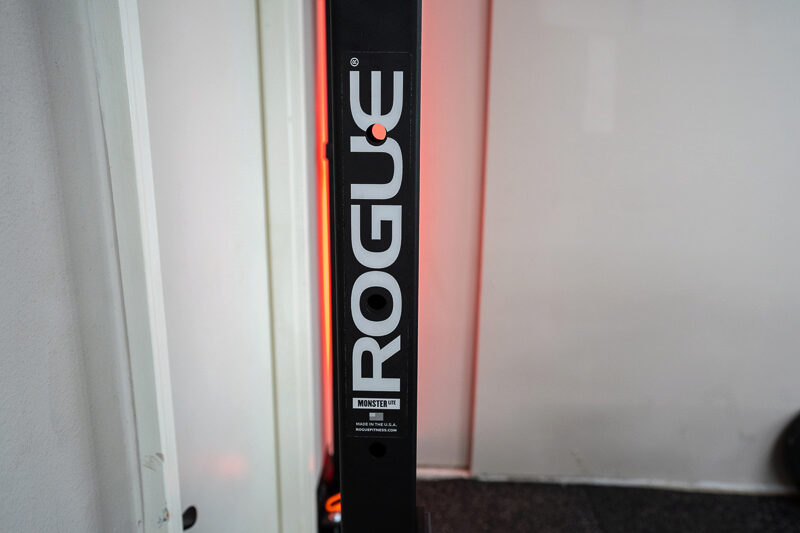 The Rogue RML-90SLIM takes the opposite approach by using the standard 3″x3″ uprights that are compatible with nearly all Monster Lite accessories. I think one of the biggest hazards in owning a home gym is training alone and potentially getting hurt with a barbell in your hand. Being able to add spotter arms to your rack is absolutely essential in my opinion and the RML-90SLIM allows you to add them. This makes the rack great for using alone and future-proofs the rack should any accessories be released that you want to add.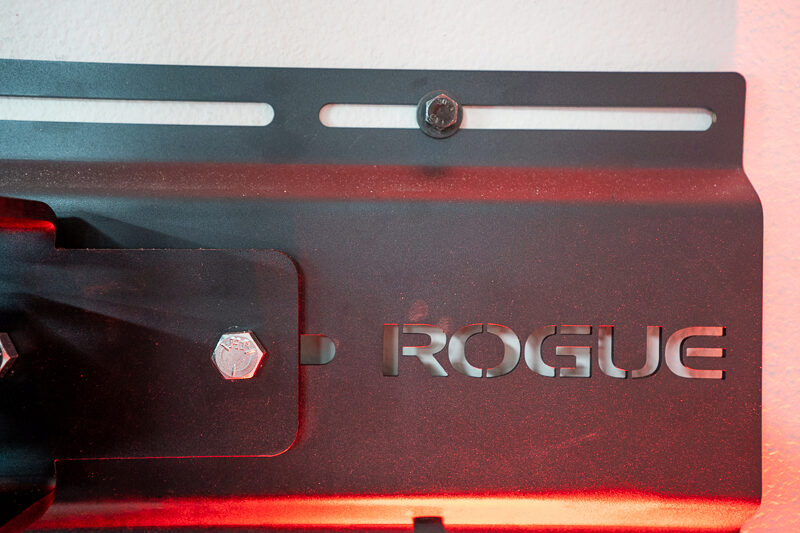 I do suggest getting the laser-cut stringers to make install quick and give the rack a more finished look. They're not essential, but they're pretty darn close and you'll thank yourself for spending the little bit more they cost when you put it up.
Lastly, we do recommend the RML-90SLIM Rack as well as the door mount version. They're some of the best compact squat racks on the market from a company that's going to give you a lifetime warranty and be able to service it for your lifetime. The price is a fantastic value and I expect to see many of these in home gyms over the coming years.
What We Don't Like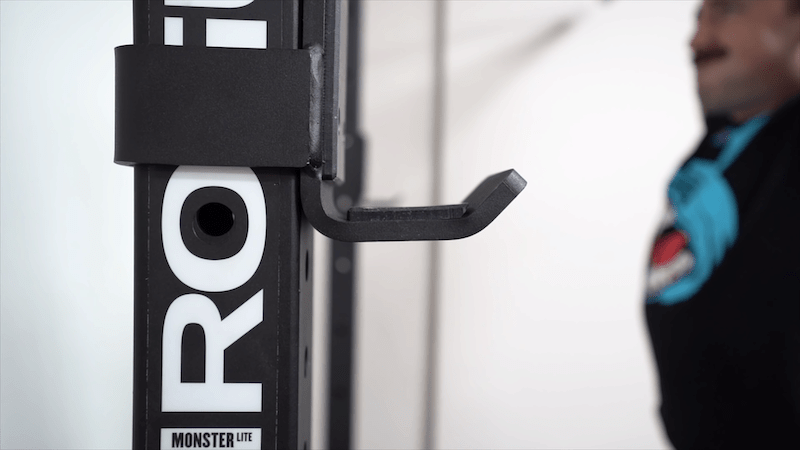 There is a lot to like about the RML-90SLIM, however, it's not perfect.
There are a few issues that are inherent with the design that are simply compromises for having so short of depth from the wall. One, there is no way to do kipping movements on the rack. So, this basically removes anyone who does CrossFit. Kipping pull-ups and kipping muscle-ups are not currently a possibility, although I would like to see them add a pullup bar that sits farther out from the wall to make this possible. However, if you do feel the need to kip, you could get the door mount version and open the door during use.
The other thing the RML-90SLIM rack doesn't allow is the use of an adjustable bench. Your body is simply too far away from the rack to allow the bar to be pulled back at the higher angles. You can use an adjustable bench in the middle of the doorway if you have the fold-back door mount version, however, the surface on both sides will need to be even (meaning no stairway on the other side.).
Lastly, the RML-90SLIM is currently not available in colors. We hope they add this in the future.
Rogue RML-90SLIM vs. The Competition
Rogue vs Sorinex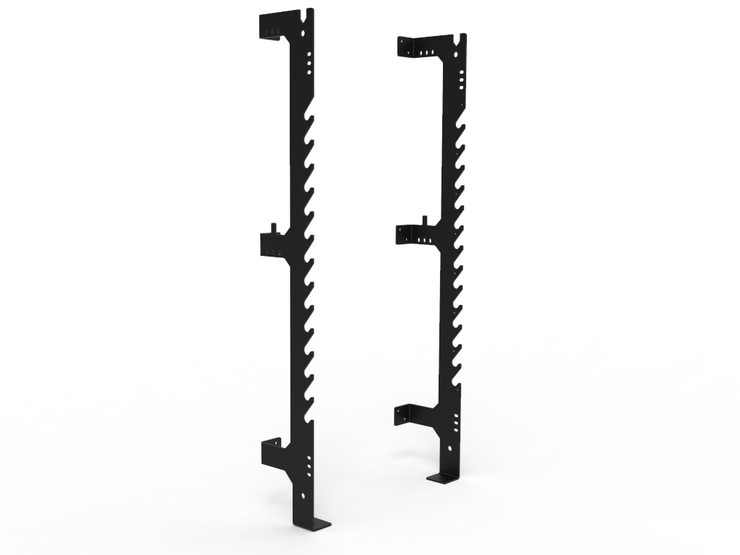 Sorinex Off Grid Rack
Why are we doing this whole thing? I mean our phones have been blowing up. There are a lot of people afraid. The whole country is afraid. The economy is crashing. People staying home, out of their workout routine, unable to relieve stress and unable to stay healthy. We have been receiving calls from everyone in the industry asking who can keep stuff in stock. This is not a normal Sorinex high end custom build rack. But we have a calling to stay in our lane and push the industry forward with a solution. People need a rack quickly. With a reduced Sorinex labor force... how do we create something expeditiously with minimal hands-on, get it through the shop as fast as possible, get it shipped out, and get people training. Get them back to a normalcy of their life. Biggest thing, it has to be inexpensive. People are stressed and need to keep cash in their pockets. This is a wartime solution. This is a wartime rack. Is it the best rack we have ever made? No. But it is a solution that will allow people to keep training. Next step, we need to figure out a way to price it extremely fair. Then, take all the profits and put it back into our economy and our system. We want to make sure we are helping and donating that money to help covid research and fight covid. We want to help flatten the curve as a country and keep the world strong. We have always been about living strong, this is what we can do. A lot of companies are doing amazing things. We want to do our part the best way we know how. By that, it kind of made it a Sorinex thing.
Rogue RML-90SLIM vs. Sorinex OFF-GRID Rack:The Sorinex OFF-GRID Rack spurred Rogue on to release its competitor. Regardless of whether you feel they copied them or not, the RML-90SLIM is simply a much better rack at an even better price point. If you want a compact rack, we definitely recommend Rogue's offering over Sorinex.
Rogue vs. PRx Performance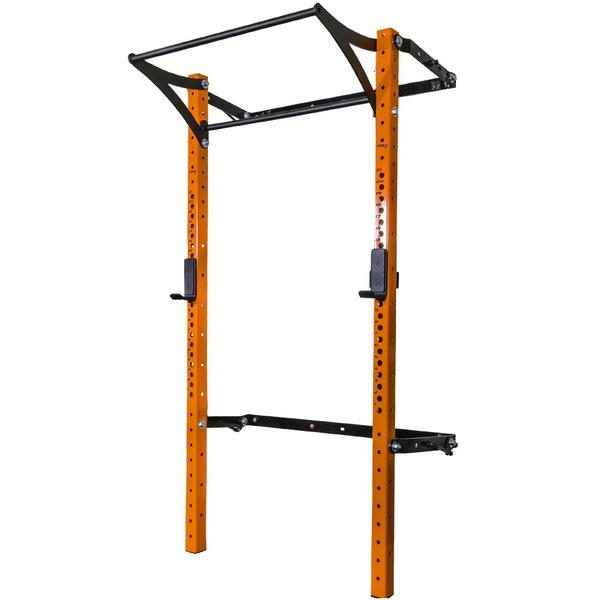 PRX Profile PRO Squat Rack
The patented wall-mounted folding Profile® PRO Squat Rack with Kipping Barâ"¢ is revolutionizing the workout space as we know it. Easily transform any garage, home or small commercial space into a multi-functioning gym while sacrificing just 4" of wall space when not in use. You can have the garage or home gym you always wanted, but didn't think you had the space!Folding away requires no disassembly. The Profile® PRO Rack offers heavy duty J-Cups, laser cut numbers and can be upgraded to one of our 8 custom colors. (The Orange PRO Rack is the rack we used for our Shark Tank appearance!) All hardware for installation is included, which means no unexpected trips to the hardware store! Made in the USA. Perfect for cross-functional fitness athletes, Olympic Weights, MMA, and anyone looking to Lift BIG in Small Spaces and stay fit. PRODUCT DESCRIPTION(2) 11-gauge steel uprights (7'6" or 8')42" Steel Kipping Barâ"¢ gives you more than 3 full feet of clearance from the wallHeavy duty J-Cups (Pair)Plastic foot plates to protect your floor(4) 100lb gas shocksWall Brackets (racks are 52" wide on the outside dimension)Mounting HardwareColor Options: Black, Orange, Blue, Neon Green, Red, Pink, PurpleWeight Capacity: 1000+ lbsPatentedMade in the USARack folds out to stand 24" from wall when down and ready to useWall Brackets mount to 16" or 24" on center studs. If studs are unevenly spaced, a ledger board is requiredCEILING HEIGHT*90" Racks: We recommend 9' (108") ceilings and accommodate kipping athletes up to 6'2" tall96" Racks: We recommend 9'5" (113") ceilings and accommodate kipping athletes 6'2" and taller
Rogue RML-90SLIM vs. PRx Performance Profile Rack:We like the PRx Performance series of racks and think they have the best folding functionality. Folding up with the assistance of shocks is definitely than folding to the side as PRx doesn't require you to remove your pull-up bar which takes time and inevitably will cause the rack to be folded less than ideal. We do think the value propositions are a bit different on these racks. If you want something more budget-friendly, then we suggest the Rogue RML-90SLIM. If you like the fold-up feature and you're willing to pay for it, then that's a fine option. However, we don't think the PRx Racks are that much better.
Full Rating
Rogue Fitness RML-90SLIM Rack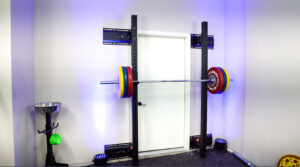 The Rogue RML-90SLIM Rack is the most compact and best-priced squat rack that Rogue Fitness makes. It's an extremely simple rack that is designed for the budget-conscious and space-restrained, yet offers most of the functionality of a standard squat stand with a pull-up bar while sitting only 16" from the wall. After testing and reviewing the RML-90SLIM, we recommend it highly and actually think it's one of the best squat racks from Rogue to date.
Product Brand: Rogue Fitness
Product Currency: $
Product Price: 470
Product In-Stock: InStock