We test and review fitness products based on an independent, multi-point methodology. If you use our links to purchase something, we may earn a commission. Read our disclosures.
The PRx Performance Profile Pro Squat Rack is one of the best space-saving squat racks available. We've used and tested many of the various options, including the popular fold-away racks, and undoubtedly, the Profile Squat Racks from PRx Performance are the most convenient and sturdy options.
But a rack without a weight bench is like peanut butter without jelly—fine on its own, but the two put together is a match made in heaven.
Our PRx Performance Profile Squat Rack and Bench review looks at what we consider to be the best option for those who need a fully functional squat rack and bench without sacrificing tons of floor space.
We've Used Home Gyms of All Shapes and Sizes
Although we're called Garage Gym Reviews, we have experience training in spaces much smaller than a garage. Some of us have designed home gyms in basements, old laundry rooms, and studio apartments the size of some people's closets…OK, that last one might be a slight exaggeration, but not by much.
The point is, if you're tight on space but still want to find high-quality home gym equipment, you've come to the right place. And as certified personal trainers, CrossFit coaches, and competitive athletes, we'll only recommend equipment that can help you achieve your fitness goals.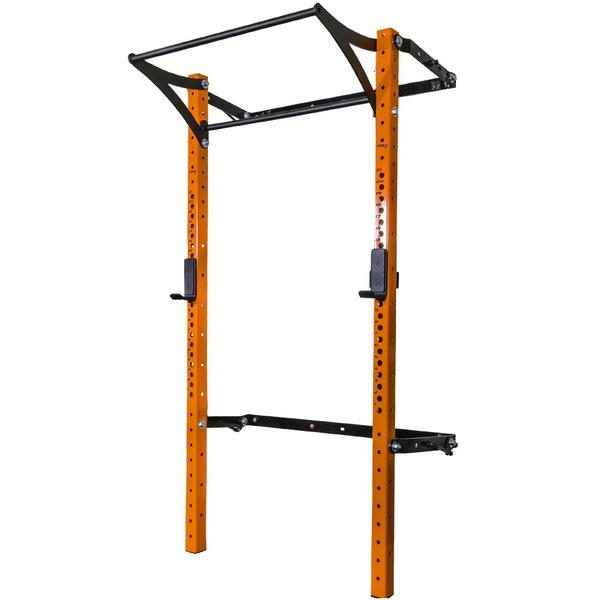 PRX Profile PRO Squat Rack
The American-made Profile PRO Squat Rack with Kipping Bar revolutionizes workout space as we know it. Its patented wall mounting and folding technology transforms any garage gym or small commercial space with a footprint of just 4 inches when not being used. This is a great option for people who have wanted a squat rack but didn't think they had the space.When you are ready to fold it and put it away, there is no disassembly required. This rack also offers heavy duty J-Cups, laser cut numbers, and can be upgraded to eight different colors. (You may have seen the custom orange on the Profile PRO Rack's Shark Tank debut.)No need to plan any extra trips to the hardware store, because all hardware needed for installation is included. The Profile PRO Squat Rack is perfect for cross-functional fitness athletes, Olympic Weightlifters, MMA, or anybody looking to lift big and lift heavy in small spaces.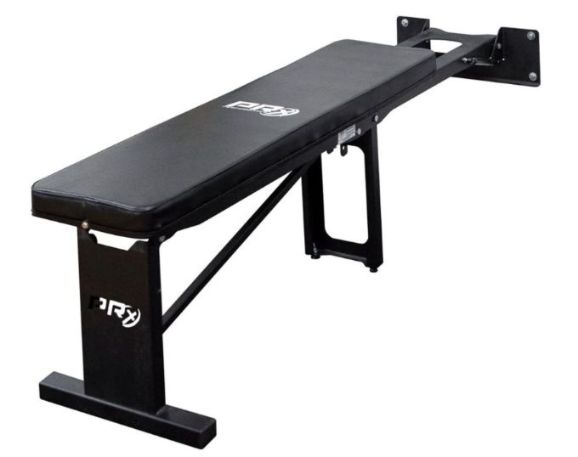 PRx Folding Flat Bench
The PRx Folding Flat Bench is one of our top picks for those who are dedicated to building a high-quality home gym in a compact space. This bench can be easily drilled into the wall, which allows it to fold for easy storage when not in use. So clearly, this isn't a bench for those who aren't allowed to drill holes in their walls, but for those with a small garage or have their gym confined to the smallest room in the house, this is great choice.The bench isn't the best, especially compared to a Rogue or other big-name brands, but it will work for 97 percent of home gym owners. There is an adjustable version, but it costs significantly more.
A Quick Look at the PRx Performance Profile Squat Rack and Bench
PRx Performance was founded in 2013 to create space-saving solutions for home gyms and commercial facilities, and for a few years enjoyed some success in the fitness industry. The company took off in 2017 when it secured a deal with Shark Tank judge Kevin O'Leary.
PRx Performance wasn't the first company to create fold-away squat racks or weight benches, but the ones that came before them were either hard to use or expensive. The PRx Performance Profile Squat Rack and Bench take seconds to fold and unfold, are sturdy under heavy weights, and are offered at a pretty decent price point.
Coop's Tips
Make sure your wall studs are evenly spaced apart before installing the rack (if they're not, you may have some stability issues)
You can email sales@prxperformance.com with any installation questions
Prime members can save money by finding this rack on Amazon
Pros:
Squat rack comes in two height options
10 different colors to choose from
Rack and bench have a weight capacity of 1,000 pounds
Easy to fold and unfold
Both are sturdy
Great value
Made in the USA
Cons:
Bench is not adjustable (PRx sells an adjustable bench, but it's $1,000)
Bench pad and vinyl covering aren't the most high quality
Some reviewers say the pull-up bar is too gritty
Rack doesn't come with spotter arms (they're sold separately)
Pull-up bar not recommended for those taller than 6'2"
Video Review
Is the PRx Performance Profile Squat Rack and Bench Worth It?
We think it's important to note that the PRx Performance Profile Squat Rack and Bench are not for everyone. If you don't need or desire compact training equipment, then there are more economical and frankly, more versatile options out there. 
That said, if you're looking to save space, the bench is one of the best weight benches for you and the rack is our go-to recommendation. 
Great for:
Anyone looking for compact exercise equipment
Those looking for sturdy workout equipment
People looking for a great value
Not recommended for
Anyone who can't or doesn't want to put holes in their walls
Those with low ceilings (you need at least 108-inch high ceilings)
Trainees with larger home gyms
PRx Performance Profile Squat Rack Specs
Price
Footprint
Stowed dimensions
Construction
Hole spacing
Weight capacity
$1,199
52" W x 39.5" D x 90" or 96" H
52" W x 22.5" D x 108" or 114" H
11-gauge 3×3 steel
Front: 2″, centered 1″ holesSide: 6″, centered 5/8″ holes
1,000 lbs
PRx Performance Profile Bench Specs
Price
Footprint
Weight
Weight capacity
Construction
$399
45″ L x 19" W x 19" H (61" H when stowed away)
48 lbs
1,000 lbs
Alloy steel
Using the PRx Performance Profile Squat Rack
The PRx Performance Profile Rack we reviewed was the PRO Rack (there's also the PRx Performance Profile ONE Squat Rack). The main differences between the PRO and ONE Squat Rack series are that the former has a 96-inch upright option, has laser cut numbers (the ONE series is unnumbered), and has varied hole sizing throughout the uprights.
Functionally speaking, the two racks are the same.
Related: Check out our picks for the best squat racks.
The PRO Rack's 3-inch-by-3-inch uprights have all the great features of a high-end squat rack, including 11-gauge steel, larger accessory holes, and the aforementioned laser-cut numbers.
If you've ever used a squat rack without identification numbers, you'll know how frustrating it is to go from squatting to benching. Coop has previously used the Rogue R-3 Power Rack, and though he loves it, the lack of laser-cut numbers drove him crazy.
Stability
One of the most asked questions Coop received when he initially reviewed this rack was, "Is it stable?"
Although it would appear the rack is less sturdy than one bolted to the ground, in use, he didn't notice much difference. The only instability came during side-to-side movements, but other than that Coop felt nothing for the most part while using the rack or kipping pull-up bar.
The kipping bar provides enough space from the wall to flail as much as one would like, and the sturdiness supplied by the steel wall attachments keeps the rack grounded. "I was pleasantly surprised to see just how sturdy the rack was during kipping movements," Coop says.
PRx Performance does warn the bar should not be used by anyone taller than 6-feet, 2-inches.
Footplates
On the bottom of the uprights are plastic footplates that protect the floor. Although this is minor, we would have liked to see these rubberized to add some extra grip for the upright on the ground. However, Coop hasn't experienced much swaying of the rack due to the plastic feet.
Folding and Unfolding the PRx Performance Profile Squat Rack
To utilize the most critical function of the PRx Performance Profile Squat Rack (folding it into and away from the wall), PRx employs the use of four 100-pound rated gas shocks to assist the user in putting up and taking down the rack.
Everything about the PRx Performance Rack is high quality and well thought out, but the true differentiator and reason for our recommendation is the ease of storage and how small of a footprint the rack takes up. When folded up, the rack takes up just 4 inches of space and, thanks to its height, you can park a car or truck under the kipping bar if necessary.
Using the PRx Performance Folding Bench
First off, the PRx Performance Folding Bench is designed to be used with a Profile Rack. It can be used with other racks, but you're just going to need to make sure the uprights are around 24 inches from the wall.
Similar to the PRx Incline Folding Bench, the Folding Flat Bench accomplishes something rare in most weight benches: providing a sturdy platform for bench presses without taking up an ungodly amount of space when no longer in use. Space is one of the most important features in a home gym, and having a piece of equipment that is used maybe one time a week taking up necessary real estate is pretty unfortunate.
Rather than having a bench take up so much space, the Folding Bench folds up with the assistance of gas shocks and extends from the wall by only 4 inches (basically the thickness of the pad). When you're ready to bench, you simply fold it out, and you're ready to go.
Besides the space savings offered by the bench, we also like that no adjustment needs to take place each time you use it. Most foldable benches require alignment, and unless you get a ruler out it will always be partially off. Although this isn't a huge issue, it can be annoying when you're trying to get a quick workout during a busy day.
The frame of the bench is made of heavy-duty steel and finished with a black onyx powder coat. It would be nice to see PRx offer the bench in different color options to match the rack, but that would probably cost quite a bit extra due to the number of parts.
The height of the bench from the floor is the standard 19 inches, which was a surprisingly great thing to find out. Many companies will neglect the bench height, which can greatly affect the power you're able to produce while benching.
The one thing we dislike about the PRx Folding Bench is its bench pad, which should be much more comfortable considering it costs $400.
Overall the PRx Performance Folding is an excellent idea for a bench that takes up hardly any space yet provides even better stability than most flat benches.
​​Suggested Improvements
Although the PRx Performance Profile Rack and Folding Bench are the best options available for those who are space-conscious, there are a couple of things that could be improved.
The first thing is very minor, but we would like to see some sort of rubber-coated feet on the steel uprights to provide even more stability. There are also not any storage options for your barbell or weight plates, but those are small enough that you can probably fit them in a corner of your gym space.
The second improvement is the bench pad. Although for a cheaper bench, the pad would be fine, it could stand to be firmer with a better, more grippy covering.
PRx Performance Profile Squat Rack vs. Rogue Fitness RML-3W Fold Back Wall Mount Rack
Rogue Fold-Away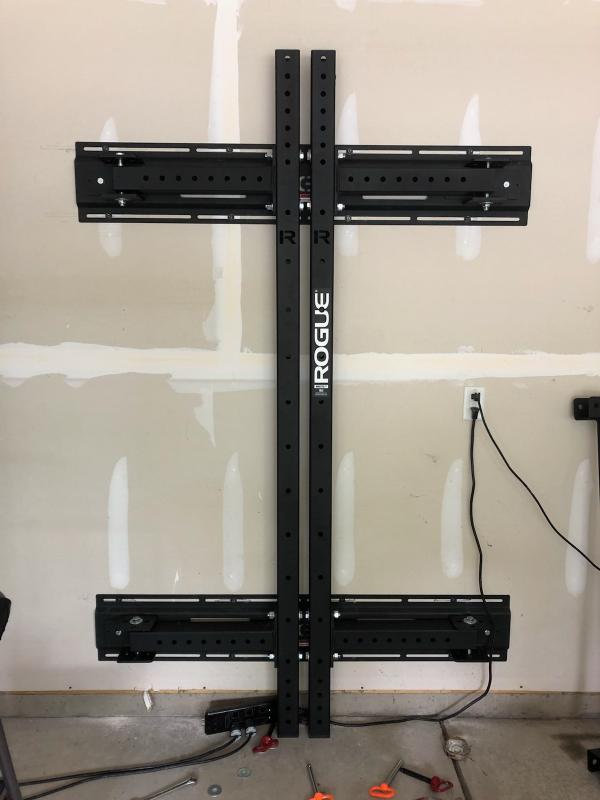 Rogue RML-3W Fold Back Wall Mount Rack
The design challenge was to come up with a wall-mount unit that could be folded inward or outward for space savings, yet still offer the sturdiness of our standard Monster Lite racks. To achieve this, our engineering team developed a unique hinge-and-pin system that is both easy to install and rock solid. In use as a squat stand, pull up rig, or power rack, the feel is miles beyond lighter setups that use thinner steel.A Rogue original Fold Back Rack is built with two 3x3" 11 gauge steel uprights, laser cut in Columbus, Ohio, with Westside hole spacing through the bench/pull area, and 2"-on-center spacing above and below. All steel is powder coated in the Rogue factory for a durable finish.
As the COVID-19 pandemic has forced people to adjust their fitness habits, space-saving squat racks have become quite popular. The market has met the demands of people who want a great gym in a small space,
There have been many variations over the years, and we've tried to use a majority of them. Everything from the small squat stands that tuck away nicely in the corner to fold-away racks.
That includes the Rogue Fitness RML-3W Fold Back Wall Mount Rack, which, like the PRx Performance Profile Squat Rack, is made with 3-inch-by-3-inch 11-gauge steel and folds against the wall (Rogue's comes out 5 inches from the wall, compared to PRx's 4 inches).
The problem with the Rogue RML rack is that it's significantly harder to use than PRx's.
To take the rack away from the wall, you'll have to:
Remove hitch pins from the top two wall brackets
Remove hitch pins from the bottom two wall brackets
Swing out the left upright
Swing out the right upright
Place the hitch pins back in the top two wall brackets
Place the hitch pins back in the bottom two wall brackets
Place the J-cups on the uprights
And if you want to use the pull-up bar (you will,) you'll have to grab a ladder and place it on the uprights along with the two hitch pins
To fold it back, you'll have to do all of this in reverse. Although it won't take an insane amount of time, I would bet that the majority of swing-away racks sit in the erected position without ever being folded away, or the users simply don't work out as much due to the inconvenience.
To use the PRx Performance Profile Racks, you simply take out two hitch pins and pull the rack down. It's that simple.
Ordering and Assembling the PRx Performance Profile Squat Rack and Bench
The PRx Performance Profile Squat Rack and Folding Bench showed up on Coop's doorstep rather unscathed.
There were a few box corners that had been ripped, but he didn't notice any damage to the parts themselves. After having reviewed so much gym equipment, you realize that some companies put quite a bit of thought into protecting the equipment they send while others don't. PRx Performance is thankfully in the former category.
After finding the instruction manual and seeing that assembly was pretty straightforward, Coop had the rack up on the wall and ready to use in under 30 minutes. You will need a stud finder, as the brackets must be screwed into a stud to keep it stable and secure (the same goes for the bench).
You'll simply attach the main frame to the studs, then connect all the other parts via washers and screws. PRx Performance has a handy YouTube video showing the complete assembly, so you can follow along if you require any additional help.
Financing, Warranty, Returns
PRx Performance offers several financing options that start as low as $29 a month. You can see if you qualify for financing and pick a plan that works for you at checkout.
The PRx Performance Profile Racks come with a limited lifetime warranty for any manufacturer defects. This covers all parts of the rack.
Not pleased with your squat rack? You have up to 30 days from the date of delivery, but it must be sent in the original packaging along with proof of purchase. You have to pay for shipping, and there's a 10 percent restocking fee applied to all returns.
Customer Reviews
The PRx Performance Profile Squat Rack has a 4.9 average rating, with more than 230 reviews as of this writing. Customers were generally satisfied with their purchase and raved about how it allowed them to maximize their workout space.
The few complaints came from people who had shipping issues.
The PRx Performance Folding Bench has a 4.8 average rating with 85 reviews as of this writing. Like the rack, people were pleased the bench gave them the stability they needed without taking up too much space.
There were some complaints about a lack of quality control, though they were few and far between.
Final Verdict of Our PRx Performance Profile Squat Rack and Bench Review
The PRx Performance Profile Squat Rack and Bench are easily two of the best pieces of fitness equipment for those who need to make the most out of a small workout space. And as your parents probably told you, good things can come in small packages. This squat rack and bench are proof of that.
They're not the most budget-friendly options, but we sometimes think it's worth paying a little more to get better quality. The ease of use alone makes these products a great value, and their high weight capacity helped seal the deal for us.
PRx Performance Profile Squat Rack and Bench Rating
PRx Performance Profile Squat Rack and Bench
Our PRx Performance Profile Squat Rack and Bench review looks at one of the best compact pieces of exercise equipment.
Product Brand: PRx
Product Currency: $
Product Price: 1199.00
Product In-Stock: InStock
PRx Performance Profile Squat Rack and Bench FAQs
Are PRx Racks good?
The PRx Performance Profile Racks are a high-quality rack that are especially great for those looking for space-saving solutions. They're made of 3-inch-by-3-inch 11-gauge steel, and in our experience are stable and sturdy during use.
How long does it take to get PRx Performance?
It depends on the product, but most PRx Performance products ship within 2-3 business days.
Where is PRx Performance made?
PRx Performance products are made in the USA.