We test and review fitness products based on an independent, multi-point methodology. If you use our links to purchase something, we may earn a commission. Read our disclosures.
If you don't have a weight bench in your garage gym, do you even really have a garage gym? I kid—any home gym is a good gym. In all seriousness, though, a weight bench is a staple piece of home gym equipment for people all over the world. Bench press is one of the big three lifts, after all. If you don't yet have a bench or you're on the hunt for a new one, you've come to the right place: Keep reading for my Fringe Sport Comp Flat Bench review.
Why You Should Trust Us
I've tested all of the best weight benches currently available. I've also tested my fair share of not-so-great weight benches. So, I know what to look for in a good weight bench for a home gym and I can tease out all of the pros and cons of different benches from different brands.
Fringe Sport Comp Flat Bench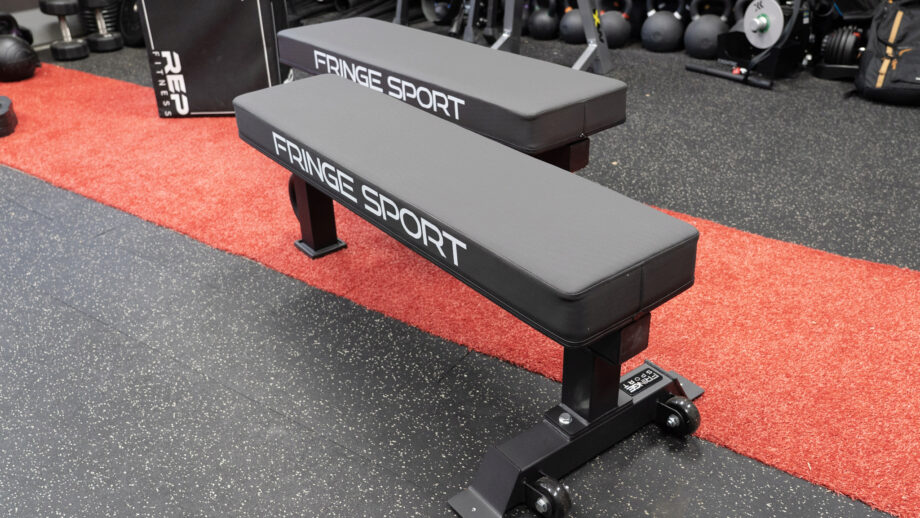 Fringe Sport Fatty Comp Flat Bench
May your bench be wide and your weights be heavy. This bench is the bench of all benches. Say that three times fast, and one just might show up on your doorstep… just kidding… add to cart for that to happen!Fringe Sport is offers two different pad options for your workout needs: the normal width pad (12") that works for most lifters, garage gym owners, and community gym-goers pushing weight alike, and the wide pad (14.5") dedicated to supporting wide, powerlifting shoulders and BIG weights. Both of these options are on a super sturdy 4" thick pad.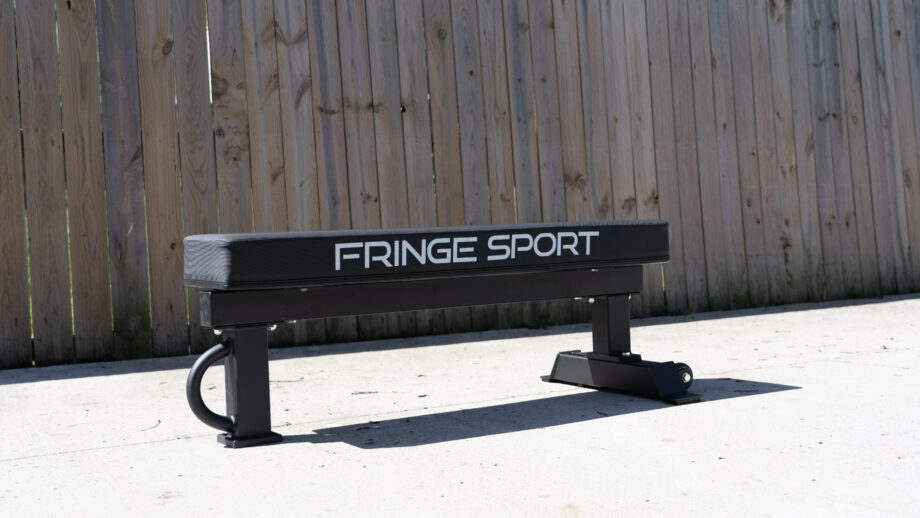 A Quick Look at the Fringe Sport Comp Flat Bench
The Fringe Sport Comp Flat Bench is also called the "fatty" bench thanks to the 4-inch depth of the bench pad and the option for an extra-wide 14.5-inch pad. Fringe Sport also offers a standard gym bench and a number of adjustable benches, including the popular Pro-Lift Incline Bench.
Coop's Tips:
The padding on this bench is squishier than some, so be careful when maxing out your press. Stability is key.
The tripod design is great for bench press, but a four-legged bench is best for hip thrusts and single-arm rows.
The 14.5-inch pad is nice, but petite athletes may want to stick with the 12-inch version.
My Favorite Things:
Tripod-style bench with multiple pad options in different sizes
Vinyl is very grippy; you won't start slipping around when you break a sweat
Can store this bench upright to save space
My Callouts:
Not quite firm enough for me; may experience a lack of stability when pressing near-max weights
Padding will get softer over time and vinyl will stretch
It's a bolt-together bench (not fully welded), so it may require some retightening over time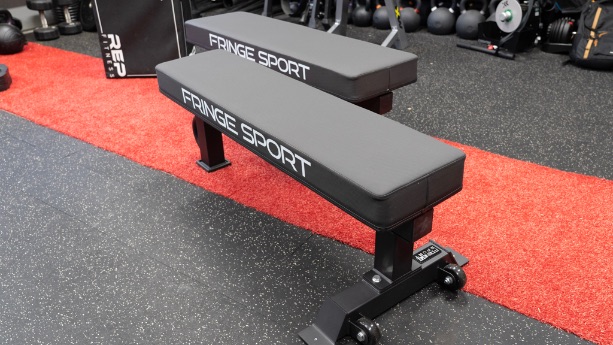 Is the Fringe Sport Comp Flat Bench Worth It?
If I had to pick just a few pieces of essential equipment for building a home gym, I'd pick a squat rack, a barbell, bumper plates, and a weight bench. Together, those four pieces of equipment set you up to do all of the powerlifting movements and Olympic lifts.
The Fringe Sport Comp Flat Bench in particular would be a great addition to a home gym for people who have broader shoulders or want more cushioning from their bench. Here's who I think should consider the Fringe Sport Comp Flat Bench and who should look for other options:
Great for:
People who like a wider weight bench platform
People who prefer a softer bench pad
People who prefer tripod benches over quadruped benches
Not Recommended For:
People who want a firmer bench pad for more stability
People who want an adjustable bench
Petite athletes who may prefer a thinner bench pad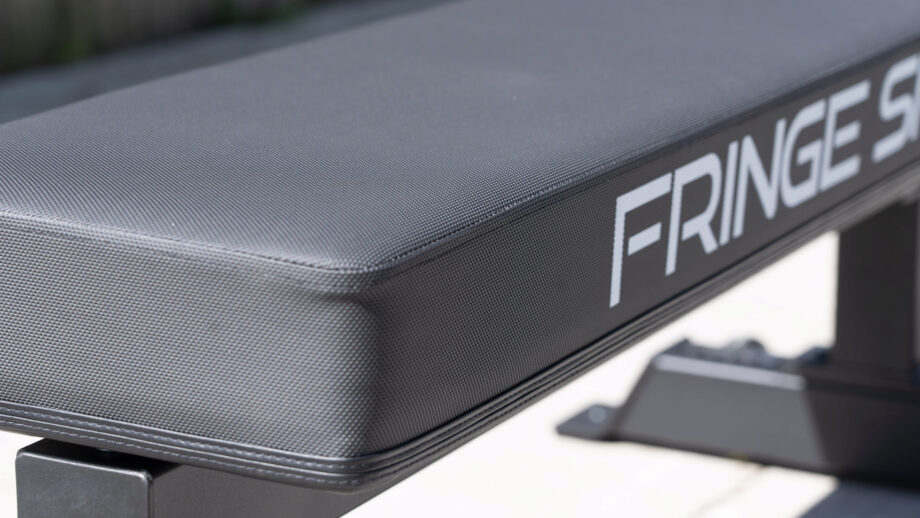 Using the Fringe Sport Comp Flat Bench
The Fringe Sport Comp Flat Bench is also called the Fatty Bench for a reason: It has a fat pad. The pad width is 14.5 inches, which is 2.5 inches wider than the standard 12-inch bench. The depth (or pad height) is 4 inches.
Fringe Sport also offers this same bench in a 12-inch version. I received and used both, and generally enjoyed using each one. Whichever version you may choose, this is a solid flat weight bench, but there are some flaws worth pointing out. The 14.5-inch bench pad is wide, which I like, but it's squishier than some other wide pad benches.
I didn't have any problems when benching at light to moderate weights, but I felt a bit of instability when benching at higher weights. I think stability could become a problem if maxing out. When bench pressing super high loads, stability becomes paramount, and if your bench pad is too squishy, it could cost you the lift. For that reason, I don't think this is the best weight bench for powerlifters who move a lot of weight regularly.
It's still great for general weight training, though, and will serve most home gym owners well. The 14.5-inch version might be a bit too wide for female athletes or petite athletes (my wife isn't a fan of the very similar Thompson Fat Pad from Rogue Fitness), so I recommend going with the 12-inch Fringe Sport Comp Flat Bench if you have narrower shoulders.
Overall, this bench feels great during use. I've used similar styles including the REP Fitness FB-5000 Competition Flat Bench and Bells of Steel Flat Bench. Like those two, the Fringe Sport Fatty Comp Bench is great for, well, the bench press—as one might suspect. It's especially great if you tuck your feet for leg drive in the bench press.
I will say this type of bench, the Fringe Sport version included, is slightly unstable for other movements. The tripod design isn't as good for hip thrusts or single-arm rows. You might also feel that instability with a number of other exercises, such as Bulgarian split squats or decline push-ups if you use a bench for that. A quadruped bench, like theTitan Fitness Flat Weight Bench, is better for those sorts of exercises.
Outside of a workout, the Fringe Sport Comp Flat Bench is relatively easy to maneuver and store. The casters move great, the handle is easy to hole, and you can store this bench upright to save space when you're not using it. I will say that it's not phenomenally stable in the upright position, though.
Ordering and Assembling the Fringe Sport Comp Flat Bench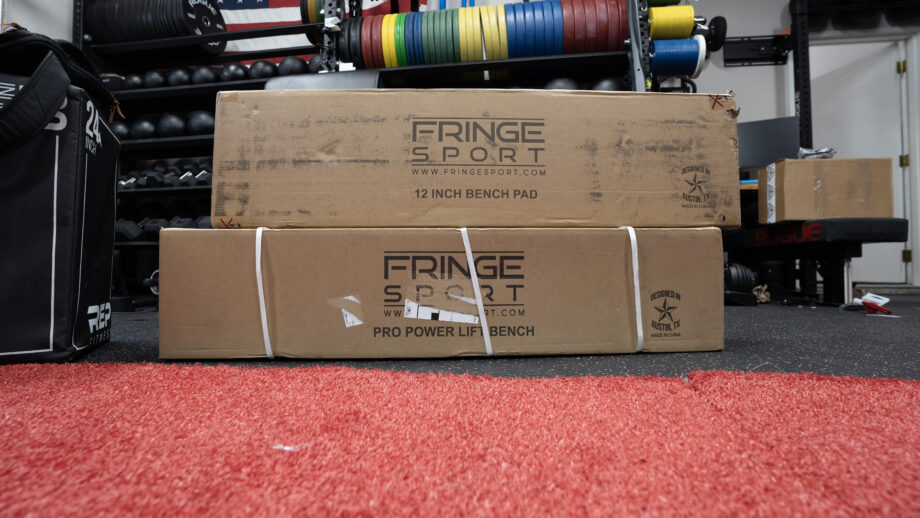 Ordering gym equipment from Fringe Sport is always easy and quick. At checkout, you can choose to pay with Shop Pay, Amazon Pay, PayPal, Google Pay, or a credit or debit card. You can also calculate shipping costs, but Fringe Sport has free shipping on most items. That's one of my favorite things about buying equipment from Fringe Sport!
I received both versions of the Fringe Sport Comp Flat Bench—the standard 12-inch one and the wider 14.5-inch one. One of the benches was missing a bolt, but other than that, everything else about shipping and delivery was a good experience. The products were well-protected.
This bench does require assembly as it's a bolt-together bench. It took less than 30 minutes for us to put it together. Because it's a bolted bench, it may require some retightening over time, but this type of bench is cheaper to ship than a fully welded bench.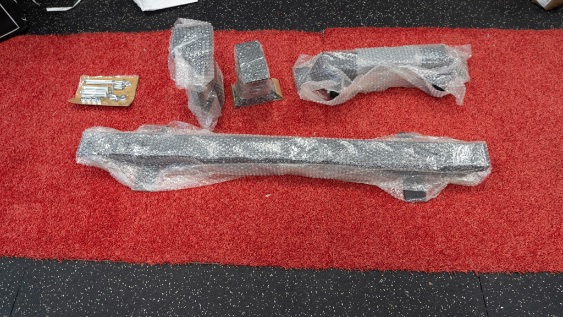 Durability and Construction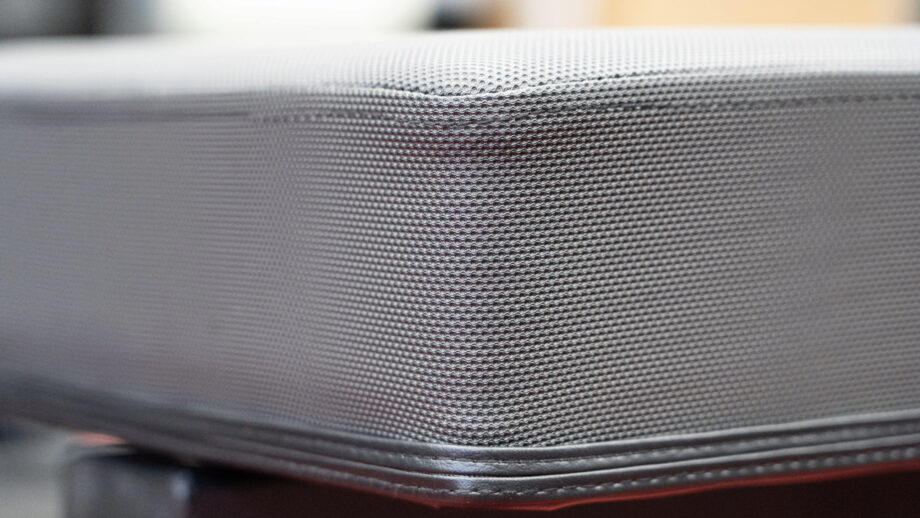 The Fringe Sport Fatty Comp Flat Bench isn't the most heavy-duty utility bench I've ever used, with the primary reason for that being it's not fully welded. Fully welded weight benches have more longevity than bolted benches simply because they won't come loose over time. (You can, of course, tighten the bolts, but the fewer moving parts, the better, generally.)
The handle on the front leg is welded, which I like, and the casters are solid. You won't have any problem moving this bench around.
Materials
I noticed that the cover material on the Fringe Sport Comp Flat Bench is thinner than the material on some competing products, like the Thompson Fat Pad or the REP FB-5000. It will wear down over time. The padding will also get softer and the vinyl will stretch with it as you use the bench. This happens to all weight benches; it's just a matter of time.
Despite the thinness of the fabric, I do like that the cover material is grippy. It's more grippy than similar products in this price range, and it's nice to know I won't slip and slide around once I start breaking a sweat.
The frame is solid 11-gauge steel with a powder coat finish—you shouldn't have any issues with the frame rusting thanks to the powder coat.
Like I mentioned before, the pad itself could be firmer. I wouldn't call The Fringe Sport Comp Flat Bench a rock-solid utility bench. For elite powerlifters who need a weight bench that can support several hundred pounds, this may not be the one.
When it comes to aesthetics, the Fringe Sport Comp Flat Bench is just a basic, black bench. The big Fringe Sport logo on the side of the pad may turn some people off, but other than that, there's nothing especially good or bad about the way this bench looks.
The bench weighs 80 pounds with the pad on, and the weight capacity is 1,000 pounds.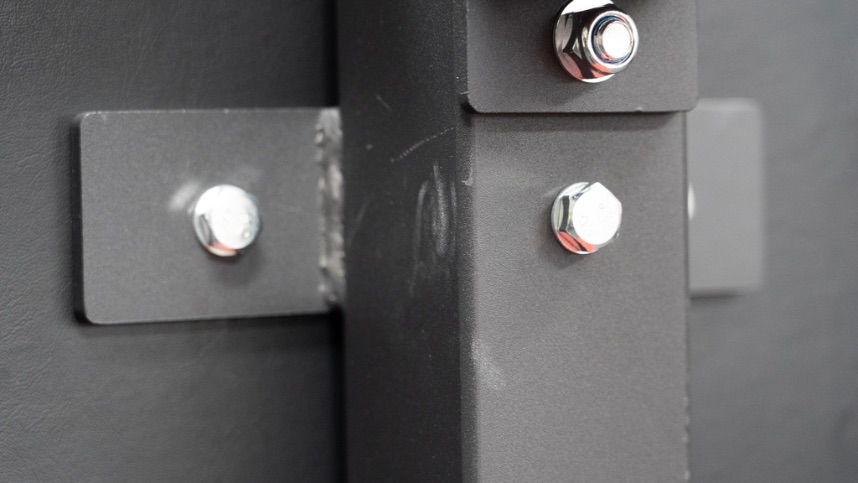 Flat Workout Bench vs. Adjustable Bench
Both flat and adjustable workout benches are loved and used by lifters everywhere. People who use a gym bench often are likely to use both kinds. But if you can only buy one for your garage gym, you're likely wondering if you should get a flat bench or an adjustable one.
The primary reason to get an adjustable bench is, well, that you can adjust the positions to do different exercises and target specific muscles. For example, with an adjustable weight bench, you can sit up with back support to do seated shoulder presses. Sure, you can sit up on a flat bench too, but you won't get the same level of support and thus may not target the shoulders as effectively.
Most adjustable benches only offer an incline, but some also become decline benches. If you used to go to a commercial gym before starting your own, infinitely better garage gym, you probably used adjustable benches often as they're typically stocked to all get-out in commercial gyms.
If you can only get one type of bench for your home gym, you'll probably want to get an adjustable weight bench. But if you have the funds and space for two workout benches, you may want to get a flat bench, too. You'll thank yourself when it's time to bench press.
One of the main benefits to flat benches over adjustable benches is that there's no pad gap. When you set an adjustable bench in the flat position, you'll have to deal with a gap in the bench pad no matter how high-quality the bench is. It's just the nature of the beast.
Fringe Sport Comp Flat Bench Specs
| | |
| --- | --- |
| Length | 48 inches |
| Width | 12 inches of 14.5 inches |
| Height | 17.5 inches |
| Pad Height | 4 inches |
| Pad material | Non-slip vinyl |
| Weight | 80 lbs (+3 pounds with 14.5-inch pad) |
| Weight capacity | 1000 lbs |
| Frame material | 11-gauge steel |
Customer Experience
Fringe Sport is always a pleasure to buy from. The online shopping experience is smooth and easy, and customer support never gives me a hard time. The website has a helpful FAQ center, but you can also get in touch with Fringe Sport by using the online chat, calling the customer service department at (512)-201-4404 or emailing team@fringesport.com.
I particularly love that Fringe Sport has a 365-day "no drama" return policy. For completely unused products in the original packaging, Fringe Sport will accept returns for a full refund within one year. For lightly used products—i.e., you tried it and didn't like it—you can return for a full refund within 30 days.
Customer Reviews
The Fringe Sport Fatty Comp Flat Bench has a five-star rating on the Fringe Sport website. Reviews mainly call out that the 14.5-inch pad version offers extra support, the cover material is grippy, and the bench overall is very sturdy. I'm not sure I agree with all of the reviews that call this bench the gold standard, but if the people like it, so be it.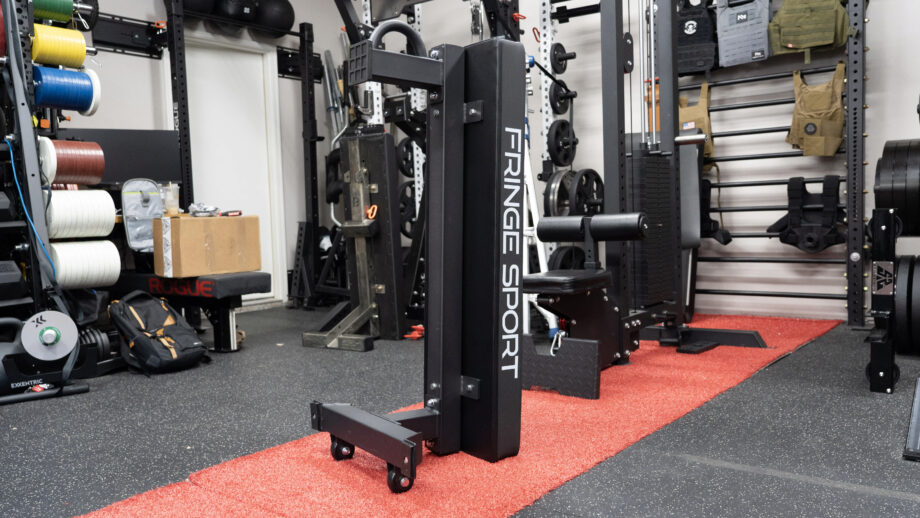 Final Verdict of Our Fringe Sport Comp Flat Bench Review
The Fringe Sport Comp Flat Bench is a good bench overall. Some things could be better. For example, I prefer fully welded benches over bolt-together benches, and the pad could be a bit firmer. This bench is priced higher than some of the competition, like the REP Fitness FB-5000. Factoring in shipping costs and warranties will help you make the best decision for your new weight bench.
Takeaways:
Extra wide bench pad provides extra support
Similar to other options, including Rogue Thompson Fat Pad and REP FB-5000
Free shipping makes it a good value
Pad construction could be firmer and more durable
Full Rating
No schema found.
Fringe Sport Comp Flat Bench FAQs
Is the Fringe Sport Comp Flat Bench a good weight bench?
With a 1000-lb weight capacity and 11-gauge steel frame, the Fringe Sport Comp Flat Bench is indeed a good bench. Is it the best? I don't personally think so. But thanks to the price point of under $300 and free shipping, it's a good value, especially if you want an extra-wide bench pad.
Does the Fringe Sport Comp Flat Bench fit under a squat rack?
Yep, the Fringe Sport Comp Flat Bench can fit under a squat rack, making it a great bench to use with a power rack for bench press.
What exercises can you do with a flat bench?
The main exercise you'll probably do with the Fringe Sport Comp Flat Bench is the bench press, a staple powerlifting move. With a flat gym bench, you can also do dumbbell bench press, kettlebell bench press and pull-overs, split squats, step-ups, and bodyweight exercises like decline push-ups.
Do you need a weight bench for CrossFit workouts?
No, most CrossFit workouts don't include any exercises that require a weight bench. CrossFitters notoriously slack on bench press. But you could use it for step-ups in place of a plyo box or for burpees over the bench.
Do you need a weight bench for Olympic weightlifting?
No, none of the Olympic lifts require the use of a bench. However, you can still benefit from using a bench for general strength training, which can translate to improvements in your snatch and clean and jerk.