We review free products that we receive and participate in affiliate programs, where we may be compensated for items purchased through links from our site.
See our disclosures page for more information.
The REP Fitness FB-5000 Flat Bench is by quite a large margin, the best value flat bench currently available to home gym owners. It features an intelligent design, great padding, grippy vinyl, and other standout features at an excellent price point. Whether your max bench press is 135 LB or 500 LB, you'll have a hard time finding a better value weight bench.
Best Value Weight Bench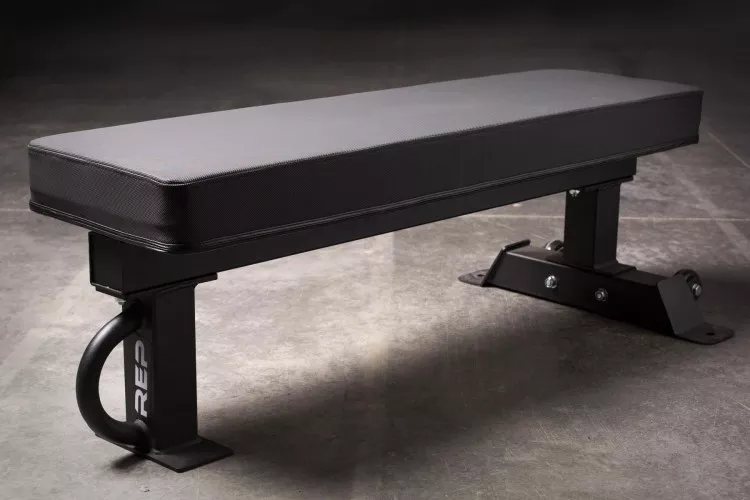 Rep FB-5000 Competition Flat Bench
The Rep Fitness Competition Flat Bench is designed to handle the heaviest weights, and has compatibility with the Rep Fitness Wide Pad or the Thompson Fat Pad (with 4-bolt mounting pattern, please check yours) for those seeking an extra-wide pad. A heavy-duty bench for big lifts. Why a 3-Post Flat Bench? Nothing in the way of your feet, at powerlifting competition spec height, and rated to 1,000 lbs at an incredible price. Dims: 17" high (top of pad), 48" long (pad), 12" wide (pad), 62 lbs. 4" thick pad. Designed to meet IPF specs of height, width, and length Heavy-duty 3x3" 11 gauge steel frame with even thicker connecting plates. Durable vinyl upholstery with 4" thick pad with plywood base. Connects with 4 bolts. 2 extra bolt holes on frame for future pad compatibility. 17" height from floor to top of pad. Our bench height allows athletes to use proper positioning of the feet, and arch the back to push up serious weight with proper form. Height stays the same when using the Rep Fitness Wide Pad. If swapping our pad for the Thompson pad (must be 4-bolt mount pattern), total bench height will increase 1/2 inch, and you will need to purchase (4) 3/8"(dia)x1"(length) bolts. 3-foot design for ease of leveling, and to ensure front support does not get in the way of foot positioning. *Please note* Front foot DOES NOT need to be perfectly flat in order to be stable while you're laying down on the bench. Similar to a tripod--lay down and let all 3 points support you, not just the front foot. Welded metal endcaps Handle and wheels for easy transport. Easy assembly, 15 minutes with a wrench.
The REP FB-5000 Competition Flat Bench is likely the most popular weight bench among home gym owners today. It's built well with all of the features people want, but at a price point not often seen for equipment thought out like this. We've used the FB-5000 for over 2 years and are still as positive about it as we were when we first received it. In fact, it was our top pick for the best flat weight bench in our guide. It's that good.
Video Review
Written Review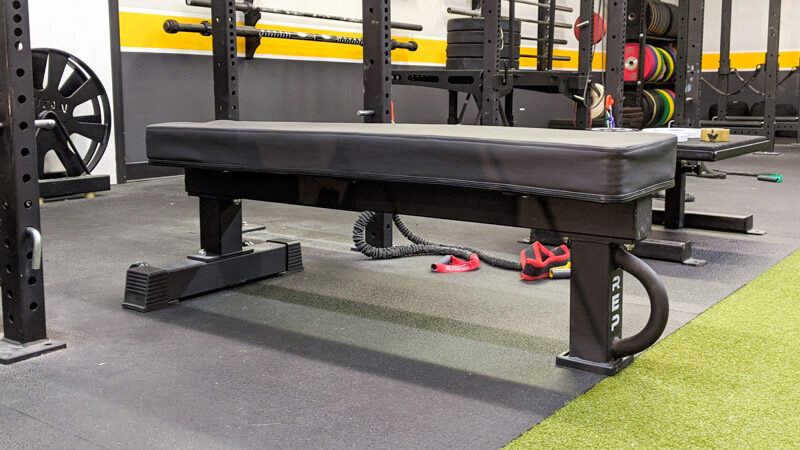 In this review, I want to talk about what I think is one of the best flat benches on the market, which is the Rep Fitness FB-5000 Competition Flat Bench. Not only is it a great performing bench, it has a very low entry-level cost of $149 and if that's not enough for you, it's comfortable to sit on between sets. I'm going to talk a little bit about specs, but I don't want to harp on those just because specs don't always tell the whole story in terms of performance, but I will say that this does meet IPF powerlifting competition standards. What that means for you is the pad itself is 17 inches off the ground.
In addition to the proper height, it's 12 inches wide and 48 inches long. It can handle up to a thousand pounds (supposedly, it can likely handle much more), which is more than I would ever need and the unit weighs over 60 pounds, which is pretty impressive because my own unit doesn't even weigh that much (cue the drums.) Now that being said, it is a competition style bench and some of the design actually carried over into that as well. So if you take a look at the front, it has a single post design, which is great, especially when you're setting up your feet. Traditionally speaking with a lot of the competition from let's say Rogue Fitness or Titan Fitness as well as other manufacturers, they would often have a flat foot design in the front. I always tend to hit my feet on those. In fact, I mentioned that in myStrength Shop Flat Bench review. I don't like that. I don't like having to set up around the bench, number one, because it's annoying.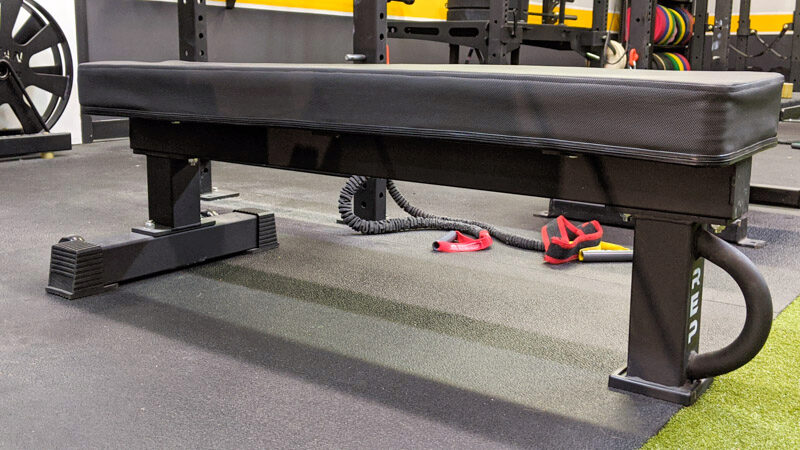 And, number two is because when you go to competition, that's not going to be the case where that is there; they all have a single post designs and that's another huge win for me. The fact that you can train on something that's very similar to what you'll see in a powerlifting competition makes a big difference. Because, in my previous commercial gym days, I trained on benches that were higher or lower, thinner or wider, whatever the case may be, and then going to compete and the bench is different.
I'm used to training a certain way on a certain style bench with certain dimensions and if the dimensions are vastly different or even an inch because an inch does make a big difference despite what people may have told you, it can definitely throw you off. So I like to be able to practice how I play, so to say.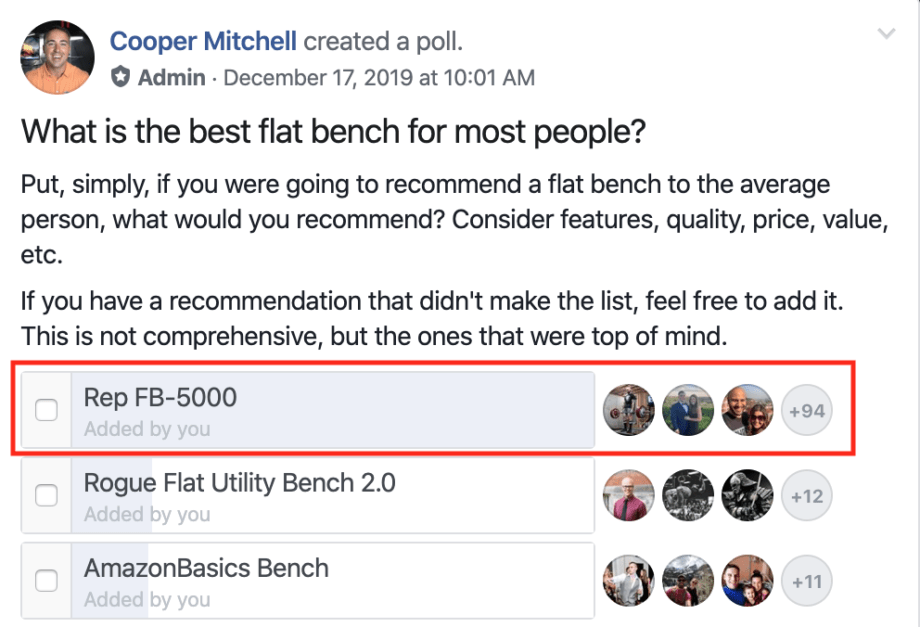 This makes a big difference for me and I really like to see that they carried it over this single post design in the front. I also mentioned before that this thing weighs over 60 pounds. That being said though, there's a handle and two wheels on the back so you can easily pull it in or pull it out on the best squat racks of your choice. It's moved around very easily, which is nice. Speaking of the frame itself, it's heavy-duty and that's because it's 3″x3″ 11-gauge steel, the same kind that's actually on the uprights of my Rogue Monster Lite Rack. Again, that's really nice to see. As oftentimes you'll see companies go with a lesser gauge steel or 2.5″x2.5″ design, so 3″x3″ 11-gauge steel. That's a win for me.
Another big thing for me is the way that the frame mounts to the pad. There are four mounting points and they're actually jutted out so you get some real good stability with the pad. For example, if you take a look at the Titan Fitness Flat Bench, there are only two mounting points and they're right in the center of the bench, similar to what the Strength Shop Bench had. I found that that leads the pad and the bench itself to be pretty unstable and a little bit wobbly, if you will, and I'm definitely not a fan of that. So, I'm glad to see that that's not the case here with this Rep Fitness FB-5000 Bench. Speaking of the pad, there's a couple of different ways to mount it depending on where you want it. The pad itself is 4 inches thick, so it's considered a fat pad or a fat bench similar to the Rogue Thompson Fat Pad.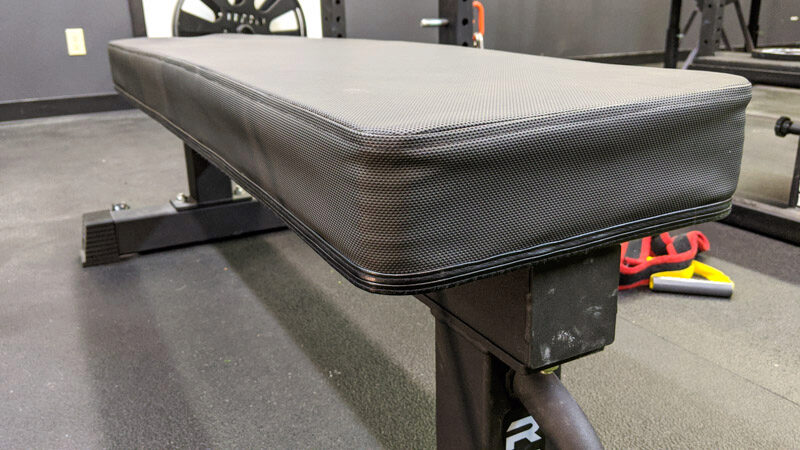 Despite being thicker, the padding itself is pretty firm, not on the same firmness as you would get with Rogue for example, but again, given the price of this bench, which is $149, I don't think you'll have any complaints about it. The vinyl on it is also a very grippy, hence the competition specs and competition type grip. That's nice to see. I believe when Rep first released this, they had some complaints that the vinyl wasn't as grippy as it should be. So they re-released it and upped it. I've gotta say it's really nice and allows you to dig your shoulder blades into the pad when pressing.
Overall this bench is phenomenal as is. So for $149 you get a lot. One of the great benefits about Rep Fitness and this particular benches, they also offer an alternative if you want a wider pad, which I do have and that's actually the one that's mounted on here right now. It has the same general specs except it's 14″ wide. It's very similar to what you might find with aRogue Thompson Fat Pad, as previously stated, so a little bit more room for your shoulders. However, you could also use the standard pad as well, depending on what you want. And, the nice thing about this particular wider pad is that it's only a $50 upgrade and you can buy it whenever you want as opposed to let's say the Rogue Thompson Fat Pad which retails for $155 I think this one is a no brainer, especially if you want to get into it and not really sure if it's worth the investment.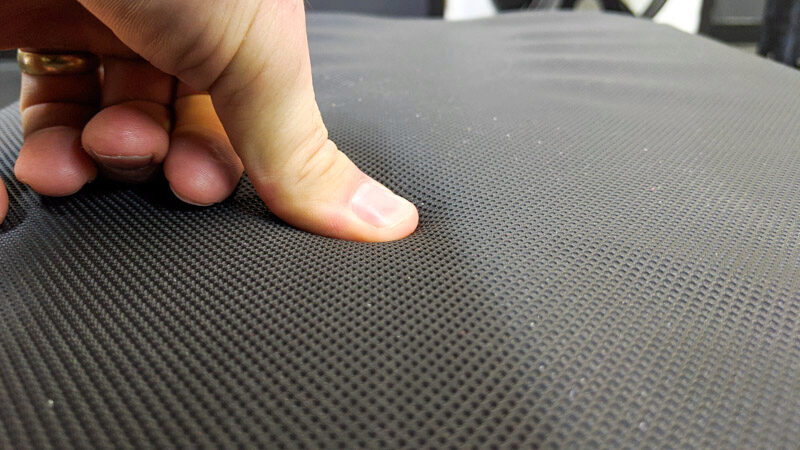 It's a good idea to go with the Rep Fitness one just because again, the price point is so much lower. Another big benefit of going with the Rep Fitness design is they specifically designed this frame to accommodate a fat pad. Traditionally with Rogue, who didn't initially have anything designed for the Fat Pad, you'd have then a bench that was like 18 inches or taller. They have since released theRogue Monster Bench 2.0, but it's much more expensive. So, it's really nice to see Rep Fitness kind of take some things into consideration in their design and put out a bench that's not only to spec, but it also performs very well with a very low entry cost.
Of course, the FB-5000 isn't perfect. Number one, even though I really liked the single post design, if you're sitting on the end, you do get a little bit of instability. Rep actually addresses this on their website though and says this is normal and I can vouch that if you're laying on the bench and using it to bench press, you don't notice that because you're getting equal points of pressure across the whole bench itself. The padding, as I mentioned, it's not overly firm. It's not overly soft, but I think it could be a little bit firmer. Lastly, the vinyl seems just a little bit looser than I would like. I think they could've done a better job fitting the vinyl to the pad. But other than that, I don't really have any complaints. The Rep FB-5000 is one of the best flat weight benches on the market and I highly recommend it.
This review of the Rep FB-5000 Flat Bench is done by our friend, Brandon Campbell Diamond. You cansubscribe to him on YouTube here.
2-Year Update
I, Coop, have now had the Rep FB-5000 Flat Bench for nearly two years. I've used it in my garage gym as well as had probably close to 100 other people use it in my Personal Training Studio.Despite it being used by so many and so often, it still feels and performs as it did on day one. The vinyl continues to grip my back when I dig my shoulder blades in for a max set of bench press, the pad where my knee sits when doing dumbbell rows hasn't made a permanent mark, and it's as sturdy as it was on day one.I'm typically not in love with budget-friendly equipment for myself. That doesn't mean I don't recognize it's importance, it's most of what we recommend. But with so many options for equipment to use, I often will go for something more expensive when training, like the Rogue Monster Bench 2.0. This said, I don't see much of a reason to use any other utility bench. The FB-5000 is simply that good and due to it being a simple product, there isn't a ton of room for improvement.The 17″ height seems like a no-brainer today, but when introduced, it was kind of a big deal. The single front post also seems like something that should be on every bench, however, again when it was released, there weren't a ton of them on the market and even fewer that were affordable.With this said, after two years, do we at Garage Gym Reviews still recommend the FB-5000? Yes, without a doubt. There's a reason it was chosen as the best weight bench in our most recent guide.
REP FB-5000 VS. The Competition
Since it's inception, many companies have taken notice of the popularity of the FB-5000 Comp Flat Bench from REP Fitness and have since done their own take on the bench.
Rogue Fitness Alternative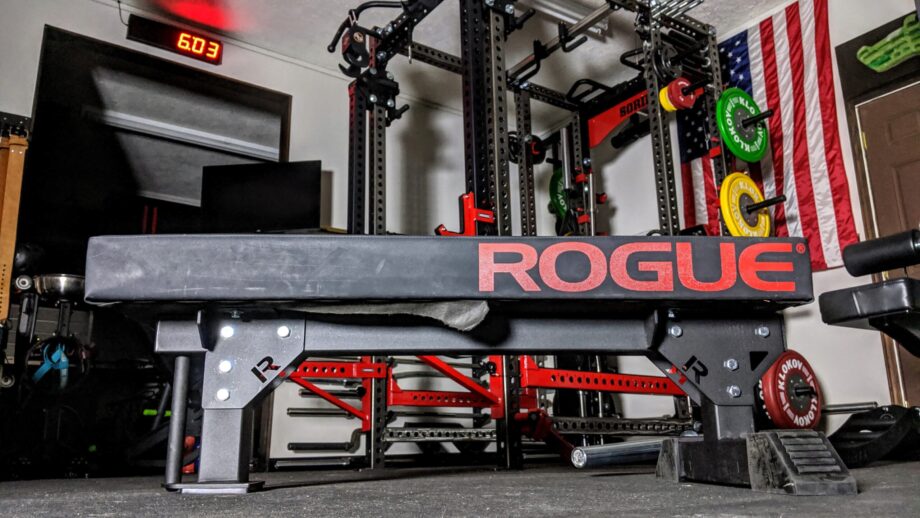 Rogue Monster Utility Bench 2.0
Manufactured in Columbus, Ohio, using 3x3" 11-gauge steel, the newly redesigned Rogue Monster Utility Bench combines the stability of an extra wide 26.5" rear base with a new single-column front foot, giving athletes more room for setting their feet during a bench press. Each unit ships disassembled from our warehouse to reduce shipping costs, and comes with all necessary hardware for a quick set-up, as well as rubber feet to protect your flooring. Version 2.0 also rolls out new improvements in portability and storage, as a set of rear wheels and a built-in handle in the front foot enable athletes to quickly and easily pick up the bench and roll it in/out of a rack or out of the way entirely. When not in use, the Monster Utility Bench 2.0 can also now be stored upright for better space efficiency, with a UHMW cap at the end of the bench spine ensuring no damage to the bench pad—no matter which type of pad you're using. As with the original model, gym owners can customize the Monster Utility Bench 2.0 during the ordering process by selecting a preferred bench height (Standard vs. Shorty) and style of bench pad (Standard vs. Competition Fat Pad™ vs. Thompson Fat Pad™). The Shorty Bench option allows athletes to use a Fat Pad™ while still keeping the unit at a more traditional flat bench height. With its 3x3" 11-gauge steel frame, 47.375" x 26.25" footprint, and 3/16" laser-cut Rogue-branded gussets, the Monster Utility Bench 2.0 is unmatched for dependable stability. A set of rubber feet further assist in both preventing movement and protecting your floor, and the unit is finished in a quality Texture Black powdercoat. Rather than having the wide horizontal steel tube base on both ends of the bench, Version 2.0 introduces a new standalone, column-style front foot that gives up nothing in stability while offering more ample room for athletes to set their feet during a bench press. Includes a bolt-on rubber foot to match those of the wide rear base. Customers can use the dropdown menu to choose between a standard height Monster Utility Bench (17.5" with a standard pad / 19.75" with a Fat Pad) or our "Shorty" model (15.25" with standard pad / 17.5" with Fat Pad). Further customization is possible by selecting your preferred style of bench pad: Standard ( 47"L x 12"W x 2.5" Thick // 11 LBS) Competition Fat Pad (50"L x 12.5"W x 4.5" Thick // 24.5 LBS) Thompson Fat Pad (50"L x 14.5"W x 4.5" Thick // 30 LBS) Version 2.0 of the Monster Utility Bench now includes a set of wheels in the rear base and a handle incorporated into the new front foot. This enables athletes to quickly and easily pick up the bench from the front and roll it wheelbarrow-style into or out of a rack, or out of the way entirely. Near where the user's head goes, we've added a UHMW cap to the end of the bench spine. This allows the Monster Utility Bench to be stored upright with no risk of damaging the pad. This new model is strategically designed so that no matter which pad the user selects at checkout, the UHMW cap will always extend just slightly beyond the pad to make safe contact with the floor when being stored vertically. Additional Specifications: Made in Columbus, OH, USA 3x3" 11 gauge steel Foot Print 47.375" x 26.25" Weight (w/ standard pad): 68 LBS NEW Single Column Front Foot NEW Front Handle and Rear Wheels for portability NEW UHMW Cap for safe upright storage 3/16" Gussets feature laser-cut Rogue "R" logo Rubber feet for added stability Available in Standard or Shorty height Choice of Standard, Comp Fat Pad, or Thompson Fat Pad Finish: Texture Black Powder Coat Ships Disassembled, Includes all hardware for assembly
Rogue Fitness has updated their Monster Utility Bench by making it shorter for use with the Thompson Fat Pad, added a handle and wheels, and made it so it can stand up.
We've reviewed the Rogue Monster Utility Bench 2.0 in-depth and in comparison to the REP FB-5000, although we like the feature set, we think for the price, the FB-5000 is a much better value. If you like knowing your equipment is made in the USA, and prefer a bit of a beefier design with some potential customization options and better welds, than check out the Rogue alternative, otherwise stick with REP.
Bells Of Steel Alternative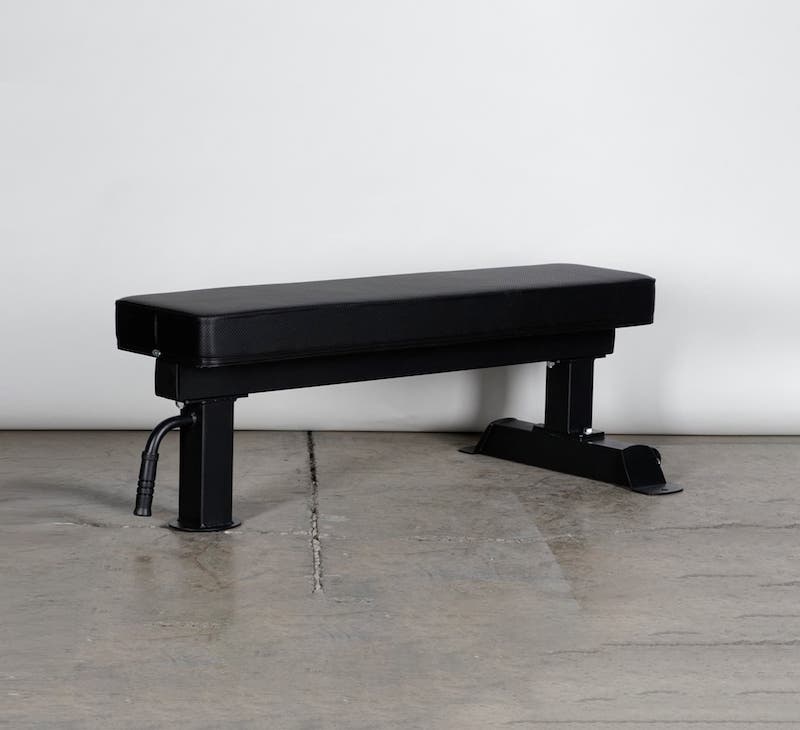 BoS Fat Flat Bench
The Bells of Steel new fat flat bench is a similar design and weight capacity to our regular flat bench but with an extra fat (4 inches thick) pad as well as a slightly shorter footprint. Other features that come standard on our flat benches: Improved grippy vinyl that helps prevent slipping when benching and finished in a stunning powder coat matte black. Rear mounted wheels and a handle for easily moving around the gym or an option to bolt it down to keep the workout bench extra stable. The iron-clad design has a 1,000lb weight capacity so you can set PR's with full confidence. The 3 point foot design allows even the most narrow stance bench presser to adjust their feet perfectly. The bench dimensions are also designed to meet IPF bench specs. Or select the optional wide load version that comes with an additional 36lb extra-thick, wide, and sticky material pad. Built with a thick piece of wood as the base, followed by heavy-duty foam and extra grippy material, the wide load pad almost doubles the weight of your bench and can be swapped out as needed for your regular pad depending on your current training needs.
Another competitor to the FB-5000 weight bench is the Bells of Steel Fat Flat Bench. For all intents and purposes, it's pretty much the same exact bench. It has a different handle design and wheels, but the pad is grippy and thick, it has a 1,000 LB weight capacity, and a 3-post design.
The biggest difference is Bells of Steel is using 12-guage steel while REP is using 11-gauge. Technically, Rep's will hold more weight, but not that anyone would ever really find out. Bells of Steel still offers a lifetime warranty on the frame and REP may be including the thickness of the powder coat in their guage calculation which is often done by those importing.
Even More Budget-Friendly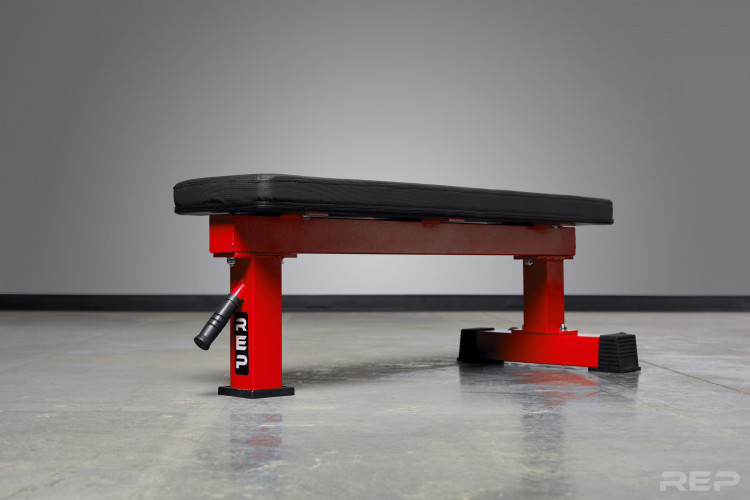 REP FB-4000 Comp Lite Bench
The cousin to beefier FB-5000, the FB-4000 has a more compact and lighter design for those who want a 3-post design, but aren't planning on moving serious weight. SUPPORTS PROPER FORM: Tripod design allows athletes to use proper positioning of the feet, and arch the back to push up serious weight with proper form. The 3-foot design is easy to level, and the front support does not get in the way of foot positioning. PERFECT SUPPORT FOR LIFTING: The 2.5" thick pad measures 12 inches wide, and the stable tripod base makes it ideal for back support and leg drive during bench press. It's comfortable to sit on but durable and sturdy under load. The top surface of the pad is 17 inches from the floor. STURDY AND DURABLE: The competition bench is made from 3 x 3" 14 gauge steel, rated to 700 lbs. There are welded endcaps and rubber pads on all contact points to protect your floors. The textured pad provides a sure, secure grip for big presses. EASY TO MOVE: Front handle and rear wheels let you move the bench easily around your home or garage gym Main differences between the FB-4000 and FB-5000: - 14 gauge steel vs 11 gauge steel on the FB-5000. 14 gauge steel makes the bench much lighter and easier to move, but reduces the weight rating.
The other competitor to the FB-5000 is actually from the same company, the REP FB-4000 Comp Lite Flat Bench which uses 14-gauge steel for a lower weight capacity as well as a thinner top. It also comes in at a lower price, but with the same color options. For those trying to build a pretty lean budget home gym, this is a great option, but we'd suggest the FB-5000 above it for most people.
Full Rating